As construction projects grow more complex, the number of documents that an average construction business has to deal with, both paper and digital, increases significantly.
As a result, it's easy to lose track of all the different construction documents that need to be timely updated, reviewed, modified, and shared to ensure that everyone is working from the latest, reliable, and verified information.
On top of that, countless other documents need to be collected, reviewed, approved, categorized, and stored on a daily basis.
When construction document control is not diligently applied, the resulting disorganization can lead to serious errors that cause costly rework, budget and schedule overruns, and even litigation.
Against this backdrop, here are five things you can do to gain more control over your construction documentation.
Examine Your Current Documentation System
If you're a construction company owner or manager focused on streamlining documentation control, you should start by examining your company's existing documentation system.
But, before going further, let's quickly define what construction document control is.
Among a variety of definitions, let's quote a general one that says the purpose of document control is:
"…to enforce controlled processes and practices for the creation, review, modification, issuance, distribution, and accessibility of documents."
In construction, documentation refers to an endless array of construction plans and drawings, technical specifications, contracts, change orders, permits, daily reports, invoices, etc.
For example, here's a list of twelve essential construction documents, courtesy of Levelset: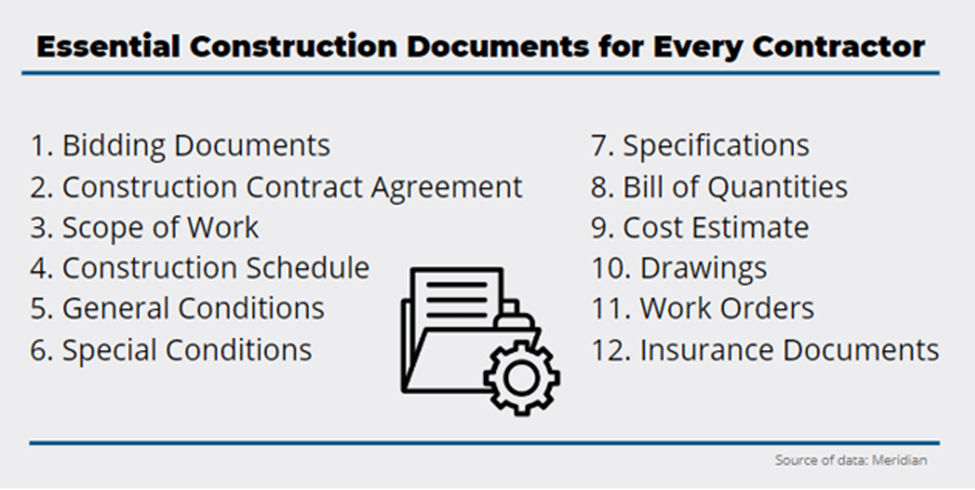 Needless to say, the list goes on and on as new documents are created and existing ones updated or modified.
Furthermore, to motivate you to examine your current documentation system, just a few stats.
First, according to a recent survey, construction professionals waste about 5.5 hours a week looking for relevant project plans and information that should be easy to find.
Some even spend up to 35% of their time finding and re-checking project information.
Second, the average cost of rework in the construction industry was estimated at around $178 billion per year.
Finally, according to several reports, the average cost of inefficient paper-based document management across different industries can be sizeable: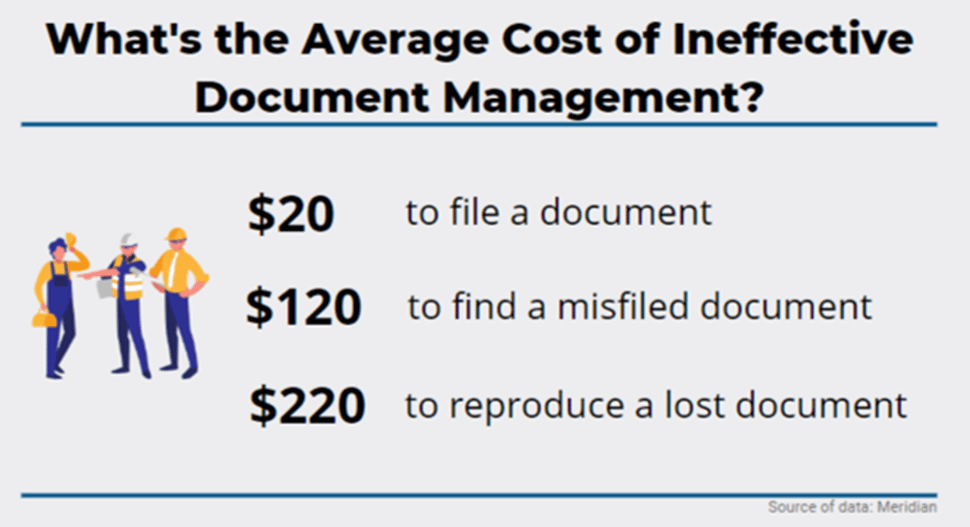 The businesses affected by these stats probably believed they had a solid document control system but learned that they should re-examine their approach.
So, when gearing up to improve the way your company handles documents, it's necessary to first evaluate your existing system.
This process is definitely not a job for one person and should involve the staff tasked with documentation and other relevant construction management duties, as they can provide valuable feedback and explain exactly what would make their job easier and what needs to be improved.
Remember that this process will also ensure greater employee buy-in once new or updated processes or an entire system are introduced.
While collecting info and deliberating possible improvements with your team, you should consider what your new documentation system should provide to its users.
One of those things is fast and simple access to all documentation, preferably from any location and mobile device at any time.
There are also other features to consider, which we'll cover in the next sections.
Overall, examining your current documentation system is the first and crucial step to gaining more control over your construction documentation.
Centralize All Your Documentation
At present and certainly in the future, there is simply no alternative to digitizing and centralizing all your documentation.
Although some paper documents like contracts may still find their purpose for a while, everyone will soon be expected to have centralized access to a single set of up-to-date, checked, and approved construction documents.
With such a system, those in the construction industry will be able to search the system for any document, find its most current version, see the changes made and who made them, as well as view historical versions.
As a result, they will always know what the latest version of a construction document is.
When all your documentation is digitized and centralized, this allows you to standardize file organization internally across all company departments and functions and externally in collaboration with project stakeholders.
Ultimately, going digital, i.e., having all documents digitally stored in one place, allows for streamlined document management and enhanced control by ensuring these key benefits: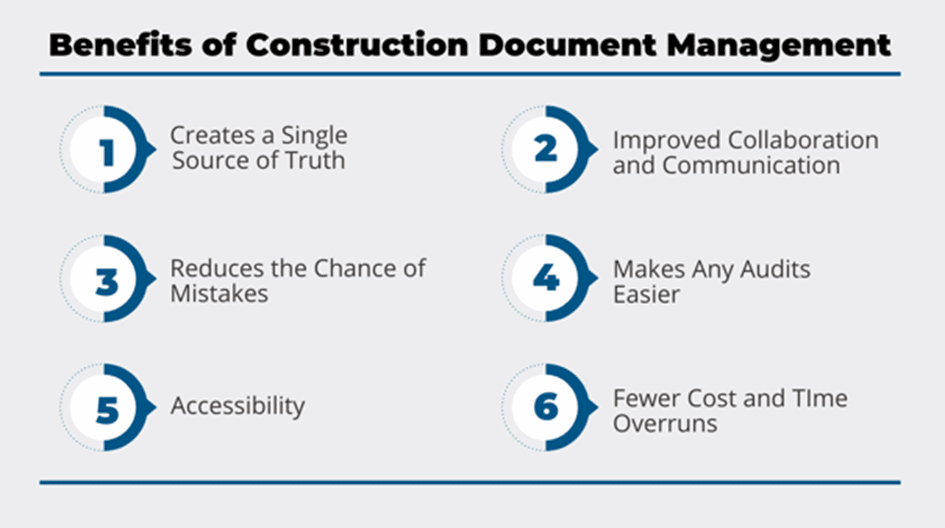 Given these and other benefits of digital document management and the ease of use and affordability of cloud-based software solutions for businesses of any size, it's not surprising that the U.S. digital asset management market, valued at about $3.5 billion in 2021, is projected to reach $8 billion in 2030.
Naturally, this also means there are many options to choose from.
Finding the right solution can mean using a specialized software tool made solely for documentation management or using a construction management system that allows for documentation filing and sharing.
This will entirely depend on what the findings of evaluating your current documentation system were, what improvements need to be made, and what requirements met, along with other issues we'll discuss later.
For example, one specialized solution for engineering documentation is Meridian.

Construction project documentation, including engineering documents, can be tough to manage as it's spread among different project teams and stakeholders and various software systems while subject to constant change.
This and other specific documentation filing and sharing or end-to-end project management software solutions can allow you to streamline concurrently changing documents and keep your project(s) under control.
Even other digital tools your business might be using, such as equipment management software, can contribute to documentation control by allowing you to link relevant documents, specs, manuals, maintenance records, and inspection reports to each item in your inventory of tools and equipment.
When coupled with automatic GPS tracking of their location, it further reduces documentation-related errors and mix-ups.

As you can see, our cloud-based tracking solution, GoCodes, enables you to track all your tools and equipment and thus take control over your equipment management and related documentation.
Among its many features, GoCodes allows you to add Google Doc links to all your tracked tools and equipment.
This helps reduce errors and ensures that service technicians, equipment managers and other users have access to the right documentation when they login to the GoCodes app or scan a tagged item with their smartphone.
In conclusion, the future is digital, and centralizing all your documentation brings so many advantages that it's another crucial step in having more document control.
Create a Standardized Workflow
We'll assume you reviewed the document control in your organization, identified what needs to be improved, and have the necessary support and buy-in from relevant managers and employees.
If that's so, you probably intend to centralize your construction documents by introducing new documentation processes or an entirely new document management and control system.
When doing so, it's critical to establish a standardized workflow for managing documentation.
In other words, you need to determine the exact way in which document changes and updates should be made across the board, as well as who will make them and who will have access to them.
The usual way is to establish a standard operating procedure (SOP) for document management and control, as well as provide step-by-step instructions, training, and ongoing user support.
Naturally, if you need help, the market offers plenty of affordable software tools to assist you in creating standardized workflows across your organization.

Ultimately, such tools can help you create one or more documentation management SOPs, which will depend entirely on your identified documentation needs and how they align with other workflows in your organization.
However, keep in mind that, while documentation-related workflows should be standardized and controlled, they should also be flexible enough to let you address any future changes and issues, including project-to-project differences.
In short, you and your team should determine how document changes will be captured and updated, who will review and approve them, and who should be notified.
Of course, since your documentation is now centralized in the cloud, this will allow all users to see changes made to construction documents from any location and at any time using their smartphone, tablet, or laptop.
Thus, this also means you need to determine who should be able to do what in your document control system and individual documents, i.e., identify different user access levels.
To sum up, even the best-designed documentation system will fail if it's not supported by creating automated, standardized, and streamlined document management workflows that both the employees and the management will follow.
Connect the Systems
Ultimately, the efficiency and precision of your document control processes will depend on how well the new documentation software integrates with the existing specialized systems your company is using.
It will be determined by how automated these processes are, and how well those systems are connected between themselves.
It's very likely your organization is already using multiple software solutions for managing different construction workflows and related documents, and that's to be expected.
In fact, although some construction companies still rely on all-in-one or integrated software solutions from a single vendor, more and more company owners, and managers are realizing that they need specialized, custom solutions that will seamlessly work together.
Consequently, software developers are placing more focus on ensuring their solutions can be easily integrated with other construction management systems, including document control.
Moreover, third-party integration solutions, such as pre-built or custom integration connectors offered by Ryvit, have emerged as a cost-efficient way of addressing the lack of integration between various apps in the construction company's tech stack.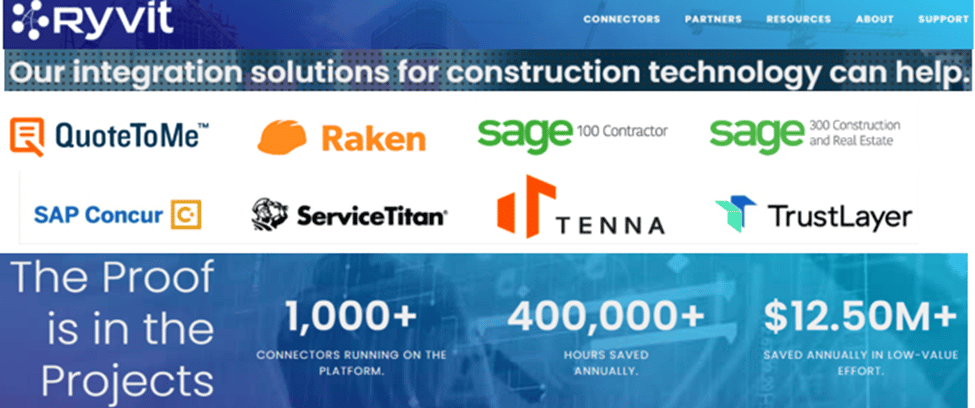 By ensuring that different systems, including document management, can automatically exchange data, such integration patches can help create a single reliable source of up-to-date, accurate, checked, and approved information.
As for how to go about it, you should first make sure that your new or updated documentation software can integrate with other solutions in your tech stack, as well as capture, store, and enable mobile access to all documentation in one place.
Second, you should audit the systems your company is using. Identify the gaps between them that cause time-consuming data conversion tasks and prevent timely data analysis and decision-making, and look for where integrations can be made.
When you combine this with standardized documentation workflows, internally and externally, it automates the processes and integrates the systems further, resulting in higher operational efficiency and an unmatched level of construction document control.
Make Continuous Improvements
Finally, once your document control system is established, you should do periodic assessments of your documentation workflows and be ready to make continuous improvements as construction documentation processes evolve over time.
As with the first step of examining your existing documentation system, it's highly recommended to ask the staff for feedback and suggestions based on their experience with the new system after the initial rollout and periodically following that.
Based on this information, your analysis and findings, you should aim to, when possible, implement changes that will improve the current processes.
Any number of construction management apps can help streamline different types of documentation.
For instance, Fulcrum enables your staff to perform paperless inspections, create custom field inspection checklists and reports, sign them digitally, and send them to the office, thus creating a fully digital document workflow.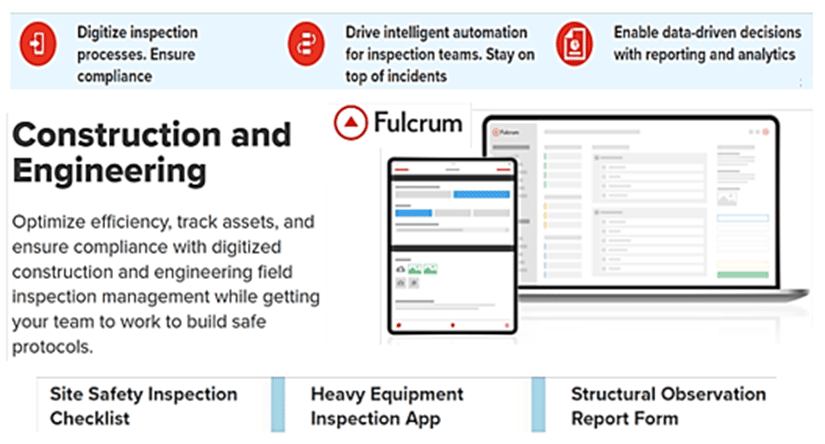 In other words, these and other digital reporting apps, like Raken, allow your employees, such as site managers, service technicians, and subcontractors, to create and submit various digital documents, along with photos, videos, and other relevant additions, to the main operations hub, i.e., the central database.
However, whichever improvements you decide to make, first ensure that your staff is committed and properly trained.
Otherwise, you're risking losing time and money on implementing solutions that will not be used.
When doing periodic reviews, you and your team can ask yourselves and other staff members questions like:
Can everyone get information, i.e., the documents they need, quickly and easily?
Is the centralized documentation system accessible anywhere (cloud and mobile)?
Is the system standardized enough and yet flexible enough to absorb changes?
Is the system scalable, i.e., can it grow with your company?
Can you quickly and securely add new and remove existing system users?
Overall, you should be ready to make continuous improvements as construction documentation processes and needs evolve over time but should always do so in close collaboration with your employees.
Conclusion
Having reached the end, it might be tempting to quickly roll out a new documentation control solution with the help of these strategies, but it's essential to think things through.
Employee buy-in and management support are key for going through the described steps, introducing a new documentation system, facilitating the transition, and ultimately taking full control over your construction documentation.