As the construction industry faces diverse challenges like rising prices, supply chain breakdowns, and skilled labor shortages, construction companies are increasingly utilizing different mobile construction technologies to enhance all aspects of their construction operations.
Solutions like mobile construction management apps, mobile analytics tools, and connected cloud technologies can now streamline the entire project lifecycle and provide multiple benefits.
We will explore the top four of those benefits in this article.
Read on to find out how mobile construction and cloud-based technologies can help your construction business successfully navigate these challenging times.
Increased Mobility
Naturally, increased mobility tops the list.
Mobile construction management solutions allow workers to be anywhere, on any jobsite, and still have all the project records, documents, and forms available in one place—usually a smartphone, tablet, or laptop.
In essence, any mobile construction management solution that allows your workers to access information that would otherwise not be available to them in the field increases the productive mobility of your workforce.
For example, digitizing all your project documents and organizing them in one central location while allowing field workers to change or add information to documents on their mobile devices, store changes, and share them with the team, increases their mobility and overall efficiency.
That's what BuilderStorm did when Five Rivers, a UK environmental contracting specialist, wanted to streamline their processes and have easy access to all the forms required on-site.
They worked with Five Rivers to digitize all their forms, organized them in one central location, and ensured team members could access and complete documents anywhere they went, thus increasing their mobility.
This and other cloud-based software solutions allow your team and other project stakeholders to have a single source of project information available on different mobile devices.
They can use it to complete forms, change documents, create permits, inspections, and reports, collect signatures and photos, and save them in the central document database.
That way, all of that information instantly becomes available to other team members.
Of course, many all-in-one construction management solutions with mobile integration streamline office and field communications, thus increasing the number of tasks that can be efficiently done, documented, and communicated by your mobile workforce.
Connecteam is one such solution.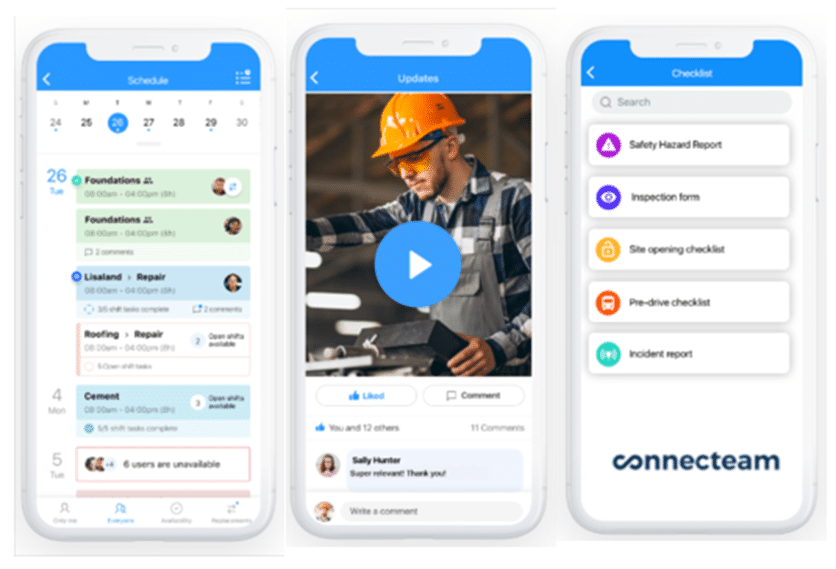 As advertised, this "ultimate app for managing your team" gives you, the contractor or manager, an overview of all jobsites, employees, tools, materials, and equipment.
It also provides live updates from the field, wherever you or your team members are.
The end result of using such mobile solutions is that everyone can access updated project information at any time.
As a result, they can efficiently communicate with each other from any location, as long as they have a mobile device and an internet connection.
Thus, having the ability to view and update different documents and make modifications visible to others while working in the field minimizes the need for physical documents and increases the productive mobility of both field and office personnel.
Better Collaboration
Of course, being connected with a central source of information and all other construction project stakeholders enables better collaboration.
This is essential for addressing various issues plaguing construction projects, such as project changes, delays, and budget overruns.
As mobile construction management software solutions can provide real-time information and immediate access to that information, they bridge the gap between different project stakeholders and enable faster and more efficient collaboration.
Furthermore, collaboration on construction projects is enhanced when information from different stakeholders is collected and stored in one location where other team members can comment, make suggestions, and respond in real time from their mobile devices.
One of the most powerful collaboration tools that the construction industry has is Building Information Modeling (BIM) software (with mobile integration), like Autodesk Construction Cloud.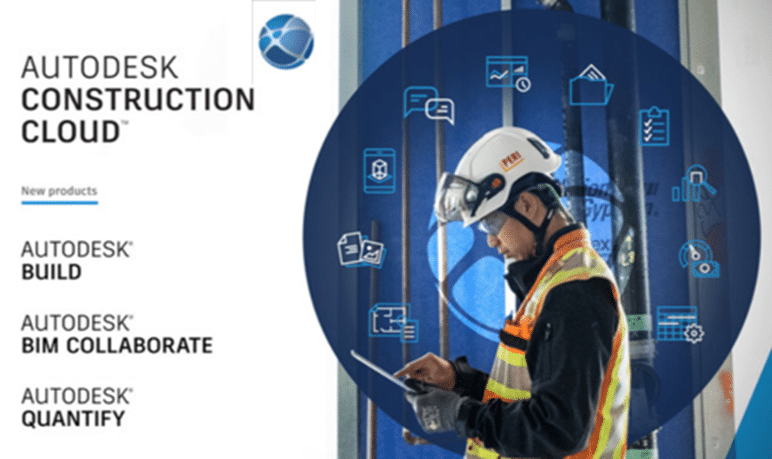 First, creating a single digital 3D model of a building (bridge, road, etc.) using BIM software enables unparalleled visualization of all construction project details and drives collaboration and communication between different stakeholders to another level.
Hence, one of the greatest benefits of BIM is enhanced collaboration, which is confirmed by reports.
When BIM integrates data, drawings, and models provided by architects and other construction specialists into one digital model, potential design overlaps or clashes can be identified.
As a result, changes can be made in real-time through more efficient collaboration.
Second, when BIM can be accessed on mobile devices, this further enhances collaboration between key actors and decision-makers, allowing them to address issues based on accurate data obtained from a single source of project information in real-time.
As Google shows, you can already take your pick from BIM applications with mobile integration: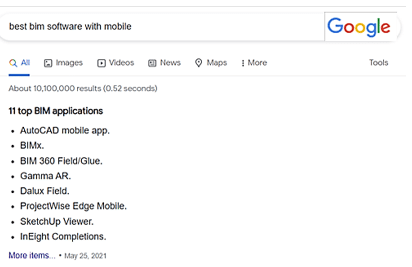 In a nutshell, BIM and mobile BIM apps provide access to accurate and updated project information visible to everyone.
They integrate different project data, teams, and workflows throughout the project lifecycle, including post-construction maintenance.
Needless to say, the positive effects of such collaboration are felt throughout the construction industry.
This is confirmed by the five top BIM benefits reported by architects, engineers, and contractors in the 2021 Dodge Data & Analytics report: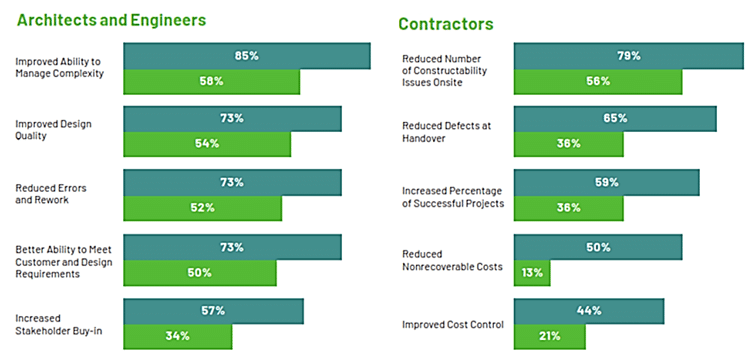 Most, if not all, of these benefits stem from better collaboration between different project stakeholders, such as improved design quality (73% of advanced users) or an increased percentage of successful projects (59%).
In conclusion, this and other mobile construction management solutions provide a central source of information that can be updated and accessed in real-time by all project stakeholders, thus facilitating their collaboration throughout the project.
Fewer Errors
When manual processes are replaced with automated ones and physical documents with digital ones, when different processes are tracked, data collected and analyzed, the result is fewer errors, better record-keeping, and improved safety and regulatory compliance.
First, just a reminder that different mobile technologies, tracking, data collection, as well as analytics solutions, and cloud-based software applications allow us to complete tasks that would've previously taken hours or even days in a matter of moments.
When technology is collecting data, providing analytics, and informing decision-making of all project stakeholders, it all translates into fewer mistakes, miscommunication, lost information and delays.
In fact, errors lie at the root of the most common causes of budget overruns in construction projects shown here.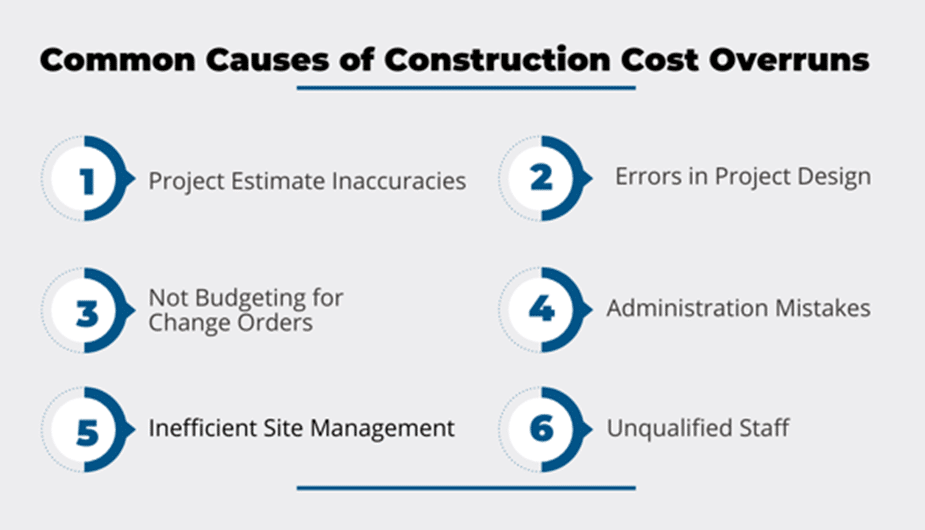 We already saw how BIM can prevent errors in project design.
Similarly, when software collects, stores, and analyzes data on past project estimates, current pricing (with inflation adjustments), and available construction resources like workers, equipment, and materials, this minimizes inaccuracies.
Other specialized or comprehensive software solutions can minimize and mitigate errors, resulting in more precise documentation and accurate information, thus improving safety and regulatory compliance.
We'll use Connecteam as an example of an all-in-one mobile solution again.

As regards reducing safety hazards and errors that often cause them, you can use this app to make your safety and compliance instructions and documents easily accessible to everyone at all times.
You can also create construction safety checklists and hazard reports that can also reduce potentially fatal jobsite errors.
Even more specialized cloud-based solutions for tracking tools and equipment can prevent many mistakes like breakdowns and injuries due to poor maintenance, transport mix-ups, misplacement or theft.
They mitigate the effects of asset management errors like suboptimal usage and maintenance of tools and equipment. For example, GoCodes does all that and more.

This simple and affordable cloud software allows you to track tools and equipment as they move across different construction sites and change hands between workers, enabling you to minimize errors associated with equipment management.
Similarly, other mobile technologies and software solutions automate and digitize different processes, collect and analyze data, and inform decision-makers, resulting in fewer errors, more precise documentation, and improved safety and regulatory practices.
Increased Efficiency
So, thanks to automated digital processes replacing manual ones, allowing access to real-time data and advanced analytics, construction workflows are streamlined, things move faster, and the overall project efficiency is increased.
However, to get to that point, all this data needs to be collected, standardized, analyzed and shared in the form of easily digestible and actionable information available to decision-makers and other relevant project stakeholders, which can be a complex process.
In other words, many construction companies are sitting on a big pile of data, whether collected on jobsites by equipment tracking tags, wearable technologies, and other mobile applications or collected as part of digital project management, accounting, and payroll workflows.
Still, they're unable to use them to increase their operational efficiency.
This statement is supported by the following numbers found in FMI and Unanet reports: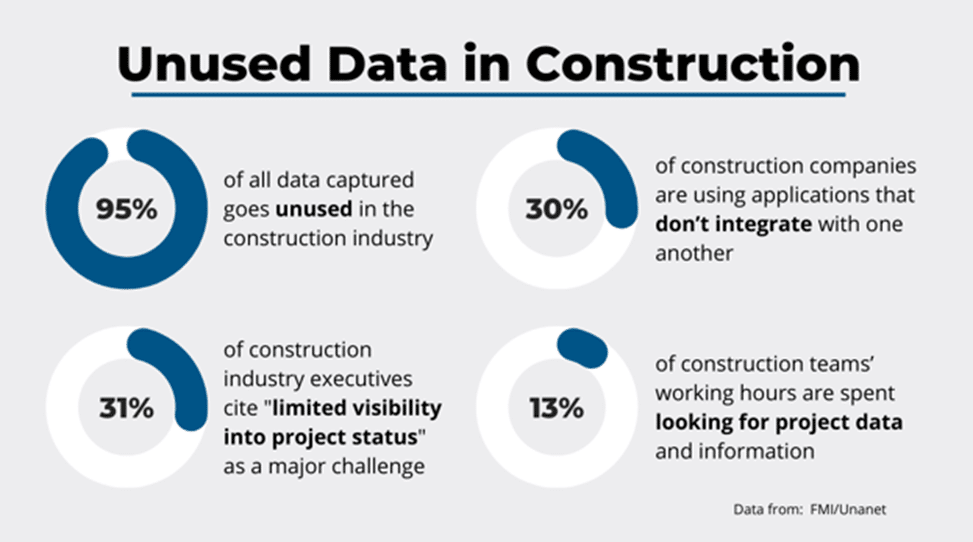 These percentages show great untapped potential in utilizing data in ways that would yield concrete results in terms of minimizing operational inefficiencies, delays, budget overruns, errors and rework, and other risks inherent to construction projects.
In the past, only large construction companies could afford such complex data collection and analytics systems, but now scalable connected cloud solutions are available even to small-to-medium-sized businesses.
Construction businesses of all types can take advantage of constant data collection, standardization, and analysis and share that information on any mobile device in real-time.
In fact, using cloud-based software applications, mobile construction analytics solutions, and other mobile technologies streamline workflows and increase efficiency in so many ways that it's hard to count.
Here are just seven from our article on the positive impacts of construction technology: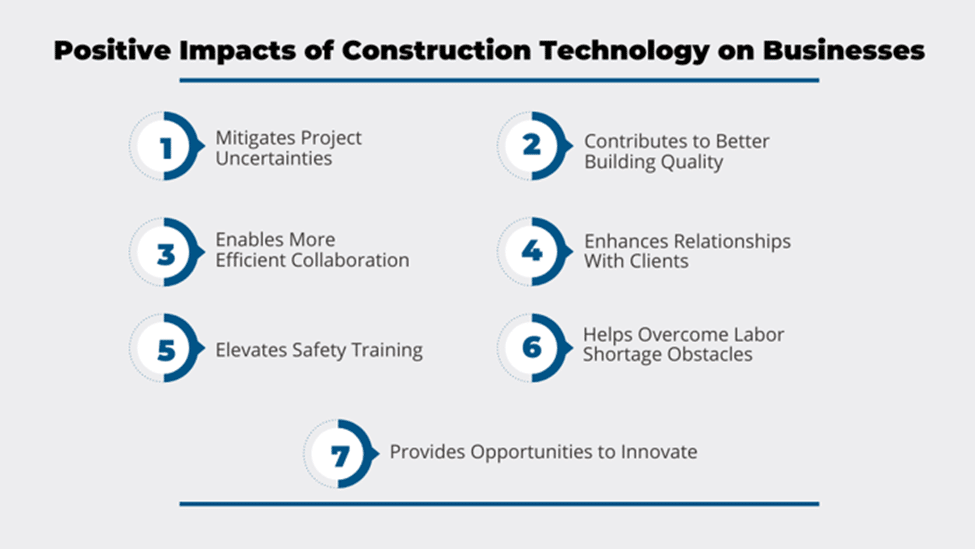 While we covered some of these impacts here, it's worth noting that mobile technologies can, for instance, enhance relationships with clients, improve safety training and help address labor shortages.
So, there's no reason why construction companies, both large and small, shouldn't take advantage of everything mobile and cloud software solutions can offer.
With such solutions, they can integrate their data streams, analyze them, and streamline their workflows, thus increasing the efficiency of all their construction operations.
Conclusion
So, different mobile construction management applications and technologies, cloud solutions, and mobile analytics tools do more than just increase the mobility of your workforce.
They make processes more efficient and faster, and enable better collaboration. Additionally, they minimize errors, and enhance the overall productivity of your construction business.
When data is collected and accessible in one place, integrated, standardized, and adequately analyzed, it becomes a very powerful tool, helping construction companies address diverse challenges and seize future opportunities.