Digitalization has radically changed how companies do business in the construction industry. It hasn't merely improved their existing processes but managed to influence every part of the company: from the field to the office.
With digital technologies, construction professionals have a better way of gathering crucial data regarding projects, such as procurement, bidding process, asset management, etc.
So, companies that implement digital tools have improved their productivity and profitability. 
What's encouraging is that almost 93% of companies agree that digitalization is the future of the industry, a factor that will influence a company's success.
In fact, some experts predict that exchanging greater amounts of complex data could garner UK companies alone an additional £7 billion annually.
Therefore, it's no longer a question of if you should implement digitalization into your processes, but how soon you should do it.
So what's the problem?
Even though there's a general agreement that digitalization is beneficial for a company's operations, many companies are still hesitant about its implementation.
About 45% of companies think they'll have difficulties integrating new technologies with current systems, while 39% are concerned about how to implement them in general.
If you're also still unsure about the benefits of digitalization in construction, read on to find out why now is the best time to embrace technology and improve your company's processes.
Improved Communication and Regulatory Compliance
You might have heard about the disastrous fire that damaged the Notre Dame Cathedral in Paris in April 2019. The roof, spire, vaulted ceilings, and windows of this great monument were affected.
So, contractors had to coordinate their reconstruction efforts with numerous interested parties from the government, restoration professionals, and architects.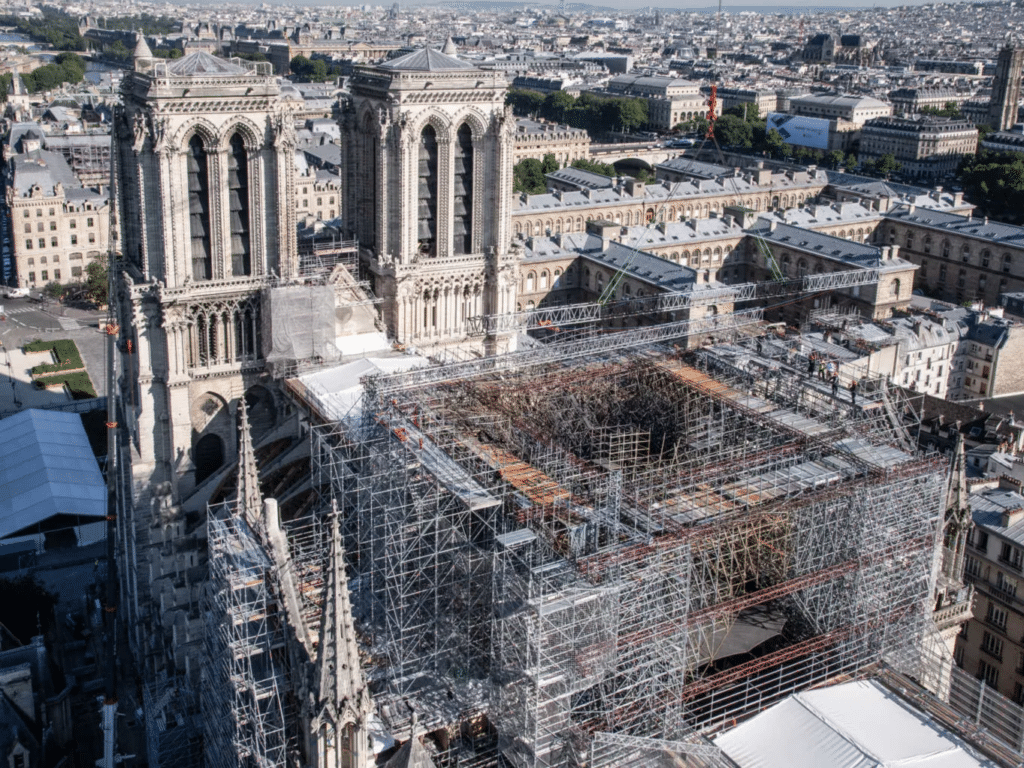 The Notre Dame Cathedral is a building of global importance, so contractors had to comply with strict specifications and regulations regarding building materials, techniques and methods. 
Fortunately, digital solutions made the reconstruction process easier. They enabled every stakeholder in this reconstruction project to address their main concerns.
Throughout the project, they used BIM (Building Information Modeling) to share data in real time and create rich databases.
As a result, if they needed to, for instance, reconstruct a beam for the roof, they had all relevant information, specifications, and 3D models to ensure compliance with the relevant regulations. This also allowed for a more collaborative approach.
Your project might not be as challenging as that, but the fact remains that projects of all scopes can greatly benefit from digital technologies in handling important documentation and data.
Your team will have all the relevant information in one place, enabling better communication and collaboration. 
How do you do that?
You can start with a construction site diary. It's also known as a construction log in which you record different activities related to the progress of your project.
These daily reports will help you manage your project's quality and overall status, which means all agreements and changes will be gathered in one database and easily accessed when you need them.
The main benefit of this system is easier compliance with set regulations and agreement on project requirements.
That way, you won't be surprised once the project is completed. Moreover, if anything unexpected happens, you'll have evidence to provide you stuck to the contract's conditions and specifications.
Finally, you can find construction-specific software to optimize your processes.
Increased Productivity at All Stages
Increasing productivity is one of the main concerns for every contractor. The industry has been lagging for decades, which posed increasing challenges to completing projects successfully. The COVID-19 pandemic only exacerbated the issue.
In fact, almost 60% of contractors report experiencing project delays in the past year, and on average, only 50% of all projects have been finished within time and budget.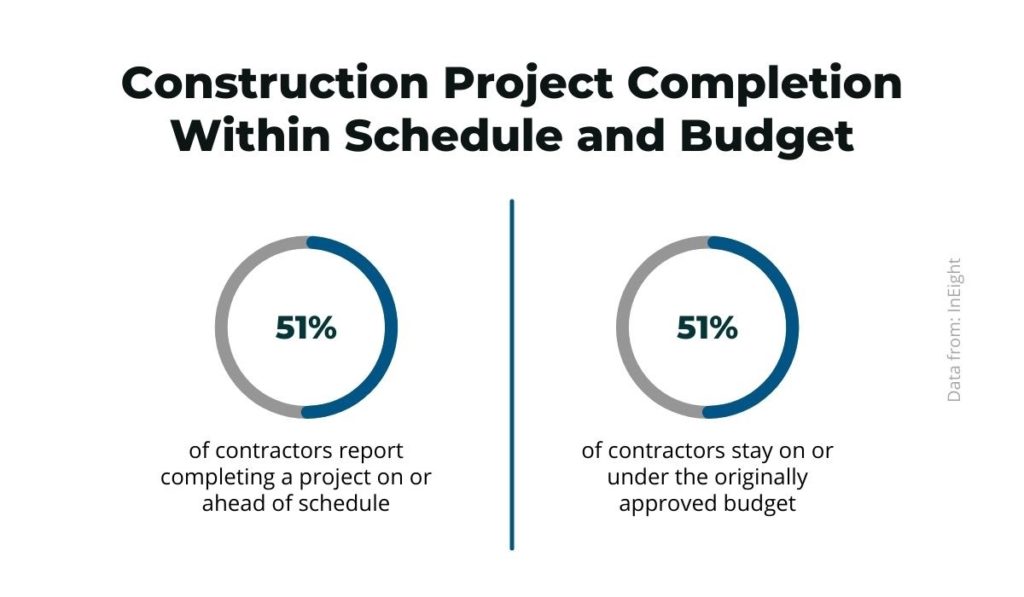 It goes without saying that this is not good news for construction companies. Any delays might mean a breach of contract, and you might find yourself handling construction disputes in court. 
Additionally, breaking deadlines means shelling out more money for labor, equipment, and additional permits, which significantly lowers your profit margins.
In any case, you want to increase productivity and make sure you're finishing your projects on time and within budget. A great way to do this is using digital tools to handle large and small tasks, which will propel any project along.
Waiting times are one of the main areas you can improve today and see positive results in the future.
Different digital solutions for better asset management, such as GoCodes, help you schedule and deliver materials on time, enable workers to automate check-ins and inspections and ensure that your assets arrive at the right location on time.
Moreover, research has shown that once companies adopted digital solutions to gather data, 46% of them saw an increase in productivity.
Optimizing your systems will help the entire team understand your overall project goals better, leading to less rework, miscommunication, and design issues.
Once you eliminate misunderstandings, productivity will increase, since everyone will have a clear idea of their responsibilities and tasks.
With a digital solution that will help you manage your projects more efficiently, you can develop a fool-proof strategy that will increase your chances of success.
Improved Budget Management
Let's face it. Profit is the main motivator for taking on any construction project.
You've crunched the numbers and noticed the opportunity in undertaking a specific project. Your next challenge is devising a budget for that project and managing it throughout the project's life cycle.
Why is this important?
When projects fall victim to poor financial management, it's easy to go over budget. According to research, this is usually by 20% of the original estimate.
While that may not sound too bad, remember that the 20% that goes into buying replacement materials, rework, or worker overtime could have ended up in your pocket instead.
An easy way to mitigate budgeting problems is to implement BIM to help you manage estimation and project costs, just like it has 57% of your peers.
BIM contains all critical information about a project from the beginning to the end. They're primarily used for holding 3D models, drawings, and specifications, so you can solve significant construction issues before the shovel even hits the ground.
Basically, with digital models, you can collaborate more effectively and visualize the entire project to estimate more accurately.
Architects, designers, and estimators can make necessary changes to minimize costly rework and clashes between different tasks. 
Here's how different stakeholders benefited from utilizing BIM in their projects, according to recent research: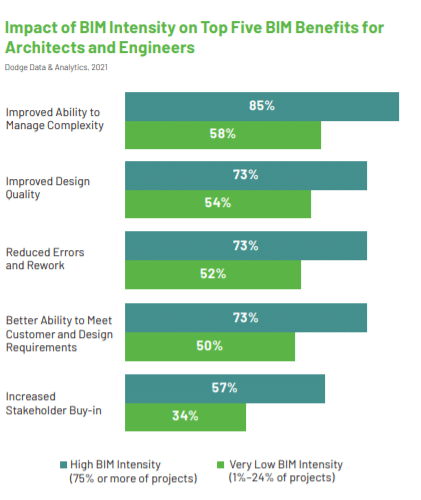 In short, construction professionals saw positive outcomes which directly correlated to their use of BIM on their projects.
Using BIM will help you plan better for procuring materials in the right size and quality so you won't have to keep placing orders during the execution of the project.
Additionally, you will be able to show your clients what the building will look like once it's finished, allowing clients to give their input about changes they want on time.
To put it briefly, if you want to manage unforeseen issues ahead of time and save money, use BIM and construction technology.
Better Risk Management
Risk management is another area in which most contractors seek improvement through the use of digital solutions. Complying with OSHA regulations and ensuring your workers operate in secure conditions is imperative on construction sites.
You can't completely eliminate risk on worksites, but if you manage to reduce it as much as you can, you will have already improved your operations significantly.
For instance, some companies use laser scanners to protect workers from entering dangerous areas without supervision. Others use drones for surveying large construction sites to find safety and environmental risks.
Some experts even predict that robots might take over the tasks that are unsafe for humans.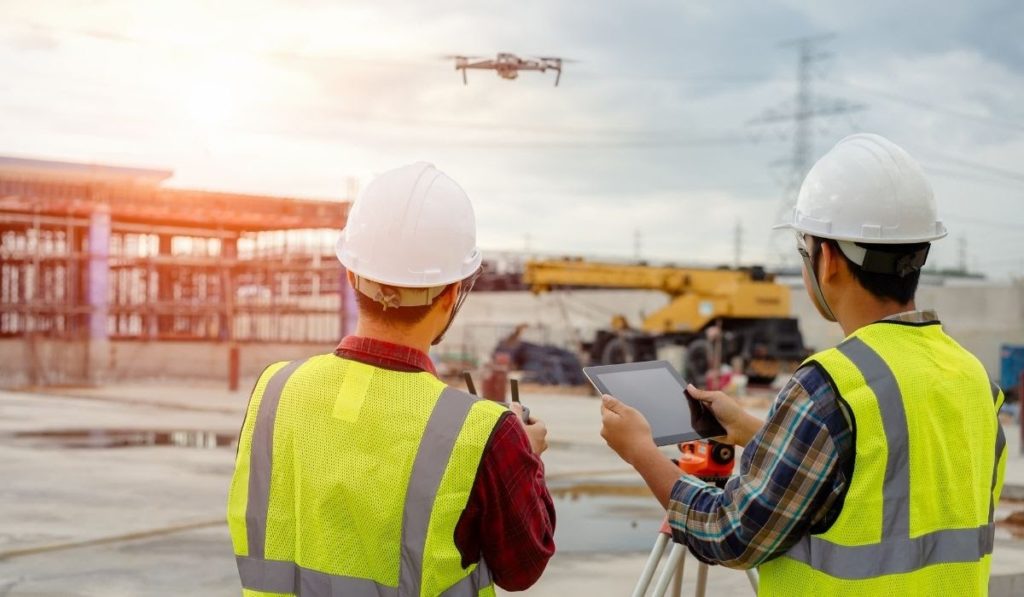 All of this technology operates with one goal in mind: to utilize relevant and real-time data for increasing safety and health for construction workers worldwide. 
Once you have clear data to track, safety managers will be better equipped to focus on solving pressing issues and find opportunities to improve safety culture on construction sites.
Shorter Project Completion Time
Several common impediments prevent companies from completing projects on time and within budget.
Here are the top five: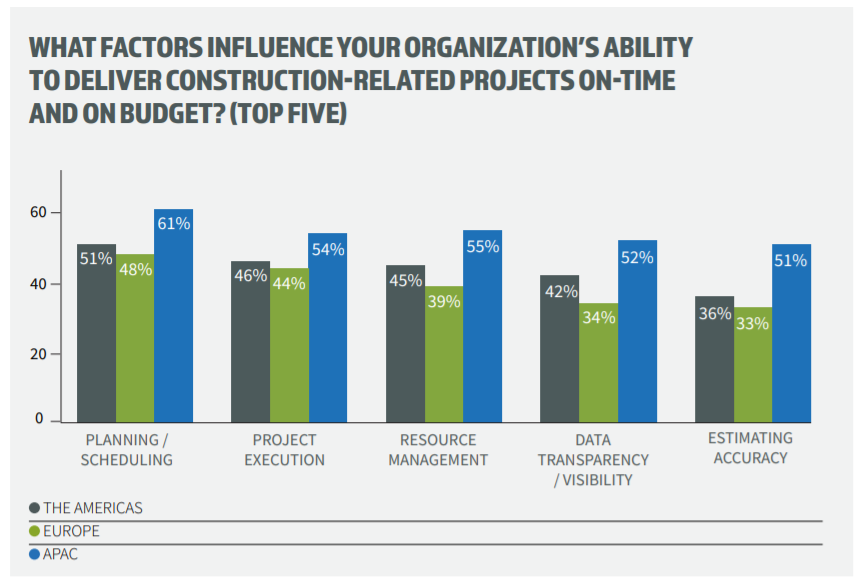 As you can see, adequately planning projects is a big concern for most contractors worldwide. This has a significant impact on staying on time and budget for the entire life cycle of a project. 
Basically, if you properly manage people and tasks from the very beginning, you'll be able to mitigate most problems during project execution.
So, is there a way to utilize technology to plan projects more effectively and shorten project completion time?
The short answer is yes. Because that's where digital lean planning comes into place.
Lean planning dissolves project objectives into achievable minor goals to quickly get the desired results. 
This means that you'll centralize functions and find tools and routines that can ensure all activities on a worksite will be completed.
In other words, your subcontractors and supervisors will be able to get assignments, check documents, and report issues through mobile devices, which will accelerate the completion of the project.
Companies are already using GPS and RFID technology to manage their equipment and resolve logistical issues. A French company has already created a digital solution to supply construction sites 24/7, enabling material procurement at specific times.
But lean planning is just one side of the project optimization process. There's more to it than using software.
Instead, it relies on tangible technology that solves issues and increases productivity to improve project completion times.
One such example is Hadrian, a construction robot from the Australian company Fastbrick Robotics that can lay down bricks significantly faster than humans.
What takes average human bricklayers weeks to finish, Hadrian can do in 48 hours.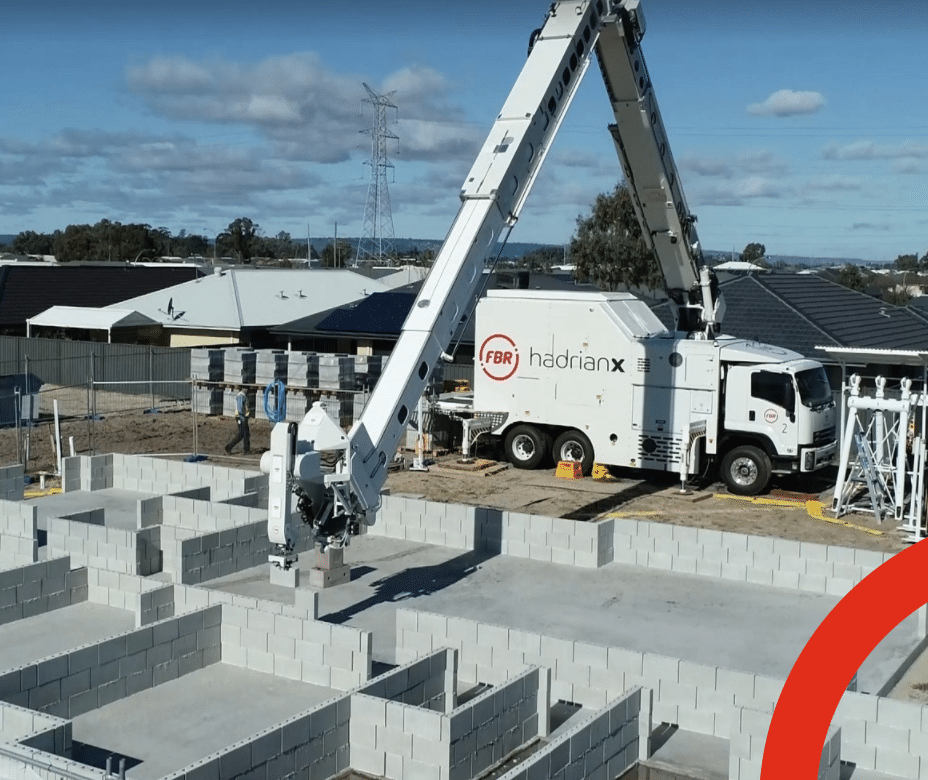 Other companies use 3D lasers to survey the land and quickly identify power lines, pipes, and other possible obstacles that could unnecessarily delay projects. 
Whichever digital solution you opt for, it will optimize your operations.
Capturing information will help you plan projects more effectively, which you can then use to utilize other digital technologies which will finish the project faster and more precisely than a multi-person crew. 
Conclusion
As the construction industry increasingly turns to digital solutions, those that don't embrace the change will be left in the dust by the professionals who will bring more value to the clients with high-quality work.
More productivity, better asset and labor management, and safety control result in higher profitability and lead to company growth.
In fact, recent developments and research point to the widespread benefits of implementing digital technologies in any construction company's processes. 
But buying the latest trendy technology means nothing if you can't get the most out of it to achieve your company's goals.
Remember that when it comes to implementing technology into any business, it's important to find the solution that will help address the specific needs of your business.
Having a clear business strategy that will be enhanced with digital solutions moves companies from simply getting by to becoming fearsome competitors in the industry.