It's no secret that technology has changed and keeps changing the construction industry.
Among numerous benefits brought by recent advances in construction technology, enhanced collaboration stands out as the key one.
As more effective collaboration streamlines all other aspects of construction projects, from pre-design to post-construction maintenance, and drives the performance of your workforce, it's worth exploring in what ways technology boosts collaboration in the construction industry.
Here are five of them.
Opening the Lines of Communication
The first thing that various cloud-based software tools used in construction do is open the lines of communication between all those involved in a construction project.
They do so by providing stakeholders with different communication channels through which they can give suggestions and feedback, share reports, or just chat with others involved in the project.
All of this facilitates collaboration, cooperation, and coordination.
At the moment, the construction industry finds itself at a junction where the status quo is no longer an option.
The field can either adopt technology and propel itself forward or succumb to various challenges it currently faces.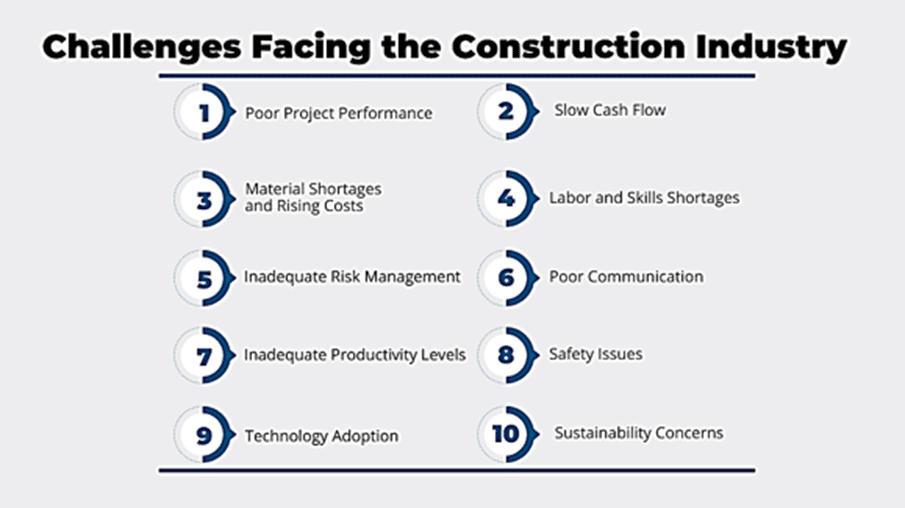 Suffice to say, if the construction industry manages to meet the challenge of technology adoption (9), that can eliminate or avoid, or at least minimize or mitigate all the other challenges, including poor communication (6).
As the market is full of software that enhances communication in different ways, we'll focus on showing how an end-to-end construction management solution improves collaboration between different project actors.
For example, Procore is an all-in-one construction management solution that gives construction businesses everything they need to efficiently manage construction projects, including connecting all project stakeholders on one platform.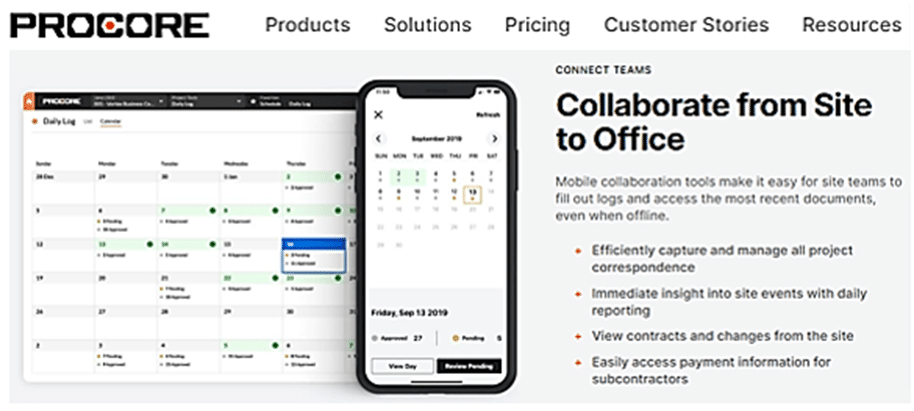 This software suite, operating in secure multi-zone cloud infrastructure, includes pre-construction, project, resource, and financial management software options.
Supported by advanced analytics solutions, they give an unprecedented insight into the inner workings of any construction business or project.
When properly adopted and utilized, such software tools enable centralized communication of updated project information and thus better collaboration on all levels, allowing project stakeholders to create, store, modify, and share documents, plans, models, and images with all other participants.
Simultaneously, such tools provide a wide array of communication options, formal and informal.
Project stakeholders can exchange messages, comment, as well as share reports and updates, thus strengthening collaboration.
Providing Immediate Access to Project Data
In essence, technology provides immediate access to project data in real-time.
This improves efficiency, both that of employees of one construction company and that of project stakeholders from different companies.
This instant access to real-time information is often provided by cloud-based software that acts as a single source of truth.
All information pertaining to a construction business or project is stored, shared, and updated in one place, which is essential for efficient collaboration and quality decision-making.
One such solution for construction businesses is enterprise resource planning (ERP) software that runs on the provider's cloud platform.
Organizations can access it over the internet on any device. Acumatica is an example of such software.

This easy-to-use cloud construction software allows immediate access to real-time information to all authorized internal and external project stakeholders, ensuring they have access to the most current project information.
On one level, cloud ERP automates, integrates, and analyzes a construction company's operational and financial workflows, providing access to relevant information and enabling more efficient collaboration between the employees.
On another level, ERP tracks, collects, and portrays project-specific data in real-time.
As such, it provides a single source of project information and facilitates collaboration between all relevant project stakeholders, whether internal (e.g., project manager, site managers, construction crews) or external (e.g., project owner, design team, subcontractors).
Another comprehensive cloud-based construction solution that integrates critical construction project data streams, provides access to information in real-time and takes collaboration between project stakeholders to another level is Building Information Modeling (BIM) software, like BIM 360.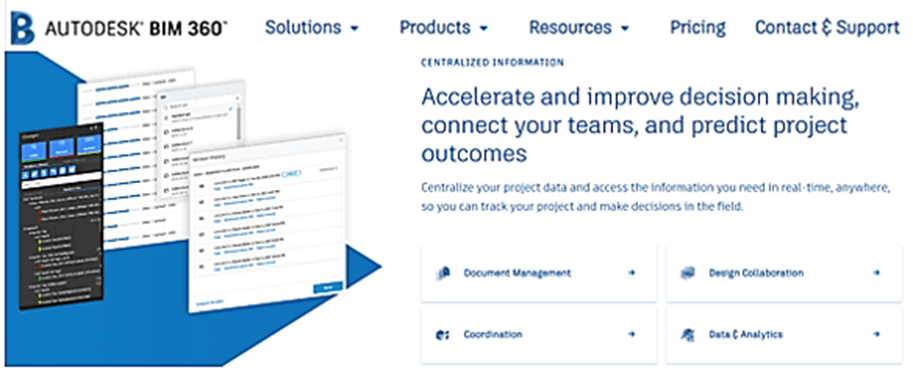 As BIM can integrate data, models, drawings, and specifications provided by different project stakeholders into a single 3D model, it creates a unified source of accurate project information and enables unmatched visualization of all project designs and other details.
Furthermore, mobile/cloud BIM software provides immediate access to project data in real-time to all stakeholders, thus allowing for their inputs and opening unparalleled collaboration opportunities.
Overall, cloud-based construction management solutions act as the central data hub that provides immediate access to accurate project data in real-time, which enables better, faster, and more efficient collaboration between all construction project participants.
Coordinating Workflows of the Whole Team
Construction technology coordinates the workflows of the entire construction team.
For instance, different apps and software solutions allow insight into who is doing what, where and when they're doing it, and what resources they're using.
As a result, accountability, and collaboration throughout the project lifecycle increase.
This is often achieved by using different technological solutions to track and manage construction resources—labor, equipment, and materials—in real-time, thus enabling different team workflows to be efficiently coordinated.
As almost one-third of construction executives cite "limited visibility into project status" as a major challenge, construction management software that enables them to plan, monitor, and coordinate workflows in real-time emerges as the best tool for the job.
For example, as part of their all-in-one package, Contractor Foreman offers different solutions that streamline construction workforce management.
Using those solutions results in increased accountability and enables more efficient collaboration between team members.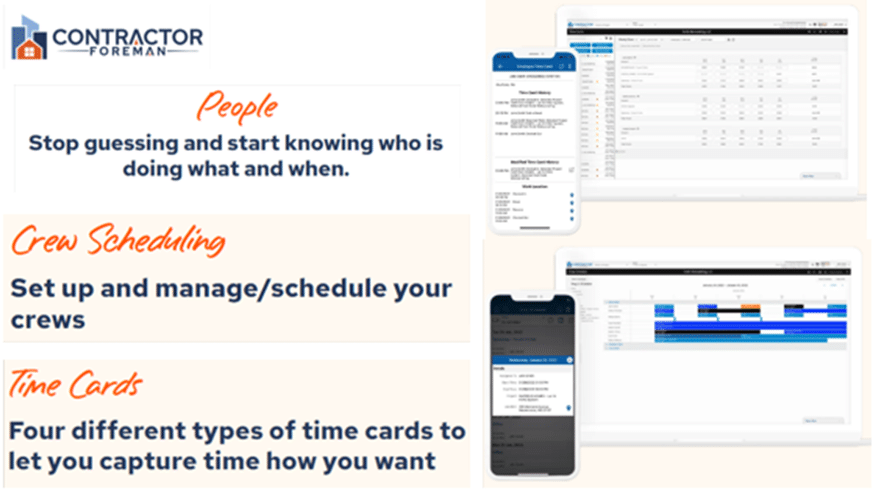 Supported by GPS tracking technologies, many all-inclusive construction project management software solutions enable managers to monitor, manage, and coordinate workflows between different construction team members, for example, their employees and subcontractors.
Coupled with other project management tools that streamline workflows like equipment, materials, financials, etc., such cloud-based software apps let managers see the big picture.
This allows them to coordinate different workflows from any location and device, boosting collaboration and job performance of all team members.
As for equipment management, software solutions can coordinate workflows and streamline day-to-day operations.
They can provide users with up-to-date information on the location, utilization, and maintenance of tools, equipment, and machinery moving between multiple construction sites and crews like GoCodes does.

When a user scans a tagged piece of equipment with their smartphone, this asset tracking system shows them who last checked it out, when and where it was used, and who and when last serviced it, along with other users' comments.
This allows team members to coordinate their construction activities more efficiently by knowing where tools and equipment are at all times.
As a result, transport mix-ups, misplacement, theft, and breakdowns caused by poor maintenance are prevented. Accountability is increased and teamwork strengthened.
In conclusion, different construction technologies, namely software tools, often supported by GPS tracking of construction resources, coordinate workflows for the whole team.
They allow managers and other project stakeholders to have complete visibility into project status and know exactly who's doing what, when, where, and how.
Facilitating Collaborative Inspections
Naturally, when workflows are coordinated, inspections can be collaborative.
Usually, as part of end-to-end solutions, cloud software apps streamline all inspection processes, gearing them towards better collaboration between internal and external inspection teams.
Different actors can review reports, see images, give comments, and respond to issues in real-time using any mobile device.
For example, Procore's Forms Tool enhances collaboration between inspection team members and project stakeholders by enabling them to immediately record their observations if they spot a deficient item or safety violation.
They can then link relevant drawings, add photos or videos, and attach supporting documentation to the report.

As part of their software suite, this cloud-based app lets you track, manage, and improve construction quality and safety inspection processes over your smartphone, tablet, or laptop.
At the same time, it allows other team members to coordinate their inspection activities and resolve issues more efficiently.
Naturally, some software solutions, although part of more extensive packages, are more focused on the field inspection aspect of construction project management.
For instance, Fulcrum is a Software-as-a-Service (SaaS) field inspection management platform that will digitize your inspection processes, provide intelligent automation features for your inspection teams, perform data-driven analysis, and deliver reports.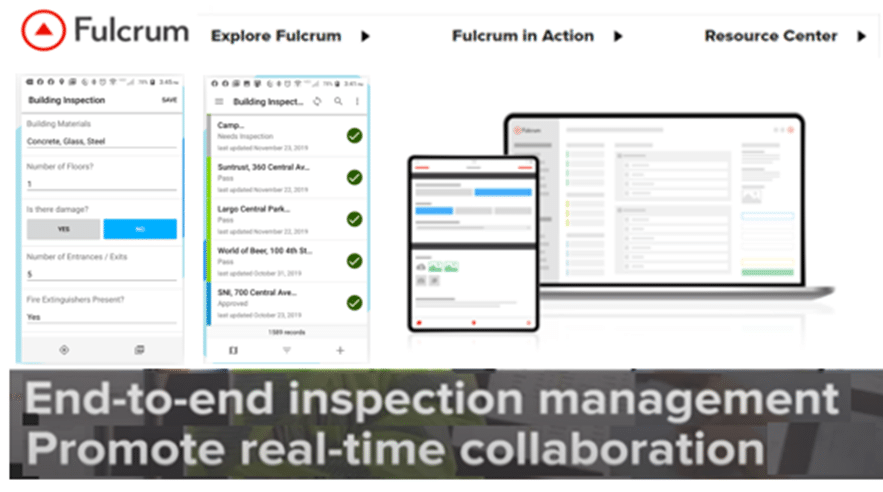 For example, when the site manager is not present in person to inspect their work, this app allows workers to document it and send information, pictures, and videos to their manager.
Such apps can also be used for joint collaborative inspections between internal inspection teams and external inspection officers, where joint inspections are more easily organized and coordinated, regardless of whether all participants are present physically or virtually.
Of course, this boosts collaboration between participants involved in handling punch lists, final inspections, and handovers, thus streamlining the entire project closeout stage.
So, yes. Software apps digitize, integrate, track, and monitor construction quality and safety inspection processes.
Inspection teams can access relevant information, collaborate in real-time, coordinate their activities, report on issues, and resolve them, all in one place, anytime, anywhere, and on any device.
Enabling Remote Worksite Monitoring
Since construction management software provides real-time access to one source of project data, that allows for remote monitoring of different construction site processes as the project progresses.
Such solutions are particularly effective when coupled with other powerful tracking, monitoring, and surveillance technologies.
In other words, such solutions allow a project manager to, among other things, simply open their smartphone, laptop, or tablet and see everyone who arrived on the construction site, when they arrived, what their task is, and how many hours they worked.
For example, CrewSight is a combined hardware and software solution that tracks site attendance and hours worked through hardhat beacons.
It monitors the site with cameras, and streamlines safety and compliance reporting and workforce communication.

Solutions like CrewSight enable automated time and attendance capture, thus allowing managers and other stakeholders to remotely monitor worksite processes in real-time.
This enhances worksite security, compliance, and safety and boosts productivity.
When cloud software apps are combined with other GPS tracking solutions, high-tech camera surveillance systems, equipment sensors, and wearables, it opens up almost endless remote monitoring opportunities.
Of course, the effectiveness of remote worksite monitoring apps will depend on your construction crews being accountable, committed, and motivated, which can now also be remotely monitored by tracking different workforce key performance indicators (KPIs).
Overall, when combined, different all-in-one or specialized software and hardware solutions can provide a complete view of all worksite processes and the ability to remotely monitor them in real-time.
Conclusion
We've explored how technology streamlines all aspects of construction projects, from pre-design to post-construction maintenance.
You have seen how it boosts collaboration and drives the performance of all construction team members and project stakeholders.
In the end, it is the right time for the construction industry to adopt cloud software, mobile apps, and other construction technologies to improve collaboration, face the challenges and seize the opportunities in front of it.