Even in today's booming construction tech market, it can be challenging to find a single technology solution that can adequately address the needs of all business functions of a construction company.
That's why more and more construction company owners and managers are realizing they need to invest time, effort, and money to build, consolidate or upgrade their custom construction tech stack to best serve their business needs and solve specific problems.
When done correctly, a good tech stack will generate many advantages. We selected the top six.
Easier Interdepartmental Collaboration
A well-optimized tech stack can facilitate interdepartmental collaboration within a construction company by ensuring that all employees have access to a single source of information that can be updated in real-time.
Of course, it has to be combined with efficient means of communication from any location, a device like a smartphone, tablet, or laptop.
However, these goals can't be achieved when tech solutions used by different company departments or functions are not integrated with the other digital tools the company already uses.
This lack of integration between different software systems, tools, and apps decreases operational efficiency, and creates information silos and communication barriers between departments and employees.
As a result, it prevents the company from taking full advantage of its tech stack solutions.
When small-and-medium business owners were surveyed on how they deal with their tech stack integration issues, they provided the following answers: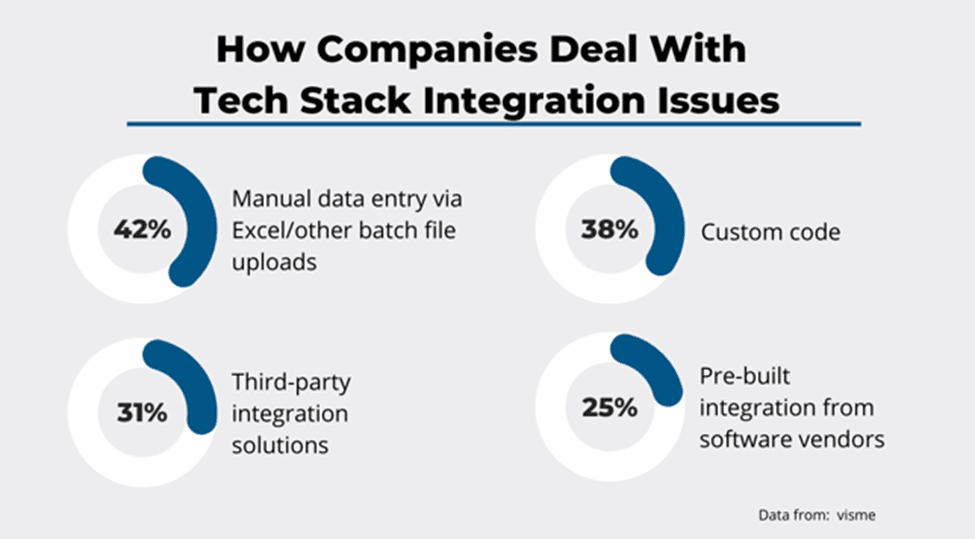 As you can see, 42% of them address their integration issues by defaulting to time-consuming, manual data entry or batch file uploads, while 38% are forced to come up with custom code patches.
Although 25% of companies rely on all-in-one or integrated software solutions from one vendor, the increasing complexity of construction projects makes it difficult to find a single solution to meet the specific needs of different construction companies and departments.
This opens the market for third-party integration solutions, which have emerged as a cost-effective way for companies to integrate and optimize their tech stack, thus facilitating interdepartmental information exchange and communication.
For example, when Gardner Builders wanted to address the issue of incorrect expense coding and manual coding processes caused by poor integration between their accounting applications, they opted for a pre-built integration solution provided by Ryvit.
Ryvit provides a range of pre-built and custom integration solutions that can remove information and communication barriers, thus facilitating the information flow and collaboration between all company employees (and beyond).
In conclusion, an integrated and optimized construction tech stack will enhance collaboration between employees from different departments by providing access to a single source of relevant information and efficient means of communication from any location and device.
Improved Data Management
A good tech stack will seamlessly integrate data flows from different departments and functions.
As such, it will improve data management at all levels, giving construction company owners and managers a bird's-eye view of all business operations, enabling them to make better, more informed decisions.
Among other things, digitalization has enabled construction companies to automate manual data collection processes, replace paper documents with digital ones, track and monitor different internal and external data flows, as well as keep records, and provide statistics and analytics.
When all these data management functions are integrated within a good construction tech stack, company leaders, managers, and employees have access to a single source of accurate and updated information, which aids decision-making across the entire organization.
For example, if you wanted to improve field-to-office data management by having all reports from field crews (and external subcontractors) immediately available in digital form, you might opt for the mobile app Raken.

This app helps minimize paperwork and inefficient reporting, provides relevant jobsite data in real-time and ensures better management insights.
It should be noted that Raken also allows you to integrate your tech stack by seamlessly connecting to third-party accounting software, project management tools, and cloud storage solutions.
Another example is equipment management.
For instance, when machinery, equipment, and tools moving across multiple sites are tracked, data collected, and records kept, this leads to improved equipment data management and thus better equipment management in general.
An easy-to-use and affordable cloud-based solution that can significantly enhance the collection, analysis, and management of equipment data is GoCodes.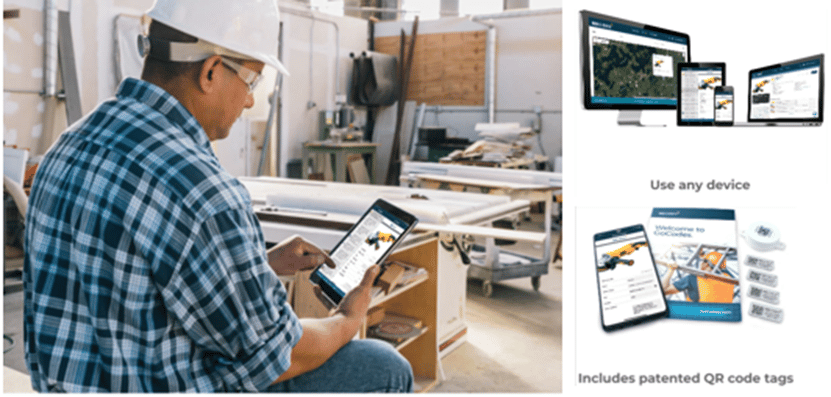 In a nutshell, GoCodes lets you know where construction equipment is at all times, reporting on its status, last service date, last location, usage data, and much more.
Moreover, the solution integrates easily with other construction management tools.
To sum up, a good tech stack will seamlessly integrate data flows from different internal and external stakeholders and thus improve data management across the entire construction company, giving owners, managers, and employees a holistic view of all operations, which they can use to enhance decision-making.
Higher Levels of Productivity
Since all the tasks involved in completing a construction project from start to finish and the number of different features one or more tech stack solutions should have to address them, it's clear that a properly integrated and optimized tech stack can increase the productivity of all company operations.
The construction industry has long been battling with low productivity issues stemming from factors like inaccurate project estimates, design errors, and administrative errors, to name a few.
On the other hand, end-to-end construction management software (or a combination of tech stack solutions performing the same functions) brings many advantages, some of which are listed in our article on that topic: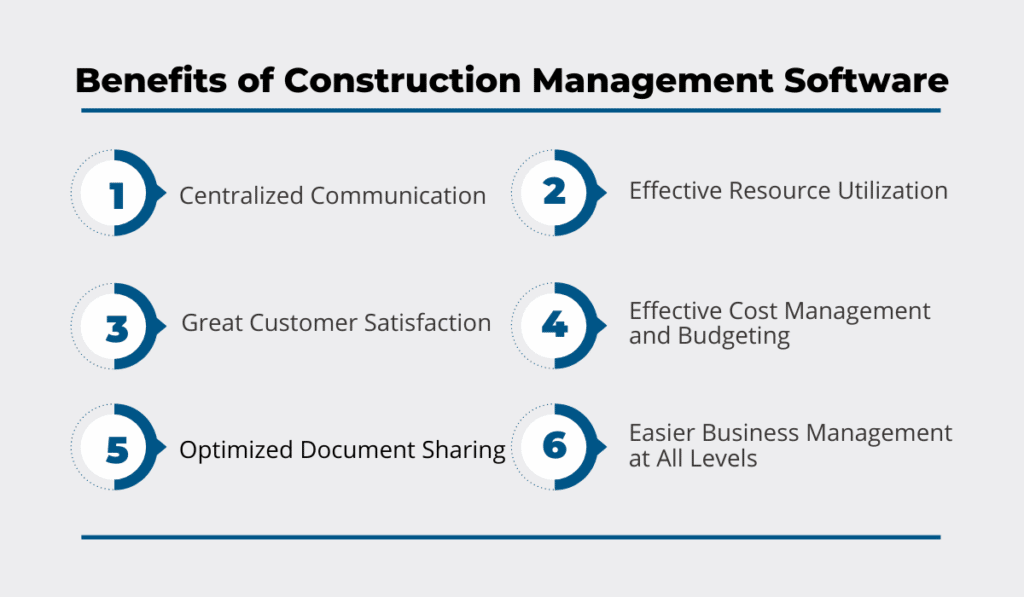 We already touched upon centralized communication and optimized document (data) sharing, so let's take a closer look at how a good tech stack can improve resource utilization.
For example, since efficient resource management depends on knowing where construction resources (labor, materials, and equipment) are located and how they're used, a specialized or all-in-one software solution can allow you to streamline resource-related workflows, thus increasing overall productivity.
One of many such solutions is 4castplus, which enables you to manage all construction resources for estimating, tracking, and reporting purposes.

This resource management solution is part of an integrated platform that connects jobsites with project management, procurement, and finance in real-time.
Nowadays, most of such solutions come in the form of cloud-based mobile apps that allow for instant exchange of information, communication, and coordination, thus further improving productivity.
Thus, with the help of an optimized and integrated tech stack, a construction company can automate and streamline all construction project management processes, give employees more time to focus on productive tasks, and achieve higher productivity levels across the company.
Addressing All Business Needs
Ultimately, technological advancements have enabled construction companies to integrate and customize individual tech stack solutions, thus ensuring that all their specific business needs are met.
Although all-in-one software solutions can provide advantages like pre-integrated functions and lower price, their features often provide unequal performance when addressing specific issues.
In other words, an end-to-end construction management solution might be great for, let's say, project planning, scheduling, and budgeting but might not meet your resource management requirements.
That's why the market increasingly offers more specialized solutions focused on solving very specific problems like, for example, slow payments.

Billd aims to address cash flow challenges faced by subcontractors working on commercial construction projects by providing upfront financing for their two largest expenses: materials and labor.
This is a good example of how an app (coupled with factoring services) can help contractors address a particular and common problem in the construction industry.
As the number of cloud-based, mobile Software-as-a-Service (SaaS) solutions is rising, construction companies no longer have to make do with certain software features that are not meeting their business needs.
Instead, they can invest time, effort, and some money in creating a custom tech stack consisting of various solutions that focus on specific issues and can be seamlessly integrated with other tools, thus ensuring that all their specific business needs are addressed.
Making Changes Visible in Real Time
As most construction tech solutions now come with mobile apps, a well-built, integrated, and optimized tech stack allows construction managers, supervisors, and other stakeholders to make project changes and updates visible in real-time.
This eliminates many previously unaddressed problems, like works being performed based on outdated schedules and updates, helping to ensure that all project stakeholders are on the same page.
The rise of cloud computing and mobile apps allows construction companies to not only integrate data from different stakeholders but also to view, access, comment, and update data in real-time.
Here's a list of reasons why construction businesses need to ensure that their tech stack enables real-time updates, courtesy of the Plan Academy: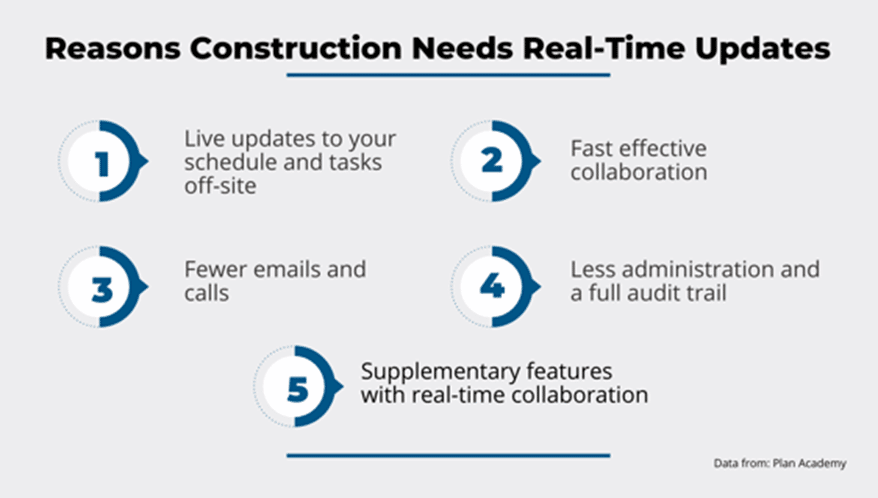 In other words, when a construction company's tech stack is integrated and optimized to enable real-time changes to be accessed at any time and from any place by all project stakeholders, the management can bring every team member up to speed in a few clicks.
For example, building information modeling (BIM) software helps all stakeholders better visualize, plan, and manage their project tasks.
However, some BIM solutions, like BIM360, also enable notifications of changes in real-time, meaning that a stakeholder can make changes or comment on a file, and others will receive immediate updates.
Thus, a well-built, integrated, and optimized tech stack should enable all project stakeholders to make changes and updates in real-time, thus addressing many issues stemming from misaligned data, from project delays to budget overruns.
Maximizing ROI
With tight project schedules and profit margins on the one hand and so many available tech options on the other, it can be difficult for construction businesses to find suitable tech stack solutions that will add value without requiring a significant investment.
For this reason, companies should look for solutions that will help them the most, i.e., provide the best return-on-investment (ROI).
For example, although no two construction projects or businesses are the same, they are exposed to many common challenges that can cause time and cost overruns, like the ones listed here: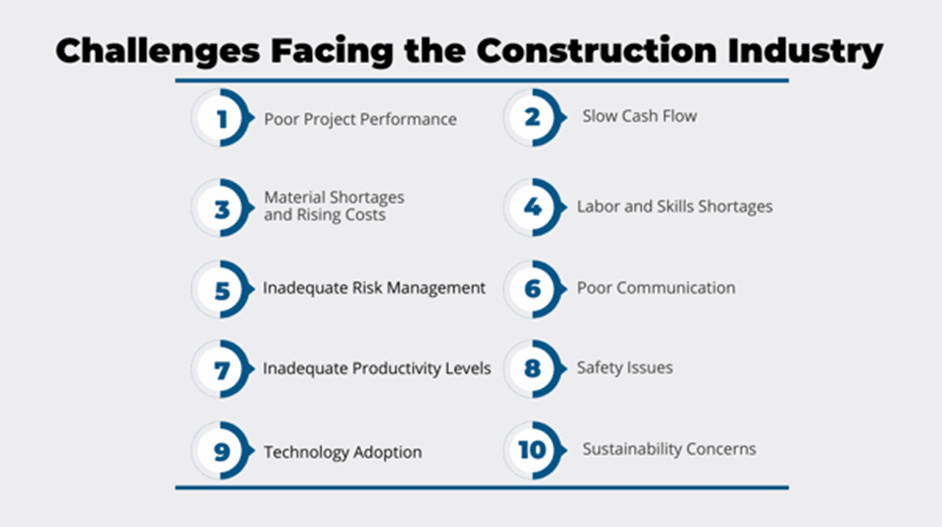 So, if one of these issues is affecting a construction business more severely than others, it makes sense to invest in a solution that will efficiently address it, thus maximizing ROI.
Additionally, if a company is already using several similar solutions in its tech stack, it should review them, identify functional overlaps, and consolidate the stack.
That will make it more convenient for employees by reducing duplicate administrative tasks and reports and potentially save money on orphaned or unused apps.
Again, this is where SaaS solutions, with their pay-as-you-go subscription models and negligible rollout costs, usually offer the best ROI.
Finally, software developers are quickly realizing that all-in-one solutions often fail to provide the same quality for all processes they claim to manage.
Moreover, clients prefer to build their tech stack by using combinations of preferred apps that address specific problems. This highlights the importance of integration options.
Overall, it's advisable for construction companies to invest in tech solutions that will improve coordination, communication, and collaboration between employees and other stakeholders, as this is an investment that is likely to maximize their ROI.
Conclusion
To sum up, a good technology stack, where solutions are integrated and optimized, can enhance collaboration, increase productivity, and address all business needs across different aspects of a construction company.
Today, building or upgrading a tech stack with new solutions no longer requires a significant investment but can be achieved by selecting cloud-based, mobile, SaaS solutions that can help you deal with common and specific challenges, allowing your construction business to thrive.