Operational efficiency is what makes or breaks your company.
In layman's terms, an operationally efficient company manages to finish the project quickly and within budget, while still delivering quality work.
However, most businesses struggle with this. Some take longer to finish a project to make sure they meet the industry standards, while others cut corners to complete the job on time.
Neither approach is advisable, since such companies will get left behind by the competitors who have cracked the code to operational efficiency.
And reaching your operational efficiency potential is precisely what this article will help you to do. The four steps we will cover here will help you deliver quality projects without delays every single time.
Get Better at Project Planning
If you want your construction project to succeed, it stands to reason that you have to plan it out and prepare for a variety of circumstances that might not go as you wish.
However, although the majority of companies go into their projects with a plan mapped out, many still run into huge setbacks. In fact, over 80% of construction projects go over budget.
That isn't surprising if you consider that the average construction company is efficient a meager 30% of the time. In other words, you can have a general project plan, but your people will still spend 70% of the time idling instead of doing the actual work.
Nevertheless, don't be so quick to blame it on the workers: it's the plan that's unsound.
When your construction project plan isn't as detailed as it should be, and doesn't segment the project into smaller tasks for easier management, following it becomes difficult.
Pair that up with limited resources and equipment that isn't available when needed, and you've got yourself a recipe for disaster.
So, how can you get better at planning?
To begin with, your plan should be detailed and divided into different stages and individual tasks.
Here's what a great project plan should cover:
Technology and construction methods. You should explain what methods you'll be using and the technological solutions that will help you do that. Once you figure it out, you will understand how long it will take you to finish the project using those methods.
Individual tasks. Dividing the whole process into smaller segments gives you a clear overview of what needs to be done and makes the tasks more manageable. If a delay occurs at any point, you can pinpoint what went wrong and when.
Interdependence and critical flow between the activities. Determining which activities are correlated and which aren't helps you understand what needs to be done first and which tasks can run simultaneously. This improves your time-efficiency.
Activity duration. Once you know the number of tasks to tackle, you can figure out how long each one will last. After you determine that for each individual job, it will be clear how long it will take you to complete the entire project.
Resource requirements. After you estimate the duration of each task and figure out whether you can do any of them simultaneously, you can make a budget based on the resources you need for the activities. Resources include personnel, raw materials, and equipment.
In short, before the project even starts, you should know how many resources you will need, from the time and manpower to the required materials and equipment.
If you put enough thought into each of these aspects, you'll increase your productivity well beyond the customary 30%.
So, devote your time to creating a detailed project plan as this step helps you finish your job on time and within budget.
Centralize Your Data
A big step towards operational efficiency is the correct usage of available information and data.
The construction industry doesn't store or learn from data as much as other industries. In fact, a staggering 95.5% of all project information gets thrown away and deleted.
So, the little progress made in the industry comes from less than 5% of the gathered intel.
Now imagine what would happen if, instead of discarding it, your company used that 95% of the available information for its own improvement?
Your business would most definitely flourish as you'd get to analyze the collected data and enhance your processes based on those insights.
To get the most out of such information, you should not only use it but share it with your team. That way, anyone can use the data to their advantage as they strive to achieve their goals.
The example of Grupo Provivienda speaks for itself. This residential contractor's building time went down by 5x when they uploaded their data to the cloud to share information with the entire team.
In other words, this simple act made them five times more productive.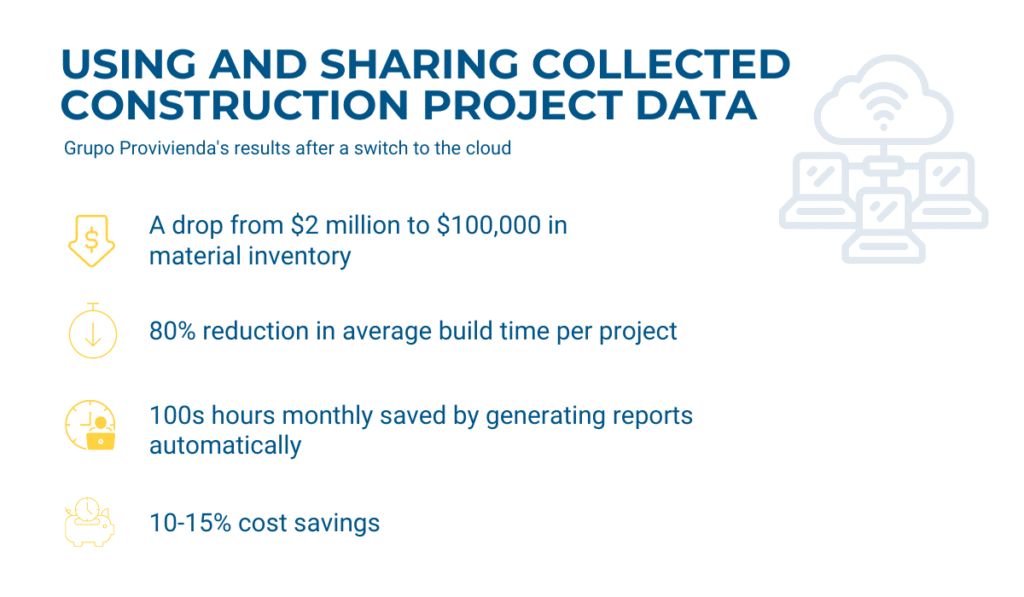 The contractor reported some other benefits of making their data available to the team through the cloud. Most notably, their material inventory went down from $2 million to $100,00, which means it was a cost-effective solution.
They also saw an astonishing 80% decrease in the average build time per project on top of already saving hundreds of hours every month by using automatic report generation.
Overall, Grupo Provivienda saved 10-15% of their usual costs just by centralizing their data.
If you want to follow in their footsteps, start by gathering the necessary data.
The type of information depends on your company's needs, but some general categories offer valuable insight, such as resources and maintenance.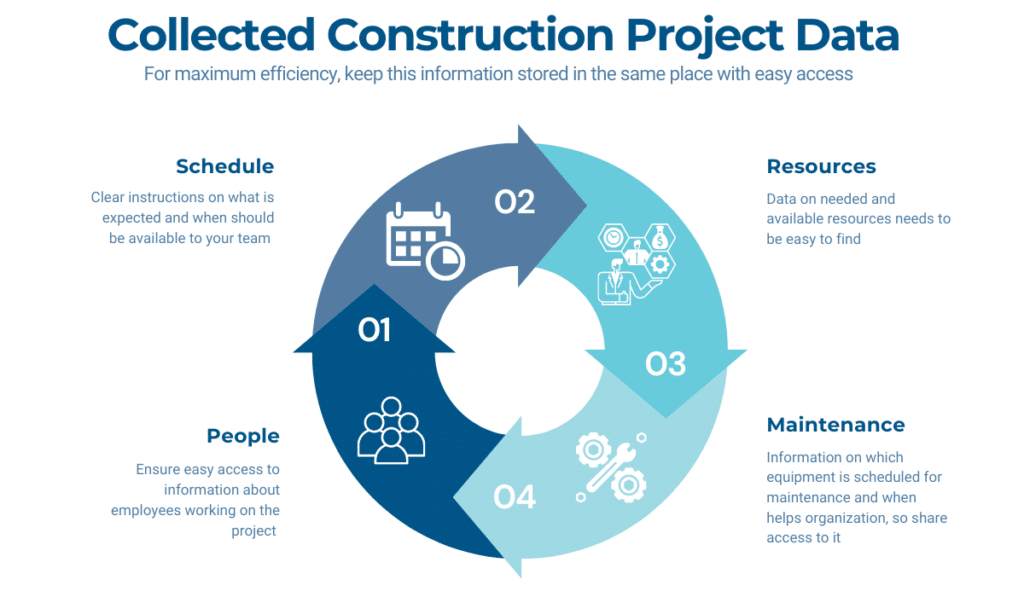 Your first step should be to collect information regarding your personnel. If this data is saved in numerous places, finding the information you need becomes tedious and time-consuming.
However, adding all these particulars to the cloud allows your project managers to access information about any worker involved with a particular project in just a couple of clicks from their mobile phones.
Then, focus on the details regarding your program. Your team should have a basic understanding of the schedule, i.e., which parts of the project need to be done in a particular period.
Whenever workers experience a setback or come across a potential issue, they should inform you to take action and keep the project on track.
The resources section should cover the equipment and material assets you need to do the job. If a particular piece of machinery isn't available when needed, your team should know about it in advance to prepare an alternative.
They can either plan to get a replacement asset or work on a different task to keep the project running.
Lastly, the maintenance part ties directly with the equipment availability aspect. When a particular item breaks down, the maintenance team should be informed as soon as it happens so they can eliminate the issue right away.
Then, after the repairs are completed, the service team should notify the rest of the employees to know the equipment is up and running again.
Sharing all this information in the cloud speeds up the process significantly, making the entire company more efficient.
Make Sure Your Team Receives Adequate Training
Even if your plan is immaculate and all your data is gathered in the same place, if you let unskilled employees work in the field, you risk your project falling apart.
That's why it is crucial to provide your workers with proper training.
Firstly, investing in your employees makes them more likely to stay with your company, which means you'll be able to count on their skills and experience in the long run.
Companies with significant turnover are rarely efficient because they spend a lot of time coaching new team members just to watch them go in a couple of months.
However, the quality of training is what makes a third of employees change jobs in the first place. When people feel like they are not developing their skills through training, they go elsewhere.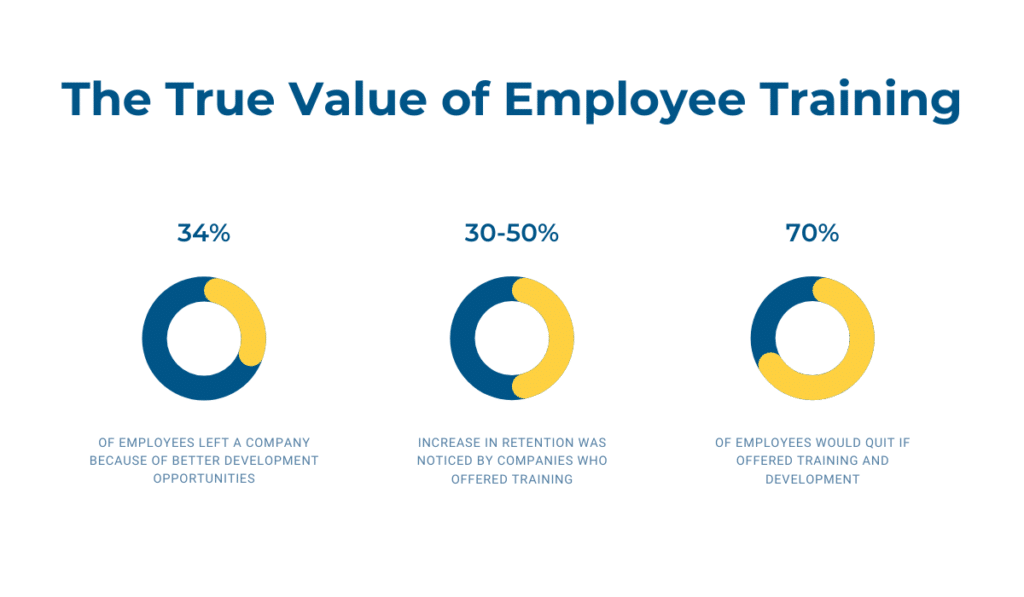 On the other hand, if you offer quality education, you can see a 30-50% increase in retention. If your employees know that you're investing in their development, they'll stay with you and continue growing.
What's more, quality training can serve as an excellent recruiting advantage, as a large majority of workers would leave their company if offered a position by a business known for its investment in employee development.
Besides, you must understand that, while experience is a plus, teaching your team to do what you need them to is infinitely better. Otherwise, you're risking that your team members have varying levels of skills and knowledge.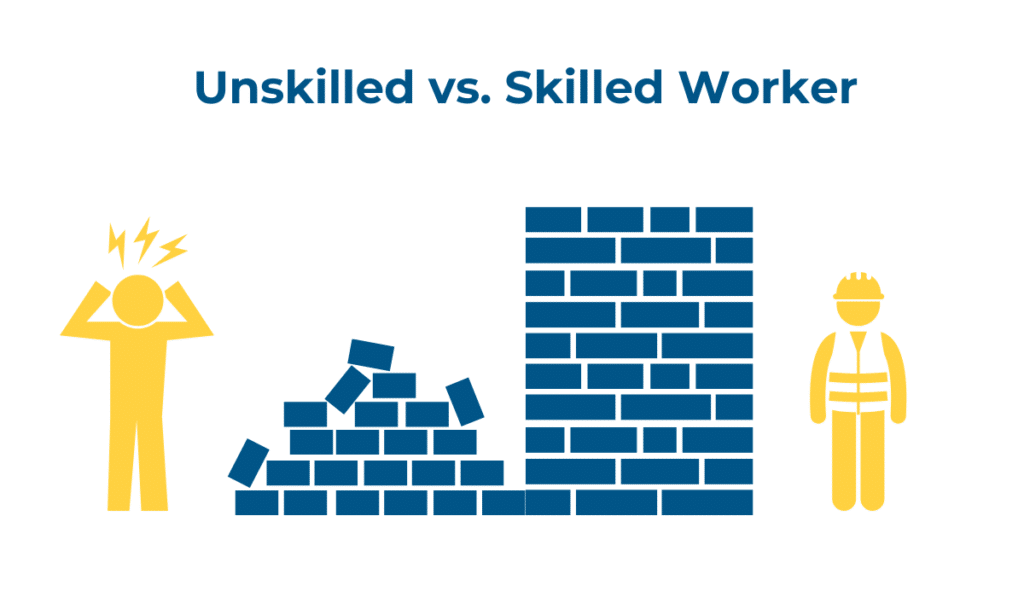 When people with such disparate skills work together, the quality of the work suffers, as less-skilled workers tend to deliver lower quality results compared to true professionals.
Additionally, differences in quality that occur within the same projects will probably require a rework, which can set you back by an additional 5% of the total project cost.
Another huge aspect of operational efficiency is safety. Without it, your project can run into delays and cost overruns, lowering efficiency. Because the construction industry is one of the most dangerous for employees, you should pay special attention to making your worksite a safe place.
But remember that proper safety training is not a one-time thing: it's an investment that pays off tenfold.
So, teach your employees how to do their job safely. Warn them of the possible risks and teach them how to recognize and report safety threats. Once they have this knowledge, the risk of workplace accidents will drop significantly.
Provide Staff with Adequate Technology and Equipment
If you're looking to be more efficient, give your staff access to the latest machinery and technology.
It might seem like a lot to ask, but it's worth it, and we'll get right into the reasoning behind it.
McKinsey & Co have found that the construction industry's productivity has stagnated for decades. This doesn't exactly come as a surprise if you know that this industry is one of the least digitized ones.
But nowadays, companies are trying to adapt technology because they've learned it can have tremendous benefits for their bottom line.
The fact that construction technology funding increased by 63.8% from 2019 to 2020 speaks volumes about the radical change the industry is undergoing. Contech financing is now worth $1.5 billion, stressing the importance of technology for the construction sector.
Since you're trying to improve your efficiency, you should take the same road and try to implement technology whenever possible to maximize your productivity.
These are some construction project aspects you can optimize with new solutions:
| AREA | SOLUTION |
| --- | --- |
| project planning, materials acquisition | 3D building information modeling (BIM) |
| communication, scheduling | mobile construction software |
| project management, task execution | project management software |
| fleet tracking and management | fleet management software |
| equipment | new, modern equipment + equipment tracking software |
With 3D BIM, you can create a digital model of your project, which comes in handy when you have to visualize your work and make project changes.
If you want to invest in promoting communication among your team members, opt for mobile construction software that allows them to contact each other seamlessly.
Both project and equipment management software let you stay on top of your work and equipment. With project management software, you get to see tasks through to completion, ensuring efficiency.
On the other hand, fleet or equipment tracking software tracks not only the equipment's location but also its maintenance and other records.
However, new technology isn't strictly limited to applications and software that simplify your life by digitizing huge chunks of your work.
New technology can also mean modern equipment, which is more advanced than the machinery you currently use. Specific equipment can perform more than one task simultaneously and do that more quickly and precisely than older models.
Clearly, there are many different options in the technology world, all created to help your project be more efficient.
Choosing the right type of tech for your business depends on your company and the projects you do. But, you're probably wondering how to prioritize the implementation of these solutions, i.e., decide which option is the most critical.
Have you thought about asking your field employees?
Tony Colonna, senior vice president of innovative construction solutions at Skanska USA, advises to do just that:
Around 80% of the ideas for our new technologies come from our people out in the field. Our engineers might come up with a new way of doing things or have a need they bring to the table.
And it makes perfect sense: asking those with the first-hand experience in the field will bear better results than relying on those behind the scenes.
Your workers will know which aspects of the project are lacking, which pieces of equipment need to be replaced, and which are optimal, so it's best to simply ask them.
Besides, if you invest in something your team really needs, they will actually use it and achieve even better results.
Conclusion
After decades of being stagnant, the construction industry is finally taking steps towards digitization. As with any other industry, the ultimate goal is operational efficiency.
So, unless you want to stay behind and get run over by competitors, you should start thinking in the same direction.
Thankfully, many solutions can help your team be more productive, ranging from cloud software to management tools.
Pair that technology with a well-thought-out plan and extensive employee education, and you have a construction project program destined for success!