So, you're ready to invest in construction project management software.
The only question that remains is what kind of features will truly help your project take off?
With so many providers out there, it can be difficult to match your requirements with their offers.
That is why we've compiled this list of project management software features you should consider while searching for the right digital solution.
Let's start!
Optimal Navigation
Ease of use is one of the most important features to look for in construction software.
Everyone on your team needs to be able to navigate the software for better collaboration and access to important information.
Software with many features is useless if it has an interface that your workers will hate and avoid using.
Here's one example of good practice. Autodesk Build has a very minimal approach to user interface design, but all the information you need is available at a glance.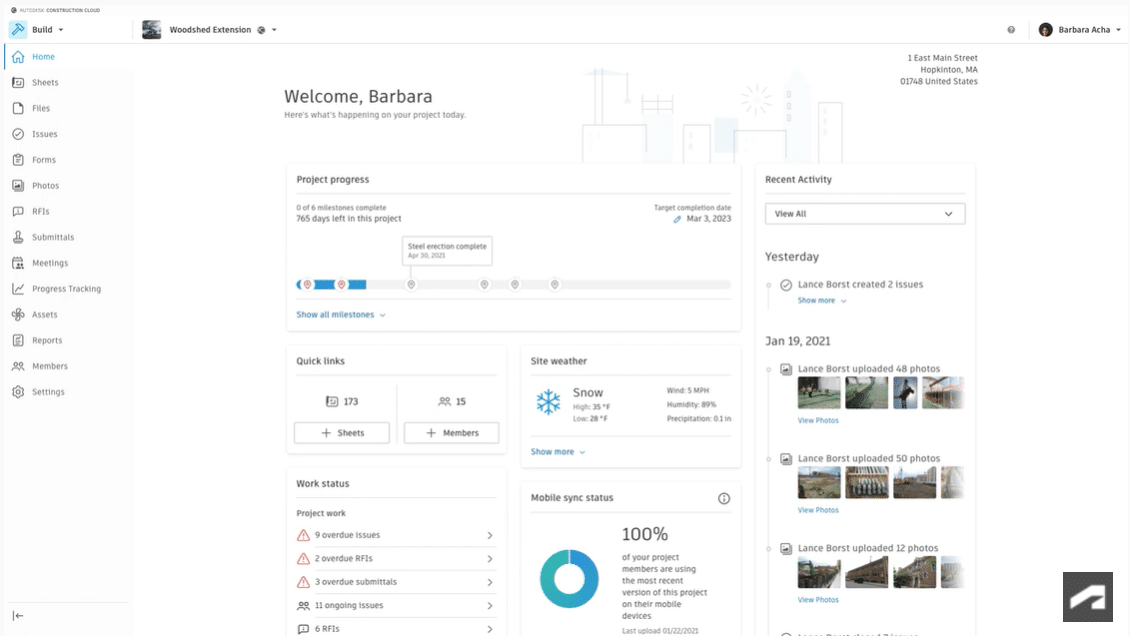 When you first log into your account, you can track the status of your project with a horizontal progress bar.
On the right, there's a breakdown of recent activity, which tracks daily logs, issues, reports, and shared documents (photos, videos, etc.).
On the far left, there's a list of setup tools to navigate through different windows and aspects of the project. These include most of the essentials for project management:
Files
Issues
Forms
RFIs
Submittals
Meetings
Assets
All in all, good project management software is intuitive, easy to use, and gets you started quickly.
So, optimal navigation is necessary to get your team members to use the software regularly and improve the project management process as a whole.
Mobile Accessibility
Construction projects can take place at multiple sites or even across different time zones.
Also, more often than not, different stakeholders like project managers, supervisors, and subcontractors might not be on the same site at the same time.
So, how do they access project information on time?
Luckily, most project management software is cloud-based nowadays, which means you can access important project data and communicate with others at any time and from anywhere.
But while you can't count on workers to have access to computers, they will definitely have a smartphone.
All they will need to do is download the corresponding app.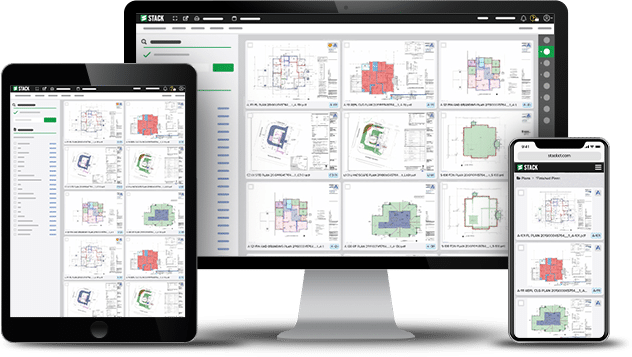 A mobile app helps your workers track their working schedule remotely, stay informed about project progress, and enter daily reports directly from the job site. It also allows you to stay updated about different aspects of the project, as long as you have internet access and a smartphone.
To put it briefly, having access on the go increases productivity and project visibility while helping you make better decisions to meet project deadlines.
Change Orders
As you're probably aware, construction projects rarely go entirely according to plan. That's why change orders are necessary to address issues and delays.
So, your project management software should offer an effective feature that will track all your change orders regarding a project.
That way, you can easily send in a change order request through the software, and your client will be able to respond to it immediately.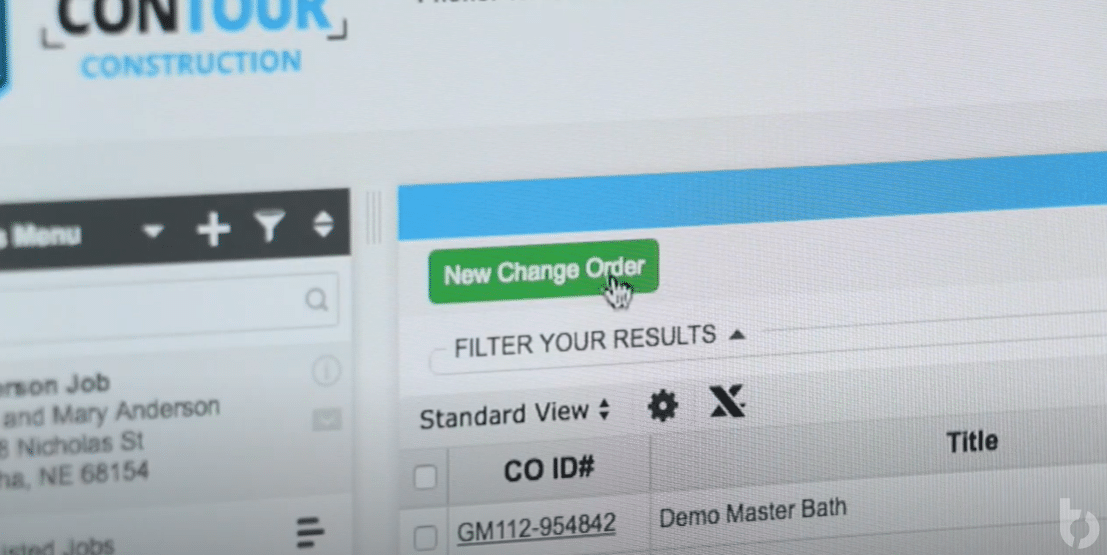 The best part is that, with many solutions, you can leave additional notes to explain the context of the change order so the client can make an informed decision.
Especially if it requires a substantial modification to the original plans or project cost increase.
Then, all the client needs to do is approve the change and sign digitally.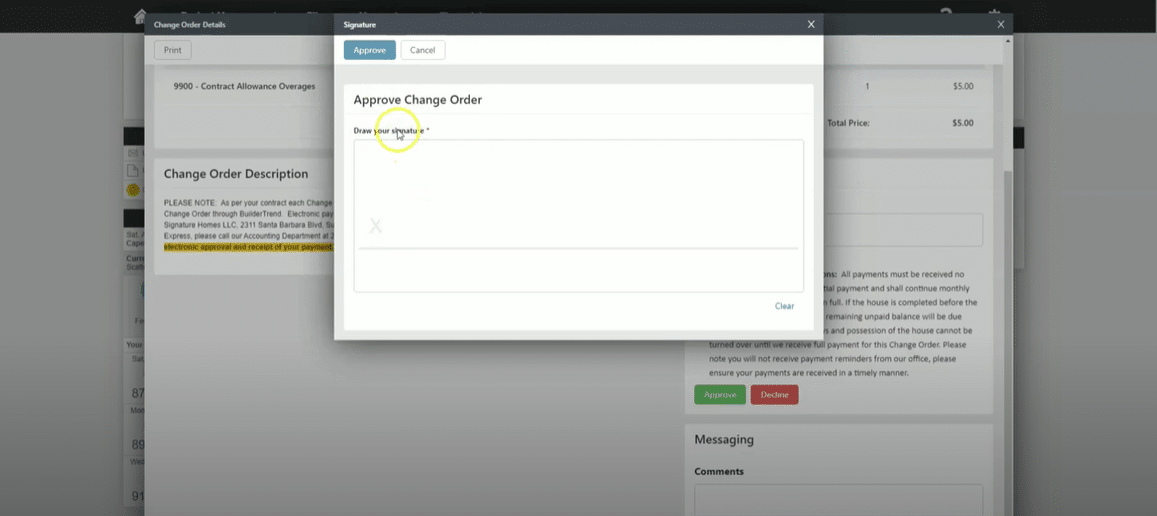 Find a construction project management software with an intuitive change order feature to avoid project delays and address issues immediately.
Construction Estimating
The final cost of the project depends on countless variables.
Use a software solution to make sure you're taking all of them into account, since software calculations are more accurate and help you reduce any possible errors before sending your estimates to the client.
Generally, all-in-one software usually has the necessary financial features to enhance your estimates and deliver them to the right client quickly.
Solutions like RedTeam have all the project costs listed in the Estimate category, where you can easily see specific items and their cost.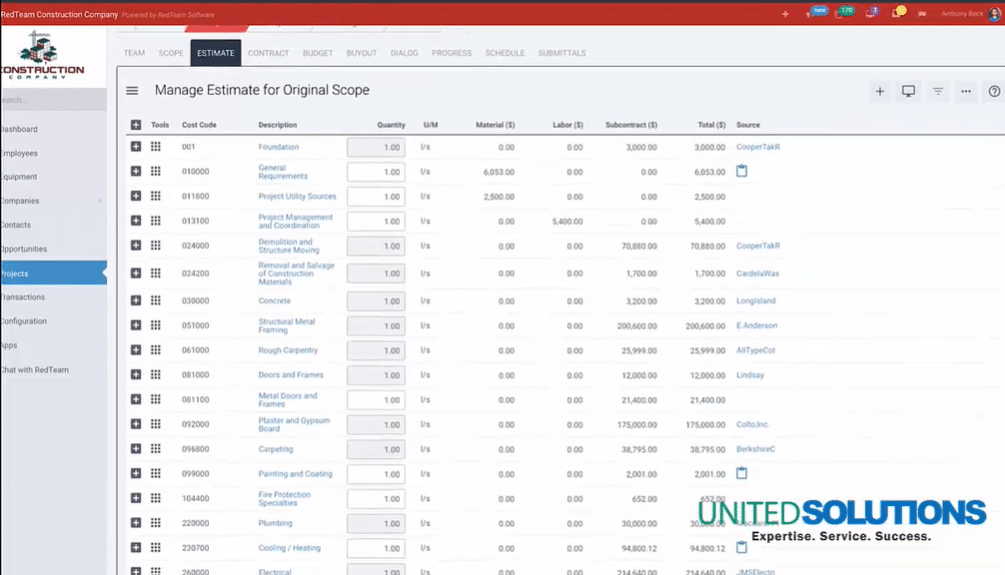 You can also break down each item further for a more detailed overview of the costs. For instance, the concrete section can include materials, labor, and equipment costs.
At the end, you'll have a comprehensive insight into the total project costs, including direct and indirect costs, as well as the profit margin.
Having all of this information in one place is essential for staying profitable.
Basically, if you have a comprehensive way of tracking project expenses, you'll be able to create better bids and accurately predict your profit margins.
Project Reporting
Better data reporting contributes to greater efficiency and productivity. This allows construction companies better insight into their project's progress.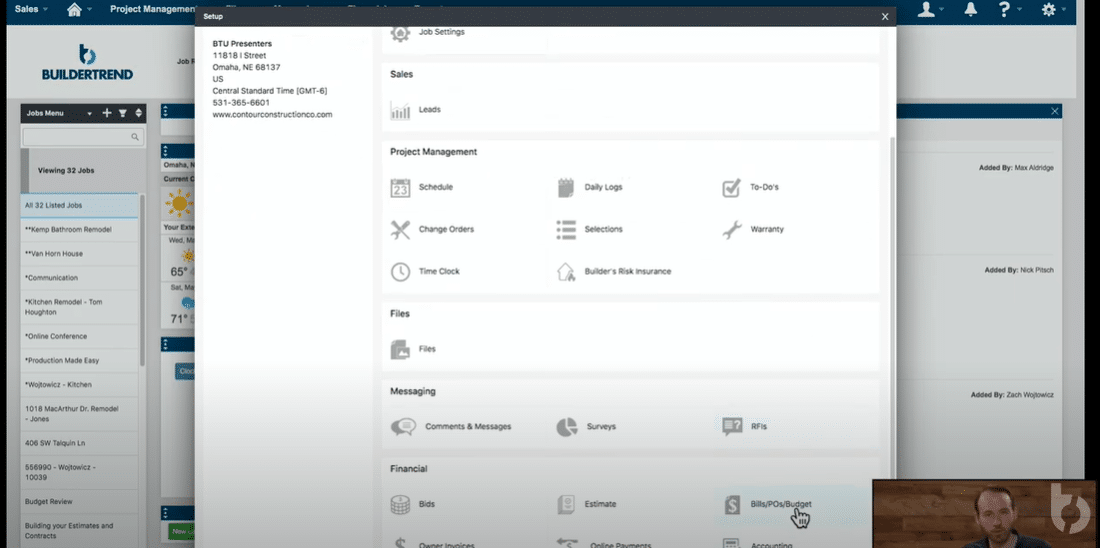 Basically, good project management software has a robust reporting feature that will control and produce real-time data and send automatic reports to vital stakeholders.
Also, reports should be in an understandable format that anyone can read.
Reduce the headache of creating reports from scratch and utilize the data your software collects to produce easy-to-understand reports for everyone involved in the construction project.
Equipment Management
Construction companies of any size need to manage their inventory and equipment.
You have probably made significant investments into a sizable fleet and materials, so you need to take proper care of them.
That includes:
Asset visibility
Asset maintenance
Asset allocation
Without an asset tracking system, it's easy to lose equipment or become ineffective at ordering new materials.
But if you invest in good asset tracking software, you won't have to worry about that anymore.
Our solution, GoCodes, is a user-friendly asset tracking software that comes with scannable tags which allow you to easily monitor and distribute your assets (heavy equipment, tools, materials, etc.).
An easy-to-use check-in and check-out system help your workers claim assets they need for their daily work while also alerting others about asset availability.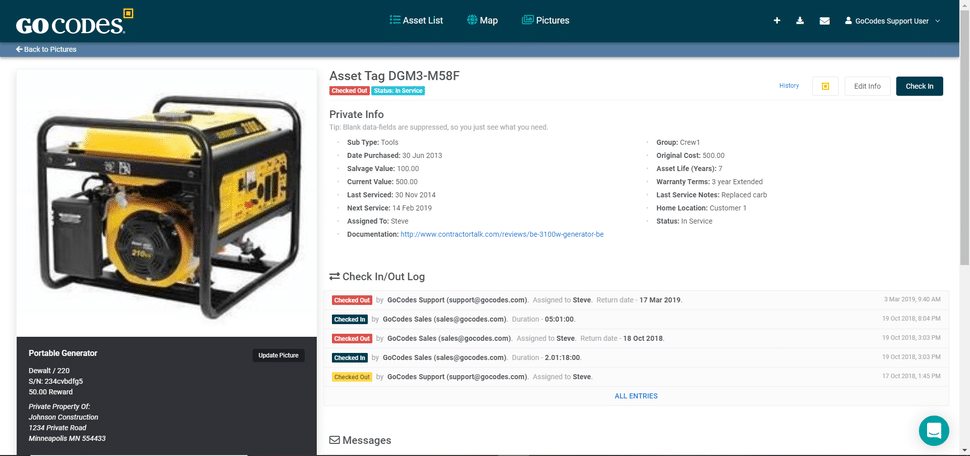 A GPS feature also enables you to track and oversee the movement of all your equipment and vehicles across job sites.
In this way, you can prevent theft and misuse of your equipment because you'll have historical data on its location after every scan.
Finally, you can set up automatic reminders when your equipment is due for maintenance to keep it in good working condition.
In the end, if you want a better insight into your equipment's status and manage your fleet better, then include asset tracking software in your construction software toolkit.
Task Scheduling
This feature helps project managers break down comprehensive project plans into specific tasks.
In this way, they can better allocate resources (material, equipment, labor) for crucial time-sensitive jobs, identify interdependent tasks and calculate the time needed to complete the project.
Most project management software has easy-to-use tools such as Gantt charts to visualize the project's constraints better.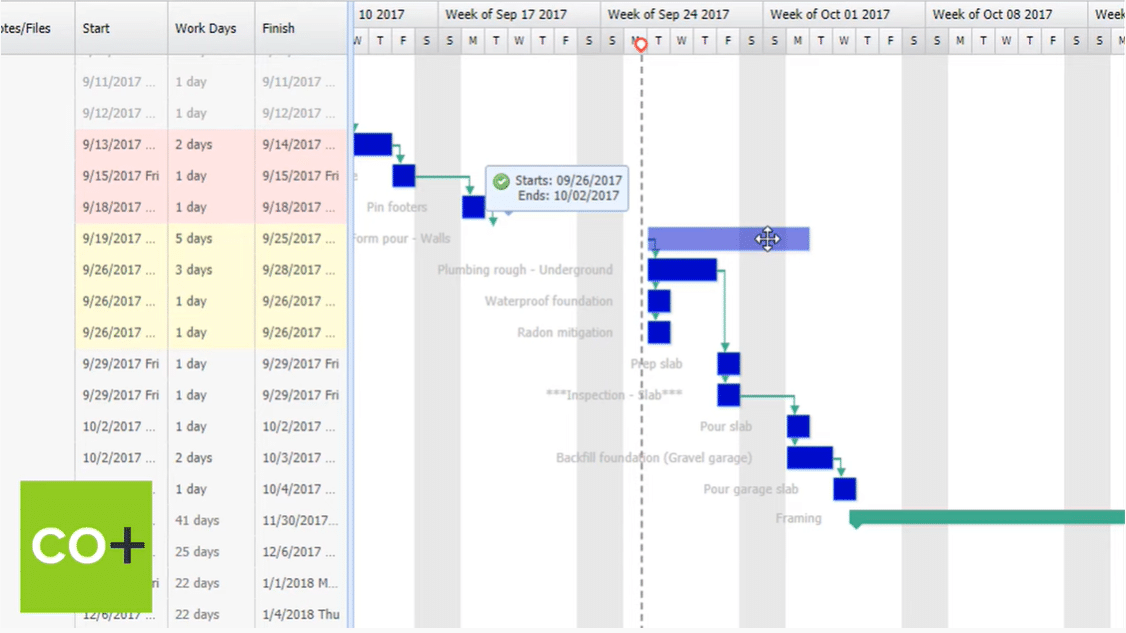 Choose a software with a built-in scheduling tool that can also send notifications to workers when they're scheduled to complete a task.
This will keep your workforce accountable and reduce unnecessary delays.
Because the schedule is updated in real-time, the information will always be accurate.
Being organized is essential for contractors to keep projects on time and within budget, so scheduling plays a big role in the success of your jobs.
To stay on top of all your construction projects, find project management software with a task scheduling feature.
Communication Options
Is communication one of the main obstacles in your project progress? Here's a complaint from a respondent in Autodesk's recent survey.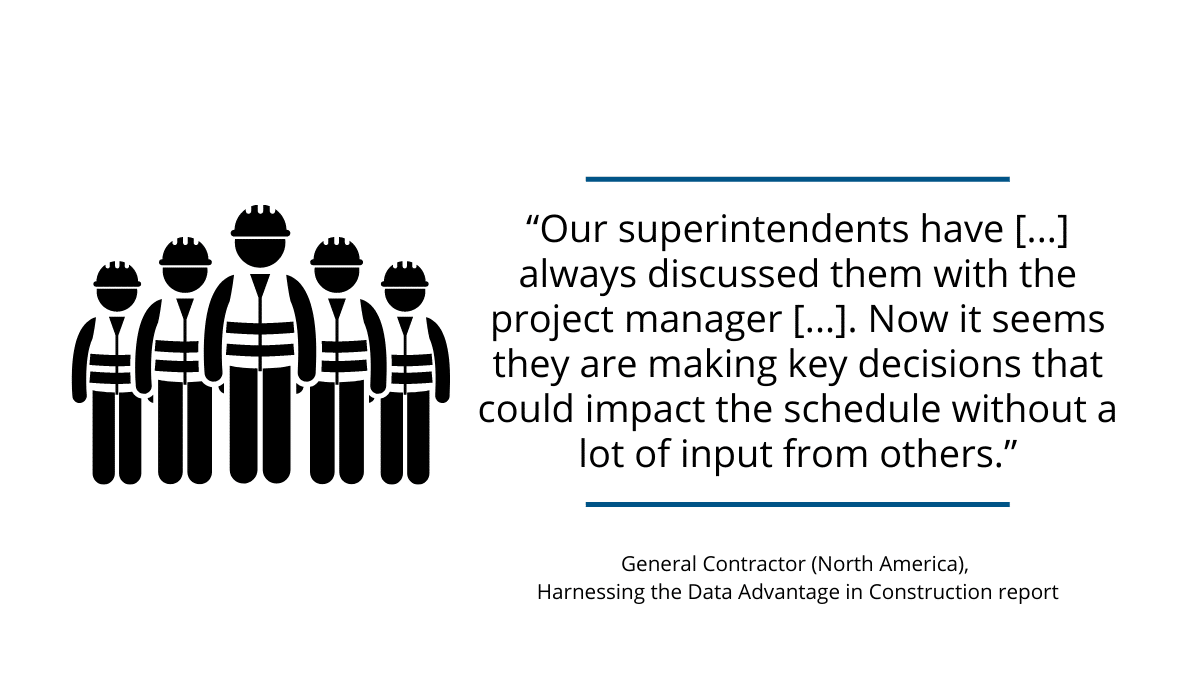 In this case, bad communication was caused by the stakeholders' unwillingness to share information and make important decisions without other people's input.
This approach can increase the amount of rework, prolong the project's timeline and reduce onsite productivity.
It goes without saying that this ultimately negatively affects the project's outcome and the company's profitability.
To combat this, many project management software providers have built-in communication channels to improve information sharing and collaboration among construction team members.
They can be in the form of messaging platforms, CRM (to communicate with clients), or tools such as daily logs.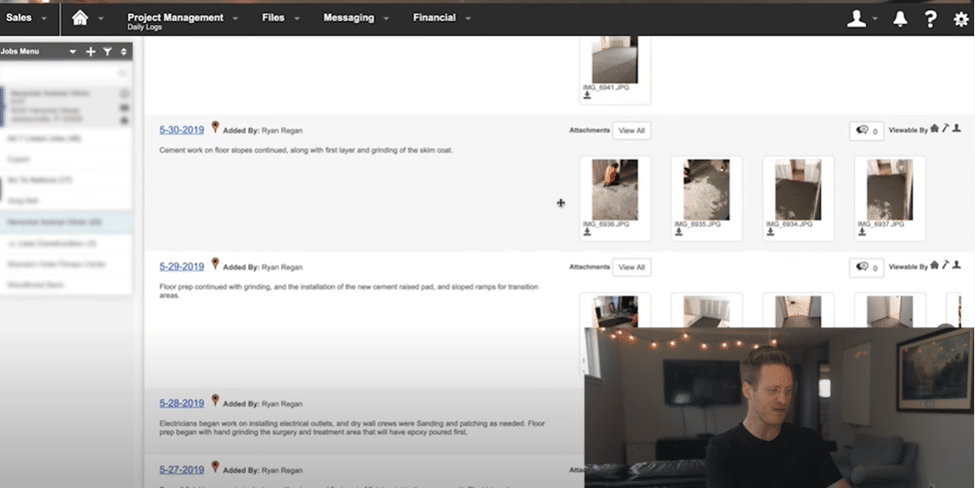 Basically, everyone involved in the project can communicate no matter where they're located and be updated about the project's progress.
What's more, this keeps project managers organized, and all communication is recorded for future reference.
Making better decisions starts with streamlined communication, so ensure your project management software has a feature to exchange messages between team members.
Document Management
A single project can produce thousands of documents, ranging from project drawings and RFIs to licenses and permits.
But keeping track of project documents is necessary to ensure compliance, expected project quality, and an effective auditing process. That's why a centralized database in your project management software is vital to managing documentation.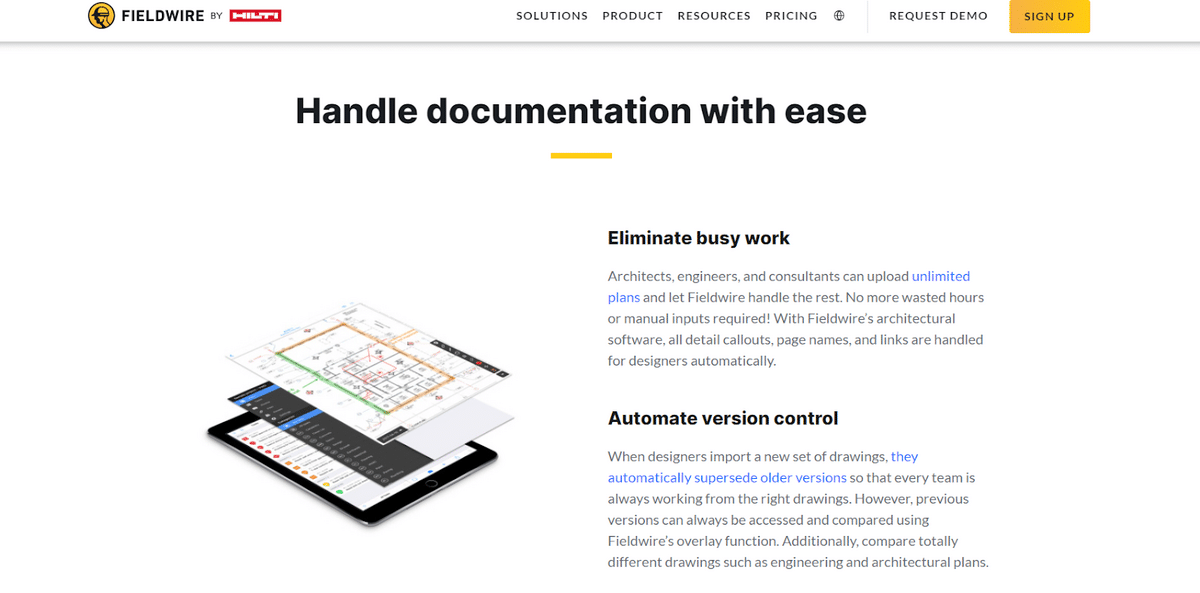 Not only are your documents stored in a cloud-based system and thus always available, but they're also digitized and require less space.
GoCodes allows users to link a Google Doc file or a Google Form to the piece of equipment.
That way, you can use GoCodes even for some recurring tasks that require additional documentation, such as safety checks, calibrations, etc.
Unlike physical storage, there's less chance you'll misplace an important document right when you need them.
It all boils down to better document management which can result in optimized workflows and more organized staff.
Good Data Security
According to Verizon's 2021 Data Breach Investigation Report, there have been 5 258 data breaches in 88 countries worldwide. That's a significant increase compared to the results from last year.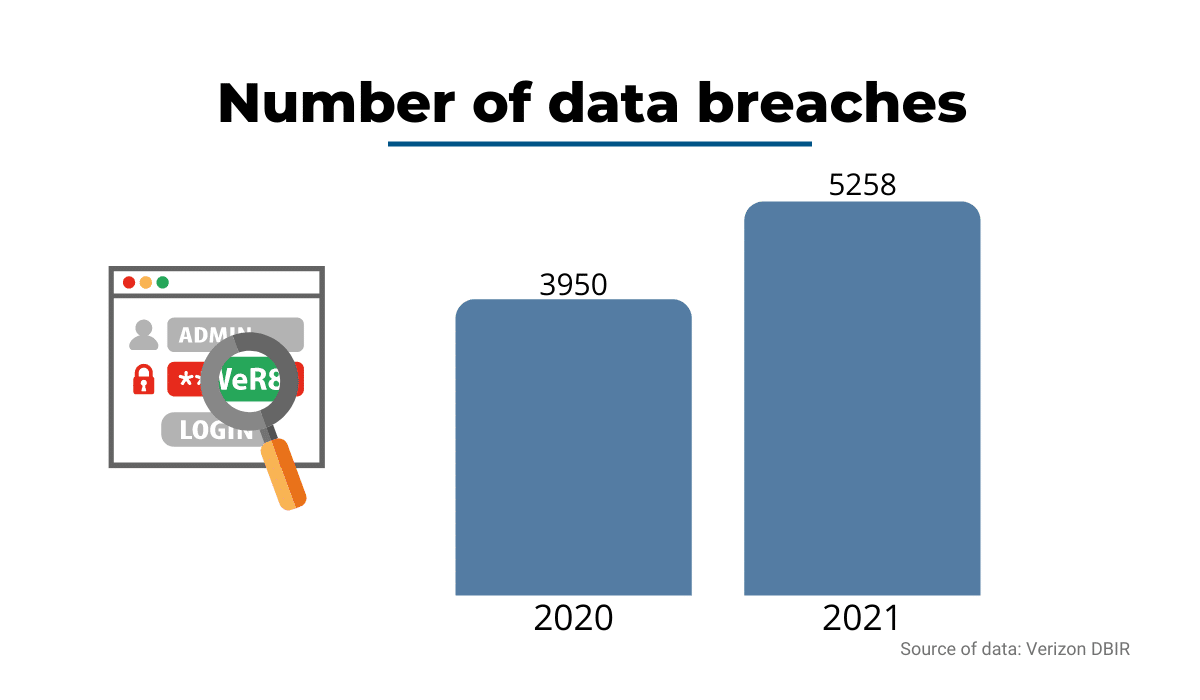 So, it's safe to say that security is one of the major concerns in every industry, and construction is no exception.
According to another report by Kroll, there's been an 800% increase in data breaches in construction companies in the past two years.
As companies moved to remote work, important company data was exposed due to a lack of security protocols.
Eoin Ó Murchú, Director at Kroll, believes this is because companies prioritized business operations, trying to connect clients and staff with the construction sites, rather than security.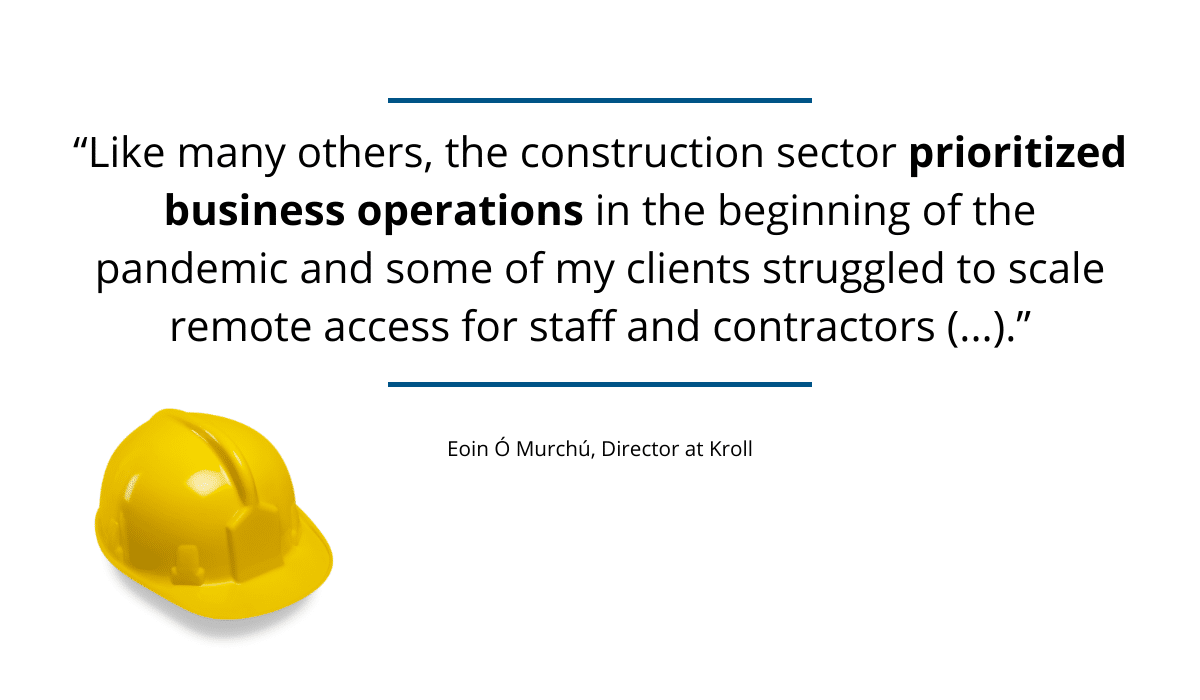 But this is no longer an excuse. Mostly because lackluster security can have tangible consequences for your business.
Verizon's report mentioned earlier also highlights that companies lost $30,000 on average through various security incidents and breaches.
While looking for new project management software, ensure the provider has robust security protocols to protect your company and project data.
Here is what Brian Lapidus, global practice leader at Kroll's cyber risk division, recommends you inquire about:
Where your data is kept (physically and digitally)
What level of encryption the provider uses
If there are any additional safety procedures
Security features need to be flexible, frequently updated, and customizable to align with your company's security procedures.
Safety Management
It is also a good idea to opt for project management software which helps you ensure that the right safety procedures are followed across your projects.
As you're well aware, construction sites are very dangerous places.
Hazardous situations can lead to a range of injuries, from minor ones such as cuts to more severe ones like concussions or fatalities.
So to protect your company from legal and insurance expenses, look into safety software features that will take important forms, certifications, and inspection reports and store them digitally.
There will be no need to fill out physical paperwork, and incident reporting can be finished faster.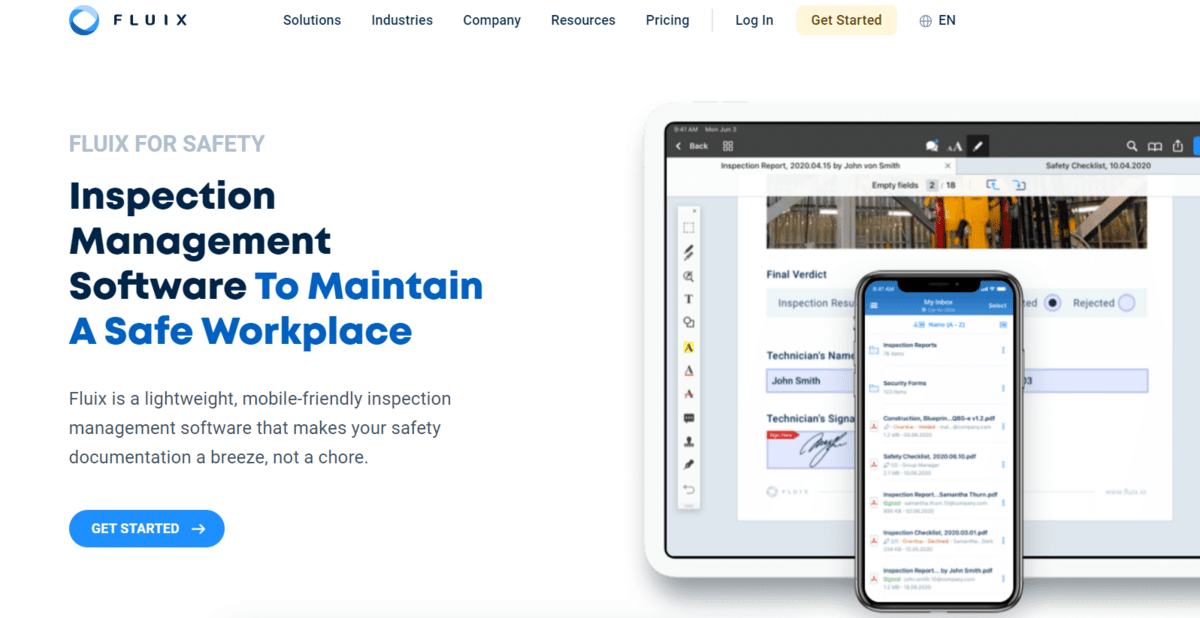 What's more, you can even create a worker profile where you'll have the data on completed safety and training courses.
This ensures everyone has adequate education about the company's safety procedures.
Additionally, workers can connect their smartphones or other wearable devices to the software to notify the supervisors about the exact location of an incident, thus improving the response rate.
A construction safety feature is a valuable resource to coordinate safety protocols, record accident reports, and ensure everyone is updated about workplace hazards and OSHA regulations.
Conclusion
Construction project management software helps project managers control different aspects of a project from the beginning to the end.
With so many options on the market, choosing the right one can be difficult.
Some digital solutions might excel in one area while lacking other important features you need.
What's important is to prioritize the essential features for your specific use and find the provider that will match it.
Hopefully, our list will help you in that journey, and you'll find the right project management software for your construction company.