Whether written or graphic, printed or digital, construction documents define all the requirements of a construction project in detail.
This includes everything from bidding documents, drawings, and technical specifications to the construction contract agreement and its various components.
On top of that, there are other construction documents that enable efficient monitoring and control of the project progress, such as daily reports.
Without further ado, here are ten important documents that show up in most construction projects.
1. Bidding Documents
Bidding documents are the contractor's guide and gateway to winning the bid.
In traditional design-bid-build (DBB) projects, contractors will receive bidding documents, such as the final design, drawings, technical specifications, and other conditions from the client, whether a private or public company or a future homeowner.
These documents will guide the contractor through all project requirements that must be met, serving as the basis for preparing the winning bid.
Then there are the documents the contractor must prepare and submit as part of their bid, such as the project deliverables, a cost estimate based on the bill of quantities and technical specifications, and different bid security forms and other attachments.

Some will allow contractors to establish certain project expectations, terms, and conditions that can influence how the final construction contract agreement is written and how issues that arise during the project are handled.
Even though none are legally binding at this stage, some will become so in their original or negotiated form after the contract is signed.
2. Construction Contract Agreement
Once their bid has been accepted, the contractor will plan and negotiate different project requirements and ultimately sign the construction contract agreement.
In essence, this principal agreement between you, the contractor, and the client, although it may be signed as a single document, can incorporate all the other documents listed here, including the prescribed types of daily reports.
For instance, here's a list of essential construction contract documents that are, in one form or another, typically included in a construction contract agreement, courtesy of Levelset.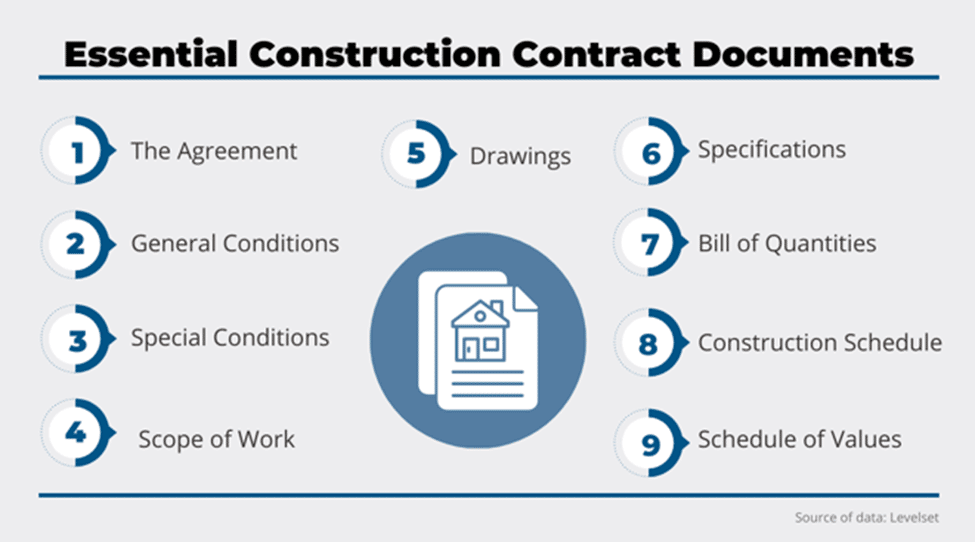 Of course, we'll cover or at least mention all of them below.
Depending on the contract type, delivery method, and different drafting practices, each construction contract agreement incorporates all or some of the above components, either as individual contract sections or as separate documents attached to it.
For example, one of the most important elements is the scope of work (statement of work) that defines all the work that should be performed, establishes expectations for both parties, identifies project milestones and tasks, and other information required to complete a construction project.
Overall, the core construction contract agreement should include a detailed description of the project, contractor and client info, contract price, payment terms, etc., that will, together with the other elements listed here, constitute a complete construction agreement.
3. Construction Specifications
Project specifications are often defined ahead of the bidding stage and become an integral part of the construction contract package once the construction agreement is signed.
Commonly referenced in architectural, engineering, and other technical drawings, construction specifications provide detailed information about the project requirements that can't be shown in graphic form.
In other words, they describe all the work, materials, specific techniques, and equipment needed to complete the project in compliance with the contract while also defining the quality of workmanship.
However, they do not specify cost and quantity, which are listed in the bill of quantities.
Generally speaking, specifications play a crucial role in construction projects because they do the following: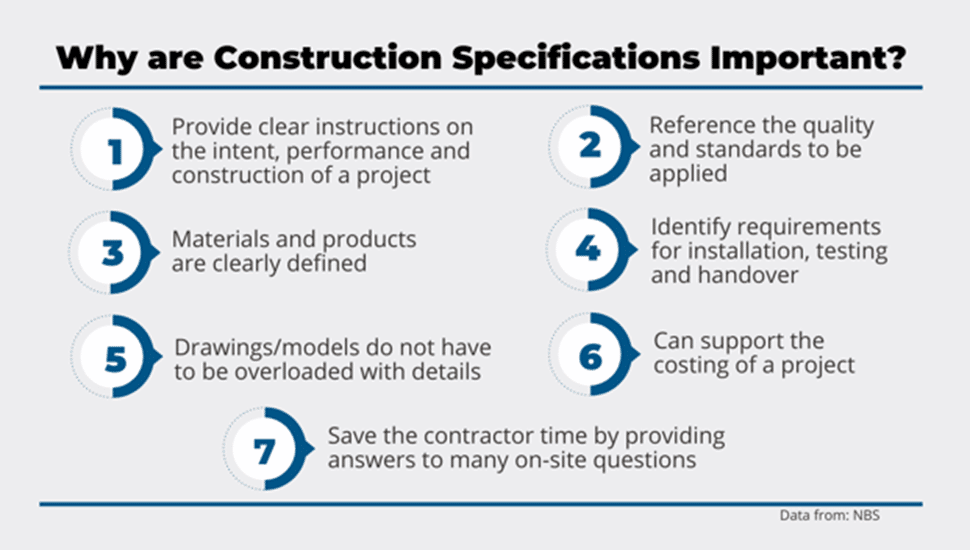 It's clear from this list that construction specs may include standards and best practices that should be applied, acceptable deviations from specified construction materials and products, inspections and certificates needed for project closeout, cost estimates, and even special techniques and equipment that should be used.
Overall, construction specifications are an irreplaceable part of project documentation that provide essential information throughout the project lifecycle, from bidding to closeout.
4. General Conditions Document
In short, the general conditions document determines the rights and obligations of the parties involved in the construction project, acting as the thread that binds all other construction contract documents together.
It can come in the form of a self-standing document, or be a section in an existing one.
As for their provisions, general conditions regulate all aspects of the project, meaning they can refer to any number of project-specific issues.
However, they usually contain some important standard provisions that determine the roles and responsibilities of both parties, define the contract price and payment terms, set different deadlines, and regulate how the delays and extensions will be handled.
For instance, that's where the contractor will find provisions that describe their duties in detail and define requirements related to bonds, insurance, and warranties.

Conversely, the project owner may find provisions that refer to site conditions, change order management, or procedures for addressing defective work.
The price and payment provisions will specify the full contract price and payment schedule.
In other words, such provisions regulate many issues that will ultimately affect your profit margin, such as progress payments, retainage, or substantial completion.
Finally, general conditions will also contain dispute resolution provisions.
Overall, the general conditions document represents the backbone of the entire construction contract agreement.
5. Architectural Drawings
Architectural drawings, as a visual representation of the final design of a project, are usually where all construction projects begin and end.
When an idea for a new home, office building, or bridge forms in someone's head and progresses towards realization, architectural drawings are usually the first to be created.
Nowadays, this increasingly includes a digital 3D model of a building created with the help of building information modeling (BIM) software.
Whether paper or digital, these documents depict the details of every aspect of construction, meaning they usually include structural, electrical, plumbing, HVAC, and finishing drawings, to name a few.
Here's a non-exhaustive list of different types of architectural drawings, courtesy of United-BIM: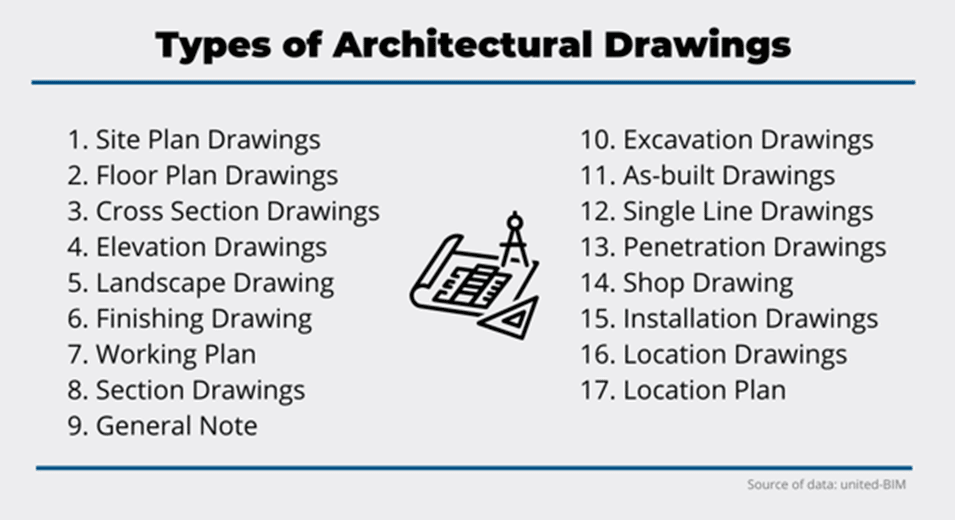 When these drawings are all put together, they constitute a comprehensive visual representation of all the graphic project details.
In the design stage, they help the client and contractor visualize and agree on what the final product (building, house) will look like.
During construction, they are essential as they show in detail what will be built, how, and where.
Together with the specifications, they provide a complete graphical and textual description of all technical details of a construction project.
6. Construction Schedule
As a document, the construction schedule outlines the project timeline and milestones, planned task start times and duration, and any dependencies and constraints.
Even more importantly, this document can provide instructions on how to deal with inevitable delays and keep stakeholders informed of the project's progress.
In its digital form, the construction schedule is constantly monitored, reviewed, and updated by the project manager to address the vast array of issues affecting the project schedule, such as changes in project scope, shortage of specified construction materials, bad weather, or even poor scheduling.
This continuously evolving schedule is best managed by using scheduling software, whether specialized or as part of an all-in-one construction management software solution.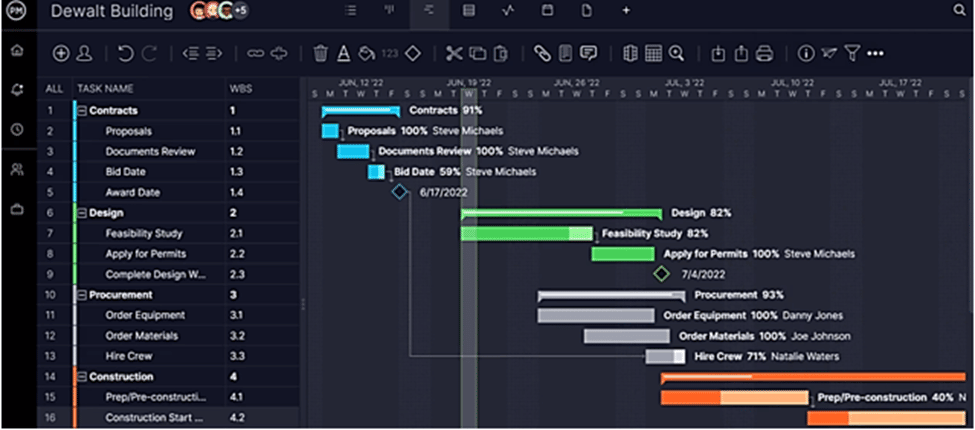 In short, such digital scheduling tools have revolutionized construction schedule management by allowing managers to easily monitor the project progress and, in case of potential or actual delays, take appropriate actions to keep the project on track.
And that takes us back to the schedule in its document form, which can contain instructions on how different delays should be addressed and how project stakeholders should be informed of scheduling changes and overall project progress.
Naturally, all this, along with provisions on who will bear the cost of potential project extensions, can also be covered in the general conditions.
7. Bill of Quantities
The bill of quantities (BoQ, BQ) is an essential construction document because it provides a list of all materials, labor, tools, and equipment that are necessary to complete the project.
A bill of quantities lists project-specific numbers, such as the volume and weight of the materials, or the estimated duration on the basis of drawings and specifications.
Thus, this document is extremely useful in the bidding stage, when the project owner wants to compare bids based on more than just the total contract price.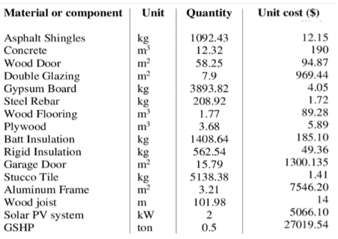 In other words, they can evaluate different offers more efficiently as potential contractors will base them on the same quantities and list costs for each item in the bill of quantities.
Conversely, this document helps bidders estimate project costs more accurately and improve their bids.
During construction, the materials, tools, and equipment itemized in the bill of quantities can be tracked for cost control, progress monitoring, and improved resource management.
For instance, asset management software allows you to track tools and equipment in real-time, receive low quantity and maintenance alerts, and link related documentation, such as manuals, instructions, and warranties, to relevant tools and equipment.
This makes keeping track of the items listed in the bill of quantities much easier.
One such tracking solution is GoCodes.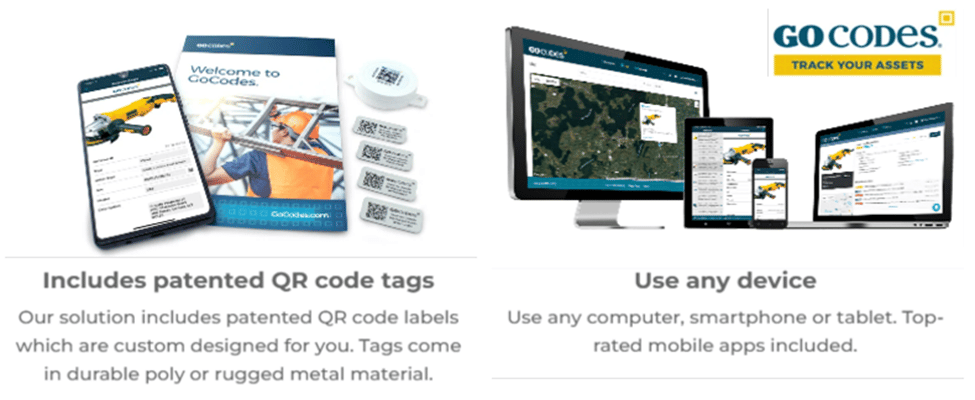 Anyway, the bill of quantities will also help establish the schedule of values that will assist in determining the costs of different material deviations and other variations and provide the basis for improved budget control and cost reporting.
Overall, the bill of quantities is an essential document during bidding and construction.
8. Insurance Documentation
Insurance is a critical component of any construction project that protects both the project owner and contractor from various risks associated with construction projects.
Consequently, insurance documentation is vital when contractors are faced with the realization of one of those risks.
It can help them transfer or minimize many construction risks and protect the project, their business, property, and construction workers from accidents and other events that could jeopardize their operations.
As there is no shortage of various construction risks, there are many types of construction insurance, some of which are mandatory and some optional.
Here are the most common ones.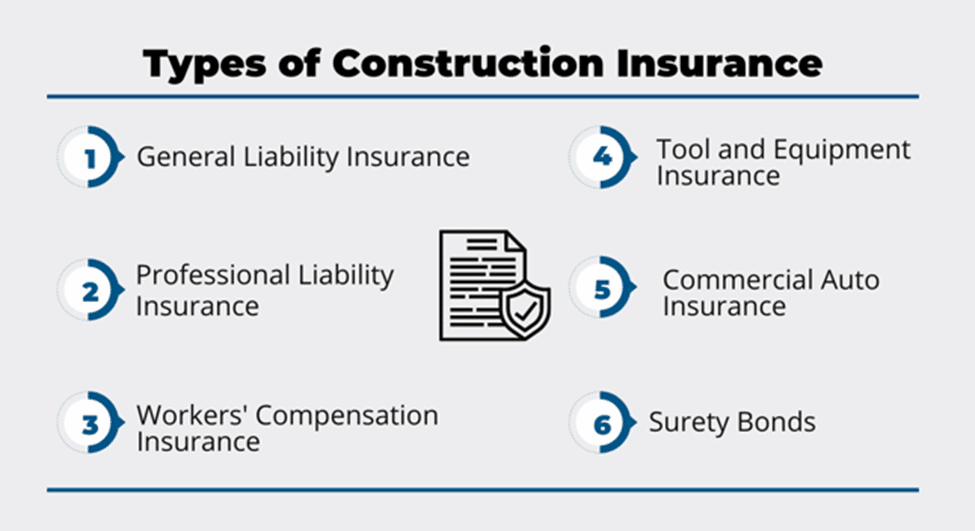 For instance, workers' compensation insurance is legally mandated or contracted in almost all projects.
It covers the costs of medical bills, missed wages, and recovery of workers injured on the job.
Whatever insurance policies and certificates are concerned, keeping relevant records and updating documentation is an essential part of protecting all parties from risks that could derail the project.
9. Subcontractor Application
Of course, most construction projects will require the hiring of subcontractors.
Since subcontractors will be performing specialized project tasks, both the contractor and client need confirmation that they are qualified to do such work.
Thus, a subcontractor application will contain all relevant information about the subcontractor, such as their legal and financial information, professional licenses and credentials, required bonds and insurance, and references.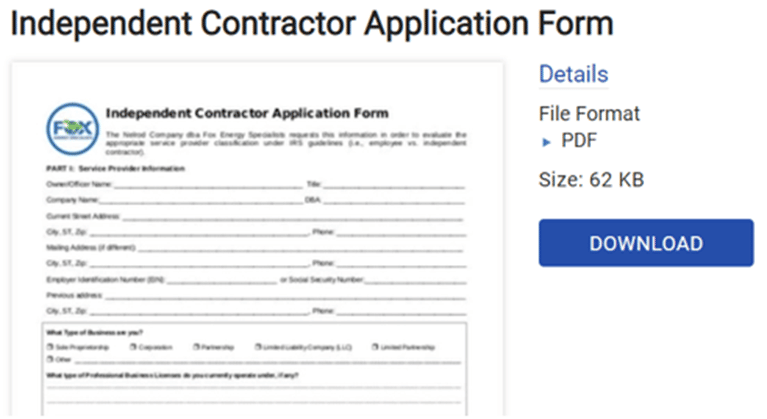 Such applications will become part of the construction contract package, while the contractor will usually conclude a separate agreement with each subcontractor.
However, to protect both the client and contractor, the subcontractor agreements should subject them to the same terms that apply to the main contractor while tailoring other provisions to the specific project task they'll be responsible for.
In conclusion, subcontractor applications make sure that the subcontractors are qualified for the job and will perform it according to the standards set in the construction contract.
10. Daily Reports
Finally, daily reports are essential for tracking the progress of construction projects.
Once construction starts, or even during the project planning stage, daily reports detail every part of construction project operations done in one day.
Thus, they are very helpful when it comes to tracking the project progress and overall productivity and finding ways to improve organization and task management on the construction site.
Naturally, there are cloud-based reporting apps that allow construction team members to produce, sign, and submit different types of daily reports without ever using pen and paper.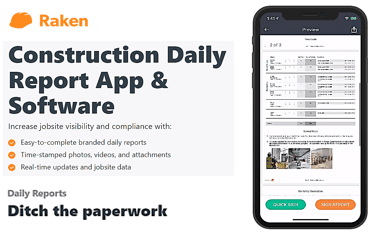 As for daily summary reports, which are shared with the client and other project stakeholders, they usually include items like a list of involved construction team members, used materials and equipment, any reported issues or incidents, and work progress measured against different construction performance metrics,
To sum up, daily reports provide an up-to-date view of all relevant project information, thus allowing the project manager and other stakeholders to track progress and make necessary adjustments to keep the project on schedule and within budget.
Conclusion
So, whether written or graphic, paper or digital, construction documents allow projects to come to reality in a planned, cohesive and organized manner.
This short overview of important construction project documents is just a tip of an imaginary iceberg comprising all the different types, possible combinations, and variations of typical construction documents.
Still, we hope it provided some insight into their different but sometimes overlapping roles in a construction project.