Technology has improved all aspects of human life, notably the workplace.
In construction, new methods and approaches have been developed to automate processes and help workers do their jobs more efficiently and quickly.
It's becoming easier to respect deadlines and organize operations to meet the demands of this growing industry.
There are many ways you can incorporate technological solutions to increase productivity in construction, and we've selected five to help you get started.
Read on to find out what they are.
Automates Information Capturing
Even though the idea of automating processes intimidates some construction professionals because they fear becoming redundant, McKinsey & Company suggests those fears are unjustified.
As a matter of fact, they believe automation will help deliver projects faster, so 200 million additional jobs will be needed by 2030.
Automation can positively impact many construction areas, and data entry is one of the most important.
Manual input of information increases the possibility of mistakes and takes time.
Instead of spending hours filling out paperwork for their employees, filing it, and later sifting through records to find it, managers can do it all in a few clicks with automated data capturing.
The entered information can then be processed, organized, and managed quickly and be used for reporting and document creation.
Another thing automation is helpful for is fixed asset management, or more specifically, the management of tools in your company.
When you use tool-tracking software such as GoCodes, you know exactly where each tool is located and who checked it out.
Tools can be checked out in seconds by scanning a barcode, as opposed to 5 or 10 minutes a worker would spend doing it manually.
That particular tool is then recorded in the check-in/out log, as shown below. You can see who checked it out and when it needs to be returned.

Since tools are used daily on a construction site and by many people, the time saved on checking tools in and out can add up.
Instead of spending it on a chore easily done by software, your employees can use it on more meaningful work.
Facilitates Collaboration
Collaboration in construction can be demanding because so many different stakeholders are involved.
Each department has data that only they can access, and they often communicate indirectly, leading to potentially dangerous misunderstandings that take time to correct.
One way to overcome this is by using cloud technology.
With specialized cloud-based platforms, all stakeholders can be equally involved throughout the project and see progress in real-time.
When a digital plan from a single source is used, it takes time to communicate any changes to other teams that aren't in the same location.
If another team started working on something that's no longer needed in the meantime, fixing the mistake would require more time, labor, and money.
Software such as Autodesk Construction Cloud brings everyone together and keeps them up-to-date.
Every team member at all levels can see changes as soon as they occur and address them right away.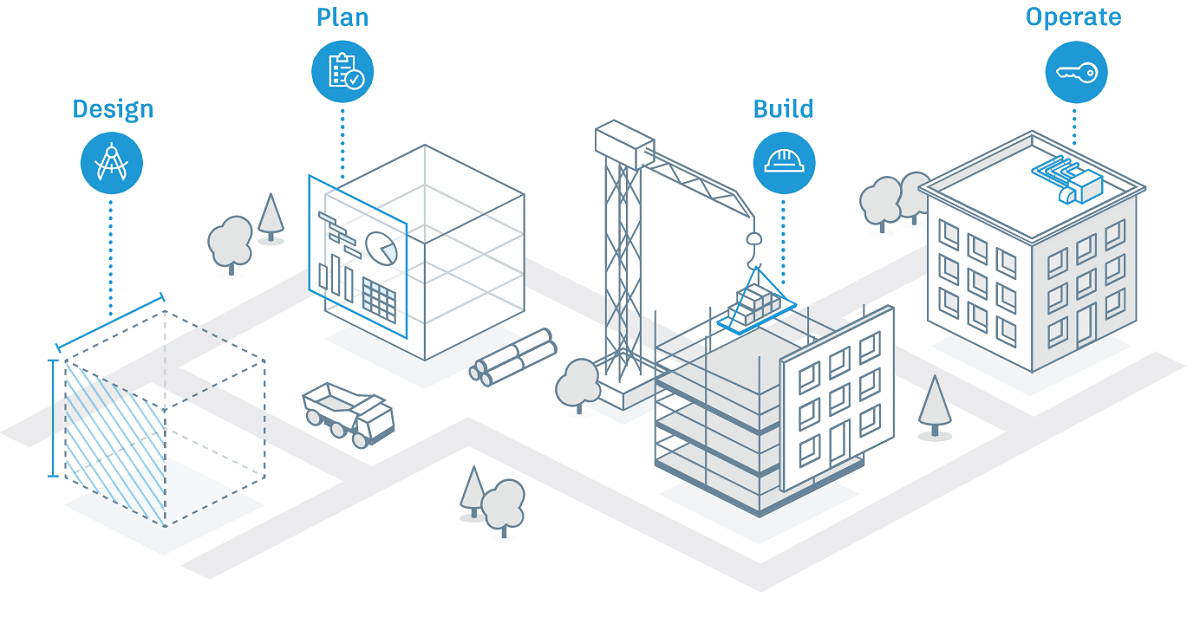 This type of software is so efficient that it helped one company reduce the time of design coordination by 95%, from 15-25 minutes that it took to compare two drawings before using it to only 1-5 minutes with the help of construction cloud.
Another piece of technology you'll need to speed up collaboration is videoconferencing.
It can be used when you encounter any issues that need to be solved or simply want to catch up with everyone.
Solutions such as Zoom or Slack are simple to use and offer many advanced features that will help users be on the same page and reduce the chance of errors.
As everyone will have the correct information, there won't be any confusion, which will allow everyone to focus on the task at hand in a timely manner, boosting productivity.
With videoconferencing technology, you can share files, access other people's desktops remotely, chat, and share a whiteboard screen, just as you would during a regular meeting.
If a team member can't attend a meeting, you can record it for them.
You won't have to deal with logistical details such as checking whether a conference room is available and wondering if everyone will be able to fit inside.
You just log into a session, and you're good to go.
Helps Managers Make Better Decisions
Managers in construction have been leveraging technology to help address decision-related challenges for a while.
For example, in 2017, the largest U.S. construction company Bechtel was awarded the CIO100 award for its "innovative use of big data and advanced analytics to transform the way engineering, procurement, and construction (EPC) industry addresses efficiency and productivity challenges."
Carol Zierhoff, then-senior vice president and chief information officer at Bechtel, said: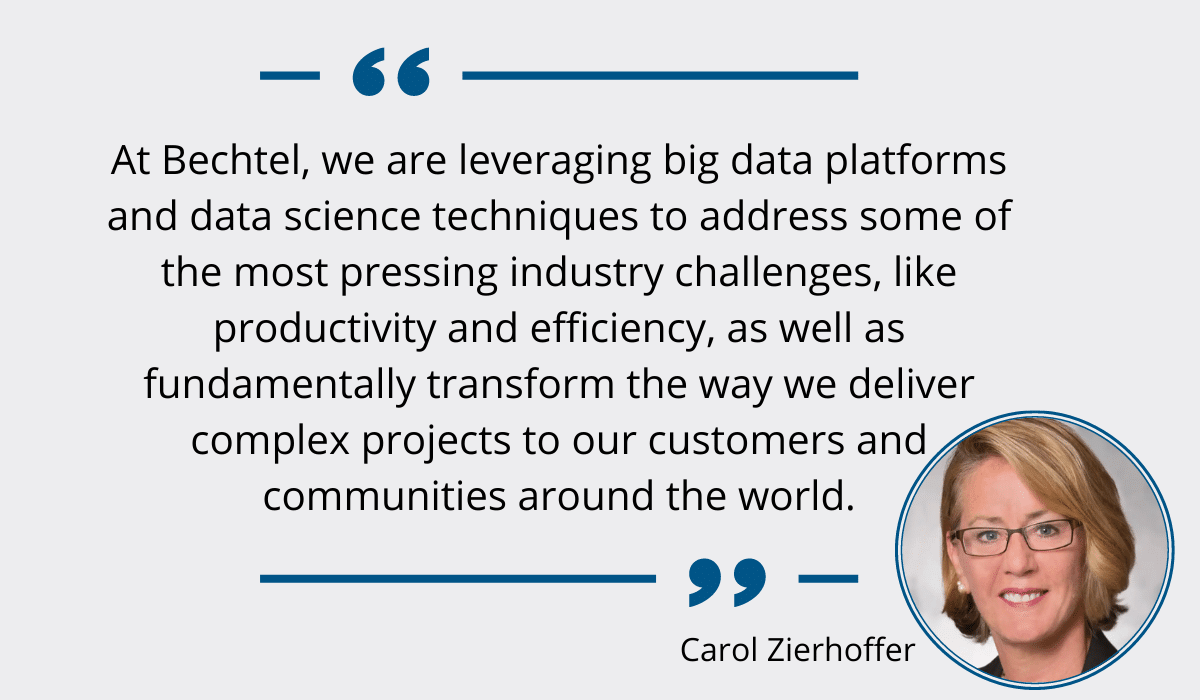 As technology helps managers identify potential setbacks and address them, it can also inspire them to find new solutions, just like it did for Bechtel.
One thing that's useful in this regard is 3D laser scanning technology.
It can be used to make a highly accurate digital recording of every detail at a construction site, and it's quicker and more precise than traditional mapping methods.
So, in addition to saving time, it allows managers to make better decisions later on and saves the company from embarrassment—the kind faced by France's national railway company when it ordered 1,860 trains that turned out to be too wide for most platforms.
We can see that technology allows construction companies to access but also analyze data from all stages of a project, so managers can use it in real-time to manage risks and make better-informed decisions.
Managers can focus their efforts on completing the work on schedule instead of worrying about logistics and technicalities.
They combine budget and field data to get the complete picture based on information provided by various teams from the company.
This information is unique and concrete, so any guesswork is eliminated, resulting in high-quality projects in which resources are used efficiently.
Reduces the Need for Jobsite Visits
Jobsite visits can be tricky for supervisors because they don't know the site, so they can be exposed to various hazards, and for workers, because they feel uncomfortable being scrutinized by the management.
Judging from the Bridging global infrastructure gaps report by McKinsey & Company, the situation will only get trickier.
The number of projects is set to increase, and $3.3 trillion needs to be invested in economic infrastructure globally by 2030 just to keep up with the demand.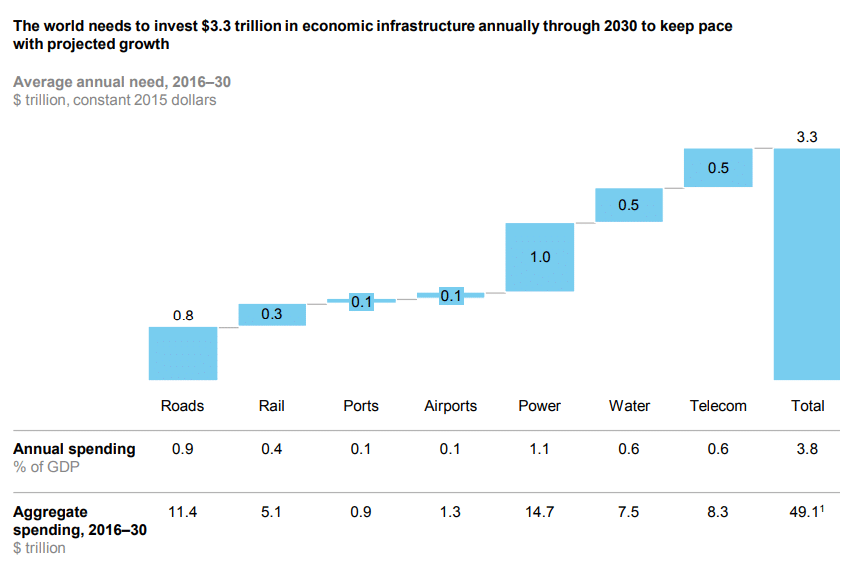 Moreover, new projects will mostly be megaprojects, meaning they will take years or even decades to complete and cost over $1 billion.
Imagine having to visit a job site at one of these megaprojects as a supervisor.
The site spans acres, so doing so a visit would take hours, and dozens of different stakeholders would tell you various important, job-related pieces of information.
You would end up exhausted and likely without having accomplished anything productive.
Luckily, this won't be necessary, thanks to technology that allows job sites to be monitored remotely.
For instance, OnSiteIQ allows you to take a virtual walk around your site from anywhere.
It has interactive floor plans to make navigation easier. Images are time-stamped so you can see when something was done, making it easy to track progress and ensure that deadlines are met.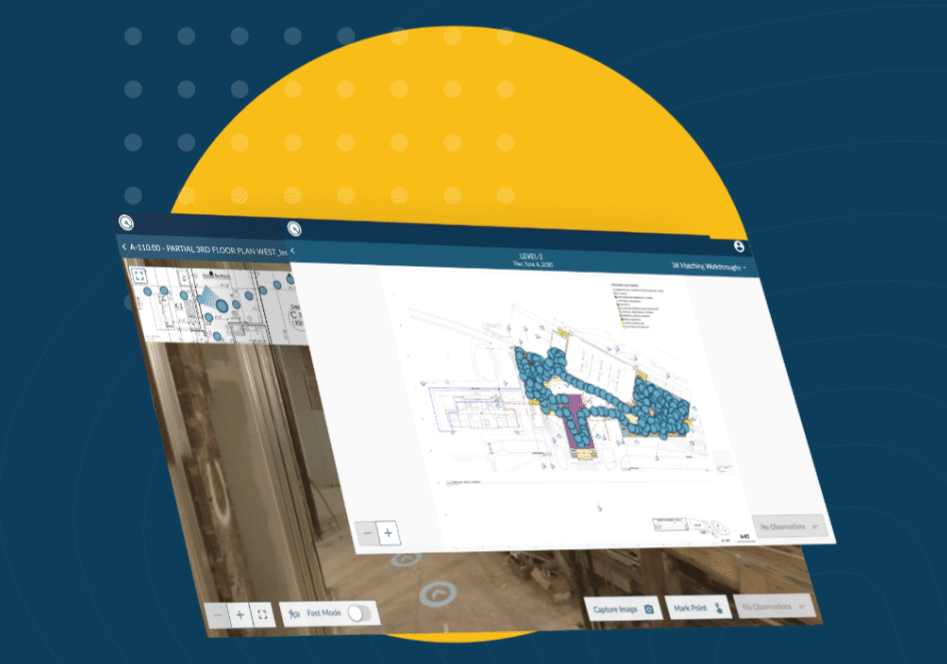 What's more, its "Observations" functionality lets you post comments on particular images and address them to the person who can solve a specific issue.
Using technology like this saves time for managers and construction workers because it lets everyone focus on their part of the job.
Managers don't have to spend time and money traveling and organizing the visit, while workers don't have to stop what they're doing because an executive is coming.
Even though managers might feel that they'd have less control if they didn't visit the site, the opposite is true.
When you can see all parts of the site on your own instead of relying on data provided by other people, you can get a more accurate sense of what's actually happening.
Moreover, the fact that everyone can do it increases transparency.
This will lead to a greater level of trust and a better relationship between all stakeholders, as it's based on hard data and correct information available to everyone.
Enables Problem Prevention
Technology's ability to prevent issues is a massive deal in workplaces riddled with hazards, such as construction sites, which account for 1 in 5 deaths among U.S workers.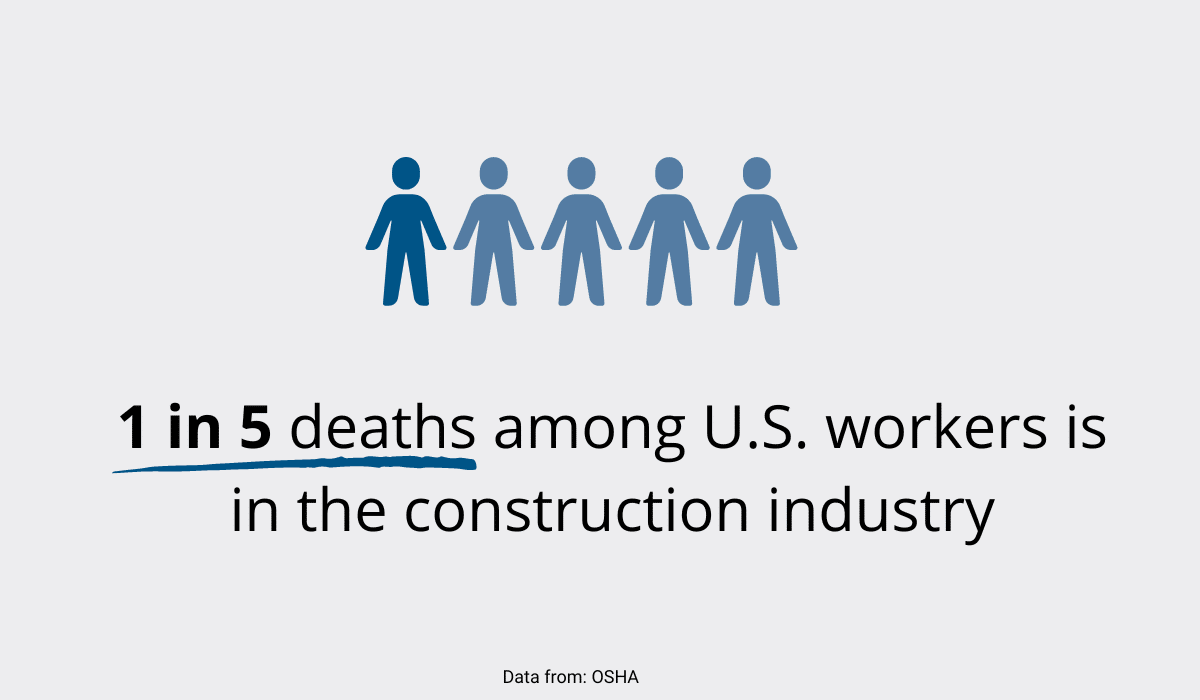 The technology that is instrumental in preventing accidents is artificial intelligence (AI).
AI can use data sets to identify how likely an accident is to happen and how to prevent it.
Novade reveals that scientists from the University of Colorado compiled a list of 5,300 injury reports based on data provided by 470 contractors.
With the help of AI, they were able to accurately predict even the body part that would be affected by an incident.
The ability to know this allows managers to introduce appropriate measures to minimize or even prevent accidents from happening.
Fewer accidents mean fewer disruptions, which reduces the amount of stress construction workers feel from being faced with potential accidents on a daily basis.
Another thing technology can help with is equipment monitoring. Taking proper care of tools will make them last longer and perform better.
A tool tracking solution such as GoCodes registers and allows you to view service information for each tool, as you can see below.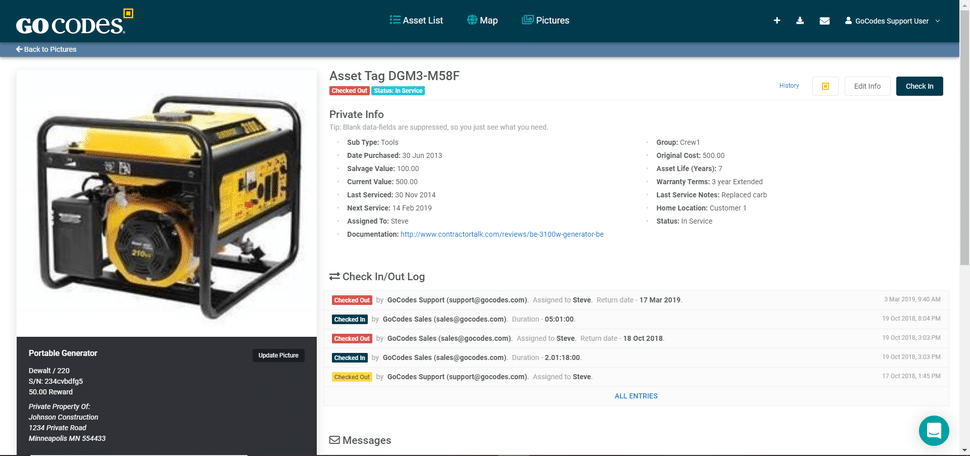 The asset tag for this portable generator has information on how much it cost, when it was purchased, when it was last serviced and what was done, and when it needs to be serviced again.
Moreover, it lets you know the average lifecycle of that asset so that you can plan a replacement for it accordingly.
A solution like this will help prevent financial issues that would result from misplacing equipment and not knowing when a particular tool needs to be replaced.
It will also help avoid accidents by notifying you when a tool needs to be serviced again and allowing you to schedule maintenance.
Conclusion
Companies must increase productivity to stay competitive in a fast-paced environment such as construction.
Luckily, this doesn't mean longer hours as technology can be leveraged to automate as many processes as possible and collect high-quality data to make good decisions.
Using the right technology will help your company save time and money, which ultimately leads to better use of resources and, therefore, greater productivity.
After all, as the saying goes, the point is to work smarter, not harder. So, use all the benefits technology has given us to do it.