Construction assets are a major investment for any company. Tracking them with reliable and scalable software is an excellent tool for managing their maintenance, life cycle, check-in/check-outs, and productivity.
When construction asset management software is effectively implemented, organizations save money and time.
This post is useful for businesses with a great deal of construction equipment, those engaged in fieldwork, either close to a home office or placed across several sites.
It will discuss the types of assets in construction, as well as the attributes of construction asset management software.
The COOs of companies with physical assets scattered across distances both small and large will especially benefit from the information presented here.
Types of Assets in Construction
In construction, assets are defined as objects required for the completion of a project. They vary greatly in size, shape, and application.
They include construction site trailers, washing stations, dining, storage, and other facilities used by workers at a construction site.
Specialized construction equipment and vehicles are also assets that need tracking. As the former is usually used exclusively on-site (e.g., cranes or bulldozers), while the latter join general traffic when they are used for transportation, they will have different management requirements.
Smaller items, such as electronic equipment and tools are also counted among assets.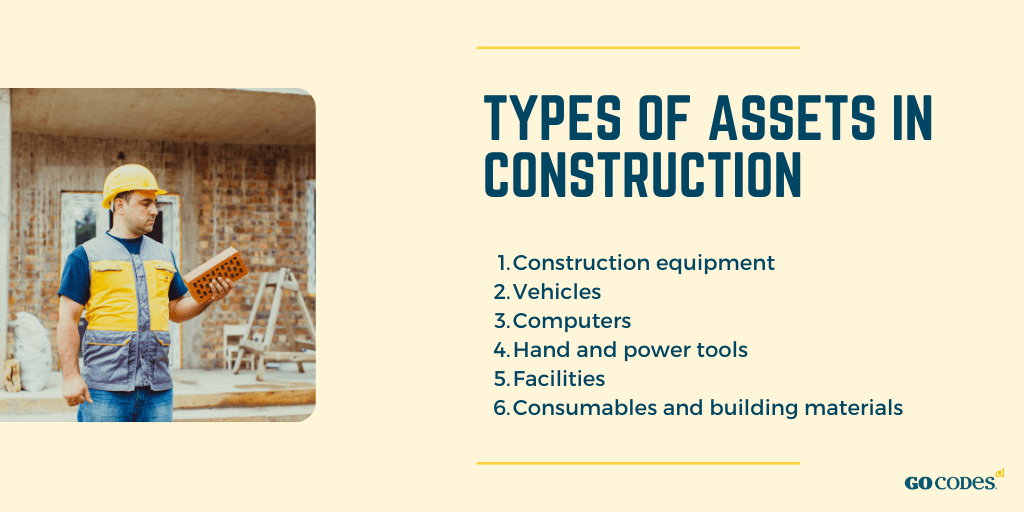 Computers, mobile phones, tablets, and other electronic equipment need to be managed with particular care. Since they often contain important information, they are liable to cybersecurity threats.
On the other hand, tools frequently change hands and even travel between worksites. Hence, maintaining accountability in their use is vital for the smooth running of operations at any given site. In addition, they are often valuable.
Finally, construction companies tend to use a vast amount of consumable materials, from those used in building, to protective gear and even certain office supplies.
Like tools, due to being used in large quantities, consumables are usually tracked in bulk.
Top Attributes of Construction Asset Management Software
Construction equipment asset software assists companies with much more than just large vehicles. Nearly every aspect of working on-site and planning for projects is easily integrated into a single system.
1) Heavy Equipment Tracking
Using construction equipment asset software to track and measure the location and productivity of heavy equipment is typically the initial concern of most companies in the industry.
Even when they lease equipment, decision makers, managers, and stakeholders often consider the best way to budget for and efficiently operate these items.
In the event that a company is leasing heavy equipment, tracking software will deter theft, detail maintenance actions, and manage vehicle capacities.
There are other benefits of using construction equipment asset software. They include:
The ability to record and plan inspections and cleaning after equipment use
Providing a platform for staff training
Projecting equipment depreciation
Controlling equipment access
Minimizing downtime and planning alternate jobsite actions when it does occur
Running audits concerning regulatory and warranty compliance
Proving regulatory and warranty compliance
Of course, any tracking software requires QR code tags to scan so that data enters into the system.
A well-designed software suite includes tags that are appropriate for the equipment and the conditions it experiences.
For example, educational equipment that never leaves a building and stays in controlled indoor environments will do well with thin, polyester labels attached with an archival-quality adhesive.
However, heavy equipment that works and stays outdoors might call for a rugged metal tag welded to the frame. GoCodes offers such a solution for heavy equipment.
2) Small Tool Tracking
The tracking of small tools is just as important as caring for heavy equipment.
In many ways, caring for small tools in a warehouse, maintenance shop, or set of field locations is even more challenging. They are easily lost and more difficult to organize.
Construction asset management software can help coordinate investments in small tools as well.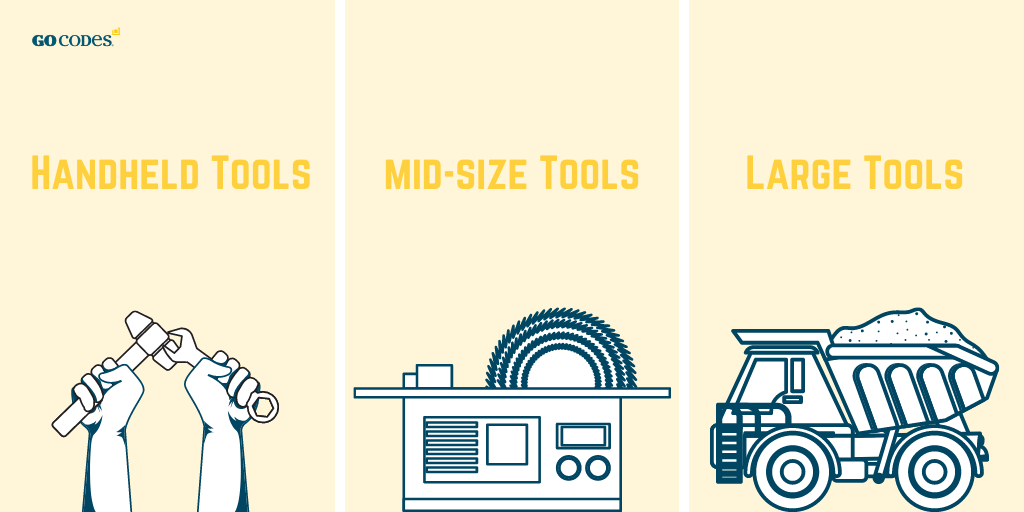 Here some tips for integrating your small tools with a QR code and software system:
Assign a unique identifier for each item to prove ownership and eliminate confusion. GoCodes provides one for your assets to match each QR code, complete with an alphanumeric backup—no matter how many items require scanning.

Label items that are too small for QR codes in contained batches. Some examples include nails, ball bearings, or drill bits, with a bin of 250 bolts representing a batch, for instance.

Analyze the data scanning provides to avoid asset or inventory shortages or oversupply. Planned ordering is smart ordering.

Categorize tools for easy storage and location in a way that makes sense for your organization.
While small tools and parts might seem like a small investment individually, together they can affect a project's budget, overrun margins, and even schedule.
Therefore, using construction asset management software for your as screws well as your cranes helps the whole company become more efficient.
3) Construction Material Tracking
What about the consumable materials the employees and equipment work with during a project? Construction asset management software helps streamline a business' operation here as well.
The shipped materials regularly used on a construction site, such as drywall, sand, bricks, and concrete are an important part of the job.
Construction material tracking requires something of a different approach than construction assets, but these items are still vital and entirely trackable.
Unless your construction materials are produced in-house, managers and employees must work with the supply chain to keep a project moving.
When these products are self-produced, QR tags and tracking software are essential for effective product counts and short-term delivery.
During peak seasons or unforeseen events, such as weather disasters or protracted issues such as the COVID 19 pandemic, the ability to track construction materials is essential.
It helps to avoid unwanted deliveries, order ahead to anticipate shortages, and make cost-effective arrangements for staging and storage.
4) Modular Construction Projects Tracking
Modular parts are standardized pieces or elements which are produced in a factory or workshop, then assembled on-site.
In recent years, modular construction products have become popular options for consumers due to their superior speed over traditional construction.
Working with modular construction can also be more environmentally friendly, cheaper, and safer. Because of this, many custom construction companies have been including modular construction as an option.
Forward-thinking asset tracking companies like GoCodes also integrate tracking of modular pieces from third party contractors into a comprehensive construction asset software system.
This form of asset management allows the assurance that the construction components built off-site are assembled to spec and in compliance with codes and standards.
Project managers can easily check such data points as element construction, used materials, and shipping progress.
5) Tool Crib Management
Construction asset management software allows for easy management of large and small tools, particularly when they are checked in and out of a central tool crib.
When setting up or integrating QR codes and tracking software for tool crib management, best practices include:
Setting a routine for employees and managers to standardize check-in and check-out across the company
Assigning a tool crib manager as a central point for management facilitation
Establishing clear guidelines and expectations for tool scheduling, return, and disbursal
Maintaining a consistent numbering system
Providing appropriate storage space
Undertaking security protocols
Audit regularly for data on how equipment is moving and performing
Tool crib management is, in some ways, even more important than the items it holds. It eliminates the confusion and misunderstandings that word of mouth permission and directives can create.
If someone mislays a tool or leaves it to languish in a "to repair" pile, it's as good as non-existent. Situations such as this represent lost money for the company.
When construction asset management software is applied, tools are tied to specific employees. This streamlines maintenance requests, and makes communication between employees and management standardized and clear.
6) Maintenance Management
Some might be surprised that tracking maintenance can be part of construction asset management software. Nevertheless, it's one of the main benefits of such a system.
When maintenance and repair scheduling are automated and consistent across job sites and branches, repair actions and inspections are easy to understand for anyone with access to the data.
It is easy to store service records and retrieve them from QR codes. This is useful for company employees as well as third-party specialized repair teams.
In addition, auto-generated data reports help manage and predict an asset's life cycle.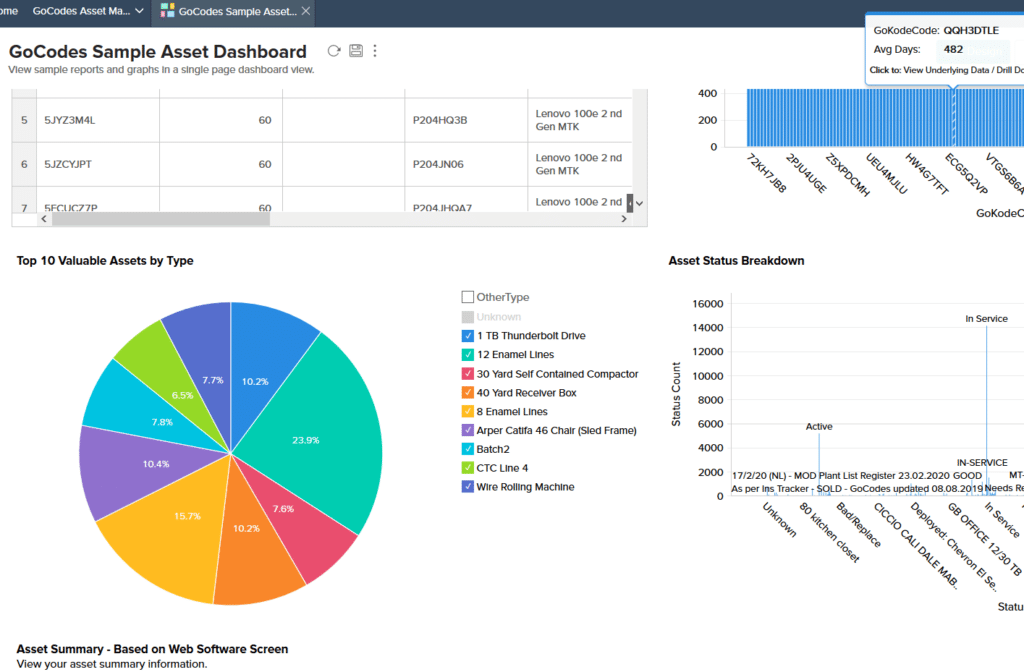 It is easy to find purchase dates and preventive maintenance, while tracking software even allows room for notes about the individual characteristics of each asset.
7) Comprehensive Asset Registers and Data Reports
Maintaining data in the cloud is a plus for many reasons, and for modern companies, it is practically expected.
Having data in a centralized system offers the following benefits:
Customizable built-in report templates means managers, stakeholders, and decision makers can view their data their way, on their schedule.

Cloud storage, with the addition of scanned-in older data, means that records no longer require expensive and precarious storage. Keeping comprehensive asset registers and data reports online ensures that records damage is no longer a concern.

Those who must retrieve data across time zones or from remote work location may do so at any time.

It is possible to limit access only to those who need to see it.

Auditing is easy and customizable.
There are many ways to use such data. GPS-enabled assets are easy to track as they travel through the supply chain, or verify in the event of misplacement or attempted black market placement.
It is equally simple to project and study the same data from many possible angles, depending on which aspects of the asset's life and performance employees would like to examine.
8) Incident Management
Incident management is a concern for every organization, but especially companies involved in construction.
Safety hazards and documentation impact nearly every aspect of the industry. Construction asset management software can help enormously with issues of liability and code compliance.
In construction, an incident is any unexpected event.
It can be as mild as reshuffling a day's shift because a shipment has come in later than expected, as company-affecting as a network outage, or as serious as an employee injury while on the job.
Incident management is the practice of righting schedules, equipment, and employee placement as much as possible.
Having plans and contingencies in place for such events is critical, as they increase employee safety, improve customer satisfaction, and streamline project scheduling.
Construction asset management software helps decision makers manage incidents by giving them an immediate overview of the locations of employees, materials, and tools.
In this way, it is possible to shift assets and people easily and quickly, so as to handle the incident and re-establish normal operations.
Construction asset management software also plays a major role in avoiding incidents in the first place. It helps keep assets up to code and in top working condition thanks to automatically scheduled repairs or preventive maintenance.
9) Easy Communication For Workers Across Sites
Modern asset management is often conducted from smartphones and tablets. Most employees are intuitively familiar with those through personal use.
This innovation is invaluable in construction work, and has drastically changed collaboration and communication speed.
Effective collaboration depends upon the designation of clear roles and responsibilities.
With the implementation of a strong construction asset management software system and thorough training, it's easy to immediately see who has been issued which tool.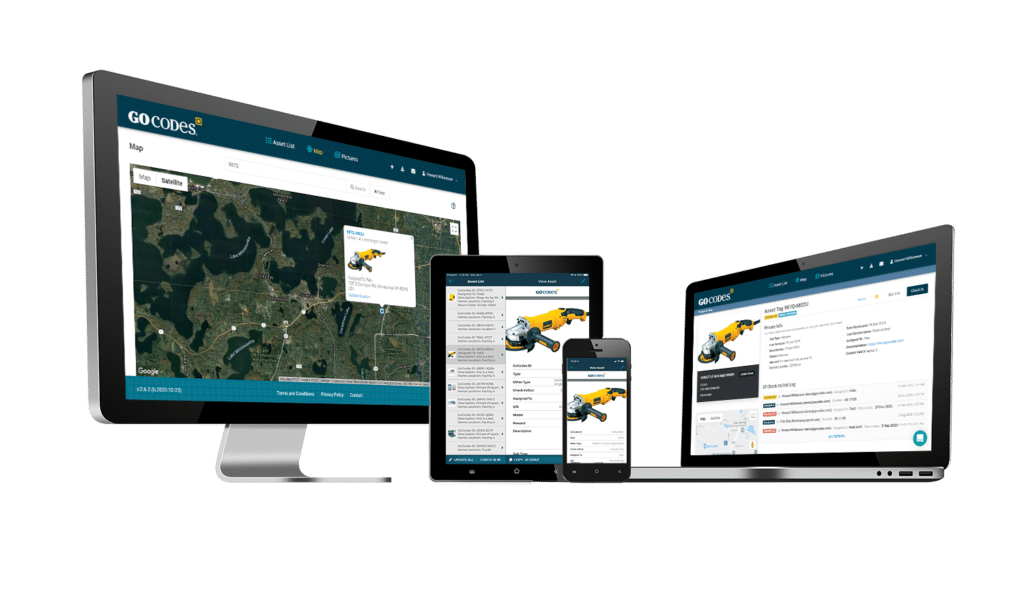 As a result, it is easy to determine who is responsible for an item, who used it last, and who is scheduled to receive it next.
Communication helps manage incidents in a timely manner, clarify or gain details on changes, and redirect materials.
This allows quick collaboration when employees complete a job earlier than expected, for example, or if unexpected weather calls for a shift in sites.
All of this can be overseen and directed by employees who are working remotely or in another area.
Such a situation can also improve employee safety, ensure practical decision making, and eliminate potential favoritism or mismanagement.
10) Monitoring Asset Conditions and Their Depreciations
Construction asset management software enables the real-time monitoring of the condition of assets.
This includes not only their up-to-the-second location, but also their long-term depreciation schedule. As a result, budget tracking, tax dispersal, and replacement schedules are more accurate.
Depreciation reflects how an asset's value declines over time through normal use.
It helps decision makers project how to best pay for an asset over time.
In accounting terms, the residual value of the asset is updated yearly. Factors that are taken into consideration entail:
daily wear and tear
regular maintenance
taxes
potential software updates
maintenance subscriptions
The valuable information they gather from their construction asset management software enables decision makers and stakeholders to make and maintain the best deprecation schedule and strategy for each asset.
Conclusion
There are many aspects and benefits to construction asset management software, often many more than are initially apparent.
Construction asset management encompasses the tracking and management of large equipment as well as small tools.
It contributes to employee safety and provides for the organization of consumable materials which the company might source through the supply chain.
With the right software, it is easy to integrate elements of modern modular construction, as well as on-site tool management.
All facets of maintenance management can be addressed. This includes preventive maintenance, incident management, and asset life cycle considerations.
GoCodes Can Help
We use rugged, durable QR code tags with a unique code that you can scan with your smartphone. When scanned, GoCodes tags provide GPS information about item location, status, and use, making managing your construction operations easy.
Sign up for a free trial here.