Planning a project always includes breaking down large tasks into smaller more manageable ones to complete a final goal. Construction projects are no different.
In fact, to ensure every construction project gets finished on time and within budget, a construction project plan is essential. This is especially true for complex, large-scale projects.
With a well-designed construction project plan, you'll be able to increase efficiency, accurately estimate and reduce costs but also schedule task completion. All of this should result in high-quality work and a successful final project.
Yet, there are a lot of things to consider when you approach construction planning.
We're here to guide you through six essential elements so you can plan your next project effectively.
Creating the Construction Master Plan Document
The first step in construction project planning is devising a detailed master plan document. This will drive all of your later decisions, so you'll need to put in the effort to ensure it's done right.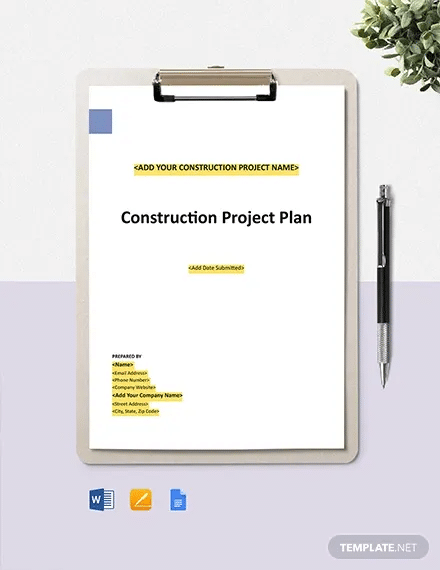 Simply put, the master plan document will outline how you'll complete your project.
If you make it detailed enough, you'll be able to:
Provide preliminary budgets
Anticipate unscheduled changes
Assign tasks to the relevant people
Estimate time constraints for specific tasks
Overall, your master plan should be able to guide you through all the steps from starting a project to finishing it.
It should include four major aspects:
| | |
| --- | --- |
| Strategic planning | Determine and articulate project objectives. This is a big-picture analysis of how you will achieve the project's mission. |
| Operational planning | Evaluate resources that will help you meet strategic objectives. |
| Scheduling | Create a timeline of major and minor tasks, including a completion date. |
| Safety plan | Regulators require the assessment of hazards and risks in a workplace. This will ensure you're complying with safety standards and implementing safe practices. |
But there's one thing you have to remember. Even though you'll develop your master plan at the beginning of a construction planning process, you'll have to update it regularly.
On construction sites, things can quickly change from one day to the next, so your initial estimations might have to be adjusted as the project progresses.
Still, with a well-devised master plan, one that relies on information that's as accurate as possible, those adjustments won't throw you off the set course.
So, to set yourself up for success, continually refer to your master plan and keep it up to date to meet all of your project requirements.
Setting Concrete Project Goals and Milestones
After you write down your master plan, break it down into smaller goals for your employees to follow more clearly.
If your employees are unaware of the expected results they should be working towards, they can't assess how much progress they're making. Therefore, they can't be held accountable if something doesn't go according to plan.
So, to successfully complete a construction project, you should define project goals and milestones with precision.
Your employees will know what needs to be done and when, confident that they're accomplishing important targets, and you'll be able to keep track of their progress.
Now, you've probably heard of a SMART method of setting goals, right? It looks something like this:
| | |
| --- | --- |
| Specific | Connect your goals with specific tasks or deadlines. |
| Measurable | Define benchmarks to measure success. |
| Attainable | Think about the different adjustments you'll have to make to achieve your goals. |
| Realistic | Goals need to be within your employees' abilities. |
| Timely | Set a specific time in which you can realistically achieve your goals. |
This way of setting goals has been popular for a long time because it's simple and effective.
However, while the SMART method can help you with preliminary goal setting, you can also use the CLEAR method, which might appeal more to your specific needs.
| | |
| --- | --- |
| Collaborative | Discuss the project with your team to detect possible obstacles. |
| Limited | Limiting goals in time and scope will ensure you don't get too overwhelmed. |
| Emotional | Your goals should get your employees excited about the incoming work. |
| Appreciable | Break down big goals for your workers to easily achieve them. |
| Refinable | Consider flexibility to account for unpredictable events. |
It doesn't matter which method you use for setting goals. The important thing is that you set them.
That way, you're holding yourself and your team accountable.
Including Key Participants
After looking over your master plan, you'll be able to determine the key participants and assign them roles and responsibilities. The number of those participants will depend on the scope of the project.
For example, a general manager will oversee the entire project and report directly to the project owner. This is the person you will likely communicate most with.
Then, assistant general managers will be responsible for specific aspects of the project and report to the general manager.
You'll also need an estimator, superintendent, or program controls manager (to schedule tools, etc.). Clients and project sponsors also need to be in the loop and aware of your project progress.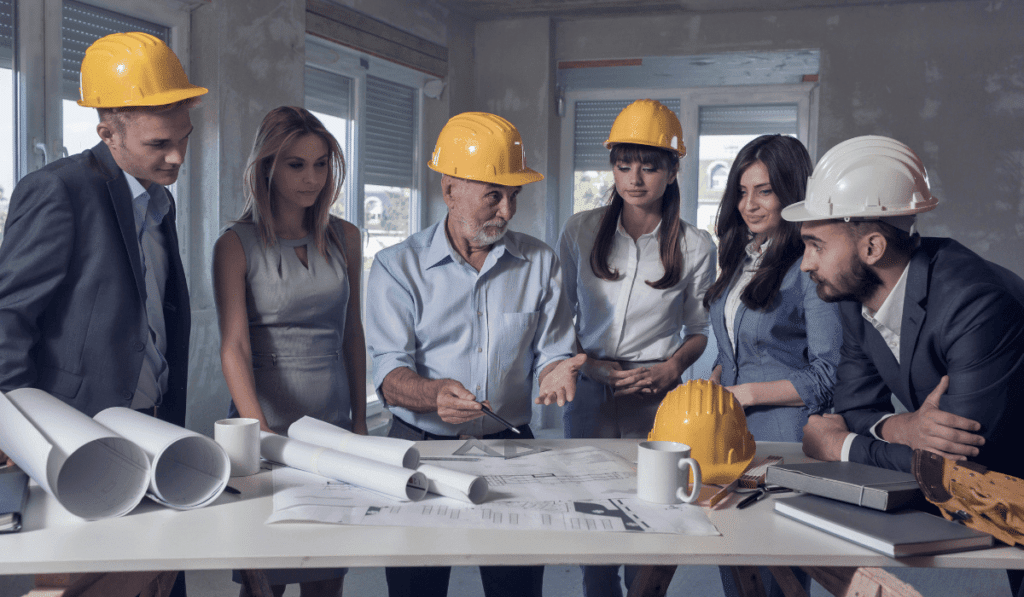 In a nutshell, the general construction planning process is never a one-person job. No matter the scope of your project, having other people on board will help you determine more clearly what and how needs to be done.
Other people will keep you in check if you overlook important things or underestimate the time it takes to complete a certain task. They can give you a different perspective to find more cost-effective solutions and resolve problems before they happen.
With the input from other key participants, you'll have a more realistic view of your project, and you can modify your plan to meet project objectives.
Executing the Plan
After you refine the preliminary plans, it's time to take action!
Start by going over all aspects of your project with your team. As mentioned earlier, you'll have to discuss the project schedule and clearly communicate what you expect to achieve for each objective.
Then, give your team the opportunity to ask questions and address any doubts, to avoid future delays and unnecessary problems.
To successfully execute a project, a good line of communication with everyone who works on the project, from project managers to workers on the construction site, is vital.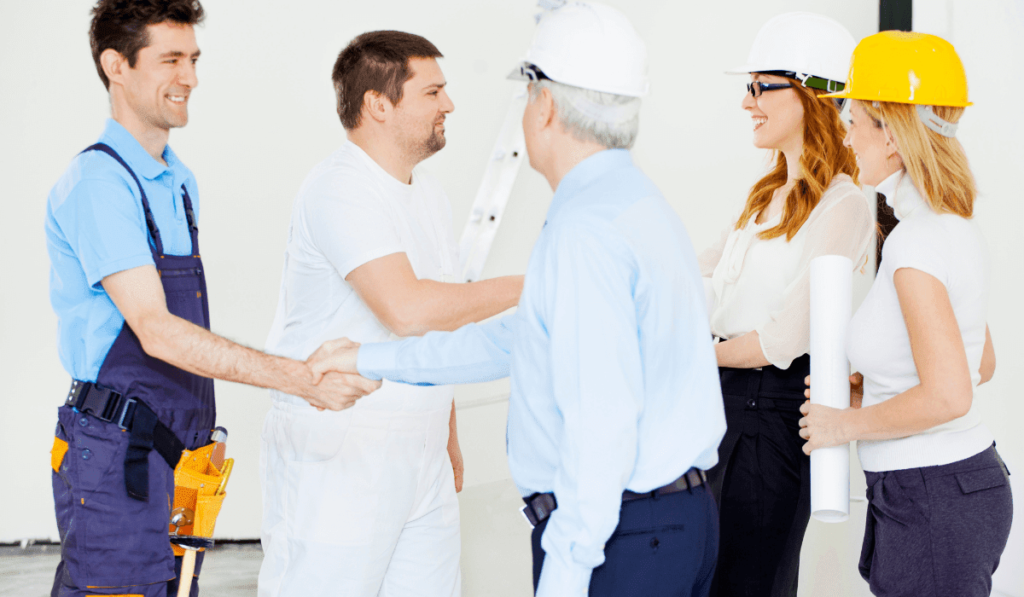 Everyone should be comfortable informing you of their concerns and reporting problems. Having an open-door policy and fostering collaboration will go a long way in helping you detect potential setbacks and keep the project on schedule.
Communication might be tricky when you run a large project with many teams. Large projects often require more transparency and it takes more effort to maintain trust among the workforce.
In that case, establishing a communications plan can be very useful. The plan will outline ways of gathering and responding to information (email, meetings, calls, etc.) for the duration of the project.
Additionally, it will also define how frequently everyone should touch base and determine who will handle different information.
Specific construction project management software can help you streamline collaboration and improve communication.
It's worth looking into, because in the end, staying connected and sharing information about the project will help you execute the plan in the way you intended.
That notion also brings us to the next point—tech tools.
Tracking Plan Performance With Tech Tools
How will you know if your team is meeting the parameters you've set? And if the project goes off track, how will you present accurate data to determine the cause? Setting goals and milestones means nothing if you don't track your team's performance.
Every successful construction manager should gather data by using key performance indicators. They can help you monitor your project better and ensure you're meeting important quality and performance benchmarks.
These metrics are invaluable sources that you can use to allocate resources and people where needed. Basically, you'll have timely information about making necessary changes to keep the project on track.
Now, which KPIs should you use? Here's a quick breakdown of four main categories:
Timeliness
Cycle time (time needed for each task/activity)
On-time completion percentage (task completed by deadline)
Number of adjustments to the completion date
Planned hours vs. actual time spent
Resource capacity (number of participants and the time they spend on the project)
Resource conflict YOY (calculating times with insufficient resources or employees for project completion)
Budget
Budget variance (from initial projection to actual budget)
Line items (to track individual expenses)
Planned value (cost of what still need to be done)
Cost performance index (earned value divided by actual costs)
Quality
Customer satisfaction
Number of errors
Customer complaints
Employee churn rate
Effectiveness
Number of completed project milestones
Number of returns (with projects with many parts track return rate)
Training/research needed
Number of change requests (changes requested by client)
Percentage of billable hours
Establishing performance metrics is key to understanding how your project is progressing.
But there's another thing you shouldn't overlook. That is tracking the performance of your equipment and tools.
When you're in the construction business, you're not just responsible for how your team performs but also how your equipment works.
It's much easier to send an excavator to a job site when you know it's undergone routine maintenance than to risk an unexpected breakdown because you don't know its status.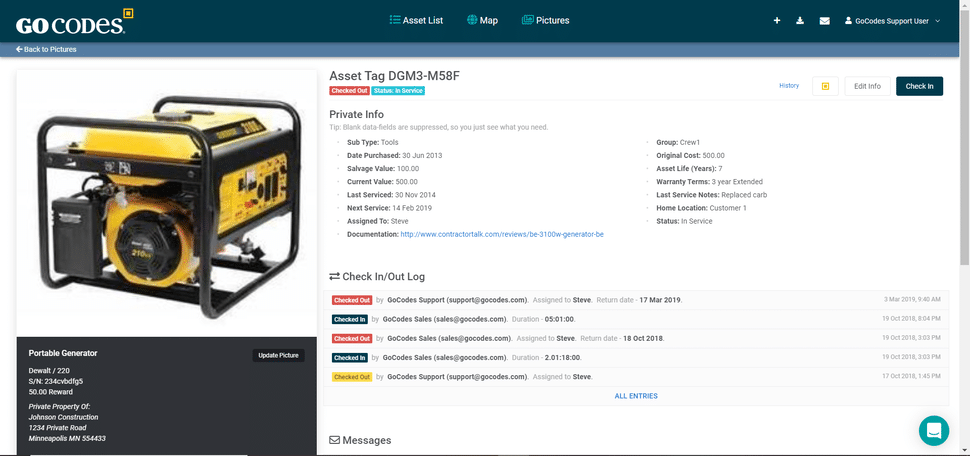 You can use asset management tools to keep track of your equipment and tools. That way you'll know how many hours they've spent on different job sites and if you need to buy more equipment.
Your efforts will be better spent when you have clear metrics to analyze the performance of your workers and equipment.
Project Closeout and Success Evaluation
Performing closeout tasks is the final step in construction planning. Once a building is finished, you still need to gather data and documents that will help you evaluate the success of your project.
Project closeout happens after the construction is completed but before you hand the project over to the owner.
This might seem straightforward, but according to a recent survey, 68% of general contractors don't have an efficient plan for getting off the job after project completion.
But there's good news. Out of those with efficient processes, 76% of companies report that software is a key factor in managing closeout. This helps them identify trends and capture important data, so they're better prepared for future projects.
An important aspect of project closeout is keeping thorough documentation. This includes warranties and contracts you need to provide your clients to ensure you've handled all project requirements.
A lot of the time, important documents get misplaced, so it's important to have organized systems to keep your documentation in order.
Another thing you'll have to do is meeting with your team to discuss the project's outcomes. Did they notice glaring mistakes? What were the main obstacles?
Their insight will help you examine your overall performance to make necessary changes for your next project.
Finally, you'll have to prepare the job site for the new owner. This means:
Cleaning
Returning tools and equipment
Waste disposal
Removing temporary infrastructure
An efficient closeout procedure ensures you're delivering a quality project, and then you can start planning your next one.
Conclusion
Project plans give you an accurate understanding of the project's scope and estimated outcomes. They help you outline concrete steps to reach successful project completion.
Without a detailed construction planning process, you can cause unnecessary delays and expenses. In the end, this can doom your company because you're underestimating budgets and time constraints.
Remember that unexpected changes are always possible in the construction industry. But to protect yourself from the worst-case scenario, properly planning a project will help you mitigate problems. Then you'll be able to give the best results.