Every construction project requires regular, detailed documentation during its execution to better review and analyze progress.
Hundreds of tasks are carried out every day on a construction site, and a good daily report helps keep track of their progress.
However, if you're working on a larger project, the sheer number of those tasks might leave you confused about which ones to include in your reports.
This is why we've made this ultimate guide to construction daily reports for you, so keep reading.
What Is a Construction Daily Report?
Let's start this guide by defining and explaining what a daily construction report even is.
Simply put, a construction daily report is a document that enumerates all the events that constitute a single day's work on a construction project.
These details are used to track progress and predict future work.
Construction managers or contractors complete and file daily reports to provide an up-to-date view of relevant project information so that they can stay on schedule and within budget.
Daily reports typically include things like a list of team members involved, material and equipment usage, remaining inventory, incidents, work progress, and more.
The reports are shared with the client and other stakeholders.
Now let's talk about the best tools to aid you in creating a daily report.
If you are still using paper reports, it's time to leave that outdated practice behind.
Rich DeLacy, project superintendent with Hensel Phelps, used to do that as well, and it simply wasn't working for his company.
"We'd typically use pen and paper and Excel. We'd provide a paper copy of a daily report to the subcontractors. They'd have to come in, take one out of the box, fill it out with their time and everything they had done that day, then come back in at the end of the day and turn that paper copy in."
DeLacy says that after that, the field engineers would need to put all the information from the paper reports into an Excel spreadsheet manually, which took hours to do.
Of course, all of that was a huge waste of time and resources.
On the other hand, digital forms allow you to pull information in real-time, eliminating rework and costly mistakes.
Besides, mobile devices you can use for this purpose are likely already on the construction site, so you can easily incorporate them into your workflow.
For instance, Hensel Phelps started using Raken, a construction management software and app, to create daily reports.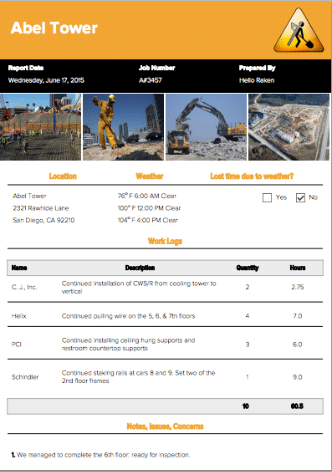 The company saw a massive improvement in daily report compliance straight away.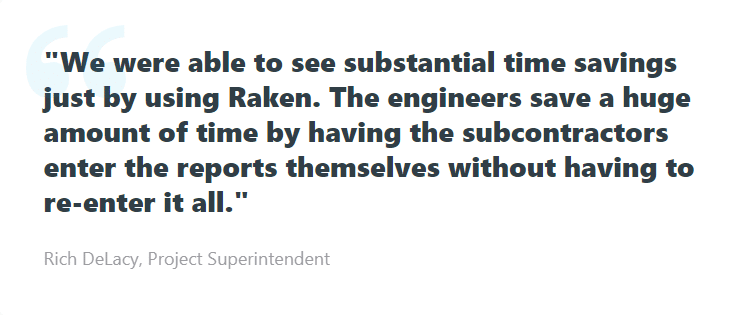 Thanks to making a switch to digital reporting, Hensel Phelps was able to save their project engineers 2-3 hours per day, leaving them with more free time on their hands.
So, to sum up, the construction daily report details everything that takes place on your construction site during a workday, including tasks that were started and their status at the end of the day.
Using software instead of wasting hours on performing paper reports improves the efficiency of everyone involved.
Why Are Construction Daily Work Logs Important?
Daily work logs benefit your project in multiple ways.
You use them to log the names and contact information of everyone involved in your project, as well as keep track of all the assignments and procedures that comprise the project.
They also allow you to make a note of the agreements reached between shareholders, even if they are purely verbal. In short, they are essential for the success of your project.
In the following section, we'll examine in which ways.
Minimizing Disputes
To start with, daily reports are indispensable in resolving disputes.
Simply put, when disagreements arise, having a trail of documents to fall back on as evidence protects you, your team, and your company.
Daily logs provide an account of the events and conditions surrounding the dispute.
Keeping them demonstrates diligence in recording obstacles, making a note of the deviations from the initial plan, and the ways in which you dealt with them.
It shows that you value transparency while keeping all the shareholders in the loop.
For this reason, daily reports provide protection against contractual risk, lawsuits of all kinds, and scheduling issues.
Keeping Track of Work Done
It is impossible for a project manager to single-handedly keep track of every work team, contractor, activity, or material on site, especially on highly complex projects.
But thankfully, daily reports are a management tool that records information about what is happening on a daily basis.
They should include any pertinent information that may be needed in the future, such as:
Number of workers involved
Contact information and responsibilities of the personnel
Work locations
Hours spent on the project
The tasks and activities that need to be conducted
Weather forecasts
Deadlines
Health and safety information
Quantities of the required materials
Quality assurances
Other observations
Site managers need all of that information to do their job well.
These notes are especially useful as they provide pointers on improving future and ongoing projects, and help improve your overall project management.
Boosting Productivity
You might be wondering how exactly daily reports boost productivity. Well, for starters, detailed notes help you detect what works and what does not.
They also show how effective your teams are at dealing with specific tasks, providing insights into obstacles and potential needed improvements.
This allows you to plan future projects better, too.
For instance, you can get a more accurate timeline for future projects if you know how much time, on average, it takes your team to complete a particular task.
This enables you to tweak your processes in ways that boost productivity.
To give you an everyday example, changing the vehicle that you use to transport materials to your construction site can reduce costs and speed up the delivery process—and, in turn, the completion of the project at large.
Even such seemingly minor changes can make a big difference.
Keeping the Client in the Loop
Naturally, your client wants to see what sort of value they're getting for their investment.
Construction work is costly and time-consuming, often involving high risks, tight deadlines, and stiff budgets. Under these conditions, good communication is critical.
Investors want to know what progress is being made, and daily construction reports keep them informed. They attest that the work has been completed on the clients' behalf.
Of course, sometimes the clients lack a deeper understanding of the construction process, which means they might need an explanation as to why a particular phase takes more time or requires extra care.
Ideally, daily logs with photographic evidence will help support your argument.
How to Create a Construction Daily Report?
Creating a daily report can seem like quite an undertaking, since there is so much to record, and overlooking a piece of information that proves critical down the line can put your entire project at risk.
However, the good news is that daily logs have been common in the construction industry for a very long time, so there are some guidelines you can follow.
Use a Template That Works for You
Since you are supposed to generate reports on a daily basis, it might be a good idea to have a template that already has all the information you need to capture to simplify and speed up the process.
This way, all the important data is already predetermined, and you only have to fill in the details.
However, make sure that the template you're using is easy to understand and suitable for your needs.
For example, you can use the template in the image below to record the work of each team of subcontractors and the general contractor's work.
For each worker, you can note their position, the number of hours they've worked, the equipment they've used, as well as delivery time, and hours of operation.
You can also record the weather and soil conditions, the materials delivered to the site, the amount of work done that day, and the project manager's comments.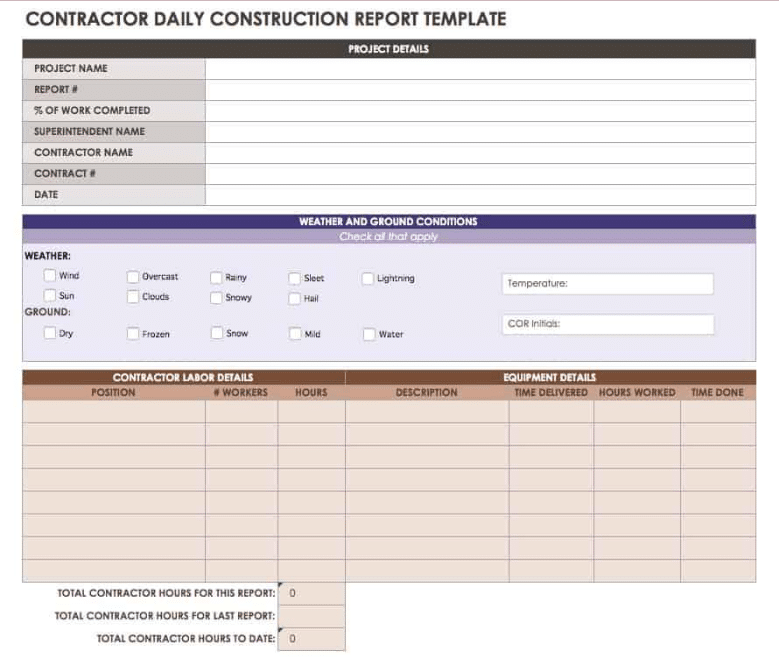 On the other hand, if you have no need for all of the above-mentioned details and instead it's more important to you to simply keep track of the daily activities that take place on the worksite, you might find a different type of template more useful.
There are many options out there, and you can customize them according to the requirements of your project.
Identify the Person Responsible
You'll also need to pick the person on your team who will be responsible for completing the report each day.
Usually, that task will go to the site supervisor, since it fits best with their job description.
After all, they are always present at the construction site and therefore familiar with your construction project.
Don't Omit Any Important Information
When doing a daily construction report, being detailed is key. Remember that your daily report should cover everything that happened that day on the construction site.
For example, when listing equipment that was on site that day, don't forget to mention if it was in use, unused and idle, or perhaps out of service due to a breakdown.
Of course, if the equipment was used, note how many hours it was running.
Also, make sure to note all materials used on a particular day but also how much was used and how much is still left in the inventory.
Finally, don't forget to make a note of any other significant incidents such as safety violations or delays.
Forgetting to mention important incidents in your daily report may result in miscommunication, legal consequences, safety risks, and schedule delays.
What to Include in a Construction Daily Report?
Although, as we've said before, daily report templates are almost endlessly customizable, there are still some basic elements they are usually expected to contain.
Let's take a look at some of them.
General Information
To start, every construction daily report should include some general information.
Typically this would entail:
Name of the company
Date
Location
Weather conditions both in the morning and evening
Information about the temperature
These fields serve as a reference point for analyzing progress and data. You can be as detailed as you like when filling them in.
For example, in addition to the overall conditions (cloudy, sunny, foggy, etc.), the template below contains subsections for precipitation and wind speed.

Besides this basic information, there are other details you should feature in your daily reports.
Project Details
Your daily report should also include a project details section in which you should insert project identifiers such as job name or number.
You can also include the number of days the project has been running and the estimated completion date here.
This type of information gives you a quick overview of the chronological progress of a project.
Employee and Equipment Information
The section with employee information allows construction managers to get an organized overview of which people are working on the project, as well as their contributions.
Their name, role or title, and hours worked on the day are supposed to be recorded here.
You can see an example of an employee work log in the image below. Note the detailed descriptions.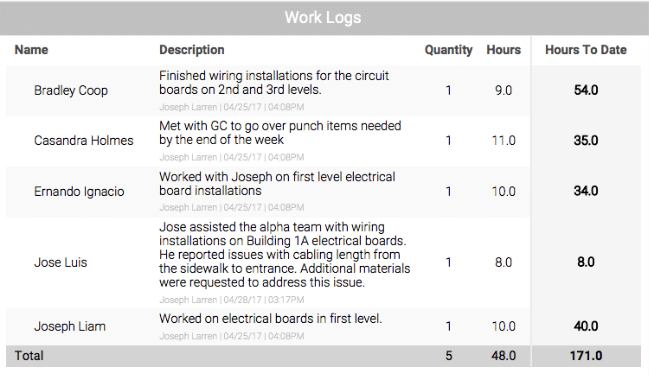 Next, the equipment Information section allows you to record details about vehicles.
For example, in this section, you should note the number of hours your dump trucks, excavators, and loaders have been in service on a certain day.
Among other benefits, this section will make it easier to plan the maintenance of your fleet.
Safety Details
We all know that safety always comes first at a construction site, so it is smart for observations concerning this aspect of work at a construction site to make it into your daily report.
In the event of litigation, detailed, time-stamped daily reports provide a clear snapshot of everything that happened on the construction site on a given day.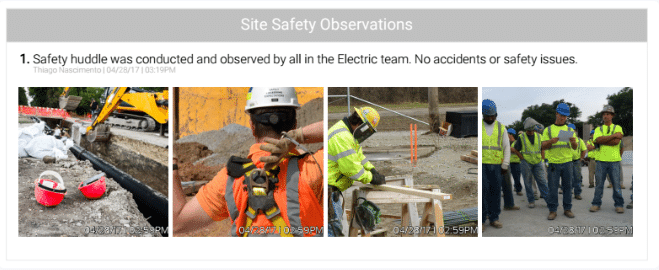 Here you can record whether a safety inspection was performed that day and whether there were any incidents.
These daily observations can also help you improve the conditions on your site from month to month.
Conclusion
Construction sites are fast-moving and often chaotic environments, so to stay on top of all the goings-on, it's important to make daily reports.
Without them, you increase the risk of misunderstandings, mistakes, and delays.
Even though such reports are a simple concept, they need constant involvement and commitment to ensure that they are providing useful information.
We hope that this guide has answered all of the questions you might have had about construction daily reports and that it will help you make better daily reports in the future.