Some construction companies see equipment warranties as a necessary evil, while others disregard their importance and hope for the best.
If you're among the latter, you might find yourself in hot water when your machine fails, and you have to pay for the repair and replacement machinery out of your own pocket.
This article will explain what types of warranties you can get for heavy equipment and how they benefit you. Once we go through all their advantages, we'll show you how to get the most out of your warranties.
Types of Construction Equipment Warranties
What your warranty covers depends on which type of it the manufacturer offers to you. So, before signing anything, understand the different types of warranties.
Standard
Extended
Specialized
The standard warranty is the most basic type; it covers equipment protection, but without including any scheduled servicing tasks such as oil changes and filter inspections.
Some standard warranties cover the expense of transport to and from the maintenance shop, while others don't. If this is an essential aspect to you, opt for someone willing to cover this cost.
The extended option costs more because, as its name suggests, it offers an additional warranty for certain equipment parts.
For example, you may want the manufacturer to cover the damage that can happen to your powertrain and hydraulics. In that case, you should choose an extended warranty that will cover just that.
But beware of the pitfalls of extended warranties: you have to name exactly what you want to cover in the contract. Otherwise, the warranty won't cover it.
For example, a powertrain warranty won't cover the equipment frame, and you'll have to pay for any necessary repairs there yourself.
There are also specialized warranties that cover specific machinery parts as opposed to protecting the entire machine. If you opt for a parts warranty, you can get an original equipment manufacturer's (OEM) part for free.
A popular example is the powertrain warranty which covers all the components necessary to get your equipment to run.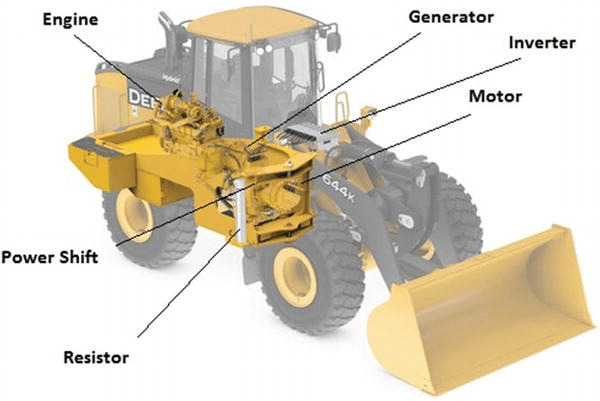 The powertrain warranty ensures a replacement of any part of the powertrain system, including the engine, generator, motor, and power shift, among others.
This type of warranty is also among the longest-lasting ones offered as the engine should be in good working order for an extended period of time.
What You Get Out of Heavy Equipment Warranties
Heavy equipment warranties come in handy in case of any kind of failure or accident. So, it's no wonder that respondents of Hanover's survey said they buy heavy equipment based on whether it comes with a warranty.
This means that even if a piece of machinery is cost-effective and has a fantastic maintenance network, the majority of people will still look for a machine that comes with a warranty.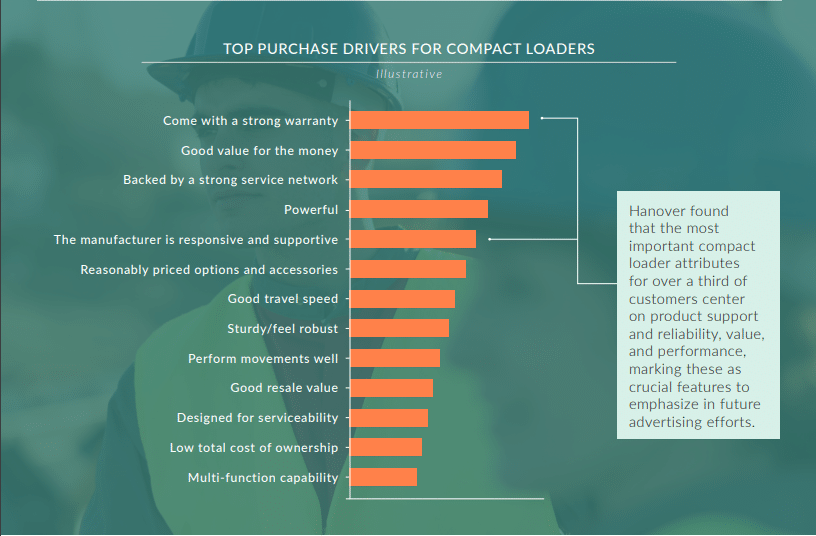 Why is that so?
Well, there are numerous reasons. The most important one is that a warranty covers any damage to your equipment during a certain period of use in terms of parts, servicing, and labor.
Of course, the warranty is valid until you tamper with the machinery or cause the damage yourself.
You can look at it as the manufacturer's way of guaranteeing that their product is top quality and that it will maintain that high standard in the year(s) after the purchase.
Let's go over some benefits of heavy equipment warranties in more detail.
No Debilitating Repair Costs
Imagine the following situation, and you'll see just how much warranties can benefit you.
You purchase a brand new excavator for $100,000. It's a lot, but you know you'll get your money's worth out of the machine.
A couple of months in, an attachment breaks off, and it's one you can't continue working without. The catch is that extensions can sell for anything from $5,000 to $10,000, which amounts to 5 to10% of the machine's original purchase price.
Another example is a hydraulic pump, which can go over $6,000, not including labor. Who has that kind of money just lying around?
However, suppose you paid a bit more for your excavator at the start in order to secure a warranty. In that case, the equipment dealer will replace the broken attachment at no cost, allowing you to continue using your machinery at the worksite without any monetary losses.
There's a caveat, though.
Whenever you sign a warranty, be sure to understand what you are and aren't allowed to do with the equipment. 
Most dealers will only respect the warranty if you use and service the equipment according to their specifications and steer clear from modifying it.
This condition is their way of saying that the equipment will function well as long as you don't tamper with it, or damage it by improper use or negligence.
In a certain sense, the warranty serves to protect your business from faulty equipment instead of protecting you from the damage you've caused yourself.
Sometimes even the OEM doesn't know that their machinery has an issue, and they only find out through a warranty claim, which helps them figure out the problem and solve it.
Respectable OEMs will use the warranty as a guarantee that their machinery will not break down on its own during the agreed period. If it does, they'll take on the charges.
Reduced Downtime
If a machine breaks down and you have a warranty, you'll get a replacement asset or speedy repair that won't come out of your pocket.
Anyone in the construction industry knows how big of a threat unplanned downtime is. It can cost a lot to fix the machine in question, but what's worse is that it can cause project delays.
These delays will be a waste of money, either in terms of penalties or in terms of paying the employees who can't finish their work because the equipment isn't there.
The sad reality is that the construction industry's standard for downtime is around 25%. In other words, if you expect to get 1,000 working hours a year from your machine, you'll get around 750 and spend the rest on servicing.
Let's say you have a $34,000 bulldozer. The industry standard downtime for that piece of equipment would cost you an additional $9,000 yearly.
Clearly, you should do everything to avoid downtime, and one of the best things you can do is to stick to a maintenance schedule.
The OEM will have their own recommendations on how and when the machine should be checked and fixed, so take their instructions into account when deciding how often to schedule servicing.
Remember, if you don't stick to the OEM's instructions, your warranty claim may be rejected, which means you'll have to pay for the repair on your own and experience costly downtime to boot.
Quality Parts and Service
A good warranty guarantees that you'll get high-quality replacement parts and service in case of an issue with your equipment.
When you purchase machinery and invest in it but still experience some damage, you have every right to talk to the dealer about fixing the machinery.
Gil Gilbert, Henkels & McCoy Pipeline Division's fleet manager, believes you must find the perfect deal. He says that:
As Gil mentions, you have to ensure that your extended warranty is actually good and that you read all the small print in the contract before signing it. That way, you'll be sure that the dealer will step up and take care of your equipment problem for you, as promised.
If your negligence or misuse of equipment didn't cause the issue, the dealer will offer you OEM original replacement parts and have a reputable service team fix it for free.
Under warranty, all your replacement parts are brand-name, high-quality assets because the OEM will offer the parts they've manufactured instead of relying on aftermarket parts. 
On top of that, you won't have to cause a backlog for your maintenance team and ask them to replace the part and fix the issue. Instead, the dealer will ensure that service experts repair your machinery and get it back running.
However, there are times when you simply cannot wait for the dealer to organize all this, as it's a last-minute situation.
Most people who have warranties on their equipment will steer clear from "tampering" with the machine and replacing parts on their own because they believe the dealer will turn down a warranty claim in the future.
Be aware that the Magnuson-Moss Warranty Act protects you from this.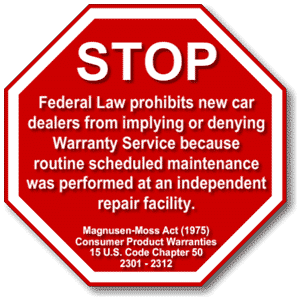 In fact, this act states that the dealership needs to prove that your replacement part was the cause of damage. If they cannot prove this, the dealer has to respect your warranty claim.
Maximum Resale Value
When you have equipment under warranty, you can make more money when reselling it.
You won't buy a machine just to sell it, but you may find that you won't get as much use out of it as you had hoped or that it costs you more to own the machine than rent it when needed.
In general, companies have to sell some of their equipment when:
a major project comes to an end
they need more money for a bigger investment
they want to get an upgraded version or a new model
Whatever the case may be, when you have to sell the equipment, you'll want to earn as much as you can on it, so the initial investment pays off. 
If you're unsure of how much you can get for your equipment, use this market price calculator to see how your machine would fare on the current market.
Keep in mind that what you can get for the equipment depends on different factors, including:
Equipment age
Current condition
Operating hours
Maintenance records
History of damage
Warranty
Let's take operating hours as an example.
The higher the number of working hours, the lower the value of the machinery. The equipment's useful life heavily depends on the time the machine spent working, whether idling or not.
So, the more hours your equipment has collected, the less it has to offer to the new owner.
Look into the typical work hours of the equipment at hand and see how your machine fares. Here are the typical working hours of the most common construction equipment to help you get a general idea: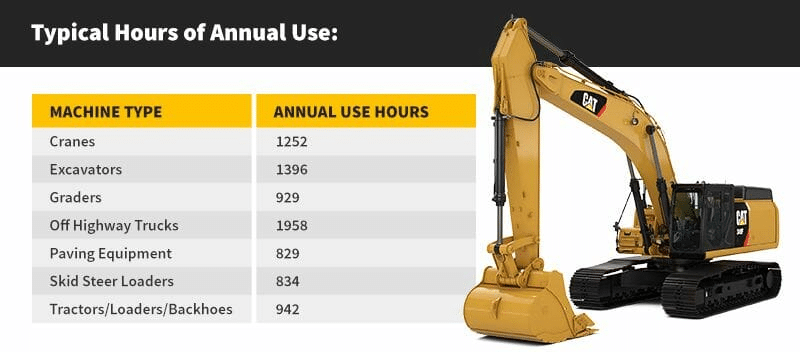 Compare this data with your equipment to see what price you can expect.
Of course, a warranty also plays a big part in getting a higher price. When a piece of machinery has a valid warranty, you'll attract more buyers because the warranty proves that you've invested money and effort into your equipment.
After all, your warranty wouldn't be valid if you didn't perform regular scheduled maintenance and put time and effort into the machine.
So, buyers will be a lot more willing to buy machinery with a warranty. You can transfer the warranty to the new owner for no charge or a small fee.
Either way, warranty transfer is a good deal for the buyer as it serves as a guarantee that they're getting a well-maintained machine they'll be able to use for a long time.
How to Get the Most Out of Your Equipment Warranty
You have to take good care of your equipment if you want the dealer to approve your warranty claim.
In general, your agreement should have a clause stating that the dealer will take on the costs of equipment repair if you haven't tampered with the equipment and have used and serviced it properly.
Let's see what grounds exactly the dealer has to deny your claim and make you pay for the repair yourself.
The first thing you need to stop doing with your equipment is using it for something other than its original purpose. This type of use causes premature failure and accelerates wear and tear, which means that you can have a five-month-old machine that functions as if it was already a full year old.
Clearly, that is far from ideal, and the dealer has every right to turn you down if they prove that you've used the machine for something other than its intended purpose.
As we've already mentioned, the dealer might turn you down if you don't stick to the OEM's recommendations for regular maintenance.
After all, the OEM guarantees that the machine will function properly if you service it as per their specifications. Failure to do so or neglecting to record the maintenance sessions could result in a denied warranty claim.
Nowadays, it's easy to use software that allows you to schedule future maintenance tasks for each machine you own and upload the records into the cloud so you can have them all in the same place. 
This information can help you prove your investment in the machine in case of a warranty claim.
Besides, preventive maintenance can work wonders for your overall budget as it saves up to 25% of your servicing budget.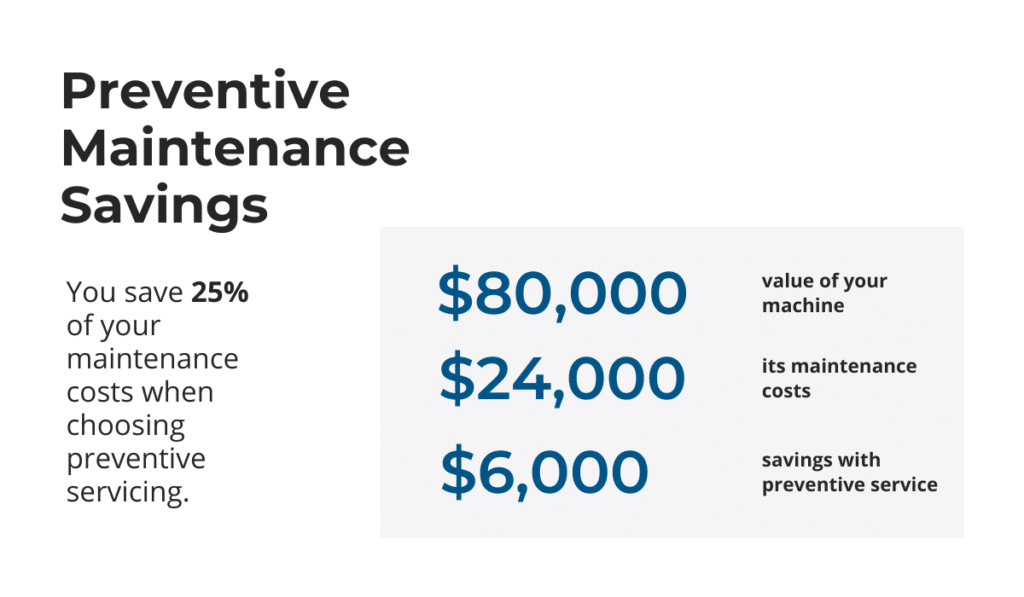 Let's put that into perspective and imagine you have an $80,000 worth machine whose maintenance costs you $24,000 over 5,000 working hours.
If you proceed with preventive care, you'll save $6,000 for this piece of equipment alone. Now, imagine the savings you'd make if you serviced all your equipment that way.
Another thing you can do to ensure the success of your warranty claim is to never overuse the equipment. The OEM gives detailed instructions in the user manuals stating how long you should use the machine.
When you frequently go over the set limits, you should know that you're drastically increasing the wear and tear. Such misuse leads to premature failure, which isn't the OEM's responsibility.
For example, hydraulics breakers shouldn't run for more than thirty seconds at a time. The operator should pause work and start again after a while.
Of course, some might not understand the difference and use the breaker for minutes on end. It will do the job, but the machine will overheat in the process, which may cause damage in the long run.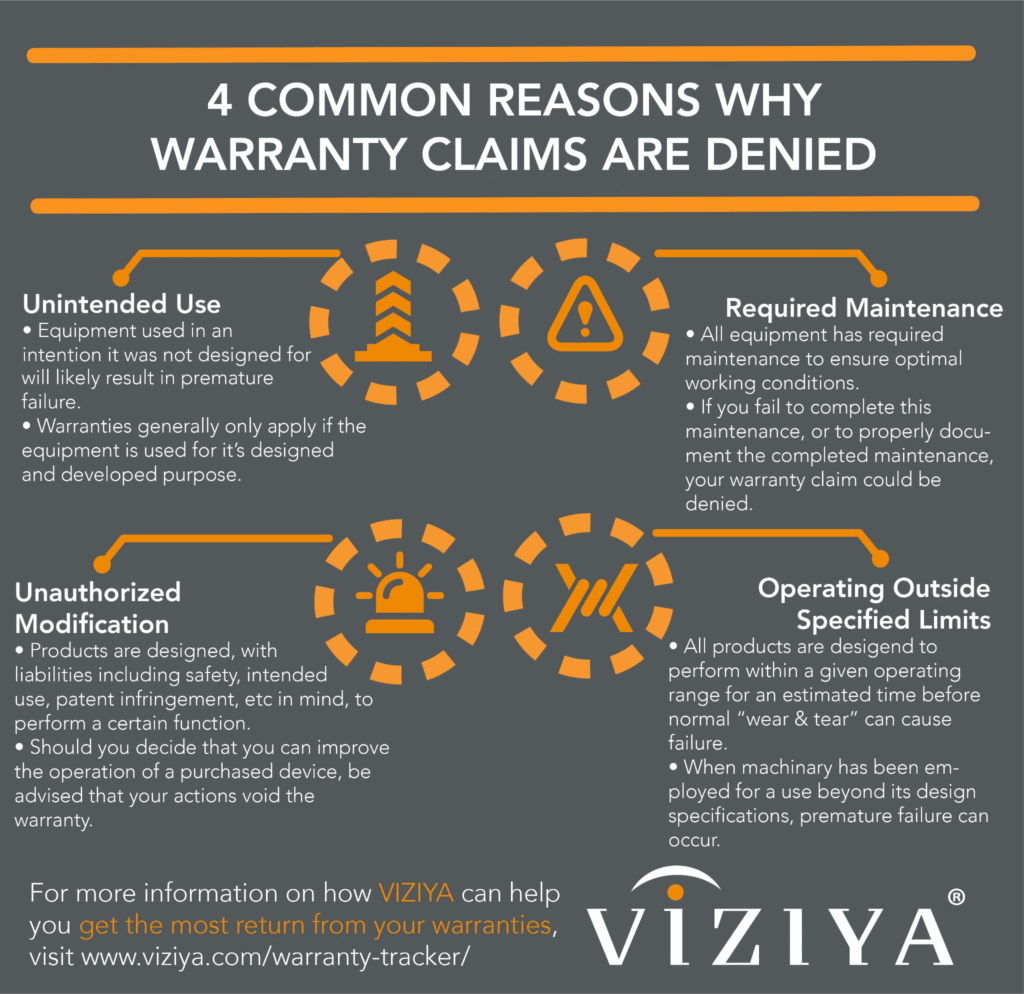 Finally, modifying the equipment without consulting the dealer will lead to a void warranty. This point is vital because certain aftermarket parts can cause damage to the machine. 
If that happens, you're responsible for the failure and not the dealer since they're not the ones who installed the new part.
Think again if you don't want to get a warranty because you're afraid of it being voided.
While it is true that there was an increase in the worth of warranty claims from 2019's $5.48 billion to $5.58 billion, the accruals are also high at $5.66 billion.
By this, we mean the amount the OEMs set to the side for warranty claim payouts.
These the OEMs listed by the highest accrual value:
| | |
| --- | --- |
| Manufacturer | Accrual total for 2020 |
| Caterpillar | $968 million |
| Deere | $851 million |
| Volvo | $832 million |
| CNH | $784 million |
| Komatsu | $286 million |
This information can help you when deciding which manufacturer to choose.
Do you want a company that has set aside a large amount of money for accruals, or do you find some other characteristics more valuable? It's your decision.
Conclusion
Using your equipment to its full potential is easy when you do everything in your power to keep your warranty in force.
The warranty is there for a reason: to protect you from sudden equipment failure during the agreed-upon OEM period. The manufacturer will cover the costs of repair, labor, and replacement parts if a malfunction does occur.
Just remember, if you choose to get a warranty, you need to respect the OEM's instructions on safe use, proper maintenance, and operating hours. Also, bear in mind that any part you install on your own could damage the machinery, so be careful when tampering with equipment under warranty.
Still, the benefits you get out of having a warranty make all the requirements you have to fulfill more than worth it.