The prices of construction materials have been going up even before the pandemic, and the recent geopolitical crises that only further aggravated the issue, causing supply chain breakdowns, material shortages, and unprecedented spikes in material costs.
Against this background, how can contractors save money on construction materials without compromising the quality, safety, and functionality of their output?
In this article, we'll cover the top four tips on how a contractor can efficiently reduce material costs, even in the current circumstances.
Buy Materials From Local Suppliers
Purchasing construction materials from local suppliers can be a great way for contractors to save money, including much more than just transportation costs.
Before we dive into how you can cut material costs by buying locally, let's briefly review the challenges contractors in the U.S. and around the world are currently facing.
In June 2022, Associated Builders and Contractors (ABC) Chief Economist Anirban Basu pointed out that construction input prices were up 21.4% compared to June 2021.
In the past, such price increases have been known to cause major recessions, like the Great Recession of 2007-2009.
Thus, we can assume that the reasons for cost overruns in construction projects worldwide cited by construction industry leaders in 2008 are as relevant today as they were then.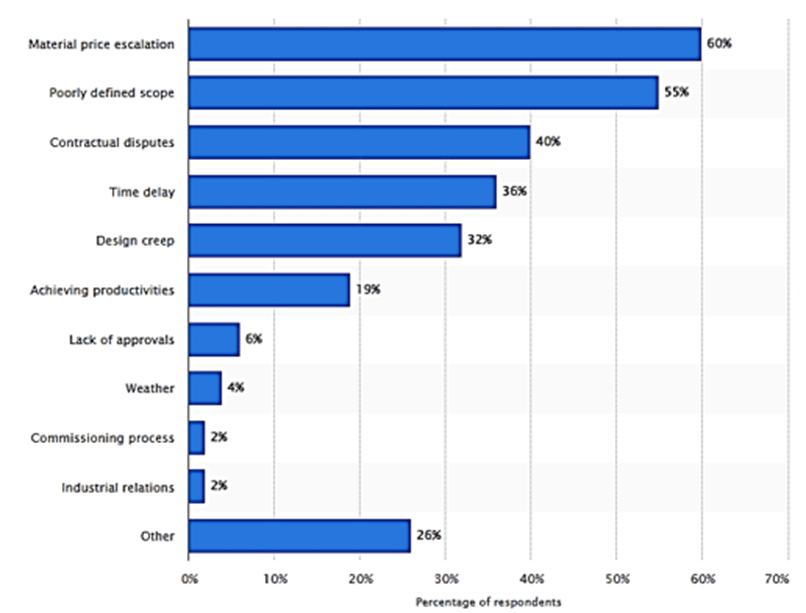 As you can see, the most commonly given reason for cost overruns is material price escalation, which we are also experiencing.
As dark clouds loom on the horizon, it's crucial to secure a fair purchase price and reduce all other costs associated with transporting, storing, handling, and managing purchased construction materials.
That's where buying materials from local suppliers can prove useful.
Although you might be using your preferred supplier regardless of where the jobsite is located or shopping online for the best deals, the strategy of going local can act as a money-saver on multiple levels.
For example, look at the top seven benefits of using local suppliers cited by North American manufacturers when surveyed by Thomasnet.com, which we have only slightly modified.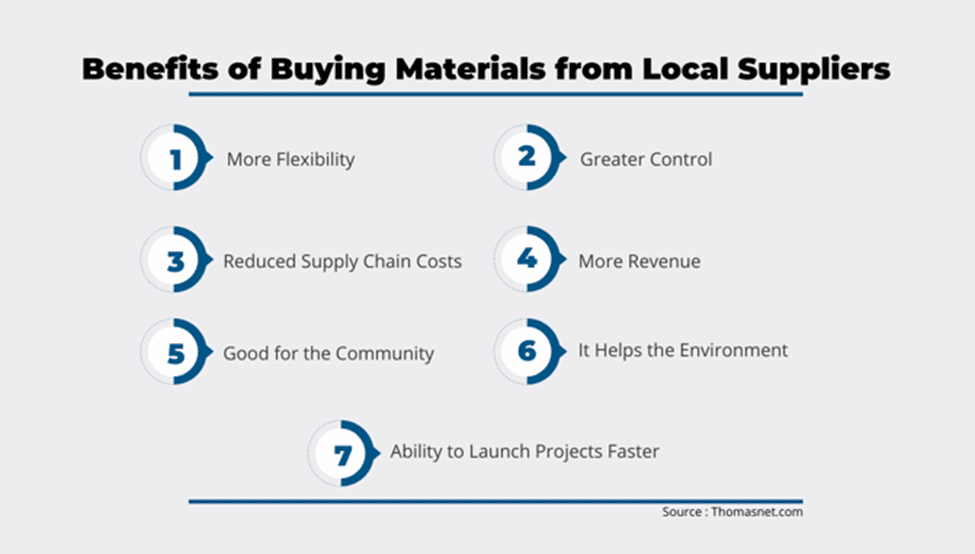 As for flexibility (1), just imagine if someone in the construction team seriously underestimated the necessary amount of a specific material in the budgeting phase.
If the missing quantity needs to be ordered and delivered to complete an already ongoing construction task, thanks to the fact that they're buying materials from local suppliers, contractors will be faster to react and deliver the required material, thus reducing the lost time and extra transportation costs, and minimizing the resulting budget overrun.
Further, greater control (2) means that when suppliers are local, a contractor is able to make site visits, meet and address any issues with their supplier face-to-face, which can be crucial when tight deadlines and restrictive budgets are concerned.
The benefit of potentially higher revenue (4) stems from the positive impacts that local purchasing has on the community (5) and the environment (6), both of which are valued by the general public and potential clients.
In summary, buying construction materials from local suppliers is an excellent way for contractors to save money, and savings include much more than reduced supply chain costs.
Compare Market Prices
Even when a contractor has an established relationship with their supplier(s), keeping their options open, doing research on the market prices to avoid overpaying, and looking for cost-saving opportunities can be a good way of saving money on construction materials.
As the prices of construction materials like steel, lumber, PVC products, copper, etc., keep rising, there's nothing wrong with shopping around, comparing market prices, and taking advantage of different saving opportunities.
In fact, this practice of doing research and comparing market prices might also prove helpful in cases of material shortages, as shown in a 2020 survey: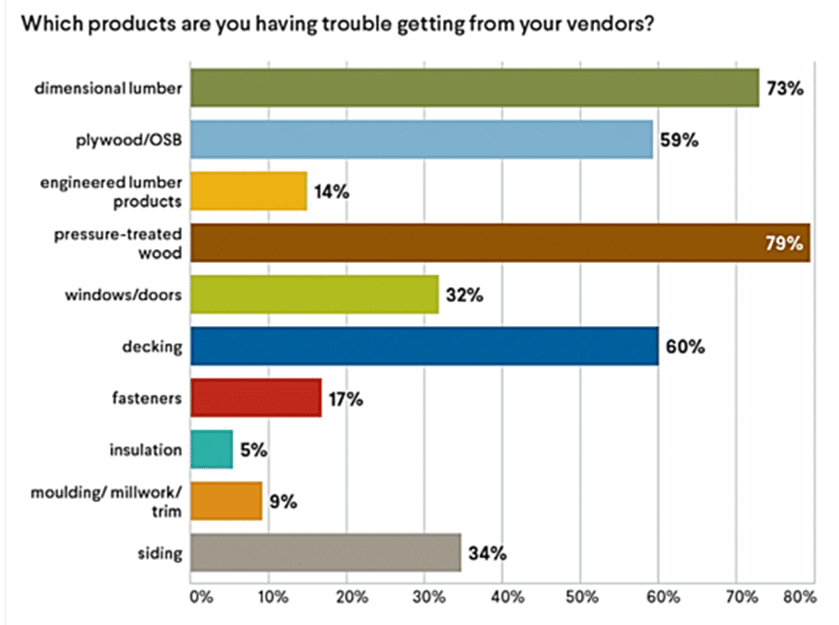 As you can see, pressure-treated wood, dimensional lumber, decking, and plywood were already difficult to get in 2020.
That's why it's wise to keep your options open and familiarize yourself with other suppliers (preferably local), their prices, and terms.
However, if you compare the prices of several suppliers online and establish that your current supplier is overcharging you for one or more materials, keep in mind that you might be missing information on what the supplier's true cost of obtaining and offering those materials is.
Other, seemingly more affordable suppliers may have hidden costs not included in their listed price.
Either way, you can address the issue with your supplier, ask about their additional costs, or demand a loyalty discount that matches or beats the lower price you found.
After all, nothing is stopping you from deciding to buy from a different supplier that offers high-quality materials at a lower price.
Another way to keep abreast of market prices and save money on construction materials is to join a group purchasing network, like this one for small-to-medium residential contractors.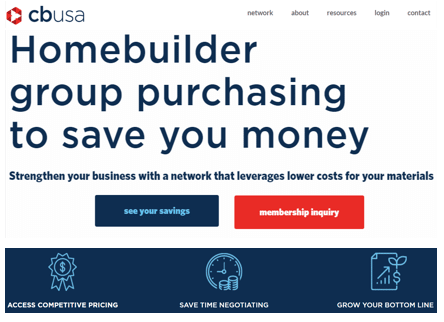 When you join CBUSA, you become a member of an elite builder network that has the purchasing volume and buying power on a par with that of large national construction companies, which allows for negotiating the best prices for their members.
Other than that, you can compare prices of specific materials offered by your general supplier to those provided by specialized suppliers or manufacturers, thus cutting out the middleman and getting a better price.
In conclusion, although established rapport and trust coupled with potential loyalty discounts made available by your go-to supplier(s) can generate savings on construction materials, it's wise to keep your options open, compare market prices and take advantage of different cost-saving opportunities.
Avoid Overstocking
While it's necessary to ensure that materials used on a regular basis are in stock and always available, it's important to avoid overstocking, which can ultimately cause extra costs, thus annulling any potential price savings.
A good way to keep the available materials at optimal levels is using a software solution to keep track of inventory levels and avoid any unnecessary purchases.
Although material shortages and price fluctuations might prompt you to overstock, it's still wise to carefully plan your company's future needs for construction materials based on, for example, your backlog—keeping in mind that many planned projects tend to get postponed during the recession.
If you want to keep a reasonable stockpile of regularly used construction materials and lower the chances of overstocking, it's crucial to keep an accurate inventory of materials (and other items like tools and equipment).
This enables you to avoid unnecessary purchases when there's enough material in stock. Conversely, you receive low quantity alerts when restocking is required.
In the hectic world of construction projects, it's easy to lose track of some materials you have in your warehouses.
This can lead to overstocking, possibly causing extra storage costs or, in some cases, risking they'll expire and end up as waste. The same applies to low stock levels.
That's why contractors should automate their inventory management with the help of inventory tracking software.
One such solution, which is cloud-based and harnesses the power of patented QR code tags and smartphone scanner apps, is GoCodes.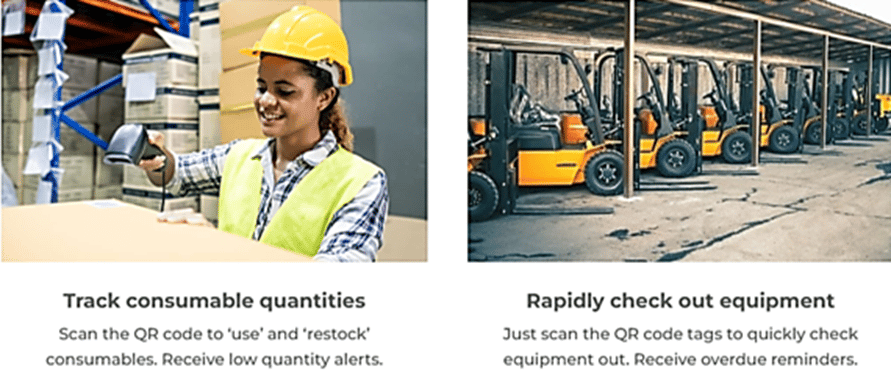 As you can see, you can track the quantities of various consumables and set low quantity email notifications while also using QR codes to track assets like machinery, equipment, and tools.
This affordable and easy-to-use inventory management software can keep you from over- or understocking construction materials, as well as tools, equipment, and other items.
Overall, avoiding overstocking can be a money-saver. Inventory management software is used to keep the stock of materials on optimum levels—not too high but sufficient to cover unexpected situations like client requests, site conditions, or design errors.
Buy Frequently Used Materials In Bulk
Although it may seem to contradict the previous tip on avoiding overstocking, buying frequently used materials in bulk can still be a viable strategy to save money on construction materials, provided some specific conditions are met.
While it's important not to overstock materials that aren't used on a daily basis, buying frequently used materials in bulk allows contractors to obtain larger quantities of materials at a lower price, thus saving money in the long term.
However, a contractor that opts for this strategy must have sufficient funds to pay upfront and a rock-solid plan on how those materials are going to be used.
For example, if a contractor has multiple construction projects underway or in the pipeline, which preferably require the same materials, they should take advantage of bulk or wholesale purchases, especially if storage is available and they calculated storage costs.
From an even broader perspective, stocking construction materials purchased in bulk beyond the immediate needs of ongoing projects can also bring other benefits like: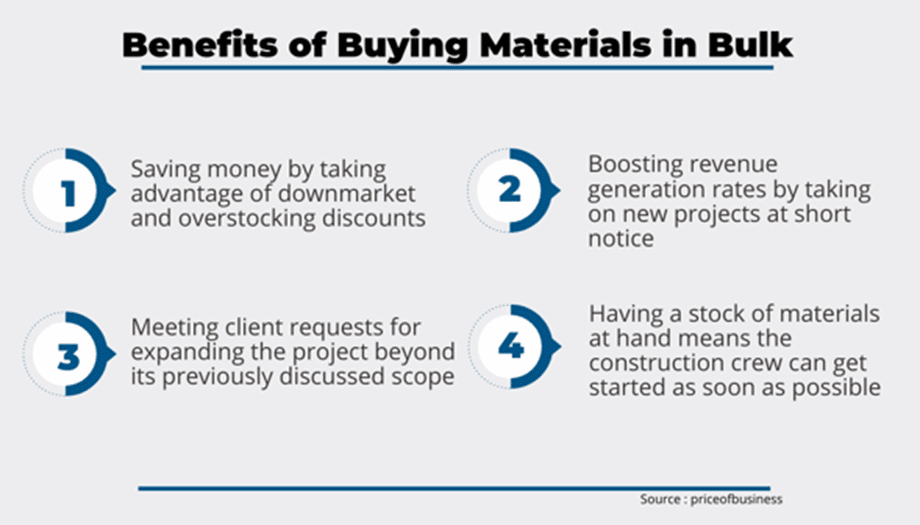 We should also add fewer work hours spent on waiting or looking for materials and the ability to maintain the consistent quality of materials across different projects.
However, it should be stressed that bulk purchases of special, rarely-used, or custom-made materials should be avoided to prevent such inventory from going to waste.
Instead, contractors should focus on getting the best bulk deals on frequently used materials.
To quote Michael Hydeck, owner of Hydeck Design Build Inc. and ex-chairman of the National Association of the Remodeling Industry (NARI):
"Buy the materials that start the job like your concrete, framing materials, siding, or drywall because you use a lot of that."
Overall, buying frequently used materials in bulk can be a valuable strategy to save money on construction materials, provided that the above described and other similar requirements are met and risks and costs considered.
Conclusion
In the current situation, it's clear that contractors should actively look for cost-saving opportunities when purchasing construction materials.
The tips covered in this article—using local suppliers, comparing prices, not overstocking, and buying in bulk—can be used to save money on construction materials without compromising the quality of the results.