GPS tracking of construction vehicles, heavy machinery, and other high-value large equipment has long been a standard in the construction industry, both for security and management reasons.
Now, as construction technology progresses towards the digital integration of all construction processes, data-driven construction businesses are extending this standard to tracking the location and usage of their small power tools and equipment, non-powered hand tools, and other smaller items used across multiple construction sites.
However, with so many tools to track, that can be a daunting task.
Fortunately, there are best practices for tracking construction tools you can use to establish and maintain an efficient tool tracking system and reap the benefits it brings to your business.
Create a Tool Inventory
Naturally, to successfully track the location and usage of your tools, you first need to know exactly what your construction business owns.
That's why it's best to create a comprehensive list of owned tools—and rented, if any.
The list should include details about them such as their name, description, type/model/serial number, current condition, location, value, etc.
When the baseline inventory list is properly compiled and communicated, especially when it can be modified and updated in real-time, everyone has a clear overview of all tools and other small equipment that a construction business owns or rents at any given time.
Mind you, depending on what you regard as tools and the size of your business, this can be a very long inventory list.
For instance, just consider the essential tools (and their accessories) commonly used on construction sites: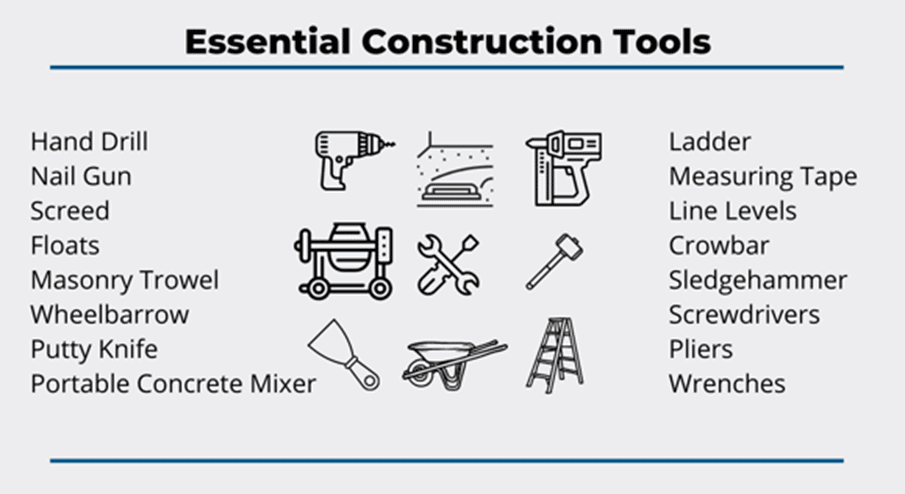 That's why establishing and maintaining an up-to-date tool inventory where all the different tool types, categories, accessories, etc., are accounted for and can be tracked in the central inventory list is often a complicated and time-consuming process.
However, two things work in favor of construction businesses.
First, the benefits that tool tracking brings to contractors far outweigh the time and effort invested in creating and keeping the tool inventory.
Let's list some of them: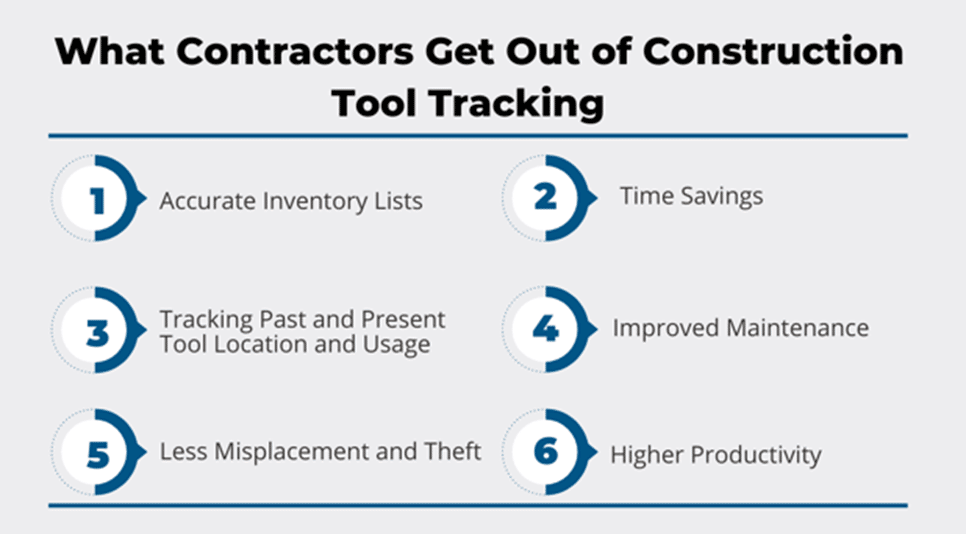 As you can see, tool tracking allows contractors to establish and keep accurate inventory lists (1) by tracking tool location and usage (3), which leads to improved tool management (4 and 5) and streamlined operations (2 and 6).
Second, the rapid development of technology, particularly software solutions, has provided construction businesses of all sizes with simple and cost-effective ways to create and maintain a complete tool inventory list as part of their tool tracking system, as we'll see in the next section.
For now, let's focus on practical tips that company owners or managers can use to establish an up-to-date tool inventory list.
The first thing to do is define what tools and other equipment and items to include in the tool inventory.
For example, should mid-sized equipment like generators, company-owned mobile devices, or workers' personal protective equipment (PPE) be included?
After you and your construction team have defined what should be listed and tracked, you can proceed to either compile (manually, using Excel spreadsheets or directly into the tool inventory software of your choice) or update and integrate existing tool and equipment lists to come up with a single up-to-date inventory list.
If you're starting from scratch, you'll need to do a full tool audit count, preferably starting from remote job sites and ending with a storage count.
To sum up, if you want to track tools successfully, you need to define what tools, key information, and metrics should be tracked and create (or digitize and transfer) a comprehensive tool inventory list that will serve as the basis for establishing an effective tool tracking system.
Invest in the Right Software
Simply put, no effective tool tracking system can be established without software (coupled with appropriate asset labels or tags), so it's highly recommended to invest time and effort in finding the right one.
As we've seen in the previous section, even creating a baseline tool inventory can be done far easier and quicker by using one of many tool tracking solutions available on the market.
Considering the other features usually provided by such solutions, it's not surprising that the global asset tracking market is expected to grow from $17 billion in 2021 to over $34 billion in 2026.
However, although this wealth of choice leads to increasingly affordable solutions, it may also be overwhelming for construction businesses trying to find a tool tracking software that best fits their needs.
That's why, when owners or managers set out to find the right software for their construction business, they should look for specific tool tracking software features like: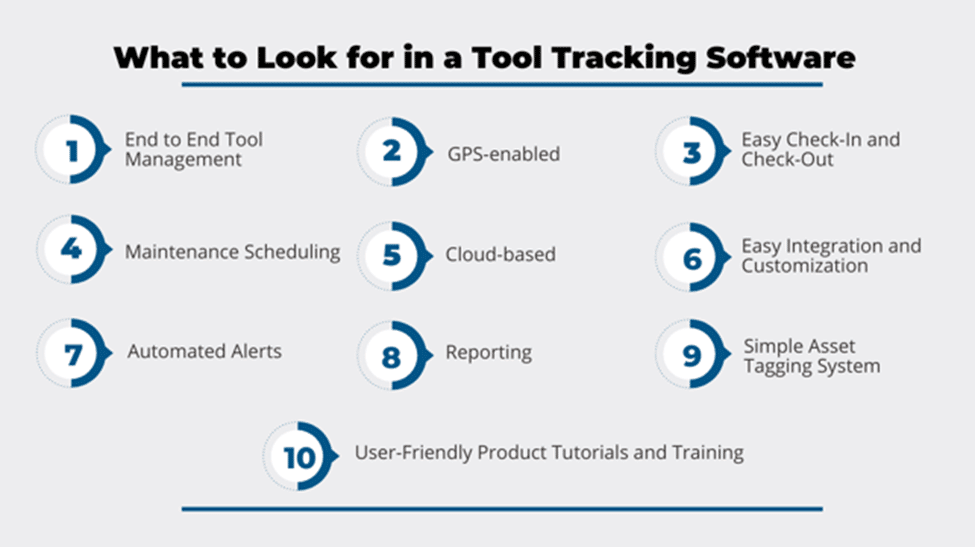 For instance, this means you want to find a tool tracking software that can be customized to your needs and easily integrated with other software solutions in your tech stack (6), provide real-time GPS location updates (2), enable easy setup of a tool check-in/check-out system (3), and offer user-friendly support and training (10).
Furthermore, a quality tool tracking solution should come with durable and easily affixed tool tags or labels (9).
At the same time, the software should be cloud-based (5), meaning that data won't be lost and can be accessed from any compatible device, at any time and from any location.
Naturally, there are many software solutions to choose from, but only a handful actually deliver all the above features along with superior ease of use and affordability.
One such complete tool tracking system to consider is GoCodes, which stands out for its ease of use and affordability.

Our complete solution combines the power of cloud software, scanner apps on smartphones and other devices, and rugged QR-code tags.
In other words, tools (and any other physical assets) are tagged with custom-designed QR-code tags that GoCodes delivers, so no printing is required.
Once tools are tagged, the tracking system is up and running, meaning that users can access the tool info, update its GPS location, and perform check-in/check-out by simply scanning a tool with their smartphone.
Overall, you should shortlist the tracking solutions that meet the above criteria and be ready to invest time and effort in research, reading reviews, consulting your peers, and even free-trialing different solutions before selecting the right software.
Train Your Tool Operators
When the location, condition, and usage of tools and other small equipment are monitored by a cloud-based tool tracking app, you can train your construction workers efficiently, teaching them to safely operate the tools they're using, inspect them before, and properly take care of them after their use.
This helps ensure that tools stay in mint condition and perform as they should for as long as possible, thus reducing replacement and maintenance costs and minimizing delays and injuries caused by faulty tools.
Among other things, tool tracking apps usually allow you to attach different documents, images, or even videos to the tool profile in your digital inventory.

This means you can add operating and safety manuals and instructions, inspection checklists, and much more, thus making them available to any worker with a smartphone in their pocket.
Furthermore, it allows users to easily report broken or missing hand tools or any issues with the performance of power tools and other equipment, thus ensuring that the issue gets fixed as soon as possible.
All this opens many training opportunities.
It makes it possible for the new workers to access onboarding training materials, including images and videos, as well as instructional, safety, and maintenance-related manuals, when they scan a specific tool they may not have used before or log into the mobile app.
Of course, we should also highlight the importance of training workers and managers to effectively use the tool tracking software of your choice, which includes user support and training provided by your software vendor.
Although many tracking solutions require little or no training, user-friendly product tutorials and online training are a must, as well as readily available and quick customer service.
Overall, using a cloud-based tool tracking app empowers your employees to use the tools and equipment in an optimal way, and benefit from proper training.
Introduce a Tool Checkout Process
An effective tool check-out process is crucial for reaping the full benefits of a tracking system, such as improved employee accountability, more effective maintenance and planning, and increased productivity.
For starters, an efficient tool check-in/check-out system will allow construction workers to easily check out tools (e.g., when clocking in), check them back in (e.g., when clocking out), or transfer and assign tools to each other (e.g., during work).
Furthermore, they'll be able to instantly view the availability and the last reported location of any specific tool, along with the tool info.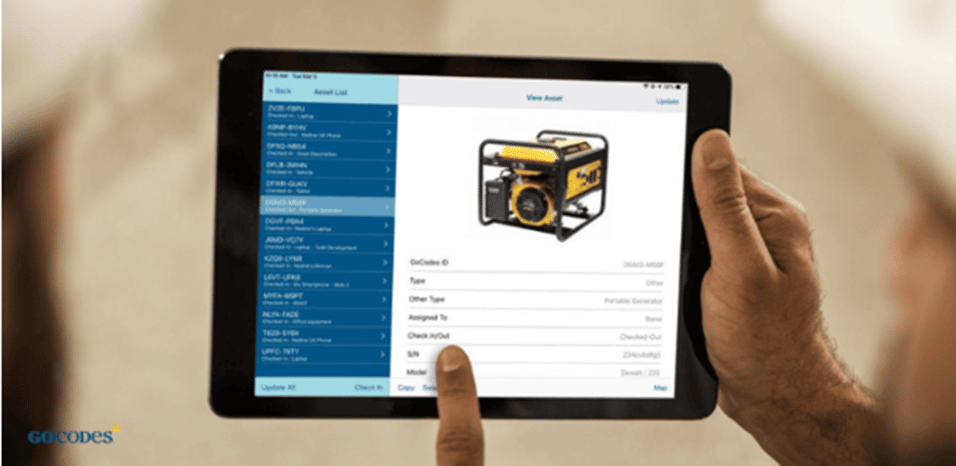 Additionally, managers will be able to easily assign tools to individual workers, timely communicate tool assignments, plan and schedule tool usage, track their location in (near) real-time, and monitor the chain of custody.
When all these functions are combined, it's clear why establishing an effective tool check-in/check-out system is considered a critical tool tracking practice.
Namely, the check-out process will produce both instant and long-term improvements across multiple aspects of construction management operations.
To establish such a system, you need a cloud-based tool tracking software (mobile app) that allows users to simply scan a tool with their smartphone or another compatible device to perform rapid check-in/check-out, access the tool profile (including operational, safety, and maintenance information) and edit the details while automatically updating its GPS location.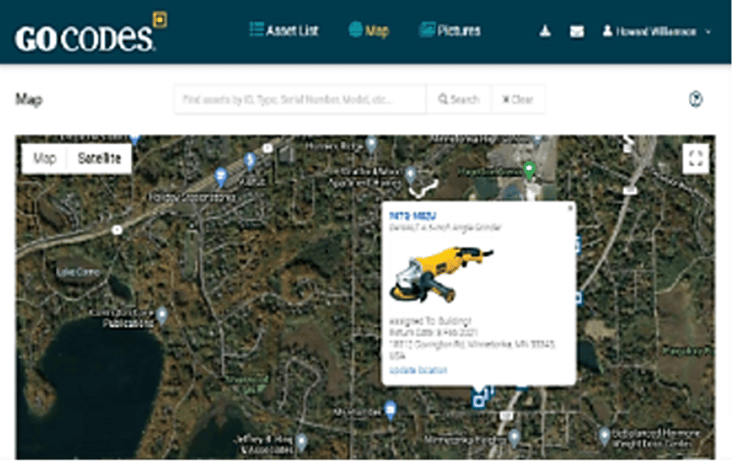 Naturally, this mobile tracking app will also allow other users, such as construction crews, site supervisors, project and equipment managers, to instantly view tool assignments, usage, and availability as they change in real time, which enables them to improve tool management practices and streamline related workflows.
For instance, as the check-in/check-out system provides a clear chain of custody, they can address issues like locating misplaced or stolen tools or quickly finding their replacement.
In other words, when everybody can see where tools are and who has them, it increases worker accountability, leading to less misplacement and theft and improved tool allocation and maintenance practices.
Finally, when the check-in/check-out system gets going, a quality tool tracking software will provide data analysis and seamless integration with other software solutions in your tech stack.
This will provide long-term benefits for your construction business, such as lower tool replacement and maintenance costs, streamlined operations, and higher productivity.
Considering all the above, it's clear that introducing a tool checkout process enables construction businesses to take full advantage of an efficient tool tracking software.
Conclusion
Construction companies should invest time and effort in order to find a cloud-based tool tracking software (mobile app) that will allow them to create and update a tool inventory, establish an efficient tool check-in/check-out system, and track the location and usage of tools.
This provides transparency and insights into tool management practices, thus opening training opportunities, increasing employee accountability, reducing maintenance and replacement costs, and boosting overall productivity.
Finally, the right tracking app enables construction businesses to integrate tool tracking with construction management software and other tech solutions, allowing them to take full advantage of the resulting efficiencies across all aspects of their construction operations.