Every construction project is unique and defies standardization.
On the other hand, the lifecycle of all construction projects, from renovating a basement to building a bridge, follows a similar pattern which can be described through the five key phases of construction project management —initiation, planning, procurement, construction, and closeout.
We'll explain what happens in each of these phases and take a closer look at the role of a construction project manager in each one.
The Project Initiation Phase
We could say that every construction project is initiated when an idea forms in somebody's head and first hand-made sketches and notes are created.
However, construction project management usually comes a bit later.
Basically, the project initiation phase covers all the steps to be taken before you can start planning the actual construction.
Naturally, the idea of building a new home, office building, or industrial facility needs to first evolve from a mere concept into the final design.
In other words, before it reaches the construction project manager, this idea will usually go through architects and engineers, get turned into a conceptual design, then a 2D/3D model, and ultimately into the final design, detailed drawings, instructions, and technical specifications.
At least that's the case with typical design-bid-build (DBB) contracts, where the project owner awards the job to a contractor that submitted the best bid.
Naturally, there are other project delivery methods where a construction project manager might be involved from the project conception stage.
And some companies offer such end-to-end construction services, like Pinner Construction.

However, as most construction projects are DBB, this usually means that architects and engineers have already done their job and prepared the final design, and the bidding process was won either by you as the general contractor or the company you work for (or were hired by) as a construction manager.
In this case, the project initiation phase actually started when you received a request for proposal (RFP) and did your due diligence on whether to submit a bid.
Depending on the project size and complexity, preparing a bid may have included different feasibility studies and a lot of pre-planning.
At a minimum, your proposal outlined the project scope and deliverables, cost estimates, tentative schedule, initial risk assessment, etc., thus initiating construction project management before you even know you got the job.
That's why some construction professionals call this phase "pursuit", as it precedes the actual project initiation phase.
Be it pursuit or initiation, that's where construction project managers usually get involved.
In general, they'll be participating in bid preparation, estimating and negotiating project costs and other details, and establishing a baseline budget and schedule, among many other things.
These and other initial project management activities will continue up to the point when the construction contract is signed, and the project initiation phase transforms into the project planning phase.
The Project Planning Phase
The next phase in construction project management, planning, is easily the most crucial stage of any construction project.
It's also a dynamic phase that often begins before the project initiation phase and continues throughout procurement and construction phases, ending with planning project closeout activities.
That's very important to remember as probably no construction project in history has gone exactly as planned.
After all, that's why a good project manager will, for example, include budget and schedule contingencies when planning the project construction phase.
And that's also why construction teams, as a rule, rely on different construction management software to plan their projects.
In fact, 79% of project managers were already using them in 2020. There are many to choose from, for example: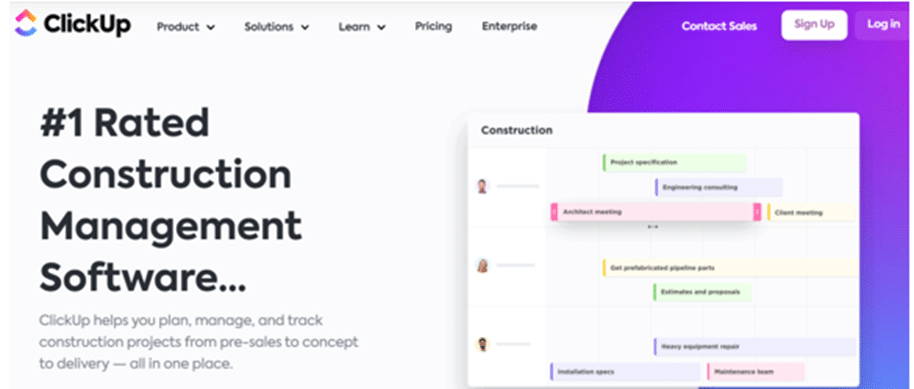 This and other similar software are heavily used by construction project teams in the planning stage and throughout the project lifecycle.
That's because they allow project managers and teams to perform the planning process diligently.
And good planning will, despite inevitable changes, provide rewards in terms of lower construction costs, improved site productivity, and higher profitability of a construction project.
In the project planning phase, it's time to turn the things outlined in the successful bid into more detailed plans that identify all activities and resources needed to complete the construction project in question.
For example, the Work Breakdown Structure (WBS) is a frequently used methodology for breaking down construction work into more manageable tasks.

Other than incorporating budget and schedule contingencies for unexpected events, the construction project manager and their team will, for example:
establish a detailed construction management plan
dissect each task into smaller ones, often using the above WBS
identify the required workforce, including external subcontractors
create a detailed budget, break down costs and draft a cost-control plan
establish a flexible and updatable construction schedule, etc.
Thus, when done proficiently (usually with the help of software), the project planning phase sets the foundation for effective construction project management with sufficient safeguards and flexibility to manage all the moving parts of a construction project.
The Procurement Phase
Now that the construction project has been initiated and planned, it's time to ensure that you have all the goods and services needed for its successful completion at your disposal.
Basically, the procurement phase aims to ensure that all equipment, materials, and different outsourced project services are procured and provided in a timely and adequate manner.
In addition to timeliness, procurement is concerned with the required quality, acceptable price, availability, reliability, and risk mitigation.
The goals of efficient construction procurement can also be summed up into the so-called five Rs, as shown here.
This would mean, for example, that the framing crew scheduled to work on the construction site arrived on time and found the tools and materials required for their job.
More specifically, materials of the right quality were locally sourced to save on transportation costs, reduce environmental impacts and increase sustainability.
As to the price and quantity, they were agreed upon in the contracting phase of procurement.
With so many factors to consider, it's not surprising that the procurement management process often starts concurrently with the project initiation or planning phase.
Basically, the procurement phase consists of planning, contracting, controlling, and closing the obtaining of materials. Here's how these four stages can unfold in more detail.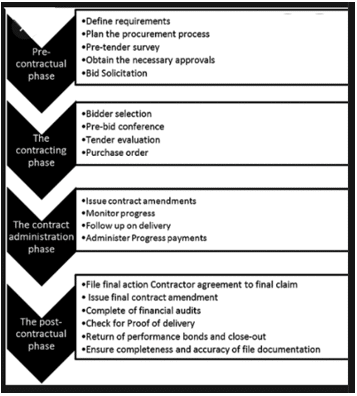 The pre-contractual phase (planning) is concerned with identifying which equipment, materials, and other resources are required to complete the project.
This is where the procurement plan is formed, which includes the delivery dates aligned with the project milestones.
In the contracting phase, the construction project manager and their team evaluate the bids and select appropriate subcontractors and suppliers.
After contracts are signed, procurement moves into the controlling (or contract administration) phase, which includes monitoring progress, conducting inspections, and making payments.
Finally, when a contract ends, closing procurement begins. This stage can include reviews and audits, confirmation of payments, return of performance bonds, and release of liability.
As for the project manager and their team, they'll be involved in the whole process, from creating procurement plans through prequalifying, assessing, and selecting subcontractors and vendors to review their performance during and after their work.
As such, procurement is a key process in construction project management, making sure that the project is delivered on time, within budget, and with the expected quality.
The Construction Phase
This is when all the puzzle pieces that were so carefully prepared and sorted fall into place, and actual construction finally begins.
In essence, the construction phase covers the execution and continuous monitoring of construction works, budget, schedule, and performance/quality.
In this stage, the construction project manager will have to closely track the project progress and address different challenges as they arise.
In fact, the execution of the project and the monitoring are in a feedback loop with the project planning phase, moving back and forth between execution and planning as informed by monitoring.
For example, if there's a problem with the quality of a particular construction material that was delivered on-site, and that problem was detected only after some of it was already used, this will cause a chain reaction of issues—new material needs to be ordered, faulty material needs to be removed and work redone, the supplier needs to be informed about their substandard delivery, maybe a subcontractor needs to be called in again, and so on.
If the rework is serious enough to cause time and cost overruns, the project manager is tasked with managing change orders, i.e., formal changes in the scope of work and contract amendments.
Here you can see the most frequent causes of change orders in construction projects, according to one study: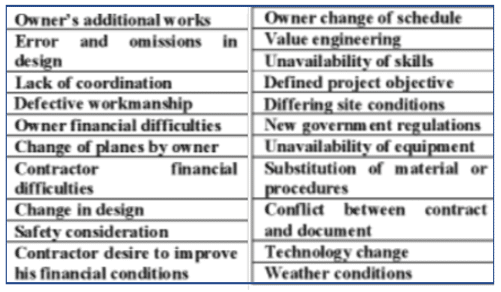 The change order management process is usually formalized before the construction contract is signed in the project initiation phase.
The construction project manager's activities in the construction phase are focused on ensuring that the work is proceeding as planned, closely monitoring its progress, and dealing with any issues (usually only those that can't be addressed by the construction site superintendent).
The project manager's role relies on their good planning, ability to prioritize and delegate tasks, excellent communication skills, and, as expected, proficient use of software tools.
Aside from the variety of construction management software that can be used to streamline all construction project lifecycle phases, there are other more specialized solutions that can be integrated and utilized to improve construction project management.
For example, being able to track your equipment and tools as they move between different construction crews or other sites can optimize their usage, prevent breakdowns, and facilitate progress monitoring.
Our solution, GoCodes, makes tool and equipment tracking easy by combining the power of cloud software, patented QR code tags, and smartphone scanner apps.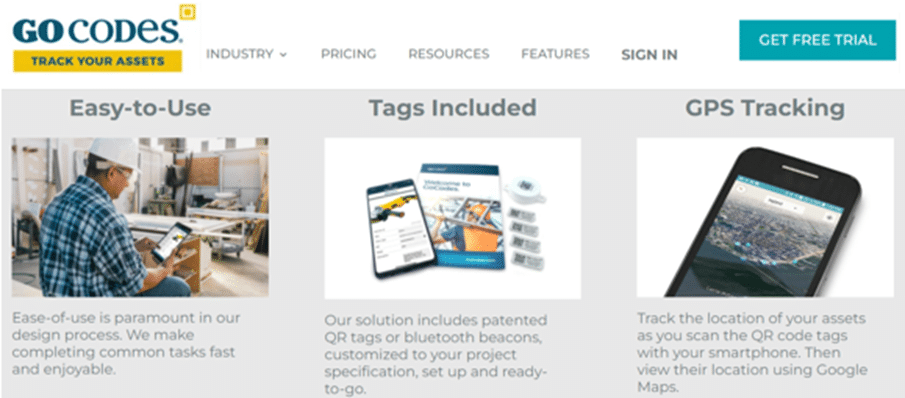 Whether comprehensive or specific, software tools and other construction technologies can streamline almost any aspect of a construction project, thus cutting costs, increasing productivity, and minimizing construction delays and change orders in the construction phase.
That said, the construction phase is also susceptible to so many constraints and risks that it gives the project manager an opportunity to shine and show they can be a great leader, coordinator, communicator, facilitator, and problem-solver.
The Project Closeout Phase
Last but not least, we've reached the phase where the project is completed and closed out.
Although most construction works have been done, there are still many other tasks that the construction project manager is responsible for successfully closing out the project.
First, the importance of the project closeout phase should not be underestimated.
As most construction contracts have a retainage clause, the amount withheld until the project is finally done (e.g., 10%) represents a part or even the entire profit margin of the project.
Not getting those funds because the project is not closed out can disrupt the construction firm's cash flow, especially in the current situation of rising prices, supply chain breakdowns, and labor shortages.
In fact, according to the 2021 construction payments report, 61% of construction companies said that collecting retainage on time is very important for their cash flow.

In simple terms, the project closeout phase covers:
finishing all construction works, including completing punch lists and final inspections
preparing the documentation, obtaining the certificate of completion, and different releases
handing over the complete set of project documents, instructions, and keys
finalizing all payments, reviewing the closed project for future reference
Of course, these are only the main steps, and they will differ according to project specifics.
As for the construction project manager, they will be dealing with making sure that punch lists are finished and final inspections are done.
This will be followed by extensive administrative and financial duties as the manager is the one that prepares reports and signs off on everything during the project closeout phase.
Other than a lot of paperwork, the manager will communicate with the client to gauge their satisfaction, as well as with other project stakeholders, while ensuring, for example, that all subcontractors and vendors are paid in full.
Thus, although an actual school, office building, or somebody's home is already built, the project manager's work is far from over.
Handling the project closeout phase efficiently is the final effort to complete a construction project to everyone's satisfaction.
Conclusion
As we are closing out this article, making a full circle around the key phases of construction project management, it's evident that construction project managers can, with the help of technology, efficiently manage all stages of the project lifecycle, from initiation to closeout.
We hope this article serves as inspiration for further research into the dynamic world of construction project management.