Construction projects are complex by nature. That complexity brings diverse risks, some of which are common to all projects, while others may be specific to only one.
Those risks, either alone or in conjunction with others, can literally make or break any construction project or sometimes even a whole company. That's why risk management is crucial for any construction business.
However, with so many variables to consider, it's easy to miss something.
With that in mind, here are six practical tips that will help you identify, assess, and manage construction risks in a holistic way.
Identify All the Construction Risks
The first step is to identify all construction risks associated with your project. This process will make you aware of potential scenarios that could affect the project and help you create an actionable risk management plan.
The size of a construction project is directly correlated with its complexity. In other words, the bigger the project, the harder it is to identify all the risks associated with it.
In fact, any construction project can face about 107 risks in total. That's according to the Construction Industry Institute, which conducts studies on various aspects of construction risk management. You can access them by searching their knowledge base.

Of course, no single project will face all those risks, but the list can serve as a good starting point for brainstorming with your team.
This process is clearly not a one-person job and should include your entire team's knowledge and experience, as well as that of other experts for specific project aspects.
However, before you start brainstorming, it's necessary to categorize construction risks according to their source. And even here, we're faced with many possible classifications. Here's just one standard classification with some examples on the side. Feel free to continue the list.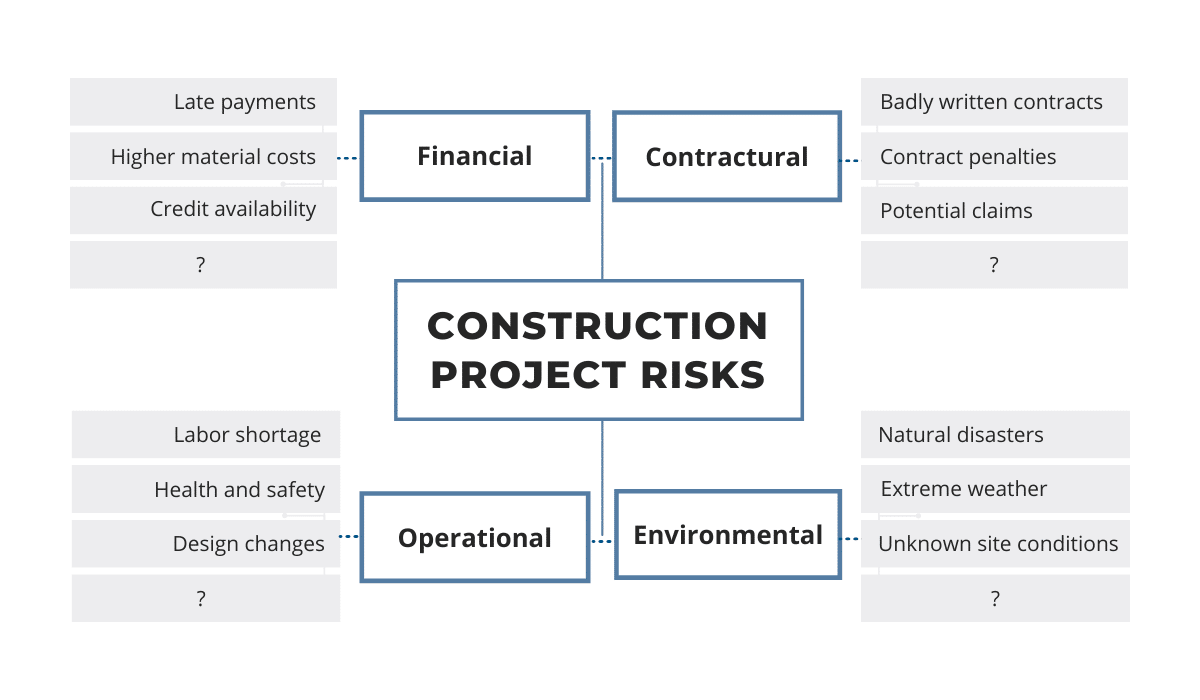 The resulting list in each category will inevitably be long, but that's the point. It will serve as the launching pad for your risk management plan.
This process should be carried out as early as possible in the project lifecycle, depending on when your company gets involved.
After the brainstorming, you should have a clustered list that can then be prioritized.
But before we move on, remember that risk management is a continuous process that requires the active involvement of all stakeholders throughout the project.
In other words, holding regular meetings and reviewing measures in your risk management plan as the project progresses will help you stay ahead of both identified and still-unidentified risks.
List Down the Risks in Order of Importance
When you start ranking the risks in order of importance, you'll quickly find that you are more likely to encounter some of them during your project than others. That's to be expected.
That's also why risks should be prioritized according to their potential impact on your project and business and their likelihood of becoming a reality. A simple 3×3 risk matrix will do the trick.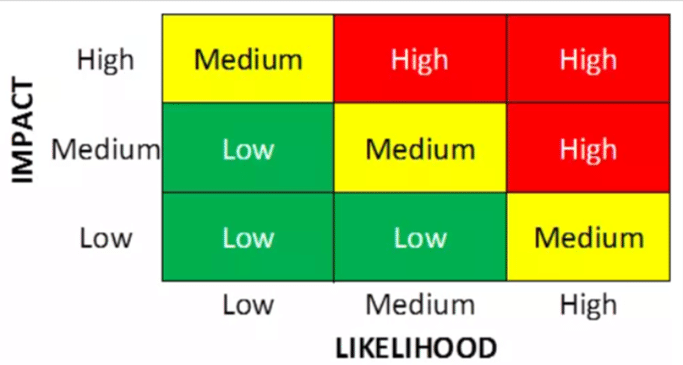 Each risk should be analyzed and placed in one of the nine grid fields. For example, we are currently facing supply chain disruptions and sharp price increases.
As the availability and cost of building materials are crucial for the success of any construction project, those risks can have far-reaching consequences, and their likelihood is medium to high, depending on many factors.
This means your risk management plan should address them first.
Naturally, some risk categories will deserve a breakdown of their own.
For example, when it comes to construction site safety, the same matrix can be used to determine which safety hazards require immediate action, which should be managed, and which simply need to be monitored.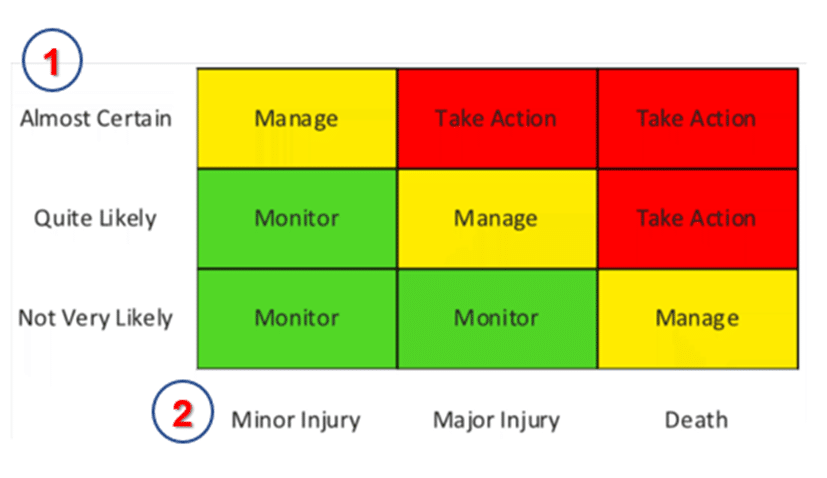 In this example, health and safety risks are prioritized according to their likelihood (1) and severity (2).
For instance, risks that are immediate and could have fatal consequences clearly require measures that eliminate them.
These measures can range from promoting a safety-first culture and providing site safety training to ensuring that proper site safety measures are in place and that workers have and use personal protective equipment (PPE).
Overall, ranking the risks in order of importance will give you a better idea of the priority risks to be addressed in your risk management plan. Just remember that many construction risks can be controlled or mitigated with good planning and effective project management.
Apply the Right Risk Management Technique
This section is all about choosing whether you're going to mitigate, transfer, or accept the now identified and prioritized risks.
Knowing which risk management technique to apply will help you create and optimize your risk management plan. And it may even turn some risks into opportunities.
When a risk can't be avoided or eliminated entirely, it can be reduced by taking actions aimed at lessening the likelihood of that risk materializing or reducing its impact if it does.
For example, certain risks at the construction site, such as falls or hearing damage, can't be entirely avoided. But their likelihood and impact can be mitigated with training, site safety, and PPE, as we've mentioned above.
Another example is the weather. Although it can't be controlled, there are many actions you can take to prevent it from hindering your construction project.
For instance, this would involve defining potential delays due to bad weather in the contract to protect your business from contract penalties or investing in better on-site weather protection.
Maybe you could consider implementing this reusable weather enclosure system (RWES)?
This innovative construction envelope can withstand winds over 100mph (160km/h), which is increasingly important due to extreme weather events spurred by climate change.
This is an example of risk mitigation at its finest. It simultaneously protects workers, equipment, and materials and avoids downtime associated with unprotected job sites.
Another technique is risk transfer. This is where the risk is transferred to a third party (e.g., an insurance company) or shared with other parties.
Options include performance guarantees, subcontractor agreements, and collaborative contracting (e.g., pain-share/gain-share arrangements).
Some insurance brokers offer end-to-end risk management solutions. For example:

Finally, there are many low-impact and/or low-probability risks that your business wants to accept, as it would not be cost-effective to address them.
Risk acceptance can be passive or active. Passive risk acceptance means we're taking no action but still review the risk from time to time, making sure it does not escalate.
On the other hand, active risk acceptance means proactively establishing fallback plans and contingency measures to be triggered if and when the risk materializes.
Hence, in addition to optimizing your risk management plan, applying the right risk management technique can lead to alternative solutions that can turn into great business opportunities.
One such example is collaborative contracting, which is noted as an emerging business model by McKinsey&Co in their report The Next Normal in Construction.
Assess the Right Resource for Risk Management
Now it's time to assess which resources will help you best manage construction risks and optimize your efforts.
Software and technology can eliminate or mitigate a host of previously accepted risks.
Coupled with innovative methods and new approaches, construction risk management can be streamlined to the benefit of your business.
So, what risk management resources are available to you?
As said, software leads the way in making construction risks more manageable.
Regardless of your company size and what you need software to do, the market offers many solutions that standardize and simplify processes, thus avoiding or minimizing a host of risks.
Using software to create a single source of information for all project stakeholders, as dRofus does, is one such solution.
This cloud-based software enables the consolidation of disparate data sets and converts them into project information, insight, and intelligence accessible to all project stakeholders on the same platform.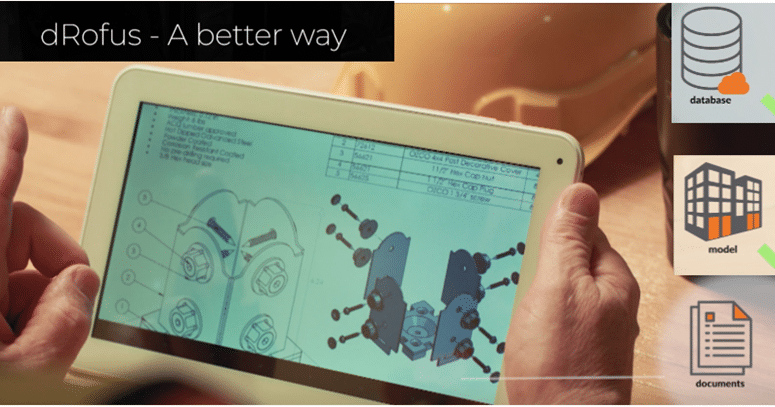 In this short video, they present the effect that the software can have on typical project management issues.
This one centralized database and collaboration platform for stakeholders helps tackle project risks across the board.
For example, it reduces the risk of misunderstanding and miscommunication between the owner, design team, and different contractors about project deliverables and specifications.
Building design, regulatory and safety compliance, risk management in general—any of these project management areas can now be streamlined and managed by software.
Other technologies, like drones, construction wearables, and 3D printing, are no less important for risk management.
In fact, top trends shaping the construction industry all have their practical application in risk mitigation.

When combined with other resources like financing (e.g., credit lines to hedge against different risks), various professional advisors, and the abovementioned insurance brokers offering comprehensive risk management solutions, it's clear that the resources are often just a few clicks or emails away.
Selecting the right resource(s) can turn the creation of your risk management plan into an easy task and save you a lot of time and money by reducing all kinds of risks.
Invest in Training Your Team Members
Although technology is leaping forward, people remain crucial for the success of any construction project.
That's why it's paramount to invest in training your team members. Providing appropriate training to the right people can prevent or minimize many construction risks.
Starting from the top, why not train your key personnel in risk management?
For example, the Intaver Institute offers a 3-day construction risk management workshop for project managers and team members to introduce participants to concepts, principles, processes, and application of risk management in a construction project environment.

This comprehensive workshop that can be done both in-person and online is an example of how risks can be managed holistically at the company level.
By ensuring that key personnel is trained to handle their risk management tasks effectively, companies tackle poor risk management across the board.
And the said Institute is another proof that software is now omnipresent in the field of risk management.
Why? Because they, aside from workshops, offer their own.

Another area in which quality training is paramount is, naturally, construction site safety.
The construction industry has the highest rate of fatal work injuries among all other industries, both in the U.S. and the world, as you can see in the graph below.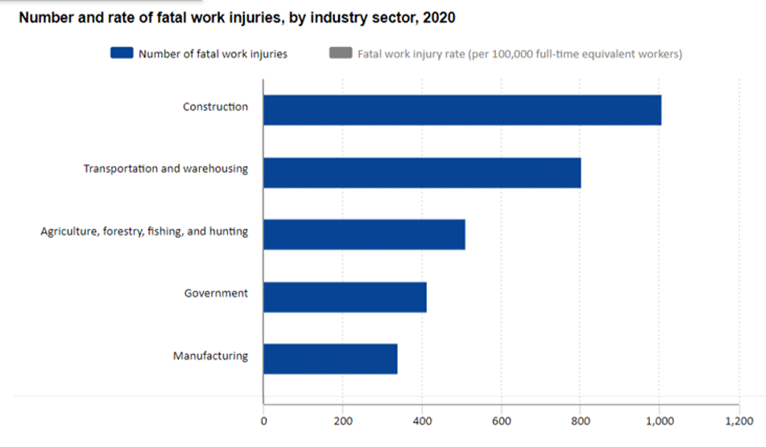 Proper training not only saves lives and prevents injuries on site, but also ensures your construction site is compliant with the Occupational Safety and Health Administration (OSHA) regulations.
To keep your safety training current and comprehensive, you can hire a specialized training agency that will make sure your new and existing employees are taught everything they need.
This is exactly what MSC Safety Solutions offer.

Combined with regular site inspections that prevent existing and new hazards, safety training is both a life and money saver, which makes it an excellent investment.
So, ensuring that your team is well-trained and has the right skills to do the job will avoid, prevent, or reduce multiple construction risks and help turn your risk management plan into reality.
Standardize Your Order of Operations
Finally, how do you ensure that all the above tips turn into an actionable and robust construction risk management plan?
And how do you make sure the plan stays up-to-date and your team is ready to identify and manage the existing and new risks?
In short, standardize your order of operations. Provide step-by-step instructions for when a risk materializes and make sure your workforce is familiar with and has access to these procedures.
For example, here's a simple order of operations for an emergency situation: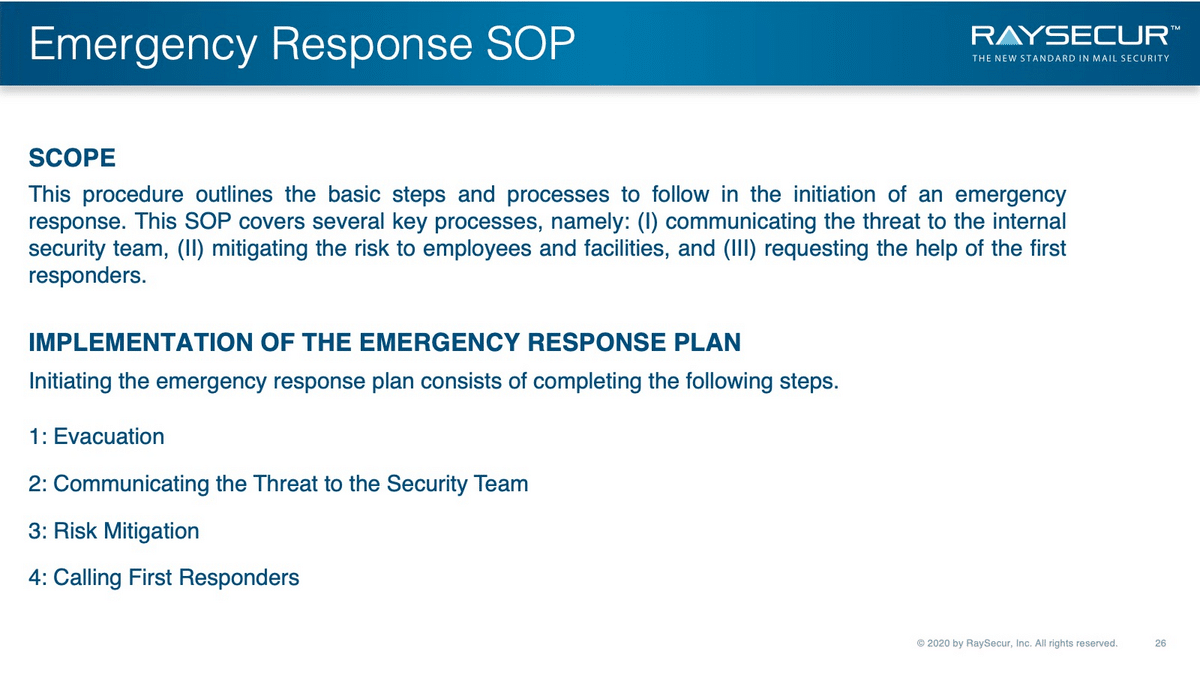 First, this implies that you and your team members have, preferably with the help of software and internal or external experts, followed the preceding tips and now have a detailed risk management plan.
This enables you to establish easy-to-follow processes that will help your team make the right calls and take appropriate actions when faced with known and unknown project risks.
These can be step-by-step instructions or standard operating procedures (SOPs). As you can see below, many templates and programs can help you with this task.

If done right, they can ensure that everyone in your company follows the same risk management guidelines in their work.
Once you've created your standard order of operations, the key to success is, again, training. Your standard order of operations should definitely be a part of your training plans for all workers who experience these risks.
So, having a robust risk management plan and standardized order of operations can turn the above tips into good processes that will eliminate, avoid, or reduce construction risks at both the project and company level.
Conclusion
Following these practical tips will help you create a comprehensive risk management plan that will increase the safety of both your team and your bottom line.
When combined with the right software and expertise, they are a powerful tool for construction risk management. We hope you use it.