If you're reading this article, chances are you're looking for ways to improve the way you manage your assets.
That's great news because, despite sometimes being an overlooked part of company operations, monitoring the resources on hand can greatly benefit business success.
You just need to do it the right way.
This is where QR codes come in. When it comes to monitoring equipment, tools, machines, and even construction materials, few other methods can match their efficiency.
That's why we decided to dedicate a post solely to QR code asset tracking.
Read on to find out more.
Why You Should Use QR Codes for Tracking Assets
So, what exactly do you get from using QR codes for equipment monitoring? What are the benefits of this specific method?
As a matter of fact, there are numerous reasons to use QR codes for asset tracking. Here are the most important ones.
Quick Asset Identification
In the construction industry, time is a crucial factor.
That's why decision-makers insist on all operations running as smoothly as possible. It's what ensures deadlines are met and new projects keep on coming.
The misplacement of a single tool or piece of equipment can significantly hinder productivity.
If your team has ever spent a substantial amount of time searching for a necessary machine or component, you already understand the impact this can have.
Obviously, situations that slow you down like this are something to avoid. There is a way to prevent them, though.
With the help of an efficient asset tracking system, lost tools, project delays, and unplanned downtime can become a thing of the past.
When discussing effective resource monitoring solutions, it's impossible not to talk about Quick Response (QR) codes.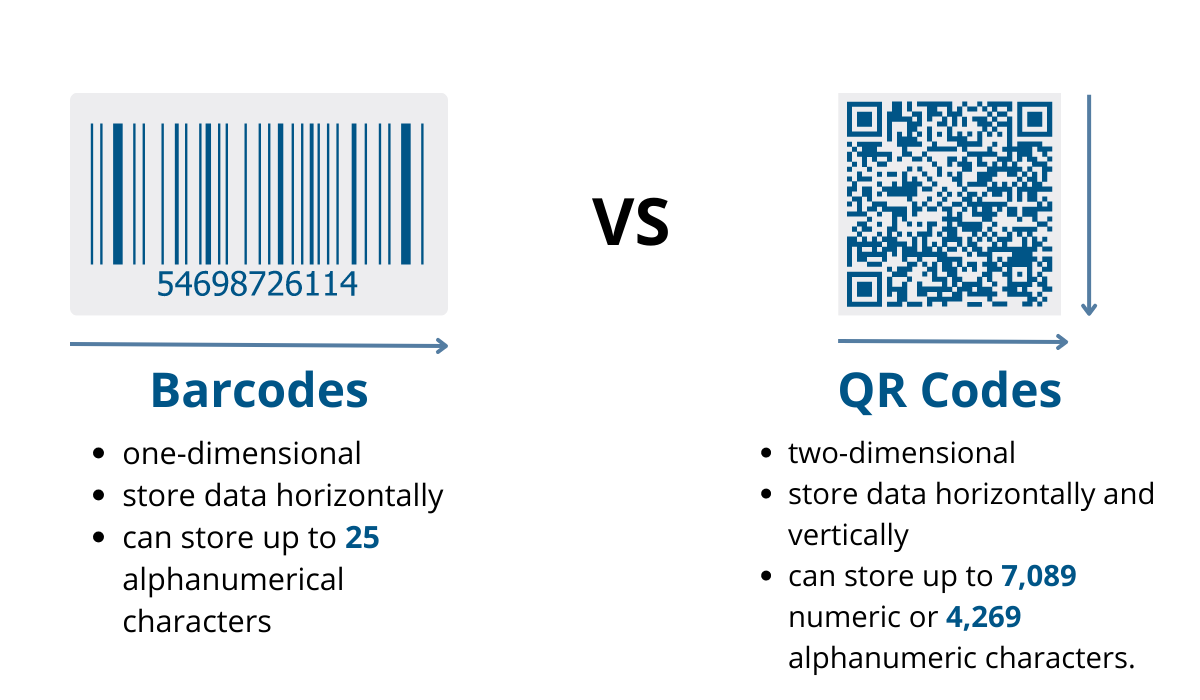 Unlike their older version—barcodes—QR codes can store significantly larger amounts of data.
Plus, they don't require any kind of special hardware, such as scanners, in order to work. Any mobile device that supports QR code scanning will do.
One scan of a QR code label will instantly identify the tagged item and tell you all you need to know about it, including its status, location, and who's currently using it.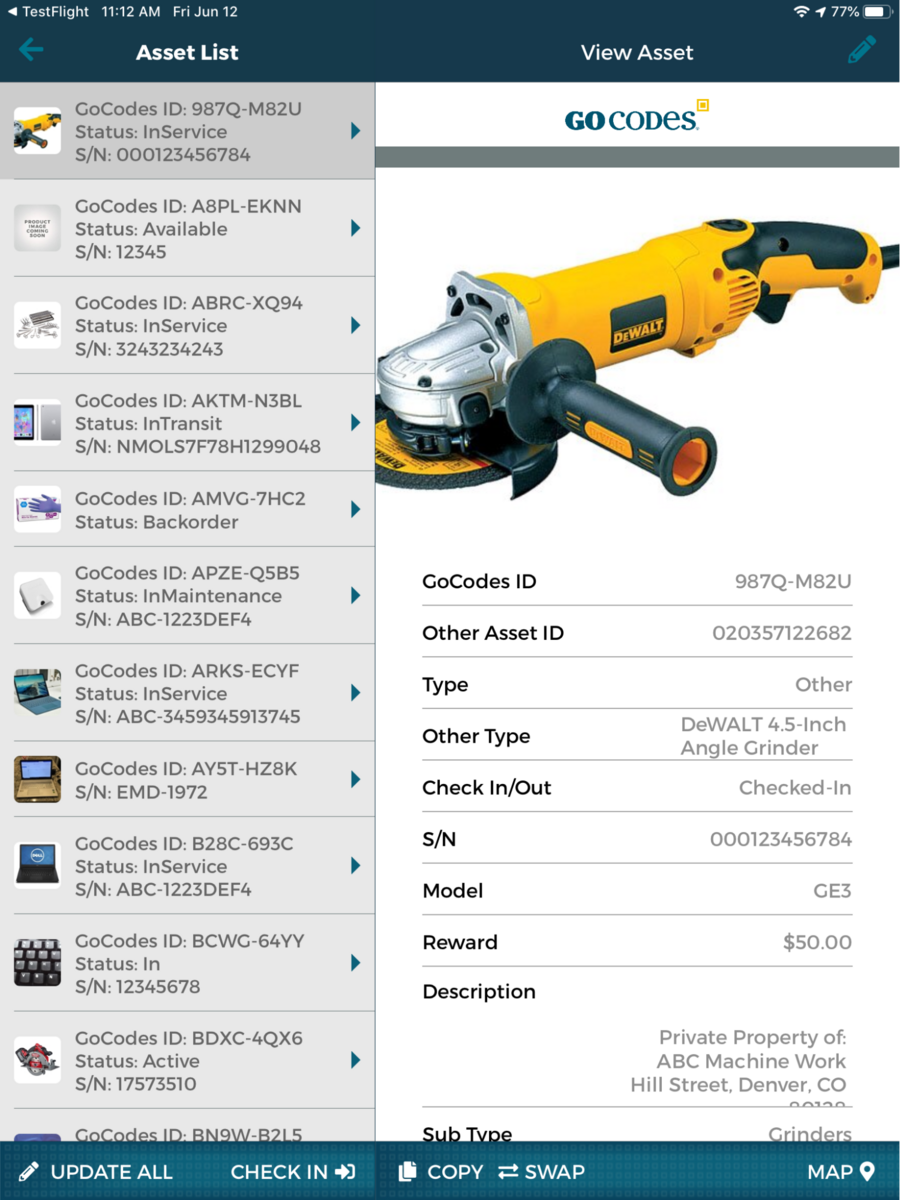 Besides, asset management software will collect and keep all the equipment information in the cloud, allowing easy access on-the-go. It doesn't get any quicker or easier than that.
Total Asset Visibility
Over the years, plenty of reports and surveys have been done on the productivity in construction.
The results?
Well, the situation could be better.
One such study of job site efficiency was carried out by Levelset and Fieldwire.
It showed that more than one full day of work is wasted every week on construction sites.
What's more, 66% of survey respondents said they spend around a quarter of their working hours just waiting for work to finish.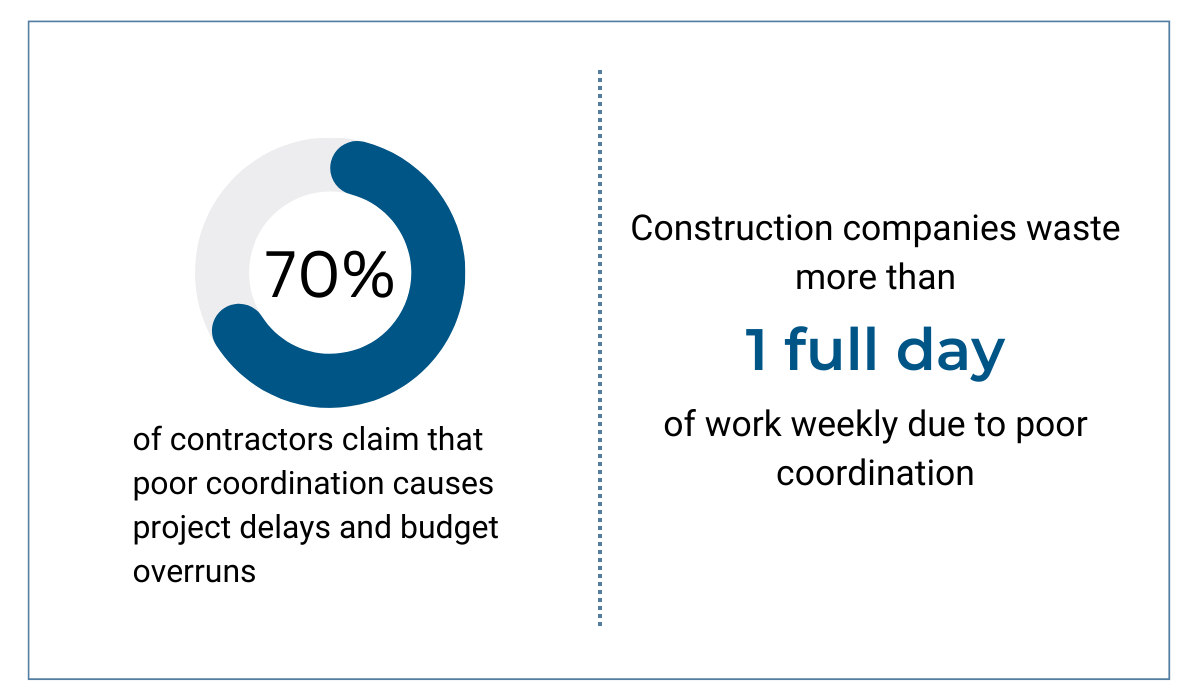 So, what causes this inefficiency?
Poor coordination, it turns out.
It's not uncommon for a tool to break without anyone reporting it or for workers to forget to return a machine to the warehouse. If this is a rare occurrence, there's no need for concern.
However, if it happens on a regular basis, then we're talking about inefficient organization and poor communication.
That's where issues arise, and productivity starts to drop.
To keep such things from happening, you need total asset visibility. With QR code equipment monitoring, that's precisely what you get.
As you tag and track assets, a fixed asset register is automatically created, giving you a complete view of everything you have on hand.

In other words, you get to see where a certain tool is, the last person to use it, who has it now, when it'll be returned, and the condition it is in.
As a result of the absolute transparency the solution provides, your team will be more accountable for their daily actions and resource usage, reducing the likelihood of any mishaps.
Easy Asset History Tracking
When it comes to resource management, consistency really does pay off.
The more you use your QR code labels to update equipment information, the more data there is available about that particular item.
In other words, routine updates result in extensive records of an asset's history.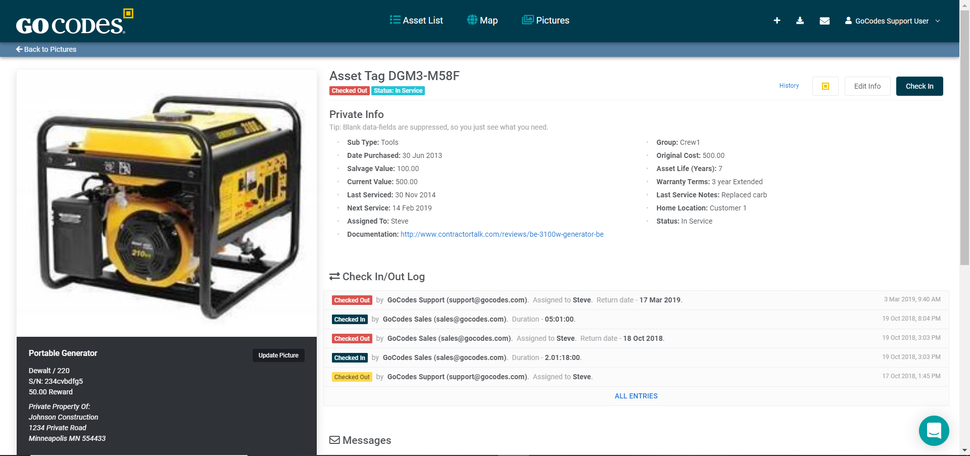 Managers and workers alike can then access these documents when they need help with certain tasks, such as asset allocation strategy, audits, or insurance claims.
For instance, during a compliance audit, the monitoring software allows you to quickly confirm equipment's presence at a job site and provide auto-generated reports showing the overview of an asset's utilization.
These reports include data such as:
Heat levels
Total work hours
Turbine speed
The same goes for asset allocation. Leverage the insights you get to make smarter decisions about how you use your tools, machinery, and materials.
Low Risk of Irreparable Damage
Asset history also includes inspection and repair records. These records keep you informed on what kind of maintenance was done, when, and by whom.
Keeping a closer eye on such data is important because it enables you to take better care of the tools and machinery you own.
Well-maintained assets are, after all, the key to high productivity.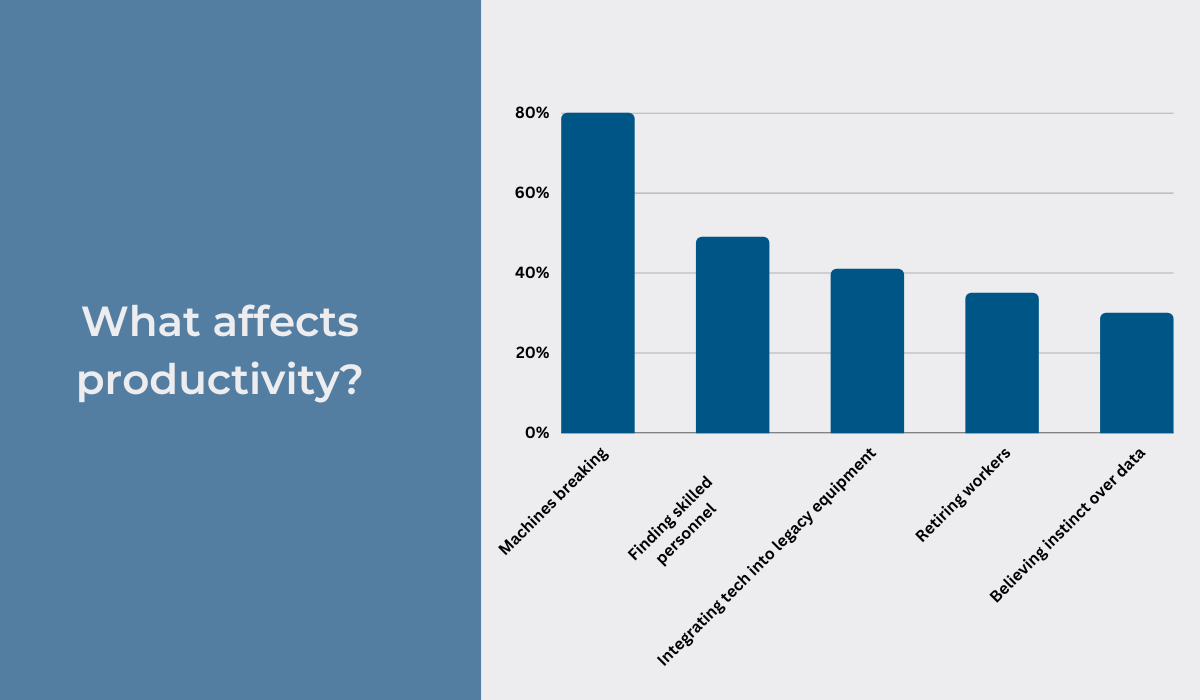 Of course, an occasional malfunction or mechanical failure is bound to happen—equipment wear and tear is impossible to avoid, especially in construction.
However, you still want to keep those at a minimum.
Using QR codes for resource monitoring plays a large role in efficient maintenance strategy and, as such, lowers the risk of irreversible damage to your valuable tools.
Consequently, asset service life is prolonged while upkeep and replacement costs are lowered.
Talk about winning on all possible fronts.
To elaborate, by employing QR codes for asset tracking, you get to observe various aspects of the equipment's performance.
As a result, you become better equipped to plan out service schedules effectively.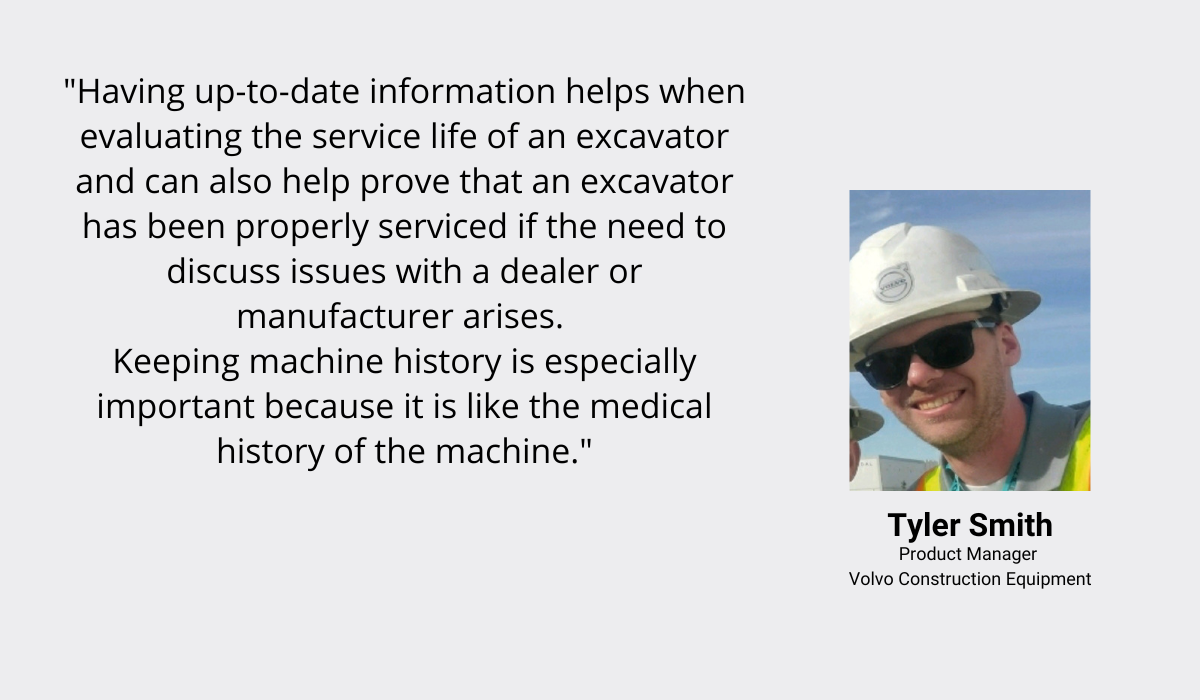 This sort of strategy is also known as preventive maintenance.
Instead of fixing tools and machines when it's already broken, this method relies on frequent inspections and regular upkeep that are scheduled during planned downtime.
In summary, preventive maintenance eliminates any unplanned delays and unexpected equipment issues, ensuring continuous productivity and peak efficiency of assets.
Types of QR Codes Can You Use for Asset Tracking
Did you know that not all QR codes are the same?
A less-known fact about these black-and-white squares is that there are actually two types: static and dynamic ones.
So, what's the difference between the two, and which is better for asset tracking?
We'll answer these questions in the following two sections.
Static QR Codes
As the name suggests, information stored on static QR codes cannot be edited, changed, or updated.
In addition, static QR codes do not allow for tracking of the scan data, making it impossible to determine who performed the scan or where it took place.
As a result, they are not commonly used for business purposes, including asset management.
You're more likely to see them used for one-time campaigns instead.
For instance, they're sometimes placed on product packaging to provide additional information about that particular item.
Below, you can see an example of a static QR code. It contains a URL, leading you to a post on all the ins and outs of using QR codes.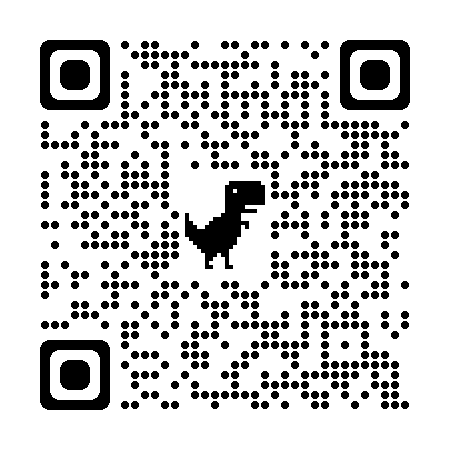 The code provides unlimited scans, and it'll never expire. However, the content on it can't be updated or edited.
Dynamic QR Codes
Dynamic QR codes, on the other hand, are a better long-term business solution, especially for construction equipment and tool monitoring.
Their data is updateable and editable, even if they're already printed out, which makes them not only efficient but cost-effective, too.
Printing out new asset labels for each update simply wouldn't make sense, after all.
Furthermore, this type of code often comprises a brief URL designated to hold a particular piece of information rather than actual content.
As a result, it can be much simpler and smaller in size, enabling it to fit on even the smallest of assets.
There's almost no limit to what you can track with dynamic QR codes.
Generally speaking, static codes don't provide enough flexibility and versatility to be effective equipment tracking tools. That's why businesses far more frequently rely on dynamic ones.
How Does QR Code Asset Tracking Work
Another thing that makes QR codes a tracking tool of choice for many businesses is the ease of their implementation and use.
In order for the system to work, there are really only two components you need: software or an app and QR code asset labels.
The first step is to tag all the equipment, machinery, and tools you want to track. Then, you are ready to start scanning.
That's pretty much all there is to this process.
To see QR codes in action firsthand, though, try scanning the code below.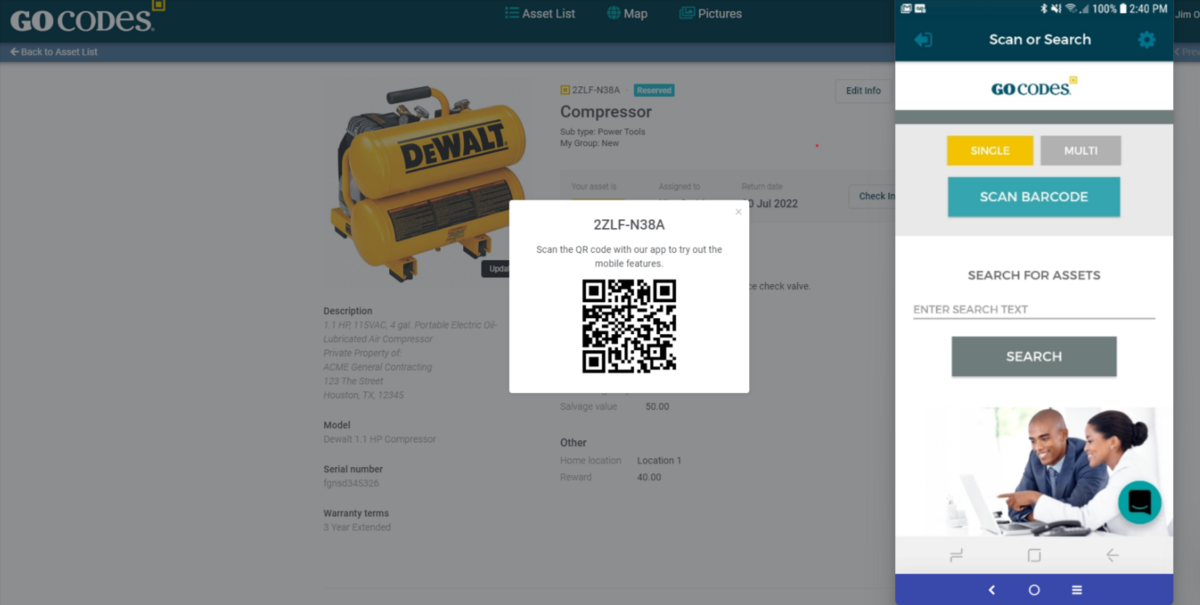 With this system, you can easily view or update asset data by scanning the label. Additionally, you can check equipment in or out using the same process.
Each time you perform any of these actions, the asset's GPS location is updated.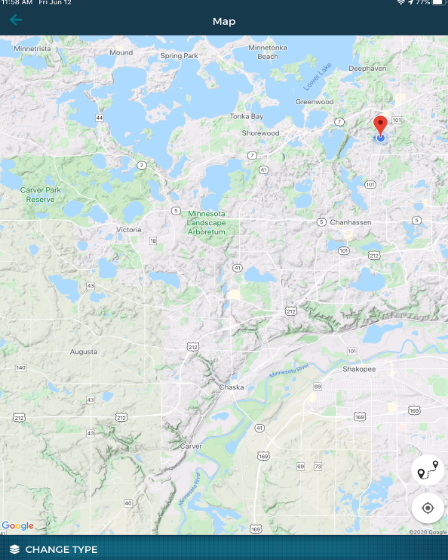 Essentially, with QR code equipment monitoring, there's very little room for mistakes.
The solution is user-friendly, even for less tech-savvy users, and, at the same time, it provides accurate, extensive, and timely data.
How to Start Tracking Your Assets Using QR Codes
If QR codes caught your attention and you'd like to get started with this method of asset management, the first order of business would definitely be to get asset tags suitable for your own equipment.
Here, you have two options: you can either order the labels from a dedicated supplier or print them on your own.
Keep in mind, though, that the latter isn't always the best course of action.
Label printing can be cheaper, but it is also quite time-consuming and labor-intensive, and there's always the risk that you might not end up with a high-quality product.
Homemade tags are often more prone to water or abrasion damage and tend to peel off over time.
Instead, it's usually better to have the labels made professionally.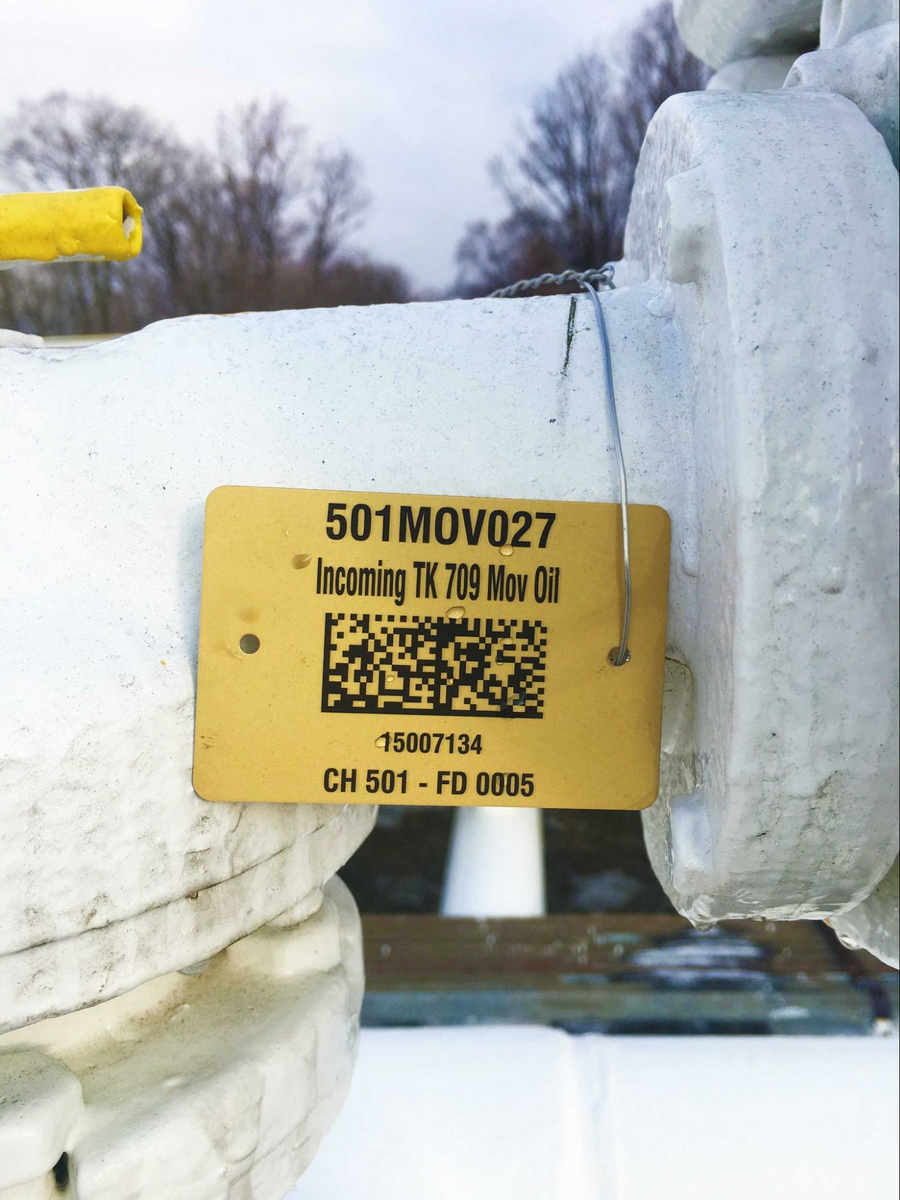 At GoCodes, we offer a comprehensive asset tracking solution that includes both tags and software.
Our customizable tags can contain various information, such as:
Your logo
Phone number
Email address
A message
From iron-on labels and industrial hang tags to high-temperature-resistant labels, GoCodes provides a range of materials, sizes, and adhesives, accommodating every need.
Even if you still decide to print your own labels using a regular printer, with our web software, you can do so for exceptional results. Click here to read more about it.
If you are considering GoCodes labels and tags, you can request a free sample to assess the quality and determine if it meets your needs before committing to a purchase.
Conclusion
A new method of equipment monitoring and management emerges every now and then. There are so many different solutions to choose from nowadays.
However, QR codes withstand the test of time.
This is no surprise at all.
The system is efficient, automated, and user-friendly while remaining cost-effective, thus checking all the boxes of a great asset tracking tool.
Therefore, if your productivity needs a boost, look no further. QR codes are the solution for you.