An equipment checkout system is of no use to an organization if it isn't user-friendly and kept up to date in real time.
No matter what types of assets a company deals in, not knowing where an object is makes it as good as lost—which translates to wasted money.
Investing in strong, reliable equipment checkout software is a wise venture.
Since the needs of a company dictate the type of equipment checkout system it should use, this post will discuss several aspects of choosing one.
Once an equipment checkout system is implemented, and its end users are comfortable integrating it into their workday, its efficiency and advantages will quickly become apparent.
What Is an Equipment Checkout System and What Does it Do?
An equipment checkout system provides a fast and largely automated process for managing circulatory assets.
It not only lets users know which item is in the hands of what employee and whether it is available, but what its condition is, and when it next requires maintenance.

The system will also notify users of the availability of items similar to the one they were looking up.
Additionally, such a solution permits wide user access possibilities, from just the system administrator to any visitor at a public museum.
An equipment checkout system is an essential element of asset tracking and management for certain commerce fields, such as rental car management enterprises, healthcare inventory setups, and warehousing.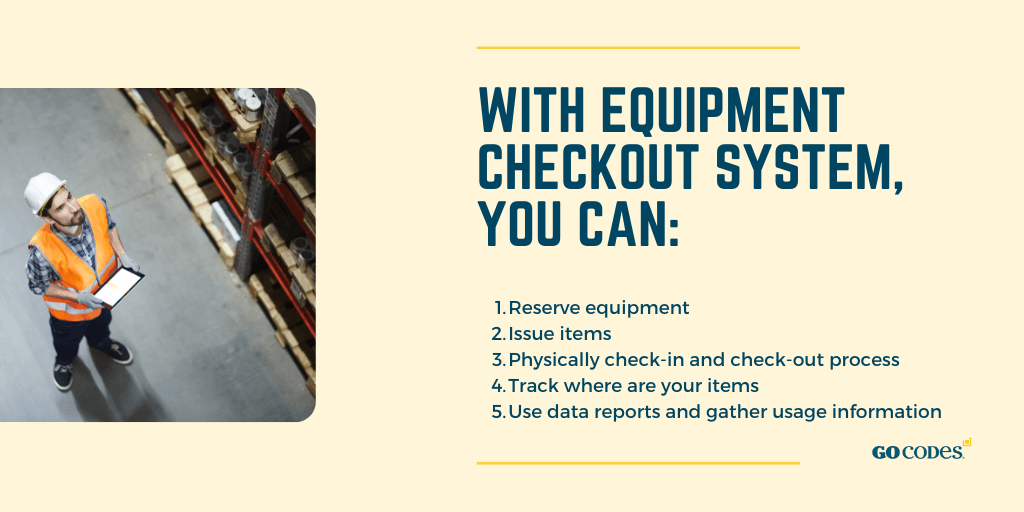 A well-designed equipment checkout system supports the following functions:
Reservation of equipment
Issuing of items, or the physical check-in and check-out process
Tracking which item is where and for how long, both in real time and as a matter of record
Reporting and providing data useful in determining inventory projection and gathering information about asset usage
In addition to this, some equipment checkout systems also integrate supply chain tracking. They provide information about the location of a particular item, but also that of similar assets across several worksites.
All of this provides decision makers and managers with hard data to project completion times and maintain control of active assets.
Benefits of Equipment Checkout Software For Your Business
While it's possible to keep track of checkouts and check-ins simply using a binder with a few sheets of paper or a notebook, this antiquated system is well out of date and far from secure.
In the same way, relying on single-point spreadsheets invites error and confusion.
These methods do not allow several users at once to access the information therein, let alone from multiple sites simultaneously. Equipment checkout software offers all this and more.
Allows Collaboration With a Mobile Workforce
Businesses that enabled remote work and virtual communication were far more prepared for the 2020 COVID 19 pandemic shutdown than those that didn't.
Housing all information at a single site was also shown to be a detriment.
Even without such extreme circumstances as government shutdowns, however, businesses accepting the reality of a mobile workforce and clients who expect instantaneous, real-time information are better poised for twenty-first century growth.
Equipment checkout software allows remote teams, employees in the field, and team members across time zones to mobilize rapidly.
Tools can move from one person to the other at a faster pace, and logistics for sourcing material or assets from a conveniently placed colleague is expedited. Seeing which assets are deployed where, even within a single building, saves valuable time.
Keeps Real-Time Records of Which Equipment is Used and When
Knowing the precise location of an asset, even as it works its way through a supply chain, is invaluable.
Passive GPS tracking through QR labels allows establishing reassuring checkpoints as it is scanned during transit or while passing from employee to employee.
When an asset is scanned at various waypoints, its trail provides useful information for clients, project managers, and team members whose progress might depend on a certain piece of equipment.
Managers traveling outside the headquarters or regional locations can find available assets in their vicinity.
This pinpoint accuracy eliminates any guesswork and the frustrating necessity of hunting down an item based solely on when it left a certain location, with no sign of where it might have surfaced in between.
Checkout software removes the anxiety of seeing an asset vanish from its home site with little idea of when it might arrive at its intended destination.
Ensures That Equipment Comes Back on Time and in the Same Condition
Equipment theft is a major issue in retail establishments, on construction sites, and in healthcare organizations. On construction sites alone, theft is responsible for between $300 million and $1 billion in annual losses.
Whether the assets are stolen by outside forces or employees, organizations that have neglected to invest in equipment tracking have little recourse to find them once they are out of the sight and control of company property.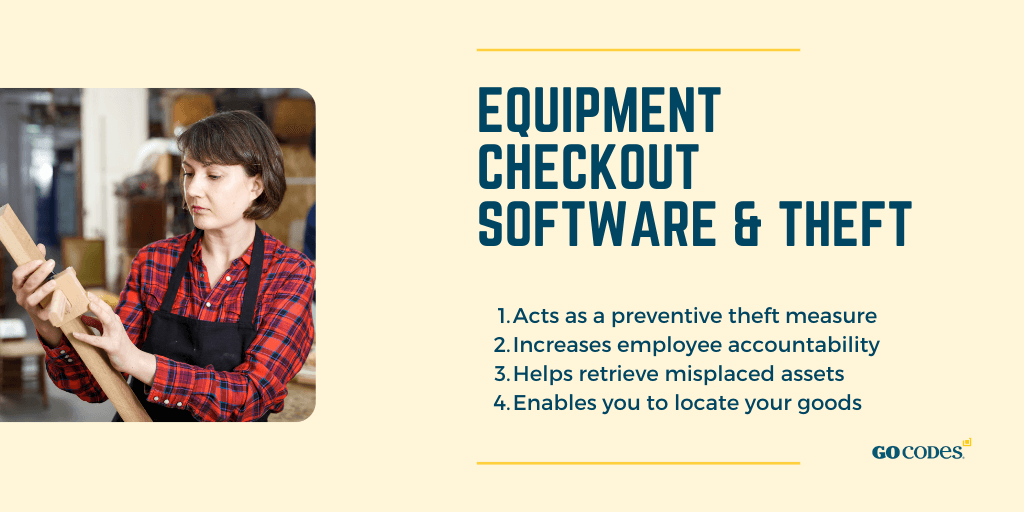 Equipment checkout software helps to remedy this issue, acting as a preventive measure.
Related: GoCodes Issued US Patent for Technology System to Facilitate Return of Lost or Stolen Assets
To prevent thieves from potentially removing GPS tracking, many systems allow for the use of small GPS tags which may be placed in discrete areas with rugged or permanent adhesives which are difficult to remove.
In some circumstances, however, an item will simply be mislaid or knocked off track in transit. Such equipment is also far more easily traced with cloud-based software.
Frequent GPS updates will expedite and streamline the location and retrieval of equipment that has gone astray.
Makes Your Operations Faster and Smoother
Full transparency of tools and asset movement is useful in many ways.
With the right system, equipment can be checked in or out with a simple scan of a smartphone app; no training on special hardware or how to fill out hard copy sheets are necessary.
Integrated web portals provide flexibility and interaction with equipment and other team members on the go.
This allows for fast prioritization and organization, particularly in establishments that have a large and diverse inventory or for whom speed is essential.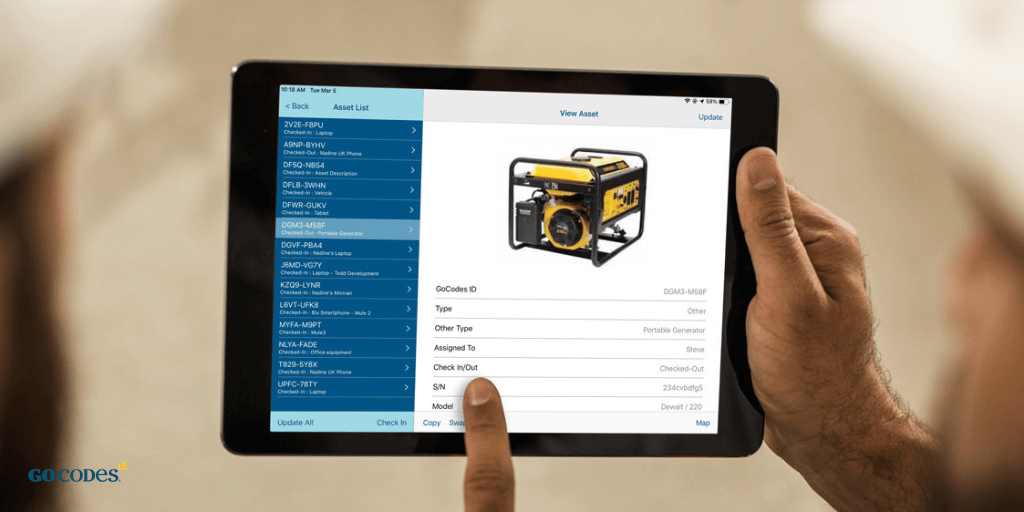 Daily inspections become a habit and can be easily checked and verified from remote locations. This information is quickly shared with specialty maintenance teams and third-party contractors.
Data loss is prevented, and the need to keep backup copies, even on a thumb drive, is no longer necessary. This saves a great deal of time for employees and provides a leaner overhead cost.
Tracks Your Maintenance From Start to Finish
Equipment checkout software provides for quick and easy training on new equipment, particularly if employees already use smartphones or tablets.
Maintenance records are also automatically updated, with far more accuracy than when relying on a form of record-keeping which is entered manually.
In addition, this digital paper trail facilitates dealing with any potential warranty claims, as well as with showing proof of regulatory compliance.
For companies that manage a large fleet of vehicles, equipment checkout software lets all necessary employees know which of the vehicles are unavailable due to maintenance.
Finally, when tracking for auto-calculated depreciation is enabled, decision makers are far more informed about where the asset stands in its life cycle and can plan accordingly.
Related: Asset Life Cycle: Definition and Key Stages
Promotes Accountability
When employees or clients know that the system has noted that an item is in their possession and scanning it point to point, they are more likely to care for the asset as their own.
With an audit trail in place for every asset, team members are held accountable for the item left in their care.
In the event that the asset's whereabouts or condition are under investigation, team members can resolve questions quickly and from remote locations.
A mobile platform means that a closer sense of teamwork is available even across time zones. Changes in assignments can be made rapidly and in collaboration with necessary employees in the field.
Facilitates Future Events and Projects Planning
Monitoring equipment availability and the option to book equipment in advance is of great value to all team members.
Decision makers have the ability to see how assets are moving even at a future date, and client expectations are more easily managed when realistic timelines are offered.
On the other hand, project planners can collaborate to avoid potential shortages and may call in reserve assets in the event of a pending shortfall.
Extraneous equipment might be moved to other locations or rented.
Similarly, preventive equipment can be scheduled for maintenance during a natural fallow period instead of simply hoping that the calendar favors the equipment's schedule.
Finally, inspections and regular servicing can take place on an efficient, rotating basis.
Improves Safety Through Equipment Visibility
Equipment visibility is vital for employee safety. In the event of an incident, equipment checkout software enables team members to communicate with managers immediately and on record.
If any equipment is not fit for safe use, it can be immediately marked as in need of service.
This communicates to all employees that the asset is under maintenance and may require an inspection or certification before returning to the field or worksite.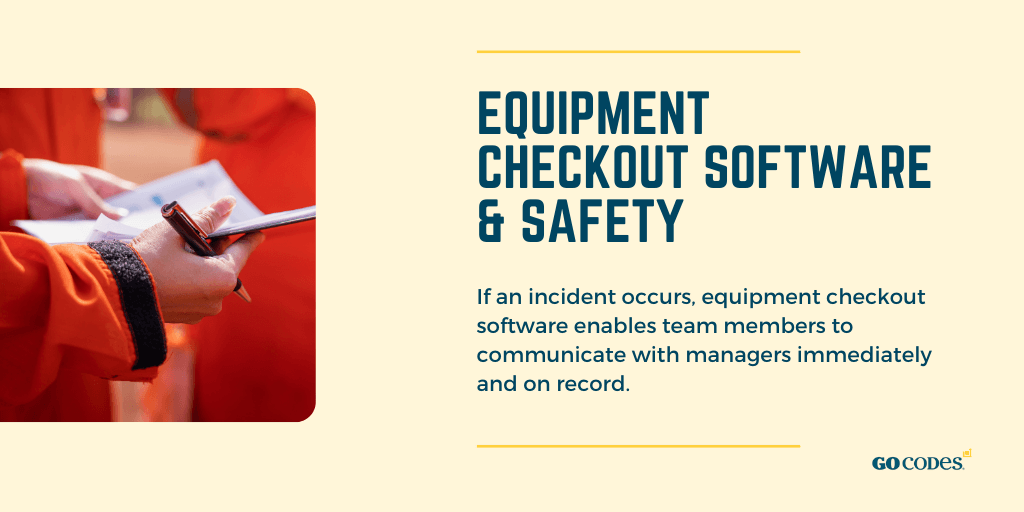 Potential hazards or maintenance issues that are unique to a particular asset are easily noted and communicated.
In the event a specialty repair team is needed, this information is quickly passed along.
Should a safety audit or inspection take place, regardless of whether it is conducted internally or by a regulatory body such as the Occupational Safety and Health Administration (OSHA), an equipment checkout system will provide information on maintenance and other data, complete with automatically updated dates and times.
How to Prepare for Using Equipment Checkout Software
The key to implementing an effective equipment checkout software system is to prepare carefully.
Steps should include:
Deciding what type of system and tags are the best fit for your organization
Listing the equipment in need of tracking
Tagging each item which should be tracked
Scanning tags once they are affixed
Incorporating data such as user manuals, maintenance dates, and booking dates and times
Training employees to use software
Maintaining scanning and analyzing data in real time
In the excitement of anticipating the efficiency and ease which an automated equipment checkout system will bring, it's easy to rush through the first few steps.
However, it's best to carefully consider not only what kind of system is the best fit, but also which types of tags and labels will be the most useful.
For example, think about where the assets are and what kind of exposure they will endure.
Are they inside all the time? Do they frequently move within the facility or leave it from time to time, as is the case with library books or rental equipment? Will the asset undergo vibrations, changes in temperature, or experience constant handling?
There are many kinds of material available for custom tags.
Polyester labels, for example, are a good choice for curved surfaces. On the other hand, aluminum or foil might be more appropriate for assets which are flat.
Decision makers can also discern between different types of adhesives; some might require curing or even permanent welding to the surface of the asset.
Conclusion
Any organization with inventory that passes from hand to hand will benefit from some sort of equipment checkout software.
These systems can be scaled for businesses both large and small and in any field of operation, from, for instance, home-based businesses which ship items across the country, to a small-grade school media center, or an international hospital system with multiple locations.
It is best to track circulatory assets, because this increases employee and client accountability, improves communication between team members, and supplies the data stream from which stakeholders can render decisions.
Maintenance events are automated with scheduling and action updates, and regular reporting allows for smart management for every asset.
All of this allows for smoother operations and prevents unnecessary losses.
GoCodes Can Help
We use QR code tags with a unique visual code that you can scan with your smartphone. When scanned, GoCodes tags provide GPS information about equipment location, usage, and condition.
Sign up for a free trial here.