Whether you're in the construction or manufacturing industry, the health of your equipment is the lifeblood of your business.
The unavailability or downtime of your machines can lead to massive time wastage and affect your bottom line as well. That's why keeping the equipment in good working condition should be a priority.
This guide explains the four types of equipment maintenance and their best practices.
Why is Equipment Maintenance Important for Businesses?
It's Cost-Efficient in the Long-Term
Asking a technician to inspect your equipment for potential hitches isn't free. It's like paying them to tell you there's nothing wrong with the tools.
In reality, you're paying them to tune up the tools and find out the need for a potential replacement. Thus, when your team is busy on the job site, the condition of the equipment will be the least of your worries.
As a result, you'll avoid emergency repair services, and at the end of the year, you'll have lower repair costs compared to the previous years.
Besides, with ongoing use, the equipment undergoes wear and tear. Carrying out regular inspections enables you to detect and fix minor damages before they become a significant issue that might be too costly to repair.
Safety of Operators
Properly maintained equipment reduces the accident risks of malfunctioning machinery. When there's an incident resulting from faulty machinery, the operator would be the first person to be in danger.
Thus, regular equipment maintenance, coupled with proper employee training, will help curb injuries by improving safety on the job site.
Hassle-Free Warranty Claims
Processing warranty claims is a snap when you've got every maintenance work documented. By keeping a record of the specific maintenance work performed on your machinery and the exact time the repairs took place, you'll be able to process warranty claims quickly.
Extends Equipment Longevity
Most machines experience wear and tear during use, and unless you inspect them for faults and fix them, you may end up purchasing more spare parts and even new equipment sooner than you thought.
An ideal way to increase your equipment's lifespan is to regularly clean the machines, replace lubricants, and check the tools for wear and tear.
What is Risk Assessment In Equipment Maintenance?
In equipment maintenance, risk management refers to the estimation of when equipment failures may occur and their possible consequences.
The assessment takes into account the probability of failure on a scale of 1 to 5, with 1 being rare and 5 being certain, and the severity of the impact where 1 is insignificant and 5 is catastrophic, based on the matrix below.

The risk is calculated by multiplying the value of consequences severity by the corresponding value of the probability of failure.
For instance, if the possibility of failure is certain (5) and the possibility of consequences is high (4), then the risk is 20 (high risk).
The colors in the table represent the various risk levels:
High – red
Orange – significant
Moderate – yellow
Low- Green
What Are the Consequences of Not Maintaining the Company's Equipment?
If you don't service your company machinery regularly, you're likely to encounter some of these problems:
Unnecessary Downtime
Faulty equipment may not work correctly, or it may not even work at all.
Thus, if you have a specific project deadline or norm to achieve, and the machine fails, you may have to wait for long periods for a repair or even replacement.
That means you'll be behind schedule, which may delay the final output, especially if it's a manufacturing tool.
Costly Part Replacements
Regularly inspecting equipment for possible faults means catching a problem early, and fixing it before it escalates.
So, if you ignore regular maintenance and an essential part of the machine breaks down, the replacement might cost you more money than having simply replaced the lubricant to minimize wear and tear due to friction, for example.
And with expensive repair parts come costly repair bills as well. So, by neglecting timely maintenance, you're looking at a surge in overheads.
Tedious Warranty Processing
Typically, equipment warranties require detailed service documentation to be processed.
Not carrying out regular maintenance means there are no service records. This can make warranty processing problematic.
Companies of all sizes in different industries rely on the efficient working of equipment to operate and make profits. Thus, when a piece of machinery fails or breaks down, it becomes difficult to work, and this may have a significant impact on the organization's bottom line.
These industries benefit from regular equipment maintenance the most:
Construction industry
Manufacturing industry
Medical facilities
Government agencies
Textile industry
Gym and fitness industry
Schools
Gas and oil
Types of Equipment Maintenance
There are four significant types of equipment maintenance defined by the nature of the tasks they include.
These are:
Scheduled equipment maintenance
Corrective or condition-based equipment maintenance
Routine equipment maintenance
Field service equipment maintenance
We'll look at what each type entails and its best practices.
#1 Scheduled Equipment Maintenance
Scheduled maintenance refers to any upkeep and repair work carried out within a specific timeframe.
It focuses on when the maintenance task is performed and the person performing it. Scheduled maintenance can be either preventive or predictive maintenance.
In the past, the maintenance approach has been mostly reactive, which means addressing maintenance issues as they arise.
While this approach may have some short-term benefits, the long-term cost of equipment replacement (instead of repair) and operation downtimes is usually higher.
The best way to overcome such unpredictable and costly repairs is by adopting a proactive equipment maintenance approach: scheduled maintenance.
This type of maintenance is conducted when the equipment is in good working condition to ensure it doesn't fail unexpectedly.
The Difference Between Predictive and Preventive Maintenance
Scheduled maintenance can be either preventive or predictive maintenance.
The difference between these two is that predictive maintenance is only performed when needed, while preventive maintenance takes place at regular intervals.
Predictive maintenance is only carried out when required, so it lowers material and labor costs. Preventive maintenance costs less when it comes to implementation.
For effective predictive maintenance, you need a maintenance management application that will provide the data and measurements you need to make smart decisions. The investment will not only reduce costs but also helps you to avoid redundant maintenance tasks.
Scheduled Maintenance Best Practices
With the following best practices in place, your maintenance team will quickly set up a property maintenance program to help identify potential defects before they grow into a significant problem.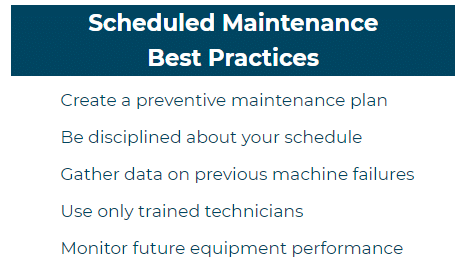 Planning
Planning maintenance minimizes delays between maintenance jobs and helps to maximize maintenance resources.
It's essential to create a preventive maintenance plan that lists maintenance materials, hours, technicians, and reasons behind each work order. The information can, later on, help to establish overall improvement strategies.
Discipline
Discipline means a company should follow planned maintenance and emphasize on the maintenance quality.
Gathering adequate data on equipment failures is a prerequisite for developing and executing an effective scheduled maintenance system.
During work such as production processes, there's a high rate of equipment utilization, making it difficult to intervene on machines.
And the objective of a preventive maintenance program is to provide regular inspections within timely schedules for accessing the equipment. Thus, effective scheduled maintenance requires support and discipline among all the teams involved.
Historical Data
As already mentioned, data on previous machine failures is essential for establishing a maintenance schedule.
Therefore, it's crucial to consider previous incidents, the machine type and operation, and the recommendations by the manufacturer when deciding on the frequency and type of tasks.
Trained Technicians
Often, equipment functions as efficiently as the people who service or use it.
Thus, when selecting the technicians to maintain your assets, ensure they have relevant training for the task.
Monitor Performance, Costs and Make the Necessary Adjustments
Once the maintenance program is in place for a few months, you should monitor the program by analyzing the costs and benefits associated with it. The results may vary based on the changes and conditions within the organization's activities.
Proper scheduled maintenance requires timely inspections to detect machine defects. So, be sure to only involve qualified inspectors for this.
#2 Condition Based or Corrective Equipment Maintenance
Condition-based, zero-hours, or overhaul maintenance dictates that equipment maintenance should only occur when specific indicators portray signs of imminent failure or deteriorating performance.
Checking a tool for these indicators may entail visual inspection, scheduled tests, non-invasive measurements, and performance.
Best Practices
We'll discuss the best practices for corrective equipment maintenance in light of the following: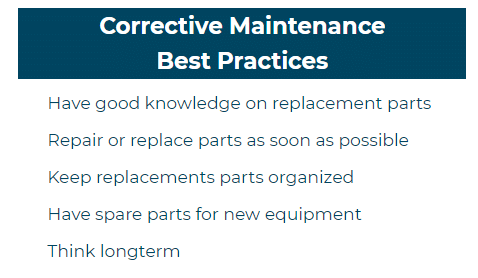 Parts knowledge
Your technicians need to have a good working knowledge about the replacement parts and their use and function to save time in finding the right components and fixing them on the equipment.
Parts Repair and Replacement
If during an inspection, your maintenance team finds machines with signs of impending failure, they may want to replace some faulty parts immediately or schedule replacements to be done as soon as possible.
Staying organized is critical
It's crucial to arrange storage areas to easily find components for essential system categories, such as brakes, electrics, and engines. Help technicians beat parts replacement deadlines and lower unnecessary downtime.
Don't forget about the new equipment
It's common for maintenance managers to assume that a brand new piece of equipment won't break down, and thus, there's no need for acquiring spare parts for it. But it's not uncommon for new machines to malfunction and get everyone off-guard.
Having spare parts available to replace defective ones right away can minimize downtime.
Efficiency
Always think long-term.
How efficient is your equipment now?
Will a repair keep its efficiency at your preferred level, or will a new part enable the machine to use less fuel, work faster and break down less?
Diagnosis
Corrective maintenance also involves diagnosing faults on various machines, both at the component and assembly level.
Examples of mechanical equipment that require diagnosis include:
Gearboxes
Engines
Process control valves
Machine tools
Compressors
Lifting and handling machinery
Mechanical structures
Transfer equipment
Other company-specific machines.
Effective diagnosis requires the use of various diagnostic equipment and aids.
The maintenance team can then use the evidence gained to identify possible causes of machine failure and suggest a remedy.
For effective diagnosis, apply the following best practices:
Know the Machines Inside Out
Thorough product knowledge is priceless when implementing a comprehensive diagnosis program.
The easiest way to gain this information is to check through the respective equipment manual to understand the recommended service intervals for every part of the machine and more.
Pay Attention to Operators
It's also essential to listen to operators who have intimate knowledge regarding the quirks and idiosyncrasies of each device. Operators know when there's something amiss, and getting their input might give you great insights into what machines to inspect.
Document the Machine's Service History
Keeping detailed service records is a vital component in your diagnosis plan.
It's difficult to mentally keep a servicing log on all your machinery, which includes the last time maintenance took place and when it should be done again.
Keeping service records gives you a complete picture of a particular machine's history.
By knowing when and what parts were replaced, the service type provided, and any peculiarities observed, you can discover trends in services performed and know the range of faults to diagnose for.
How Technology Makes Diagnosis and the Overall Equipment Maintenance a Breeze
Technology plays a powerful role in equipment maintenance.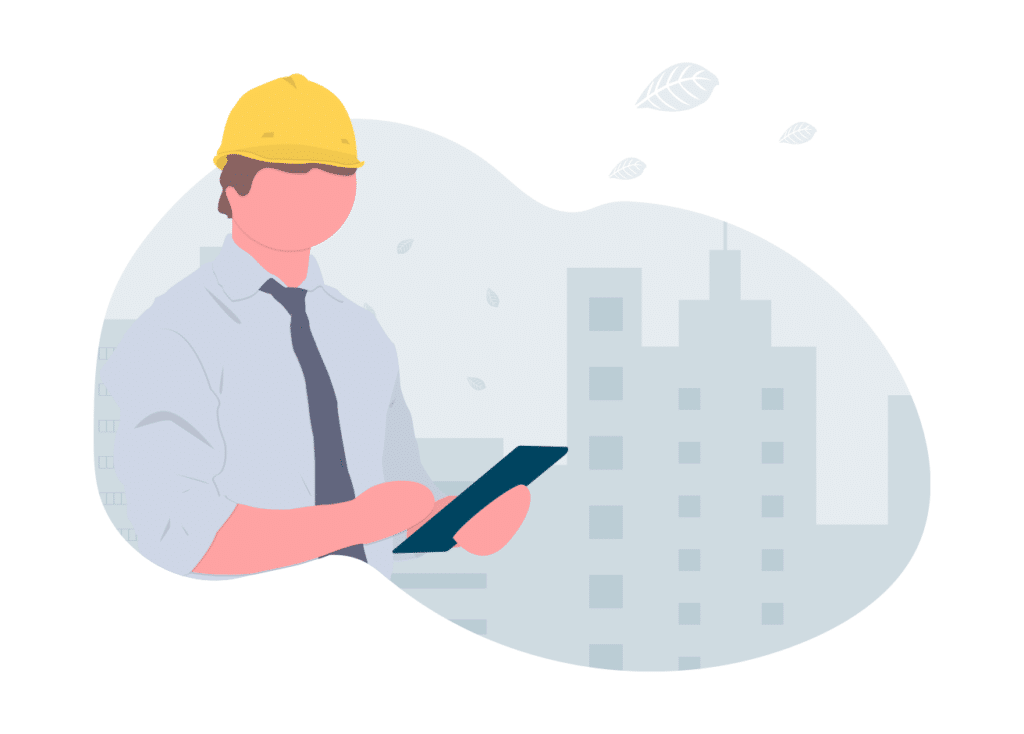 Business owners are adopting new technologies that provide actionable insights to help them make quicker and more informed maintenance decisions.
Internet of things and Big Data
Connected devices make it possible to collect, store, and analyze data related to these devices.
The data can be on important parameters, such as temperature, oil analysis, and vibration.
Operators can use the analytics to diagnose equipment and decide on possible maintenance approaches.
Digital roadmap
To achieve successful maintenance, most companies start assessing daily workflows and compare them to industry best practices and benchmarks. After that, they create a roadmap to improve the machines based on budgetary requirements and industry goals.
Most organizations may move some or all of their equipment data to the cloud. After creating a roadmap, it becomes easy to decide on what to do with the collected data.
Analysts use the data to identify and monitor issues associated with lubrication, vibration, and temperature.
Data can provide insights into the behavior of assets and reinforce the company's corrective maintenance practices.
The future promises extensive application of condition monitoring by developing more sensors and mounting them on equipment.
The data may show a pattern, indicating that a machine part could be deteriorating. The analysis sets the pace for scheduled maintenance to prevent machine failure and eliminate downtime.
#3 Routine Equipment Maintenance
Routine maintenance refers to maintenance tasks performed on an ongoing or planned basis to detect and curb defects before they cause equipment failure.
Some routine tasks are:
Cleaning
Inspection
Lubrication
Testing
Adjustment
Overhaul
Routine maintenance is performed on equipment such as alarm systems, safety barriers, fire extinguishers, light bulbs, and HVAC filters.
Primarily, routine maintenance reduces the overall operating costs and minimizes equipment downtime.
Routine Maintenance Best Practices
Next, we will cover some best practices in routine checkups and maintenance of your equipment.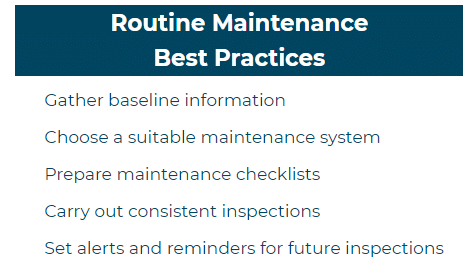 Gather Baseline Information
To estimate the usage of equipment, collect information on parts replacement costs, machine downtime, technicians' response time, and the average time between failures.
The point is to compute the average cost of an hour of downtime to help come up with the best routine maintenance approach.
Choose a Suitable Maintenance System
Using equipment maintenance software, you can mass import useful asset data to the cloud. You may then schedule every asset for recurring service, thus automating repair reminders.
Prepare Maintenance Checklists
A good maintenance strategy should be properly defined and regularly reviewed.
To implement the program correctly, list down the service events by creating a maintenance service list of activities, such as lighting, safety, plumbing, HVAC, electrical, fixtures, and furniture.
Consistent Inspection
To find out which parts of equipment require routine maintenance, it's imperative to carry out consistent inspections. You can use electronic monitoring to track processes.
Custom Reminders
Companies dealing with a lot of equipment can find it challenging to track their latest maintenance sessions.
Workers may forget the routine maintenance schedule and continue using faulty equipment, which is hazardous.
To avoid such cases, develop a service log that allows email alerts.
#4 Field Service Equipment Maintenance
Field service maintenance refers to maintenance services carried out in the field rather than on the company premises. So, it typically entails dispatching technicians to various locations and customer's sites to maintain and repair equipment.
Field service maintenance touches on every aspect of field operation, such as:
Assigning and scheduling maintenance tasks
Dispatching technicians to various locations
Communicating with workers in the field
Gathering data, including arrival time, job completion, and information requests
Sharing important information, such as equipment service history, job data, and customer history, with field employees
Managing equipment availability and inventory
Best Practices for Field Service Equipment Maintenance
To make your field service maintenance less hectic, follow these practices.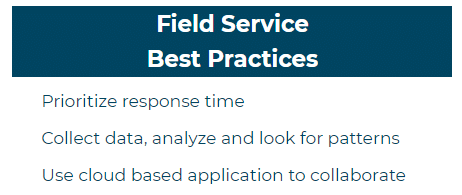 Have Better Response Time
To ensure that your maintenance team does its job quickly, you should prioritize response time. Using scheduling service software, you can assign and dispatch technicians based on their availability, skill set, and location.
You can receive real-time updates to help you know when an employee completes a job and takes on a new one.
Collect and Analyze Data
When employees are working in the field, you may use a field service app to collect useful data on time spent on the site, speed of delivery, delivery logs, and routing records.
When analyzing the data, managers can look for patterns, such as who operates the fastest, who completes the highest number of maintenance tasks, the average travel to the locations, and the fastest routes for traveling to the sites.
Identifying these patterns will allow you to adjust your maintenance schedule for more efficient service.
Improve Collaboration and Communication
Using mobile devices has considerably improved communication when working in the field.
But beyond texts, emails, and phone calls, field employees should access data through a cloud-based application to help boost service delivery.
With better communication comes effective collaboration, as field technicians can contact the office for help or reach out to a fellow worker to assist with a technical problem without going to the site.
General Best Practices in Equipment Maintenance
When setting up a robust equipment maintenance plan, it's possible to focus on the primary breakdown issues and ignore minor problems. Such an approach isn't recommended in the long-haul.
Even the least problematic areas can ultimately create asset damage, production errors, and workplace injuries, if not addressed on time.
To develop a proactive equipment maintenance plan, follow these three practices:
Have Well Trained Maintenance Technicians
It's important that you hire the right, skilled personnel both for operating the machines and maintenance. If, for example, you've got a manufacturing plant with large machinery, you should organize for operator training.
Particularly, you should hire trained equipment maintenance technicians and supervisors with the following competencies:
Safety
Parts management
Risk management
Technology
Employee training
Financial management
Human resources
Preventive maintenance
Customer service
Document
It's vital to have an equipment inventory list, so you know how many assets require maintenance. Your inventory list should contain the equipment model, location, manufacturer ID, and function.
Keeping a record of equipment maintenance logs is also crucial, as it will help with scheduled maintenance.
A cloud-based application for inventory management can be suitable for scheduling future maintenance, logging maintenance data, and uploading supportive files.
Have a Strategy
After creating a well-grounded inventory list, it's time to decide the frequency of servicing the equipment. You may choose to do it every week, month, year, three months, or six months.
Besides, you should outline the maintenance procedures and safety measures. It's also essential that you create a list of outsourced or internal maintenance resources that you may need.
Final Thoughts
By documenting the above best practices, you can come up with useful insights that may trigger future growth.
Preparing actionable reports can take your company in the right direction and address any equipment maintenance hurdles along the way.
Embracing the best maintenance practices cannot only lower your costs but also help you attain peak operational efficiency.