Various equipment management software solutions are quickly replacing paper- or spreadsheet-based systems due to their superior features like ease of use, scalability, and multiple user access.
In essence, equipment management software allows construction companies to monitor and manage different factors related to tools and equipment, like their location and usage.
Such software enables contractors to maximize the operational efficiency of their business and cut equipment-related costs.
Quality software solutions will also offer various auditing and reporting functions, thus improving a company's budgeting, procurement, and equipment lifecycle management.
To help you decide what equipment management software would best fit your business needs, we scoured the internet and analyzed the top 10 software solutions, together with their distinctive features and prices.
With that in mind, let's begin.
GoCodes
GoCodes is a tool and equipment tracking and management software for construction companies of any size.
This solution combines the power of cloud-based software, scanner apps on smartphones and other compatible devices, and patented quick response (QR) code labels.
When those QR code tags (or Bluetooth beacons for added security) are scanned, they will provide detailed information about the individual piece of equipment to which they're affixed.
Likewise, wherever they are, GoCodes users can simply log into the app and access a centralized database of all tracked tools and equipment.
Here are some of its other useful features: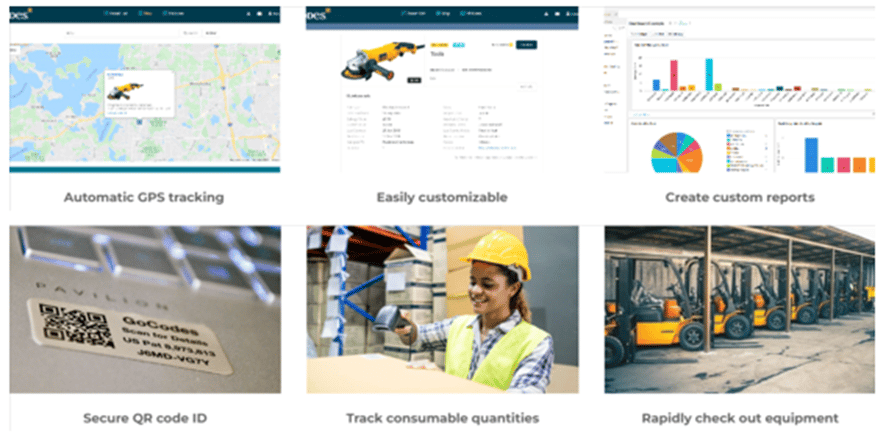 GoCodes also enables GPS tracking of any tagged equipment.
In other words, whenever the tag on a piece of equipment is scanned, GoCodes automatically records its GPS location and shows it in Google Maps, thus ensuring that the equipment can be quickly located when required and preventing its misplacement or theft.
Its other prominent features are a high level of customization, complete audit history, automated field service requests, and tracking of consumable quantities.
In addition, GoCodes allows contractors to easily establish an equipment check-out/check-in system, where employees can check out and return the equipment or reassign it to another employee while in the field.
We should also mention that GoCodes offers asset kitting, a very useful feature where different tools and equipment used on the same task can be stored together.
You can learn more about this feature in the video below:
As for pricing, GoCodes offers a free trial but is otherwise subscription-based with several annual plans, starting at $500 per year (which comes to less than $42 a month) for up to 200 assets and 3 users.
ShareMyToolbox
ShareMyToolbox is another cloud-based equipment management software intended for contractors.
This tool and equipment tracking app comes with simple yet powerful features and is designed to be used on mobile devices.
The system is set up by creating an inventory list of equipment and tools, attaching asset tags to all equipment you want tracked, and giving users access to the app.
Once that's done, the warehouse and equipment managers or other employees can locate equipment in the system by searching for its assigned name or number (or, if the equipment is in their possession, by scanning its barcode).
When a tool or equipment is located, they can assign it to a worker by swiping their finger over it, and the worker just confirms they accept it on their smartphone (or tablet), thus establishing a clear chain of accountability.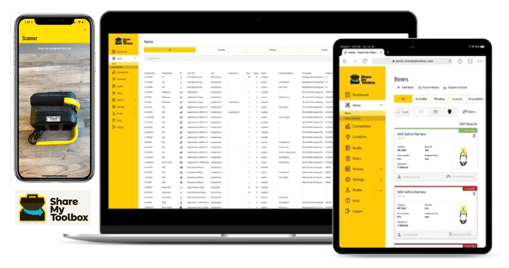 This app also allows field workers to reassign the equipment assigned to them and thus pass it on to another worker directly on-site.
One party releases and the other accepts the equipment without the need to notify the equipment manager, as the system automatically records all such transactions.
In terms of pricing, ShareMyToolbox offers a free 14-day trial, while its base package with one user is $65 plus another $50 for every five additional users, totaling $115 per month.
Assignar
Assignar is a cloud-based construction management software that enables contractors to easily schedule and manage their equipment and construction crews.
Unlike the first two equipment management software solutions on our list, Assignar does not provide physical QR code tags or barcode tags, although it does offer the option to print QR codes.
Assignar allows companies to digitize and automate different processes by creating a single digital source of information that users can access at any time on their mobile devices, thus enabling managers to schedule their equipment and crews more efficiently.
Consequently, Assignar streamlines equipment management processes, allowing contractors to keep track of maintenance records, persons who used the equipment, and tasks for which the equipment was used.

Just like the first two solutions on our list, Assignar is a Software-as-a-Service (SaaS) platform, meaning that the service provider makes applications available to their users over the internet (as opposed to on-premises software).
This also means that all your data is kept and backed up on their or a third-party server, such as Amazon Web Services (AWS) that Assignar uses.
As for its costs, Assignar does not offer a free trial and no specific price is listed. Instead, prices and subscription plans (monthly/annually) are provided on request and will be based on business size and expected usage.
In addition, they charge a one-time onboarding fee for the initial setup of Assignar.
Asset Panda
Asset Panda is a cloud-based equipment management software focused on asset tracking.
One of Asset Panda's key features is the built-in barcode scanner, meaning that contractors don't need to buy expensive third-party barcode scanners.
Instead, with Asset Panda, users scan assets with a smartphone or tablet camera, which allows them to quickly check equipment in and out, view manuals and maintenance histories, and run audits.
Furthermore, its many features include asset kitting, where different tools and equipment used on the same task can be joined together to facilitate their scheduling and transport.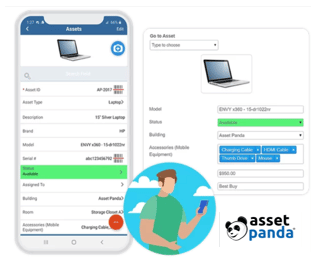 Asset Panda is subscription-based and offers annual plans depending on the number of assets the company has, starting with 250 assets at $83 per month (for a 12-month subscription).
However, as their pricing model is quote-based, you will find out the exact price after requesting and receiving their quote.
One advantage is that, regardless of the number of equipment, tools, and other assets you decide to track, the number of users is unlimited under any payment plan.
GigaTrak
GigaTrak has been providing asset tracking solutions designed for construction companies and other equipment-heavy businesses for over 25 years.
Like many other asset tracking solutions, GigaTrak relies on barcodes (which you can print yourself or order directly from GigaTrak) affixed to tools and equipment to track who is using them, schedule maintenance works, and control equipment management costs.
You can opt to buy handheld scanners to be used in, for example, warehouses, or you can download a mobile app that allows you to scan with your own device, such as a smartphone or tablet.
Here's how it works.
When it comes to pricing, GigaTrak can be purchased as an on-premises software for a one-off fee starting at $2,495.
For such self-hosted users, GigaTrak will provide free support for three months, after which you can sign a support agreement for an additional fee.
In the case of cloud-based hosting, the basic package starts at $75 per month.
EZOfficeInventory
EZOfficeInventory is a cloud-based asset tracking software that simplifies asset management workflows.
It's used in a variety of industries, including construction.
Workers can scan barcodes or QR codes to track tools, equipment, and other assets using their own or company-issued mobile devices, while advanced subscription plans also include handheld scanner integration.
One of EZOfficeInventory's key features is its access control module that allows managers to set user roles and permissions for accessing specific equipment information and taking particular actions based on item group or location.
This feature is especially helpful when managing construction teams that include external subcontractors.

Another feature worth mentioning is their reservations module, which enables managers to plan ahead and avoid double bookings.
This module also comes with reservation alerts and an availability calendar.
As for pricing, this web-based software offers a free trial version, while its subscription plans are based on an unlimited number of users and the starting number of up to 250 assets.
A monthly subscription fee (billed annually) for the essential package costs $35, the advanced package is $45 and the premium package $55, while the price of the enterprise package is quote-based.
UpKeep
UpKeep is a cloud-based equipment management solution with an emphasis on maintenance.
Like most other solutions on our list, it uses scannable barcodes or QR codes to track equipment and view its maintenance status, servicing and repair history, and usage.
One of UpKeep's key features is that it allows integrations with other software solutions like enterprise resource planning (ERP) programs, different GPS tracking systems, and Internet of Things (IoT) sensors.
Furthermore, it was designed with mobile devices in mind, meaning its interface is optimized for smartphones and tablets, which is especially helpful for field service technicians doing maintenance or repairs on-site.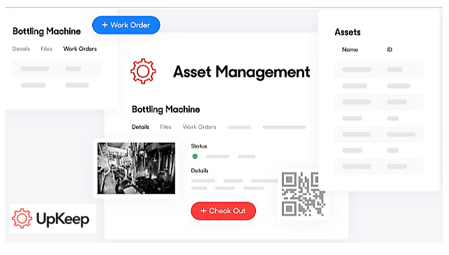 Using UpKeep, you can easily create work orders for maintenance staff, set access controls/permissions, and use its analytics features to improve equipment lifecycle management.
As for pricing, UpKeep offers a free trial version and three basic options—Starter ($45 per month/user), Professional ($75 per month/user), and Business Plus (for which you can request a quote).
AssetTiger
This cloud-based equipment management software was created by the New York-based company My Asset Tag, which designs, makes, and innovates asset labels.
Companies can download and use AssetTiger for free, provided they want to track up to 250 fixed assets.
The main reason for developing AssetTiger (and making it free for smaller operations) was the number of customers who couldn't afford quality asset tags after purchasing an expensive asset tracking software and were thus opting for the cheapest tags they could find.
To quote the team of My Asset Tag:
We'd rather have a customer buy a really good asset tag and not have to waste so much on software. That's why we developed AssetTiger.
As for its features, the app turns a smartphone or tablet into an equipment scanning and management tool, enabling contractors to view the asset maintenance status, receive alerts, and create custom reports.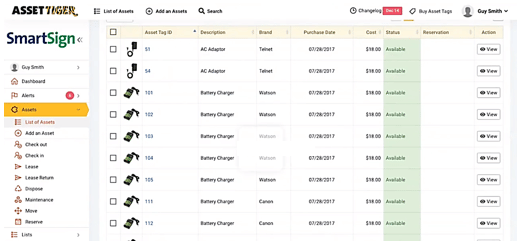 To reiterate, AssetTiger is free for up to 250 assets (but only fixed assets), regardless of whether you buy asset tags from My Asset Tags or not.
For more than 250 assets, AssetTiger is subscription-based.
Companies can either order a certain amount of their tags each year (e.g., $180 a year for up to 500 assets) or purchase an annual subscription plan (e.g., $120 a year for up to 500 assets) if they're buying their tags elsewhere.
Limble CMMS
Limble CMMS (computerized maintenance management system) is an easy-to-use software solution that companies can use to manage anywhere between 10 and 1,000,000 assets.
Among its many features, Limble CMMS allows authorized users to report problems to the maintenance staff by scanning the QR code tag or logging into the web-based app.
Furthermore, service technicians can see the work orders assigned to them, create their own work orders, receive push or email notifications, review detailed maintenance logs, and look up critical equipment information while in the field.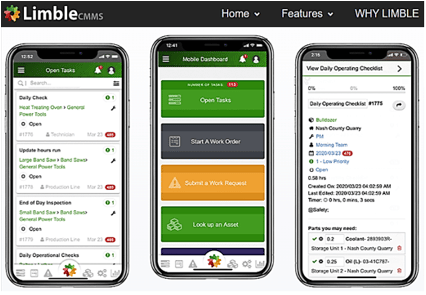 Another prominent feature is Limble's customizable dashboard that allows contractors to track only what they want.
In terms of pricing, Limble offers a free trial, after which you can opt for monthly subscription plans (charged annually) ranging from $40 (starter) to $185 (enterprise) per user per month.
eWorkOrders CMMS
eWorkOrders CMMS is another computerized maintenance management system (CMMS) that can be used by different businesses, including construction companies, which manage a lot of assets that need maintenance.
The software's asset management module integrates equipment tracking and management into one centralized system that enables managers to streamline data related to maintenance operations, work orders, preventive maintenance, inventory, workflows, and other processes.
Similar to other solutions, it uses barcodes that can be scanned by handheld scanners or smartphone scanner apps, and offers a customizable toolbar and dashboard.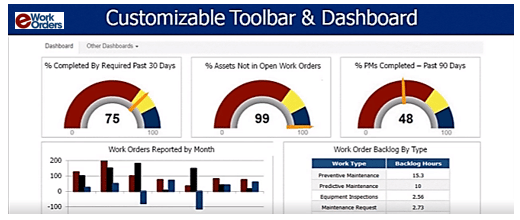 Among other features, the software allows companies to track asset tasks and performance, establish a check-in/check-out process, and analyze maintenance costs.
For pricing, companies must request a quote, as eWorkOrders' pricing model is feature-based, i.e., the price will depend on the number of features you want to use.
The starting price can be as low as $35 per month.
Conclusion
In the end, it's clear that construction company owners or managers first have to analyze and determine their specific equipment management needs and then proceed to match them with one of the quality software solutions available on the market.
If you're responsible for this task, we hope this article helps you choose the best equipment management software for your business.