Remote machine maintenance software is not a passing trend in the construction industry. Recent statistics predict that the entire market will reach $4.47 billion by 2023, with an annual growth of 6.7%.
This means that a growing number of construction companies worldwide need an efficient system to monitor their equipment regarding its condition, performance, or location.
That way, they can gather the information that will help them improve their operational efficiency and reduce ongoing ownership costs.
Remote machine maintenance systems will help you achieve better results and grow your company.
But to give you a better understanding of how this software can help your construction business, let's dive into the five benefits of remote machine maintenance systems.
More Valuable Insights
What if you could make better business decisions based on your equipment's status?
Remote machine maintenance systems allow companies to have a centralized source of real-time data about their equipment's condition, location, and usage.
Monitoring that data over a certain period of time (e.g., month, quarter, year), you can better understand how to maximize usage, and mitigate risks regarding heavy equipment.
For example, you can determine which assets are underutilized and allocate them to more construction sites to increase your productivity.
Also, you'll have a better overview of your equipment's depreciation and working hours, so if one of your machines is at the end of its useful life, you can budget the cost of new equipment ahead of time.
All of these insights are important if you want to survive in the construction industry in 2022. The industry is still recovering from the challenges posed by the pandemic, which is especially evident in the number of backlogs contractors reported at the end of 2021.
Almost two-thirds (66%) of contractors expect delays on their projects, and the current average duration of these delays stands at 8.4 months.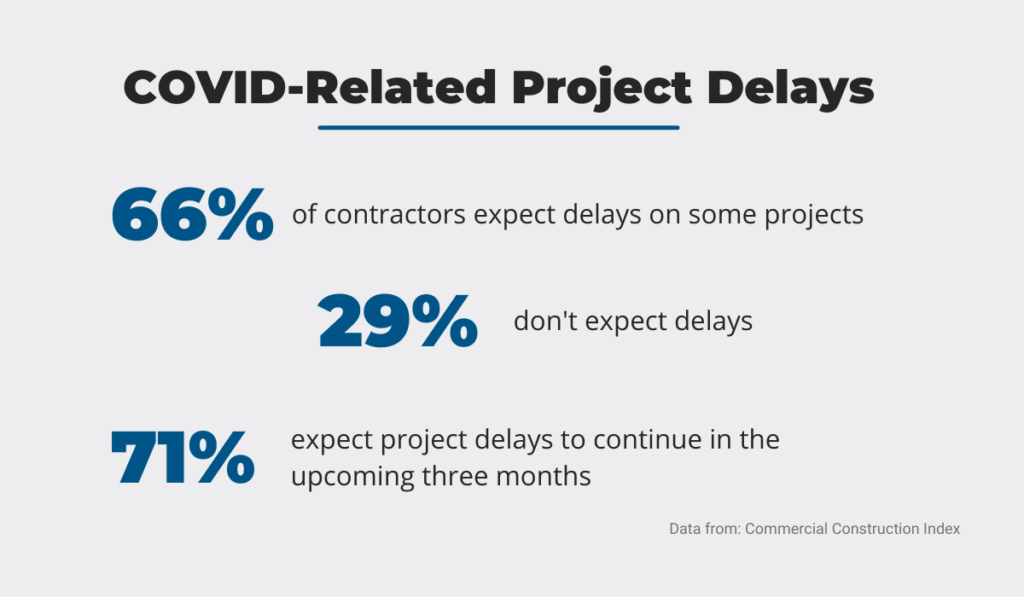 So, to solve this ongoing problem, contractors are looking into remote machine maintenance systems to improve their operations and allocation of resources. 
In fact, 60% of construction companies are using remote machine maintenance software to monitor their equipment, improve their productivity and finish their projects on time.
Suppose you want to be among the 29% of contractors who don't suffer from any project delays.
In that case, you'll need to leverage the information about your equipment usage, condition, and performance to make better decisions that will bring profitable results to your construction business.
Your solution is to invest in remote machine maintenance software.
Proactive Approach to Equipment Maintenance
Standard maintenance programs are riddled with problems.
Typically, you'd have to wait for the equipment to break down or show obvious signs of damage to bring it for a check-up or needed repairs.
Not to mention that your machines could be sitting unused for extended periods by the time your maintenance team uncovers the problem, orders spare parts, and gets the necessary tools for repair.
This could increase unnecessary downtime, while getting the machines to their previous working condition could be an even bigger drain on your resources.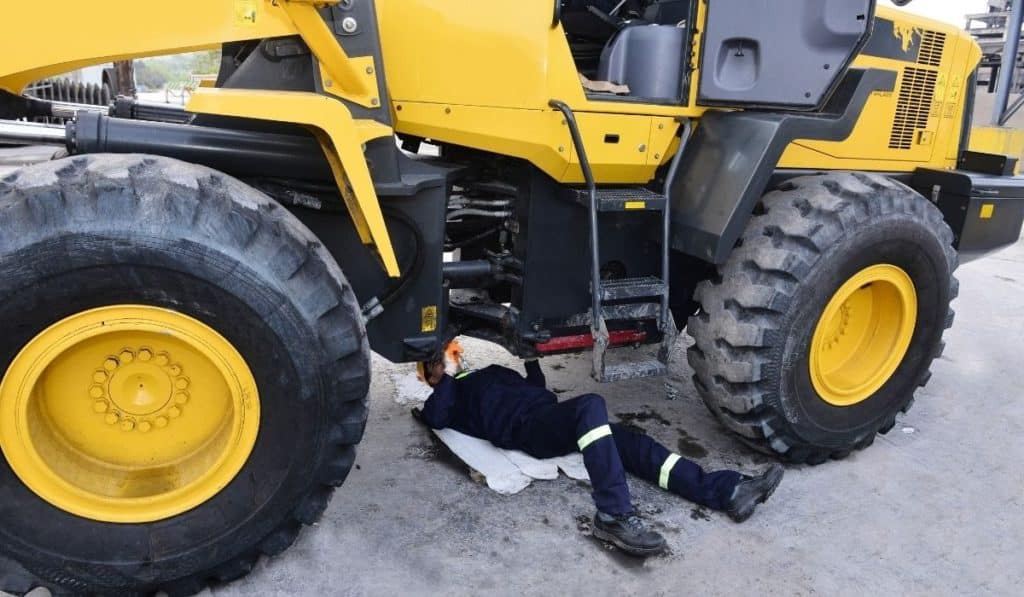 Yet, skimping on scheduled maintenance and repairs is not an option. You rely on these machines to fulfill your contracts and finish projects on time and within budget, so they need to be in top condition for every construction task. 
What you should do instead is to change your approach to equipment maintenance.
Unless you approach maintenance proactively, you're wasting time and money, and exposing your workforce to more safety hazards. With remote machine maintenance software, most of these problems can be solved.
Remote machine maintenance software will monitor your equipment from the moment you buy it.
The information you can get about your equipment will help you detect minor issues you need to deal with, such as oil or filter change. Also, it can give you historical data about engine hours or operating temperatures.
This data enables you to create regular maintenance schedules for your entire fleet, making sure you're always using highly efficient equipment on your projects.
Additionally, you'll know which piece of equipment is ready for routine service. Then you'll eliminate the possibility of removing a crucial piece of equipment from a job due to unplanned maintenance.
It's also worth mentioning that this data is accurate and regularly updated so your maintenance team can detect problems quickly and focus their time on important tasks.
How does this work?
If a remote machine maintenance system detects a problem, it can send an alert or notification to the right person so they can quickly solve the issue. 
For example, the software can recognize too much pressure in the equipment's system, leading to hydraulic pump failure. Then it can address the level of urgency (high, low, medium priority) and present the overall health of the equipment.
Finally, the right person will be notified via email or SMS about the issue.
As a result, you'll be able to respond to the problem faster, and take care of the equipment's hydraulic oil before it causes damage to other components as well.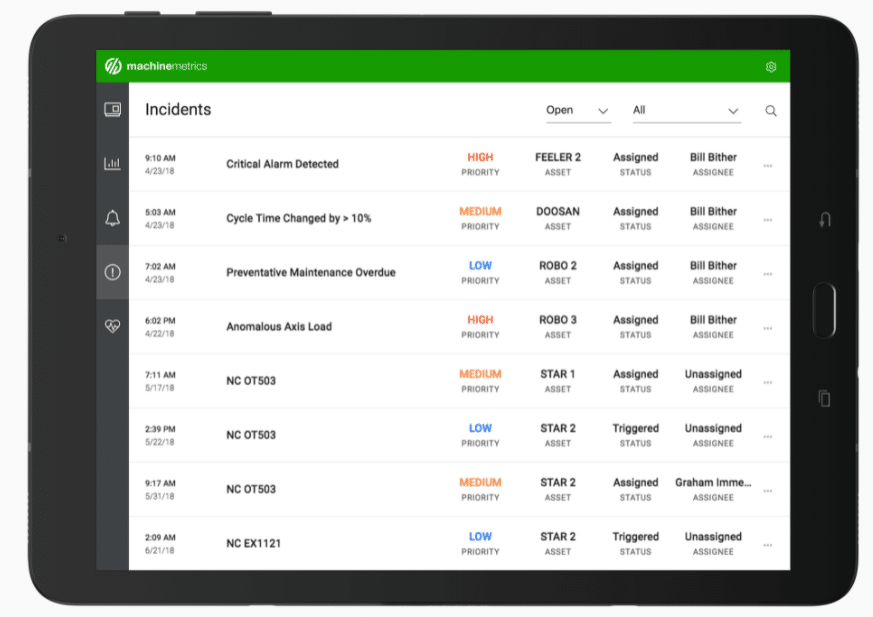 Detecting equipment anomalies before they become major problems is crucial in preventing unplanned downtime. 
On top of dealing with broken equipment, with downtime, you'll have to deal with other related issues, like decreased productivity, client mistrust due to missed deadlines, and loss of revenue.
So, if you want to avoid these problems, you should start anticipating future equipment failures with remote machine maintenance systems.
Enhanced Data Security
If one of your concerns regarding the implementation of remote machine maintenance software is data safety, it's perfectly understandable. Data breaches can ruin companies with substantial damages, wasted time on solving the problem, and tarnished reputations.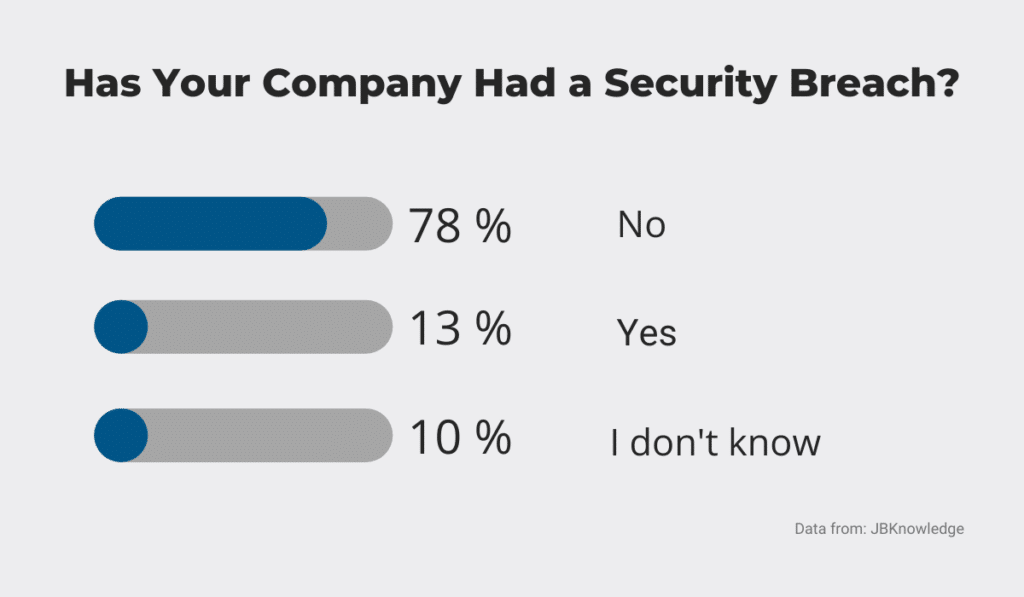 In 2020, 13% of construction professionals reported that their company experienced a data breach, with another 10% admitting they didn't know if such a breach had occurred. 
This basically means that 23% of construction industry experts don't have the necessary methods to prevent a potential data breach.
Moreover, when a state like Texas experiences a major winter storm that shuts down electrical grids, servers could go down and endanger companies' data.
Luckily, when companies invest in cloud-based remote machine maintenance software, they can enhance data security.
Encryption protocols and multi-factor authentication are some of the ways that help your company protect its data in the cloud. Potential threats are also continuously monitored, and the end-user is alerted about possible malicious attacks.
Also, if needed, you can limit user access and prevent unauthorized users from connecting to the system. An admin can set the necessary parameters to allow special permission to access more sensitive information and applications.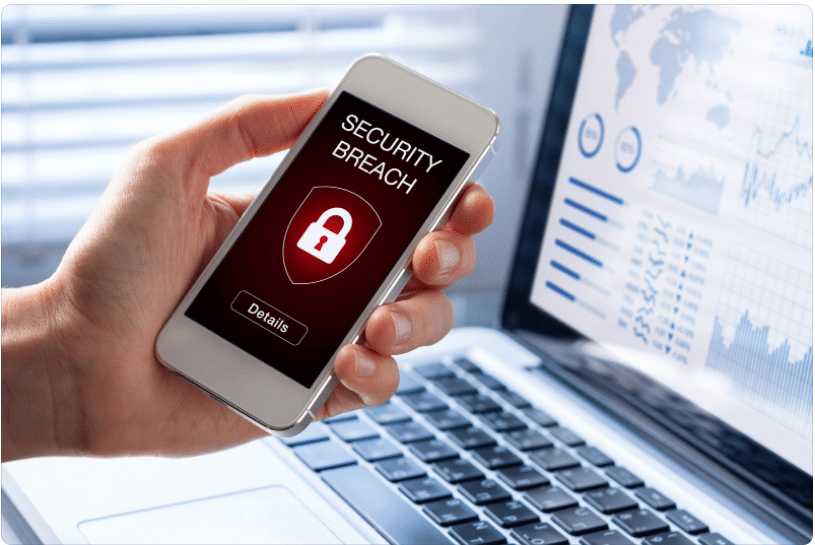 Basically, the data will be less vulnerable to cyber-attacks with cloud-based construction software. In fact, according to Gartner's latest report, companies that integrate such software have a 60% less chance of encountering security incidents.
In the end, if you want to increase the cybersecurity in your construction company's operations, then opting for cloud-based remote machine maintenance software is an excellent first step.
Decreased Total Cost of Ownership
Equipment costs are one of the largest concerns for construction companies. The amount you invest in your fleet doesn't end with the point of sale. There are also maintenance, labor, and operating costs that will only increase as your equipment gets older.
Let's take an average mini excavator that's been in use for three years as an example.
| | |
| --- | --- |
| Purchase price | $60 000 |
| Tax per year | $800 |
| Extended warranty | $1000 |
| Fuel (per gallon) | $3.66 |
| Cost of replacing tracks | $2000 |
| Lubrication cost per year | $1 900 |
| Cost of consumables | $500 |
| Routine maintenance (labor) | $100 (per hour) |
Depending on the machine, the annual cost of owning heavy equipment can easily fall anywhere between $25 000 to $80 000. In some cases, a simple tire swap can amount to $10 000.
Now, even though these costs are inevitable when running a construction business, you can reduce them with the help of remote machine maintenance software.
First, expert staff can work remotely and continuously monitor your equipment at the same time. So, only one or few people will be responsible for sending your equipment for scheduled maintenance to keep it in working condition, saving you money on hiring and training.
You will maintain the same quality and flexibility of operations, but with a smaller group of employees.
Next, you can reduce your costs for necessary consumables, lubrication, and other things regarding maintenance routine.
For example, a remote maintenance system will have accurate and updated data of the last lubrication, so your team of mechanics doesn't over- or under-grease the bearings of your equipment.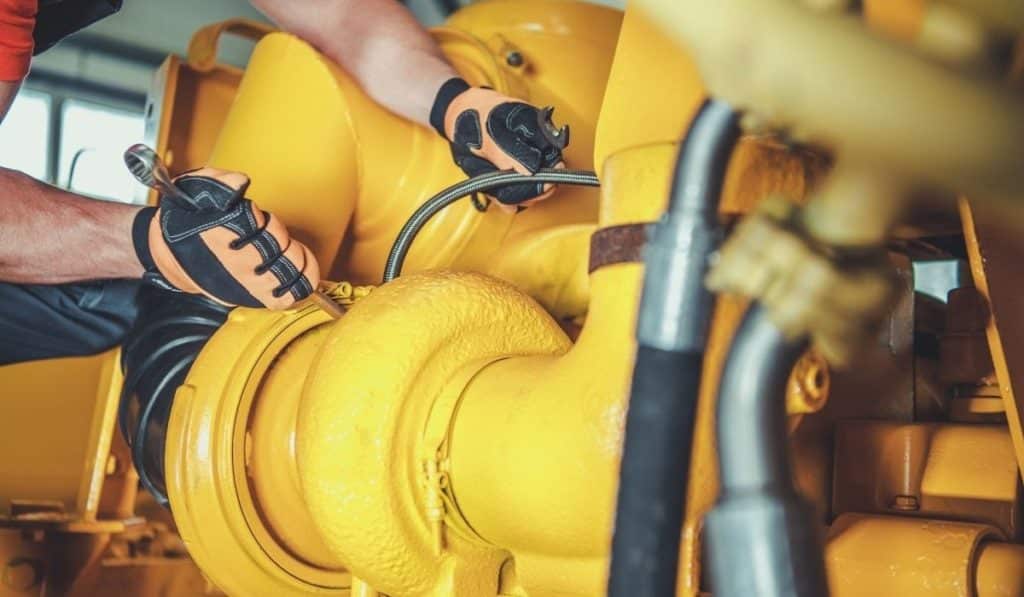 Improper lubrication is one of the major causes of equipment failure, but with quick access to relevant data in your remote digital system, this problem can be minimized. 
Finally, at some point in time, you will need to replace a part of your equipment due to wear and tear. Thus, keeping spare parts is essential to any maintenance program.
But often, maintenance managers often keep more parts than necessary "just in case". This is not practical or affordable because you're using up valuable space in your storage, which means additional expenses.
A remote maintenance system will help you keep only the parts you need. You'll be able to see early signs of damage and schedule the part replacement on time. 
That way, you won't have to store spares for everything, and the amount of time these parts will spend in storage will be reduced.
It all comes down to acquiring innovative technologies to create a cost-effective business. So, a remote machine maintenance system will help you cut down necessary expenses while keeping your equipment performance at its peak.
Improved Operational Efficiency
What do you get when you combine better equipment insights, proactive maintenance programs, and quick access to real-time equipment data?
Improved operational efficiency!
Basically, when your maintenance team detects and solves equipment problems quickly, you'll be able to decrease downtime significantly so your onsite workers won't have to wait too long for necessary equipment.
This can substantially lower their idle time and make them more productive on the job site.
In turn, you'll be able to control your projects more efficiently and finish them within the allotted time and budget. In the end, your company will be able to take on more projects, become more profitable, and grow.
But to be able to do all that, you need a better equipment management system that will allow workers to access and share information.
Nothing slows down projects like wasting time collecting equipment data when you could be spending that time on more pressing tasks. 
If you can automate this process and shorten the extra time spent on equipment inspections, your workers will focus on their core tasks more.
Hitting scheduled project benchmarks becomes difficult if you don't leverage your equipment's historical data. Ease and speed are the ultimate drivers of effective construction operations. 
So, take the right step in implementing technology and interweave it with your ongoing operations and workforce.
This will lead to transforming your company into a more competent and adaptable business that could address challenges ahead of time.
Conclusion
Remote machine maintenance systems are essential for a competitive, efficient, and organized construction business. You can leverage vital information to make better decisions regarding equipment maintenance, operational workflow, and ownership costs.
Finally, using this technology in your business will set you apart from your competition and keep you relevant in an increasingly dynamic landscape of the construction industry.