However, how you manage those issues to get the project back on track will determine your overall success. If you fail to respond to minor issues immediately, the problems can snowball, jeopardizing the entire project.
To put you one step ahead, we've looked into common reasons why construction projects fail and what you can do to avoid those issues.
Poor Project Planning
Poor planning will result in poor execution, so a bulletproof project plan is vital for any construction project.
It creates an actionable roadmap that enables you to see the project through from idea to reality.
This is critical if you want to ensure that the activities don't stop halfway through and that everything is executed as efficiently as possible.
Planning a construction project is a complex task, further complicated by the fact that the plan needs to remain fluid enough to accommodate any changes or updates you might encounter on the way.
The ultimate purpose of a project plan is to set the project up for success.
But what do we mean by a successful project?
In the broadest terms, it means that the project is completed on time, within budget, and in a way that meets the client's expectations.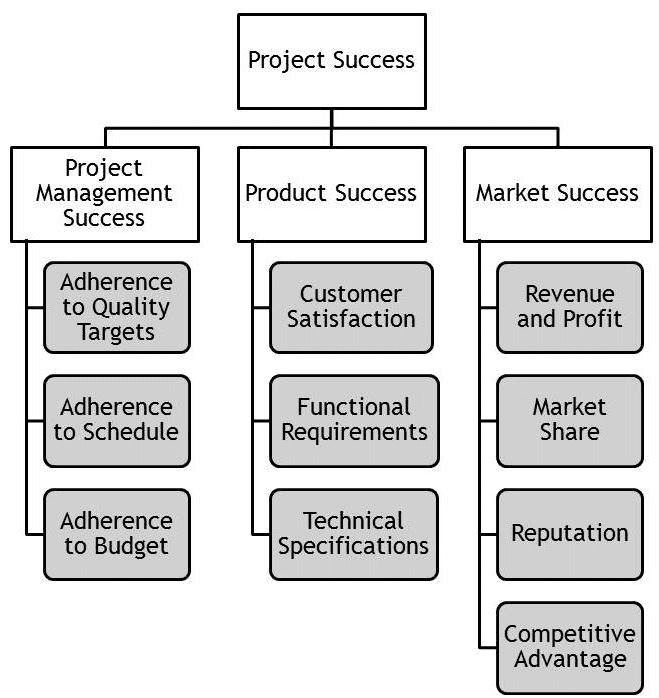 If checking off all these requirements sounds difficult, you're not alone: 66% of construction and engineering projects fail to meet these benchmarks and are therefore seen as unsuccessful.
However, meticulous project planning can help prevent many issues that lead to project failure.
That's why project plans need to be as detailed as possible and should be done long before you send the first team out into the field.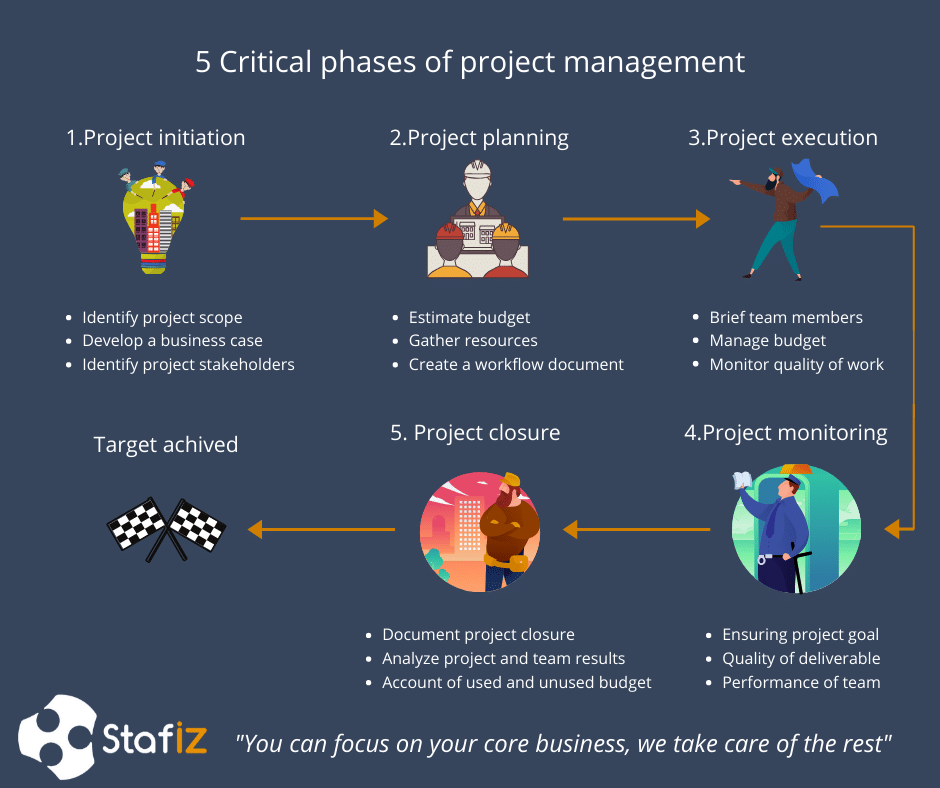 One of the most important stages of planning a construction project is the pre-construction stage. At this stage, project managers establish what resources will be necessary for the project and how long it will take to complete.
At the initial stages of planning, project managers need to fully understand the requirements, specifications, and scope of the project.
They will conduct site-specific surveys and inspections, and assess the risks and safety concerns.
Furthermore, project managers will consider specific local legislature, necessary permits, union regulations, and environmental circumstances.
Also, at the pre-construction stage, feasibility studies will be conducted to determine whether it pays off to pursue the project in the first place. Otherwise, the project could eat up millions only to fail to serve its purpose.
This happened with the Montreal-Mirabel airport in Quebec. After numerous delays and a budget that went from $140 million to $276 million, the airport opened in 1975.
However, although it was meant to replace the existing airport in Dorval and accommodate up to 50 million passengers a year, it never took off.
The distance and lack of transport made it complicated to reach.
The airport was later repurposed for cargo flights and eventually demolished in 2004 because it was simply too expensive to maintain.
So once you and all stakeholders have established that a project's good to go, you can start drafting its work breakdown structure (WBS) and task dependencies, then work on procurement and delivery schedules.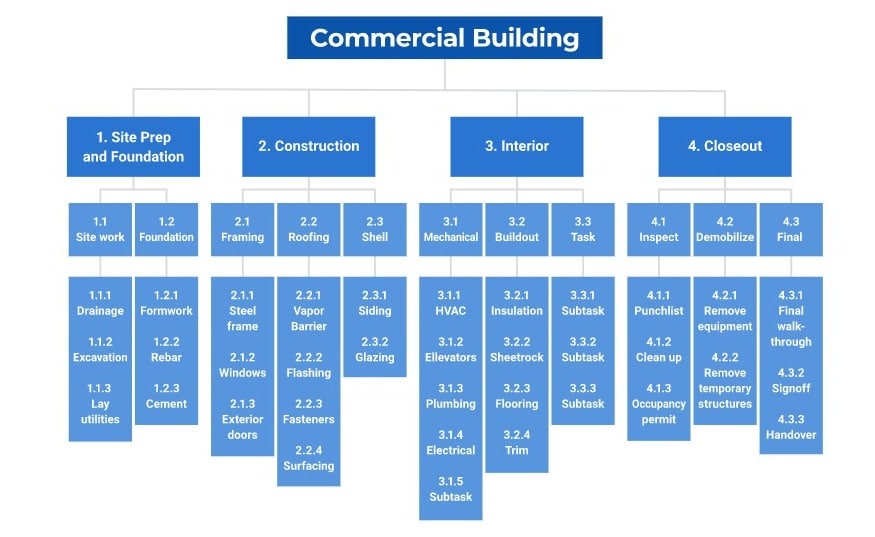 Following a WBS like the one above, you can break down the project into smaller tasks and determine the timelines, costs, and resources necessary.
Logically, larger projects will contain more variables. The more details you can include in your plan, the more accurate your budget estimates and logistical plans will be.
Furthermore, include plans for backups and alternatives should the need occur.
Proper planning means you'll be working closely with the client, design and architect teams, and subcontractors.
And once the construction is underway, you'll need to keep a close eye on the plan to ensure everyone is where they need to be and that they have everything they need.
Lack of Team Communication
Clear communication with all stakeholders and construction teams is essential for the project to progress as planned.
However, often critical updates don't get communicated or are communicated too late, resulting in expensive reworks, delays, or disputes.
In fact, a recent survey by Finalcad found that lack of communication or miscommunication caused 62% of all delays in construction projects.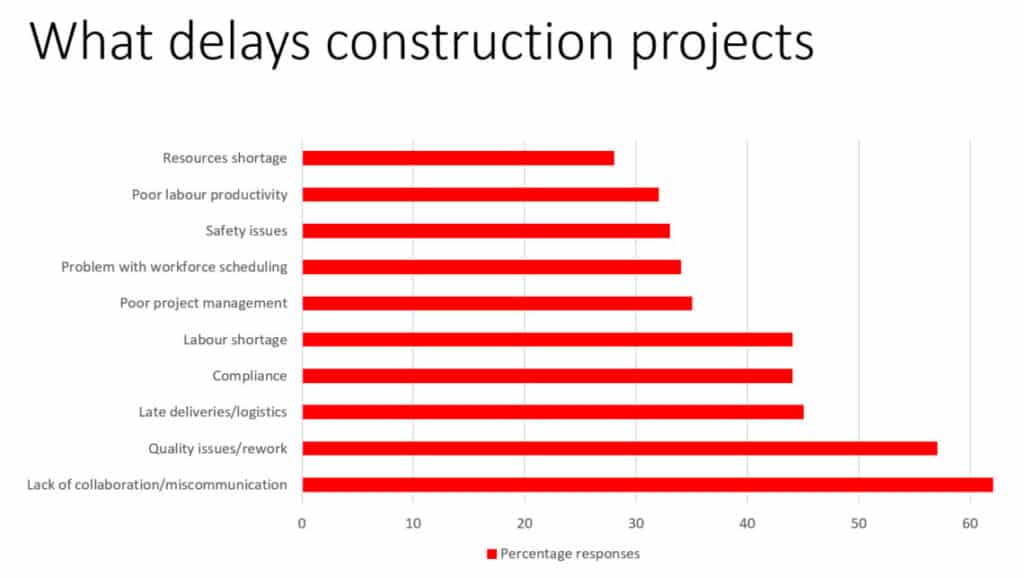 Aside from delays and budget overruns, a missing piece of information also causes disputes over unclear specifications, or even worse, results in injuries. Hence, there is no such thing as over-communicating in construction.
Good communication is vital in all spheres of a construction project. You need to keep everyone in the team up to date on their tasks.
Team members also need to report back to you and notify you of any updates or changes to the plan, no matter how insignificant they might seem in the grand picture.
And lastly, you need to maintain clear communication with all stakeholders to ensure the project meets all requirements.
Furthermore, effective communication within a construction project also encompasses many documents, meeting notes, reports, change orders, invoices, etc., that need to be available and accessible at all times.
To consolidate such a heavy flow of information, designate one point of contact for all communication to go through.
You can implement specialized project management software which makes all information and documentation easily accessible to everyone involved.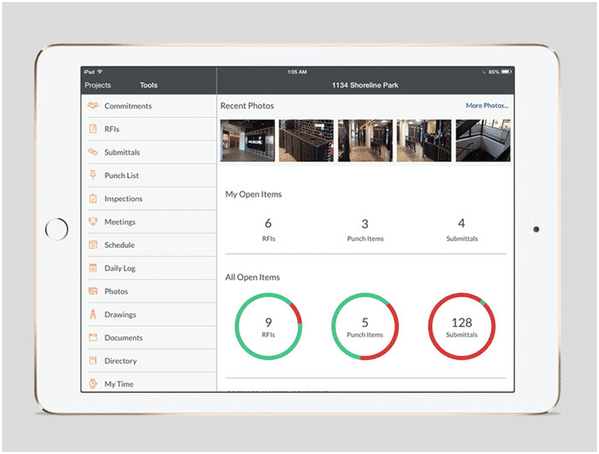 However, any tech you implement is only as useful as your team makes it. You can have cutting-edge tech, but in the end, effective communication should be people-oriented.
This is what Susan Dyer, president of Orgmetrics, found out in her nearly 30 years of experience in construction management.
In a podcast interview for Dodge, Dyer recounts surveying 134 construction teams about the best and worst projects they worked on. 95% of respondents said the worst projects failed due to poor communication.
Conversely, the same percentage said great communication is what made the best projects they participated in successful.
Therefore, Dyer identified seven causes of poor communication, as listed below:
Fear (e.g., of compromising work and the project)
Misaligned expectations (e.g., a lack of clearly defined roles and responsibilities)
Confusion about processes or tasks
Loss of momentum when teams lose the overarching goal out of sight
Work dissatisfaction causing lack of engagement
Lack of commitment
Unconscious incompetence due to lack of experience
All these can derail a healthy flow of communication, which can have dire consequences for executing the project.
But knowing how, what, and when to communicate is a common stumbling block not just for project managers but for all entities involved.
As a project manager, part of your job is to encourage open communication and make everyone involved understand its importance, too.
Equipment Issues
Lack of productivity is one of the main reasons tasks don't get completed on time.
It's often not about teams deliberately dodging work; many factors on and off-site affect how productive your builders are.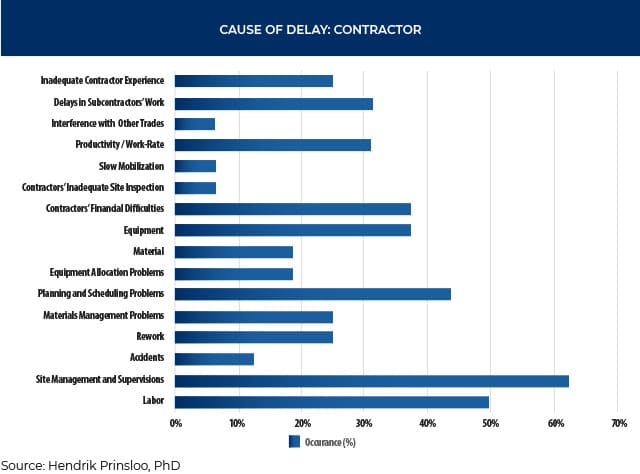 Aside from ineffective scheduling, poor coordination, or missing specifications, equipment issues are another common cause of low productivity.
Your team can't do the work you've assigned them if you don't arrange for the right equipment to be present at the site.
However, the necessary machinery could be tied up on a different project if you manage multiple sites.
As you reorganize and reschedule assignments, your upcoming projects are already at risk because you can't ensure the equipment will be free to use on time.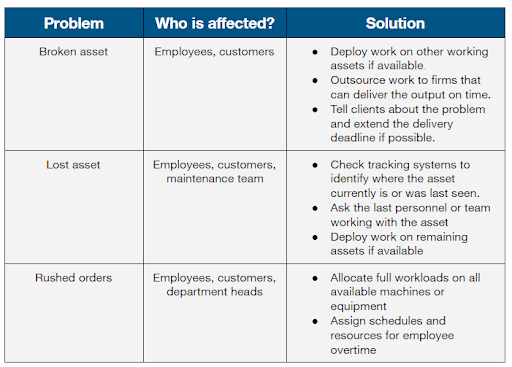 And lastly, what if the team starts working and finds out that the tool is broken?
They lose a day of work to get their hands on a replacement.
Besides, you risk serious injuries, directly to the person operating the malfunctioning tool and indirectly, by delivering low-quality work on the building.
All the while, other equipment sits underutilized because you can't employ it until the problem task is out of the way. It creates a vicious cycle where you either have to push the project back or buy more equipment.
This type of poor planning directly affects the productivity of your workers.
According to ForConstructionPros, the average builder spends 70% of their workday just preparing to work. This means transit, gathering equipment, or waiting for instructions.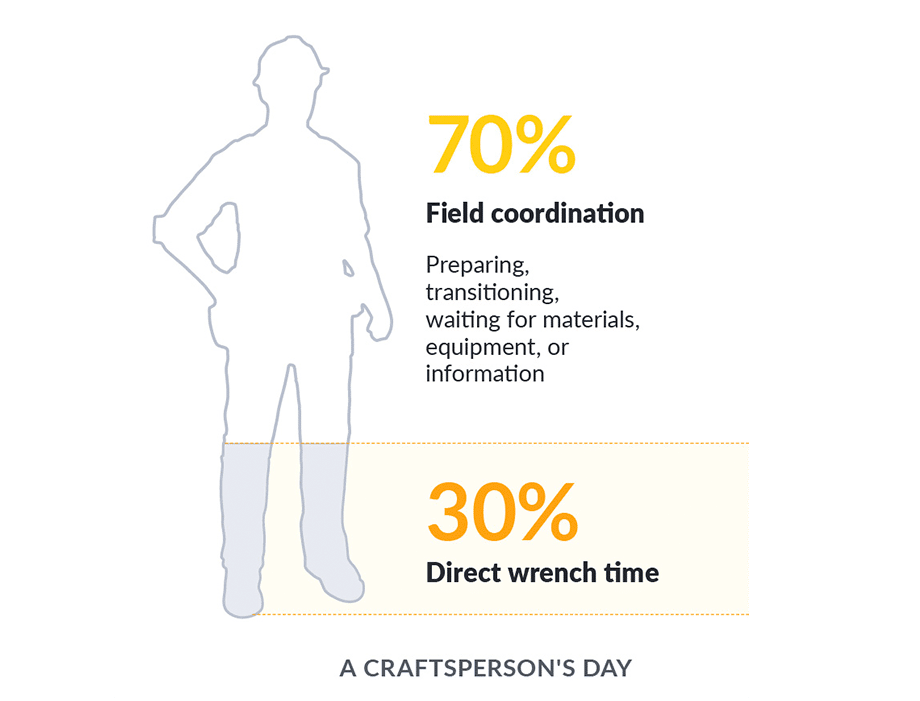 How much actual work can your team get done in the remaining 30%, and how much time and money could your business save by reducing the preparation time?
Well, the opportunities are astounding. Improving efficiency by just 1% across the construction industry could create value of over $150 billion annually.
To improve the productive use of the equipment in your business, consider using asset management and tracking tool for better visibility and maintenance.
Such tools enable real-time communication and asset tracking, so your scheduling and estimates become more accurate too.
Likewise, you can easily track maintenance schedules to avoid technical issues and delays when the project is already underway.
Even if you can efficiently organize your equipment, you might not have workers skilled enough or licensed to use it.
It takes time to train new employees on how to successfully use specialized tools, or how to avoid injuries or asset damage.
Therefore, when making your project plans and listing what equipment you'll need, make sure to also account for people who will operate the equipment—otherwise, you might as well leave the tools in the warehouse.
Project Delays
While the project failure factors we covered so far were mostly internal, there are many external factors that could delay the progress of your project.
Regardless of what caused the hold-up, you have to reinvest resources to make up for it.
And while some delays are rather manageable and easy to cushion, others can eat up your budget and leave you stranded mid-project with no resources to continue working.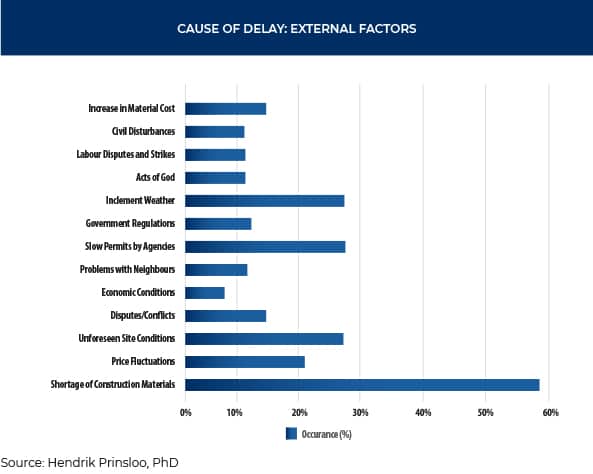 For instance, slow permit and approval processes by regulatory bodies can offset the planned start of your project, yet you can't really avoid them unless you want to risk hefty fines or demolition orders.
Even if you've organized the project to the best of your abilities, you cannot influence how quickly your projects will get all the necessary permits.
Bureaucracy and approvals can take up a lot of your time and budget.
Take, for instance, the number of compliance-related procedures you have to deal with when building a warehouse:
If difficulties arise during any of those stages, the entire project could suffer harmful delays.
So, before you even begin to organize work on the site, research all the necessary regulations well ahead of time, prepare the documentation, and apply for all permits your project needs.
Let's look at what that means for a large-scale project such as a nuclear power plant.
Such constructions need to abide by a very specific set of regulations and standards.
In the case of the AP1000 reactor, there were some regulatory changes for terrorist attack defense systems that weren't accounted for in the design stage.
Implementing these systems forced a redesign and relicensing of the plant, which inevitably created new engineering challenges.
The costs ballooned, the project was delayed, and the investor went bankrupt. It resulted in a long legal battle to determine who was to blame for the project's failure.
Not obtaining necessary documentation is a serious oversight, a sign of inexperience, and poor planning, even on smaller-scale projects.
When it comes to approvals, permits, and regulations, you can't affect the procedures directly. However, your safest bet is to meticulously research the approval processes and duration so you can plan accordingly.
Further delays can come from your client in the form of scope creep.
What if your client comes to you halfway through a project, saying they need "just one more thing"?
It's relatively easy to manage the addition if that one thing is an extra set of towel holders. However, if they insist on a heated outdoor pool, things get complicated.
Naturally, any changes throw your project off-budget and schedule.
To protect your business from such situations, make it clear in your project plan what specific features the project will contain.
It also doesn't hurt to state in the contract how any work deviating from the original scope should be requested, documented, and handled.
Most importantly, keep the client up to date, so they know the financial situation and how the additional request will affect existing agreements.
The last thing you want is for the client to run out of money before the project is completed because they kept adding new requirements.
In both of these cases—slow bureaucracy and scope creep—your project can still succeed if your plan leaves room for such delays.
However, one of the biggest mistakes you can make is to completely disregard the possibility that these scenarios could happen at all.
Surprise Conditions
Finally, there will be some situations that are out of everyone's control.
Unpleasant surprises could be lurking on any type of construction or renovation work, and you might not notice them until you literally hit the wall.
For example, mold, soil issues, asbestos, or deliberately concealed hazards such as faulty electrical installations or plumbing are not apparent at first glance. However, they can put a dent in your plan or even render the entire project impossible to complete.
Furthermore, you might find that the site violates building codes despite what the permits and documentation say.
Regulations change frequently, and it might be necessary to retrofit the building you work on. This can set you back even further than you originally planned for.
Of course, you also can't predict natural disasters such as flooding, fires, or earthquakes.
Above all, the Covid-19 pandemic of 2020 has made it clear that no matter what disasters you consider, there's always room for more surprises.
Although the industry is slowly recovering, the effects of the pandemic are still felt in many areas that directly affect construction work.
Disruptions to supply chains and subsequent higher demand have dramatically increased the prices of raw materials.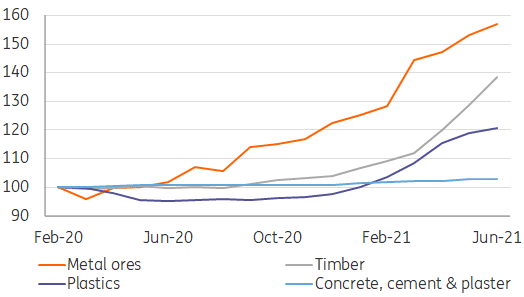 Furthermore, the pandemic has only exacerbated the shortage of skilled workers, which directly affects successful project completion.
44% of companies reported growing project costs, and 40% said that projects are taking longer than planned.
While it's difficult to budget for a worldwide pandemic, you can still implement certain mechanisms to protect your business from other unforeseen incidents.
Aside from proper risk incident planning, there are force majeure clauses in contracts that excuse delays in case of unforeseen circumstances. Enforcing such a clause protects you from paying damages for not performing or completing a project as agreed.
Additionally, concealed conditions clauses (also referred to as hidden, differing, or changed) define how the scope and related costs will be handled and who will bear the costs.
Generally, while budget planning, construction companies also include contingency funds.
Some experts note that you should account for 10-15% more than the estimated budget. Depending on the size of the project, some advise that you create a safety fund of up to 20%.
Unforeseen and surprise conditions don't necessarily mean your project is doomed to fail.
While they may be rare, disasters and unpleasant surprises happen, and it's naive to think you'll never encounter them.
To minimize the blow on your budget and schedule, secure your business ahead of time with sufficient contingency plans and contractual safety provisions.
Conclusion
To prevent project failure, you need to stay within budget and schedule. However, with many different forces that can derail the project, it can be difficult to maintain full control and order.
A detailed project plan sets the tone for how your project will progress, so you need to include as many variables as you can.
That way, you can think of backups and alternatives instead of halting the project until a problem is resolved.
The success of your project also depends on efficient communication and collaboration. To increase productivity on the site, make sure you gather and prepare all tools and materials on time.
Although some delays are to be expected, and you might run into some unforeseen conditions on the project, as long as you can remain agile and adaptable, you can still salvage your project and successfully complete it.