Planning the resources needed for one or more construction projects—workers, equipment, materials—is the foundation that enables successful project completion.
Although errors and mishaps in any of these three project management components can lead to delays and budget overruns, we'll focus on how proper equipment planning, scheduling, and management can help you finish projects on time and within budget.
Without further ado, here are four equipment planning tips that will, once applied, allow your construction company to ensure your projects run smoothly.
Create a List of the Equipment You Need
By carefully considering the construction project at hand and creating a list of all the equipment that will be needed for it, you and your team will be able to plan which types of equipment and tools are required, when, and how many.
In other words, you need to take your estimated project duration and schedule, create a list of the equipment you need (and roughly when), and then cross-reference it with the equipment your company owns.
This often-complex process will be worth your team's time and effort because it ultimately allows you to plan the use of your construction project equipment in advance and reap the following benefits: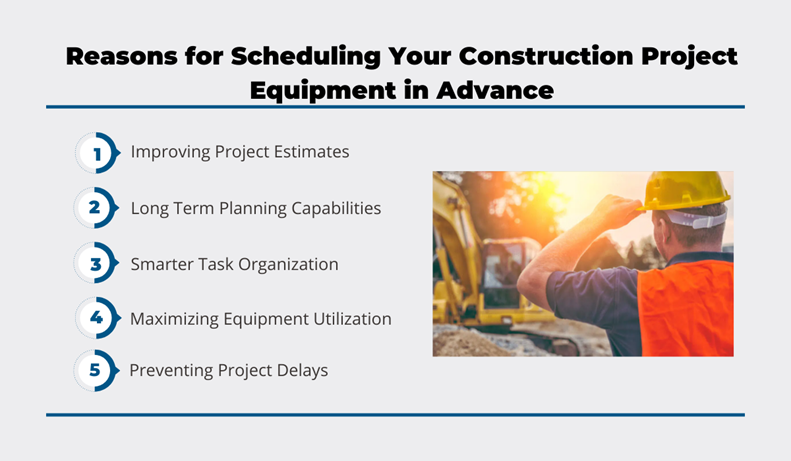 For instance, since the list of required equipment will inform you on what equipment you have and what equipment you need to rent or maybe even purchase, you'll be able to create more accurate project cost estimates.
Equally, you can see whether the equipment you own is available when needed, check its general condition, and determine whether any maintenance should be done before or during the project.
Furthermore, for both owned and rented equipment, you can check whether your workers and operators know how to use it, what equipment attachments you need, and whether you have them at your disposal, or if you need to rent/buy them.
These examples show how you can enhance your company's long-term planning capacities within a specific construction project and across multiple ongoing and upcoming ones.
Naturally, this enables you to schedule and organize tasks more efficiently and better allocate and use equipment to maximize utilization.
Maybe most importantly, when the list of project-specific equipment is coupled with having an up-to-date inventory list of your tools and equipment, this gives you the much-needed flexibility to react to unexpected events and avoid project delays (and budget overruns).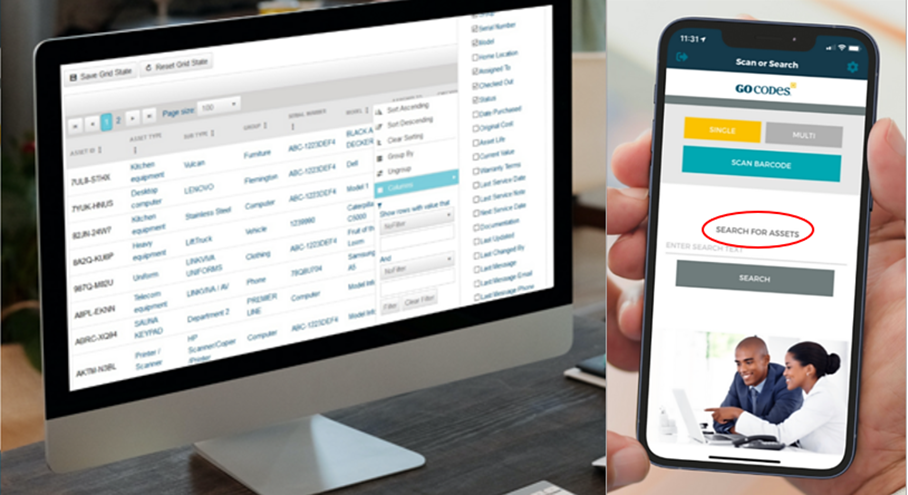 When compiling a list of the necessary construction equipment, you should also consider specific jobsite conditions that could impact the size and type of equipment you'll need, such as:
type of terrain (flat or sloped)
site access and spatial restrictions
prevailing climate/weather conditions
availability of on-site power sources
Overall, any equipment planning starts with creating a list of required equipment for a specific construction project and comparing it to your current equipment inventory list.
When doing so, you and your team should consider several factors we mentioned, such as project scope, equipment availability, operator training considerations, special attachments, and specific jobsite conditions.
Ultimately, this step gives you better cost estimates, maximized equipment utilization, and fewer project delays, all of which improve your company's bottom line.
Rent the Equipment You Do Not Have
Once you know what equipment will be needed and which project tasks you can't cover using the available company-owned tools and equipment, it's time to rent the equipment you don't have.
In other words, if your equipment can't be rescheduled, doesn't fit the specific project task, or you simply don't have enough pieces of such equipment, you shouldn't let that constrict your company from bidding on such projects.
Instead, you can rent the equipment you need.
In fact, many construction companies use a mix of owned and rented equipment as part of its business strategy because renting equipment can, in some cases, be a more cost-effective option.
And that's despite a common belief that ownership is always cheaper than renting.
Here are the top five reasons to consider renting equipment: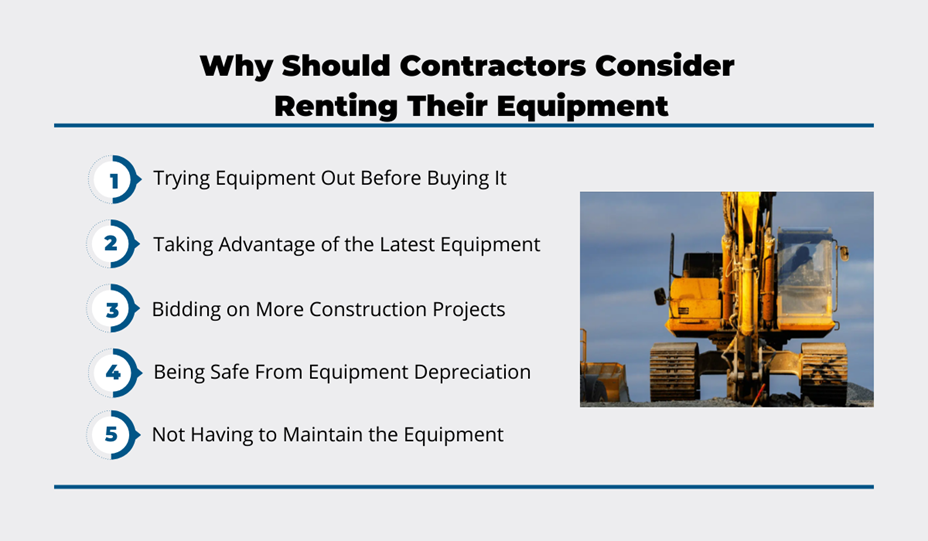 As you can see, the ability to test-drive or just use new tech offering cost and time-saving opportunities, free of maintenance and depreciation worries, is why many construction companies utilize this model to their advantage.
When coupled with enabling companies to bid on more projects (when time and other resources like labor and materials are also available), the advantages of renting construction equipment become clear.
Naturally, there is no one answer to when it's the right time to rent equipment instead of buying it, so here are only some general considerations for heavy machinery.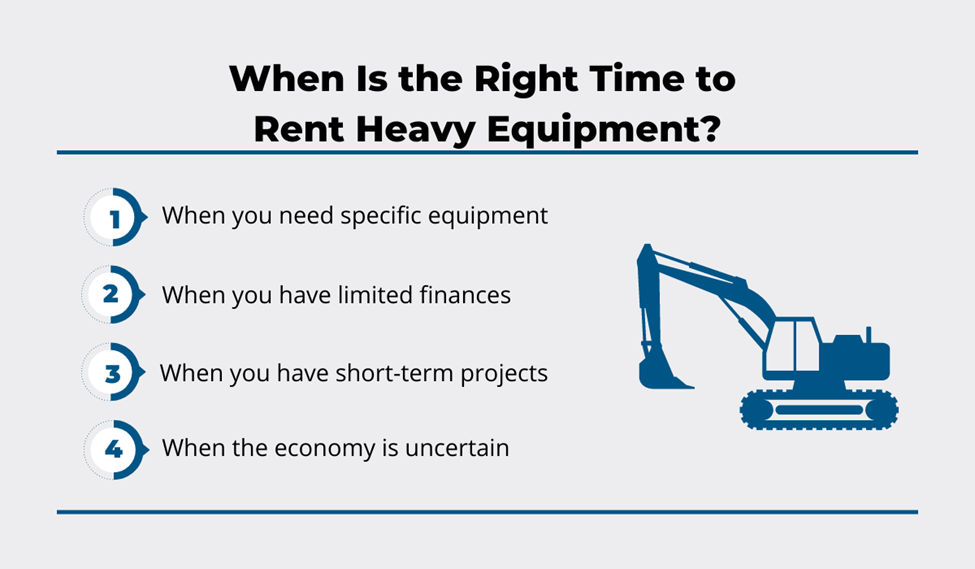 After you weigh the pros and cons of renting construction equipment and consider these factors, it's time to define what you need to rent and when, and then find a reliable rental company.
When selecting a rental company, it's important to consider a combination of factors, including their proximity to your jobsite or the storage, competitive pricing, quality equipment, and reliable client support.
Provided you have a specific project timeline in mind, you should focus on those rental agencies that allow you to schedule rentals ahead of time, such as the CAT Rental Store.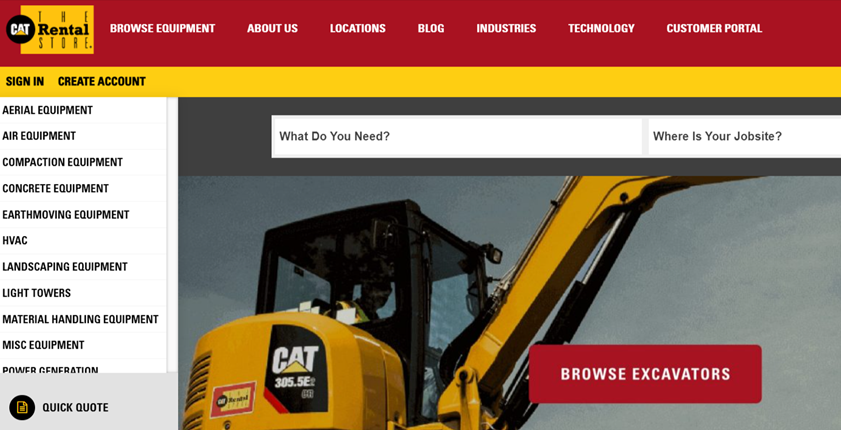 Based on these criteria, plus researching their reputation through customer reviews and past experiences of fellow contractors, you should be able to find the right rental company, book the required equipment, and sign a rental agreement.
Of course, you should know their daily, weekly, and monthly rates in advance and define everything else in the contract terms and conditions, including delivery and pick-up fees, equipment breakdown policies, insurance coverage, and the like.
If you choose well and your business relationship starts thriving, you might find you have gained a reliable partner to rent the equipment you don't have on multiple future projects.
Automate Your Equipment Management
Yes, your lists of "the equipment you need" and "the equipment you have" can be kept in spreadsheets where equipment managers manually update changes to allow for planning equipment allocation across one or more projects.
However, relying on spreadsheets has some significant downsides, such as being time-consuming and error-prone, providing limited collaboration options and no real-time visibility, and lack of automation for tracking equipment movement and availability.
Conversely, when a construction company automates its equipment management by using tracking software, it typically does so for the following reasons: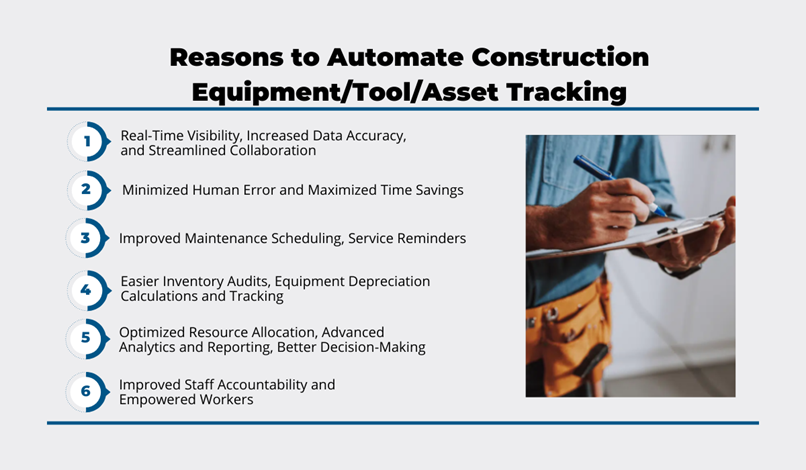 Simply put, automating equipment management enables a contractor to accurately know when and how their equipment is being used at all times, which allows them to plan and optimize the use of their equipment in the most efficient and effective way.
On a more practical level, this can't be achieved without physically tracking your equipment, tools, and other construction assets in some way and using asset-tracking software to automate equipment management.
To accomplish this, construction companies have various asset tracking methods at their disposal, ranging from traditional barcodes to more advanced technologies like GPS-enabled QR codes, Bluetooth beacons, RFID tags, and active GPS trackers.
To demonstrate how your equipment management could be automated using one or more of these solutions—depending on your specific needs and budget—we'll use our equipment management software, GoCodes, as an example.

GoCodes is an all-in-one equipment tracking and management solution that utilizes patented rugged QR-code tags (customized to your preferences and delivered), which are attached to your soon-tracked equipment.
This QR code-based tracking system is coupled with cloud software (available on any internet-connected devices) and a powerful in-app scanner that turns smartphones and tablets into scanning devices used in equipment management.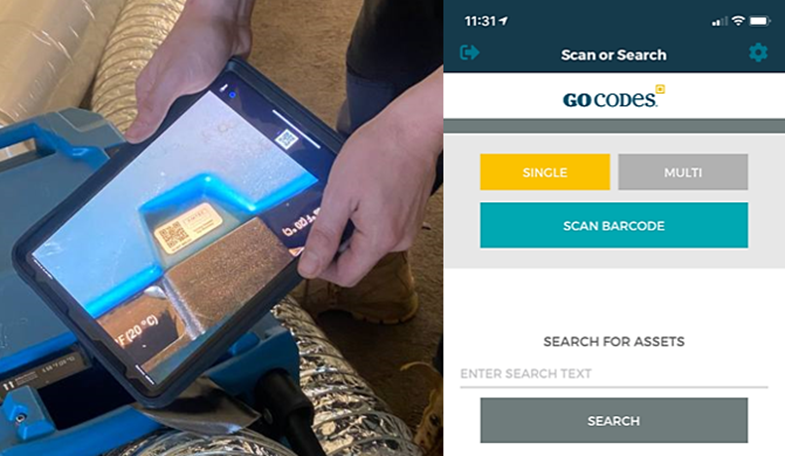 This means that managers and workers can use the GoCodes app installed on their devices to access a central database of tracked assets at any time and from any location, either by logging into the app or scanning a tagged asset.
Whether they scan or search, they can access an individual asset's info page to view or update information about a specific piece of equipment, such as:
name, unique identifier, manufacturer, purchase date, images
current and past users
condition, past service records, and scheduled maintenance
future availability and reservations
Moreover, when a worker or manager scans a QR-tagged asset with their smartphone or tablet to access the asset info, the software automatically records the asset's GPS location and shows it on a map.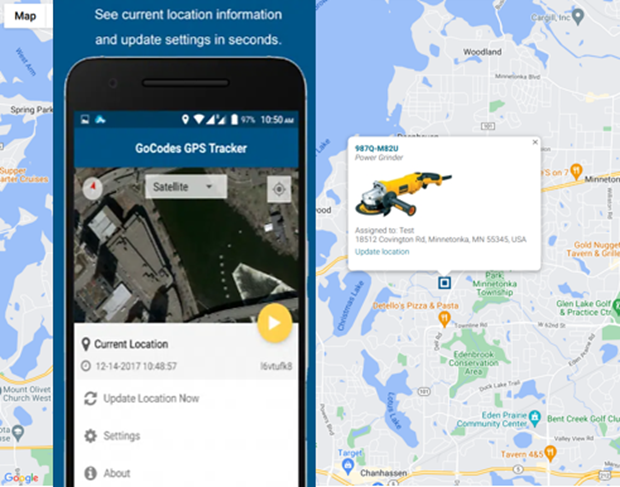 Naturally, all these automated data recording and real-time updating features profoundly affect how your company manages the lifecycle of its equipment.
For example, with an equipment management solution, you have a centralized system from which they can track the location and utilization of equipment in real-time, allowing you to react quickly in unexpected situations and avoid project delays.
Equally, it's much easier to identify under- or overutilized equipment and make necessary adjustments to optimize their utilization.
The list of automation advantages goes on and includes increased worker accountability, minimized misplacement and theft, improved jobsite productivity, safety and security, and—as discussed below—enhanced equipment maintenance.
Overall, automating your equipment management with the help of tracking software is the easiest and most cost-efficient way to streamline all your equipment management processes and reap the ensuing benefits.
Keep Your Equipment Properly Maintained
Of course, all your equipment planning wouldn't be helpful if the allocated equipment keeps breaking down due to poor maintenance and/or overutilization, thus forcing you to reallocate already booked equipment or rent replacements.
In other words, unexpected machine breakdowns can cause many problems, from equipment and staff downtime and budget overruns to project delays in cases of critical equipment.
To avoid this, you should keep your equipment properly maintained.
In fact, here are some reasons why investing in preventive construction equipment maintenance is critical for your company's productivity and bottom line.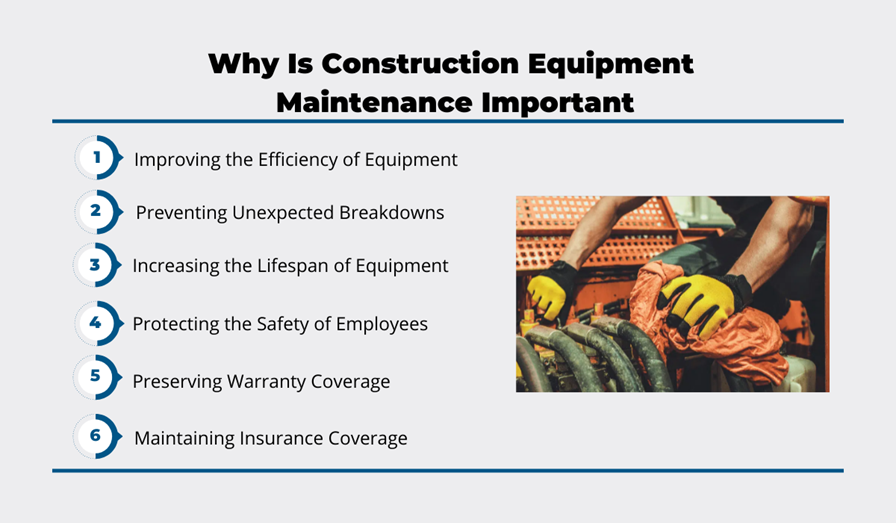 As you can see, proper maintenance and inspection procedures and practices, particularly when automated by equipment management software, can increase your equipment's efficiency and reliability and its lifespan and safety.
All this prevents unexpected breakdowns and injuries and allows you to preserve warranty coverage and get lower equipment insurance rates.
So, how does one establish an efficient preventive maintenance plan?
In a nutshell, everything starts with having an accurate equipment and tool inventory (your software's database) which can be used to create a maintenance schedule that outlines the specific tasks and intervals for inspecting and servicing each piece of equipment.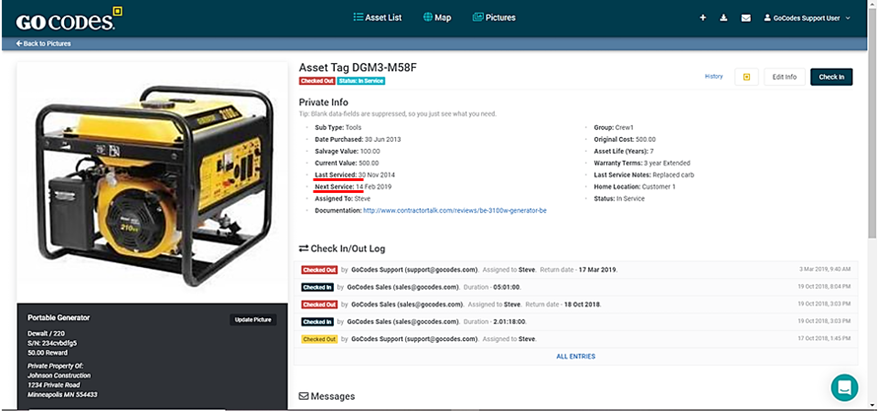 This schedule should be based on manufacturer recommendations, industry best practices, and the intended utilization level.
If you take advantage of the maintenance management features of your tracking software, you can easily create a schedule and track service history, allocate future maintenance tasks, set automatic notifications, and generate maintenance reports.
For instance, the below video shows how GoCodes allows you to schedule maintenance and automate reminders to be received by both responsible managers and service technicians.
This ensures that equipment will be properly maintained according to a pre-defined schedule.
As we commented before, this real-time access to up-to-date information enables you to adjust the timing of scheduled maintenance tasks to fit your future construction operations.
For example, regular maintenance scheduled for critical equipment can be done a bit earlier than planned if another project is starting where that equipment will need to be in top condition.
When the software automatically tracks equipment maintenance actions, other best practices for ensuring proper maintenance and minimizing breakdowns are much easier to implement.
For instance, routine inspections of your equipment can be tracked, and any observations can be quickly reported.
Likewise, service technicians can check whether they have the spare parts and accessories needed for scheduled maintenance.
Long story short, an efficient preventive maintenance program ensures your company can rely on well-maintained equipment when planning construction projects, thus not worrying about equipment needing emergency repairs that can cause delays.
Conclusion
If we wanted to summarize our equipment planning tips and describe them implemented in one software system, it would look something like this.
For a new project, you would—based on previous project experience and specific project requirements—quickly compile a list of the equipment needed.
Then you would—using the search function of your software—find whether your company has such equipment and whether it's available for the project timeline.
As for the equipment you need to rent, you would contact your rental partner and book the necessary equipment.
Finally, since your equipment tracking and management are largely automated, you would be sure your equipment is adequately maintained and enjoy multiple benefits, allowing your construction company to reduce costs, improve productivity, and increase profits.