If you're a contractor, you already know that construction projects come with inherent risks and that you need different types of insurance to protect your business against them.
Some types of insurance, like commercial auto, workers' compensation, and general liability insurance, are mandated by law in almost all U.S. states, while other types are often required by project owners.
Against this backdrop, we'll look more closely at eight types of insurance all contractors should consider getting.
But before we delve any deeper, please note that many insurance types mentioned here may overlap in some respects or be bundled together by insurance providers.
Therefore, it's vital for contractors to carefully examine the terms and conditions before getting insurance for their business.
General Liability Insurance
General liability insurance (commercial general or contractor general liability) is one of the most common types of insurance.
It protects contractors from claims of bodily injuries sustained by persons other than their employees and damages accidentally caused to property other than their own.
However, most general liability policies will explicitly exclude coverage for the contractor's faulty work, i.e., poor workmanship, and that fact is often overlooked by contractors.
In other words, if a contractor wants protection from their clients' claims that stem from any mistakes, omissions, and negligence that the contractor is responsible for, they will also need professional liability insurance, which we will discuss below.
Still, your general liability policy could cover a client's claim in some cases, such as if they suffered bodily injury and/or property damage that came about as a result of a single event, referred to as an occurrence (i.e., which happened by accident).
Thus, it's essential to read the fine print and ask your insurance broker or potential insurance provider about specific examples of when you will be protected and when you won't.
Here are more details about what general liability insurance usually covers, courtesy of California Contractors Insurance Services (CCIS).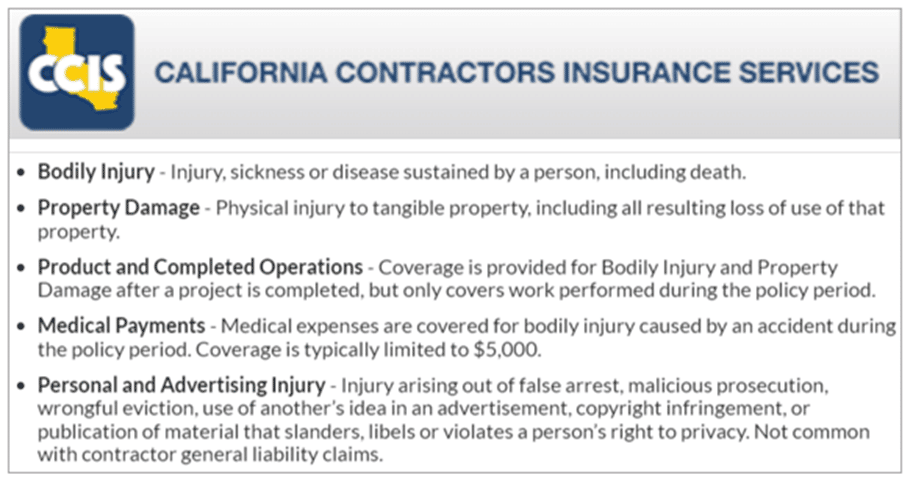 General liability would cover legal and settlement costs (up to the amount agreed in the policy) when any third party (non-employee) was injured on-site, or when the client's or someone else's property got damaged by accident.
For example, general liability would apply if your worker, while operating heavy machinery, accidentally damaged the property adjacent to the construction site.
Likewise, it would apply if your supplier's truck driver who brought materials to your construction site slipped, broke their hand, and sued your business for bodily injury.
In summary, all contractors should have general liability insurance to protect their business from claims primarily arising from accidental physical injuries and property damage caused to third parties.
Professional Liability Insurance
Professional liability insurance (also known as errors and omissions insurance) protects contractors against claims of poor workmanship, professional negligence, and breach of contract by covering their legal and settlement costs.
For example, professional liability would apply if a client claimed (rightfully or not) that the contractor's faulty electrical work caused a fire that resulted in substantial damage and subsequent financial loss.
In this case, the contractor's legal costs and any damages awarded in a settlement or court decision (up to the amount specified in the policy) would be covered by professional liability insurance.
The same would apply if a client wanted compensation because the contractor failed to deliver the construction project on time (breach of contract).
As Investopedia puts it, professional liability protects contractors and other construction professionals from their own mistakes.
To further quote Investopedia, professional liability insurance is often purchased by contractors who provide design-build services and…
…includes coverage of mistakes made by the contractor as well as errors made by third-parties hired by the contractor, such as engineers, architects, and other vendors.
This can include subcontractors hired to do specialized work on the project (e.g., electrical work, plumbing, drywalling), but many insurers will provide such coverage to a general contractor only if all of their subcontractors also carry professional liability.
Overall, professional liability insurance will cover legal and settlement costs when contractors are faced with claims of poor workmanship, professional negligence, and breach of contract, thus protecting them from their own errors and omissions.
Commercial Auto Insurance
Any contractor who owns one or more vehicles used to transport construction workers, tools, equipment, and materials needs to have commercial auto insurance, which will cover repair costs, medical expenses, and lawsuits resulting from traffic accidents.
One reason is that mandatory personal car insurance does not cover accidents when a vehicle is used for business purposes.
In other words, personal car insurance will cover accidents on your way to or from work, but it will not cover an accident caused by you or your employees driving your vehicle while running a business errand.
Another reason is that almost all U.S. states (other than New Hampshire and Virginia) mandate that business-owned vehicles must have commercial auto insurance.
In addition, each state has its minimum coverage requirements for bodily injuries and property damage, so contractors should ensure that their policy is the right fit for their area of operation.
For instance, Insureon provides a quick way to check that: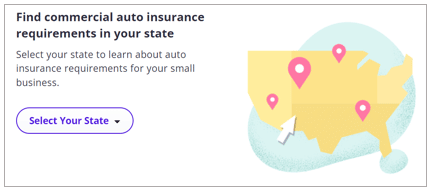 Commercial auto insurance can also cover vehicle theft, as well as any damage caused by weather or vandalism.
We should also point out special types of commercial auto insurance, such as commercial truck insurance and hired and non-owned auto insurance (HNOA).
As their names suggest, the first one covers larger vehicles used for business, such as trucks, trailers, and cement mixing trucks and can include, for example, cargo or downtime coverage.
As for HNOA, it provides commercial coverage for personal, leased, and rented vehicles used by the contractor.
In summary, every contractor, regardless of whether they own one or a fleet of vehicles, should have commercial auto insurance to help them cover vehicle repair costs, medical bills, and lawsuits resulting from traffic accidents caused by them and their employees.
Workers' Compensation Insurance
Workers' compensation insurance is intended to protect contractors from costs that ensue when their worker is injured on the job.
Although workers' comp refers to all industries, it is particularly important for construction jobs that come with plenty of risks that can cause severe or even fatal on-the-job injuries.
In such cases, workers' compensation insurance will cover the worker's medical expenses, missed wages, disability income (if required), and legal fees.
In case of a fatal injury, it will cover funeral costs and family compensation.
Other than in this worst-case scenario, if the contractor's employee gets injured while on the job, here's what the claims process usually looks like, courtesy of FFVA Mutual: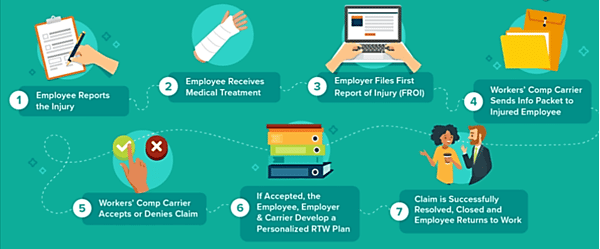 As you can see, workers should be instructed to immediately report a work injury and seek medical treatment, after which their employer should file a claim (first report of injury) and then wait for the insurer to approve or deny the claim.
If the claim is approved, the three parties involved (the employee, the employer, and the insurer) will agree on a return-to-work (RTW) plan, and the worker will return to work as agreed in that plan.
It should be noted that almost all U.S. states (except Texas) require employers to carry workers' compensation insurance even if they employ only one worker.
Regardless of their state's specific regulations, all contractors should have worker's compensation insurance to protect their business from often exorbitant medical expenses and other costs related to on-the-job injuries.
Inland Marine Insurance
As its name suggests, inland marine insurance was originally used to protect goods intended for transoceanic transport from theft or damage while traveling to their port of departure.
However, it has evolved since then and now goes under different names such as "contractor's tools and equipment insurance," "property-in-transit insurance," "equipment floater insurance," or "construction equipment insurance."
In essence, inland marine insurance will cover the contractor's tools and equipment while they're being transported to the jobsite or when they're stored by a third party.
For example, it would apply if somebody broke into your van and stole the tools inside, or an accident occurred that damaged your track dozer while being transported from site to site on a truck.
There are also other coverage options to consider, which are covered in more detail in our guide on construction equipment insurance.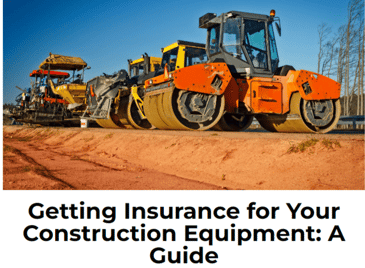 One of the topics covered in that article refers to ways how contractors can track what equipment is covered, until when, under what type of coverage, as well as their deductible and premium amounts.
To do that and avoid instances where contractors find out that their inland marine insurance coverage has expired only when equipment, tools, and other assets are damaged, destroyed, or stolen, they should take advantage of equipment management software.
Such software will enable contractors to create a database containing all pertinent insurance information and streamline all other equipment management processes.
One such solution is our tools and equipment tracking software, GoCodes.

This mobile app allows contractors to track all their tools and equipment, whether insured or not, at all times and from any device, and also includes a customizable database where relevant insurance information is available in a few clicks.
To sum up, inland marine insurance, regardless of the name it takes, is focused on protecting the contractor's property while it's being transported, but also includes other coverage options, such as while being stored or repaired by third parties.
Builder's Risk Insurance
Builder's risk insurance, also known as contractor's all-risk insurance or course-of-construction insurance, covers damage that buildings could sustain while under construction, which includes construction materials, on-site equipment, and temporary structures like scaffolding and fencing.
Basic builder's risk insurance will usually cover damage caused by fire, theft, vandalism, or extreme weather, while broader insurance policies can, if agreed, cover natural disasters like earthquakes and floods.
Therefore, contractors should be careful when deciding what should be covered by their builder's risk policy and assess what specific risks their construction project is exposed to in order to select the right coverage add-ons.
Builder's risk insurance should provide coverage if, for example, a windstorm brought down the scaffolding on a jobsite, turned over and damaged some equipment, and/or broke the windows on a building under construction.
In summary, builder's risk insurance is a wide-ranging policy that can be used to provide coverage for all property on the jobsite while construction is underway, including the building, materials, and equipment.
Commercial Property Insurance
Similar to how a builder's risk policy will cover buildings and other property while the project is underway, commercial property insurance will do the same for the contractor's property at their place of business.
In other words, it covers the contractor's owned or leased property, like buildings and other structures, tools and equipment, etc., when damaged by extreme weather, fire, or other events.
In addition, commercial property insurance usually also covers theft and vandalism to the contractor's property.
Here are some more examples of what commercial property insurance covers, courtesy of Insurance Professionals of Arizona (IPA).

However, just like builder's risk insurance, a commercial property policy usually does not automatically include earthquakes, floods, and other natural disasters, so contractors need to identify specific risks and get additional coverage for them.
Another important thing to know concerns theft.
Namely, if anything is stolen from your insured office or storage, it will be covered.
But the second that any item insured under a commercial property policy is more than 100 feet away from the location specified in the policy, it's no longer covered.
In other words, such items become property in transit which can, as we've seen, be covered by inland marine insurance.
Overall, commercial property insurance protects the contractor's owned or leased buildings and all property inside them from theft, destruction, or damage caused by various events.
Business Interruption Insurance
Last but not least, business interruption insurance will compensate contractors for lost income resulting from them having to temporarily suspend their operations.
For instance, if the contractor's office building were damaged in a fire, it would need to be rebuilt, and the contractor would have to relocate to another location until repairs are done.
In such cases, business interruption insurance would cover the revenue they lost in the meantime, as well as the costs of moving to a temporary new location.
It should be noted that the cost of rebuilding would not be covered under this type of insurance but under the contractor's commercial property insurance policy.
For the sake of clarity, here's another definition:

The unexpected events cited above can be all the usual suspects mentioned until now under other types of insurance, such as fire, theft, extreme weather, natural disasters, and vandalism, but it can also include coverage for other events like civil riots.
As for any future pandemics, that risk is usually not covered unless specifically listed in the policy.
Since business interruption insurance aims to restore the contractor's business to the state it was in before an insured event occurred, this type of insurance may cover lost revenue, relocation costs, employees' salaries, taxes, and rent or lease payments.
In summary, business interruption insurance will replace lost income if the contractor is forced to temporarily stop working due to an unexpected event covered in the policy.
Conclusion
So, as our tour of the types of insurance every contractor should have comes to an end, we should again stress the importance of knowing exactly what will or won't be covered by each policy.
In other words, careful examination of insurance terms and conditions is a key prerequisite for getting insurance policies that will best fit the contractor's specific needs.