If you're running a construction business, you're already familiar with cost overruns and the effects they can have on the project budget and schedule as well as, ultimately, your bottom line.
The question is not whether they'll happen but how to handle them when they do in order to mitigate their consequences and save your budget.
Identify the Root Cause of the Overruns
When faced with a cost overrun, the first thing you should do is to identify its root cause.
Understanding where the problem originated from will help you handle it more efficiently and enable you to avoid the same issue in the future.
Before we get to the root cause, we'll just provide a little background to give you an idea of the potential magnitude of cost overruns in construction projects.
For example, take the average cost of building a house in 2022 according to HomeAdvisor ($284,057), turn it into a $300,000 construction project, and then look at these percentages.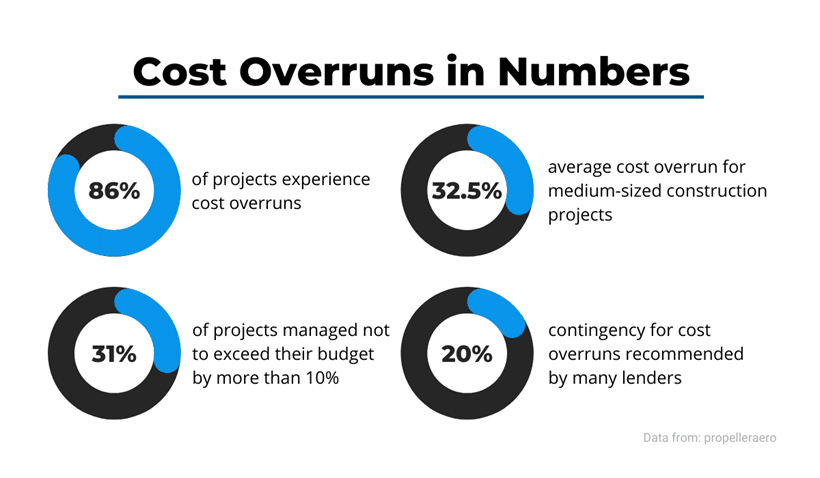 As you see, only one in ten projects will not experience cost increases.
If your project is not in that lucky one tenth, then your actual budget will be at least $330,000 (if your project is among the 31% of those that kept overruns under 10% of their budget) or, more likely, somewhere around $400,000, judging by the average cost overrun of 32.5%.
Thus, even if you added the recommended 20% contingency to your best estimate, you could still fall short. All of this highlights the importance of planning and budgeting.
Naturally, there are many possible causes of increased costs.
Given the complexity of construction projects, overruns are often caused by a combination of reasons and their snowball effect on your budget.
However, many can be linked to project planning and budgeting stages, i.e., design errors or wrong estimates. Here's a list of the six common causes of construction cost overruns: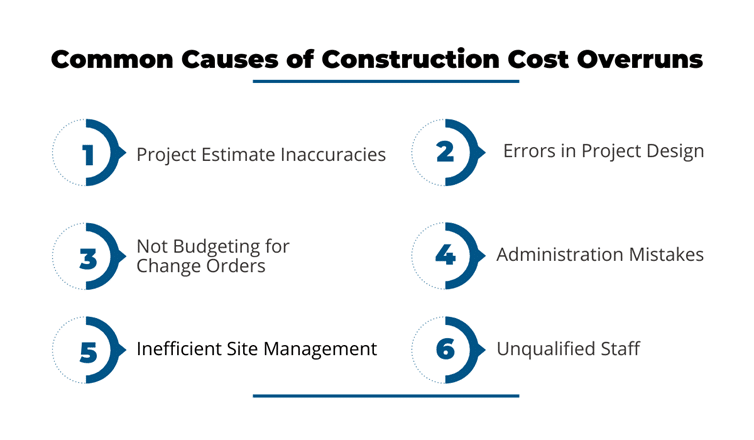 The first three causes are directly related to the planning and budgeting stages, while the other three often arise from poor project management.
All of them can lead to the most expensive cost overrun—rework. If you're responsible for substandard work, you'll be spending extra time and money to redo your own mistakes.
Thus, identifying the root cause of a budget overrun will help determine who is responsible for the error or miscalculation.
After inspecting your contract clauses, you should decide on your next actions, like drafting a change order and agreeing on it with the client or minimizing your operational inefficiencies.
We've covered those and other possible actions to handle overruns below, so read on.
Understanding the cause(s) of an overrun will allow you to handle it appropriately, improve your planning and estimates to avoid future cost increases, and adjust the project budget and schedule accordingly.
Minimize Your Operational Inefficiencies
Whether it's inefficient site management, poor control of materials, lack of collaboration, or problematic quality assurance, your operational inefficiencies can quickly drive up the project costs.
Luckily, most can now be easily remedied with the help of technology, allowing you to monitor the entire construction process and handle inefficiencies even before they hurt your budget.
Despite a somewhat slow pace, technological solutions have and are still changing the construction industry.
According to McKinsey, issues like skilled labor shortage and competitive cost pressures coupled with supply chain breakdowns and rising prices are quickly driving up the use of construction technologies.
More specifically, operational inefficiencies that cause cost overruns can be best addressed by construction management software like, for instance, this one.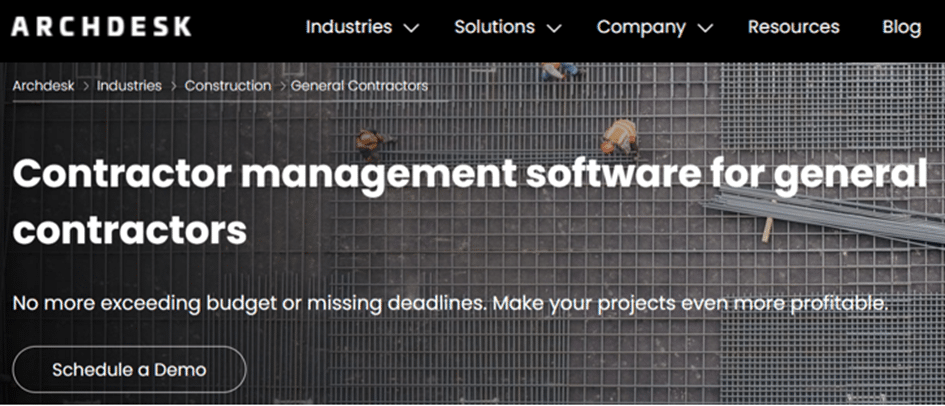 This all-in-one construction management software will give you control over almost any aspect of your construction project and your business, thus optimizing numerous workflows and eliminating many potential sources of overruns, ultimately protecting your budget.
This is a good example of an end-to-end solution. However, there might be specific sources of cost overruns that still go undetected—for example, construction equipment management.
Not tracking where your equipment and tools are on one or more sites can cause downtime while workers are, for instance, waiting for the misplaced equipment to arrive.
Poor equipment management can also lead to breakdowns due to inadequate maintenance, or allow theft to go unnoticed, which can jeopardize your budget.
So, if this is an issue you need to handle or would like to avoid, you can try our tracking solution, GoCodes.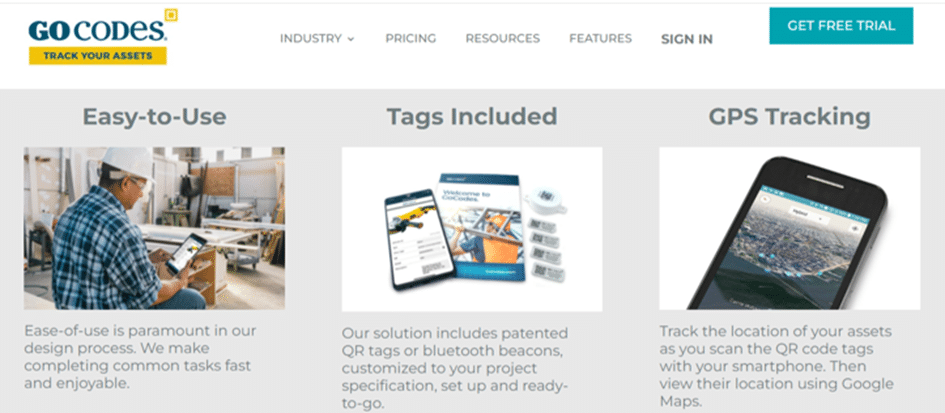 So, whether big or small, software solutions will provide valuable insights into the construction process, allowing you to address your operational inefficiencies in planning and budgeting stages or as they arise, thus minimizing the likelihood of cost overruns and saving your budget.
Stop the Work if Payments Are Late
Stopping construction works when due payments are late might seem like a logical thing to do. However, there are many factors to consider, from contract terms to potential disputes.
What's more, there are things you can do to prevent late payments from causing havoc to your budget.
Suppose that you agreed on a payment (draw) schedule with your client, which provides for regular payments based on completed project milestones.
Your crew just finished one stage, and your client is late with a payment. First off, you're not alone, as you can see below.
In fact, the 2021 Construction Cash Flow Payment Report states that only 17% of residential construction firms were always paid on time, and only 19% were paid in full.
On that note, here's what you can do when faced with late payment.
First, talk to your client and find out why they're late. It might just be a financial hiccup, but then the payment schedule needs to be revised, or maybe some budget items can be adjusted.
Of course, trust and honest communication play a key role in deciding on the best course of action for you and your client.
Second, check your contract terms—specifically, any dispute resolution or "no damage for delay" clauses.
Third, you can use preliminary notices and mechanic's liens as payment tools.
A preliminary notice (notice-to-owner, notice-of-furnishing) is sent to the client before any payments are due. It's usually the basis for filing a mechanic's lien if you're not paid.
If none of the above actions yield a workable solution and late payments keep happening, let the client know you'll stop any work unless you're paid.
Remember, stopping works due to non-payment will inevitably cause cost and time overruns but can prevent much bigger losses down the line.
Clear communication and different contractual and legal mechanisms can be effective tools in saving your budget from overruns caused by late payments.
Talk to Your Team About Priorities
Sometimes overruns and slow payments can snowball and cause cash flow problems for your business, which can spill over and affect your other projects, subcontractors, and your team.
Instead of hiding the truth from them, it's time to step up, communicate with the client(s) and subcontractors, and talk to your team about priorities.
It can happen to any construction business.
Construction delays, change orders, poor coordination, design errors, cost increases, miscommunication—any of those and many others can bring a project down.
As contractors, subcontractors, and suppliers are often least protected in the project payment chain, they're frequently faced with cash flow issues and their consequences.
According to that 2021 report we mentioned, the consequences of cash flow problems are lower contractors' profits (47%), delayed construction projects (33%), and contractors being forced to take out loans (30%).
And all of them create budget overruns, often across several projects.
Faced with such issues, let's consider the biggest factors that contribute to being paid on time, as shown here.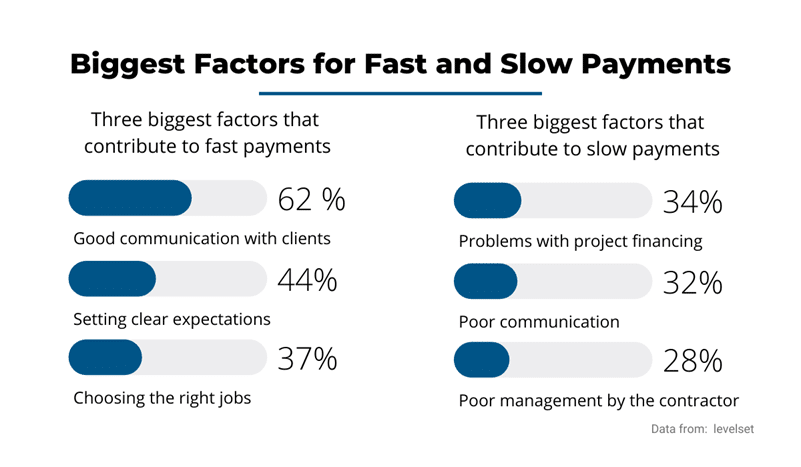 These percentages clearly show that communication should be your top priority when faced with financial troubles, as it's the single biggest factor for getting paid on time (62%) and the second major factor contributing to late payments (32%).
Other important factors like setting clear expectations (44%) and avoiding problems with project financing (34%) are also based on clear communication.
Thus, when things go wrong and budget overruns pile up, get ready to openly share those issues with your clients, subcontractors, and employees to discuss potential solutions and options.
Also, brainstorm ideas with your team and agree on the priorities for handling cost overruns to protect your business.
Offer Some Solutions
After you've identified the root cause of a budget overrun, you should be ready to communicate with your client and offer some solutions.
When that's settled, you should create an action plan to get that overrun under control and save the budget.
As we just said, honest communication is the first step when a cost overrun appears.
If your crew is responsible for the higher cost, you should take ownership and find ways to compensate the cost internally without it eating up too much of your profit.
However, cost overruns are often a result of factors outside your control, such as design errors, wrong estimates or calculations, project scope changes (scope creep), site conditions, or material price increases.
Particularly the latter, as this graph of rising construction material prices shows.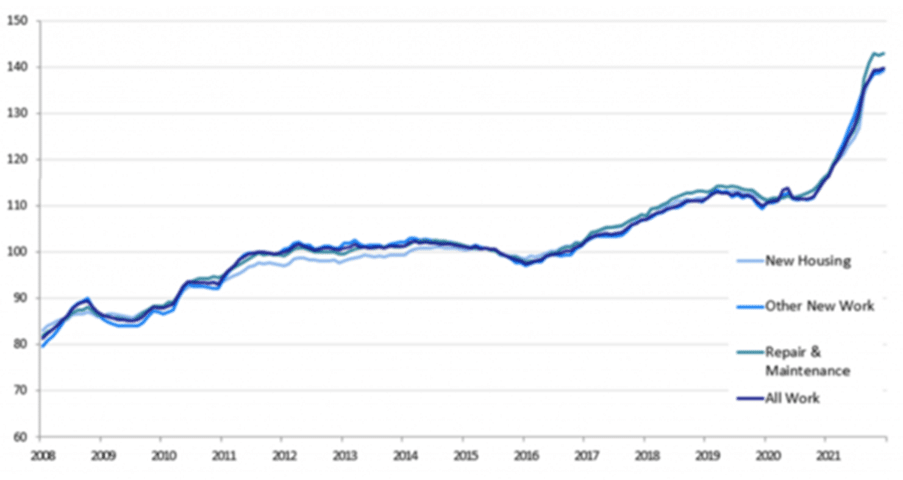 Considering the recent steep rise in prices, it might be time to include a material price escalation clause in your contracts if you haven't already.
Luckily, even without such contract clauses, many budget overruns can be handled in a way that works for all involved.
Let's say you're renovating a fixer-upper for your client, and some hidden damage that went unnoticed upon initial inspection has caused a cost overrun.
First, you would explain what happened to the client and then offer solutions that could make up for the unexpected cost, such as cutting back on some preferred but more expensive materials.
Of course, this also allows you to offer the client to pay for the cost, thus solving the issue.
More complex overruns will require an action plan to get the budget back on track.
Once the solution is agreed upon, planning the right course of action will focus your efforts on the best way to implement it and appropriately handle the cost overrun.
In conclusion, communicating with the client and offering solutions can yield suitable solutions for both sides. In complex situations, it's good to prepare an action plan.
Either way, the cost overrun will be handled and your budget saved.
Revisit and Review Your Project Plan
Revisiting and reviewing your project plan, meaning your budget and schedule, is essential for handling cost overruns or, better yet, staying ahead of them.
They must be regularly reviewed and updated to reflect changes, thus keeping cost overruns under control.
With construction projects having so many moving parts, changes are all but inevitable. Hence, the way you handle them is often crucial for minimizing their effects on the budget.
That's why monitoring the project progress and regularly reviewing the budget are a natural extension of project planning, scheduling, and budgeting.
However, keeping track of costs, change orders, and other factors affecting the budget can be a complex task. And again, this task can be streamlined by appropriate software like this one.
This software will give you complete visibility of your project's financial health and a forward look into potential cost overruns.
That includes budget and cost project forecasts of how change orders and other issues will reflect on the budget before they take place.
Either way, when a budget item is exceeded, you can use different measures to compensate, like reallocating resources from other items or using built-in contingencies.
However, most actions will require a change order. Once it's agreed with the client, make sure to draft the change order in writing, so both you and the client can sign it.
This way, you'll avoid misinterpretations and potential disputes.
Finally, remember to compare the initial and actual budget after project completion and apply the lessons learned to your next project.
All in all, the ability to track costs and changes and the willingness to review and update your project plan will allow you to handle overruns efficiently, thus minimizing the effects of changes on your budget, ultimately reducing costs and increasing profits.
Conclusion
As we've seen, cost overruns are common in almost all construction projects. Fortunately, there are many ways to address them effectively once you've identified the root cause.
We hope these tips will inspire you to handle your future expenses in the best way for both your business and your clients.