If you're here, you're probably a construction company owner or manager concerned with the amount—and value—of lost and stolen equipment, tools, and materials from your jobsites, as well as their cumulative effects on your productivity and bottom line.
Secondly, chances are you're interested to learn what items most commonly go missing on jobsites, why they're often targeted by calculated and opportunistic thieves from within and outside the company, and what you can do to prevent that.
In this article, we'll provide an overview of such items, explain why thieves find them appealing, and suggest easy-to-use and cost-effective solutions to protect your construction equipment, tools, and materials.
Material Theft
Construction materials, such as metal and lumber, are commonly targeted by thieves due to their high value and widespread demand, as well as being easy to steal, transport, and resell.
For instance, copper is a valuable and easily recyclable metal, which makes it a prime target for thieves.
When different copper components, such as electrical wires, plumbing pipes, fittings, and conduits, are stolen from your jobsite, you might be relieved if they were stolen while still uninstalled.
Otherwise, the cumulative costs of repairing the damage caused by copper theft can far exceed the value of the stolen copper, as in this news story.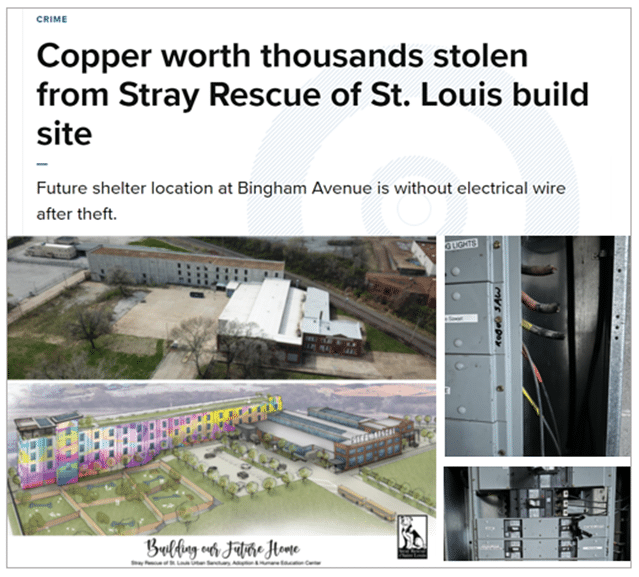 The estimated copper-stripping loss is about $100,000 and, to quote the report, this is primarily:
Because the wire was pulled out, the job facing electricians isn't a repair job; it's a replacement job. Every copper wire was cut from the main power board and stripped.
Naturally, other metals like steel, aluminum, bronze, and brass can also be stripped or lifted from storage.
As for lumber, such materials are often stolen when "securely" stored on-site.
Still, they can sometimes be uninstalled from ongoing construction along with the resulting damage and rework, thus increasing the loss value.
For example, plywood sheets can be taken because they're valuable (currently $8-15 per sheet) and easily sold on various sites online.
In fact, that's how this criminal operation worked.

In this story, police found about $7,000 of wood stolen from several jobsites but they believe suspects have stolen over $100,000 of building materials.
Of course, there is a range of other construction materials susceptible to theft because of their value when resold or reused, such as:
cement bags or bulk cement supplies
rebar (scrap value of steel)
drywall and insulation materials (fiberglass, foam panels…)
plumbing fixtures (sinks, faucets, toilets…)
light fixtures, wiring accessories (connectors, junction boxes, circuit breakers…)
As to how to prevent construction site theft (here focused on materials) efficiently and cost-effectively, there is no simple answer.
However, best practice solutions show that implementing a combination of "hard" and "soft" theft prevention measures is most effective in deterring thieves.
We've listed them here broadly ranked according to their affordability and ease of implementation: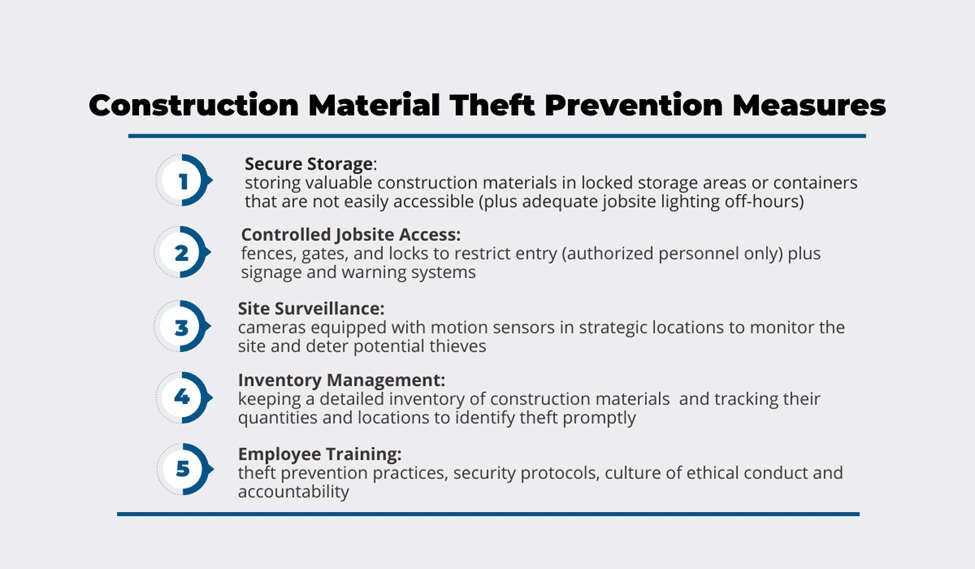 All these measures are used to protect all other jobsite resources covered here.
Of course, the above ranking is a general assessment and can vary depending on specific factors such as the project/site/company size, available resources, and the level of complexity involved in adopting each measure.
Therefore, construction companies should assess their individual needs, budget, and risk factors to determine the most appropriate combination of theft prevention measures for their materials and other valuables.
Tool Theft
Because of their small size and abundance on a construction site, hand and power tools are easier to steal without consequence, making them a common target for thieves, sometimes even within your own ranks.
Their appeal to both opportunistic and calculated, external and internal, thieves is obvious.
In other words, small(er) construction tools are:
frequently left lying about on-site
some can be easily pocketed, concealed, and transported
often hard to identify and track
easy to resell because of high value and widespread demand
Of course, the size and value of individual targeted tools play a role, but the cumulative loss of many less expensive tools should also be considered.
Needless to say, power tools are particularly popular, as this news story illustrates.

To quote the report:
Police said a lot of these thefts are happening in broad daylight, even sometimes when workers are on the site. The thieves are coming in, acting quickly, and getting away with sometimes thousands of dollars of important tools.
Apart from lacking jobsite security measures, the reason for this is the increasing number of high-value tools, such as professional-grade power drills, advanced surveying equipment, and specialized electrical testing instruments, being readily available on-site.
In other words, it sometimes takes only one or two tools to "strike it rich."
In the below case, that meant taking off with "two Honda suitcase generators, a Topcon laser level, drills, and survey legs."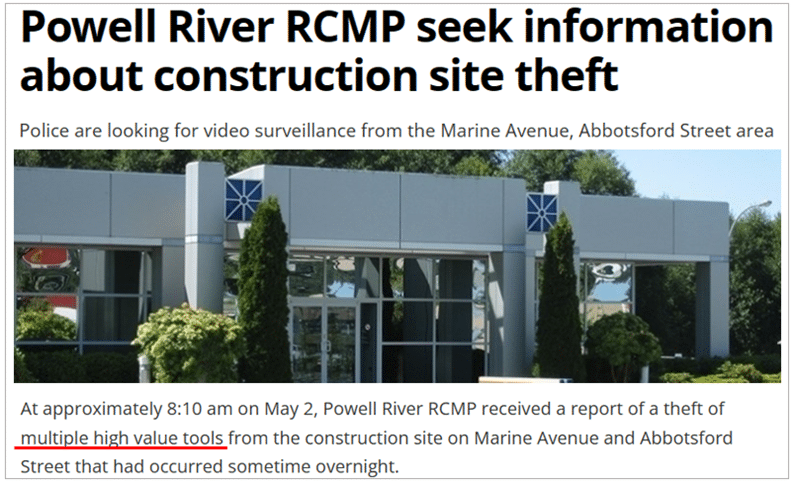 However, the cumulative cost—and the productivity-lowering effects—of losing a significant number of less expensive tools to internal and external theft should not be ignored.
To name a few:
general-purpose wrenches, pliers, hammers, screwdrivers, tape measures
electrical tools like multimeters, voltage detectors, and cable testers
plumbing tools like pipe wrenches and cutters, drain snakes, and threading tools
concrete-finishing tools like trowels, edgers, floats, and concrete saws
All these tools are targeted because they are relatively easy to steal, can hold significant value, and can be quickly sold on the market, making them attractive targets for opportunistic and planned theft.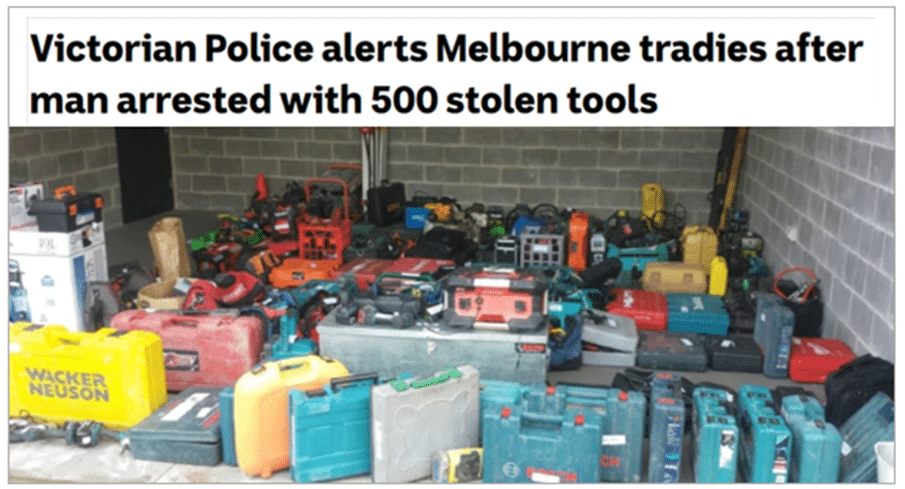 Given all the above, a construction company's tool purchasing costs can quickly go through the roof while taking productivity and profits to the basement.
Now, let's turn to solutions.
We already mentioned some affordable and practical "old-school" solutions like secure storage (lockable toolboxes, cabinets, containers), access control (authorized personnel), and employee training (culture of accountability).
Another cost-effective and easily implementable theft prevention technology consists of attaching unique identifiers—asset tags or labels—to tools and tracking them via a cloud app installed on your smartphone, tablet, or computer.
These can be durable, tamper-proof labels that can't be easily removed, serve as proof of ownership, and make reselling harder.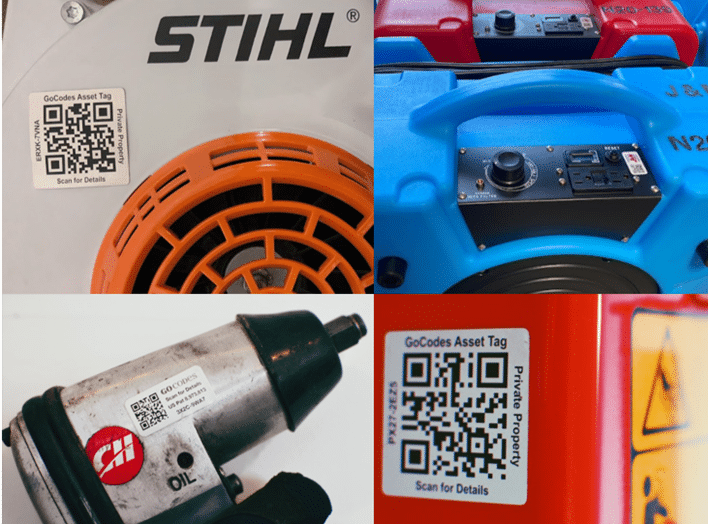 Better yet, some asset labels like these QR code tags can be scanned with a smartphone or tablet using an in-app scanner, and their GPS location will be automatically recorded using the scanning device's GPS tracking function.
This functionality allows construction companies to:
track the movement of their tools in near real-time
identify the last known location of a missing or stolen tool
establish an automated tool check-in/check-out system to increase transparency and worker accountability
Simply put, you know where all your tools are and who has them at all times.
A perfect example of such a versatile solution is GoCodes.

On top of protecting your tools by tracking their current and past locations and users, GoCodes enables you to keep an accurate and up-to-date tool inventory (central database) and streamline operations like tool allocation, maintenance, and life cycle management.
Best of all, it is a complete, genuinely easy-to-use solution that includes everything you need to tag and manage your tools.
There is no hardware like handheld scanners and label printers to purchase, no on-premises software to install, and no need to print or get labels from external producers.
Most of what you need will be on your mobile device via the app.

Naturally, other tool-tracking methods are available, such as Bluetooth Low Energy (BLE) beacons that help detect tools remotely and emit their location within 300 feet (100 m) from the BLE-enabled device with the tracking app installed.
Then there are RFID (radio frequency identification) tags, which also allow for remote tracking of tools within a limited range of radio waves.
Finally, ordinary barcodes may be good for tool inventory and auditing but are ineffective for theft prevention.
Overall, tool theft in all its forms is a major concern for construction companies, which can be best addressed by a combination of security measures, among which rugged GPS QR codes stand out as the simplest, fastest, and most cost-effective way to protect your tools.
Heavy Equipment Theft
Heavy equipment like excavators, loaders, and bulldozers—although challenging to steal—remain an attractive target for thieves due to their high value and potential for substantial profits.
Of course, the list of heavy equipment and construction vehicles, wheeled or crawler, mobile or stationary, does not stop with the above machines and their subtypes and includes backhoes, forklifts, cranes, and generators.
While heavy equipment theft is less prevalent than smaller hand and power tools, the value of these items and the potential effects of stolen machinery or vehicles on productivity and project timelines make them worthy of protection.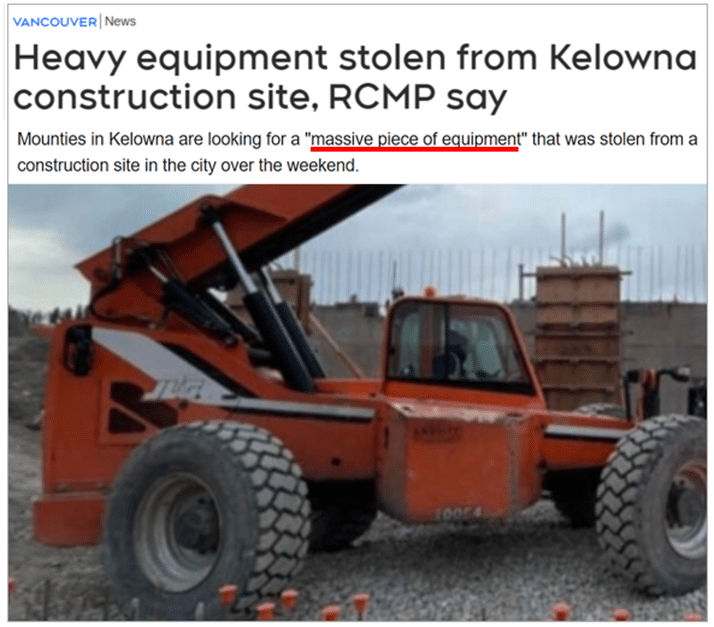 As you can see, the object of the above theft was a massive orange Skytrak Telehandler 10054 (worth about $200,000 used), which the perp caught on video loaded onto a semi-truck and flat deck and drove off.
In such cases, the loss of a single critical piece of heavy equipment—even when insured—can significantly impact construction operations, leading to project delays and cost overruns.
Enough said, what about the solutions tentatively ranked according to affordability and ease of use?
Identification and marking, i.e., serial numbers, company logos, asset tags, and anti-theft signage, are certainly affordable and can be effective theft deterrents.
The Pueblo County Sheriff in Colorado summed up the other best practices for preventing heavy equipment theft nicely:
The first two tips could be categorized under "employee training," the third one under "secure storage," and the fourth and fifth under "site security and surveillance."
Depending on specific factors such as budget, infrastructure, and company preferences, all of them can be ranked higher in terms of affordability and ease of implementation/adoption/use.
These measures are followed by installing active or passive GPS tracking devices on heavy equipment to monitor their real-time location.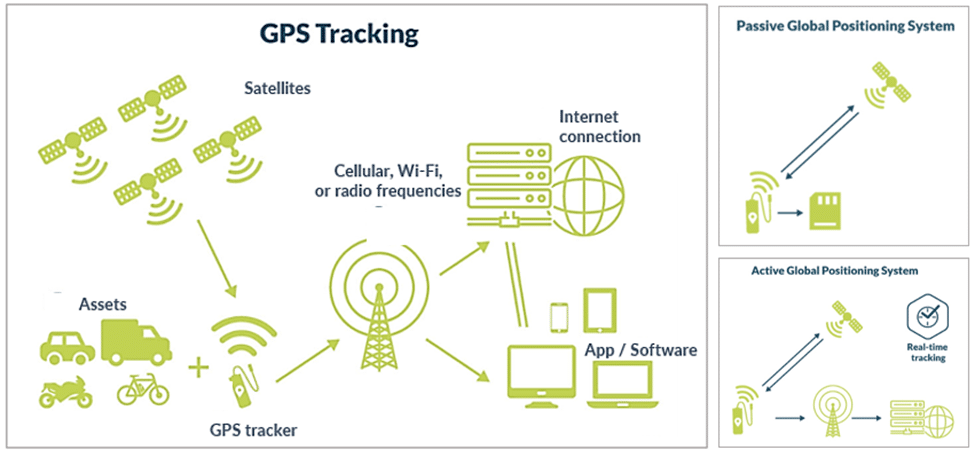 This allows for quick recovery in the event of theft and can be used to improve construction fleet management operations in many ways.
GPS tracking can be a cost-effective and easy-to-use theft prevention measure. Its usefulness typically depends on:
the number of tracked equipment and vehicles
the quality and price of the selected GPS tracking solution and associated trackers
smart blending with other tracking methods we mentioned (GPS-enabled QR codes, Bluetooth beacons, RFID)
Another relatively easy-to-configure and set-up anti-theft measure enabled by GPS and other location-based technologies that allows you to create virtual boundaries or zones around a construction site is geofencing.
For example, lightweight Bluetooth beacons can be combined with in-app Bluetooth readers on smartphones and tablets to set up an invisible fence around your jobsite.

Simply put, site managers or security staff can receive alerts or notifications if a piece of equipment exits or enters a designated area.
The Sheriff's final tip on heavy equipment immobilization devices like steering wheel locks, ignition locks, or fuel cut-off systems can also be a relatively inexpensive and simple theft deterrent, as long as strict key control practices are implemented.
In summary, heavy equipment and vehicles are highly valuable and profitable for thieves and deserve to be protected with a combo of cost-efficient anti-theft measures that fit your budget and security preferences.
Appliance Theft
Lastly, appliances intended to be installed in newly constructed buildings are attractive to thieves because of their portability, high value and easy resale, and widespread demand.
In residential and commercial projects, appliances commonly stolen while awaiting their installation include refrigerators, oven cookers, washers and dryers, dishwashers, air conditioning units, etc.
Most thefts are crimes of opportunity when appliances are left unsupervised during transit or in poorly secured on-site storage.
However, there are bigger players that use information-gathering and planning or even "inside jobs" looking to make a significant profit on their high-risk, high-reward crime.
For example, Andy Northcutt from DSLD Homes says they saw thefts upwards of $50,000 at a time.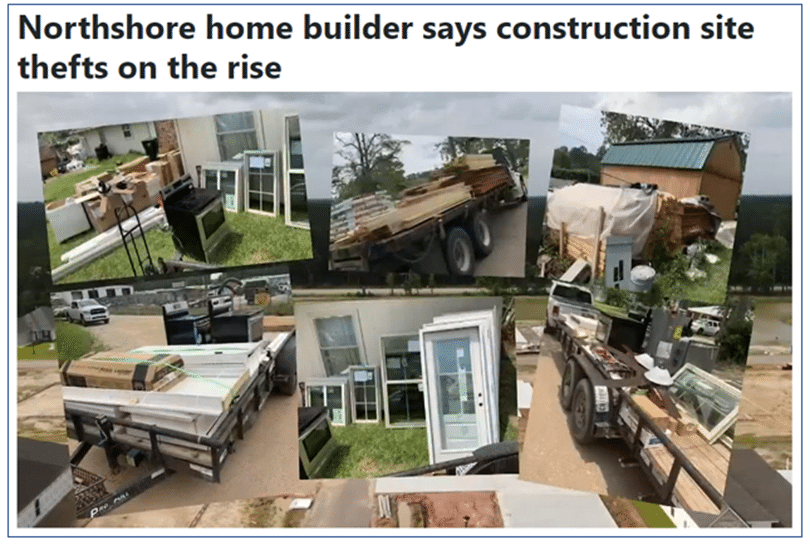 In his words:
Entire roofing or siding packages, appliances, lumber, doors and windows, all stolen after they're delivered to sites.
He adds that the loss of these building components has negative impacts along the construction chain, not only in terms of the value of stolen goods but also the lost productivity of other stakeholders.
For example, the trades, i.e., subcontractors.

Unsurprisingly, the solutions aimed at preventing appliances from being stolen include the usual suspects until now and one specific suggestion.
Broadly ranked according to affordability and ease of implementation, appliance anti-theft solutions start with general security measures like secure storage, controlled site access, employee training, video surveillance, and inventory tracking.
It's worth noting that since these measures are typically already in place, their versatility decreases their cost and implementation.
One measure specific to new appliances can be arranging just-in-time (JIT) deliveries with your supplier.
To recap, appliances are common targets for thieves, and you can protect them by combining the suggested general and specific site security measures.
Conclusion
So, we've explained what is usually stolen from construction sites and why and then suggested anti-theft solutions.
As we've seen, this typically involves using a smart combination of old and new, physical and digital, affordable and easy-to-use prevention measures to protect your construction materials, tools, and equipment from internal or external, calculated or opportunistic thieves.
The ultimate result can be relatively low-cost and straightforward site security, whereas some solutions, like tool and equipment tracking, can also be used to improve the overall operational efficiency of your construction company.