Looking for tips that could make your experience of renting construction equipment less convoluted?
Interested in what to watch out for when choosing a rental company and renting from them?
Eager to avoid equipment purchase and maintenance costs? Intrigued by the opportunity to rent project-specific equipment and expand your business offer?
If you've answered yes to any of those questions, then you need to try these five great renting construction equipment tips.
Read the Reviews
If you're just starting on your journey to rent construction equipment for your business, you'll first need to do some research, including reading online reviews.
As there are many things to consider when renting equipment, this can help you pinpoint a reliable company that best meets your needs.
Renting equipment has a long tradition in construction. However, recent developments and industry trends have highlighted the benefits of renting construction equipment.
That's why, despite supply chain disruptions and rising prices, the U.S. equipment rental market grew by 3% in 2021 to $47.8 billion, as shown here.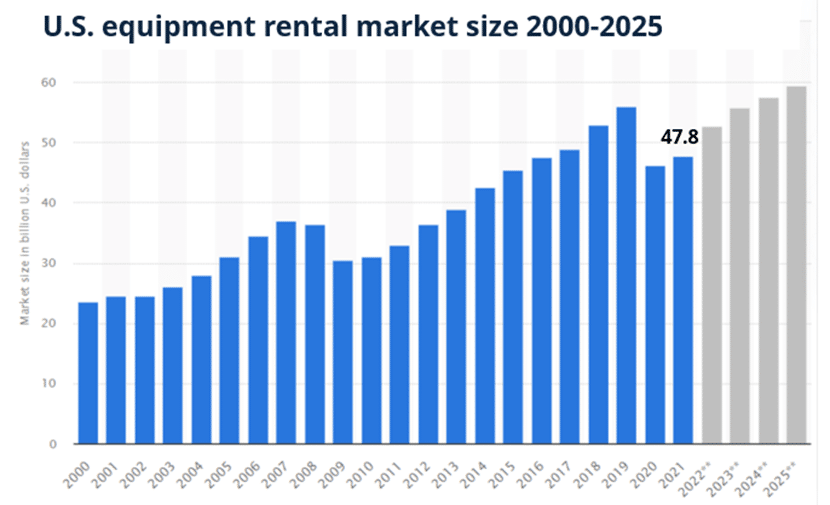 After the 2020 nosedive due to the pandemic, the market is expected to continue to grow, reaching the record-breaking 2019 by 2024.
And this is good news for companies looking to rent construction equipment, as this translates into more competitive rental rates.
However, if you're new to renting or, for example, the project is in a location that prevents you from using your usual equipment rental agency, it's wise to do your research before deciding on one.
Other than word of mouth, the best way to find out what other people think is, of course, online.
The first thing would be to narrow your search to the area near your construction site.
This provides many benefits, such as lower equipment pick-up and delivery charges and faster repair or replacement of the equipment, if needed.
For instance, if you were doing a job in St. Louis, Missouri, your search would look something like this: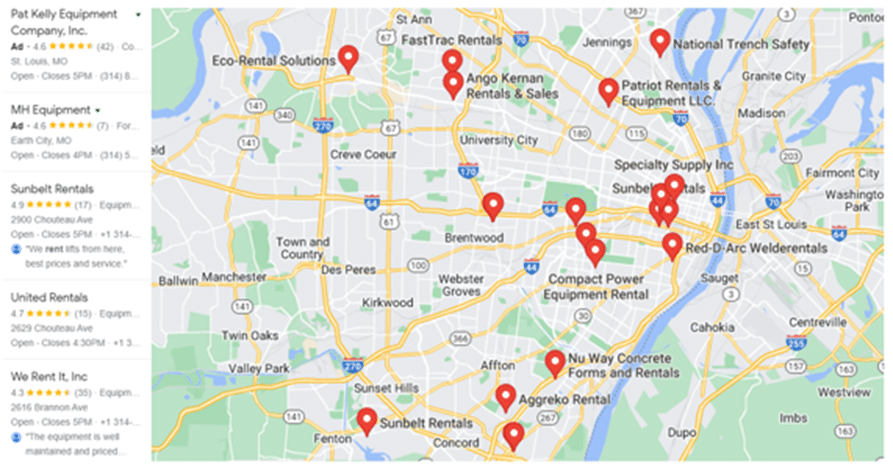 After that, it's time to read the reviews and possibly scour specialized forums and local online communities to find out more about rental companies near your construction site.
If there are no reviews or they seem fake, that can indicate that the company is untrustworthy. In that case, forums and social media communities can provide first-hand, unbiased information.
Remember, you're looking for a reliable partner that can help you find the right equipment and give you a good quotation.
The best rental companies will also offer consultations, delivery services, training, and more.
Thus, doing research and reading reviews will get you closer to finding the right rental company for your needs. That brings us to our next point.
Pay Attention to the Terms and Conditions
After you decide on a provider of rental equipment, you need to be sure about the terms and conditions of your agreement.
Because these can vary significantly, there are some questions you should always ask.
Start with finding out what their daily, weekly, and monthly rental rates are. As you can see from this Google snippet, they can vary greatly.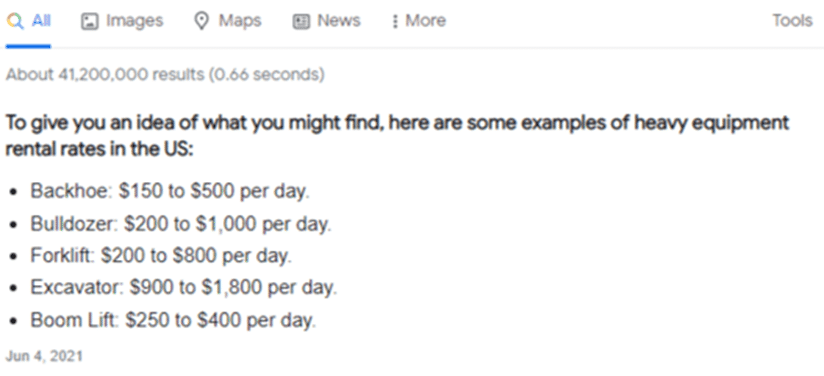 Naturally, the pricing will depend on many factors, such as the type and size of the equipment, site location, and the intended rental period.
Once you know the different rates, you should consider the most optimal way to rent the equipment.
This will depend on your construction schedule and whether you'll need it once or multiple times during construction.
For example, excavators are one of the most popular rental machines as they're often required just once (e.g., for digging foundations).
Besides the rates, you should find out about their delivery and pick-up policies, any additional fees, equipment breakdown, repair and replacement procedures, possible rental extensions, billing, after-hours service, etc., all of which will be specified in the rental agreement.
The thing to particularly watch out for is what insurance coverage or protection plan is included in the agreement, if any.
This can be a deal-breaker because contractors often presume that the rental agreement includes the necessary coverage, but that's seldom the case.
For example, Loss Damage Waivers (LDW) are a form of protection offered by rental companies. And they fulfill their purpose well, but they're not insurance.
An LDW usually involves paying a fee representing a percentage (e.g., 15%) of the rental amount.
Such a waiver limits your potential liability when the equipment you rented is damaged or lost.
For instance, if that happens to the equipment rented from Milton Rents, they'll cover the following:

In other words, this means that if the damage on a $10,000 piece of equipment was $4,000, you would ultimately pay $750. In case of a total loss, you would pay $3,750.
However, this does not cover damage or injuries caused by the equipment to other items or people. So, make sure that you have appropriate insurance in place.
Overall, asking the right questions and paying attention to the terms and conditions will help you find out the real cost of renting equipment and enable you to choose the right rental company.
Train Employees to Use It Properly
Other than insurance, your second safeguard is training your employees to use the rented equipment properly.
This will prevent incorrect operation and equipment breakdowns and increase the construction site safety, thus avoiding costs associated with damage and injuries.
Yes, renting (at least some) equipment will probably result in reduced costs for your business.
When you rent a piece of equipment, you avoid initial purchase costs, as well as maintenance, repair, and long-term storage costs for that equipment.
Not to mention protection from equipment losing value over time (depreciation).
In fact, according to Scott Cannon, BigRentz CEO, rentals are growing due to the cost savings and reduced liability benefits of renting as opposed to buying.
But there is one crucial area where it doesn't matter if you own or rent equipment—training.
That's why many rental companies offer operator training for the rented equipment, like the Cat Rental Store and its dealers do.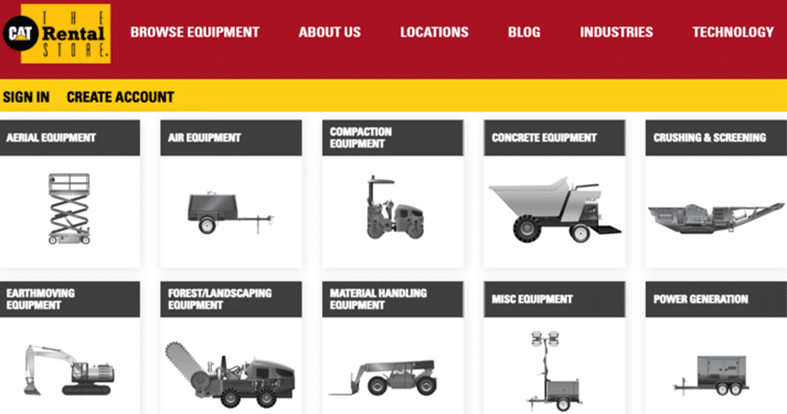 As advertised, they offer professional on-site operator training so you and your team can use the equipment as safely and productively as possible.
So, you need to first find out what licenses or certificates are required for operating the equipment according to federal, state, and local regulations.
After that, you should ask your potential rental agency whether they offer operator training for that equipment. If not, they should be able to refer you to relevant training providers.
The importance of operator training cannot be overstated.
Other than avoiding improper operation, injuries, and downtime and ensuring regulatory compliance, proper training raises the productivity of your operators, thus facilitating the smooth running of the entire construction project.
And, with labor shortages looming, it can ensure you have enough qualified staff to complete the project on time and within budget.
Thus, one of the important things to consider when renting equipment is whether you have properly trained staff and, if not, whether the rental company provides it.
This increases safety and productivity.
Try It Before You Buy It
One of the benefits of renting is that it's a way to try out a piece of equipment before deciding to buy it. It helps you determine if the item fits your needs and whether you should purchase it.
As said, there are many advantages to renting construction equipment.
However, most contractors use a combination of owned and rented equipment depending on their operational needs.
This means contractors are often faced with a dilemma about what to rent and what to purchase. That's where rentals come in.
As said, if you're unsure whether it would be better for your business to own a new skid steer or compact track loader (CTL), you can rent one first and try it out.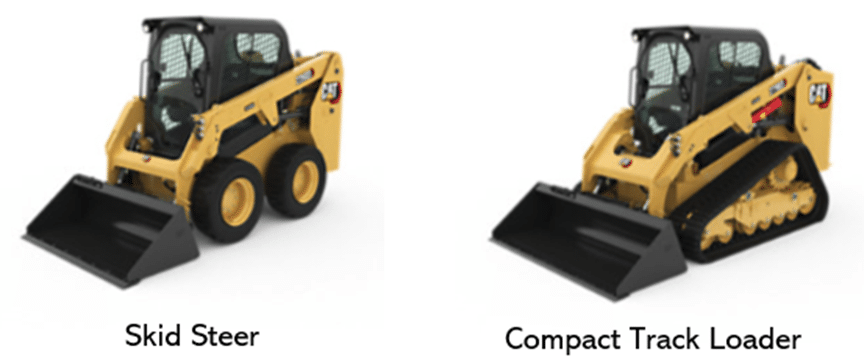 Although these machines perform similar tasks on job sites, there are still operational differences you should consider.
For instance, if most of your projects take place on even ground, concrete, or asphalt surfaces, a skid steer will do the job easily, and its initial purchase price is lower than a compact track loader.
However, if you're mainly dealing with rough terrain (mud, sand) or harsh weather conditions (rain, snow), you might be better off with a CTL despite the higher initial investment.
In addition to the terrain and initial price, there are other things to consider like maintenance costs (tires vs. tracks) and potential downtime costs (e.g., hard ground surfaces becoming muddy, thus preventing a skid steer's operation).
So, when in doubt, you can rent one and see how it behaves on one or several job sites under different conditions.
As rental equipment is usually regularly maintained, you can also check its service records (that should be readily provided by your rental company in any case) to get an idea of maintenance requirements.
Overall, renting equipment can act as a trial period before you decide to buy it. It gives you and your crew an opportunity to try it out and determine which works best for your specific needs.
And you can always rent the ones you decided not to purchase when required.
Use Equipment Tracking Software
If you're running a construction business, it's very likely you own some and rent other equipment when necessary.
If that's the case, using equipment tracking software is an excellent way to avoid mix-ups and improve your rented and owned equipment management.
There are lots of reasons why most contractors work on projects by combining their own and rented equipment.
Whether you'll own or rent a piece of equipment often comes down to its frequency of use.
For example, we already mentioned that excavators are often needed just once during a project, so it makes sense to rent one.
However, if a machine is frequently used on your usual projects, you'll likely opt to buy it. A general rule of thumb is to buy equipment if you plan to use it 60-70% of the time.
Either way, you end up having both rented and owned equipment on your construction site(s).
And that's where equipment tracking software helps you avoid mix-ups and optimize the utilization of all equipment. It also allows you to better plan what needs to be rented and when.
Of course, equipment tracking solutions come in many shapes and forms.
For instance, GPS trackers give you the real-time location of your equipment but might be too expensive for your budget.
Luckily, there are more cost-effective ways to track equipment, like our tracking software, GoCodes.
Our solution combines the power of QR tags, smartphones, and cloud-based software.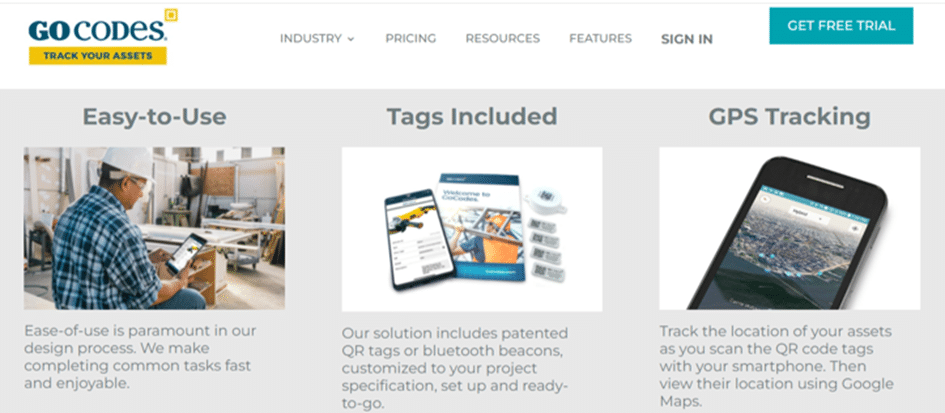 As you can see, it's easy to use, comes with tags included, and allows for GPS tracking when tags are scanned with a smartphone.
It's the most affordable solution for small-to-medium-sized businesses.
Using this or other equipment tracking software, you and your employees will be able to easily distinguish between owned and rented equipment, thus giving you valuable data on their location and utilization, along with the condition and maintenance requirements for your owned equipment.
Thus, using equipment management software helps you determine what to rent and when and optimizes the use of all equipment, thus improving your equipment management, reducing costs, and improving your bottom line.
Conclusion
Whether it's reading online reviews when selecting a rental company, understanding the terms and conditions of your rental agreement in advance, training your employees in the proper use of rented equipment, trying equipment before buying it, or using equipment tracking software, we hope these tips will help you benefit from many advantages of renting construction equipment.