On the one hand, the construction industry has to deal with numerous challenges, like skilled labor shortages, low productivity, and safety concerns, to name just a few.
On the other, the market is brimming with construction tech solutions that can successfully address many of these and other issues.
However, that can be a double-edged sword.
Namely, when construction company owners or managers try to choose the right set of software solutions, apps, and digital tools for their construction business—i.e., a tech stack—they can be overwhelmed by so many available options.
That's why we have prepared a guide on what to prioritize when choosing.
So, let's see what steps you should take to build a great tech stack for your construction business.
Identify Your Needs
The first step in building an optimal tech stack that will best serve your business and solve problems instead of creating them is to identify the inefficiencies, gaps, and redundancies in your workflows.
This will allow you to determine which solutions your tech stack should include to efficiently address your needs.
As your business is most likely already using one or more software tools, the process of identifying inefficient workflows, such as manual or time-consuming tasks, should also include an audit of your current digital solutions.
Before starting the process, you can consider the following benefits of adopting specialized or end-to-end construction management solutions for your business.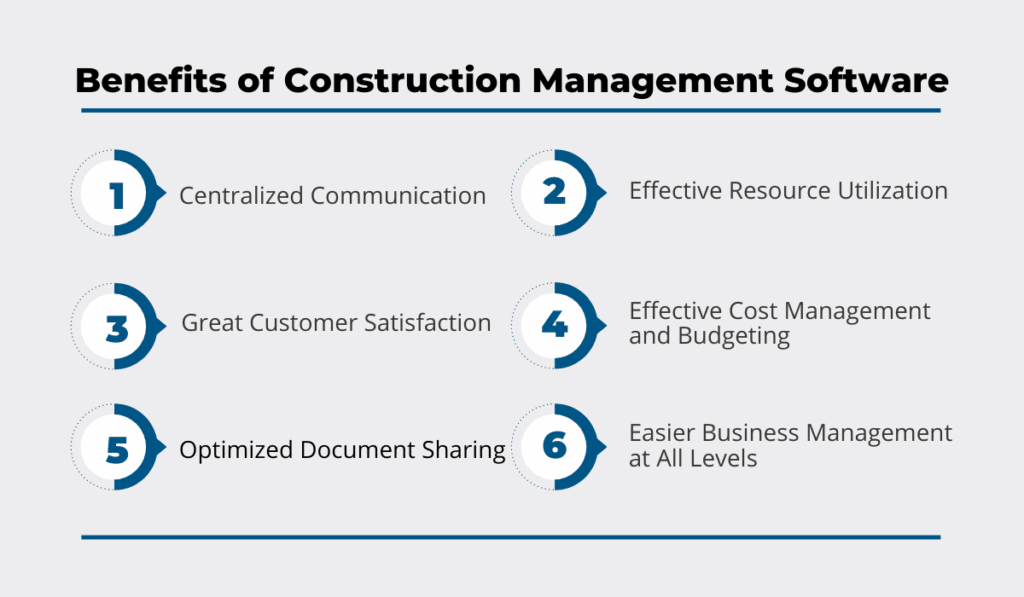 As you can see, the right software tools can integrate, automate, and simplify key project management processes like budgeting and scheduling while facilitating business management at all levels.
You simply have to identify the areas where your processes could be streamlined and improved.
As each construction business is specific, their tech stack should contain software solutions, apps, and digital tools that best fit their needs and efficiently solve the identified issues.
Naturally, you want to avoid purchasing digital tools that would only complicate matters or end up going unused.
Thus, you should first work with your construction team on identifying areas that need improving.
For instance, if your employees spend a lot of time on repetitive or menial tasks that are currently necessary but drain your resources and reduce overall efficiency, it's advisable to find ways to automate those tasks.
Concurrently, you should review whether the currently used software tools are leaving gaps (like manual data entry caused by incompatible apps) or have redundancies (like when two tools are doing the same thing, thus potentially causing duplicate work and costs).
When the needs assessment and technology audit is done, you'll have a much better idea of what tech solutions will best serve your business needs, enabling you to focus only on those most beneficial for your business.
Research the Available Tech Options
Once you know what processes, tasks, and workflows should be streamlined using digital tools in your tech stack, you should do your homework and research the available tech options.
As said, with so many available solutions (and new ones in the pipeline), finding the best technology solutions for your construction business can be overwhelming.
In other words, it's easy to get lost in the sea of features.
However, since building a tech stack is an investment (which requires time and effort even if you're trying out free or free-trial software tools), you should make sure that your employees will find it both useful and easy to use.
Here's a list of construction project management software features you should focus your research on when building a tech stack:
Keep in mind that some software solutions offer all or many of these features in one package and, as such, can serve as the core platform for your construction tech stack.
On the other hand, some features, like cost estimating or equipment management, may be better served by dedicated apps integrated with other stack components, all depending on your identified business needs and issues you want to solve.
That's why it's essential to do research, look into different options, read the reviews, and ask your peers about their preferences.
Finally, to choose the best solutions for your tech stack, you should, on top of their usefulness and ease of use, look for other key features like compatibility, security, customization, and scalability, which are covered below.
Check the Compatibility of New Technologies
Since you're most likely not starting from scratch, it's essential to check the compatibility of new tech solutions with the ones you're already using.
In other words, you should confirm their interoperability and integration options.
Investing in tech solutions that don't work well together defeats their purpose: instead of increasing efficiency, they can hinder it and become a source of frustration.
As it's very probable your business is already using one or more construction management software tools (and you intend to keep them in your arsenal), ensuring that those technologies are compatible with new ones is crucial.
In fact, some companies specialize in helping construction businesses seamlessly integrate multiple applications to streamline their operations, like Digital Construction Works (DCW).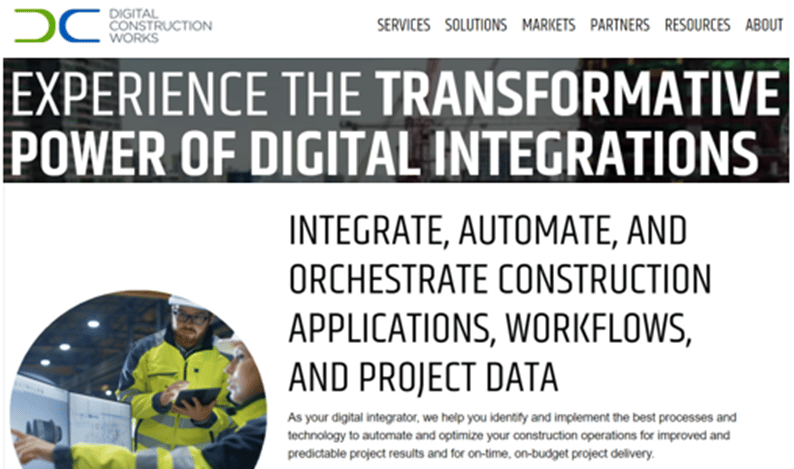 For example, Mortenson Construction wanted to streamline the construction supply chain for building the largest soccer stadium in the U.S., Geodis Park.
DCW helped automate the project team's material management process by creating custom integrations between software for 3D model exchange (Tekla), 4D building simulations and scheduling (Bentley Synchro), and materials tracking (Hexagon Jovix).
This example shows that to efficiently manage specific project processes, ensuring a seamless data flow between different software applications is vital.
In other words, it is crucial to ensure that different solutions that make it either provide for integration with other desired software or have an open application programming interface (API), which allows them to interact with other pieces of software.

Checking the compatibility of existing and new technologies (including those you may add in the future) can help you eliminate manual data entry and reduce errors and data loss, which ultimately leads to better decision-making, enhanced collaboration, and improved efficiency.
Verify the Security of the Desired Technology
As digital construction technologies are now collecting a lot of sensitive information and various kinds of confidential data, it's important to make sure that the tech solutions you choose to invest in are secure.
Thus, it's necessary to verify the security of the desired technology against cyberattacks and other digital threats.
Considering that most of such tech solutions are nowadays cloud-based, this often means checking what security protocols the tech provider has in place.
Despite being among the least digitized industries, according to McKinsey, the construction industry is already collecting, storing, and sharing vast amounts of highly-sensitive data like documents, blueprints, building models, and personal data.
This makes it more vulnerable to different security threats like data breaches which, according to the 2021 Data Breach Study by Kroll, surged by 800% between 2019 and 2020.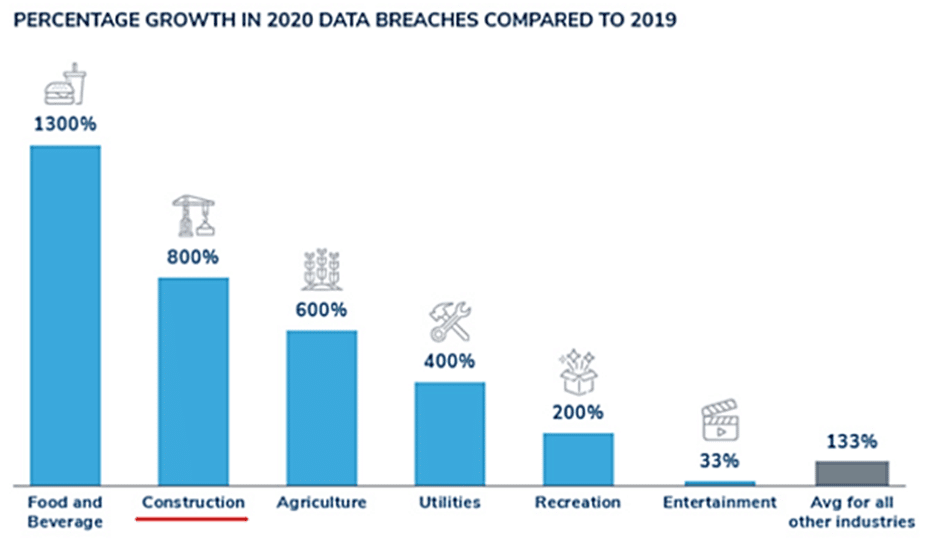 Concurrently, as cloud computing emerged as a significantly more convenient and secure option, many construction businesses migrated to the cloud, thus outsourcing their cyber-security to third-party providers.
That's why, when selecting apps for your tech stack, you should make sure to do an online background check of the provider, examine what security protocols they're using, and search the web forums and social media for posts related to security-related issues.
Although cloud-based apps do provide security benefits, their providers are still (same as on-premises software) exposed to a number of cybersecurity threats.
We've listed some of them below, courtesy of Cloud Academy:

Thus, the provider of any such solution, regardless of whether you use it on-premises or in the cloud-based, needs to be reliable and reputable, so you can feel your data is safe with them.
In conclusion, verifying what security measures the tech provider is implementing and ensuring they meet your requirements can result in more robust data security and minimize current and future cyberthreats to your construction business.
Look for Customizable Solutions
As no two construction businesses or projects are exactly alike, you should focus on investing in technologies that can be customized to suit your existing and future workflows as well as specific project requirements and user preferences.
In that way, the solutions in your tech stack will be able to provide a wider range of functionalities that can be tweaked and adjusted to, for instance, a specific project type or project manager's personal preferences.
So, when building a tech stack, you should look into customization options offered by different solutions you're considering.
For instance, let's say you were looking for a simple and affordable tech solution to track your tools and equipment as they change hands and move between jobsites, and you opted for our solution, GoCodes.

In addition to taking control of your assets by knowing where they are at all times, this cloud-based software, with its patented QR code tags, can be fully customized to meet your business needs.
For example, GoCodes allows you to change the names of data fields, add custom fields or edit the asset view screen, thus enabling you to adjust it to meet your exact requirements and increase efficiency.
Customization options are particularly important when it comes to the construction management software or platform that will manage multiple functions and serve as the foundation of your tech stack.
Overall, ensuring that the solutions in your tech stack can be adjusted to accommodate your present and future workflows, specific project requirements, and user preferences will enhance their usefulness and ease of use, thus increasing efficiency.
Look for Scalability
Finally, whether a construction business is setting up an entirely new tech stack or addressing gaps in an already existing one, they should look for scalable technologies from the get-go.
Why? Because a successful construction business is bound to grow, the tech stack solutions they opt for should be able to support that growth and not hamper it.
Today, one of the best ways to ensure the scalability of your tech stack, along with other benefits, is offered by Software-as-a-Service (SaaS) solutions.
Under this model, a SaaS provider owns, maintains, and manages all of the hardware and software while you can just pay the fee, create an account, and start using the app.
Generally, this makes scaling the number of users or adding features and functionalities as your business grows significantly simpler and more cost-efficient than traditional IT with on-premises infrastructure and system software.
This chart, courtesy of IBM, shows the differences between the provider's and the client's responsibilities for managing different cloud services (like applications and data) under four models—traditional IT, as well as infrastructure, platform, and software as a service.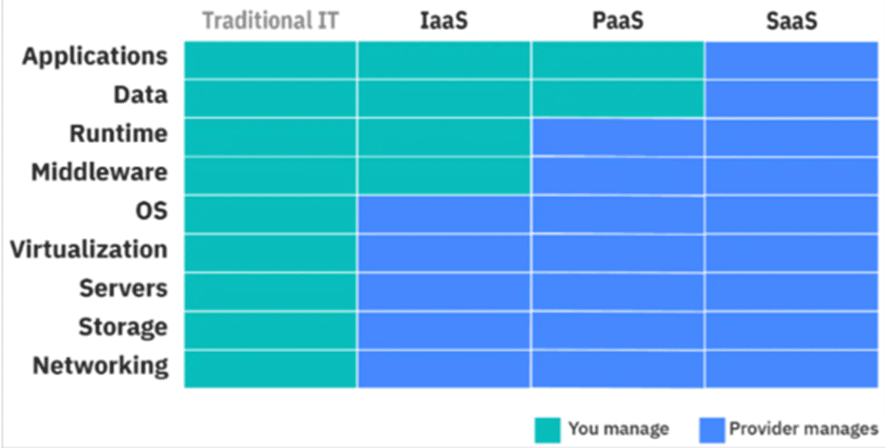 As you can see, under the SaaS model, the provider manages everything; on top of that, this model often allows you to test out the software for free during a trial period or pay a low monthly fee, thus requiring no significant upfront investment like traditional IT does.
To sum up, when building a tech stack, you should check the provider's scalability options and different tiers and fees to determine whether they'll be able to follow the growth of your construction business.
Conclusion
So, we've covered what you need to build a great tech stack, from identifying your needs to researching the available tech options, including their compatibility, security, customization, and scalability.
With so many options available, these tips should help you narrow down your search and ultimately select the best solutions for your tech stack that will meet the present and future needs of your construction business and support its growth.