The construction industry has always strived to build better, stronger, and taller buildings. Construction technology has been a great asset in that endeavor. What we now consider staples at construction sites were revolutionary 50 or 100 years ago.
For example, the invention of the mini excavator helped Japan's housing and urbanization boom in the 1960s when the Yanmar Construction Company created the first wheeled and diesel-powered machine.
It replaced laborers using pickaxes and could fit in most areas, even those with restricted access.
The same principle is used with construction technology nowadays.
New technological advances like mobile apps, drones, and virtual reality can help the construction industry improve productivity, increase worksite safety and create more environmentally-friendly buildings. 
But that's not all construction companies successfully use construction technology for. So, below are listed seven positive impacts construction technology has on construction businesses worldwide.
Let's start!
Mitigates Project Uncertainties
When you can see how the smallest changes affect the overall project outcomes, you'll improve your project management efforts, and you'll be able to fix problems faster. 
Technology enables construction teams to make hypothetical changes to the project and see their impact in real-time to make cost-effective decisions.
You can detect any potential errors that might affect the project. In turn, this means you can plan construction activities better and make corrections to existing processes.
A great example of effective use of BIM is 22 Bishopsgate in the City of London, the tallest building in the financial district of the UK's capital.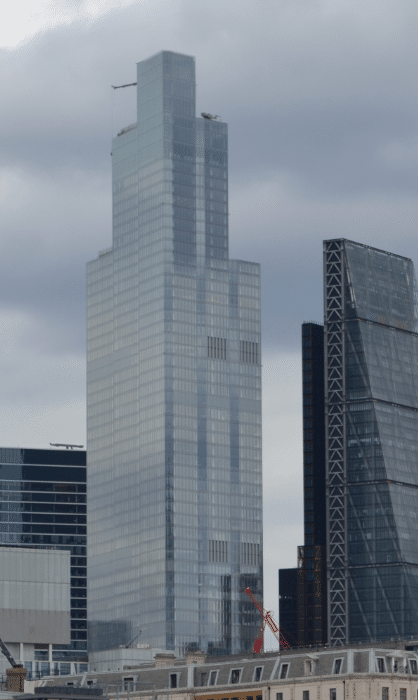 The project was extremely complex, standing at 278 m with 62 floors, a triple basement, and limited site access. Thus the construction manager focused on investigating logistics, construction methodology, and safety using BIM. 
Multiplex, the construction company in charge of the project, used advanced 4D modeling and virtual reality (VR) applications to plan construction activities to ensure efficiency and safety.
The BIM model was connected to Synchro project planning software so Multiplex's project manager and BIM coordinator could check for problems, go backward and forward in time, and make adjustments accordingly.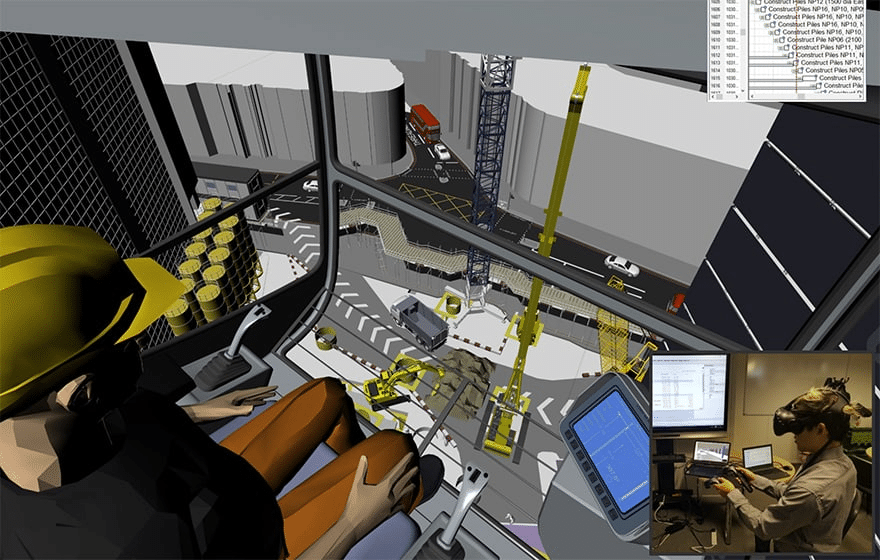 To quote one of the professionals working on the project:
"VR makes things very immediate and obvious, you put the headset on, and suddenly you are there, standing on the slab looking around the site and able to make informed decisions."
This kind of planning allowed them to get into details in a way that hadn't been possible in their other projects, while the risks they were able to identify could have potentially cost them millions.
Spending just five minutes in the 4D VR environment helped them obtain more information than they could with a 2D or 3D project design.
What you can learn from this is that construction technology enables you to uncover potential problems before a shovel hits the ground.
And the best thing about this is better quality control of the project and the ability to alleviate most project uncertainties.
Contributes to Better Building Quality
Using high-tech tools and technology ensures greater precision.
This means more accurate measurements for foundations, corners, or perimeters but also more detailed mapping of existing structures. All of this greatly contributes to creating and delivering high-quality buildings.
But, building new construction is just one area where construction technology can be helpful.
Another thing to consider is how to adapt older buildings to become more energy-efficient and structurally stable.
When you consider the fact that 80% of the homes people will live in by 2050 have already been built, the construction industry needs to focus on retrofitting older buildings to create more modern and healthier living environments for people.
These include improved lighting and HVAC systems, fire safety, and energy standards. Additionally, this also means adapting and renovating old structures to meet net-zero targets and comply with government environmental regulations.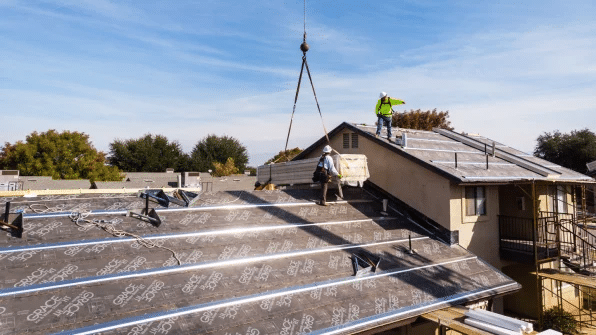 Construction companies can use digital twins technologies to collect data from a building to create a holistic approach in analyzing a building's inefficiencies. 
The technology will look at energy flows and environmental conditions, track materials, and detect maintenance requirements.
In other words, digital twins are a comprehensive resource to improve the retrofitting process and achieve goals more accurately.
In the city of Utrecht, retrofitted houses and apartments had energy savings of 78%. Their success has also spread to the UK, France, Germany, and the US.
Or, to put it simply, construction technology can produce smarter and more durable buildings and successfully adapt existing structures so that they meet environmental goals.
Enables More Efficient Collaboration
Just a few years ago, construction teams could only rely on emails to make project changes, answer questions, and offer suggestions.
Nowadays, with the rise of cloud-based software and mobile apps, communication and collaboration are significantly better. 
Collecting and storing data in one source that everyone can access enables faster and more efficient collaboration. Different team members can make changes, comment, or respond in real-time.
But the best part is that everyone knows how the project is progressing, so important decisions are made with the input from every stakeholder. Contractors, architects, project managers, and clients can work together to finish projects on time and within budget.
To clarify this point, companies that use BIM and other construction technology can see improvements in the following areas:
Improved design quality
Reduced errors and rework
Increased percentage of successful projects
Improved cost control
There has been an 85% improvement in some cases, brought about simply by implementing construction technology to streamline a company's processes and enable better collaboration.
There is more transparency and insight, which creates a positive working environment.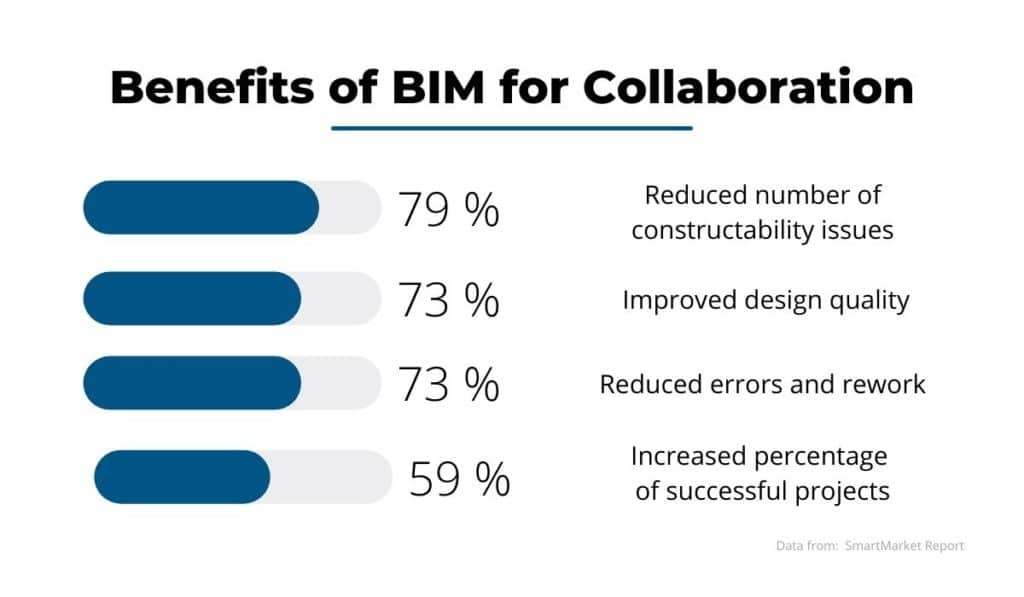 The purpose of construction technology for collaboration is to maximize your team's communication efforts. Projects can easily derail if there are frequent miscommunications and confusion among key stakeholders. 
So, integrated software that enables the real-time exchange of information, automated notifications, and virtual meetings is a great asset for construction companies that want to improve communication within their team.
Enhances Relationships With Clients
Capturing real-time data, sharing information, and efficient communication has never been easier, and achieving this level of collaboration can impress clients. What's more, it can improve your relationship with them.
Most clients don't want to be bombarded with a mountain of data. They simply want to access the most relevant information, understand the project's progress, and give their opinions without hassle.
Dashboards and reports often obscure what's really going on in the worksite. So clients often find themselves having to frequently visit the construction site to get a clear insight into the project's progress and quality.
Even worse, everyone can interpret reports and 2D drawings differently, and miscommunication can easily take root in the collaboration process.
Thankfully, you don't have to worry about that anymore with great cloud-based technology. Giving clients access to 3D sketches and models can speed up the approval process and inform them about the most recent project updates.
But to take that step further, some companies even adopt 360° renderings of the construction site. This is an effective way for your clients to fully understand the state of the construction project whenever they want, from any place in the world.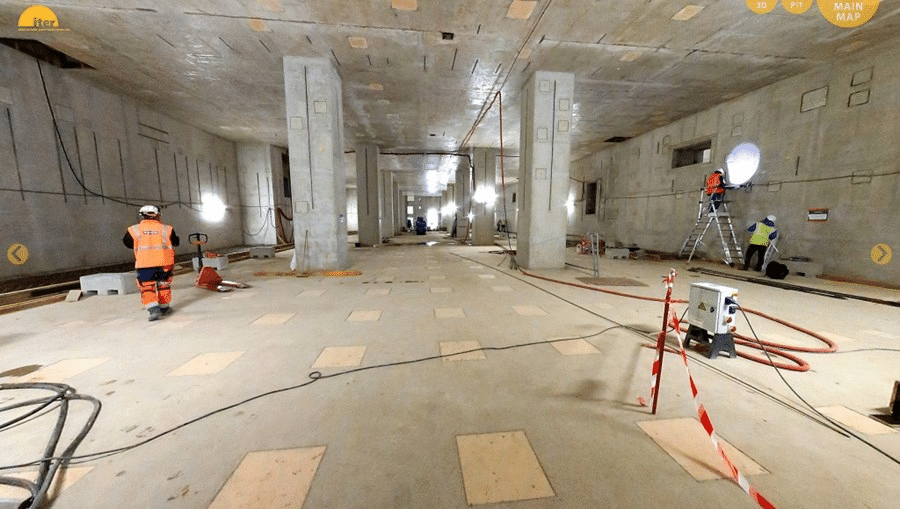 A digital 360° view allows clients to get a better sense of the project's scope and scale, so there's minimal room for miscommunication, and their suggestions can be more meaningful. 
Using virtual walkthroughs can help manage the client's expectations and make them realize the impact of key design decisions.
Basically, you can make more confident choices and finish projects closer to the client's vision without frequent change orders. 
Finally, construction technology can give your clients real-time oversight of the construction project's progress and enhance your relationship with them.
Elevates Safety Training
It's not enough to equip your workers with hard hats, safety goggles, and steel-toe boots and call it a day.
PPE is mandatory, but without proper training, construction workers worldwide are at risk of injuring themselves or others, and in the worst possible cases, dying.
So, in addition to providing the latest protective equipment, the biggest priority for most construction companies should be conducting frequent safety training to ensure worker safety. 
Yet, how do you make sure that the information they get at safety training will stay with them and they'll actively stand by safety procedures?
Ryan Ahn, Texas A&M associate professor of construction science, has identified a key problem that leads to most construction site accidents and death.
According to him, construction workers are informed about safety in detail, but as they begin working, they quickly see that most hazards are not directly impacting them, so they start to ignore them.
Ahn wants to change this type of behavior. So, he started extensive research into how virtual reality (VR) safety training can impact the worker's perception and increase their awareness of worksite hazards.
His team created a virtual environment in which they provide workers with multi-sensory unpleasant scenarios and simulate accidents. In one of them, a worker is walking on the construction site around heavy machinery.
If they stop paying attention to safety signals, they are run over with a steamroller in the VR simulator. 
This vivid simulation is harmless, but the sensation accompanied with vibrations, sound, and electrical impulses should create a lasting memory in the worker's brain.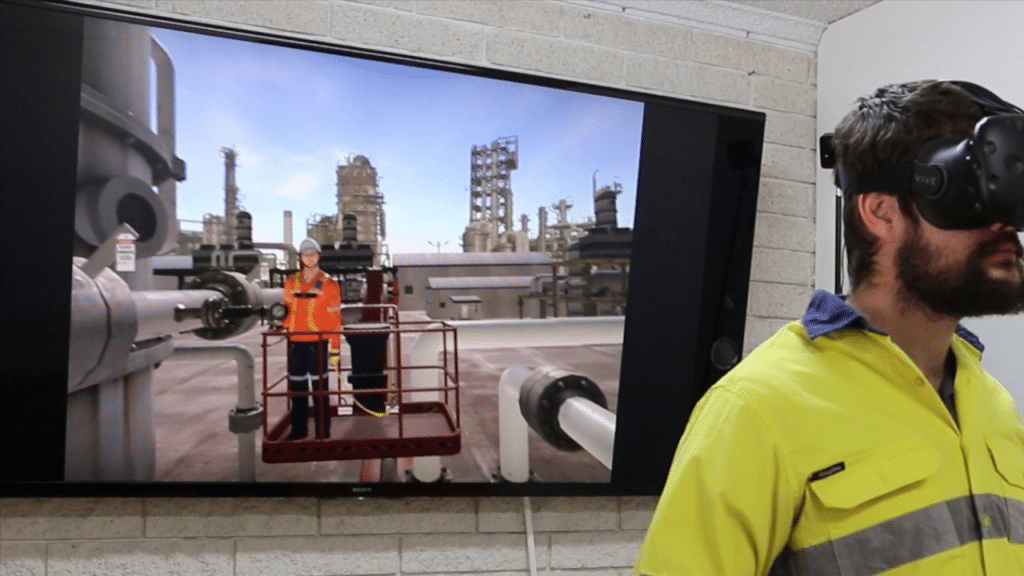 Ahn believes that this type of safety training is more effective than standard classroom-type lectures because it stimulates the worker's nerves and impacts behavioral changes. 
It seems that his ideas are taking root in many construction companies. One of them is the Hong Kong-based Gammon Construction which has been using 2D and 3D game environments to simulate different scenarios to train workers.
They claim this method makes workers more engaged and the result is a lower rate of incidents on construction sites.
To sum up, VR simulators are a great way to expose workers to different worksite dangers so they can better understand the importance of complying with safety procedures.
That way, they'll be more vigilant and decrease the number of injuries on the construction site. 
Helps Overcome Labor Shortage Obstacles
"We're losing more people than we're bringing into the industry," warns Matthew Schimenti, owner of the Schimenti Construction Company. His words briefly cover the burning problem in the construction industry, which is the increased labor shortage.
According to the latest report by the Commercial Construction Index, 62% of contractors are having difficulties finding skilled workers, which affects their ability to meet project requirements or even take on new jobs.
So, what is their solution?
Michael Bellaman, president and CEO of Associated Builders and Contractors, believes that this need has driven numerous construction companies towards implementing construction technologies.
Many of them use drones, robotics, and self-driving machinery to replace humans and perform tasks more efficiently and accurately. 
This shift makes sense when you consider that a single drone can replace five people for expansive site monitoring and safety inspections.
Furthermore, robots used for tying rebar or bricklaying can do the job faster, without the need to take breaks or sleep. 
One such robot is TyBot, an autonomous machine that can tie rebar with minimal supervision.
It looks at rebar with computer vision and once the quality control supervisor sets the robot into the starting position and determines the direction of work, the machine can work independently. 
The company behind it, Advanced Construction Robotics, claims that TyBot can do 1000 rebar ties per hour and replace six to eight workers. Let's look at it in action.
Labor shortages remain a widespread problem for the industry. Yet, construction technology can help you finish projects on time and within budget, with fewer workers on the construction site.
Provides Opportunities to Innovate
One might think that we've exhausted all the possibilities to innovate with construction technology. Yet the potential to do better, faster, and more sustainable is still there.
The existing technology is continuously being updated and enhanced to bring construction companies more efficient resources, optimize workflows, and fix pressing concerns.
For example, Advanced Construction Robotics, the previously mentioned company behind TyBot, has been working on a new robot called IronBot.
This machine can carry and place rebar to save workers from heavy lifting. In theory, it can lift and self-place up to 5 000 lbs of rebar. 
According to the company, if you use both robots, you can increase your productivity by 250%. Or in other words, this will allow construction companies to do twice the amount of work in half the time.
In an industry that consistently lags behind in terms of productivity, using this technology can be a game-changer.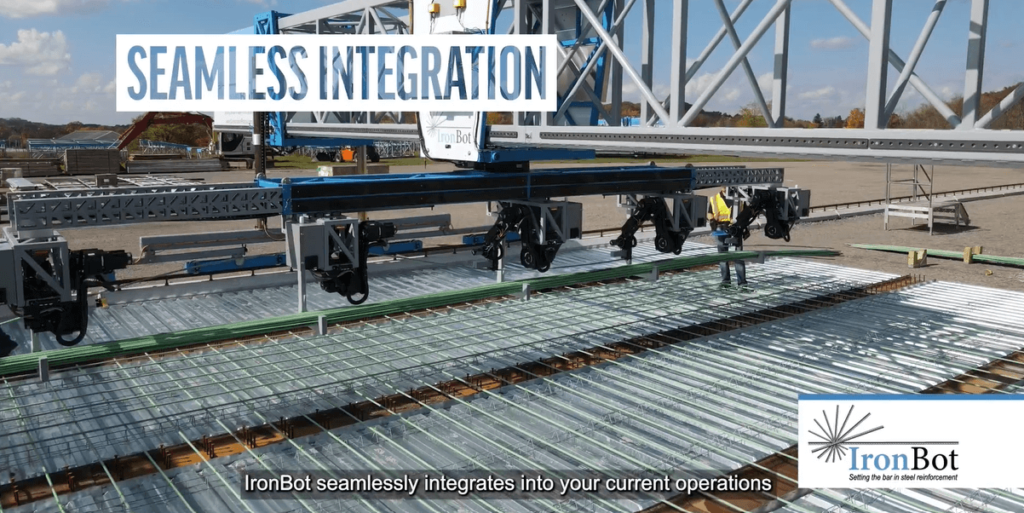 All around the world, manufacturers and researchers are finding new ways to build on existing technologies to help construction companies reach new heights. Both figuratively and literally. 
Conclusion
Many construction companies might be hesitant to invest in construction technology due to high costs and a lack of confidence in their own ability to adapt.
But when you see the positive impact it can have on your internal processes and daily operations, the investment proves to be a sensible decision.
The most important thing is to do your research and adopt technologies that make sense for your company. Think about processes you can improve and which technologies will give you the most ROI.
Remember that companies that stay up to date with the latest technological advancements can create more job opportunities and give more value to their clients.