Although technology is quickly changing the construction industry, many companies still rely on pen and paper, spreadsheets, manual data collection, and time-consuming processes to manage all or some aspects of their construction projects and business operations.
If your company is among them and is experiencing some issues, those could be signs that it's time for new construction technology.
Here are four signs to watch out for.
Unorganized Job Details
Whether it's an entire construction project or one specific project task, when job details are unorganized to the extent that involves a lot of paperwork, work hours, and manual effort still fraught with errors, that is a sign your methods are ineffective.
Moreover, that usually indicates it's time to implement an end-to-end or specialized construction management software and get all those details organized.
First, let's get our bearings. As per Statista, you can see the percentage of construction companies worldwide using software for different purposes in 2019: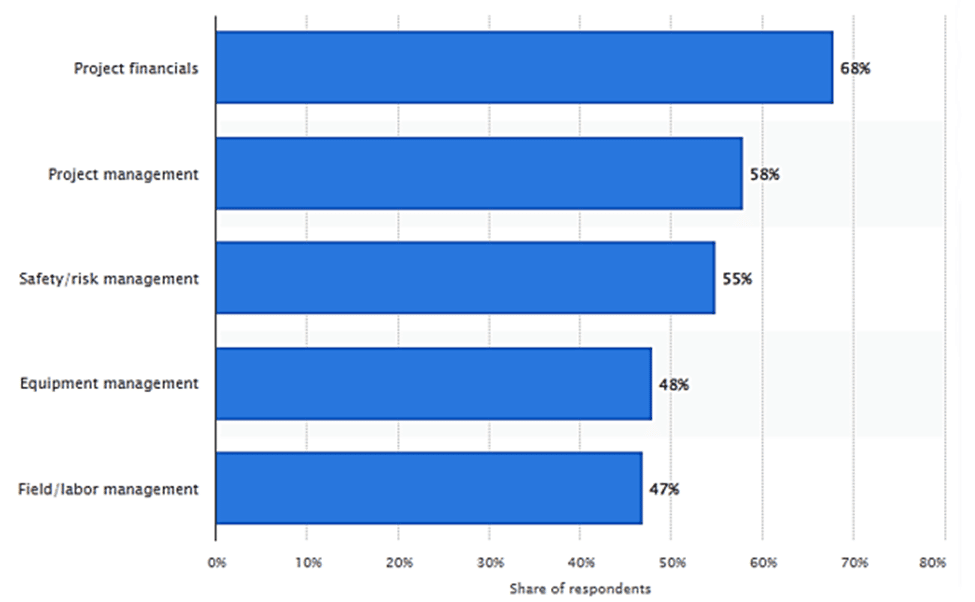 Since this section deals with organizing paperwork, administrative tasks, and countless other job details inherent to construction projects, it's worth noting that 42% of construction firms are still not using software for project management.
In other words, they still rely on traditional pen and paper methods, sometimes supported by Excel spreadsheets.
The effects of such management methods on their projects and profit margins can't be quantified but certainly contribute to historically low productivity and many other challenges the construction industry faces, as reported by McKinsey.
Conversely, when all-in-one construction management software is deployed, many manual tasks are automated, making it easier to collect and analyze data, access, organize, and manage project documentation, design drawings, schedule, etc.
Here's one of many such software solutions.

Furthermore, when this or other similar software is implemented, those data, documents, and drawings can be accessed, viewed, and modified by multiple stakeholders in real-time, usually from any location and device.
Finally, when the right software is correctly applied on the company/project level, it gives you unparalleled insight into the inner mechanics of your projects and operations and the ability to organize them down to the desired level of detail.
Needless to say, the time your employees spend on planning, organizing, budgeting, scheduling, and other administrative tasks associated with construction projects will be significantly reduced.
Their productivity will be further increased by the ability to access all documents and make or see changes in real-time.
However, even such comprehensive solutions can be further enhanced with software that streamlines specific project management aspects.
For example, if you wanted to simplify machinery, equipment, and tools scheduling, track their location and utilization rate, and prevent mix-ups, misplacement, theft, or breakdowns due to poor maintenance, you could opt for an affordable and easy-to-use cloud-based software solution, GoCodes.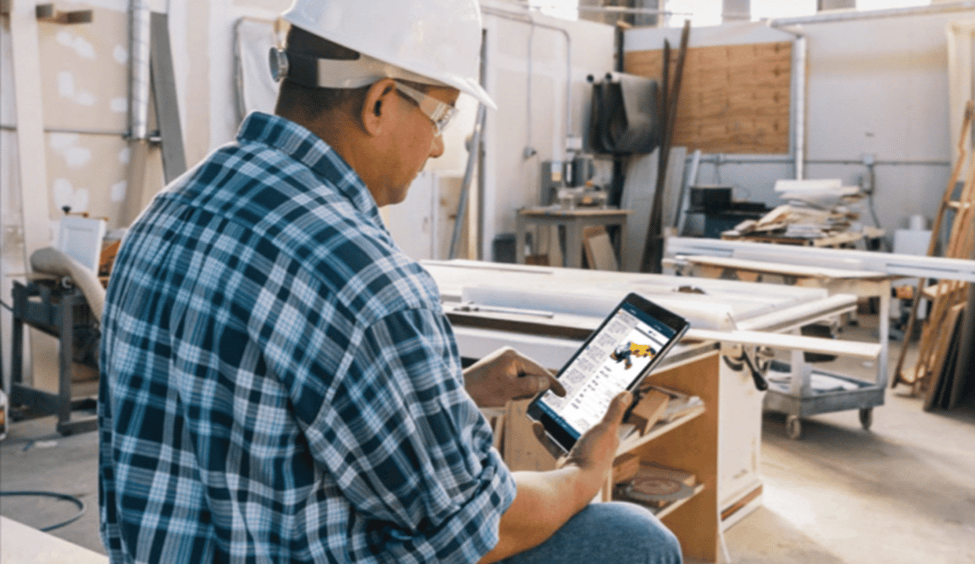 Among other things, GoCodes allows you to organize equipment management details further, ensuring equipment is ready and available when needed or can be found in minutes, thus increasing productivity.
In conclusion, if the job details are still unorganized despite many work hours and effort invested in them, it's time to look for an end-to-end and/or specialized construction management software to get a clearer view of your projects and business operations.
Projects Surpassing Budget
If your projects often go over budget and eat into your profit margin, that might indicate your company needs to invest in construction management software that enables more accurate project cost estimation, planning, budgeting, scheduling, and optimized financial management.
When such software is deployed, it becomes easier to spot issues in your budgeting process and avoid making the same mistakes going forward.
Given the complexity of construction projects and the risks, constraints, and interdependencies associated with them, correctly estimating the project duration and budget can be a difficult task, even with the help of software.
Statistics show that 82% of projects exceed their budget.
In fact, inaccurate project estimates are one of the most common causes of construction cost overruns, as you can see on this list: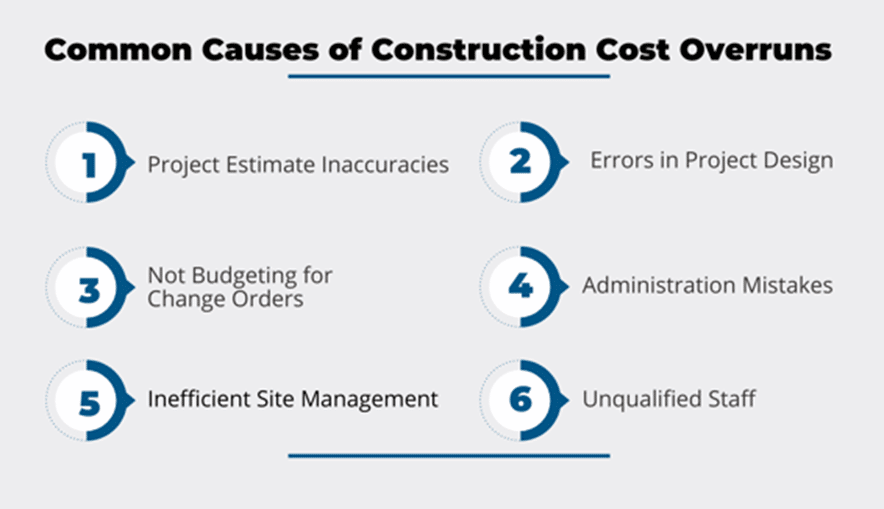 Naturally, when construction management software is applied, processes are automated and streamlined, project management and scheduling become easier, and costs can be tracked, compared, and analyzed, thus helping with cost estimation and financial management.
In other words, construction management software can help eliminate, reduce, or at least manage the above causes of cost overruns more efficiently.
Of course, plenty of other risks, such as unexpected site conditions or extreme weather events, can cause budget overruns, but the software will also enable more effective risk management planning and better estimation of required budget contingencies.
For example, if your goal is to improve project cost estimation, you might select all-in-one or specialized management software with strong cost estimation features like this one.

The above software is part of Procore's end-to-end construction management solution that includes all project phases from pre-construction to closeout.
The entire platform is cloud-based and includes advanced analytics that gives the company a clear overview of its projects and operations, thus enabling easier detection of budget inaccuracies throughout the project lifecycle.
This and other similar software allows you to track, control and analyze costs and the utilization of construction resources (labor, equipment, and materials), among other things, thus making your estimates more accurate, improving your project planning, and optimizing your financial management.
Disorganized Service Management
Another sign that a construction company needs new construction technology is when poor communication and coordination, whether internally or between different project stakeholders, lead to disorganized management of different project tasks.
Cloud-based construction management software streamlines project management, centralizes communication, and facilitates coordination, providing all participants with easy access to project details and updates, allowing them to do their job correctly and ensuring everyone involved is on the same page.
First, good communication is the key cornerstone of project success across many different sectors, and the construction industry is no exception.
Second, communication is primarily a soft skill, but software and other digital tools can enhance it to unprecedented levels.
For example, when you look at our tips on how to improve construction communication, you'll notice that four of them are directly linked to using some type of construction management software.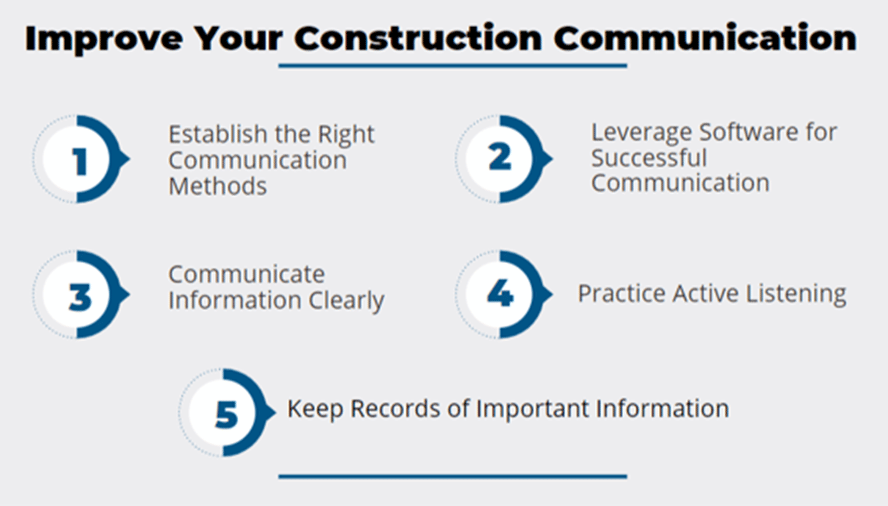 For example, cloud-based software allows you to establish one or more project communication methods (1) where all records of important information are captured automatically (5).
It also opens the lines of communication between all project stakeholders, allowing them easy access to a single source of project information that can be updated in real-time (2), and providing convenient communication channels where participants can comment, give feedback and suggestions, and share information (3) from any location and device.
Provided all participants have access to it, are committed to using it, and have been adequately trained, such software can significantly enhance communication, collaboration, and coordination between all project stakeholders.
For example, the cloud-based application Raken enhances communication by integrating and digitizing all daily reports on your construction projects with no training required.
You can also include reports from your external subcontractors.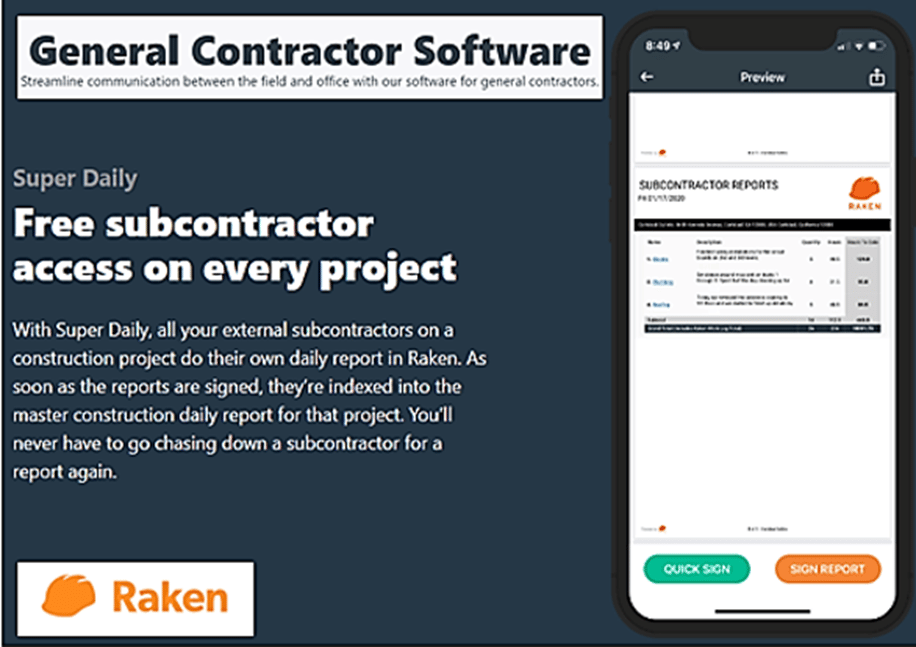 This app can also be integrated with other construction management software.
Combined, they can streamline communication and allow construction managers to make and then implement changes in real-time while also communicating progress to the client from any device.
In conclusion, poor communication, coordination, and collaboration, both internally and between different project stakeholders, lead to disorganized project management and result in delays and budget overruns, all of which can be effectively addressed by cloud-based construction management software.
Manual Processes Decreasing Productivity
When a construction company is experiencing issues with completing manual tasks or is wasting too much time on manual processes, thus decreasing productivity, that's a sign it needs to go digital.
New construction technology can help a company with the automation of time-consuming tasks, allowing construction team members to focus on more productive aspects of the project, thus increasing efficiency and convenience for the staff.
For example, the Maurice Agrillo company from San Jose had an issue with pen and paper reports and manual data input, which were making complex construction projects even more challenging.

Before they applied the daily reporting app Raken we mentioned above, pen and paper documents and reports, as well as manual data entry into spreadsheets, took a lot of time out of their employees' days.
After implementing this solution, their crews could easily send field data, upload photos, and submit reports from the mobile app, thus minimizing the time spent producing, processing, and reviewing different project reports.
In the words of David Ingram, Supervisor and Reports Administrator at Maurice Agrillo:
"I don't have to spend more than ten minutes at my laptop looking at the pictures in Raken to know what's happening on site. It's not the multiple hours I was doing before."
This is an excellent example of how construction management software can simultaneously automate time-consuming manual tasks, streamline communication, and free up workers' time for more productive activities, thus increasing the company's operational efficiency.
Another example where software can automate error-prone and time-intensive manual tasks is equipment management.
And as we said earlier, GoCodes is an affordable and simple cloud-based solution that can do that and more.
Overall, if your company is having issues with too many manual tasks that take too much time, that's a sign to go digital and invest in appropriate construction management software that will automate and streamline those tasks, letting employees focus on more urgent project activities, and thus increasing overall productivity.
Conclusion
Having taken a tour of potential signs your company needs new construction technology, it's evident that the primary focus should be on adopting and using construction management software and/or different specialized add-ons.
It's all depending on which of the above issues you would like to address by automating and streamlining construction management processes.
We hope this article inspired further research into the exciting world of new construction technology.
.