Even though 35% of the world's population owns a smartphone, including 77% of Americans, people are still wary of the digital culture, particularly in construction. 
However, if you decide to turn to digital solutions for communication and record-keeping, you will position yourself to keep up with competitors and operate more efficiently, as well as increase security, and establish a technological baseline for future employees.
To yield the best results, rather than simply forcing this shift onto your team, consider these suggestions for increasing employee support and ensuring a smooth transition.
Identifying Your Team's Pain Points
The best start to easing into such a comprehensive change is to carefully consider your employees and infrastructure.
How does communication take place? In what ways is inventory taken and updated? What system is in place for tracking your vehicles' preventive maintenance?
Forming a clear picture of where your company is, and where you'd like it to go, is essential.
A major aspect of this is identifying your team's pain points regarding the changeover. The 2019 Epicor Global Grown Index indicated that top-performing businesses are those that welcome and integrate new technology.
However, this is sometimes a daunting task.
The construction industry, as this chart shows, lags far behind other sectors when it comes to relying on digital assets: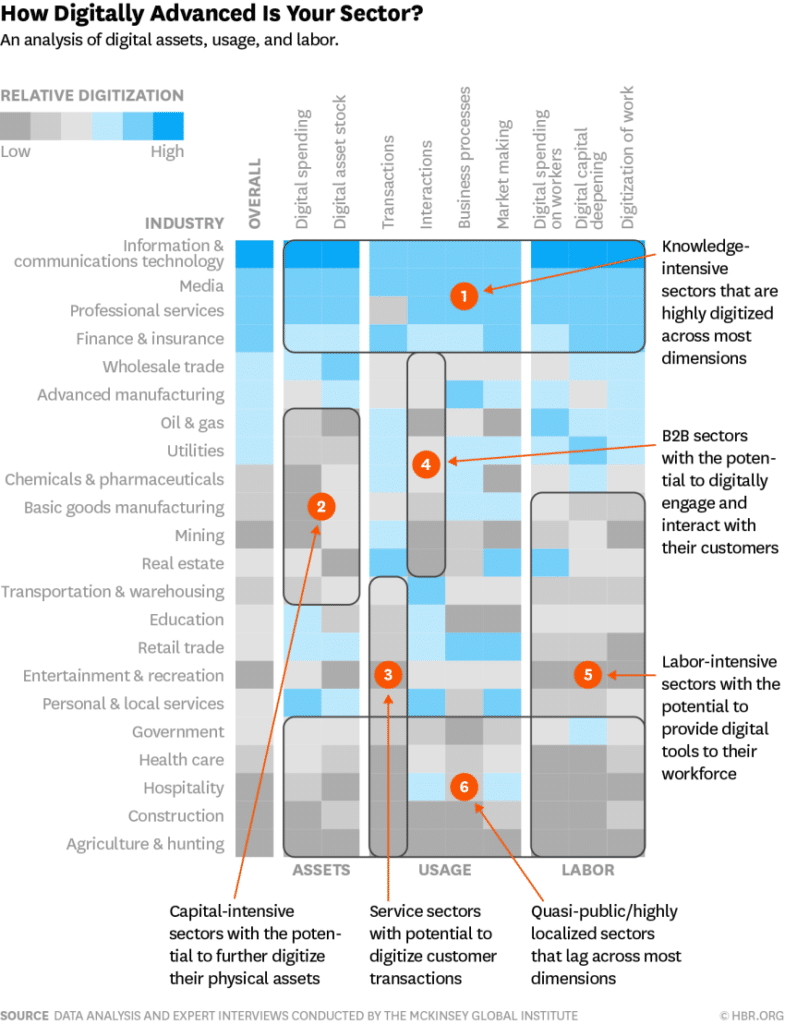 A typical pain point for many construction businesses undergoing a technology upgrade, then, is being intimidated by the size of the task ahead, as well as potential employee resistance. 
At the same time, every business is different, and the best way to overcome your pain points is to pinpoint and isolate them. Do so by asking targeted questions and approaching problems analytically.
For example, if members of your management team are wary about implanting new technologies because of the upfront cost, offer information and projections about the eventual efficiency of better technology to assuage those fears.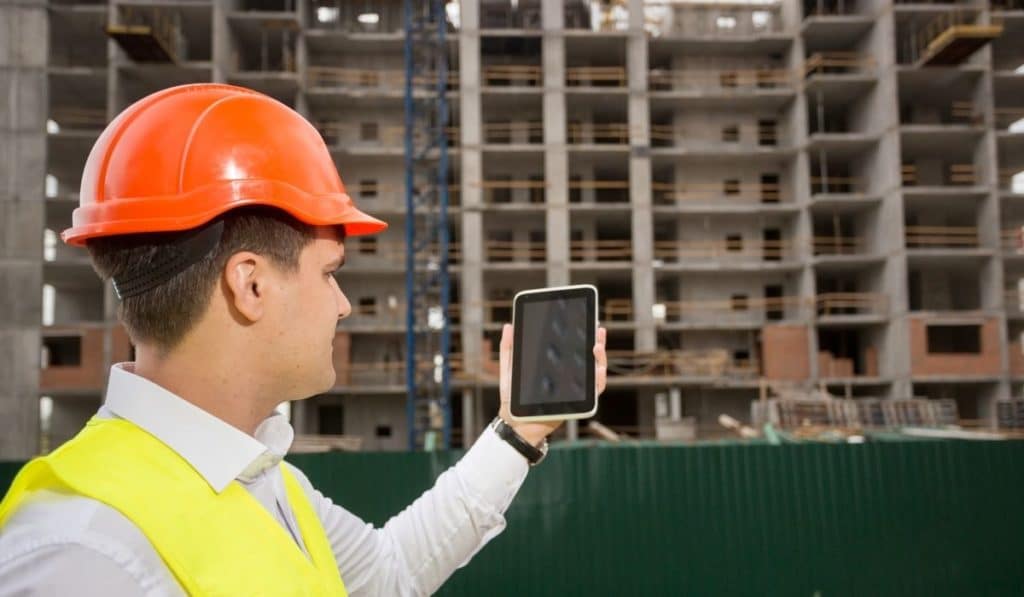 On the technical side of things, another common pain point is the lack of wifi in remote field locations, so consider options for hotspots, downloading, and signal boosters.
Active listening, clear communication, accommodating for differing opinions, and comparing anecdotal evidence with hard data will help you identify obstacles in your digital transformation, sometimes even before they appear.
Getting the Team on Board
Once you have understood potential hurdles to your digital transformation, it's time to gather your team to help you address them. Best practices for this ongoing task include highlighting the many benefits of a digitized business.
Since organizational changes result in success only 1/3 of the time, solidifying support ahead of new developments is critical.
Presenting information to employees and management about how improved technology will assist them in daily tasks, as well as meeting long-term goals, is a vital first step. 
Some members of your team might show resistance to new technological tools because they are unfamiliar with using them.
This can be an issue with many solutions beyond smartphones, particularly next-generation digital construction devices like 3D printing, predictive analysis, virtual reality, and autonomous vehicles.
To combat their distrust, point out how cutting-edge solutions will help your workforce perform more safely and with greater efficiency. 
That way, your integration task will go more smoothly.
Soliciting, listening to, and acknowledging feedback is crucial at this stage.
Not only will it help you find and address pain points you may not have considered otherwise, but your employees might also feel less imposed upon.
Instead, they will regard these changes as an opportunity for improvement rather than an unwanted edict. Since garnering support for new technology can evoke criticism and strong emotions, it's best to prepare.
Here's a graphic depicting some common employee fears, along with advice on how to respond to them: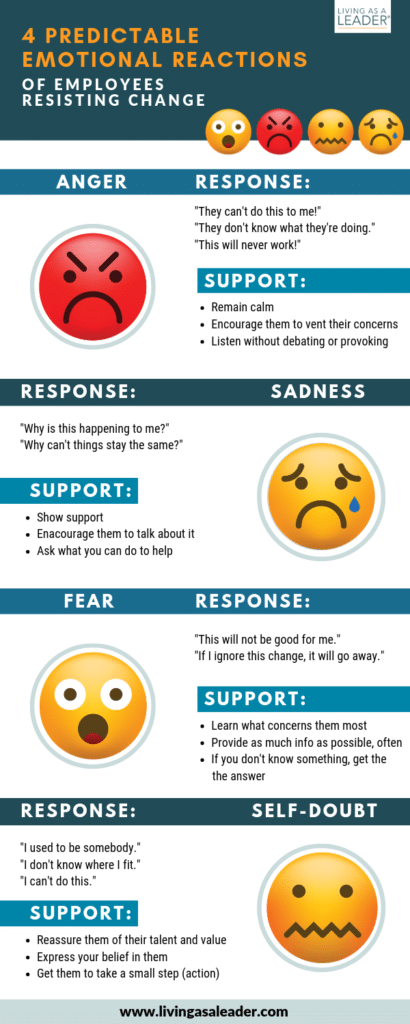 Much of getting your team on board involves useful, actionable training with the new technology. 
Providing thorough instruction on how to use these items, along with a guided integration period, is well worth the time investment.
Allowing ample time for assimilation rather than forcing the change on workers all at once, is usually best.
In short, consider introducing one innovation and new procedure at a time rather than overwhelming your team with an avalanche of changes. 
Implementing Construction-Specific Tools
Construction tech and engineering is a growing field, making this an exciting time for the industry. Creating a safer, more streamlined workspace with real-time communications means faster production and improved data gathering capabilities.
Have a look at just a few of the ways technology is changing and improving all aspects of the trade: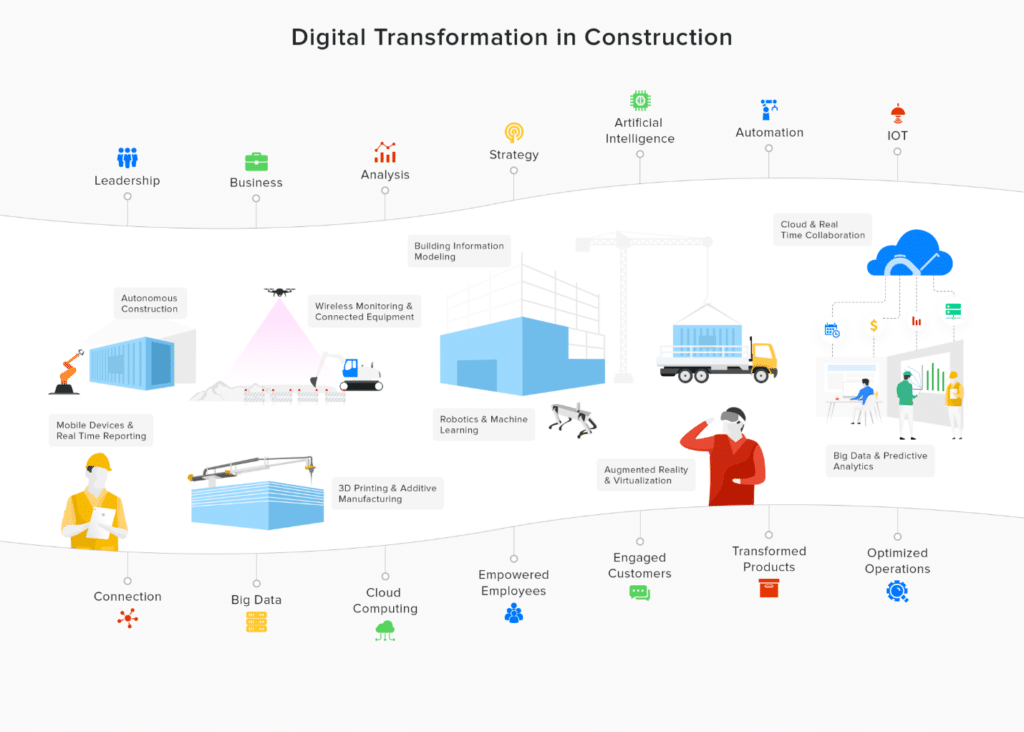 Implementing these construction-specific tools requires effective equipment management. Working with equipment management software, asset tracking, scanners, and lifecycle monitoring helps to keep expensive equipment healthy. 
It also supports the hardware of these new technologies through GPS tracking, security measures, and password protection.
When digital equipment management is integrated into the company's processes along with other technological advancements, a more in-depth analysis of micro and macro movements is possible.
In addition, real-time updates and instant communication help team members react to shifts in plans or redirect the hardware of new assets. These advancements can cut down on face-to-face meetings, site visits, and time-wasting multiple phone calls.
Advancements that may have developed for or are already adopted by other industries are easily linked to create a network for every aspect of running a company. However, the most exciting new tech tools are construction-specific.
For example, Caterpillar has partnered with the Bullitt Group to produce the Cat Phone, which comes in a highly durable case with a thermal camera and touchscreen designed for use with work gloves.
Some companies might feel tempted to port office-friendly or non-construction tools to the worksite because employees are already comfortable with them.
However, if solutions tailored to the industry are available, it makes sense to put them to work for you.
Establishing a Single Source of Information
Implementing a single source for company communication, data, inventory, scheduling, HR work, and so on is the best way to establish clear and constant information exchange.
Not only does this innovation cut down on administrative time for contractors and project managers, it also allows everyone involved in a job the ability to stay informed in real time.
On the other hand, software such as GoCodes provides admin privileges and allows you to grant access permissions as needed.
With everyone on the same digital page—including GPS security fences, manufacturing output data, and autonomous vehicle progress—teams and stakeholders have a full view of not only a single project, but how work is unfolding across the company.
This enables them to make rapid, yet informed, decisions when flexibility is necessary.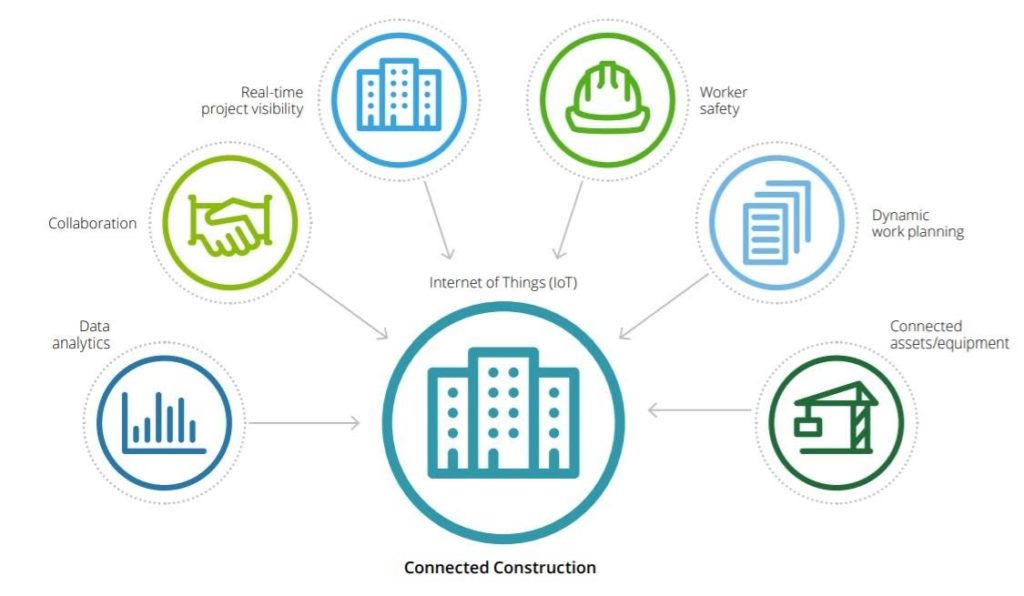 This graph illustrates the many ways in which a single platform can allow many different benefits across an entire company. It illustrates the transparency that results from a single informational ecosystem. 
Plans, models, specifications, crew strength, weather conditions, safety codes, vehicle downtime, and more are apparent to all.
Here are just a few benefits of committing to a "single source of truth" communication and workflow model:
Saves time
Eases redundancies
Improves decision-making
Enables quick pivoting
Reduces error
Maintains accountability
Provides clear goals
Since 52% of all rework is a result of miscommunication and incorrect data, staying on time and under budget is a challenge if all aspects of a project are not harmonized.
In other words, unless supporting documentation, aligned language, and reliable information are available to both office locations as well as employees on work sites, it can be difficult to remain focused on checkpoints and goals.
Therefore, organizing data flow into a workable system even for field employees who sometimes lack connectivity helps avoid project delays and misunderstandings.
Updating Existing Practices As You Go
Collaboration and digital transformation take time. A holistic approach to digital processes is far more effective than viewing technological upgrades in isolation.
This chart depicts the role of processes in digital adoption: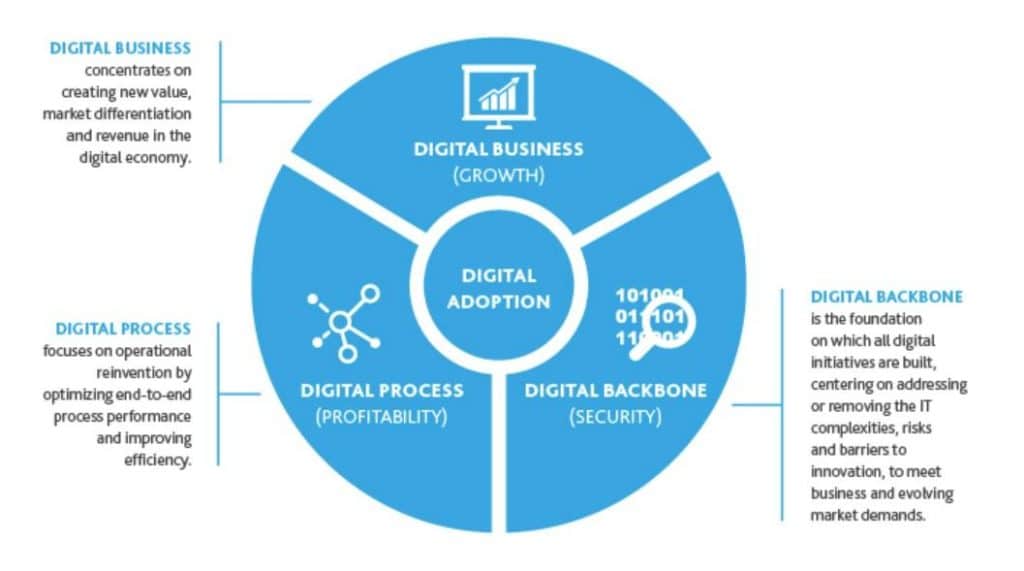 None of this is achievable overnight, and you might see progress and change in one area while overcoming roadblocks in another. 
Maintaining a steady approach to capability building and empowering workers, however, will eventually bear fruit.
Using prototypes, beta testing, and early adoption, volunteers can provide valuable feedback on what works and what does not.
Companies that underwent a successful digital transformation tended to follow several best practices during the process of daily updating.
These strategies fostered a forward-looking philosophy that encouraged transition while providing consistent messaging and assistance to those who needed it.
Effective digital implementation also takes place when decision makers make room in standard operating procedures for the new technology. 
For example, when a project manager meets virtually with a client rather than on-site, he or she does not have to obtain a physical signature for budget changes, but use digital acknowledgement software instead.
Technological changes alter the way a workplace functions, and taking this into account shows employees that you are eager to help them do their jobs.
Conclusion
Those leading a digital transformation in a construction workspace might meet pushback from stakeholders as well as the workforce.
However, by clearly demonstrating the benefits of undertaking such a transition, a more efficient and data-yielding culture can result.
Gathering support, using construction-dedicated tools, and committing to strong communication are key to a well-ordered adaptation.