Keeping track of a company's equipment has always been a part of business operations in some form or another.
It's a common practice that has a role in making sure everyone's day-to-day runs as smoothly as possible and even in propelling businesses forward.
But how exactly does equipment tracking do that?
If you'd like to find out, keep on reading this article because we cover six ways effective equipment tracking can help improve your business.
Total Equipment Visibility
It's absolutely vital for any business to have accurate and precise knowledge of its assets' locations and quantities.
Seems a bit obvious? Maybe. But not to everyone.
Many businesses don't properly manage their tools and equipment.
Some, however, recognize the importance of equipment tracking, like one of our clients in the review below.
After all, its benefits permeate both the operational and financial business fronts.
Equipment tracking provides total equipment visibility, meaning everyone knows how many assets there are and where they are at any given moment.
As a result, unproductive walking around a job site or a warehouse in search of necessary equipment is significantly reduced.
This, in turn, improves your team's coordination, efficiency and, of course, makes them more likely to finish projects on time.
If you've ever found yourself in a situation where your asset records don't quite match the actual equipment quantities at your job sites, that's a sign that it's time to dedicate more time to equipment tracking.
In other words, if you own and use either more or less equipment than is indicated by your records, you invite trouble. And the trouble is called ghost and zombie assets.
Essentially, if we look at their definitions, these two are the opposite of each other.
Ghost assets are assets that are not actually available for use, due to:
However, they show up in your account books, while zombie assets don't show up, but are usable and present at your premises.
Despite being the opposite of one another, their effect is similar.
Let's take a look at their drawbacks:
inaccurate fixed asset reporting
increased theft potential
increased tax liability
decreased productivity
decreased profitability
project delays
Certainly, these are the things you'd want to avoid. And this brings us back to what we said at the beginning.
Equipment tracking is crucial because it gives you total asset visibility, which eliminates issues such as zombie or ghost assets.
But only if you're tracking your equipment effectively.
What does that mean?
Well, if you're tracking your equipment manually, i.e., using pen and paper or spreadsheets, it's in your best interest to replace this obsolete practice with a more modern solution – equipment tracking software.
The software automates the whole process and, in turn, reduces the human error that usually comes with manual asset tracking methods.
This way, you have accurate data anytime and anyplace.
Better Equipment Management
After you've determined the exact locations and quantities of your assets, it's time to make the most out of them.
A company's equipment costs can quickly add up to a significant amount. You have owning costs + operating costs to take into account.
Considering that most of construction machinery isn't cheap to buy and maintain, you'd want to manage your equipment as efficiently as possible and ensure it's fully utilized.
Equipment tracking will provide you with all the relevant equipment data you need and help you make better-informed decisions when it comes to all the stages of the equipment life cycle, including allocation, acquisition, and disposal.
With the data you get from equipment tracking, you don't only get insight into how many assets you have.
You also learn how many you actually require, so there's never a surplus or lack of equipment – you buy exactly what you need.
Moreover, with equipment tracking, you also better manage the equipment you already have.
There's an underutilized crane on a job site? Move it to another one.
And, with equipment tracking software, you can organize all of that remotely, without driving from site to site to find out what's going on.
But to get a real insight into how efficiently your equipment is utilized, there's a wide variety of metrics you can track – not just location.
Let's take a look at some of them.
Equipment utilization metrics
Tool check-in/check-out
GPS location tracking
Machine part action
Ignition running time
Miles
Weight
Monitor these, and you'll find out if there are any pieces of equipment on your job sites that are either under or overutilized. Remember, overutilization is not good for your equipment, either.
So pay close attention to your equipment and how it's used. It'll do wonders for your operational efficiency and equipment's longevity.
In essence, equipment tracking improves equipment management, and effective equipment management makes for much more productive and efficient job sites, which are the basis for any successful operation.
Higher Employee Accountability
The responsibility of taking care of the equipment and making sure it's properly utilized shouldn't fall only on one person, though. Everyone on the team should do their part.
This involves adhering to the maintenance schedules, handling equipment properly, as well as making sure the equipment is returned when and where it should be.
It's so easy for workers to forget to return a tool after a long day of work. It can be done the following day anyway, so it's not a big deal.
However, come the following day, the tool is left on a job site again. The next thing you know, no one knows where the tool is anymore, and now you have to find a replacement.
With equipment tracking software, situations like that are a thing of the past. There are two software features we'd like to point out for increasing employee accountability.
For starters, a check-in/check-out feature is the most basic feature equipment tracking software can have, but it's quite effective. In fact, it's known to reduce equipment loss by up to 90%.
The feature itself is quite intuitive, which even further incentivizes the employees to use it.
Just tag your assets with asset labels and scan them with a built-in scanner to check assets in or out in seconds.
A huge bonus is if the software allows you to assign tools to a particular worker or add return dates and notifies you if the tool is not returned in time.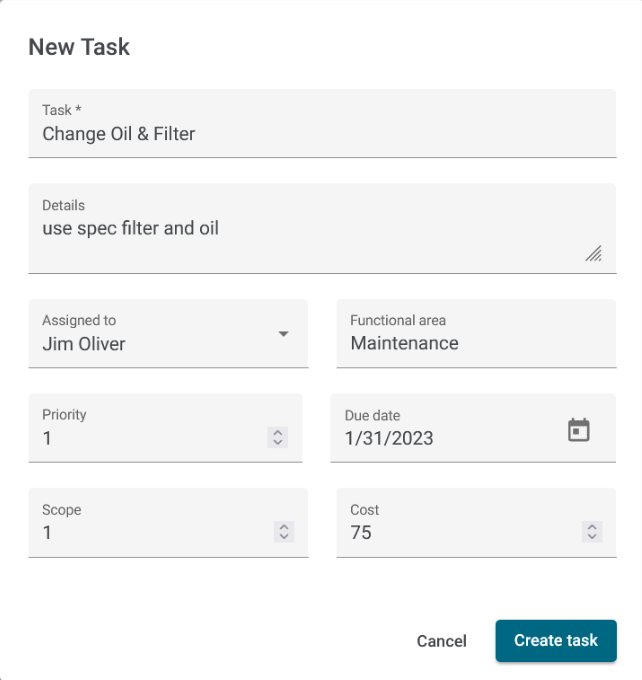 The tasks feature can also be super helpful for making sure everyone is on top of their daily assignments.
Similarly to the checkout feature, it allows you to assign tasks to employees, set due dates for task completion, and update the task status later on.
Therefore, look for software with these two essential features. They'll help you make sure your employees take better care of your equipment.
Extended Equipment Lifespan
Taking good care of your equipment means prolonging its lifespan. Seeing as your assets are a big investment, it's only natural you'll want to use them for as long as possible.
However, returning equipment to the warehouse on time and reaching adequate utilization rates is not the only thing you can do to make sure your equipment is taken care of.
You also need an effective maintenance regime.
Construction businesses benefit greatly from well-maintained equipment since it drastically decreases replacement and maintenance costs.
And this benefit is not to be underestimated, given that many companies across industries spend a considerable amount of money precisely on maintenance.
In fact, in 2021, 42.5% of U.S.-based companies spent between 21% and 40% of their operating budgets on equipment cleaning and maintenance.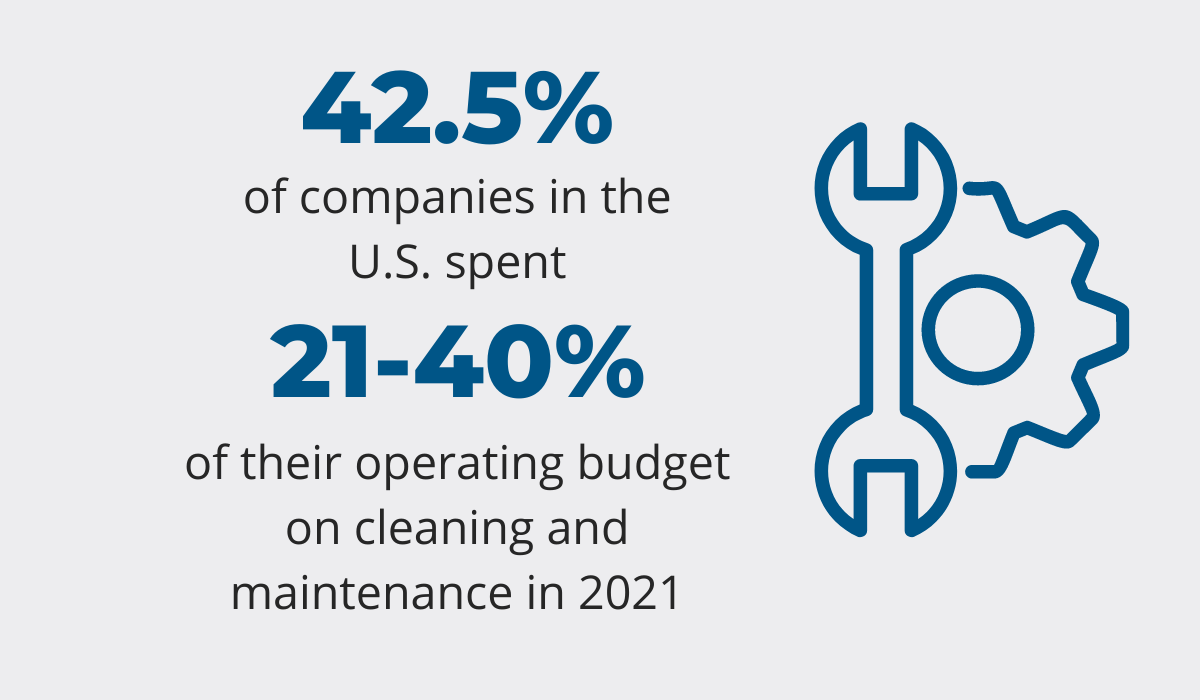 When it comes to equipment maintenance, it's important to work smarter, not harder.
Proper maintenance will ensure a longer lifespan for your equipment and, in turn, decrease the need for extra maintenance (or equipment replacement) in the future.
But what constitutes proper maintenance?
Let's just say that, if you're still fixing your equipment only when it's already broken, it's high time to explore other strategies.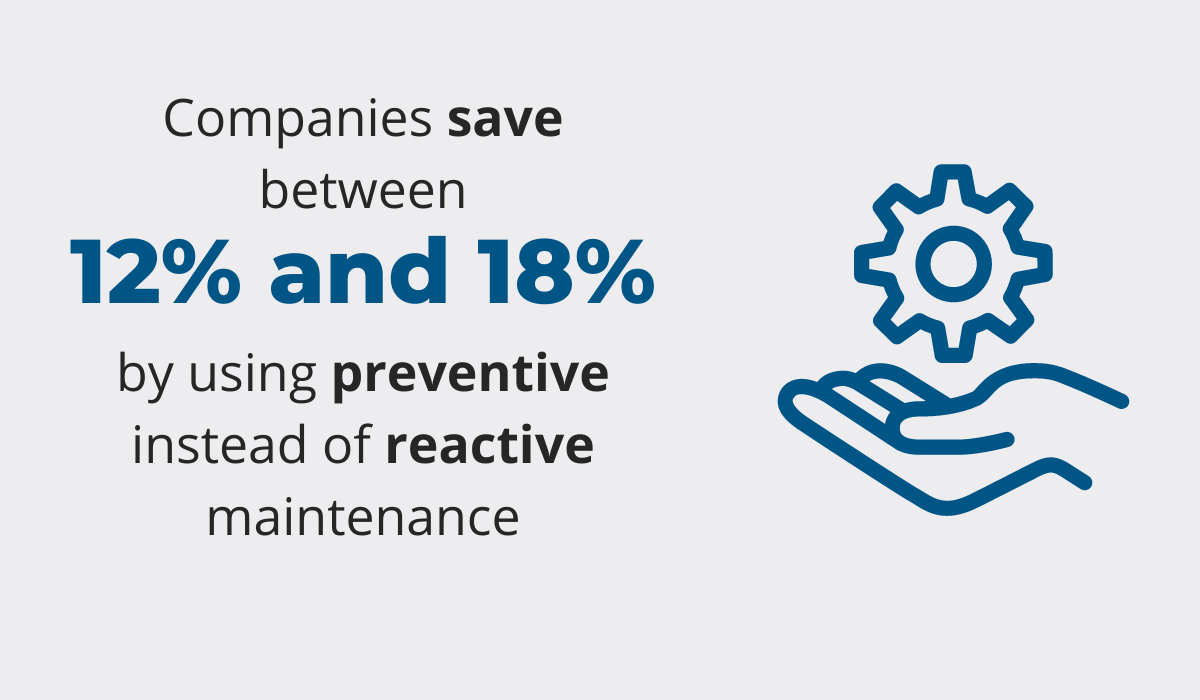 Preventive maintenance will save you much more money in the long run.
How does it work?
It's quite simple, actually.
It entails performing regular maintenance periodically based on different factors, such as time, utilization rates, hours of operation, and various other data you get from equipment tracking.
This way, any critical equipment failure is, as the name suggests, prevented.
Since preventive maintenance involves scheduling, it's best to use some kind of equipment tracking software.
It'll take care of all your scheduling needs and even send scheduled service reminders so you never miss maintenance again.
So start implementing preventive maintenance as soon as possible and protect your equipment from premature failure.
Lower Risk of Equipment Theft
Unfortunately, equipment failure is not the only thing that threatens your assets. Construction equipment theft is a serious issue, and it harms businesses in many different ways.
Obviously, stolen equipment forces you to stop work and look for a replacement, which costs both time and money.
However, it also results in higher insurance premiums and can be the cause of reputational damage, making you lose business.
All of that becomes even more worrisome when you take into consideration how prevalent theft is in the construction industry and how low the recovery rates are.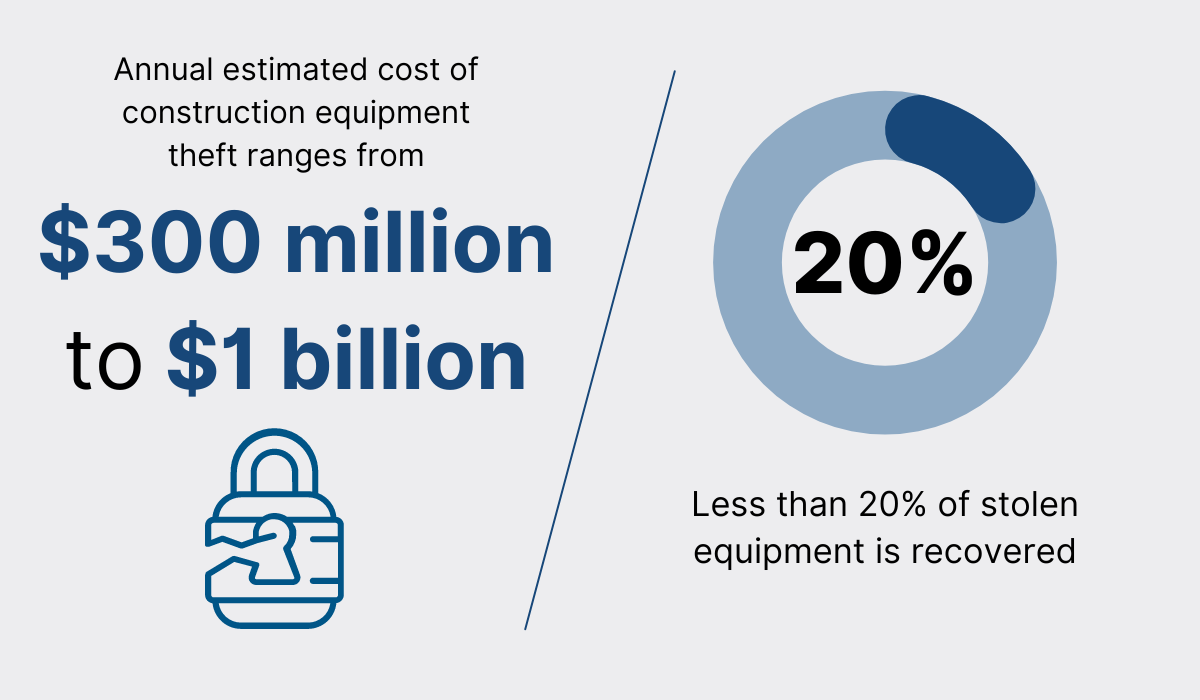 What's more, according to the National Equipment Register (NER) report, construction sites are the seventh most common location where theft was reported in the United States.
Luckily, equipment tracking solutions like GoCodes were built exactly with this problem in mind.
GoCodes provides customized QR code labels and tags that you can attach to the equipment you want to track and scan the label with GoCodes scanner app to update asset location on the go.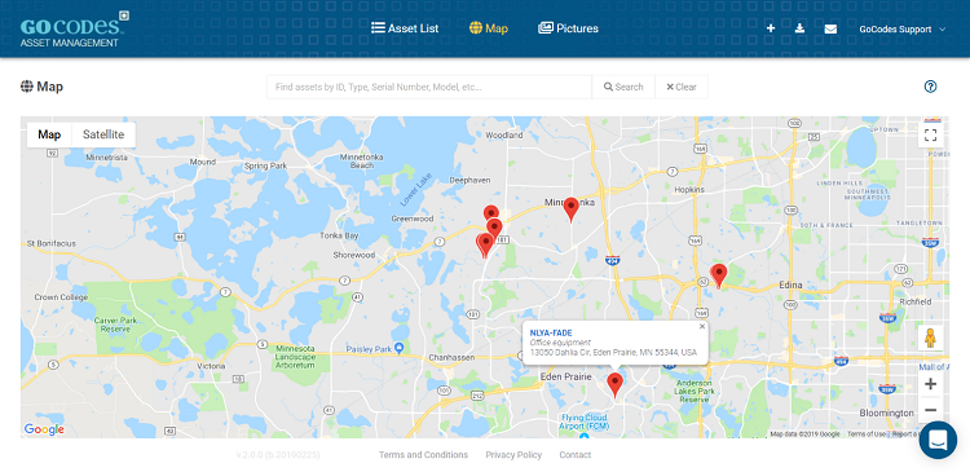 Knowing the last location of equipment could prove to be very useful should theft occur, and in the case of the recovery of the stolen assets, the tags serve as proof of ownership.
Moreover, Bluetooth beacons, the newest addition to our equipment tracking solution, will ensure you're notified via text message as soon as a tagged asset is removed from within the range of our GoCodes app.
All in all, equipment tracking has a major role in lowering the risk of equipment theft, and therefore, it's worth considering. It could be a huge game-changer for your equipment's safety.
Improved Data Management
Equipment tracking doesn't only help you manage your equipment, but it also serves as a centralized database for all the relevant equipment information.
As you track asset locations, quantities, maintenance schedules, and history, you simultaneously create a complete and accurate asset portfolio.
Moreover, depending on the equipment tracking software you're using, you can also add additional equipment information, such as warranty, financial info, model, date of purchase, etc.
All of that data can be used for better-informed decision-making later on.
It can also come in handy during audits. Once you update the asset information, it cannot be changed later on, meaning you always have accurate data.
And since it's all in one place, you don't have to go through tons of different forms looking for that warranty. It's all at your fingertips.
This way, the risk of noncompliance is significantly lower, and your company can be accurately taxed and insured.
Since equipment tracking involves dealing with plenty of different kinds of data, you might want to consider software that'll help you not only collect but also make sense of all that information.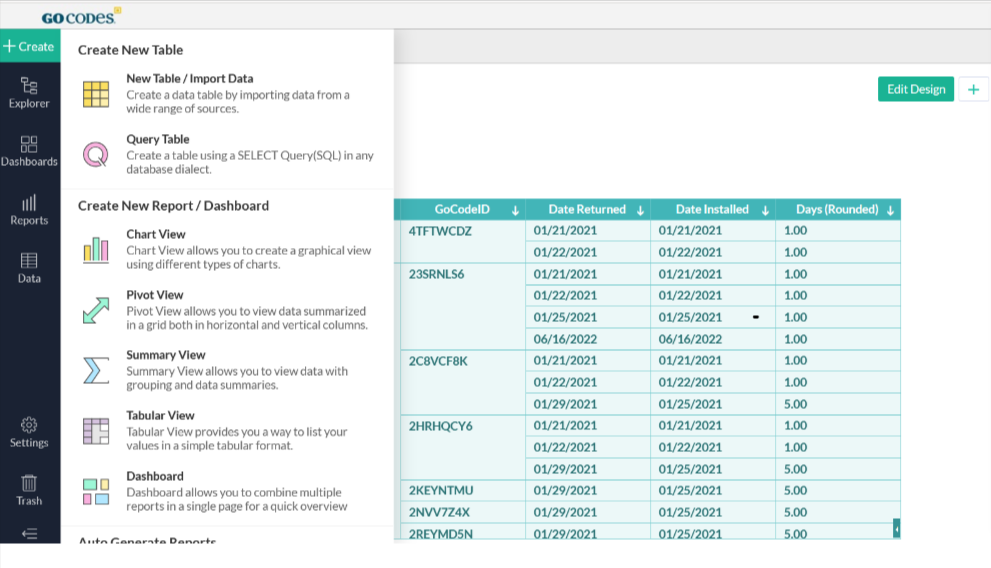 In other words, look for software that'll allow you to create your own custom reports and provide you with charts and graphs to visualize your data more easily.
This will surely take your data management to a whole new level.
To sum up, equipment tracking does wonders for your data management because it centralizes the data, making it available whenever needed, as well as automates data collecting and makes reporting a breeze.
Conclusion
All things considered, it's hard to deny that effective equipment tracking is a prerequisite for a well-organized company.
It helps your equipment reach peak efficiency while increasing its longevity. It also protects it from theft, misplacement, and loss.
In essence, the advantages of equipment tracking are many, and a lot of businesses are recognizing this and reaping the benefits.
Therefore, why not consider joining them and investing time and money in an efficient equipment tracking solution? It will certainly pay off in the long run.