Nowadays, most construction companies already use one or more software solutions in their work, such as project management software, budgeting, and scheduling tools, as well as payroll and accounting systems.
For these systems to work efficiently, they need data about all construction operations and related processes. Among those, equipment management comes out as a top priority.
And that's where equipment tracking software really shines, helping construction companies make data-driven decisions to improve equipment management, cut costs, and boost overall productivity.
We'll cover seven essential features that an effective software solution should have, explain how they work, and what benefits they bring.
GPS Tracking
Depending on what construction equipment, tools, and other assets you want to track, as well as your general needs, and your budget, this essential feature of equipment tracking software may involve one or more GPS tracking methods.
For example, construction companies use active GPS trackers installed in their vehicles and heavy equipment to monitor their real-time location.
Additionally, when the tracker is connected to built-in or external equipment sensors, it can monitor other parameters like fuel consumption and engine performance, as shown below.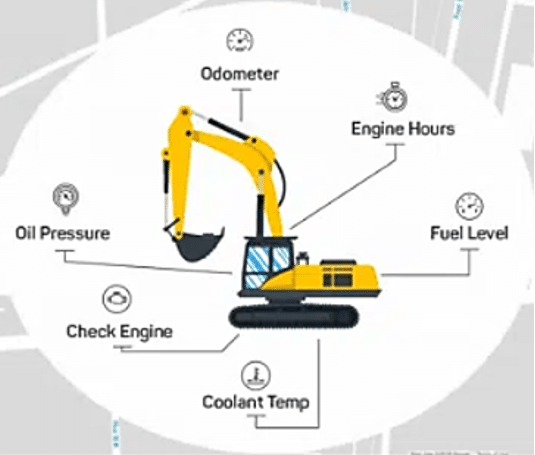 This kind of tracking generates many benefits, including theft protection, reduced fuel, maintenance, insurance costs, and higher driver/operator accountability.
However, active GPS trackers are often too expensive and/or impractical to be placed on smaller equipment, such as power tools, hand tools, various accessories, and other items.
That's why construction companies typically use other tracking technologies, such as Bluetooth beacons or RFID tags, which are not GPS-based, i.e., their tracking range is limited.
The most affordable and practical GPS-enabled tracking solution is one that consists of barcodes or QR code tags attached to tools and equipment, cloud-based software, and smartphone scanner apps.
Simply put, when a tagged asset is scanned with a smartphone or another GPS-enabled device, that triggers the tracking software to update the asset's GPS location using the scanning device's GPS function.
The software records the location in the cloud database and shows it on a map.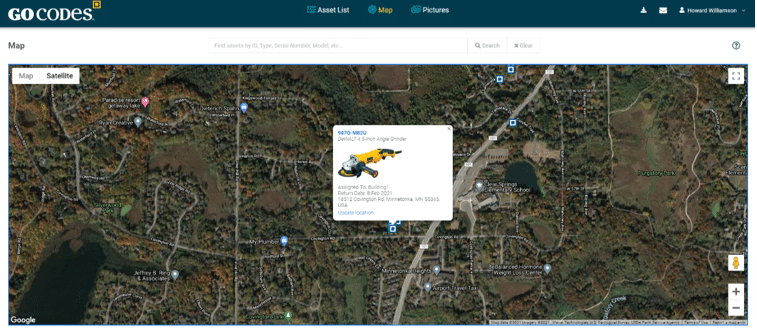 If the tagged asset is misplaced or stolen, this passive GPS tracking feature will provide the last location where it was scanned along with a transparent chain of custody, which will help find it.
Moreover, when the lost asset is found, the QR code tag attached to it will serve as proof of ownership.
Thus, regardless of the method used, GPS tracking enables construction companies to track the location of their equipment (of any type and size) in real time, which translates into major benefits.
All this makes GPS tracking an essential feature that any equipment tracking software should have.
QR Code Scanning
Whether they're used for GPS tracking or other purposes, QR codes are a simple, efficient, and cost-effective way to track, organize, and manage your construction equipment.
For this reason, QR code scanning is an important feature of quality equipment tracking solutions.
In practice, your equipment tracking package comes with custom-made QR codes or barcodes (either self-printed or delivered) and a cloud-based tracking software with a built-in scanner app, which is downloaded to smartphones and tablets or linked to special, handheld scanners.
After the QR code tags are affixed to tools and equipment you want to track and the system is set up, the scanning feature enables users to simply scan the QR code and access information about the tagged piece of equipment.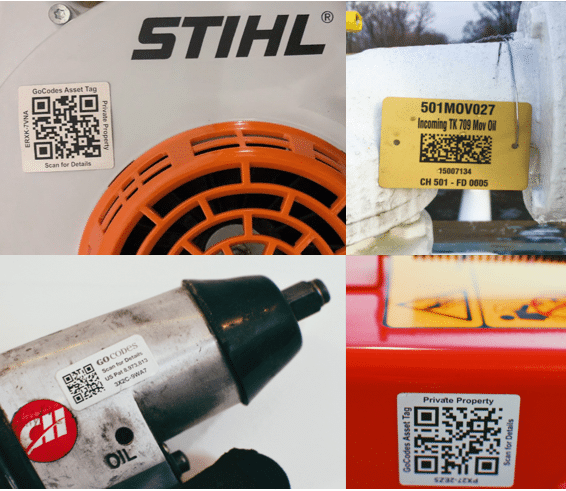 For example, a service technician can scan the QR code on a piece of equipment to pull up the complete usage and maintenance history, together with other relevant information, such as the last and next service date, manuals, safety instructions, and even user comments.
Furthermore, when the technician scans the asset tag, the tracking software automatically records its location and the identity of the user who scanned it while also enabling them to easily record other relevant information.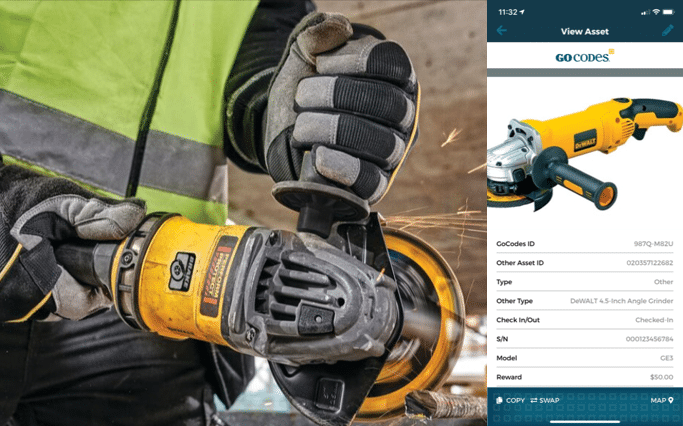 This automated process enables fast and accurate data collection, saves time, and reduces the risk of errors.
When combined with the tracking software's data collection abilities, QR code scanning also provides greater visibility into equipment utilization, allocation, and maintenance practices.
In other words, the software app records all movements (scanned locations) and users, enabling managers to get a bird's eye view of asset usage and gain valuable insights that can be turned into cost savings and productivity gains.
Overall, QR codes are a quick, efficient, and affordable way to track construction equipment, which makes QR code scanning an integral feature of effective tracking software.
Check-in and Check-Out
The check-in/check-out feature is one of the main features of equipment tracking software that allows you to keep track of who is using a specific tool or piece of equipment and whether it has been returned.
The benefits of establishing an efficient check-in/check-out system are multiple, from improved worker accountability and reduced equipment theft or misplacement to real-time location updates and more effective maintenance and planning.
These and other advantages stem from the fact that equipment tracking software keeps a transparent record of who checked out what equipment, when it was checked out, and when it was returned.
For example, our tool and equipment tracking app, GoCodes, enables construction companies to easily set up a check-in/check-out system, automate scheduling and receive reminders when the equipment is not returned on time.
To explain how automatized check-in/check-out works, we'll give a few practical examples.
First, let's take a look at a typical, supervised equipment check-in/check-out.
That's when a worker takes a tool from storage, or a tool crib supervised by the equipment manager, and then returns it.
In that case, the manager just needs to scan the tool's QR code tag (with their smartphone, tablet, or a dedicated scanner) when giving it to a worker and scan it again when it's returned.
Moreover, the same check-in/check-out procedure can be performed as self-service, where workers take/scan and return/scan equipment themselves.
Finally, workers can exchange tools and equipment on-site, where the worker who checked out a tool scans it to release it, and another worker scans it to accept it.
All things considered, this essential feature of equipment tracking software enables construction companies to track the location and usage of tools and equipment.
As a result, they can reap various benefits, from higher worker accountability to reduced costs and improved productivity.
Maintenance Tracking
Tracking software enables construction companies to track not only the location and usage of their tools and equipment but also their maintenance.
Contractors can make sure their equipment is in good condition by keeping detailed maintenance records and regularly scheduling preventive maintenance, as well as sending out notifications when scheduled maintenance is due.
In practice, using the maintenance tracking feature, service technicians can, before performing unexpected repairs or doing scheduled maintenance, check the complete history of the equipment's repairs, including the last and next service date.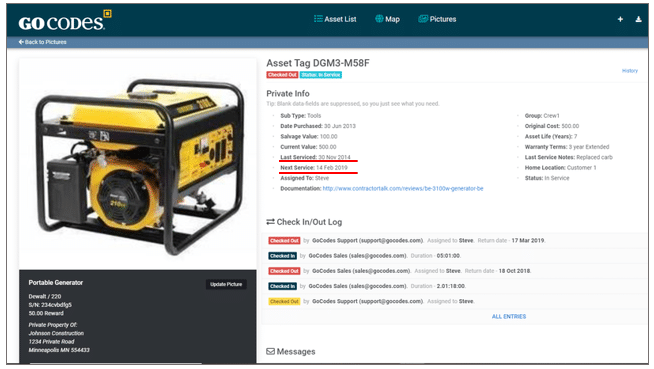 Keeping track of the dates and details of previous repairs, as well as listing any replacement parts used, and mentioning any recurring issues enable the technician to make informed decisions.
They can determine the potential causes of an unexpected breakdown more easily, or decide what regular maintenance should involve.
On the other hand, workers on-site can use the tracking app on their smartphone to report issues and request maintenance or repairs (as well as see if a replacement for the broken-down equipment is available and where it is).
For managers, maintenance tracking means they can:
make real-time decisions when critical equipment breaks down, such as deciding whether to organize repairs on-site or send the equipment out for service
schedule preventive maintenance to reduce the risk of breakdowns and automate service reminders to increase the staff's efficiency
rely on usage data when making decisions about the equipment's life cycle, such as whether to repair or replace it
Overall, maintenance tracking is a vital feature of equipment tracking software.
It helps construction companies take control of all maintenance processes, thus minimizing equipment downtime, reducing maintenance costs, and optimizing the equipment's useful life.
Depreciation Calculation
As we just mentioned, the useful life of equipment and tools is an important category, both in terms of operating efficiency and value over time.
This leads us to another helpful feature a user-friendly equipment tracking solution should provide—depreciation calculation.
As a reminder of what depreciation means, here's how Accounting Tools defined it:
Depreciation is a planned, gradual reduction in the recorded value of an asset over its useful life by charging it to expense.
In other words, depreciation is used for accounting purposes as a way to spread the asset's purchase value over time and realize tax savings during each year of the asset's useful life.
For this, construction companies can use different depreciation methods, the simplest of which is straight-line depreciation, like in this example provided by Accounting Coach: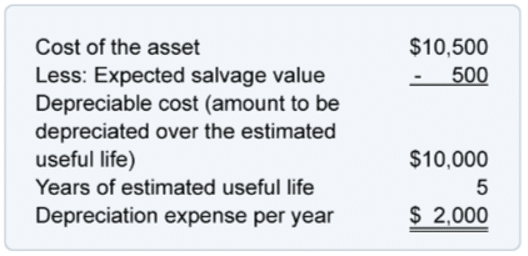 In this case, the company bought, for example, a small skid steer loader for $10,500 and estimated that, after five years of its estimated useful life, its salvage value would be $500.
Then, they divided the depreciable cost ($10,000) equally for every year, meaning that the company will report a $2,000 depreciation expense over five years, thus reducing its taxable income in each of those years.
Other than tax savings, being able to track and calculate depreciation enables managers to determine the optimal time to replace equipment based on its remaining useful life.
As mentioned, this allows them to make informed decisions about, for example, whether it's better to repair, rebuild, or replace a piece of heavy equipment.
Given all these benefits, an effective equipment tracking solution should have this important feature that simplifies the process of calculating equipment depreciation and tracking the equipment's useful life.
Custom Report Generation
For construction companies to make practical use of all the data collected by their equipment tracking solution, they need to be able to analyze the data and view the findings in a user-friendly format.
This makes the software's ability to generate custom-made reports another must-have feature.
For example, managers can create utilization reports showing how often equipment and tools are used, on what jobs, and by what crews, which they can use to improve equipment allocation across multiple worksites.
Since such reports can be customized according to different data categories, they also help managers identify usage trends and patterns.
Managers can determine which equipment is under- or overused, which helps them make informed decisions.
For instance, they can reallocate underused assets where they'll be used or sell them, or they can prioritize maintenance or replacement of overused assets.
In other words, the custom report generation feature provides construction companies with valuable insights that allow them to maximize their equipment's use and life span.
This feature is absolutely essential for construction companies that want to take full advantage of their tracking solution, as different custom-made reports enable them to manage the entire life cycle of equipment and tools efficiently.
Mobile Compatibility
Considering the complexity of construction projects and the number of people typically involved, mobile compatibility is an essential feature for equipment tracking software as it provides up-to-date information to anyone with a mobile device.
Naturally, this is particularly useful in construction sites where, as we discussed, workers can open the app to find out where specific equipment is and whether it's available or report an issue and request maintenance.
Of course, the convenience of mobile-friendly, cloud-based tracking solutions extends to service technicians, managers, and all other employees, who can view and update equipment data from any location using a mobile device.
The benefits of having a mobile equipment tracking app include real-time equipment visibility, which saves time on locating items and optimizing equipment utilization.
Then there is increased productivity, as the software automates or facilitates many administrative tasks, which leads to fewer errors and increased efficiency.
Simply put, modern-day equipment tracking software should be cloud-based and optimized for mobile devices, as this provides everyone involved with the mobility they require to do their job more efficiently.
Conclusion
Overall, whether they enable your workers to track the GPS location of equipment and tools, scan QR codes to access the app, or check construction assets in and out using their smartphone, these seven features should be part of your equipment tracking software.
They will allow you to get the most out of your tracking solutions and help you create cost savings and efficiency gains across all your construction operations.