If you want to maximize the utilization and minimize the costs of your construction equipment and tools, then you need to know where they are, how often they're used, and when they need maintenance or repair.
In other words, you need to track them, which is where equipment tracking software comes in.
However, when you start looking for the equipment tracking software tool that will best fit your needs and budget, you might feel overwhelmed by seemingly endless options.
To help you decide, we compiled a list of the top ten tracking solutions in the construction industry, where we described each software, its key features, and prices.
GoCodes
GoCodes is a complete tool and equipment tracking solution that comes with patented, customizable QR code tags, cloud-based tracking software, and a scanner app for smartphones and other compatible devices.
Depending on the service plan you opt for, you can either print your own QR code labels or get customized tags made from durable materials or Bluetooth beacons for added security.
After these tags are attached to tools and equipment and basic data is entered into the GoCodes app, your tracking system is ready to go.
In other words, you'll know where your assets are and who is using them at all times, thus reducing the chances a tool or piece of equipment will be misplaced, lost, or stolen.

Furthermore, your employees can scan any tagged asset with their smartphone or tablet and access information about it, such as service records, the maintenance schedule, and utilization history.
They can also simply log into the GoCodes app on any other device (desktop, laptop) to access the centralized cloud database of all tracked tools and equipment, and see where they are and whether they're available.
More precisely, their GPS location is recorded every time a tagged asset is scanned, and GoCodes allows you to easily establish an equipment check-out/check-in system.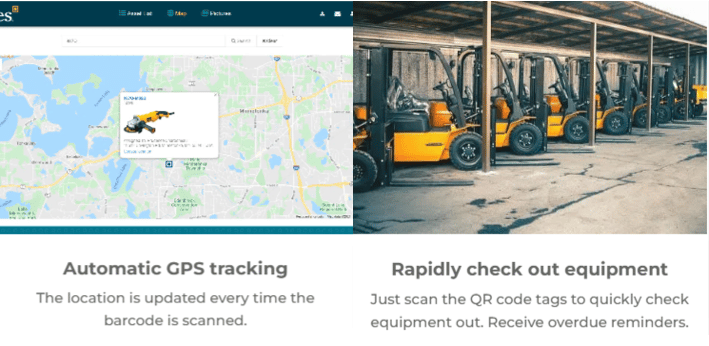 GoCodes also includes asset kitting. Thanks to that feature, different tools and equipment can be joined together to facilitate their scheduling and transport.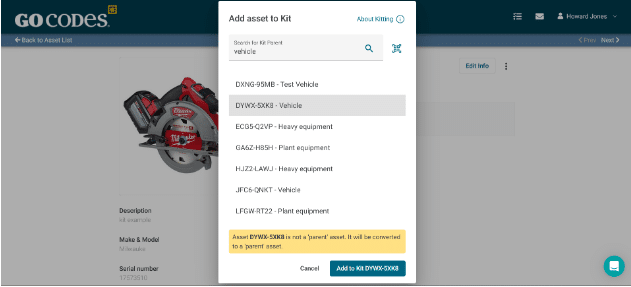 Other features include easy customization, complete audit history, automated maintenance reminders, custom reports, and even tracking of consumable materials.
Pricing plans start from $500 per year for 200 assets and three users, in which you print your own labels, while other subscription tiers include customized tags as part of the package.
Due to its simplicity, ease of use, and affordability, GoCodes is often featured on various top lists as the Best for Construction Companies.
AssetCloud
AssetCloud is an asset tracking software with various tracking options, integrated equipment management, a simple check-in/check-out process, detailed reports, and analytics.
AssetCloud's comprehensive solution offers tracking capabilities using barcodes, QR codes, and RFID (radio frequency identification) tags.
In the case of code labels, AssetCloud can provide both separate scanners or a mobile app that allows users to scan assets using smartphones or tablets.
As for RFID asset tracking, that option requires specialized RFID scanners.

As you can see, this and other AssetCloud's tracking options can be delivered as an on-premise package (self-hosted) or as cloud-based software, with some differences in price and functionality.
AssetCloud comes with a range of useful features, such as one-to-one issuing of tools and equipment, integrated analytics, pre-built reports, and email notifications.
If you opt for a self-hosted version, you'll be billed a higher amount once ($2,995 per user, unlimited number of assets) and an 18% support and maintenance fee after the first year.
As for their cloud-based solution, pricing starts at $995 per year for one user and any number of assets.
Asset Panda
Asset Panda is a cloud-based equipment management software focused on asset tracking and offering a wide range of features, including enabling asset scanning with smartphones and tablets, real-time updates on the location of assets, mobile access, and custom fields.
In other words, just like most other solutions presented here, this asset management solution employs scannable asset tags and a tracking app installed on mobile devices to record the location of assets when scanned.
In addition to this passive GPS tracking, users can view and update asset information, such as availability, usage, maintenance history, future servicing dates, user manuals, etc.
Basically, Asset Panda is a highly customizable asset management platform, meaning that construction companies can adapt it to the way they work.

One of its many features is asset kitting, which enables equipment managers to better manage the scheduling and transport of different sets of equipment and tools to specific construction sites.
When it comes to pricing, Asset Panda is subscription-based, but the exact annual or monthly subscription price is not listed. Instead, companies are required to request a quote.
The price will depend on the number of assets a construction company wants tracked and managed, so it's hard to give a specific price.
According to different sources, Asset Panda's basic plan starts at $995 per year for 250 assets, while companies tracking 500 or more assets can onboard an unlimited number of users to this user-friendly asset management platform.
AssetTiger
Another asset-tracking software that can be used in the construction industry is AssetTiger, a solution created by My Asset Tag, which designs and makes asset labels.
Their intention is to enable clients to invest in higher-quality labels instead of pricey tracking software, so AssetTiger is free for companies tracking up to 250 assets and is otherwise subscription-based.
AssetTiger comes with many standard tracking features we already mentioned, such as barcode scanning via mobile app, a check-in/check-out function, location updates, maintenance scheduling, and custom reports.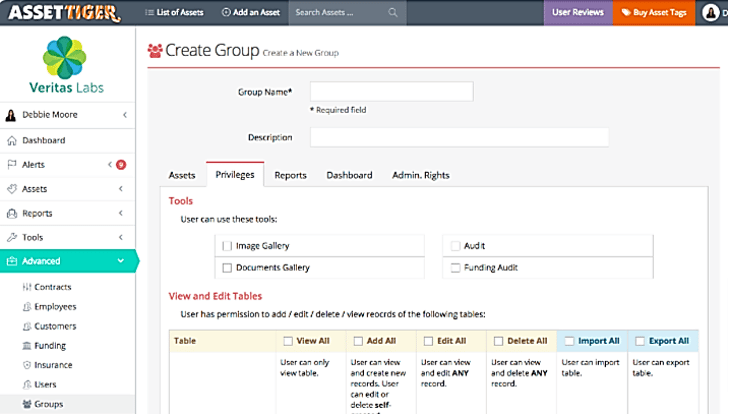 In addition to being free for 250 assets, it allows companies to add unlimited users at no additional charge. These users can have different user roles, from view-only to full administrator.
Above 250 assets, AssetTiger offers two ways in which subscriptions can be charged.
In line with My Asset Tag's mission, a subscribing construction company will agree to buy asset tags from them every year, e.g., if a company has up to 500 assets, it will be required to order tags worth at least $180.
If a company is not buying tags from them, they can get an annual subscription which is $120 per year for 500 assets.
Geoforce
Among the equipment tracking software on our list, Geoforce stands out as the only tracking solution that offers a range of active GPS trackers, which construction companies can use to track heavy equipment, vehicles, and non-powered equipment.
Therefore, unlike GPS-enabled QR codes or barcodes that need to be scanned, Geoforce's rugged trackers (battery-powered or connected to an asset's power source) receive the GPS signal from satellites and use it to provide location updates in real time.
And Geoforce Track and Trace software lets users track vehicles, heavy equipment, and their non-powered attachments in a single application.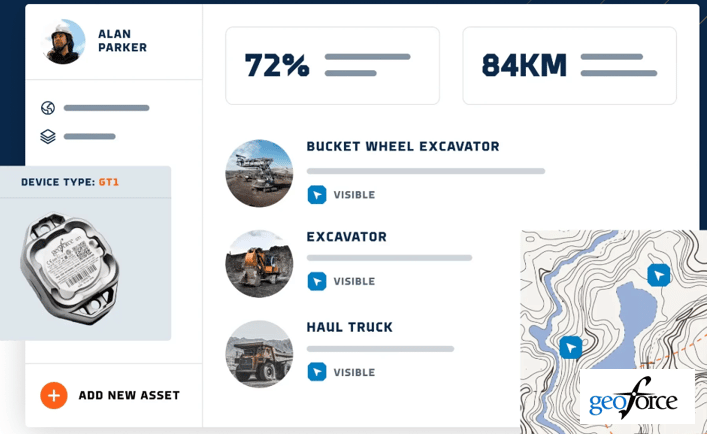 Naturally, the ability to track the movement of different construction assets via GPS allows companies to collect data on fuel consumption, engine performance, and driver behavior.
In turn, they can reap the benefits like optimized route planning, improved fuel economy, and enhanced driver accountability.
However, active GPS tracking does come at a price, making such equipment tracking solutions generally more expensive than other software tools that rely on in-app scanning of asset tags for location updates.
As for specific pricing, Geoforce requires companies to request a quote.
GigaTrak
The company that created the tool and equipment tracking system GigaTrak has been providing customized asset-tracking hardware and software solutions to clients in various industries, including construction, for over 25 years.
Like most other tracking solutions, GigaTrak uses barcodes (self-printed or ordered from the company) and, to scan them, either special scanners or a mobile app on smartphones and other compatible devices.
As such, it also offers a range of standard features, which they highlighted here:

As you can see, GigaTrak can manage an unlimited number of tools, equipment, and consumable inventory and can be used for checking equipment in and out, audits, and maintenance scheduling.
Finally, GigaTrak can be bought for self-hosting, with packages starting at $2,495 as a one-off fee, which gets you on-premise software and asset tags plus three months of free support.
When GigaTrak is cloud-based, the basic annual subscription package starts at $900.
ON!Track
ON!Track is a tool and equipment tracking solution created by Hilti, one of the leading manufacturers of power tools, as well as cutting-edge technologies, software, and services for construction professionals.
One of the ON!Track's features is that it offers both passive (barcode) and active (Bluetooth) asset tags.
Bluetooth technology uses radio signals to locate items that have a beacon (asset tag) with long-lasting batteries installed on them and transmit information that standalone readers or Bluetooth-enabled devices pick up and use to update location data (within 100 feet).
Regardless of what asset tags are used, here's how ON!Track works.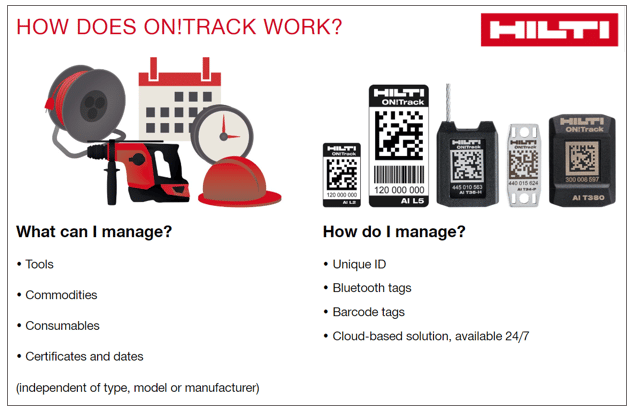 As you can see, ON!Track can be used for all types of tools and equipment, and it also boasts strong customer support, which helps clients set up the whole system in the field.
As far as pricing goes, they provide quotes, but web sources say packages start at $1,140 per year for 250 assets, while up to 1,000 assets cost $3,540 per year.
One advantage is that the number of tracked assets is checked monthly by Hilti, and if the number has changed, the client's subscription package is adjusted accordingly.
ShareMyToolbox
Aside from providing standard tracking features, ShareMyToolbox is a tool and equipment tracking solution optimized for mobile devices, which is useful when the app is used in the field.
It also comes with a powerful search function that enables managers and workers to search for tools and equipment by category, manufacturer, status, connection, location, or type.
ShareMyToolbox relies on asset tags and mobile software, but the company can also deliver handheld scanners if required.
One practical feature is that workers can assume responsibility for tools and equipment they're using directly on-site, where one worker can release, and the other accept a tool with a few clicks in their app.

This functionality establishes a clear chain of custody and increases worker accountability, thus reducing the number of lost, stolen, or poorly maintained tools.
As we've indicated, ShareMyToolbox can help you schedule tool maintenance, efficiently conduct field audits, create damage and costing reports, and track tools by kits.
The subscription offer for this cloud-based platform includes an unlimited number of tools, with the base package of five users starting at $1,380 per year.
ToolWatch
ToolWatch is an enterprise-level asset-tracking software that offers construction companies comprehensive tool and equipment management, maintenance scheduling, and inventory tracking features and utilizes the latest scanning technologies to do so.
To quote them:
ToolWatch unites field, warehouse, and back-office teams on a single platform that drives job site productivity by streamlining operations.
This means that this solution aims to integrate all processes involving tools, equipment, and consumable materials, and supports this integration by providing various reporting and analytics capabilities.
As for tracking, ToolWatch offers a range of technologies you can combine according to your needs.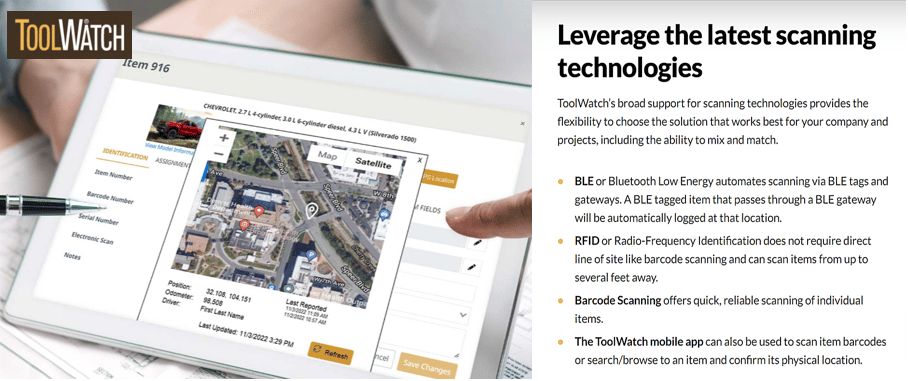 As you can see, their offer includes Bluetooth and RFID tags that facilitate asset tracking, as well as special barcode scanners and the ToolWatch mobile app to both scan tags and search for tagged items.
The cost of ToolWatch will depend on what tracking capabilities a construction company needs and the number of assets it wants tracked.
As with many other software solutions described here, this prevents them from providing a starting price; instead, they will provide a quote upon request.
According to GetApp, their basic package starts at $2,520 for an annual subscription.
ToolWorks
Last but not least, another tool and equipment tracking solution for the construction industry is ToolWorks.
Other than now well-known standard tracking features, ToolWorks focuses on enabling managers and workers to order tools while on-site in an experience similar to online shopping.
They just find the tool they need, click "order," and get notified when the tool is ready for pick-up.
This feature also enables workers to release and accept tools on-site while the app keeps an audit trail and ensures everyone's accountability.

ToolWorks mobile app also offers an interesting feature, AI Label Scanner, which allows construction companies to use barcodes already found on tools and equipment to start tracking without adding your asset barcodes.
This cloud software is subscription-based, with a starting package of 500 assets and unlimited users offered for $399 per year and 1,000 assets for $599.
Conclusion
Given all the different software tools available on the market, it's clear that construction companies that are considering equipment tracking software have to first identify their tracking needs and then research to find the tracking solution that will best meet their needs.
The ten tracking software we covered here are extensively used in the construction industry, so they deserve special consideration as field-tested solutions that help construction companies automate and streamline their equipment management, cut costs, and boost productivity.