Construction equipment tracking sounds like a hassle—and most of the time, it is.
Managers often struggle with different aspects of it, such as knowing where the assets are at all times, using a system that allows multiple users, getting real-time data, preventing theft, among others.
The thing is, none of these things are out of your control. Sure, you can't end all of them, but you can minimize the risks as much as possible.
This article will explain how you can become a construction equipment tracking expert and which best practices you should adopt.
Let's get right into it!
Know What You Own
How can you track your equipment if you don't even know what you own?
It's impossible. So, you have to make a list of everything you have.
This step will help you find ghost assets—equipment you no longer own due to theft, loss, or damage, although you think you do. It will also make you understand what you own and how important it is for your company.
They say starting is the hardest part, which is especially true for doing inventory. You need to inspect each piece of equipment and write down its details to create an inventory list, which takes time and energy.
Because of this, 11% of small businesses don't even track their assets. Surprisingly, another 44% monitor their equipment but do it manually.
Unfortunately, not tracking your equipment, or tracking it manually leaves room for operational inefficiencies and more expenses.
So how do you do it?
Assign this responsibility to a single person or a smaller dedicated team to avoid confusion or mix-ups.
When doing inventory, include detailed information about each piece of equipment, such as:
purchase date
price
warranties
insurances
description
model
All these details help you understand how much your equipment cost and how much it's worth now when you consider its useful age, depreciation, and current condition.
Also, don't forget to save the manuals and instructions for safe use! They will also be useful for planning regular maintenance as they can instruct you on the best times to do so.
Do an inventory of all your assets if you want to track them efficiently.
Decide Which Equipment Should Be Tracked
You might think tracking all your equipment is the way to go—but you're wrong.
For starters, it's not practical to track every asset you have. It would waste your time, increase costs, and shift your focus to equipment that isn't as important.
Some assets are worth more than others, and that's expected. Of course, you'll want to track equipment you spent a fortune on over a cheap one.
However, an asset's worth to your company doesn't have to depend on its price alone. Sometimes, it depends on how replaceable the equipment is. Can you easily get a new tool of the same type? If the answer is no, the asset is worth tracking.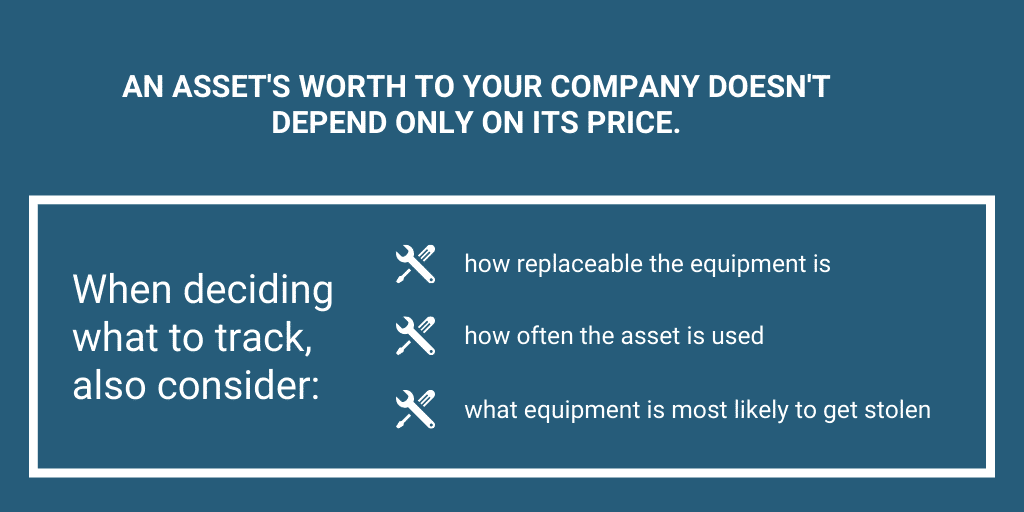 But, you should also take into account how often the asset is in use.
If you need it daily or weekly, it makes sense to track it instead of the one you use only a couple of times a year.
On top of that, you can think of what equipment someone would be most likely to steal. This can include smaller assets that can fit into a pocket or a bag or the bigger ones worth a lot more.
When deciding what assets to track, consider their price, replaceability, and usage.
Make Sure Each Asset Has a Unique Identifier
When you know what you have and what to track, it's easier to work on identification.
If you're serious about equipment management and tracking, then you need to assign a special code to each asset.
Imagine this—two tools of the same kind are in the storage room. One needs maintenance, and the other is ready for use. A worker takes the wrong one to the field, risking safety. At the same time, your maintenance team wastes their resources on the wrong asset.
Identifiers help you reduce the risk of such errors and keep everyone safe!
The only downside here is that you have to assign each asset a number or a code and ensure that each one is one-of-a-kind. Otherwise, mix-ups will happen, and your asset data won't be correct.
You can try to do this by hand or allow the software to do the work for you using the randomized unique identifier (RUID) technology. It assigns each asset a globally unrepeated code.
This ensures identification even in case of department or company merging or purchases. You can rest assured that each code is individual.
Give each asset a one-of-a-kind code to differentiate and track it with ease!
Use Durable Tracking Tags
When you know what construction equipment to track, decide on the tags.
You need to label any piece of equipment you'd like to track, so it can be scanned for location, and checked in or out. Without tags, you won't be able to track your possessions.
Equipment tracking tags come in various codes and materials.
You can choose between tags with sequence numbers, barcodes, QR codes, or radio frequency identification (RFID) numbers. Each has its benefits and downsides, so decide which aspect is crucial for your business.
If you want the option of scanning your tags with mobile devices, go for QR codes or barcodes.
How much information do you want to store?
Know that barcodes generally carry a lot less data than QR codes.
Then, choose a label based on its material. The table below will help you make the decision.
| TYPE OF LABEL | HOW IT WORKS | WHAT IT'S BEST FOR |
| --- | --- | --- |
| tamper-evident | you can't peel it off, and it shows if it's been tampered with | sensitive, valuable assets |
| two-part | you get two labels with the same ID—one for the asset, the other for your records | items you often reorder and for fast-paced conditions |
| polyester | durable and can have different coatings | offices |
| foil | exceptionally long-lasting, can endure high temperatures and chemicals | harsh indoor and all outdoor environments |
| metal | a rugged label that you weld or screw to the asset to ensure it sticks | equipment that's constantly outdoors, enduring weather changes, corrosion, and pressure |
For construction environments, the best tags are metal and foil. Metal tags can be welded into equipment so are compatible with heavy machinery like bulldozers, cranes, etc.
On the other hand, foil labels are better suited for smaller machines or any tools where you cannot weld in the label, such as drills. They are equally durable and can also withstand harsh outdoor weather.
Decide on the technology and type of label that works best for your working conditions.
Physically Secure Any Equipment You Can
Another best practice in equipment tracking is to secure it physically.
First, think of how you treat your assets. What do you get out of tagging and tracking your equipment if you leave it lying around the worksite? If you leave it out in the open, anyone can help themselves with your belongings.
Then, what does your storage space look like?
It can physically secure your equipment, but if anyone can enter it, you're on the road to failure. Limit access to your storage room if you don't want people taking whatever they want.
An extra step you can take is to keep your storage room neat. That way, it will be easier to notice when something goes missing.
Also, if you install cameras or demand a check-in for anyone who enters the room, you'll drastically lower the risk.
Read more about construction tool theft prevention here.
A great way to increase asset security is to explain its importance to your team. Employees should return the equipment to the storage room after every use instead of leaving it at the construction site.
Once you make the team accountable for the assets they use, they will be more likely to bring the equipment back.
Inspect Equipment After Use
A significant aspect of construction equipment tracking is knowing its current condition.
If you don't know that, you can't be sure your assets are ready and safe to use. That's why it's essential to introduce after-use inspections.
As mentioned before, you need to inspect the asset in detail when doing inventory. Then, whenever there's a change to its condition, someone should note the update. Of course, your staff needs to do the same after each preventive maintenance session.
But, do you have a plan in place to check the condition after use? If not, you should.
Such checks allow you to know whether you can count on the asset for the next project. If you realize that the equipment is no longer functioning, you should dispose of it. But, if there is damage to it, you should schedule an emergency repair.
Without these checks, you will find issues only during your before-use inspection. Late findings will cause schedule disruptions, waste your time, and delay projects.
So, if you want to improve your asset tracking, invest in condition checks after every use.
Schedule Regular Maintenance
Instead of waiting for an asset to stop working, invest in regular upkeep.
It will bring you a lot more benefits than you imagine!
First, it will help your assets be more reliable. If your maintenance team checks all equipment regularly, they'll remove any safety threats. This type of maintenance allows you to spot issues on time before they pose a risk to any of your staff.
In addition to this, preventive maintenance helps you cut project delays. You will be sure that you can use the assets for new projects due to your team's regular inspections and checks.
So, how can you decide how often to schedule maintenance?
Here are the most common options:
after every use – most assets don't need such frequent checks
after a specific number of usage hours – you'll have to determine the number of hours for each tool based on the manufacturer's data and your team's experience
according to a fixed schedule (every week, fortnight, month, etc.) – the simplest solution, but it might prove to be too much or not enough for different asset groups
To find the best maintenance method for your company, talk with your upkeep team. Based on their feedback, choose the right maintenance interval and stick to it!
Monitor Equipment Utilization
Equipment utilization plays a factor in tracking.
Do you know what you get out of your assets? If you track how often they're used, you'll find out.
Of course, you can do this by hand, but it's not as quick as extracting reports from a tool-tracking software. If you use such tools, they can generate a report based on your check-in and check-out statistics.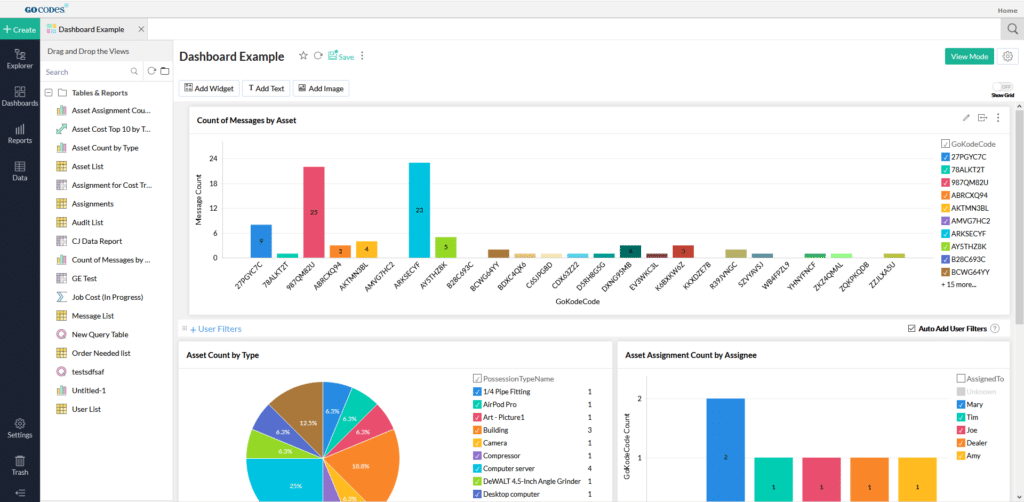 When you have this data, it will be easier to understand whether to keep or sell certain assets. If you use some equipment a lot more than you should, you'll know it's time to buy more of it.
How can you improve equipment usage results?
Of course, it all starts with tracking—know who is using your equipment, when, and where. Then, you'll be able to determine which assets are under or overused.
If you notice that you're underusing certain assets, determine why. Is there no need for that equipment? In that case, it might be more cost-effective to sell it and rent it when there's a need for it.
The point is, you have to track equipment use to understand whether you're getting the most out of it.
Set Up a Check-In/Check-Out System
Knowing who is using your equipment helps you track it better.
It's pretty obvious—if you don't know who is using your equipment, it's as good as gone. The person can lose it, leave it at the worksite, or steal it, and you wouldn't know.
However, you can make your team accountable for the assets they use by introducing a check-in/check-out system. That way, no one can waltz into your storage room and take whatever they want.
Instead, they'll have to sign some papers, use a spreadsheet, or scan the QR code to change the status to "checked out."
The most efficient option is checkouts with QR code label scanning. Employees just scan the tool they take with the app on their smartphone and that's it. They can access the app from anywhere. The whole process lasts a couple of minutes, making it very straightforward.
Likewise, they can easily check in the equipment upon return so the others know it's available for use.
The system benefits everyone: employees who can collaborate better with each other and have better knowledge of resources, and company managers or owners who have a bird's eye view of the whole operation, and can order new equipment on time if they notice a need for it.
Ensure that all employees know how to check equipment in and out for more efficient tracking.
Make Use of Technology
Why track all your construction equipment by hand when you can use specialized software?
Think about it—you not only get to automate asset tracking but also save time on different tasks.
First, you can use the tool as a mobile-friendly check-in/check-out system through a quick scan of the QR code.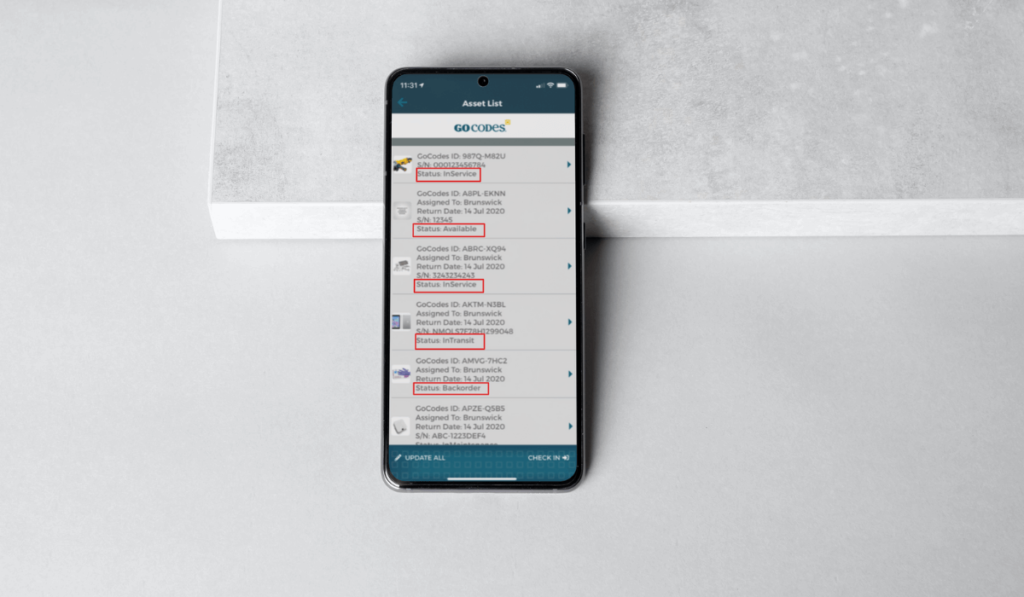 Moreover, the software allows you to schedule and manage maintenance. You'll never miss a session and always have assets in good condition!
Besides, the software allows you to track everything: from consumable construction materials, small tools, to heavy machinery. And we know that without enough construction materials, you will run into delays, racking up extra costs.
When looking for the right fit for your business, think of your needs. Do you want to track all equipment the same way? Perhaps you want to monitor some individually and the rest in bulk, especially if they are small assets.
Also, ensure that the software of choice allows you to track assets everywhere. Can you use GPS data to locate your equipment? Can its tagging system endure harsh weather conditions in the field?
If the answers are no, it's not a good choice for your construction company.
Conclusion
If you're a construction company, you might still be looking for the easiest way to track your equipment.
Look no further! Instead of doing everything by hand, let specialized software be your asset inventory database and scheduling system.
To step your equipment monitoring game up, decide which equipment you want to track and what type of tags you will use. Assign each asset a unique code, physically secure the equipment to prevent theft, and track how often it's in use.
On top of that, don't forget to maintain your assets regularly and after every use.
Follow these steps to simplify your construction equipment tracking process!