Asset management tools are becoming increasingly popular as the need to understand where your assets are at all times becomes more important to business owners.
If you want to know where your equipment is, who is using it and what condition it is in, as well as have access to data about repairs, maintenance, and warranties, you should invest in a tool tracking software.
It will help you stay on track with your projects as you will know when you can count on your heavy equipment, thus eliminating unnecessary and costly delays.
If you want to find out more about the benefits of heavy equipment tracking, enjoy the article!
Monitoring All Equipment From a Single Dashboard
An equipment tracking system lets you have your equipment listed on a single dashboard, allowing you to see all the data in the same place.
Having a clear picture is not only time-saving but makes the team more efficient.
Instead of searching through the company's files to find information on a piece of equipment, you can simply scan the item's barcode or log into the software and use a search bar to locate the asset you're looking for.
The same goes for your team members.
Such apps save everyone time as you can view information on all the company's equipment in the same place without looking and asking around.
When employees get the necessary data, they can continue with their work or notify their supervisor if they need help with equipment availability.
Tracking software lets you know who and where is using the equipment, allowing everyone to have insight into asset usage.
When your team members urgently need a particular asset, they can log into the software and quickly locate the piece of equipment and see when it will be available.
Everyone has the option of seamlessly checking equipment in and out while the system makes that data available to anyone who searches for a specific tool.
Using a single dashboard to track your equipment helps you be more productive, transparent, and efficient.
Having Remote Visibility of All Job Sites
Using an asset tracking system allows you to monitor your equipment from anywhere at any time, making your team more productive.
You upload the data in a cloud-based system accessible from a PC or a smartphone whenever you have an internet connection, meaning that you don't have to be at work to access the data.
Such a database benefits you and your team, as members can also access this information from their smartphones and PCs, and they can add their input.
When they scan the item and check it out, the system will show you its GPS location and the current user, allowing you to know where your asset is.
By using such systems, you can easily check which equipment is present on which job sites.
GoCodes, for example, offers the "Maps" option that lets you see the GPS position of all your gear, even if it's not in the same country or continent.
All of this makes it easier for you to track and efficiently manage your equipment.
You know where your equipment is at all times by having information on who checked out the asset and when they have last scanned it.
Using a tracking system helps you understand where your equipment is and who is using it.
Reducing the Cost of Heavy Equipment
Another benefit of asset tracking is the reduction of equipment costs.
Tracking makes it easier for you to track the equipment's usage. You can check all the records related to a piece of equipment, thus understanding how often your team uses it.
If they rarely need an asset and it costs you more to own, repair, and invest in its maintenance than it would to rent it when necessary, it might be time to resell the asset and earn money while saving on asset expenses.
Asset management helps you understand how often your equipment needs repairs.
Cloud-based software lets the users leave comments on the item's performance, upload pictures of potential damage, and update everyone on the asset's condition.
Once you view the asset's history and comments, you'll be able to determine how much you're spending on a single item and whether you should replace it with a higher-quality asset that won't need as many repairs.
Having many assets sometimes makes it difficult for owners to keep track of all their details, so more significant issues might go unnoticed.
Frequent expensive repairs will end up costing a lot, and you might only realize there's a need for it when the asset finally breaks down in the middle of a project.
Use equipment tracking to prevent breakdowns and related expenses.
Increasing Operational Efficiency
Tracking your equipment makes your operations more efficient.
When you know where all your assets are and how often you use them, it's easier to be more productive.
First, you always know what resources are available at any given time, which helps you plan before agreeing to a new project or deal.
Knowing when you can count on each item eliminates unnecessary delays and lets you maximize your equipment's potential.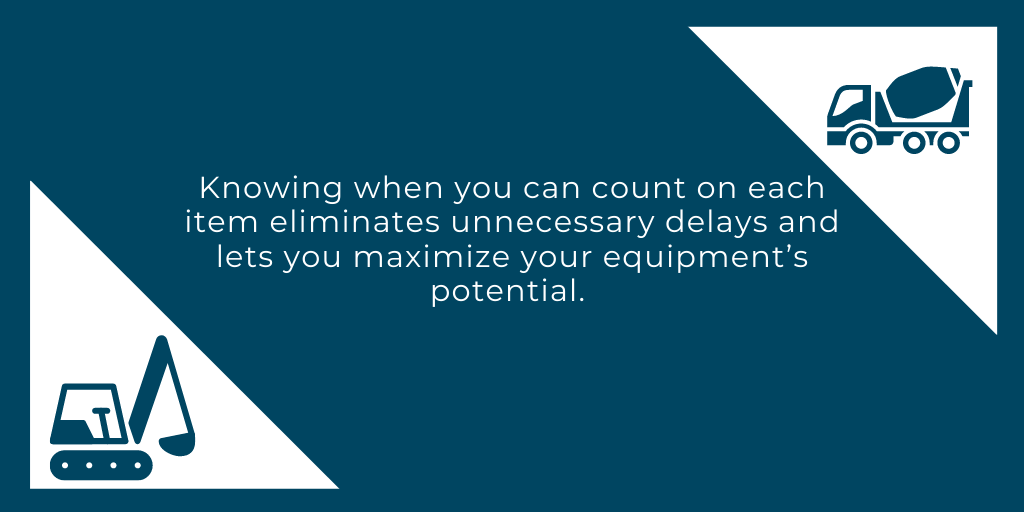 Then, you can also keep track of asset quantity and usage, which lets you know whether you have too much or not enough equipment.
For example, you can have two bulldozers that are already occupied and reserved well in advance, meaning that all other projects that need bulldozers have to be postponed or delayed.
Think of how much a new or a rented one would cost and compare that amount to the cost of the delays and lost business opportunities.
More often than not, it is wiser to rent or buy a piece of equipment than to wait for the existing one to become available before you start a new project.
Asset tracking helps you be more productive by giving you insight into the usage and availability of your equipment.
Preventing Asset Theft
Equipment management software allows you to see the last known location and user of the item, thus decreasing the risk of theft.
Heavy equipment theft isn't exactly a novelty—the US construction industry loses around $400 million a year because of it.
Asset tracking systems help prevent theft by making employees more responsible.
Each employee has to scan an asset when checking it out, thus letting others know that they have the equipment.
They can also indicate a return date, knowing that anyone who searches for the item will see their name associated with it.
Therefore, the employee will feel a greater sense of responsibility for the item and take extra precautions to assure its safety while in their care.
Such software also makes it easier to prove that the equipment is yours.
When you add a piece of equipment to the system, you have to tag it with a QR code or a metal tag, depending on the size of the asset.
This code or tag proves your ownership of the item, which can come in handy if you notice someone is trying to claim your equipment.
You can use tracking software to increase employee responsibility and practically eliminate equipment theft.
Monitoring Compliance Through Detailed Record Keeping
Equipment tracking software allows you to keep track of regulatory compliance data.
Asset tracking software helps you track all relevant data that will prove necessary in case of regulatory checks.
Businesses must have the required information readily available to make compliance reports, or risk closure and unexpected downtime, causing losses for the company.
Each state has its regulations that the company needs to follow, even in terms of equipment, so you need to have information on your equipment's testing, safety, and maintenance at hand.
Software like GoCodes allows you to access this data in a couple of clicks.
On top of that, this type of software lets you upload equipment instructions to the cloud, which means that all your employees will see it when looking for the item.
Even if they forget how to work with the asset, they will have the instructions readily available even on the job site, decreasing errors and promoting workplace safety.
A simple QR code or tag scan is enough for all the available data to be listed on the screen, from manuals to repair information to current users or warranties.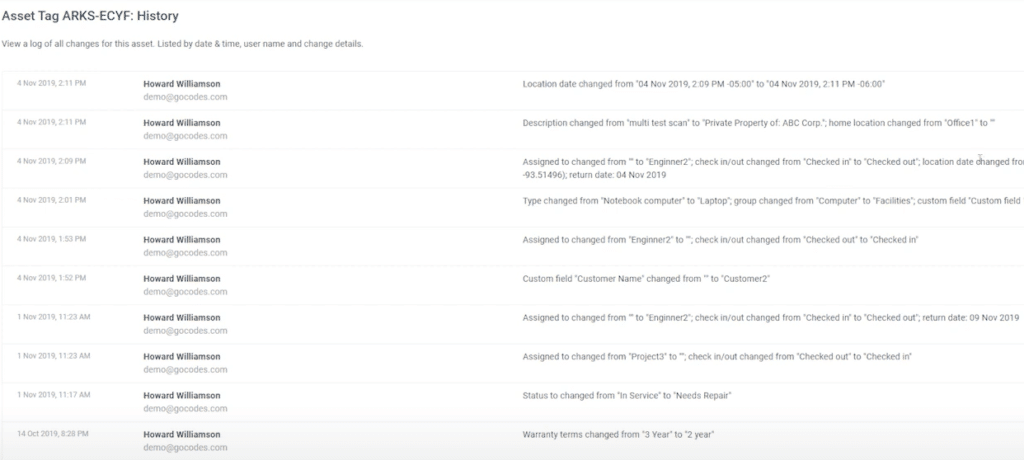 When you track your equipment, you always have the data on servicing and usage, ensuring that you comply with state regulations.
Better Managing Equipment Schedules
Quality equipment management facilitates keeping up with schedules.
Asset tracking helps you stay on track with your project. Tracking software will let you know where the equipment is, who is using it, and when the user is supposed to return it.
If you notice a delay within the project's schedule and conclude that the tool might not become available on time, you can check with your team to see what stage they are in and when they will use and return the equipment.
When you react on time, you can stop delays and speed your team up, getting them back on track.
On top of that, equipment management software assists you in planning future projects.
It shows when the person in charge of an asset will return the item. You can even reserve the equipment for a future time, which assures you that you will have it when you need it.
Solutions like GoCodes even let you set notifications for when someone is late with returning equipment, alerting administrators of the delay.
You can then track whether specific projects or people are usually late and help them organize their work better or invest more in the project in terms of equipment and manpower.

Having insight into the project's location, usage, and return date helps you organize your teams and projects efficiently.
Ensuring Equipment Is Returned at the End of the Day
The check-in and check-out options let you know who is using your equipment and when they're returning it.
Other than theft, the risk of misplacement also exists with various construction equipment.
An excavator can't get misplaced in the same sense as a screwdriver can, but it can be left on a project site well after the need for it there has passed, for months at a time, leaving the team that needs it to wonder where it is while it serves no real purpose.
The check-out option is obligatory for anyone who is taking an asset with them to the worksite.
If an operator needs a bulldozer for a project, they need to scan the tag on it or find the item in the system and check it out.
Everyone who searches for the tool will see the user's details in the "Check-In/Out Log" section.

When returning the asset, the user needs to use the check-in option to mark the item as available for anyone else who needs it.
The tool will remain the user's responsibility until they check it back in.
Checking the equipment in and out helps everyone on your team know when an item is available and guarantees that the user will return it.
Optimizing Maintenance Schedules for Longer Equipment Uptime
A major beneficial aspect of tracking equipment is an increased awareness of the need for maintenance.
Asset tracking tools make it easy for you to check previous maintenance entries.
When scanning the tag or searching for the item in the cloud, you will see a list of its features and details, including servicing information, in the tool history.
You will be able to note how often you've serviced the tool and how costly it was.
The software can notify you of scheduled maintenance, so you know when you won't be able to count on the item.
Serious businesses should opt for preventive maintenance, which means planning regular servicing for your items to understand their current condition and fix any minor issues that might cause bigger ones if left unattended.
When you have many assets, it's difficult to perform maintenance regularly on each one, which is where tool tracking software steps in.
It allows you to enter the scheduled maintenance dates into the system, even if it's in six months or a year in advance.
The data is available to anyone who searches for the item, allowing them to plan around the servicing and not rely on the asset during the maintenance period, thus avoiding any misunderstandings and unplanned downtime.
That's how tool tracking software helps you stay on track of maintenance schedules and allows your equipment to last longer.
Improving Overall Equipment Life Cycles
Equipment tracking systems let you improve your asset's life cycle by allowing you to track the tool through all of its stages.
The software will make it clear when it's time to purchase more items.
As mentioned before, you can always take a look at the item entry in the system to see whether it's available for use or not.
If you notice that certain items are always unavailable and there's a long waiting list for them, start planning your next purchase.
GoCodes even provides the option of receiving a notification whenever your inventory is low on a specific item.
With time, you'll notice how often you get notified for which tool, which will let you know if it's time to invest and get more of the same item.

Asset tracking apps will also let you track the tool's performance and usage.
You'll get a clear picture of how valuable the asset is to you—the data will show how often and long your employees used it.
Understanding whether your team has any use for the tool lets you determine whether to keep it.
As previously mentioned, the software also provides data on repairs and maintenance, reminding you when it's time for regular maintenance and giving the users the option of leaving feedback.
If the user experiences a breakdown or another issue, they can change the asset's status to "Needs Repair" and add a comment, which lets you understand what has happened.
Since such software has the option of calculating depreciation, you will be able to understand when you've entirely depreciated the item.
This information will help you decide whether to keep the asset or sell it and purchase a new one that you can start depreciating right away.
Make the asset more efficient throughout its useful life using tool tracking software.
Conclusion
If you want to know how many pieces of equipment you own and where they are at any given time, use asset tracking software as it eases the process for you.
Heavy equipment tracking gives you access to the equipment's current user, return date, and state, letting you plan for other projects and avoid double bookings.
Moreover, such software helps you understand how often the equipment needed different repairs and how much you've invested in maintenance.
It also keeps track of warranties and the asset's useful life for you.
Using this type of software will let you avoid manual work while ensuring you always have access to all the relevant data if needed.