Proper maintenance of tools and equipment plays a crucial role in ensuring construction projects are completed on time and within budget.
Likewise, it's evident that some methods still used to track and manage equipment maintenance, such as pen-and-paper and Excel spreadsheets, are outdated, not to mention time-consuming and error-prone.
Equipment maintenance software is a much more advisable approach.
However, when a construction company owner or manager starts looking for the right software for their needs and budget, they're easily overwhelmed by all the available solutions and options.
Against this background, we'll explore seven essential features any efficient and cost-effective equipment maintenance software should have.
Equipment Tracking
Simply put, no maintenance program can be efficiently implemented if you're not tracking where your tools and equipment are and who is using them.
That's why equipment tracking is an integral part of most maintenance-focused software solutions while also serving other purposes, such as:
In other words, the tracking function of your maintenance software should enable you to monitor and manage the crucial aspects of your construction operations, most of which also contribute to more efficient equipment maintenance.
Tracking physical assets like equipment, tools, and—as explained later—spare parts and supplies for maintenance is usually achieved by attaching barcodes, QR codes, RFID, or NFC tags to those items.
For example, here's how rugged, customizable QR code labels and tags attached to different types of equipment look.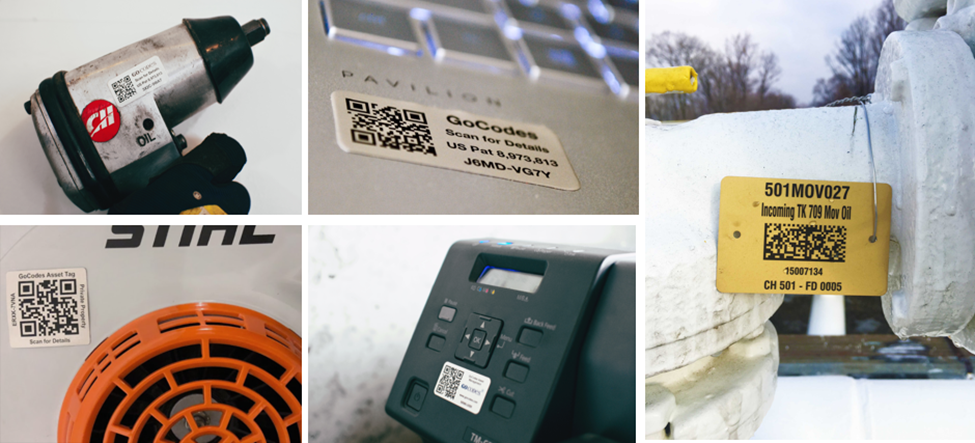 Regardless of the tracking method, such unique identifiers (labels or tags) are attached to equipment and any other assets you want to track and linked to the individual asset's info in your software's database.
Once this tracking system is established, users can use physical or digital scanners (scanner apps installed on smartphones and tablets) to read the label or tag and access the equipment data via the software.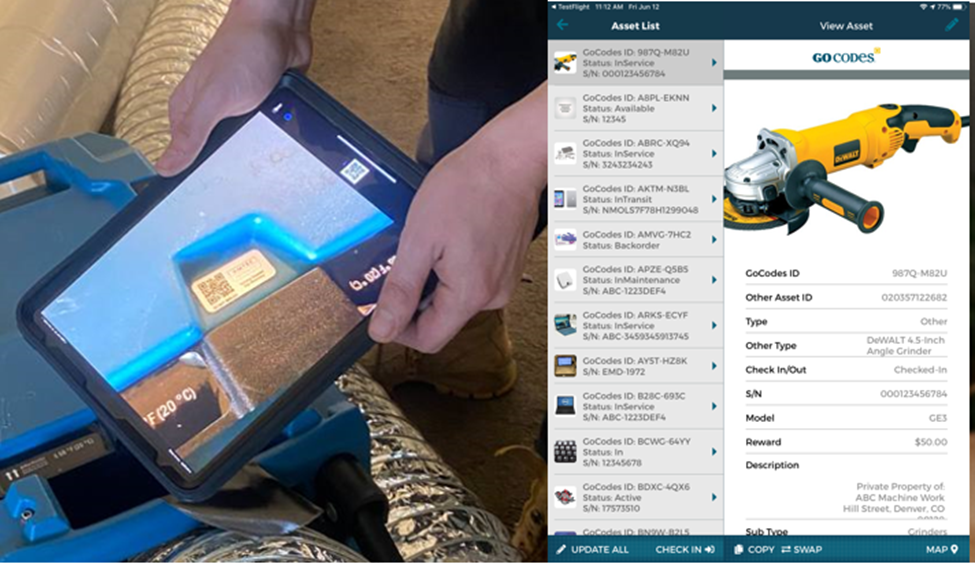 In addition to allowing quick and easy access to equipment info, the software will capture the identity of the user who scanned it and can prompt them to manually enter the equipment's current location.
Naturally, some software solutions have automated this location tracking, and the app will automatically record the equipment's GPS location when scanned with a smartphone or tablet.
This functionality lets managers and workers quickly determine where equipment is currently located (when last scanned) and who is using it.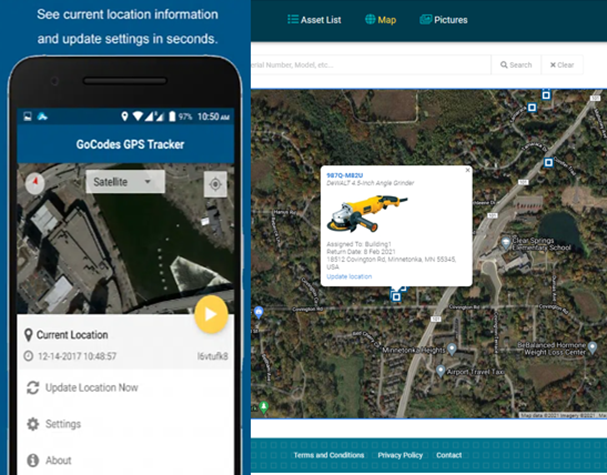 Of course, such information can be very useful in facilitating different maintenance-related processes, from investigating the cause of equipment failure to scheduling maintenance.
Long story short, tracking the location and usage of equipment is an essential part of an efficient maintenance management system.
At the same time, such tracking systems give rise to features that go beyond streamlining maintenance operations (e.g., minimizing theft, loss or negligent use, reducing costs, and improving overall operational efficiency).
Therefore, in addition to ensuring that your equipment maintenance software has all the essential features listed above, you also shouldn't hesitate to take full advantage of the other management and security functions it provides.
Maintenance Tracking
The ultimate goal of maintenance software is to help you keep construction equipment in good condition and running smoothly.
Maintenance tracking is the key feature that enables you to do so.
Simply put, as users (workers and managers) input data into the maintenance software, its database becomes a source of valuable, up-to-date information they can access anytime on their smartphone, tablet, desktop, or laptop (on cloud-based software).
In other words, service technicians can access the equipment's maintenance and repair history, relevant documentation and instructions, comments on recurring issues, and much more.
Additionally, they can review other relevant info, such as the warranty expiry date, expected lifespan, and last service date.
Ultimately, the ability to view and update maintenance-related data on the go enables managers to track all maintenance activities in near real time.
For example, they can monitor the performance of maintenance tasks and inspections and—as discussed later—schedule future assignments, manage work orders, set up automated notifications, and monitor parts and supplies inventory levels.
Likewise, maintenance tracking enables service technicians on-site to instantly access the equipment's repair and maintenance history, relevant data, documentation, instructions, images, and even user comments.
All in all, maintenance tracking is the core feature of your software that essentially allows you to take control of all maintenance processes, reduce equipment downtime and optimize servicing costs.
Maintenance Scheduling
Maintenance scheduling is the next key feature on our list because proactive preventive maintenance always beats reactive maintenance in terms of equipment performance, safety, and managing repair costs and unplanned downtime.
In other words, this simple yet powerful feature is essential for implementing an effective preventive maintenance plan that will generate the following benefits: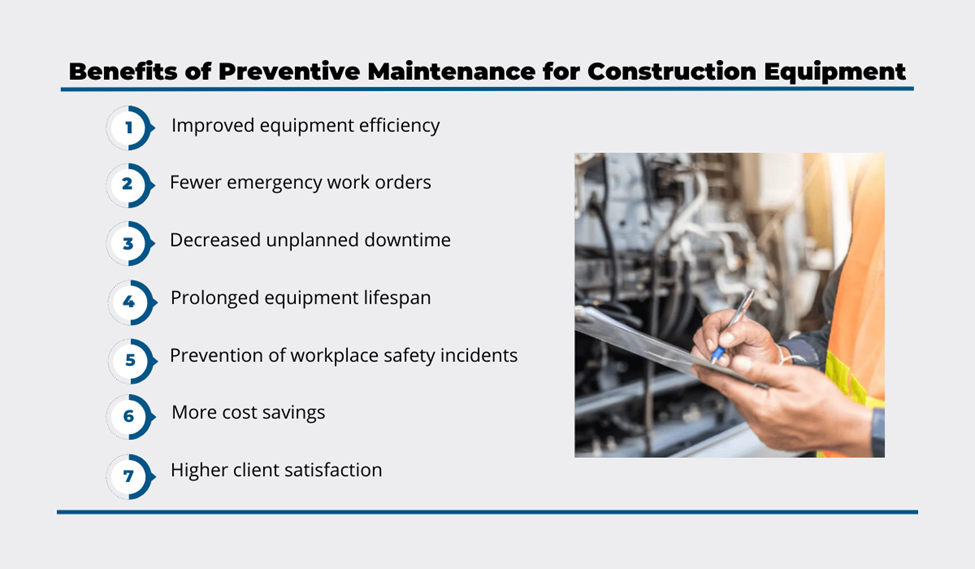 Simply put, the ability to schedule future maintenance and other equipment-related tasks allows you to plan, assign, and monitor the performance of preventive maintenance tasks, ensuring equipment is kept in good condition.
This, in turn, generates the above benefits, such as minimizing unexpected equipment breakdowns and safeguarding against workplace safety incidents.
Naturally, using the maintenance scheduling feature in your software app should be quick and simple, as shown in this short video.
Once a future service task is set, you can also ensure the responsible technician(s) receive automatic email reminders (as covered later).
This is a good time to highlight that our asset-tracking software, GoCodes, allows equipment managers to easily schedule maintenance tasks using their smartphone, tablet, or any other internet-connected device.

The GoCodes package includes cloud software, an in-app scanner, and customizable QR code labels.
When joined together, these components make for a simple and cost-effective system that can be used for different equipment tracking, management, and maintenance purposes, including all the features covered here.
Wrapping up, the maintenance scheduling feature allows you to operationalize your company's preventive maintenance plan, ensuring that construction equipment is regularly serviced and well-maintained.
Work Order Management
Work order management, as a feature of your software, refers to its ability to keep the data on all maintenance work requests and orders in one central database that can be easily accessed and updated.
Moreover, this feature should enable workers to use the software app to submit service requests when a piece of equipment breaks down, gets damaged, or is malfunctioning by simply scanning its label or tag.
This eliminates the need for phone calls or emails and, maybe more importantly, ensures that the software records the time, date, and contents of each service request (and the ensuing work order).
Ultimately, this enables construction companies to automate data collection and efficiently track work orders, which leads to the following benefits: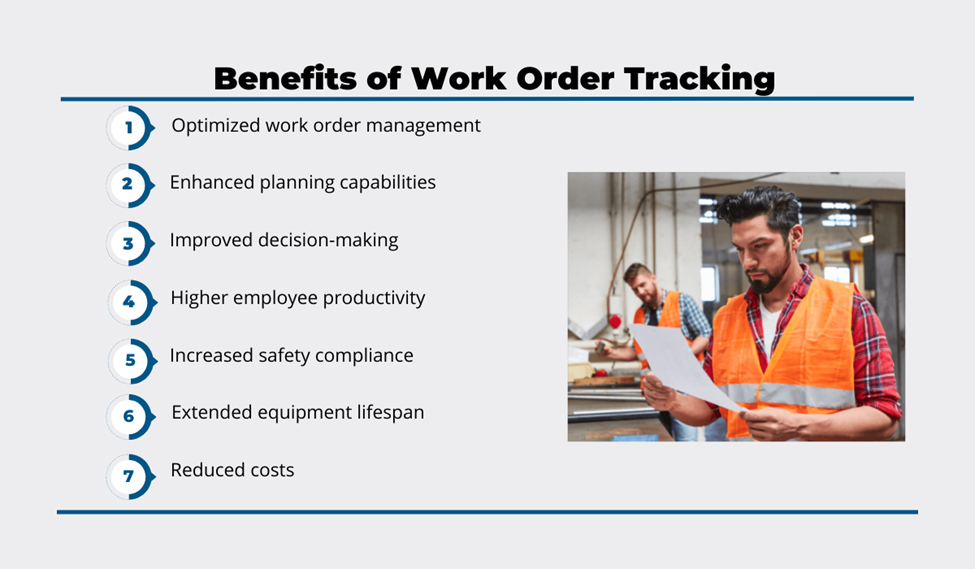 Work order tracking means maintenance managers will have a clear overview of past, present, and future work orders, which enables them to optimize work order planning and management.
At the same time, work order management is improved because service technicians:
are clear on what their task is (having studied the work order)
can easily access the equipment's maintenance history and other info before maintenance
can immediately report work order completion, enter relevant data and their findings after maintenance
Therefore, work order management is an essential task management and record-keeping feature that centralizes all work order-related data in one database, allowing managers to streamline maintenance processes, reduce costs, and increase productivity.
Maintenance Notifications
As mentioned, when you schedule maintenance tasks in your software, you can also set automated notifications, ensuring that the responsible service personnel are informed in advance.
More precisely, when the manager creates a new maintenance task (e.g., oil and filter change) and assigns it to a specific service team or technician, they can also "instruct" the software to automatically email scheduled maintenance notifications at predetermined times.
Here's an example.

In other words, this feature ensures that all assigned users (whose emails you provided) will receive such an email in the early morning of the scheduled maintenance date.
That way, the responsible technicians, managers, and even external service providers will be notified of upcoming maintenance in a timely manner, and be able to access the app to view relevant details.
Since that's crucial for implementing any regular maintenance program, email and in-app notifications are a simple but vital feature of any equipment maintenance software.
Inventory Management
Of course, no planned or unplanned maintenance can be conducted if your employees don't have the spare parts and other consumables required to complete the task.
As a software feature, inventory management is typically enabled by the same labels or tags used to track tools and equipment.
In this inventory tracking setup, containers holding spare parts and supplies are labeled, that label is connected with the software, and the quantity of items is recorded.
Using a barcode/QR code reader (separate device or in-app scanner), workers can access the app and record how many items they took out (used) or added (restocked) from that container.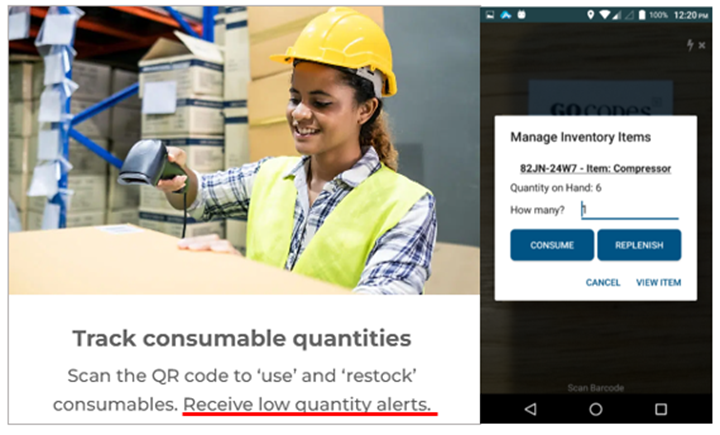 When the number of inventory items in the container reaches any predefined value (e.g., 10 cables, 5 filters), the inventory management feature will automatically send an email—i.e., a low quantity alert—to designated users.
This way, the parts and supplies needed can be timely ordered and replenished.
To sum up, this feature enables you to monitor the quantity of spare parts and other supplies and ensures your maintenance staff has everything needed for efficient and timely maintenance.
Reporting and Analytics
No maintenance software would serve its purpose if it didn't allow users to analyze the collected data and generate custom reports that provide valuable insights and lead to better-informed, data-driven maintenance management decisions.
As data is recorded in the software's database, reporting and analytics enable managers to filter different data aspects as they see fit, analyze them, and create customized reports.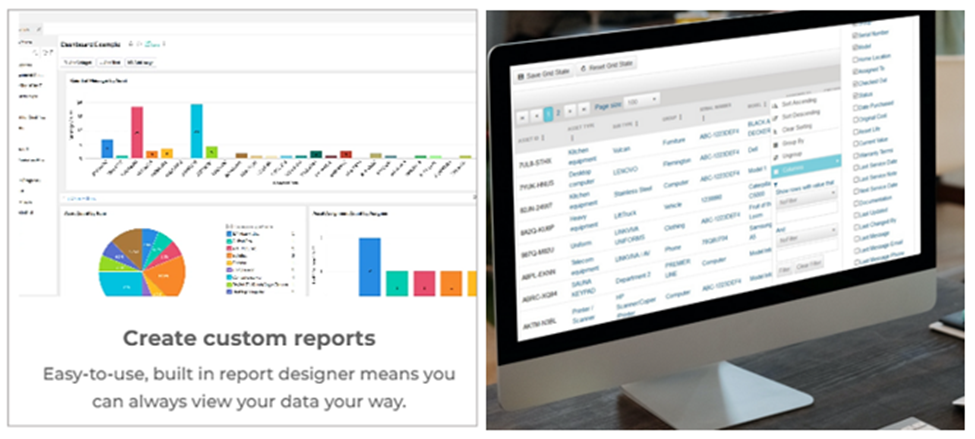 Naturally, the ability to review, filter, and analyze maintenance information is crucial for identifying recurring maintenance management issues and their causes and finding ways to mitigate them.
Using this feature, managers can gain valuable insights about, for example, which equipment is most prone to failures and which needs more frequent maintenance for smooth operation.
To sum up, the reporting and analytics feature enables you to use all data your software collects to identify inefficiencies in your equipment maintenance processes, allowing you to take appropriate actions.
Conclusion
Overall, whether they allow you to track equipment, maintenance activities, and inventory levels, manage work orders or create reports, the seven features we described should be part of your equipment maintenance software solution.
They will enable your construction business to generate efficiency gains and cost savings in all maintenance-related operations.
If the solution of your choice provides additional equipment management and anti-theft features for the same price, even better.