What are the equipment management challenges businesses often face? And, more specifically, what can a company do to overcome them?
Read on to find out more about the five most common challenges and how they can be addressed.
Managing Equipment Manually
Companies that still manage their equipment manually know how challenging and error-ridden this process can be. Even as businesses moved away from pen and paper to spreadsheets, the time-consuming manual data entry remained.
Despite this, spreadsheets are still widely used, particularly in the construction industry.
However, current technology can automate this otherwise inefficient process and all but eliminate human errors. In fact, it can do much more and propel your business to new heights.
According to the Construction Technology Report by JB Knowledge from 2017, 46% of construction companies still relied on spreadsheets for project management that year. Furthermore, from 2018 to 2019, this dependence on spreadsheets was reduced by only 1%.
Here are a few telling statistics: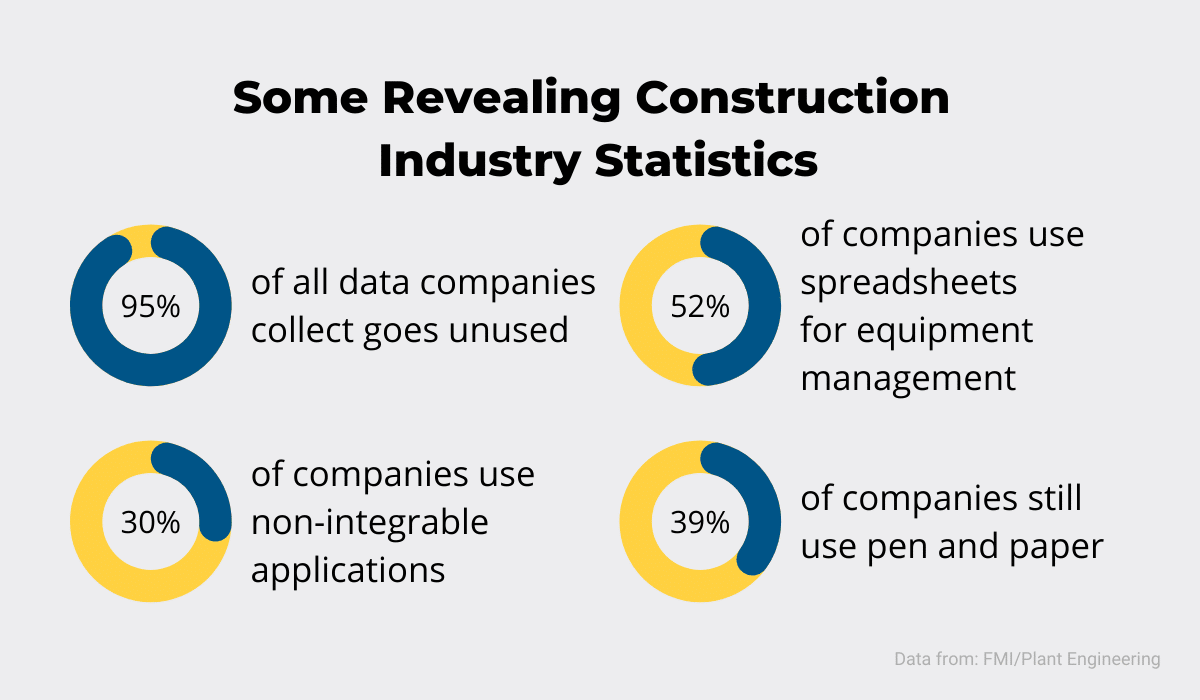 Combine that with the fact that nearly 90% contain errors (although 90% of their users think just the opposite), as this Forbes article says, and you can see why that's inadvisable.
As these errors can vary in size and significance, their actual cost cannot be quantified. But, if your company has multiple physical assets like machinery, equipment and tools, every error multiplies in importance.
What can be quantified is the time required to enter, update, correct and consolidate data in spreadsheets—12 work hours per month.
The manual data entry requirements (and thus potential errors) remain high even when using specialized templates like Simple Sheets.

In this case, all three sheets shown above will require regular updating.
Looking closer, just in the equipment maintenance sheet (i.e., the middle one above), you'd have to enter data in eight fields: equipment name, type of maintenance, description, the person in charge, cost, actual vs. target repair time, and status. You would have to do so for each piece of equipment every time it is serviced.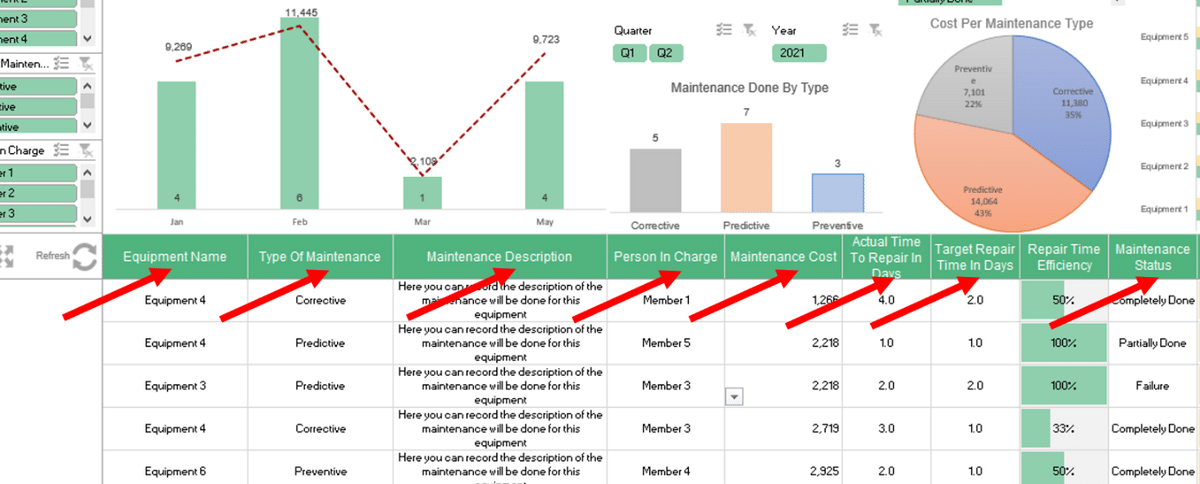 There are many more reasons why spreadsheets are not your best friend.
So, it's clear that such equipment/asset management is a time-intensive process that's too prone to errors.
Of course, every problem has a solution.
And, in this case, it's software—and automation.
According to the Dodge Report, construction businesses tend to look for easy-to-use and affordable technology to enhance their operations.
Our own equipment tracking and management software, GoCodes, fits this description perfectly.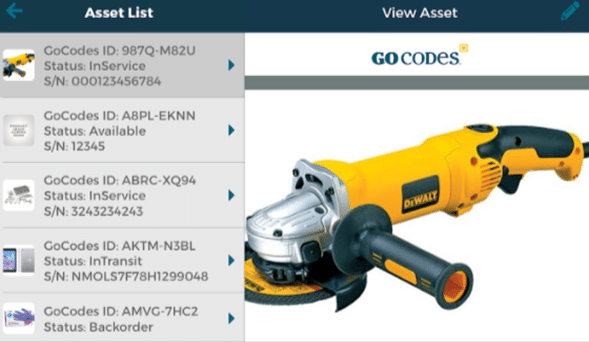 It can help you keep a close eye on your inventory because it allows you to build a solid database of your assets, complete with information about its status, and maintenance schedules. You can even see who among your personnel handled a piece of equipment last, so nothing ever gets lost.
And all of this with very little manual input because the software comes with scanning capabilities that update the equipment's status automatically.
In conclusion, quality equipment management software will all but make manual data entry obsolete and streamline both the operational and financial side of equipment-related processes, thus elevating your business to new heights.
Keeping Track of Equipment's Location
When you're starting out small, keeping track of your equipment can be simple. However, what if your business grows to hundreds of assets essential for your now booming operations?
Companies with large fleets of vehicles or machinery have been utilizing GPS tracking systems for a long time. Alas, small and medium-sized businesses couldn't afford those expensive GPS trackers.
But new technology trends have enabled even smaller operators to take advantage of wireless tracking solutions.
For instance, here's just a quick look at what Amazon offers in the GPS tracker department.
This is only a fraction of their offer.
As a result of increased user uptake, the global construction management software market is expected to grow 6.2% per year, its value reaching $2.6 billion by 2028.
And this is despite the construction industry lagging in digitization, as you can see in this digitization index table by McKinsey.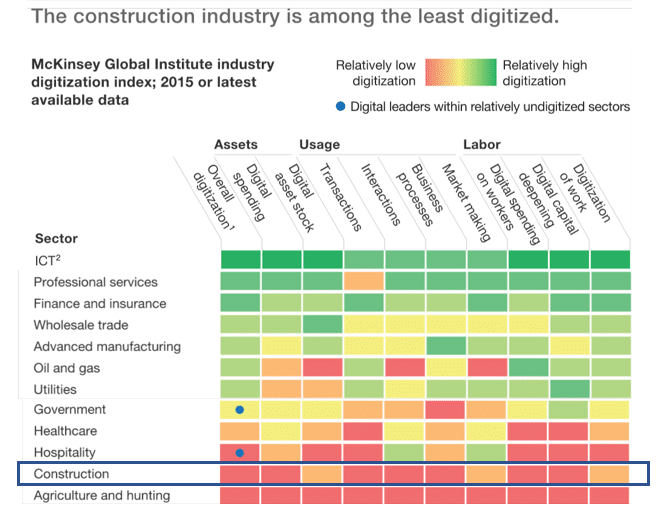 While the ICT sector is naturally sitting on top, the construction industry lags far behind, even though it can definitely benefit from the solutions digitalization can bring.
However, things are not as bad as they might seem. Actually, some companies are quickly moving forward.
For example, 54.2% of construction managers were using construction management software in 2018. This percentage has certainly gone up since then, especially since the pandemic and recent supply chain breakdowns, both of which led to a spike in construction site theft.
That said, keeping track of your equipment's location has become even more critical. And the market offers a variety of equipment tracking solutions.
In one case study, a small fuel distributor called Laurel Fuel Oil, operating a total of 16 trucks in Laurel, Maryland, successfully deployed a GPS tracking system.
They initially set up the system to prevent theft but ended up reaping many other benefits over and above enhanced security, among which better vehicle utilization and reduced insurance costs.
However, if your business owns, for example, a lot of equipment, machinery, and small tools, it's still expensive and impractical to place GPS trackers on all of them.
The answer to this challenge might be to tag your equipment and use cloud-based software to track it.
And a solution that again fits this description? GoCodes.
In short, GoCodes is a cloud-based software solution that combines the power of patented QR code tags and smartphone scanning to provide GPS-enabled asset tracking.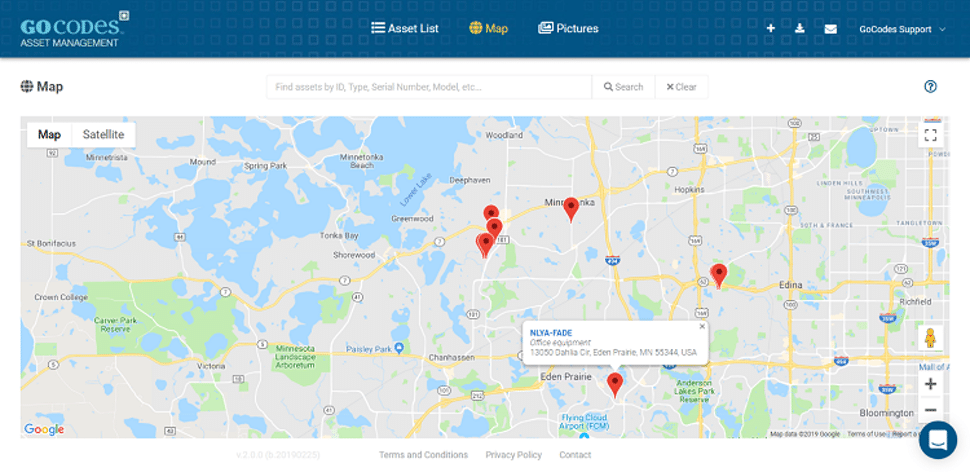 To sum up, technology offers many solutions that enable you to track big and small equipment in real-time or near real-time, so you can always know where your machinery is located.
Controlling Maintenance Expenses
The next challenge businesses often face is controlling their equipment maintenance expenses. And software can again help streamline maintenance procedures and prevent breakdowns.
First, when a company has no overview of where its equipment is, maintenance often takes a back seat. And the costs of poor (or merely reactive) maintenance can be significant, to say the least.
In the words of Rick Biedenweg, President of Pacific Partners Consulting Group:
"Every $1 in deferred maintenance costs $4 of capital renewal needs in the future."
This is confirmed by the U.S. Department of Energy (DOE) estimate that predictive maintenance can cut reactive maintenance costs by 30–40%.
But we'll dive deeper into that in the final section.
When it comes to uncontrolled maintenance costs, they usually come from improper operation and running equipment to failure.
This often leads to higher repair costs because one damaged component (which could've been easily replaced) can cause a major equipment breakdown.

So, one way of controlling costs is to prevent small breakdowns from becoming big ones.
This can be done by instilling a maintenance-first culture in your organization, meaning that staff will prioritize maintenance, regularly check equipment, and use checklists when doing so.
Keeping the records, logs and documentation on the company equipment current is another step that needs to be taken to prevent equipment failure—or at least reduce the resulting downtime.
How will having updated records do that?
Well, the records tell the story of who serviced the asset in question and when they did so. For example, when equipment is inspected prior to operation and something is off, the last service date can be a crucial piece of information.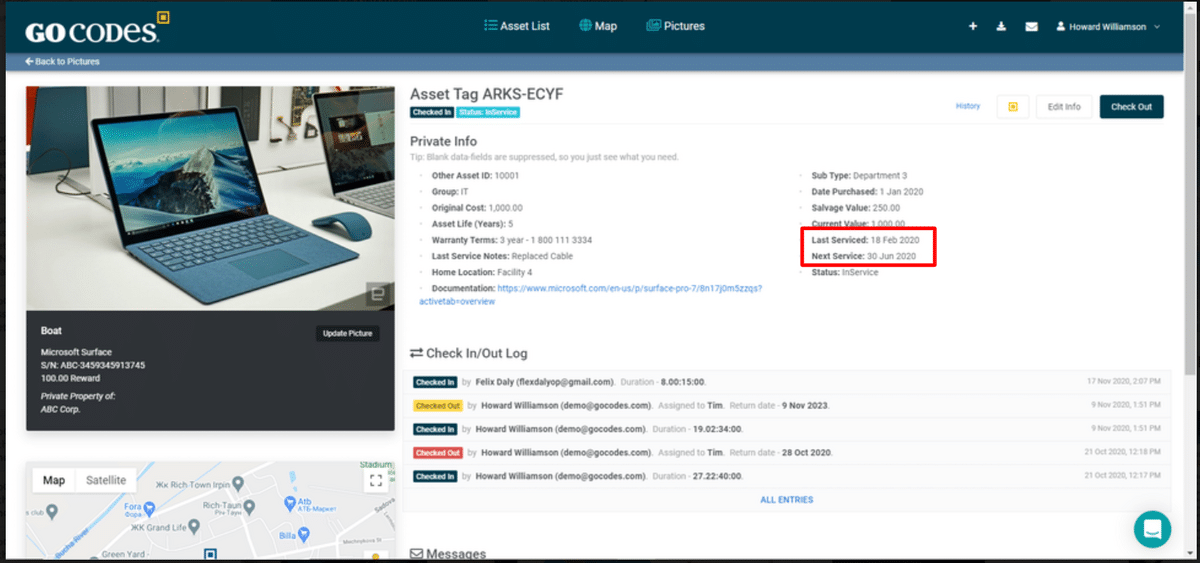 If the failure has already taken place, this information cuts the downtime by facilitating the fault identification and repair process.
Of course, inspections, checklists and documentation updates can be done manually. But then you're running the same risk as with spreadsheets.
Instead, it's much easier and faster if, for example, your employees can tick off items on the checklist on their smartphone while inspecting equipment.
Or if a quick smartphone scan can give employees the info on who last used the equipment, when it was last serviced, and what exactly was fixed—along with an attached instruction manual.
This is another feature of our own software, GoCodes.
Thus, the hurdle of controlling maintenance expenses can be overcome with the right company culture that puts maintenance and safety of its workers first and gives them the tools (software) to do the job.
Making Sure the Operators Are Up to the Task
Whether it's heavy machinery or precision laser tools, making sure your equipment operators are well-trained is crucial for both the safety and productivity of your company.
Ideally, all operators in a company should be trained to use all relevant types of equipment.
In reality, this is rarely the case.
And when we consider that the construction labor shortage has been a long-standing problem since before the pandemic, it's no surprise that 72% of construction companies expected the lack of labor to be their biggest challenge in 2021.
To say that skilled labor is difficult to find would be a severe understatement, as this tweet clearly states: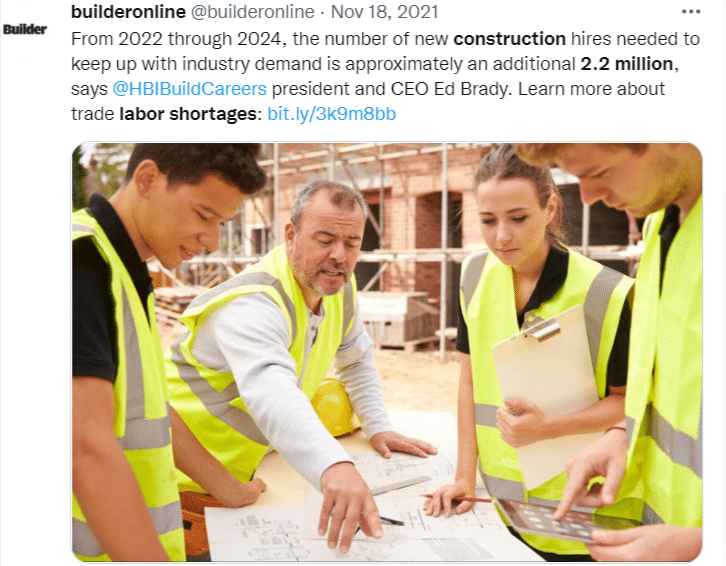 That said, training your operators to handle multiple machines safely and efficiently becomes even more important.
In addition, improper operation of equipment is one of the major causes of breakdowns and injuries. That's why unqualified operators should never use equipment out of their scope of expertise.
If that's not reason enough, the Occupational Safety and Health Administration (OSHA) prescribes operator training requirements for certain types of equipment.
Thus, hiring unqualified operators constitutes regulatory non-compliance.

One way to ensure your operators receive in-depth training is to get it together with your purchased equipment.
For example, Volvo Construction Equipment, a renowned Swedish heavy machinery maker, provides machine operator training for its clients.
This is an amazing practice because there's no one more qualified to train operators to use the equipment than the company that manufactured it.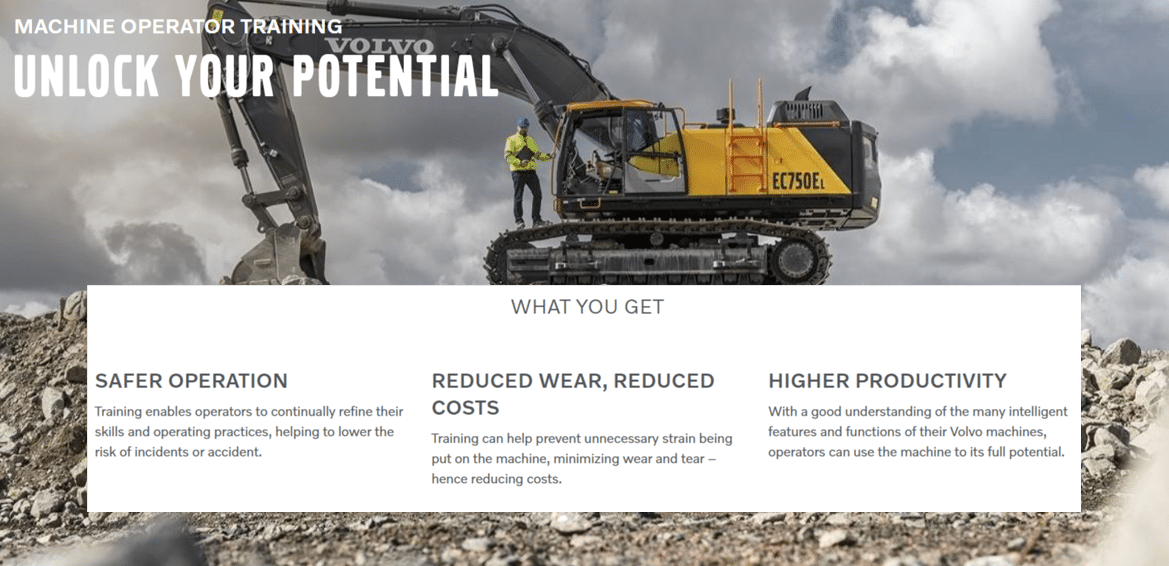 Their training is a combination of theory and practice, advanced training simulators, insight reports and real-time feedback by expert trainers. Here's what their simulators look like.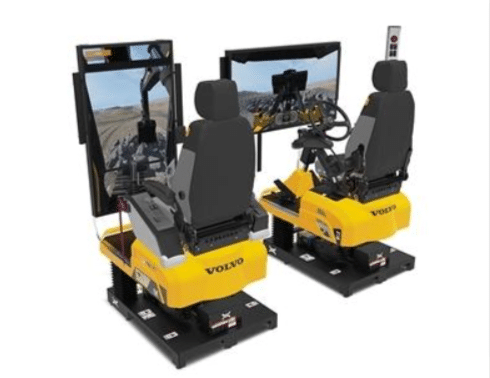 And that's not where operator training stops. It continues throughout their career.
Like in this video:
Or, to quote veteran operator Anders Rönnemark, who explained how the Volvo Machine Operator Coaching app changed his driving:
"Since I've been doing this job for 30 years, you might think I'd know best. But I've changed the way I work. I think about how I can get more out of the machine and more profitability in the long run."
You can see him in action in this video:
So, there are many ways to ensure your operators are up to the task of operating equipment safely and efficiently.
Nevertheless, good planning and smart technologies can help your company to face this challenge and come out with enhanced productivity and higher profitability.
Servicing Equipment Regularly and Strategically 
Although regular and strategic maintenance sounds almost self-explanatory, some contrary practices have long plagued many asset-heavy industries, and construction is no exception.
However, now it's clear that preventive and predictive maintenance leads to your company's stronger productivity, safer workers and healthier bottom-line.
As regular maintenance has long been viewed by many as an unnecessary cost, it's not surprising that studies (such as the one that the U.S. Department of Energy estimate we talked about was based) show that reactive maintenance is still the predominant way of servicing equipment in the U.S.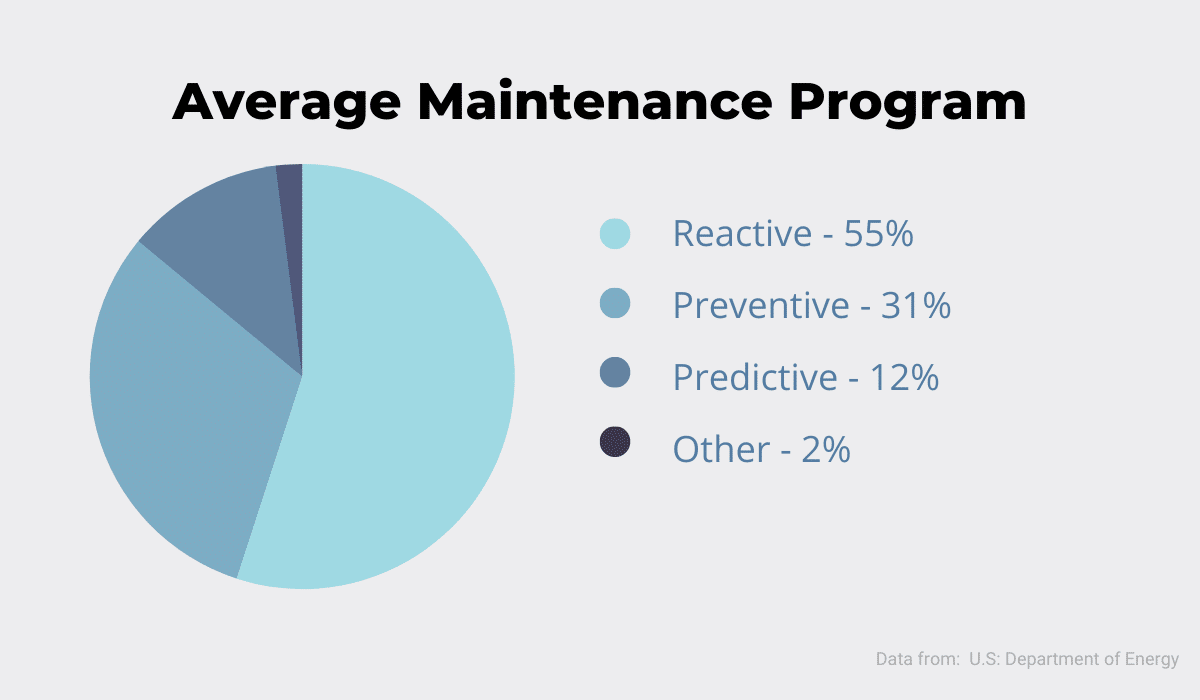 Here's a good overview of the differences between these three maintenance modes.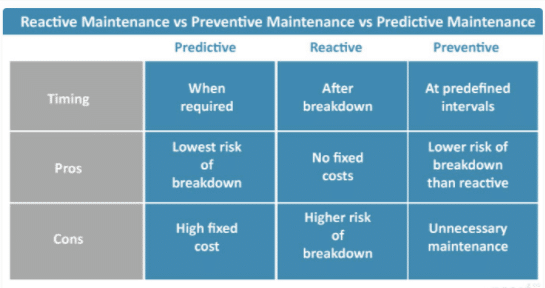 Since predictive maintenance can achieve the most significant cost savings, those high fixed costs can be minimized by making prudent decisions such as introducing maintenance standard operating procedures (SOP) and selecting the right software solution.
And the benefits of establishing a predictive maintenance program can be immense. In fact, the aforementioned estimate cites independent surveys that indicate businesses can expect the following: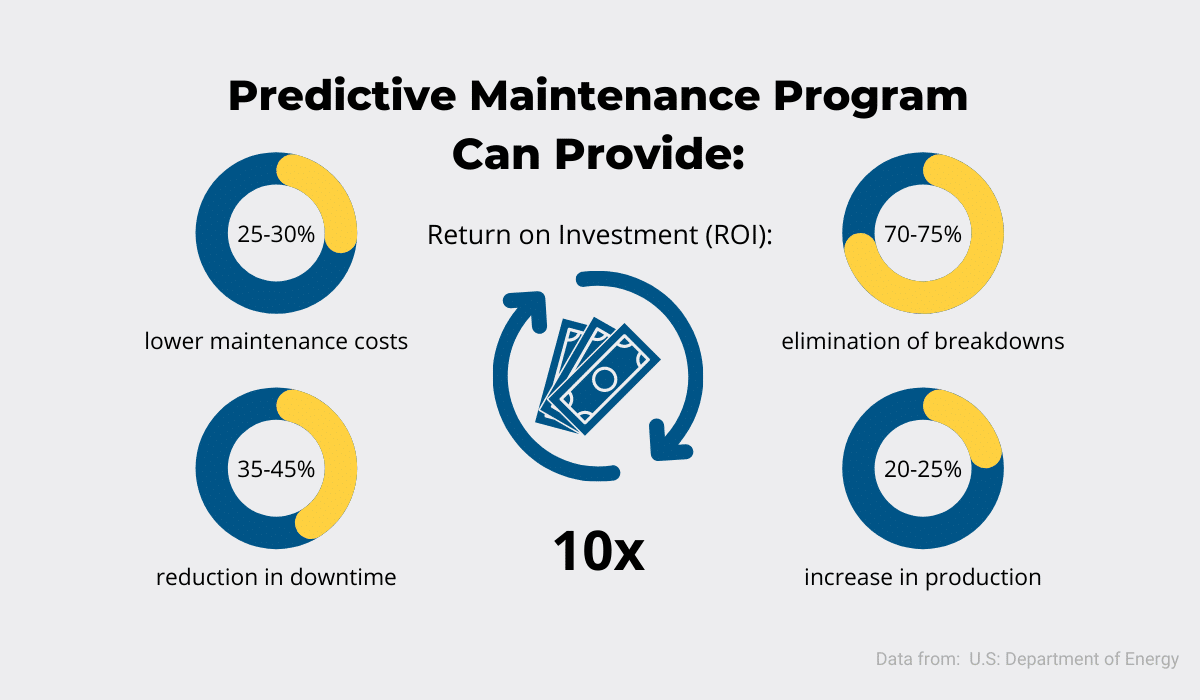 If you want to calculate the return on your investment in asset tracking with GoCodes, you can do so here.
And we shouldn't ignore the other major benefit of regular maintenance—more safety, fewer injuries.
In fact, improved safety should be among the top priorities of the construction industry.
Why? Because construction has the highest rate of fatal injuries compared to all other industries, both in the United States and worldwide.
Furthermore, the U.S. Bureau of Labor Statistics reported nearly 1,000 fatal work injuries in the construction sector in 2020.
In fact, that number is even higher if we add installation, maintenance and repair, as this table shows:

That said, regular and strategically timed maintenance can help minimize this number. In other words, by taking proactive steps in equipment maintenance, businesses can actively work on promoting the safety-first culture.
Fewer workplace injuries and fatalities are good for company morale, productivity and profitability.
Some best practices that can help prevent construction injuries are:
They both provide additional safeguards and inform your company's maintenance decisions.
When maintenance operations are integrated with a quality equipment tracking solution, such as GoCodes, the equipment lifecycle can be easily monitored, which helps you establish a solid predictive maintenance strategy.
Wrapping up, it's evident that servicing equipment regularly and strategically can improve overall company operations, raise productivity and minimize workplace injuries, all of which leads to an improved bottom line.
Conclusion
Having covered these five equipment management challenges businesses often face, it's clear that some good decisions and investments can make equipment management much less complex and much more cost-efficient. We hope this article will help you achieve this.