Increasing field employee productivity no longer has to give you a headache!
We all know that it's sometimes impossible to ensure your workforce in the field is productive. Increasing that productivity is even more challenging.
After all, how can you do that when you're not with them?
This article will give you nine tips on how to increase productivity in the field by including your employees in the process and establishing a genuine connection with them, guaranteeing excellent results and better employee performance.
Stay in Touch With Your Employees
Staying in touch with your employees helps you increase their productivity.
Allowing your employees to get in contact with you benefits you more than you realize.
A staggering 84% of field workers believe that there is not enough communication with top management, which makes them disengaged.
When you establish a line of communication with your workforce in the field, you give them a way of coming to you with any thoughts, questions, or concerns.
If your employees get stuck on a certain point, don't feel well, have a doubt about their task, or notice a potential safety hazard, they have to have a way to contact you or others in charge when the supervisor is not around.
This might not seem like a lot, but it goes a long way.
If you don't give this option to your team members, they will either take the risk and continue working despite the concern, or they will stop working until they can ask someone to help them out.
These two options don't seem like that big of a deal, but remember that the first one can lead to injuries and accidents, and the second one can cost you time and money.
Remember that communication works both ways and use it to stay in touch with employees to show you're involved and interested in their success.
Introducing a line of communication with those in the field increases productivity.
Identify Worksite Issues
When you identify worksite issues, you help employees be more productive.
There are many potential risks when you're working in the field—the project design could be flawed, your workforce could be unprepared, project permits or insurance could expire.
Safety can also be an issue.
In a setting with constantly changing conditions and layout, with many employees on the site, the likelihood of something happening is high.
Because of this, you need to identify the risks in the field and work on eliminating them before you damage, injure someone, or delay your project.
Of course, you should assess the risks before construction begins, as this helps you find and eliminate issues before starting work.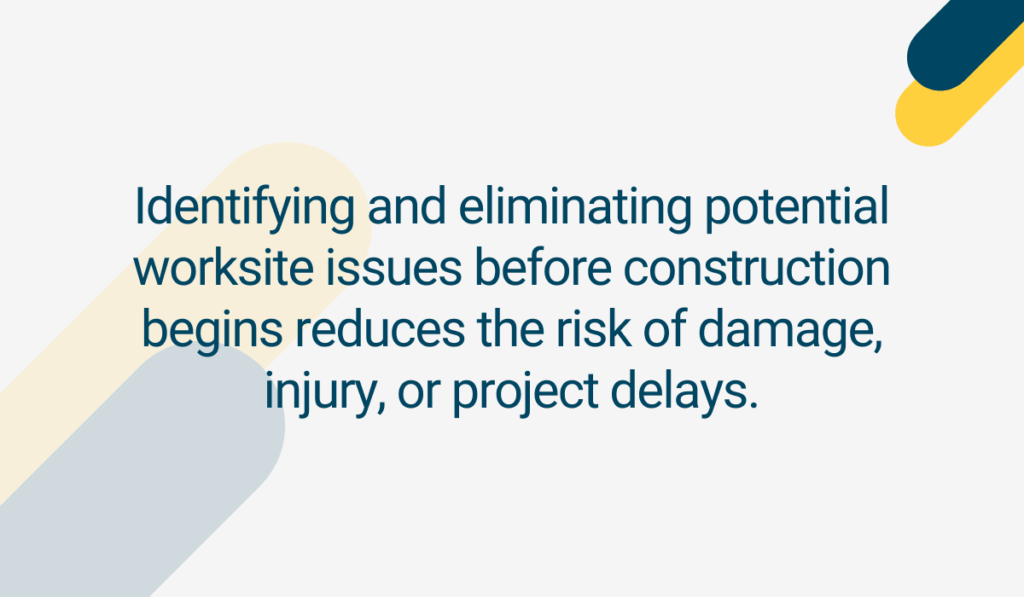 However, after eliminating the risks you've found, after your team starts working on the field again, you should keep an eye on possible issues again.
You'll stay ahead of the game and progress towards your goal without interruptions.
If you don't know how to find worksite issues, have a brainstorming session with your team, hear them out, and understand their problems in the field.
It will help you remove the obstacles that slow them and the project down.
Knowing which issues are present in the field helps you eliminate them, increasing productivity in the process.
Communicate Your Company Goals
The understanding of company goals increases your employee productivity.
When you communicate your company's goals and achievement strategy, you're giving your employees the chance to implement the plan to reach the aims.
Remember that your employees are there to do their job, which means they might not get the bigger picture or understand their role in it. Their goal is to simply finish their tasks and get paid.
Many people work without understanding the importance of their work to the company, making them disengaged and less productive.
However, if you take the time to explain the overall goals and the concrete steps you can all take to get there, you can motivate them to get more engaged and improve their results.
With proper communication, they will understand how the tasks they do relate to the greater goal, thus ensuring that they know how significant they are to the company.
Start by including the company objective in the job description and familiarizing the workers with it during the onboarding process.
Also, you can always notify your employees of significant breakthroughs and milestones to make the whole process seem like a joint effort.
Help your employees be more productive by explaining the company goals.
Have Supervisors on the Site
Having supervisors on the site makes employees more productive.
Constant monitoring and invading your employees' privacy is never an option. However, you need to have some form of supervision in the field.
Since around 25% of workers are late to work at least once a month (and 12% of them as often as once a week), your productivity decreases.
When workers know that a supervisor is present at the worksite, they are more likely to arrive and leave on time.
If they are late, more often than not, the workers know they will have to have a conversation with a supervisor, who will surely notice such irregularities.
Construction work can be tiresome, and the weather conditions affect workers, but that's not a reason to leave before they're supposed to.
Without a supervisor around, workers may cut their work hours short and leave early, thinking nobody will notice since it doesn't matter that much.
The team can benefit from supervisors because they are the ones in charge of the construction site.
If a worker notices an issue or has a dilemma regarding a task, they can take it up with the supervisor on the spot and carry on with minimal delay.
The supervisors' presence on the job site improves employee productivity.
Ensure Regular Equipment Maintenance
Proper maintenance has a positive effect on employee productivity.
While the employees in the field are not in charge of equipment maintenance, it affects them significantly.
There are three types of maintenance: preventive, predictive, and reactive maintenance.
Preventive tends to be the way to go—76% of employers prefer that type of upkeep.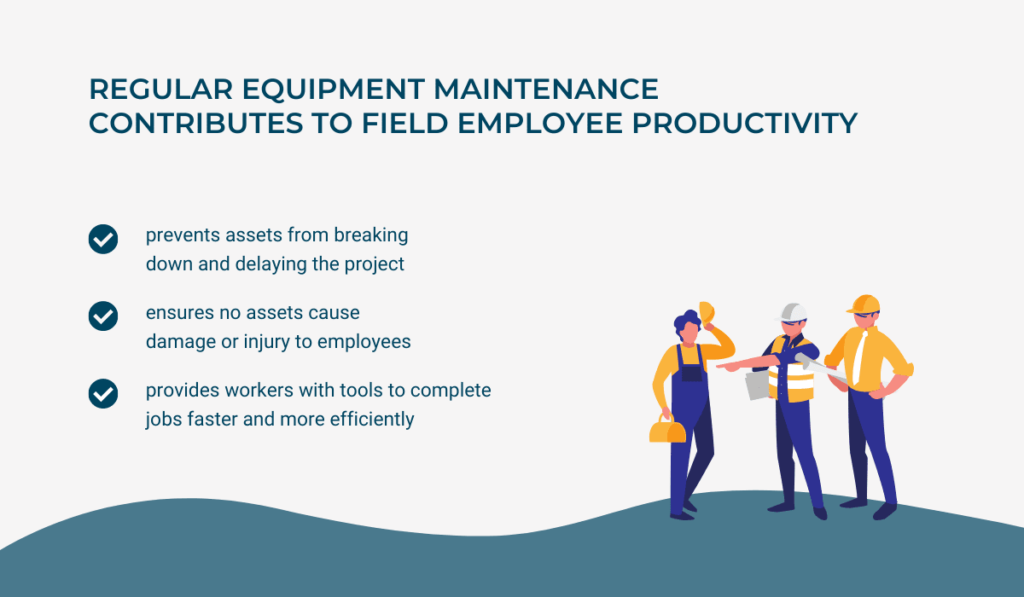 Schedule regular checks so your team can inspect the equipment, tweak it, and determine any possible future issues like safety risks or equipment failures.
Both options cause your productivity to take a hit, which is why you should work on eliminating them.
If a piece of equipment breaks down, work stops until you fix the asset or bring in a new one, which takes time and decreases efficiency.
On the other hand, if the equipment doesn't break down but malfunctions in a way that poses a risk to the safety of those who use it, the workers have to stop using it entirely.
If they don't, they risk injury, which can also sometimes block your entire project.
Another benefit of maintenance is that it maximizes your equipment's potential and ensures it runs smoothly, thus making the tool and, therefore, the employee more productive.
Regularly upkeeping your equipment positively affects employee efficiency and productivity.
Schedule Tool Usage
When in the field, your workers have to use tools to perform their job.
Construction has many different phases during which various assets are necessary, from the smallest to the largest pieces of equipment.
Most companies don't work on a single construction site—they maintain many. The ability to schedule tool usage across worksites increases your workers' productivity.
It's usually hard to coordinate this and ensure that each worker has all the tools necessary on a daily basis.
Because of this, construction sites often aren't as productive as they can be—the employees spend a lot of time looking for a particular asset, borrowing assets from others, returning the equipment, etc.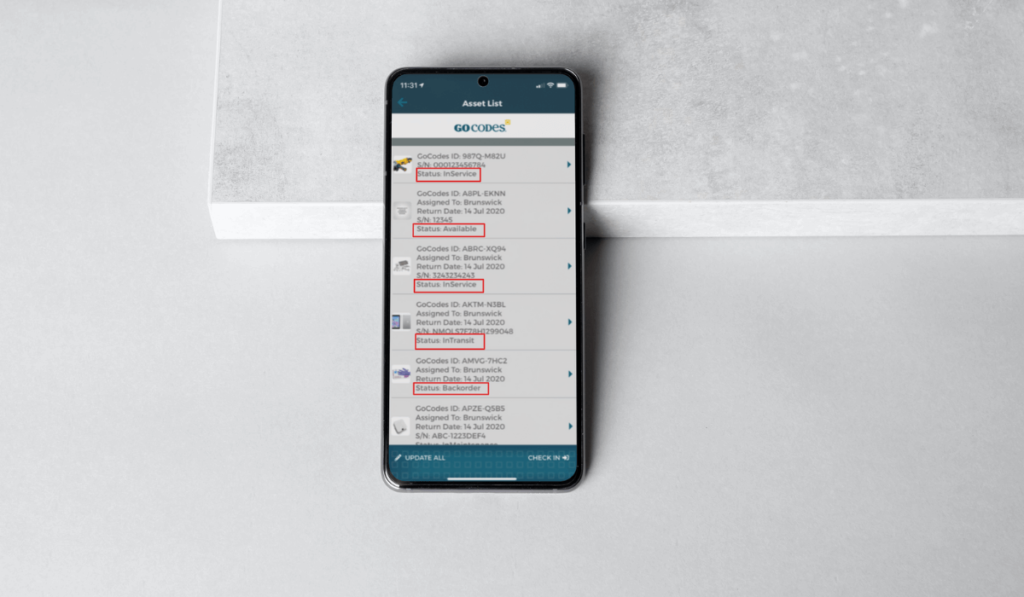 In fact, while trying to locate the equipment and figure out if it's even available for use, they are unproductive.
To prevent all of this, implement a scheduling system that lets you and your employees reserve the equipment you need in advance.
For example, if you know that your workers will need nails and hammers during one of the project phases, you can reserve them in advance and ensure that the workers have everything necessary to perform.
If they need anything that you haven't already scheduled for them, they can use the system to check whether the asset is available and check it out seamlessly.
Scheduling tools helps your workers always have access to the tools necessary to do their job.
Don't Forget Employee Training
It's simple—the better you train your employees to do their job, the more effective they'll be at it.
Your training should equip your workers with all the necessary skills and knowledge to work in the field.
After the training, they should be able to go out to the worksite and work independently.
This type of training should start during onboarding. Quality instructions can motivate your new hires to achieve their full potential and be as productive as possible.
During training, you need to show the workers what you expect of them and achieve it, allowing them to set personal goals.
Of course, training doesn't stop there!
You should invest in continuous training for your workers to hone their skills and learn something new every time.
The more they know, the more skillful they will be in the field, resulting in higher productivity.
Training can also help you work on a professional development plan for your workers, allowing you to give them the skills and knowledge necessary to reach their professional goals.
If you do this, you will not only engage your employees but benefit from their newly acquired skills.
Perform Worksite Inspections
Your workplace will be more productive if you eliminate all threats on time.
You have to carry out regular worksite inspections to uncover any issues that could cause downtime or safety hazards.
In both cases, work comes to a halt for a while, and you waste time, energy, and money until it starts again.
Performing inspections also lets you hear your employees' insight and perspective regularly.
Since they're working in the field, they notice a lot more irregularities than you think. When you give them a chance to talk to you about them, they can help you remove potential threats from the site.
Additionally, inspections allow you to get to know the workers, their roles, and their performance better.
With this insight, you can improve their professional development plan and suggest corrective action, if necessary, making them more productive in the long run.
During the inspection, you have to keep your eyes out for hazards.
Most inspectors simply look for safety hazards, but pay attention to aspects other than equipment, like employee workload, stress, weather conditions, and ergonomic conditions.
When your workers understand you're there to ensure that things are going to plan and their working conditions are good, they will feel appreciated.
Perform inspections regularly to eliminate issues that negatively impact productivity.
Celebrate Their Achievements
If you take the time to compliment and congratulate your workers on reaching important milestones or professional development goals, you show them you care about them.
People work better when they feel appreciated.
If a worker feels appreciated and essential in the workplace, they will strive to perform better. In fact, companies with engaged employees saw a 22% increase in productivity.
Since your employees are in the field, they are away from all the benefits the office has to offer.
They don't see business emails, it's more challenging for them to connect with peers, and they don't have all the data they need at hand.
As a result, it's easy for your field employees to feel disconnected from the rest of the company, which is why you should pay attention to their performance and celebrate their achievements.
Investing time and effort in your employees pays off.
Appreciated employees are more likely to stay with the company, saving you from having to train new employees over and over again.
Of course, hiring new employees is important. Still, if people quit in the middle of the project, it will suffer delays until your new workers are ready to work independently.
This will make the entire team less productive.
You can use your official communication channels to publicly congratulate employees, compliment them as a team or individuals, and show that you monitor them and their progress.
However you choose to do it, celebrate your team's achievements to boost productivity!
Conclusion
The key to improving the productivity of your workers in the field is staying in touch with them.
Open a line of communication so they can reach you. You can also use it to celebrate their milestones and communicate your company goals on top of doing that during training.
Through this communication, your supervisors, regular maintenance, and worksite inspections, you will identify issues in the workplace and fix them before they affect productivity.
On top of all of this, you can also allow your employees to check equipment in and out and schedule it for a later time, allowing them to work seamlessly.
GoCodes Can Help
GoCodes allows field employees to track service records, schedule future service tasks, or set service reminders through their smartphones. They can manage tasks and equipment without having to leave the worksite, which contributes to their productivity. Sign up for a free trial here.