Are you looking for ways to improve the efficiency of your construction operations?
Look no further!
In this article, we'll provide you with six tips that can help streamline your processes and increase overall productivity.
Whether you're a small business owner or a project manager at a large construction company, these tips can benefit your operations.
So, let's get started!
Begin Tracking Performance Metrics
Before you even start working towards improving your company's operational efficiency, it's necessary to assess its current productivity level and find out which areas could benefit the most from such improvements.
Essentially, you need to measure performance in order to know how to increase it.
But how do you do that? By looking at the earnings?
Yes, it's common for business owners to focus solely on achieving short-term budgetary goals, but relying on monitoring financial performance to assess the company's well-being may not be as effective as expected.
In fact, measuring success by paying attention only to finances often results in discovering losses when it's already too late to take corrective action.
Instead, according to Ivana Tudja, BMI and Digital Engineering Lead at Mace, it's best to concentrate on other KPIs (key performance indicators).
These efficiency metrics, which could be anything from rates of safety incidents and timely project completion to asset utilization and rework rates, help determine whether or not your business is where you want it to be compared to your own objectives as well as to your competitors.
As such, they definitely shouldn't be overlooked. But how do you decide what exactly to measure?
Since every company is unique, there's really no one-size-fits-all answer to the question. However, Autodesk outlines five general "value drivers" that can help you get started:
Winning business
Quality
Cost
Schedule or program
Health, safety, and environment
Within each of these performance pillars, there are several specific metrics gauging progress in that particular domain.
For instance, if you aim to enhance the quality of your projects and minimize rework, you can evaluate the number of defects, the time taken to address them, rework rates, and the total expenditure on rework, among other factors.
If, on the other hand, you'd like to boost the equipment's efficacy, you'd zero in on the KPIs outlined in this article.
In any case, remember that progress is a slow process, but so is measuring it.
Therefore, to ensure accurate tracking of performance metrics, it's crucial to maintain consistency.
By doing so, you'll begin to notice patterns that will guide better decision-making and maximize efficiency over time.
Establish Consistent Processes
Once you identify the areas that require improvement, it is time to begin working towards achieving this goal.
Here's how.
First, it's crucial to understand that, just like in performance measurement, consistency is essential in all aspects of business operations.
In other words, whether it's project management, daily reporting, equipment maintenance, or safety inspections, the workers must know these processes will be performed the same way every single time.
If not, this lack of standardized procedures could then lead to team coordination issues or poor planning and, ultimately, cause major disruption in the workflow.
Knowing that productivity is somewhat of an issue in the industry, Levelset decided to conduct a survey delving a bit deeper into this topic.
Here's what they found out.
Many surveyed industry professionals consider the management of fieldwork at least to some extent challenging, with more than half of them blaming project delays precisely on inadequate coordination and planning.
However, the industry is on its way to fixing its standardization problems, and it's doing so through automation.
Today, we see a multitude of dedicated construction software and apps that help companies stay on track with their daily tasks.
As a matter of fact, as per the 2021 JBKnowledge Construction Technology Report, a large majority of businesses incorporate some form of construction software or app into their operations, which serve various purposes, ranging from project scheduling and management to accounting and field data collection.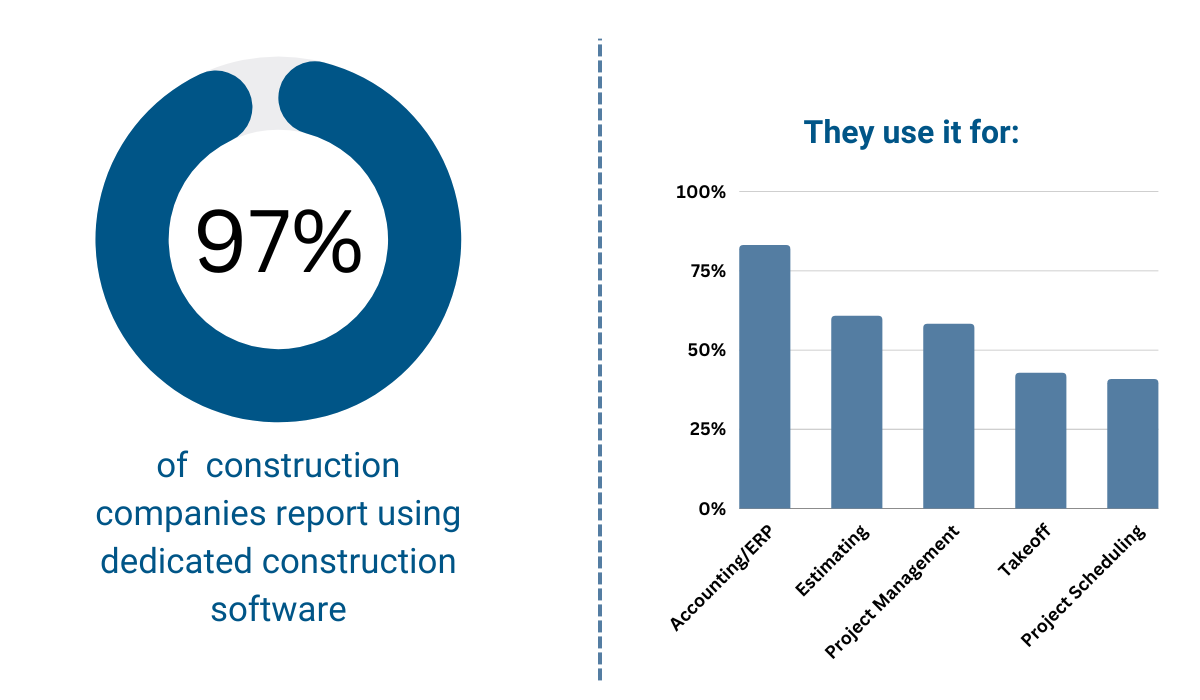 The research findings, however, really come as no surprise since these modern solutions help eliminate a lot of unnecessary steps and guesswork, providing a much more productive work environment.
In short, the systematization of a company's processes benefits all parties involved: employees, owners, and clients alike.
Manage Your Employees' Time Effectively
Standardization will do a lot to boost employees' efficiency, that's for sure, but it alone is not enough to get the most out of them.
It's also important to take a good look at your workforce utilization and determine if you're doing the best job possible at allocating your staff and scheduling their duties.
Are there workers that could be doing more? And are there some that are working too much?
Of course, underutilized employees generate unnecessary costs and tend to bring about a decrease in productivity, but overloaded workers, who are on the flip side of this effectiveness coin, can be a source of a decline in overall efficiency as well.
Although this is not frequently talked about in the construction industry, job-related burnout is a prevalent issue these days.
Studies show that 68% of tradespeople experience stress at work on a monthly basis, with excessive workload being one of the primary causes.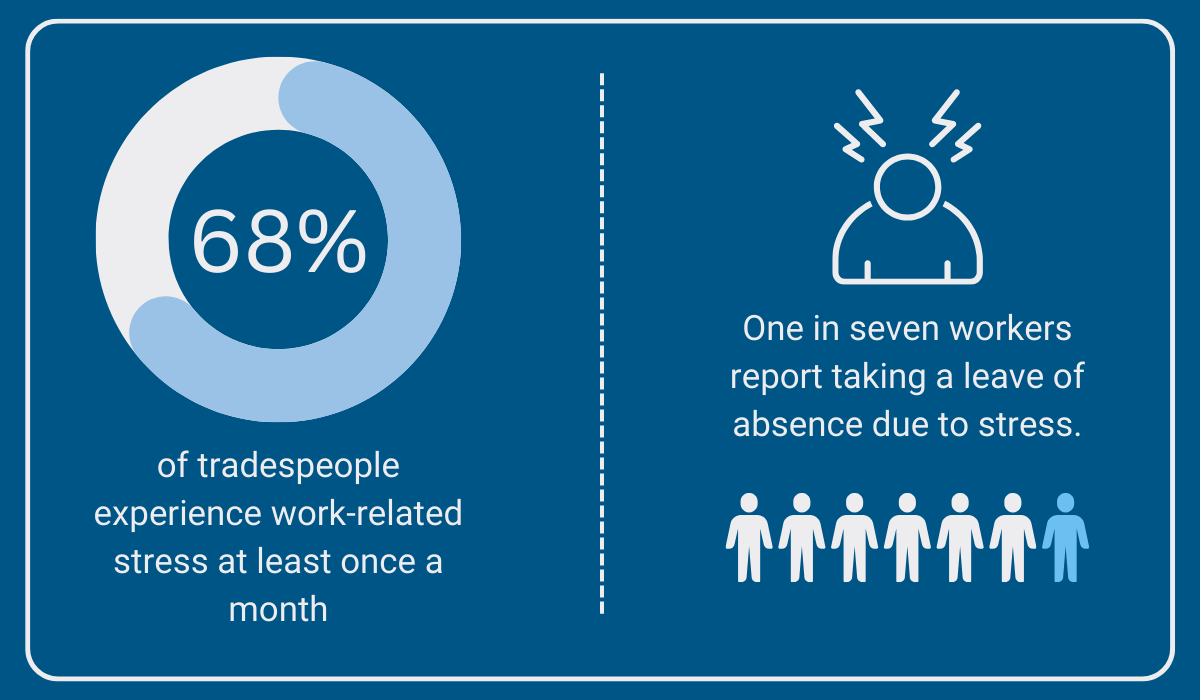 This mental strain often leads to employees taking time off work, with around one in seven workers reporting the need to do so.
Managing your staff efficiently, therefore, will not just make them more productive but happier, healthier, and more engaged with their work, too.
Keep in mind, though, that effective employee management does not only entail knowing where and when to put your team to work but also when it's better to invest some of their time in training and recognizing when they are overworked.
By carefully monitoring workforce utilization rates, you'll be able to make the most out of your team's skills and time while keeping them efficient, satisfied, and motivated.
Streamline Your Communication
Establishing proper means of communicating with employees on all company levels is essential for overall operational efficiency as well.
Not maintaining the appropriate channels for exchanging information or reporting issues in the field usually means nothing gets done.
At least not on time.
A 2022 research carried out by Harris Poll on behalf of Grammarly Business highlights the significance of adequate communication for both workers and company leaders.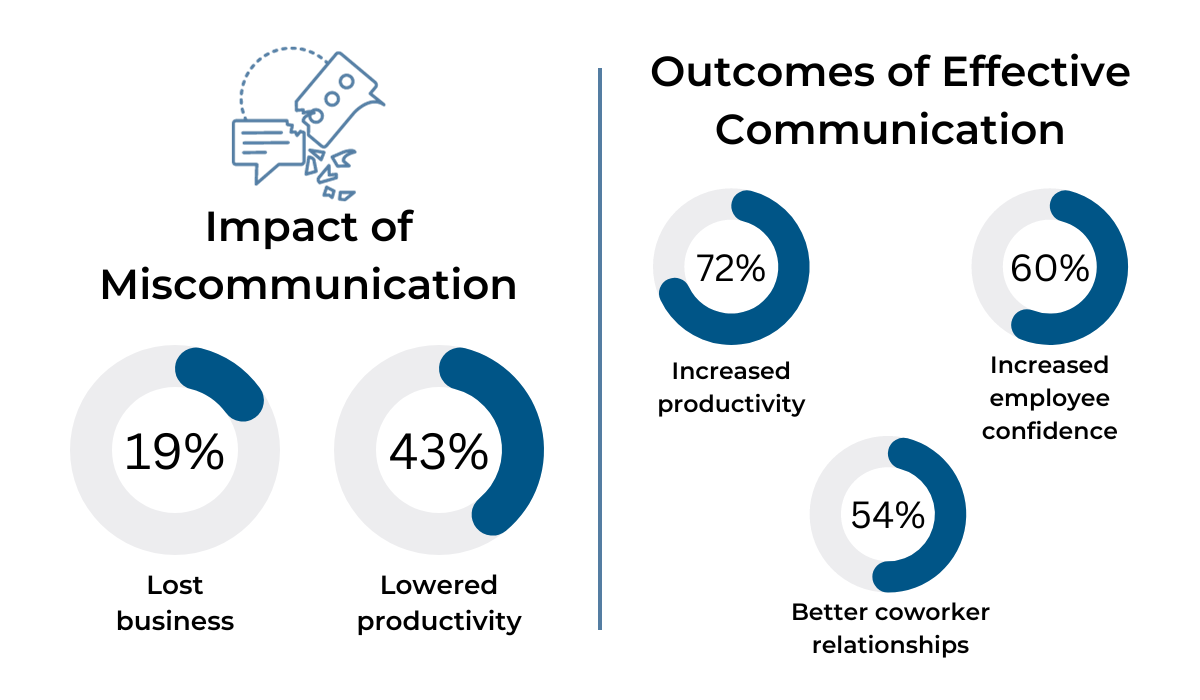 The respondents of the survey reported that miscommunication in a lot of cases led to lower production and even lost business, while a strong communication strategy increased productivity, customer satisfaction, and employee confidence, as well as improved relationships among colleagues.
So, how do you achieve these benefits?
The answer is, yet again, automation.
Automated communication systems make connecting with your coworkers easier, quicker, and more effective.
Want to report a machine malfunction on a job site?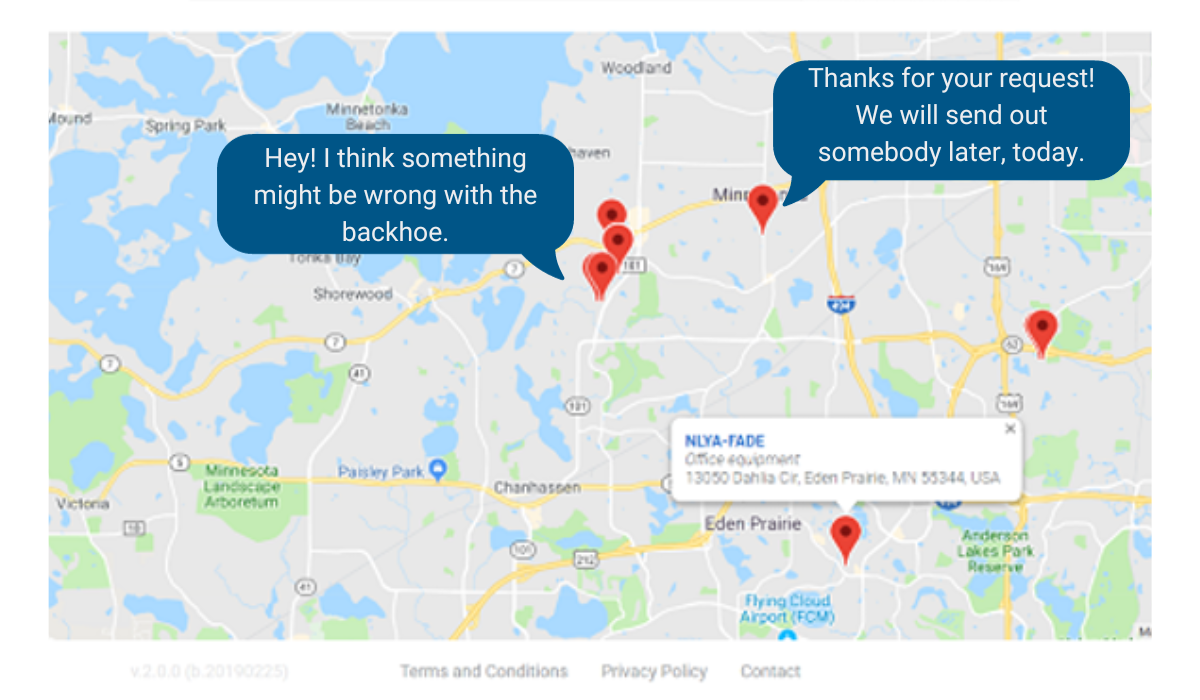 Simply use the dedicated smartphone app to submit the service request.
The person in charge of equipment maintenance will then receive the message with all the crucial details, such as the date, asset name, or location, and be able to take action immediately, ensuring everything is back to optimal working order in no time.
No need to spend hours calling and trying to find someone who can help.
Imagine the productivity boost you would get from such a system.
Efficient communication processes are vital, but luckily, that doesn't mean they have to be complicated.
Ensure Your Equipment Is Kept Maintained
Admittedly, spending more time on planning and performing equipment maintenance in order to save time and improve productivity might seem counterintuitive at first.
However, just like with anything else in business, it's necessary to look at the bigger picture.
Let us explain why.
Routine maintenance allows you to detect and fix issues early on before they evolve into major (and more expensive) problems that ultimately may even lead to project delays and, in turn, dissatisfied clients.
The State of Industrial Maintenance Report of 2022 confirms this, stating that lack of adequate care for equipment is the primary threat to productivity.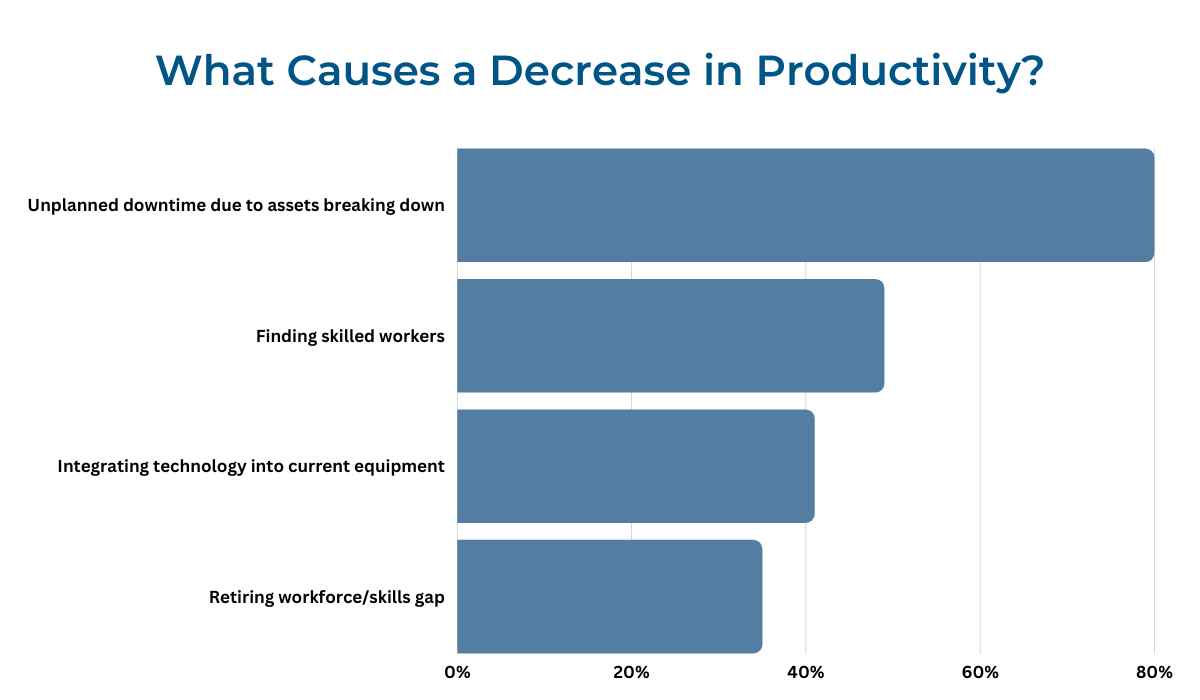 Therefore, if you start inspecting your assets thoroughly and frequently today, in time, you'll notice they don't break down as often, causing your repair and replacement costs, as well as unplanned downtime rates, to go down.
At GoCodes, we're also aware of these benefits but understand that it's not always easy to coordinate the ongoing construction work with machine inspections, especially on a regular basis.
This is why, as a part of our asset tracking software, we developed a couple of features that make it easier to plan out and perform machinery maintenance.
The Tasks feature, for example, enables users to create assignments and appoint them to specific workers.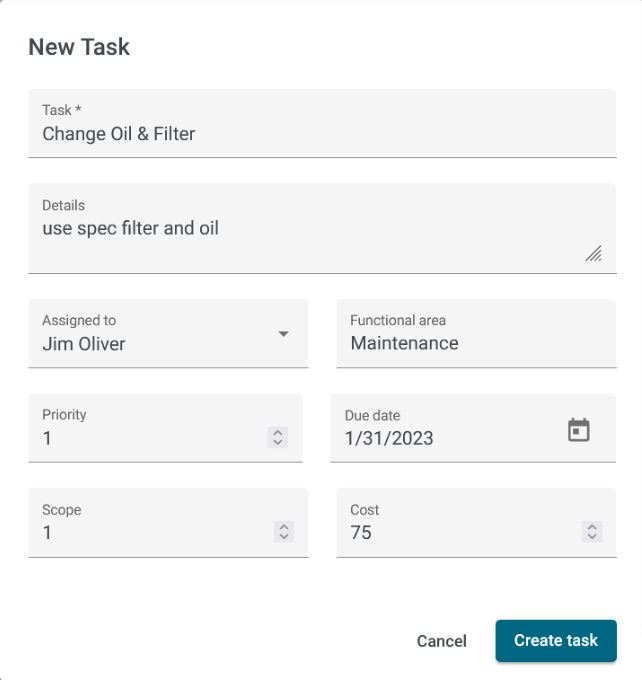 The feature also lets you track the progress of each task, so you can always be sure everyone's on top of their duties.
Moreover, the GoCodes system sends out reminders for scheduled services, ensuring you never miss them.
That way, you can rest easy knowing no stone will be left unturned.
Overall, neglecting equipment inspections and servicing would be a huge mistake for any business looking to increase its operational efficiency.
With proper care, your assets will continue to operate at peak performance for years to come without causing any unexpected complications and disruptions to the workflow.
Keep Your Inventory Under Control
Obviously, heavy equipment is the construction industry's staple.
But what about expendable supplies, such as tarps, drill bits, grinding wheels, gloves, hoses, fuels, lubricants, and many others?
They also have a role to play in successful project completion, and therefore, monitoring inventory to ensure any potential shortages are prevented is a must.
In other words, fail to control your inventory, and you might fail to stay on track with your projects, too.
So, what does having control of the inventory mean exactly?
More than anything, it means avoiding manual tracking methods, such as Excel sheets, to monitor the quantities of construction materials, supplies, and tools.
Spreadsheets are highly prone to human error and, as such, are not adequate tools for resource management.
If you're still using them, it is possible that the information in your records might not be entirely accurate, leading to an incorrect assessment of the supply levels and, in turn, potentially slowing your team down.
Therefore, if you think your consumables are not being managed properly, it may be worth considering switching to an automated inventory tracking system.
It allows users to update the quantity of each consumable item on the go and carefully track any changes to the total amount.
By doing so, you make sure every item is accounted for and nothing slips through the cracks.
Moreover, certain solutions can send notifications when supply levels fall below a specified threshold. That's the kind of efficiency you don't get with spreadsheets.
Ultimately, managing inventory is a critical aspect of any operation.
By identifying and addressing any issues in a timely manner, you can avoid delays and ensure that the projects stay on schedule.
Remember, prevention is always better than a cure, so remain vigilant and keep a close eye on your supply levels at all times because, with a little bit of planning and foresight, you can establish a smooth and successful construction process from start to finish.
Conclusion
All in all, it's safe to say that, nowadays, prioritizing automation and consistency is the key to success.
By harnessing the power of technology, you can streamline and simplify nearly every process in your company, making life easier for both you and your team.
It's also vital to carefully and diligently monitor all your resources, collect data on their utilization, and allocate them accordingly.
Stick to the tips outlined in this text, and you'll definitely be able to propel your business forward and stay ahead of the competition.