Once you realize how important it is to keep up with construction technology, establishing and maintaining an efficient tool tracking system is one of the most fundamental steps to take.
Nowadays, there is a wide variety of software solutions available for tracking construction tools, equipment and other assets, and not all of their features will be relevant to your needs.
So, to better understand what software features would help you establish an effective tool tracking system, thus streamlining your tool management processes, cutting costs, and boosting the overall productivity of your construction team, we listed them for you.
Tool Lifecycle Management
One of the common features of tool tracking systems is tool lifecycle management.
This feature helps you determine the expected lifespan and cost of your tools, allowing you to make timely and informed decisions on when they should be serviced or replaced and whether, how many, and when new tools should be purchased (or rented).
Ultimately, this will allow your business to manage tools optimally throughout their lifecycle.
Before we go further, let's quickly say that all the software features and benefits mentioned here arise from the physical component of a tool tracking system, namely a variety of scannable asset labels or tags that are affixed to the tools.

When the tool tracking system is properly set up and implemented, it will provide a stream of valuable data about the tools, their location, use, and condition.
This feature will turn that data into useful information that can lead to multiple tool management improvements, such as lower tool procurement, maintenance, and replacement costs, better tool performance, and improved financial reporting and regulatory compliance.
For instance, it allows construction businesses to see each tool's purchase date and price, calculate upkeep costs and depreciation, and review the history of breakdowns and repairs.
Ultimately, all this helps businesses benchmark and monitor tool performance, make informed repair-or-replace and buy-or-rent decisions, and efficiently manage tools throughout their lifecycle.
Tool Check-in and Check-Out
The check-in/check-out feature lies at the heart of a quality tool tracking system because it enables the realization of immediate and long-term improvements across various field and office aspects of a construction business.
Although all tool tracking software providers will highlight this essential feature, some solutions may be more practical and affordable than others.
The importance of an easy tool check-in/check-out process arises from the fact that it allows contractors to keep track of the current location and availability of tools.
When every worker checks out tools by scanning their tag and does the same upon returning them, this instantly increases employee accountability, minimizes negligence, misplacement, and theft, and reduces task and tool assignment mix-ups and confusion.
In the past, this was achieved by providing dedicated scanners to read the barcodes when tools are issued and returned, but such solutions failed to cover situations when tools change hands between two workers on-site.
Today, such scanners are no longer needed—they are replaced with smartphones and other compatible mobile devices paired with scanner apps and cloud-based software, allowing workers to assign and transfer tools to each other in the field.
All it's required to set up an automated check-in/check-out system is to tag your tools with appropriate asset labels and ensure that all workers have downloaded the cloud-based app, know how to use the system, and are committed to using it.
Finally, we shouldn't neglect the long-term benefits that an efficient check-in/check-out feature will produce by providing managers with a clear view of the location and availability of tools, thus improving different tool management practices and related construction workflows.
Maintenance Scheduling
Another common feature offered by tool tracking solutions is maintenance scheduling, which allows equipment managers and service technicians to enhance their regular maintenance practices by setting up and receiving automated service alerts.
Since a good tool tracking system will also allow different users to add information about the mechanical health of tools, their condition, and performance, this enables them to immediately report any observed issue and schedule maintenance directly in the mobile app.
Doing so prevents breakdowns, and facilitates regular maintenance activities.
Ultimately, when combined with the other features described here, this simple function helps construction businesses plan, schedule, and monitor tool maintenance activities more efficiently, moving them from reactive to preventive maintenance.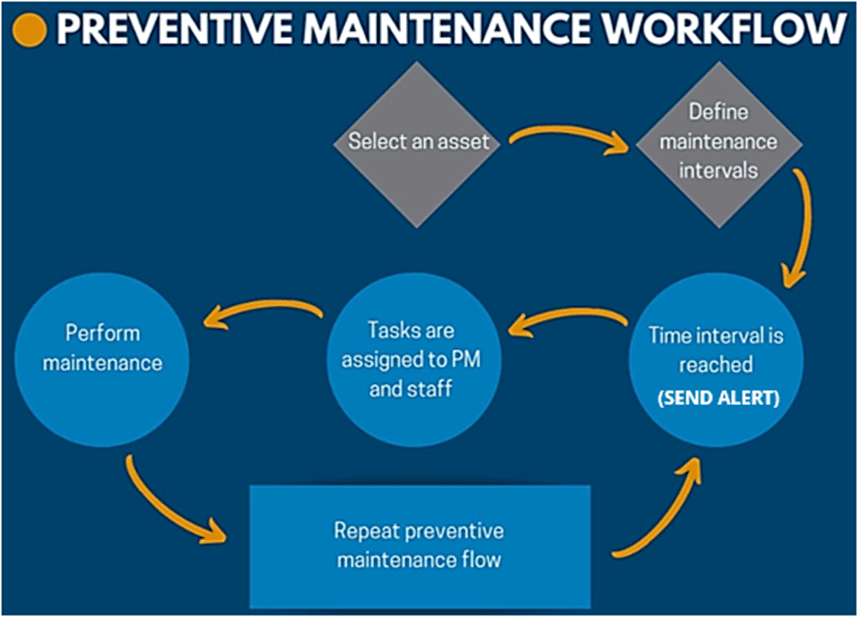 For example, the tracking app can send a scheduled maintenance notification alert to the responsible equipment manager, who then assigns the task to a service technician who performs maintenance, after which the manager resets the alert.
Naturally, sometimes scheduled alerts will refer to replacing, for instance, worn-out hand tools or power tool parts and accessories.
Replacing old tools with new ones can also be planned more efficiently when contractors can track tool utilization and wear-and-tear, thus enabling better lifecycle management.
Overall, the maintenance scheduling feature automates and simplifies regular tool maintenance practices, thus helping to prevent breakdowns and injuries caused by poorly serviced tools.
Tool Reservations
As hundreds of tools move between different jobsites, a quality tool tracking system should allow users to make tool reservations.
Reservations help prevent double-booking, mix-ups, and confusion, improve tool allocation and utilization, and enable better inventory management, ultimately saving time and money.
Together with other features like tool check-in/check-out and tool assignment, this function is an integral part of an efficient asset management system.
When construction workers can simply use their mobile app to reserve the tools they need to finish a project task on schedule, it makes their job easier and boosts overall productivity.
Moreover, everyone can see the availability of tools in real-time with the help of a dashboard calendar like this one.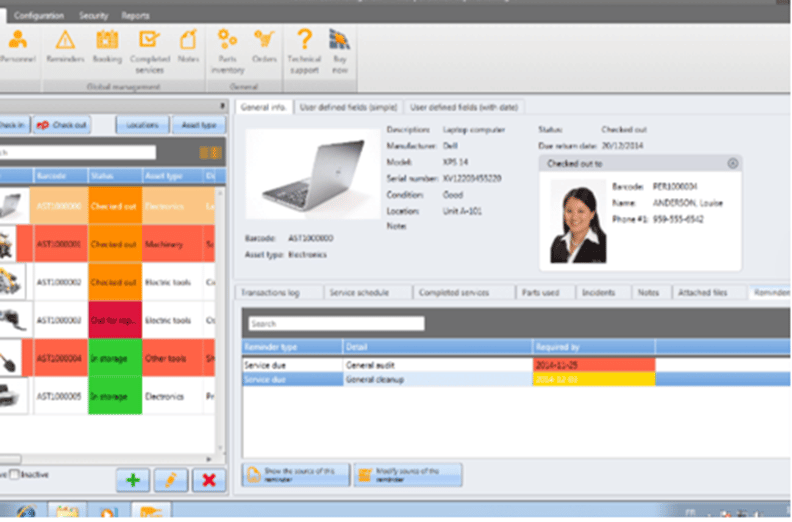 Naturally, this feature also allows managers to monitor inventory levels, ensuring that tools are available when needed, optimally utilized, and not under- or overstocked.
For example, they can compare the tool inventory against tool reservations and the needs of future projects.
Doing so allows them to better plan tool allocation and make informed buy-or-rent decisions. This reduces the risk of a lack of available tools causing downtime and project delays.
Overall, when everyone can see the availability of tools and make reservations according to their needs and schedule, construction crews and managers are more productive, tools are better allocated and utilized, and tool management costs are minimized.
Task Assignment
As with maintenance scheduling, tool tracking systems can allow project managers to assign tool maintenance tasks to specific employees.
A clear division of duties helps avoid confusion about who is responsible for what, and increases employee accountability, thus streamlining construction project organization and management.
Similar to how they enable equipment and project managers to view the location and availability of tools in real-time and assign tools to specific construction crews, good tracking systems will also allow them to assign regular tool maintenance tasks to specific service technicians.
The technicians are then notified of pending tasks via their mobile tracking app.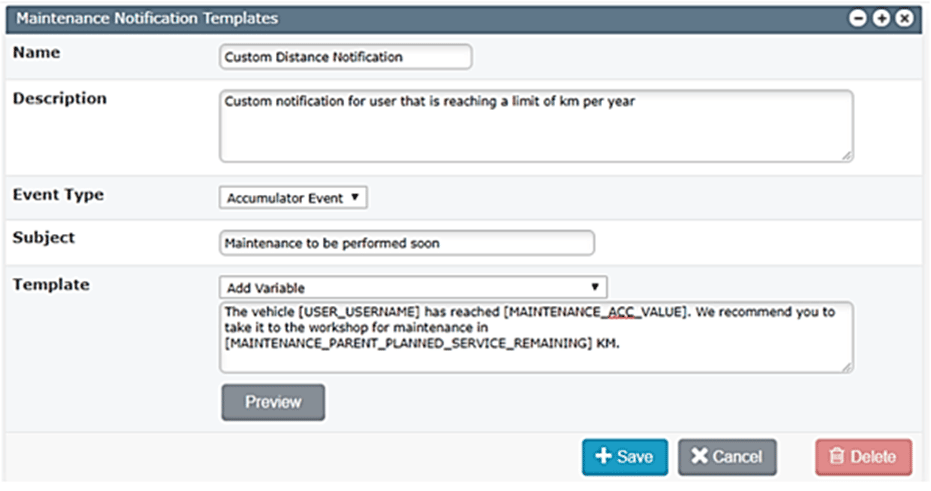 Naturally, this also improves their reaction time in unplanned situations, where this feature can be very useful.
It helps efficiently address different tool-related issues, minimize downtime caused by breakdowns of equipment and tools, and prevent project delays and cost overruns.
Furthermore, task assignments place the responsibility of servicing a specific tool in the hands of one person, thus avoiding confusion, inaction, or blame shifting between team members.
As with tasks, quality tracking software will also allow system administrators to assign different user roles, ensuring that each user has access to all information they need according to their function, thus also simplifying their mobile tracking app dashboard.
Overall, the task assignment feature helps cut repair or replacement time by allowing managers to instantly assign and communicate tool maintenance tasks to their employees.
Relying on a digital solution reduces their reaction time while increasing their accountability, which ultimately leads to improved project organization and management.
Cloud-Based Data Storage
It could be argued that no (cost-)effective tool tracking system can be established without relying on cloud-based software.
Other than providing secure and unlimited data storage, a cloud-based solution gives your construction team unparalleled mobile access to relevant, up-to-date information.
That makes this feature a key part of effective communication and collaboration within your organization, whether cloud software is used for tool tracking, project scheduling or budgeting, or all-in-one construction project management.
In general, when construction businesses opt for cloud-based software solutions, they get much more than just unlimited data storage: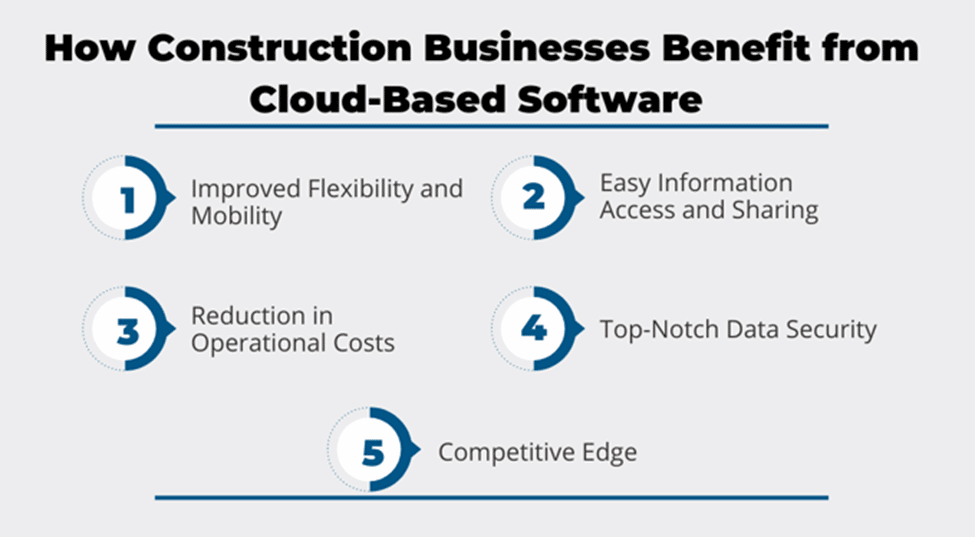 As (1) and (2) need no further explanation, let's just say that such solutions are more affordable than on-premises software (3), allow you to outsource data security (4), and can ultimately give your business a competitive edge.
In other words, a cloud-based tool tracking solution of your choice should provide employees easy and secure access to all relevant information, updates, and changes in real-time, from any location via their mobile devices like smartphones, tablets, and laptops.
This ability will give your construction team (managers, workers, service technicians) a previously unattainable level of access to up-to-date tool information.
The information will be available in a single source that can be accessed from anywhere.
That is extremely useful for field construction workers and service technicians when addressing different tool and equipment-related issues on-site.
That's why no effective (simple and affordable) tool tracking system can be devised without the help of cloud-based software.
Automated Tool Procurement
Since a tool tracking system allows construction businesses to monitor inventory levels of their equipment and tools, consumable accessories and components, spare parts, and other stock items, it can also enable automated tool procurement procedures.
Namely, this feature allows managers to set and receive automated alerts when the stock level of tracked assets is running low, thus ensuring they get restocked as soon as possible.
Ultimately, it ensures that tools, accessories, and other components are available in sufficient quantities when required, thus preventing potential shortages that can cause unnecessary downtime and delays.
Naturally, this function is only a part of end-to-end tool tracking solutions that provide all the features listed here, among which GoCodes stands out as one of the simplest and most affordable solutions on the market.

Among its many features, GoCodes allows users to receive low quantity alerts when the quantity of an item reaches the minimum level they set, thus automating tool procurement processes.
Furthermore, a real-time view of assets and their status provided by the tool tracking system also enables managers to check whether some items are overstocked or maybe sitting in storage unused.
This kind of insight optimizes inventory management and informs future procurement decisions.
Finally, the system allows contractors to track tool lifecycle costs from purchase to disposal and use their insights to improve tool procurement practices, such as getting an automatic reorder alert when the stock level is low.
This ensures that all workers have everything they need to do their job.
Conclusion
Long story short, these seven features of quality tool tracking solutions can allow your construction business to take full advantage of operational improvements an efficient tool tracking system provides.
The benefits range from increased transparency and accountability to lower maintenance costs and higher overall productivity, thus acting as a powerful time- and cost-saving tool.