The construction industry is slowly adopting more innovative technology for increasing worker safety.
These devices provide valuable data about workers' health and operations, leading to more efficient construction sites. Contractors can collect and analyze data about workers' location, hazards, and environmental conditions.
Based on this, Jennifer Stiansen, director of marketing at JLG Industries (the world's biggest manufacturer of access equipment), says that wearable technology will become more common on construction sites due to its great advantages in improving worker safety and efficiency.
So, you can expect that the new uniform for construction workers will involve smart clothing, helmets, footwear, and portable devices.
Let's look at some of the most advanced wearable technology that you can find on construction sites nowadays.
Smart Helmets
Helmets have been standard safety equipment for decades, but now they come with the most advanced features.
New and improved smart helmets are now equipped with a sensor band to detect different health parameters such as fatigue and microsleep.
By measuring the worker's vital signs, smart helmets can prevent sudden moments of sleep and force the wearer to take a necessary break. 
Additionally, they also alert the wearer about potential dangers and collisions to prevent accidents. Proximity sensing can detect closeness to other objects and people, so the worker is more aware of their surroundings.
Smart hats are an excellent solution for workers with long-hour shifts, long-haul truck drivers, and workers who frequently perform monotonous activities.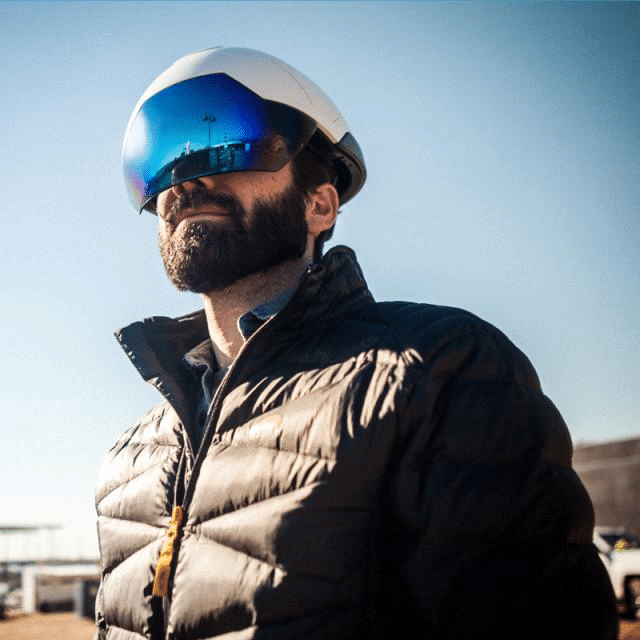 How do they work? 
The sensor band mentioned above tracks the electroencephalogram (EEG) brain waves of the wearer.
Then the integrated algorithms identify different vital signs that indicate tiredness levels so the system can send alerts to a connected device (mobile phone, etc.). 
Apart from tracking workers' health, smart helmets are also equipped with cameras to record events and enable real-time communication. That way, they can also be used to train employees by giving instructions remotely.
Data is displayed across the headset so the worker can see important information about the machine they're working with (temperature, maintenance status, rotation speed, etc.) and instructions to carry out the job.
Basically, helmets are an indispensable part of every construction site, but they can further enhance safety and productivity with advanced features.
Smart Glasses
If you're not ready to shell out large sums for smart helmets, your next solution to get the same advanced features are smart glasses.
Compared to other wearables, smart glasses are significantly cheaper and can be used for projects of different scales due to their affordability. 
What do you get out of them?
Just like smart helmets, smart eyewear can display plans and instructions on the lens. Augmented reality can help you better visualize projects and live-stream digital images.
For example, you can see blueprints and designs as you work, which can decrease the amount of rework and help with faster problem-solving.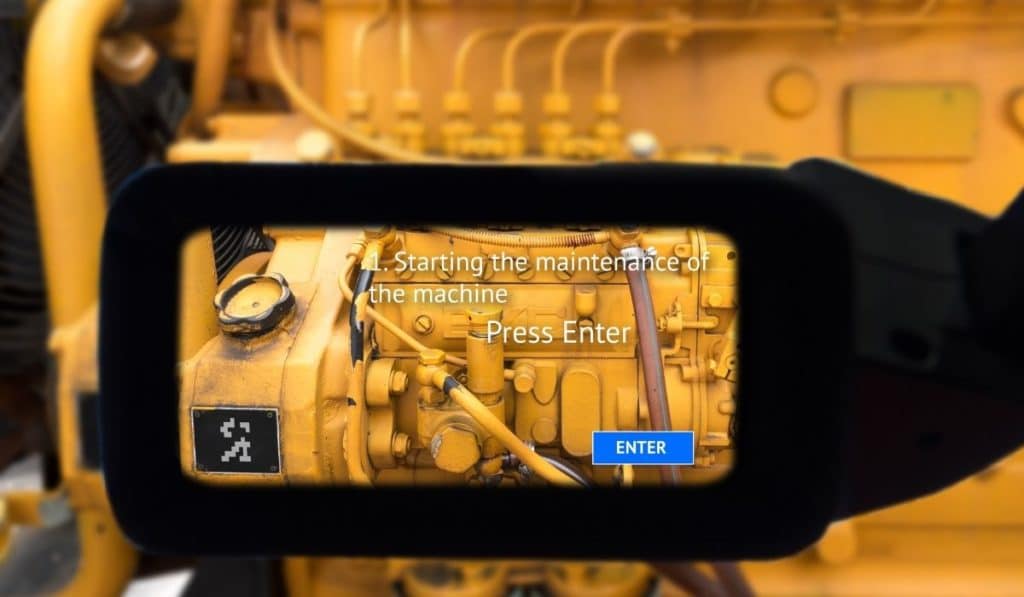 Other features include recording pictures and videos that can be used for inspections and better collaboration. This enables workers to communicate with experts faster and send them recordings of equipment performance. 
Following that, smart glasses are also heavily used for hands-free calls because of the in-built camera and microphone.
Finally, smart glasses are great at documenting the worksite and detecting hazardous areas. According to OSHA, falls are a major cause of injury on construction sites, so workers must be alerted about safety protocols.
For example, a worker can be informed about leading edges as they move around the construction site, so they take safer routes.
In the end, when you combine the power of real-time data generation, augmented reality, and direct communication, smart glasses are essential devices on construction sites.
Smart Safety Vests
Safety vests are another staple on the construction site, but now they come with high-tech features. Basically, reflective tape is not the only way you can spot a construction worker anymore.
Many safety vests are now equipped with sensors that can be clipped on or embedded into the clothing. Similar to other wearable tech, safety vests can be used to measure workers' physiological conditions and alert them of job site dangers.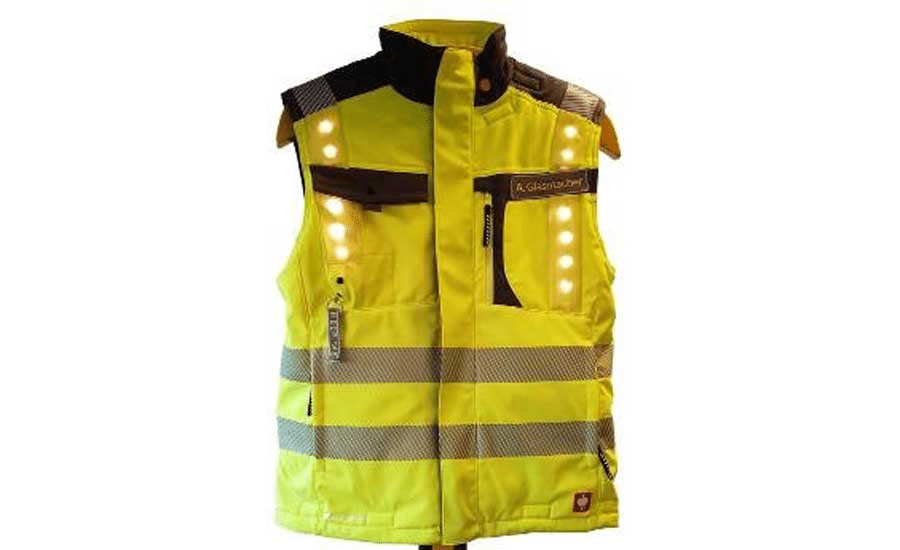 Because safety vests are close to the wearer's body, you can accurately track different biometrics such as body temperature, pulse rate, and blood pressure. These signs can point to potential health risks such as heat stress or high blood pressure. 
Furthermore, safety vest sensors are often connected to GPS to expand areas that can be accurately monitored. That way, if a worker enters a danger zone, the vest will light up and sound an alarm.
This information can then be stored on the worker's smartphone or a remote computer in the office which will notify the supervisor.
So, suppose a worker continues to behave in an unsafe manner. In that case, the supervisor can use this data to respond in real-time before an accident occurs or for additional safety training.
Safety vests will always be essential for construction sites, but you can significantly improve employees' well-being and working conditions with smart features.
Smart Footwear
When you think about work boots, you don't necessarily consider what else they could be helpful for apart from protecting your worker's feet.
But companies like SolePower are implementing technology in boots to improve working conditions in high-risk jobs.
Their main goal is to improve situational awareness by harnessing the power of GPS, RFID (radio frequency identification), and IMU (inertial measurement unit). 
Their boots are OSHA-approved, and all gathered data is stored in the cloud.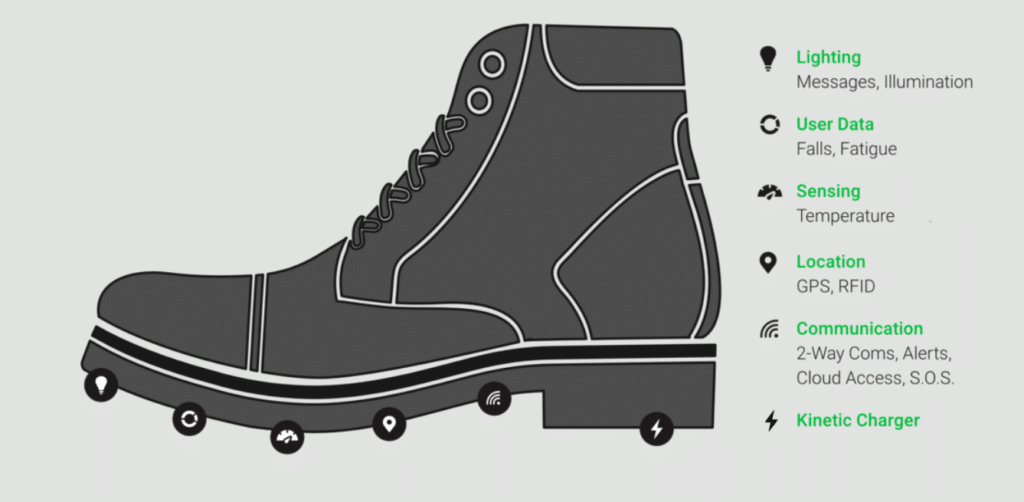 Like other wearable tech, you can use smart boots to track workers' location and motion. So, in case of falls or injuries, they can trigger automatic alerts and send help to the correct location. 
Basically, the boots have sensors that will allow workers to walk at heights or at night safely. Some boots can even produce energy when walking and illuminate.
As you can see, with the right technology, even a mundane piece of construction footwear can be transformed into a powerful piece of wearable safety equipment.
Wearable Sensors
If you want the power of highly accurate sensors but you're worried about flexibility and costs, then your all-in-one solution can be wearable sensors.
These devices are simple and unobtrusive so they can be attached to any piece of clothing or protective gear. Clip-on sensors are mostly seen on shirts, safety vests, or belts. But they also come in different sizes and forms like:
Biosensors
Gyroscopes
Badges
Actuators
The same data you'll get from other wearable technology can be gathered with wearable sensors: worker's physical condition, location, and environment.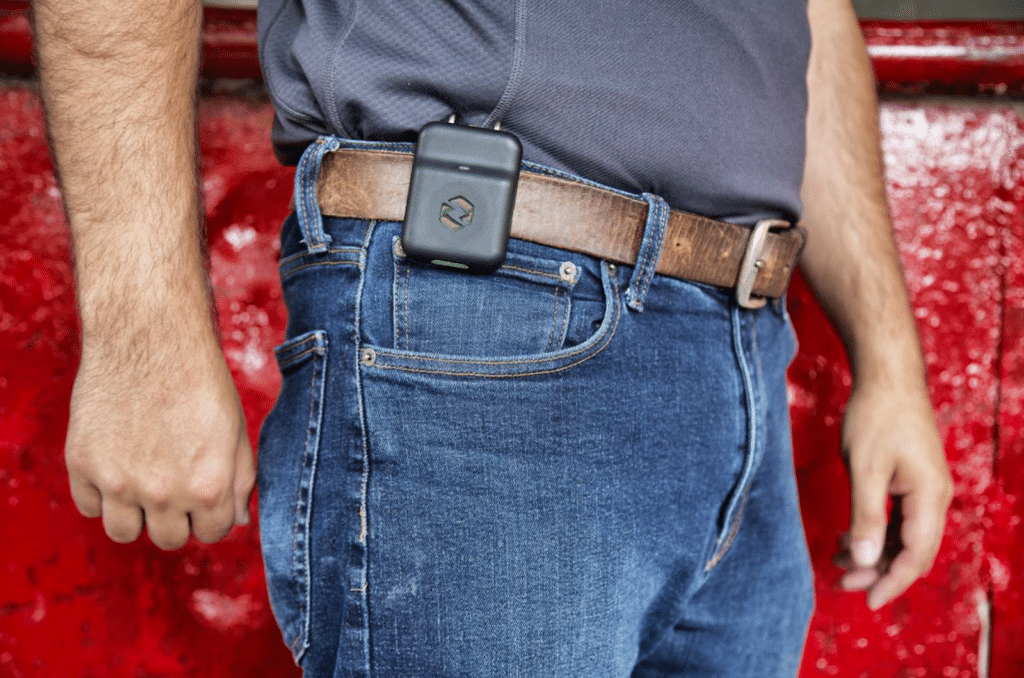 One interesting feature includes a self-alert button. When a worker holds the button for 2 seconds, the sensor alerts the supervisor. It also sends location information if help is needed.
This alert system can also be used for detecting unsafe areas. So without leaving the worksite, supervisors can notify all employees to evacuate an area due to safety or environmental concerns.
In the end, wearable sensors are a great solution for contractors that need to gather valuable safety data and an effective alert system.
Smart Watches
Smartwatches are more common in an everyday consumer environment, but they're also useful for professional areas.
The best part about them is that many of your employees are already using a type of smartwatch, so their adoption in the workspace won't be a hassle.
Obviously, smartwatches can be used to monitor health, such as heart rate and blood oxygen levels. But apart from that, they can be connected to other devices such as drones to improve workers' productivity. 
On the one hand, managers can monitor their workers' performance while employees can keep track of their tasks and communicate with co-workers.
Smartwatches also enable hands-free communication, which can be useful when they're operating heavy machinery. 
When you already have devices popular with your workforce, the next logical step is equipping them with advanced sensors to better monitor activity and on-site safety.
Exoskeletons
Everybody knows that construction work is extremely hard. Physical labor alone causes long-term health problems, but there's a way to help your workers do their jobs and preserve their health.
Bionic suits or exoskeletons might look like something from a futuristic movie, but they're actively used on construction sites to aid workers with strenuous tasks.
Mostly, exoskeletons provide support for lifting heavy objects, but they're also improving productivity.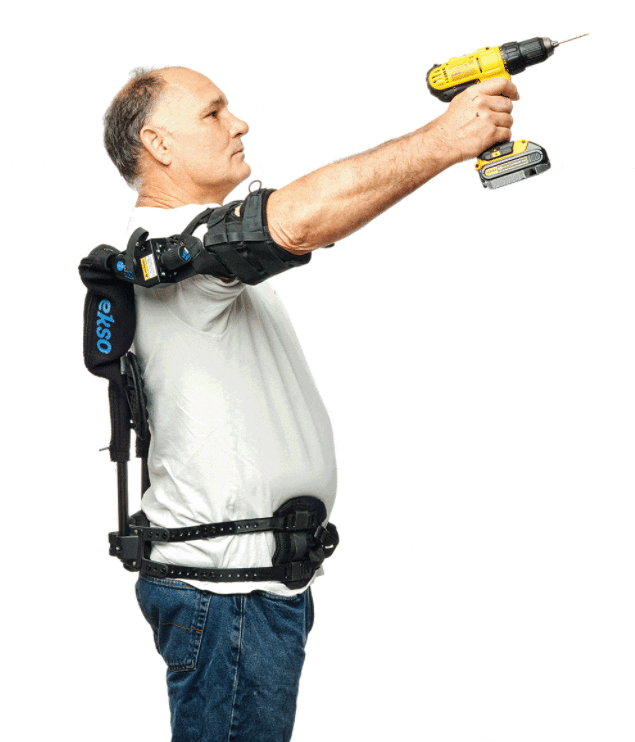 For example, Ekso Bionics, a company developing robotic exoskeletons, has tested workers' productivity.
They compared two workers: one wore a robotic arm with exoskeleton technology, while the other didn't. They were both working with a jackhammer. 
The result was that the worker with the robotic arm completed his task 25% faster and with less fatigue. Basically, the technology helps you pick up the same amount of weight with ease and less stress on your body.
So, invest in exoskeletons if you're looking for an effective solution to protect your workers from common injuries and increase productivity on the worksite.
Smart Armbands
You're probably familiar with the everyday use of smart armbands to monitor health. But there's been an innovative use of the armbands to combat mental health problems.
Poor mental health affects 1 in 4 people each year, and the most common issues are stress, depression, and anxiety. According to a recent survey, over 97% of construction workers experienced stress in 2020.
When you also add the fact that poor mental health costs governments and construction companies billions due to employees taking time off from work, this becomes a serious societal problem.
So, Moodbeam, a British health technology company, created a wristband that captures the wearer's mood in real-time.
They teamed up with Pagabo, a UK framework organization for the public sector construction projects, to trial Moodbeam's technology.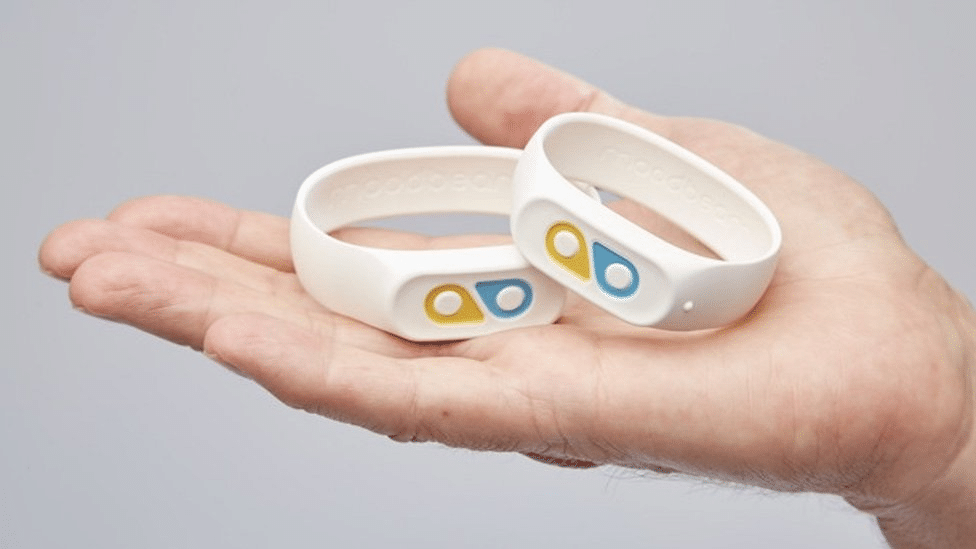 How does it work?
Workers can log in their mood into the app that comes with the wristband and monitor their emotions. Over time, the wristband can track how the individual's mood changes with a push of a button and show patterns.
This information can be used to make actionable changes to improve the individual's well-being.
Pagabo and Moodbeam conducted trials to see how the technology can help with different areas of construction: on-site, off-site manufacturing, remote workers, and subcontractors.
According to Simon Toplass, CEO at Pagabo, the only way to improve working conditions for construction workers is to listen to real individuals.
Toplass adds that many things can affect a worker's day, from bad weather to changing shifts, so Moodbeam enabled them to gather feedback from people easily. 
The company made data capturing completely anonymous and then used the gathered data to highlight critical challenges.
In the end, if you want a healthy and productive workforce, you have to take care of their physical and mental health. Smart armbands and wristbands can help you in those efforts.
Tracking Beacons
If you're already using tracking beacons to track your equipment, the good news is that this technology can also be used to track employees.
Tracking beacons use BLE technology (Bluetooth Low Energy) to transmit unique data to Bluetooth-compatible GPS tracking devices. 
The area it covers depends on beacon size, settings, and surrounding area. For example, if you want to cover long distances, you'll need a BLE beacon with more battery power.
What makes tracking beacons different?
Beacons are small and suitable for a wide range of applications. But the best part is that they're fairly cheap, accurate and installation requires minimal effort.
Additionally, they can be used indoors and outdoors, and the signal from a BLE beacon can reach devices up to 300 feet away.
Furthermore, some construction sites may forbid employees from using mobile phones, so beacons are a safe alternative for communicating information.
With BLE beacons, you can create virtual safety areas to track people and equipment. When a worker enters the monitored zone, you'll be able to record their movements and location in real-time.
Additionally, this helps prevent unauthorized people from entering the construction site or restricted areas.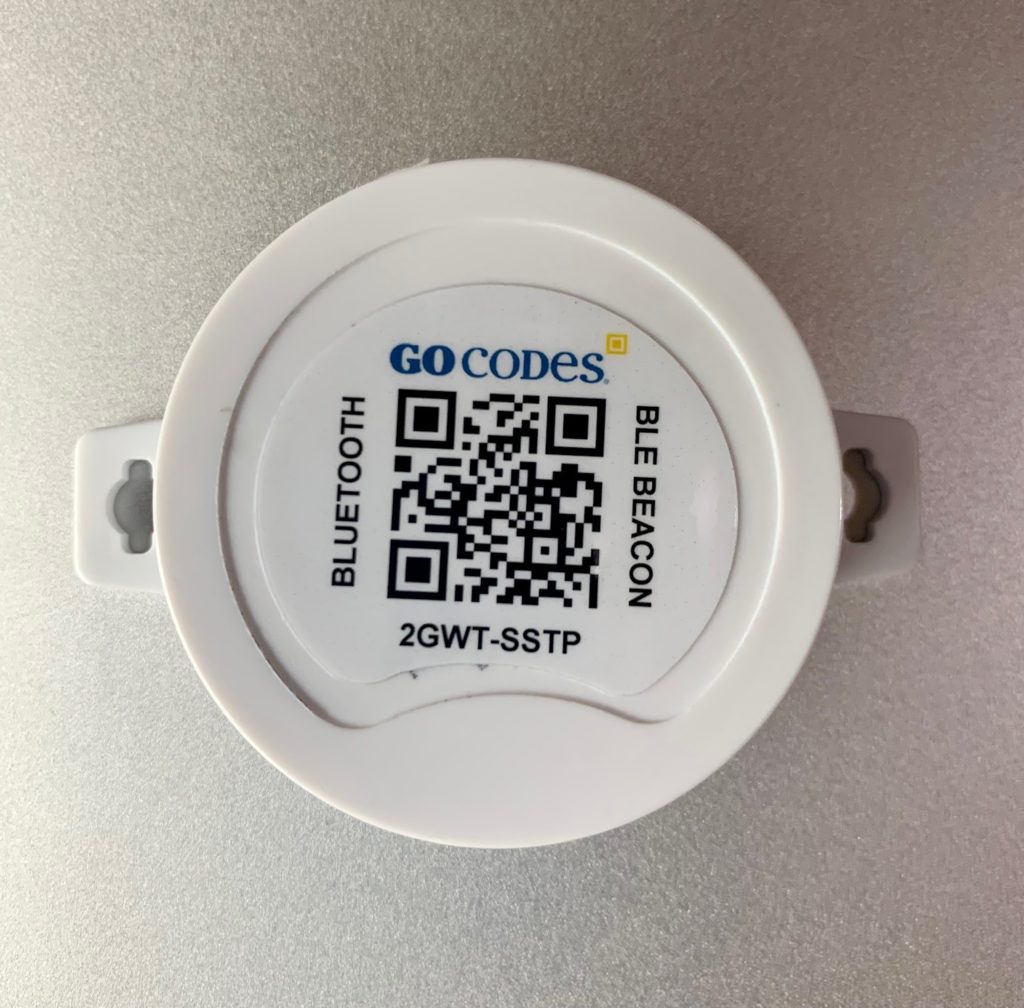 So, if you want a cheap system that will help you gain an overview of your workforce and equipment at construction sites, then you have to implement tracking beacons. 
Conclusion
The future of safety in construction is here, and it involves powerful wearable technology. Smart helmets, footwear, and exoskeletons are essential tools to enhance workers' safety, health, and productivity.
So it doesn't come as a surprise that the wearable tech industry is expected to reach $54 billion by 2023. It's exciting to see how companies are improving gear and clothing construction workers are already using to improve safety standards.
But this is also great news for contractors because the broader adoption of these technologies makes them simultaneously more accessible and cheaper.
So, if you want to become a part of this technologically advanced future of the construction industry, start implementing wearable tech on your construction site.