Currently, the construction industry finds itself pressured by long-standing labor shortages and productivity issues exacerbated by recent health and economic crises.
At the same time, it is propelled forward by rapidly advancing technology innovations that are reshaping the construction landscape as we know it.
Against this backdrop, it's time to consider seven technology innovations that are already changing or will change the way construction equipment is operated, controlled, utilized, connected, manufactured, and serviced.
Remote-Controlled Equipment
Among its many applications, remote control (remote operation, teleoperation) of construction equipment allows operators to perform dangerous construction tasks from a safe distance.
They can even operate machinery from their digital cockpits hundreds of miles away, thus enhancing worker safety, reducing operational costs, and increasing productivity.
For example, remote-controlled demolition machines allow operators to stay safely away from active demolition, thus reducing the risk of injury and enabling demolition even when jobsite conditions are too dangerous or extreme for human operators.
A more general example is Bobcat MaxControl Remote Operation, where workers can use their iPhone to single-handedly do two-person jobs, as shown in this video:
This iOS app acts like an extra pair of hands, enabling tasks like backfilling, post digging, trailer loading, etc., to be done as a solo operation.
Furthermore, the remote control enables a better line of sight than from the cab.
According to Walid Dimachkie, product manager at FORT Robotics:
"Using a remote allows the operator to have a much better view of the work they are doing, and it can help eliminate the need for a spotter, allowing other workers on site to do more productive tasks."
In conclusion, remote-controlled equipment and its many applications can help construction companies address skilled labor shortages while improving worker safety, minimizing operational costs, and enhancing overall productivity.
Drones
Drones, also known as unmanned aerial vehicles (UAVs), are remote-controlled or autonomous devices that deserve their own section as one of the most established recent technology innovations in construction.
According to Dodge Report 2021, 37% of construction companies already use drones in their operations (whereas 14% utilize other types of remote-controlled equipment), meaning that drones buzzing over construction sites are quickly becoming a usual sight.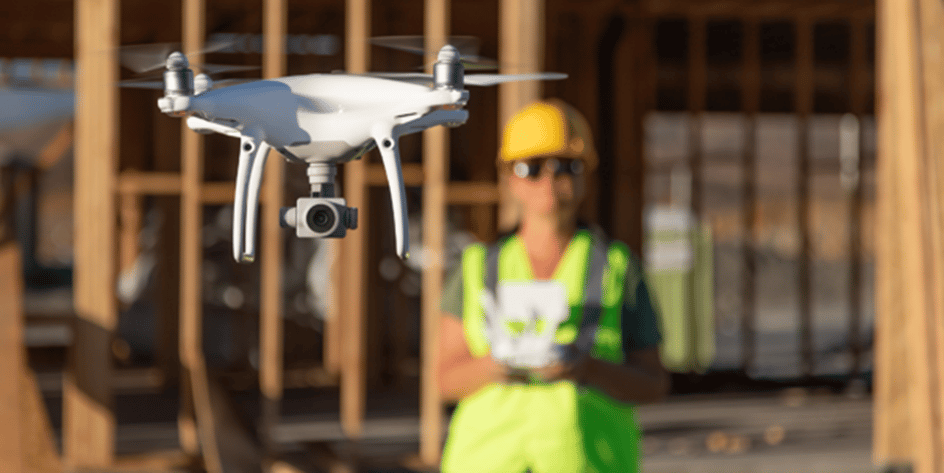 That's because drones can do a number of tasks safer and faster than their human counterparts, like inspecting a bridge or high-rise structure.
When doing so, they can quickly gather a lot of real-time data about on-site progress, thus providing valuable information to improve safety, quality, and productivity while construction is underway.
Here are six benefits of drones in construction management from our article on that topic: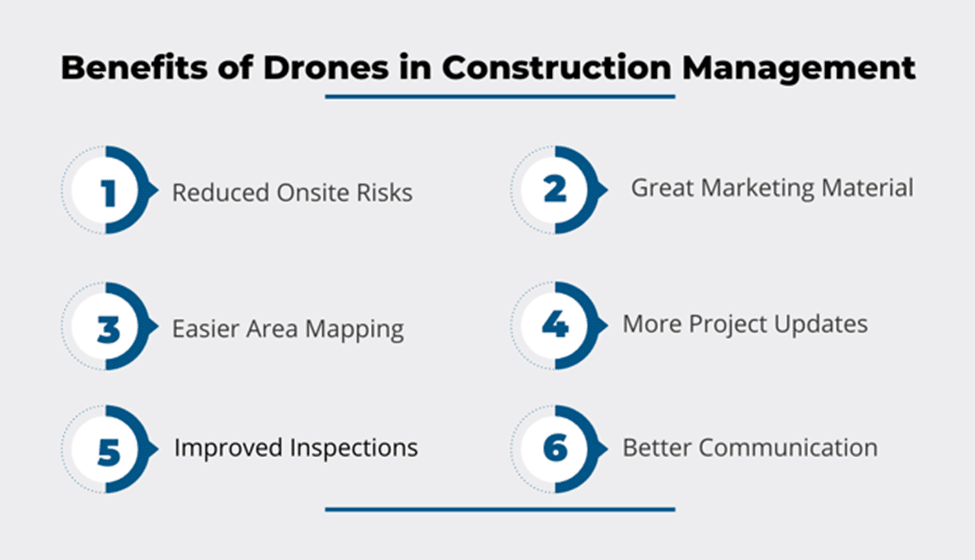 We've already mentioned lower risks and more efficient inspections, but we shouldn't neglect other benefits such as improved client reporting and marketing, more frequently updated project information, and the resulting better communication and decision-making.
Other drone applications, which keep expanding as their use in construction grows, include stockpile and material measurements, security surveillance, and even transporting tools and equipment on-site.
As for site mapping, this technology allows surveyors to do site surveys in hours instead of days, and the construction team can easily track on-site progress afterward.
With so many practical uses in construction, drones are permanently changing the way things get done at construction sites.
Predictive Analytics
The Internet of Things (IoT), coupled with predictive machine learning models, a form of Artificial Intelligence (AI), can streamline construction equipment operations, reduce maintenance costs, and prevent downtime and delays by analyzing historical data and predicting likely future outcomes.
In other words, when construction equipment itself or sensors attached to it are connected to each other and the central operations hub over the Internet, they can collect valuable data that AI algorithms can then use to assess their status and probable developments.
For instance, they can then alert you if a machine will break down or require maintenance.
You can also be notified of other potential issues like excessive machine idle time, allowing you to control wear and tear, and optimize their utilization rate.
And you don't even have to do it by yourself. Some equipment manufacturers will monitor their machines 24/7/365, analyze data in real-time, and send you timely alerts, recommendations, and fleet utilization reports.
One such example is Volvo's ActiveCare Direct, which translates machine fault codes into clear messages.

That is Volvo's telematics monitoring and fleet utilization program.
Customers receive it free for one year when they purchase new machines like articulated haulers, wheel loaders, and rotating pipelayers.
The goal of such IoT predictive maintenance solutions is to help construction companies cut equipment maintenance costs, optimize their utilization, and increase overall efficiency by preventing downtime, delays, and other issues through predictive analytics.
Electric Powered Equipment
We're already used to hybrid and electric cars driving on our roads, and heavy equipment manufacturers are closely following suit.
They are developing battery-powered construction machines with improved energy efficiency and sustainability. Such machines bring other benefits to their operators and owners.
Naturally, there's a big difference between electric cars and heavy equipment, primarily in terms of their power requirements.
These translate into the size of their battery pack, reflecting the fact that electric-powered equipment often has to lift, haul, and handle tons of materials.
For example, the Norwegian construction company Veidekke ordered, and Caterpillar produced the first of eight all-electric 26-ton excavators in 2019.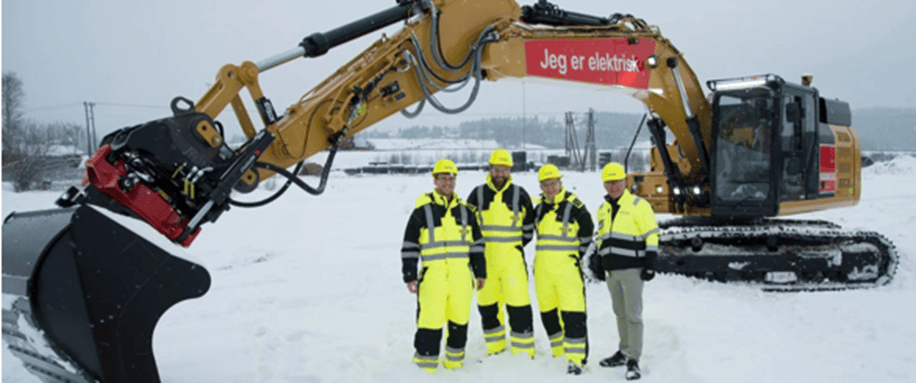 This electric excavator is equipped with a giant 300 kWh battery pack (weighing 3.4 tons), designed to withstand rough movements.
Veldekke's primary goal is to reduce air and noise pollution at their construction sites, thus improving the working conditions for operators and addressing climate change by reducing emissions from their machine fleet.
In addition to having higher efficiency and sustainability than their diesel-powered counterparts, the fact that such machines boast low noise levels and no emissions and low noise levels, they can be operated during the night in urban areas.
Additionally, such machines can be operated indoors, like this CASE CX15 EV mini excavator, which, being 31 inches (79 cm) wide, can also fit through doorways.
This makes indoor construction and renovation easier.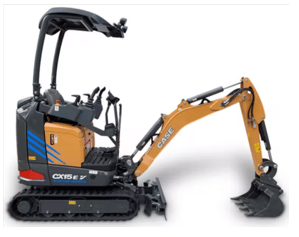 Overall, whether big or small, electric-powered construction equipment reduces harmful emissions and noise, is more energy-efficient, and requires less maintenance; plus, it can be operated at night or, if the size fits, indoors.
That makes it a suitable choice for a variety of applications.
Virtual Equipment Dealerships
With the rapid development of modern technologies, more and more traditional equipment dealerships are focused on building their online presence and enhancing customer service.
The expansion of augmented reality (AR) technologies enables them to conduct consultations and facilitate machine repairs remotely.
At the same time, cloud-based software allows them to provide their customers with online access to digital records, documents, and manuals and automatically update the machines' software.
Since AR is capable (usually via smart glasses, smartphones, or tablets) of overlaying visual and auditory information onto real-world situations, such as machine maintenance or repair, this enables virtual equipment dealerships to provide unprecedented service support.
When this technology is coupled with virtual reality (VR) and their combinations (known as mixed reality, MR), it's not surprising that the global market for such solutions is expected to grow from close to $28 billion in 2021 to over $250 billion in 2028, as shown here.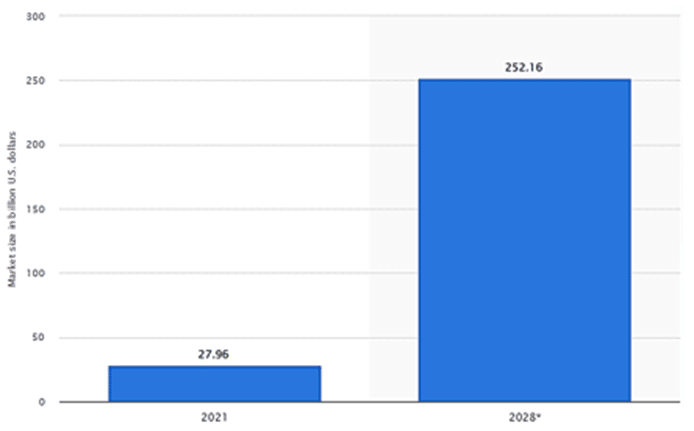 When dealers apply AR and other technologies, they essentially turn into equipment service managers on behalf of their clients.
They help service technicians tackle on-site machine breakdowns or do maintenance while having access to visual support like high-resolution images of machine parts and AR overlays that allow them to identify the problem quickly.
Combined with cloud-based software, all of this enables equipment manufacturers and their dealers to help clients increase jobsite efficiency, reduce equipment downtime and maintenance costs, and make data-driven decisions.
In conclusion, equipment dealerships are quickly becoming virtual and cloud-based, using augmented reality and other technology innovations, like IoT and predictive analytics, to provide exceptional service support to their clients.
Three-Dimensional (3-D) Printing
As 3D printing is increasingly used to create various building components and even entire structures, construction equipment manufacturers are also quickly advancing beyond using 3D printing for just design and prototyping purposes.
In a nutshell, 3D printing or, to use the industry term, additive manufacturing, refers to a number of techniques used to print physical objects like machinery parts or tools from digital data obtained using 3D scanners or computer-aided design (CAD) software.
More specifically, the materials used for three-dimensional printing of construction equipment components currently include various metals available in powdered form (e.g., stainless steel, nickel alloy, titanium, aluminum, copper) and different types of plastics and resins.
For instance, Volvo CE is using the technology to create replacement and spare parts for customers on-demand, thus cutting the delivery time and reducing inventory levels.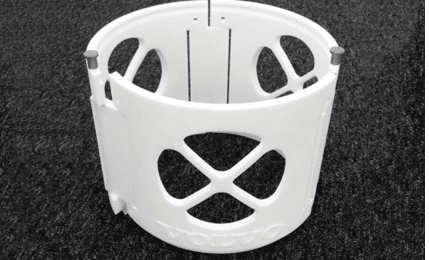 This technology is also ideal for replacing components of very expensive or rare heavy machinery, where the exact part can be printed from digital program files or after 3D scanning, thus lowering maintenance costs and minimizing downtime.
The uptake of 3D printing in the field of construction equipment has also been driven by recent supply chain disruptions and shortages.
Thus, even though this technology is still fairly new, it's already helping improve the equipment manufacturing process.
Equipment-Focused Mobile Apps
Different mobile apps focused on equipment management are also among technology innovations that are changing how construction equipment is utilized and managed on construction sites.
Today, equipment-focused mobile apps can digitize equipment management workflows, create a single source of relevant information, and track equipment in real-time by utilizing various software solutions combined with different asset tracking tags, all available on any mobile device.
In essence, such software/hardware solutions can make construction machinery, equipment, and tools become connected to the central operations hub, thus making them part of IoT technologies.
Naturally, this allows for data collection and analysis, which leads to better decision-making, enhanced collaboration, and improved equipment management.
For example, let's consider J. Pettiecord, Inc, a specialty contractor from Des Moines, Iowa.
They wanted to automate manual data entry, consolidate their fleet data into a single source, and streamline all maintenance processes. They did so by using the mobile app Fleetio.

With this app, fleet managers can monitor equipment status and collaborate with team members in real-time, while technicians can use inspection forms customized for specific construction equipment types, communicate status updates, and add notes and photographs, all in one app accessible from any location and device.
However, if you wanted to track equipment moving across different sites in real-time, you'd have to tag equipment with active GPS trackers.
Such solutions can be costly and impractical, especially when tracking, e.g., small precision tools, sensitive instruments, power tools, and hand tools.
Naturally, there are more affordable solutions, such as labeling equipment with QR tags or beacons and using a mobile tool tracking app like GoCodes.

When equipment is tagged with our patented QR code labels, users can see the last location of the machine or tool, based on the last time a smartphone or other scanning device scanned their QR code.
On the other side, the user, e.g., a service technician, can access information about that piece of equipment, such as the last service date, usage data, and maintenance requirements.
Furthermore, GoCodes offers beacons that periodically emit their GPS location for additional tracking and protection of your most valuable assets.
Overall, equipment-focused mobile apps, coupled with tracking solutions, can make construction equipment connect to the web, thus providing valuable data that can be used to streamline the entire equipment management process.
Conclusion
So, as these seven and other technological innovations are reshaping the entire construction industry, including construction equipment, by allowing construction companies to capitalize on so many efficiencies and advantages, it's time to consider which of them will best fit your needs and propel your construction business into the future.