Drones are no longer an abstract futuristic dream; nowadays, they are used in most industries, and construction is no exception. In fact, according to data from a few years ago, the construction industry boasts a drone usage growth rate of 239%, which is higher than any other industry.
This information is not surprising since drone photos, videos, and imagery can take your construction project to the next level.
In this article, we'll reveal to you six amazing benefits of using drones in construction management.
Reduced Onsite Risks
In the construction business, worker safety is one of the top priorities. Still, accidents are a common occurrence, particularly falls, which account for 34% of all worker fatalities.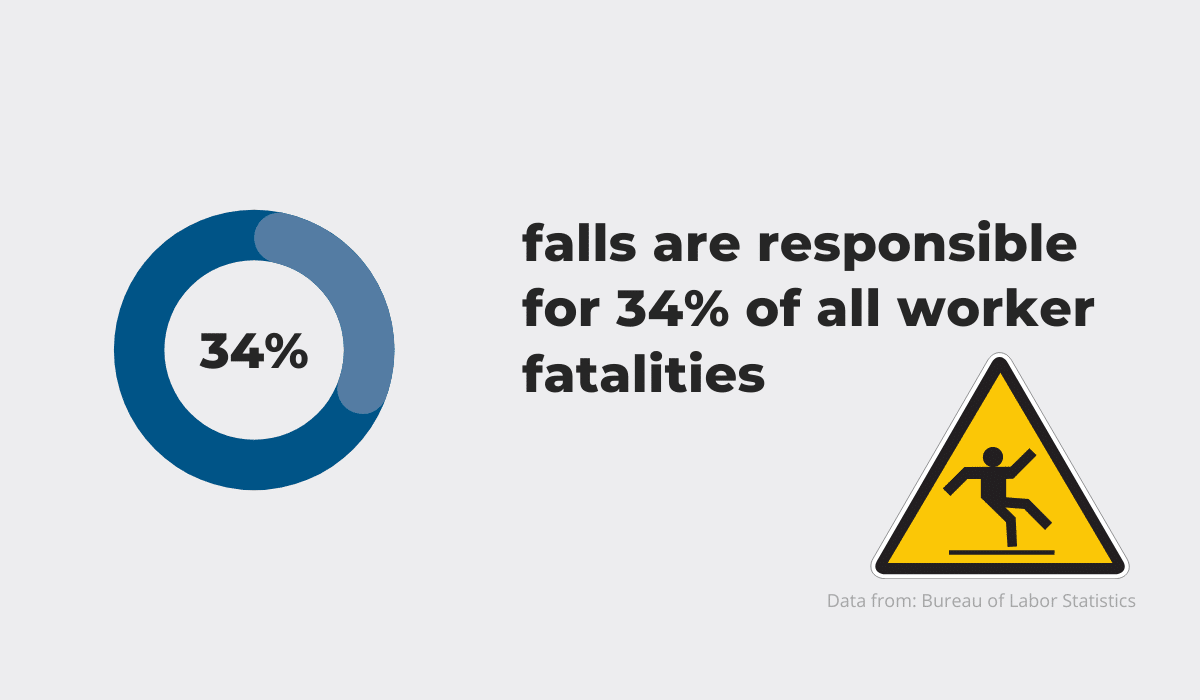 Manual measurements and inspections often require workers to climb on shaky platforms and navigate in dangerous conditions.
Many construction companies have started to use drones in these situations since their usage can dramatically reduce the risk of accidents and potential costs and inconveniences.  
For example, Balfour Beatty, the multinational infrastructure company, uses drones to inspect infrastructure (such as bridges, roads, and rails) and assist its engineers and architects on construction sites.
In the photo below, you can see the team from Balfour Beatty performing bridge inspections.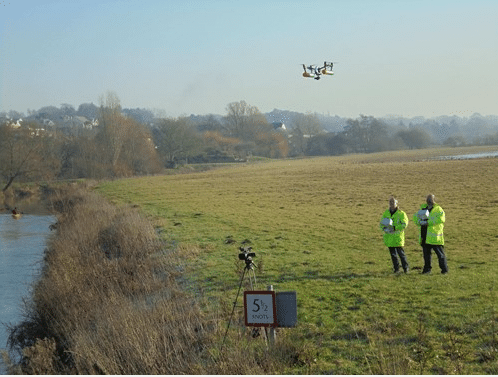 This is a great practice since using drones to review the condition of a bridge reduces potential safety risks for the workers who no longer have to climb it themselves.
That's just one example of how drones can help you carry out a task without putting your workers in harm's way.
In fact, according to research, the use of drones has increased the safety of construction workers by 55%.
Drones can provide you with views of those areas that are difficult to reach but are easily spotted from the air, and give you an overview of the project's progress, especially if you can't be on site.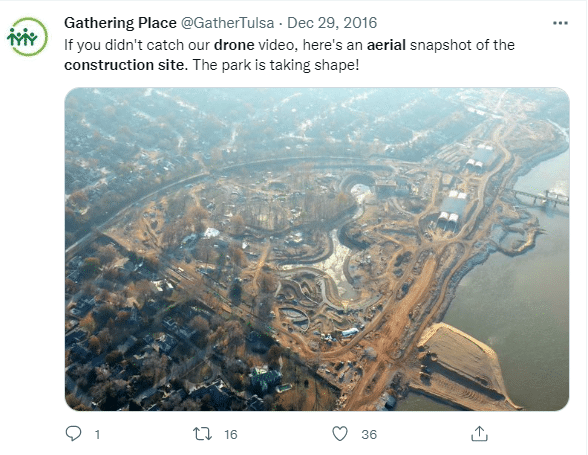 At Balfour Beatty, each drone is equipped with top-notch equipment to check the condition of various projects down to the smallest details. In this way, the company is able to survey dangerous areas from far away without risking the safety of its workers.
Rogers-O'Brien Construction (RO), Texas's leading general contractor, offers a good example of using drones to improve workers' safety.
The team at RO recognizes that construction projects present a variety of safety obstacles. Such extensive construction often requires workers to cross narrow beams in high winds while surrounded by dangerous scaffolding.
"Being able to use drones to inspect parts of the building that would otherwise be challenging or risky for a person [. . .] has given us such peace of mind."
So, clearly, drones are revolutionizing workers' safety in the construction industry. Thanks to the photos and videos they provide, the risk of accidents and worker injuries is reduced.
Construction companies are increasingly turning to drones to improve overall worker safety, and the results are astonishing.
Great Marketing Material
Photos and videos of construction sites taken by drones are useful not only for monitoring the progress of construction projects but also as marketing material.
For example, drones can provide great shots of houses and buildings for ad campaigns and to show to potential clients. A good example of this is the footage of a housing project in Wapping Wharf.
The footage, taken by Balfour Beatty with a drone, shows the construction site in all its glory.
In general, there is hardly a better way to show off your work than before and after photos. Cosmetic surgeons use before and after photographs to show off their work, interior designers do it, and construction companies do it as well.
And when it comes to footage from the construction sites, many contractors opt for progress photos or aerial shots from helicopters or planes because they provide a better overview.
However, traditional aerial photography can cost up to $1,500 dollars an hour, with flight times of up to six hours. Today, contractors are using drones as a much more affordable and convenient option.
Randy Nugent, the Nugent Sealcoating & Paving owner, is a perfect example.
He is a firm believer in the use of aerial photography for before and after photos for high-profile clients. In the past, he hired helicopters to hover over the construction sites and take pictures. The cost of this was at least $1,200, but that wasn't the only problem.
"I wasn't really happy with that. I did it because it was the only option I had, but I didn't like relying on someone else to get there at the right time, and to take the kind of photo I wanted with the right angles and backgrounds."
Nowadays, he photographs with a drone, which in his opinion, provides greater control over photos, better images, and significantly lower costs.
"It keeps me ahead of the competition; I like to keep up with technology and see what the newest things are that are out there I can use for the business. It's actually gotten me some jobs I probably wouldn't have gotten otherwise. Some people really get excited about aerial views of their parking lots and property."
Photos like the one below show why professionals like Nugent rely on drone photography.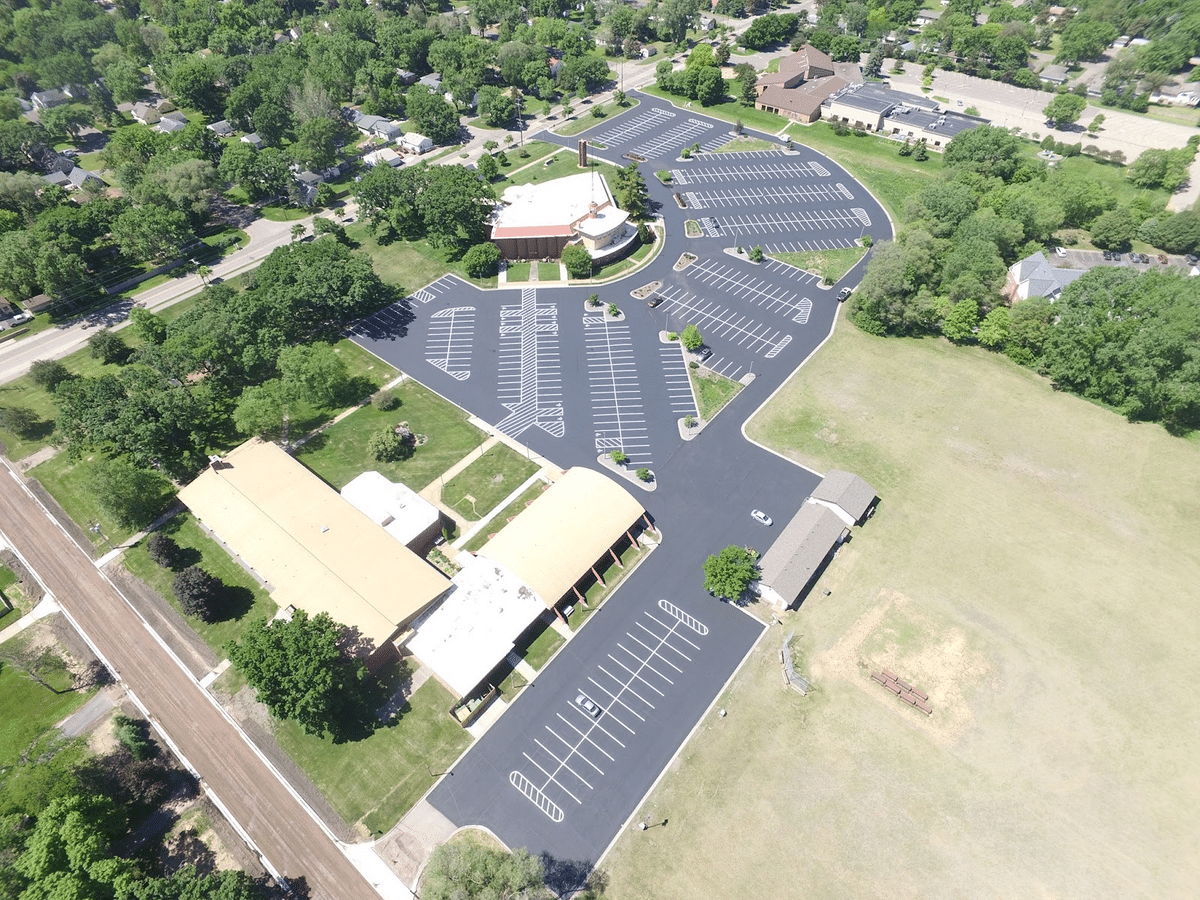 In short, photos and videos are best for showcasing projects, and high-quality images from different angles that drones take in a relatively short time are a great marketing opportunity.
Easier Area Mapping
Manual data collection and mapping is a daunting task that requires human labor and is quite time-consuming. Did you know that drones can speed up that process by 60-70%?
In addition, drone footage reduces the manpower necessary to map the terrain. With fewer workers walking over potentially dangerous terrain, the risk of accidents and injuries decreases.
Where mapping is concerned, drones offer high photo resolution, video recording, and a LiDar (Light Detection and Ranging) sensor.
The LiDar sensor emits a laser beam and measures its reflection. It is very helpful in mapping, especially in areas that are difficult for humans to navigate.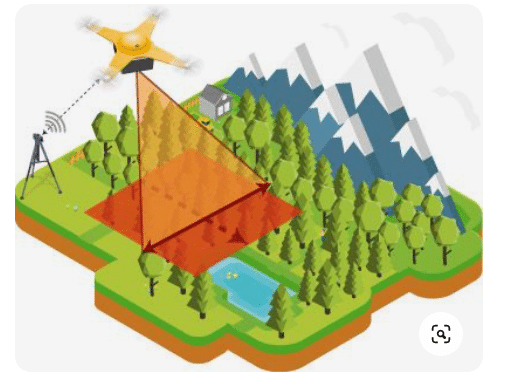 So, relying on construction drones while surveying makes mapping easy, especially because such solutions come equipped with 3D modeling and analysis.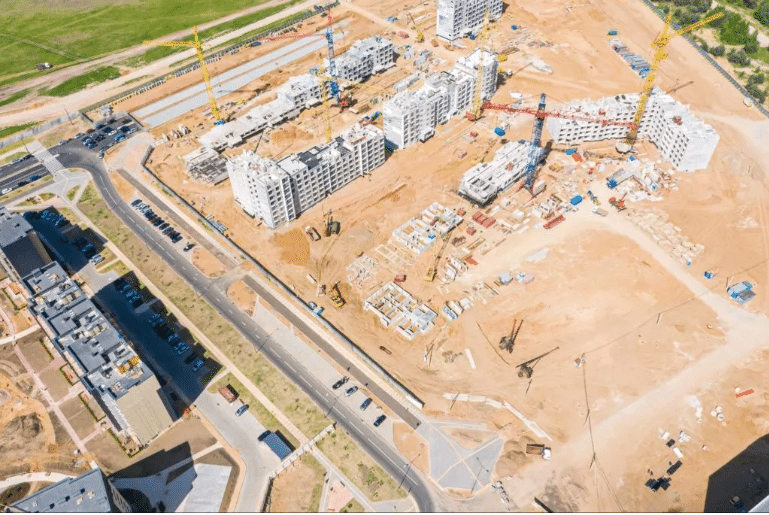 Now, let's see what this looks like in practice.
Identified Technologies relies on self-flying drones in their large construction projects, which enables them to complete the entire surveying process from planning to execution (which normally takes a whole month) in mere minutes.
Moreover, in this way, the process can be repeated and tracked daily without extending deadlines or overrunning budgets.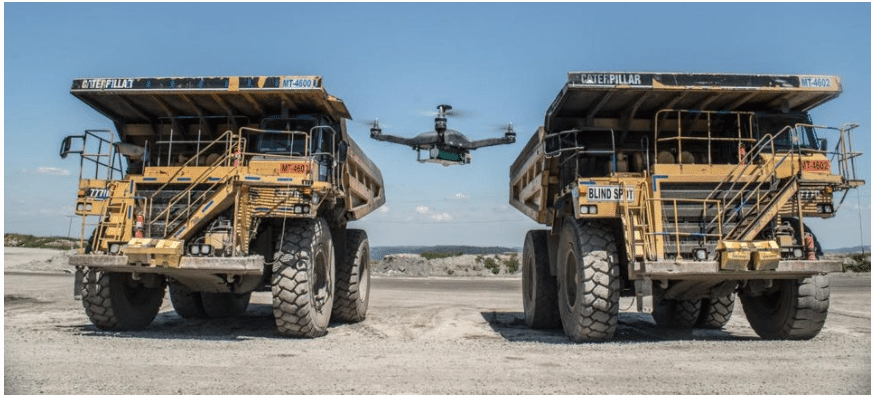 Drones dramatically shorten the duration of a project, while also reducing the likelihood of errors by creating physical maps that provide a complete picture of an area and capture even very minute details.
The CEO of Identified Technologies, Dick Zhang, claims that drones allow the company to complete projects with greater precision.
"You can't make smart decisions without accurate data, and you couldn't cost-effectively capture the necessary data without new technologies like aerial mapping drones."
The key takeaway here is that traditional mapping methods require time and human labor, while a drone can do the job much faster and at a much lower cost.
So, if you're looking to save some time and money during the mapping process, get yourself a drone or enlist the help of a drone service provider.
More Project Updates
Regardless of your project's scope, your client needs regular project updates, and you need to keep them informed.
Walking around your construction site and taking photos is time-consuming, but luckily for you, there are better ways to do this.
For instance, Hades Geodeesia, a surveying company from Estonia, uses drones to do the project updates for them.
Their CEO, Vaiko Veeleid, claims that the company has managed to drastically reduce human labor in on-site data collection.
"It does not make sense to go outside and walk for three to four hours to collect about 500 points and make calculations."
With regular drone flyovers, they can efficiently provide their clients with updates at any level of detail they might need.
This is because drones provide a complete picture of construction sites whenever and within a few hours.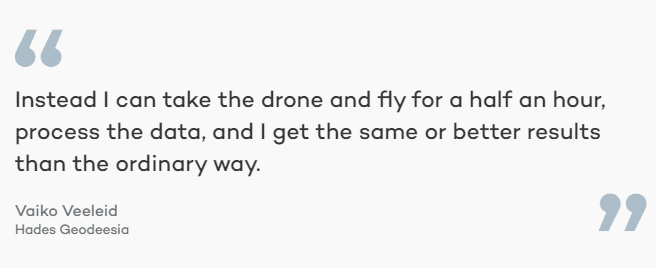 According to the McKinsey study, it typically takes 20% longer than expected to complete larger construction projects, and 80% of them end up going over budget.
But Rogers-O'Brien Construction (RO), a Texas-based company we've already mentioned in the first section, has found a solution to this.
The company has saved time, increased efficiency, and avoided costly budget overruns by using drones.

For example, a single $50 million project requires about 1,000 project elements to be reviewed and controlled. This can be a major strain on your resources.
For the $50 million projects, RO estimated the labor costs associated with the reviews to be about $16,000.
Using drones to perform the same reviews costs RO just $44.
So, regular drone flyovers can provide more accurate and faster project updates for your clients and save you time and money.
Improved Inspections
When it comes to construction of any kind, be it skyscrapers, bridges, roofs, or cable lines, inspections are a must.
Many construction companies still choose to inspect their sites the old-fashioned way. Unfortunately, construction workers face severe injuries and even deaths during traditional inspections.
Drones can track and inspect a construction site faster, better, and more accurately than humans. They are equipped with cameras with a zoom function to capture high-resolution images.
Drone photography provides an excellent 360-degree view of structures that could be affected by the project.
In this way, you can identify any necessary repairs or safety hazards and fix any problems before they escalate.
Chris Barlett from the Sequel Group can verify these claims. For years he has successfully inspected water towers, cell towers, and other high-rise structures with drones.

When performed by humans, tower inspections are a time-consuming and dangerous task.
After all, it's not easy to climb hundreds of feet into the air to get a closer look at these structures. However, with drones, his team members are able to take aerial photos without going onto the towers themselves.

However, climbing unsafe structures isn't the only hazard your workers might need to face. Almost every terrain can be dangerous.
For instance, your workers might easily get exposed to mold, mildews, and allergens of all kinds, which can lead to some serious respiratory problems.
Unfavorable climate conditions also hinder construction work, for instance, in locations where the humidity is so high that it's impossible to work for longer than an hour.
Drones can help complete certain tasks even in those conditions, often providing much better results.
In conclusion, drones offer a much safer and quicker method than having workers physically inspect construction sites.
The health risks and safety risks to employees can be reduced drastically by allowing drones to do inspections.
Better Communication
As we've already mentioned, managing construction sites manually comes at a greater cost and is extremely time-consuming.
But, more importantly, it can produce inaccurate or even conflicting data, which leads to problems in communication.
However, drones can improve communication on construction sites by 65%.
This is because drones help provide a big picture thanks to their aerial photography feature.
As Matthew Forster, Project Engineer at Choate Constructions says, the aerial view gives his team a different perspective. Therefore, they can catch issues they might not notice using a regular view.
"Drone maps give my team a bird's eye view of the site, which looks a lot different than being on the ground. It gives them a full picture."
Thanks to drones, information can be easily transmitted from the field to the office in real-time.
To do this, you'll need a flight planning app to set up a fully automated flight plan during which you'll see real-time images and gather data to present to the workers and stakeholders, and make more informed decisions.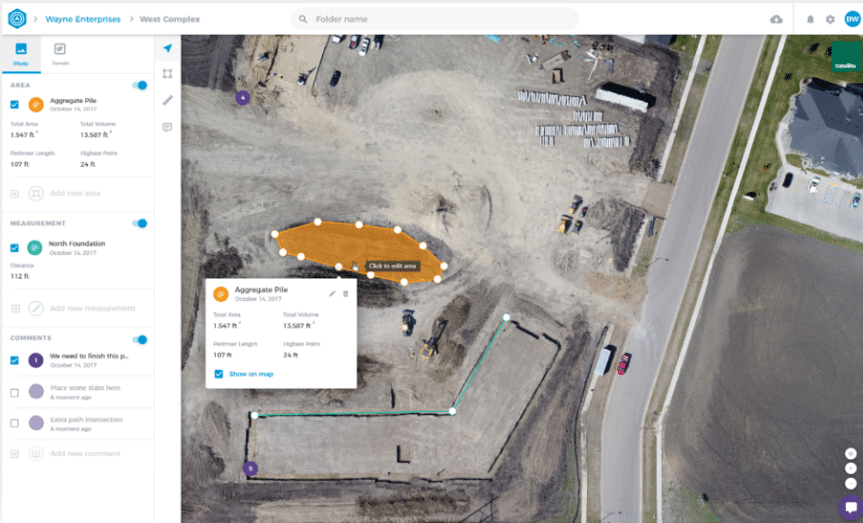 Once you go back to the office, you can upload the images from the drone's memory card and analyze them.
The drone can also detect any problems that arise with a high-resolution map and send that information to the responsible parties so that everyone's on the same page about what solutions to implement.
This way, there's very little guesswork involved.
For instance, Contract Project Manager Nick Johnson, from Tilt Rock of Texas, uses drones to help him manage large, custom home projects.
Homeowners make constant changes, so Johnson overlays drone maps with utility and communications plans to detect discrepancies before they become a problem.
"Aerial imagery identifies conflicts I wouldn't normally see from the ground level. Now, I find out about conflicts in a matter of days, instead of months".
In conclusion, drones provide real-time data, allowing for better and easier information exchanges between construction companies and their clients, improving communication.
Conclusion
Construction management is not an easy job.
We're sure you have more than enough on your plate when it comes to conducting regular inspections, monitoring progress, and ensuring the safety of your workers, all while focusing on completing your projects on time and within budget.
If you're not already using drones, you should definitely look into it since they'll make your life a lot easier thanks to their real-time data recording and unique aerial advantage.