Companies that employ a good tool inventory software system enjoy stronger organization and reap greater profits.
Employees, managers, and decision makers all benefit from tool inventory software, because it provides greater communication abilities while building a database of valuable material.
The post will define what tool inventory management is, and explore why it's important to keep tool inventory in check.
You will also learn what qualities to look for in your tool inventory software.
What Is Tool Inventory Management?
Tool inventory management is a multifaceted approach to supervising, guiding, and tracking the use and deployment of assets.
It involves knowing where items are at all times, drawing data from their movements, and arranging schedules in a way that maximizes their use.
Tool inventory management also embraces technology and takes into account preventive as well as emergency maintenance.
Tool inventory management is useful for many different industries, including:
Hospitality
Construction
Manufacturing
Retail
Health care
Education
Sports and exercise
Information technology
Any field that deals in a great deal of inventory, particularly those entailing fieldwork, usually involves at least some kind of tool inventory management.
Effective inventory management keeps an organization moving and under control.
When inventory and tools are accounted for and controlled, decision makers have the ability to maintain stock, fulfill orders, and direct employees in a timely and efficient manner.
Tool inventory management can involve different members of the workforce, who scan assets and tools at crucial moments in the workflow, as well as maintenance, or the supply chain.
They generate data important for the tool's data chain, such as readings about its environment, as well as when it is active, how it is functioning, and which employee is in charge of it.
Decision makers and stakeholders can then analyze this data for statistics concerning efficiency, worksites, and project completions.
Why It's Important to Keep Your Tool Inventory in Check
When businesses manage tool inventory in real time, several benefits quickly manifest.
Since each organization is different, it is important to find a system that is flexible and scalable as needed.
The advantages of strong tool inventory management are the basis of understanding every facet of a company or non-profit better.
Prevent Tool Theft and Loss
The right tool inventory system will help prevent malpractices within the company, as well as outside equipment theft.
A company affected by theft experiences an erosion of trust, frustration with lost revenue, and potential schedule slippage.
Poor tool control comes at a high cost.
Healthcare materials, educational items, and especially construction equipment can command a high payoff, usually for a relatively small risk.
In addition, the recovery rate for such items is usually low.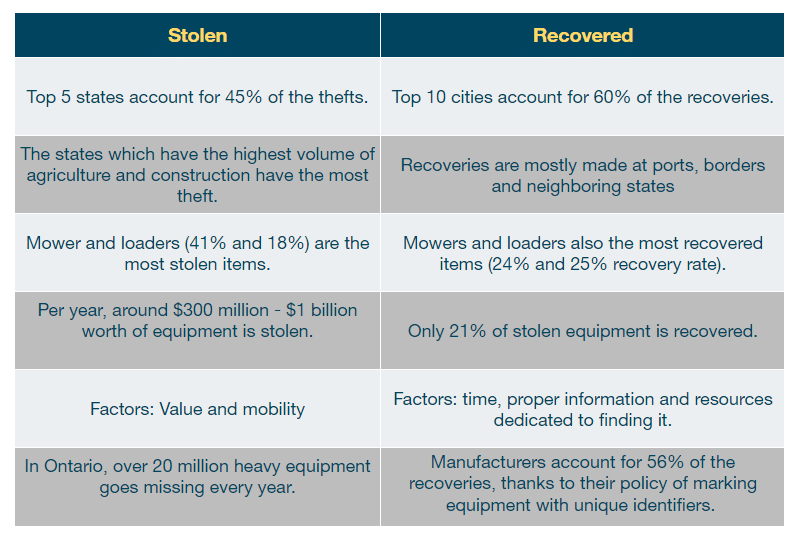 However, using a tool inventory system can tip the odds of recovery in the first place to a company's favor, in addition to helping prevent theft from occurring in the first place.
The asset tagging practices that drive tool inventory can include geofencing, which provides a technological boundary around a designated area.
When an item moves beyond the geofence, alerts let security forces know.
Tool inventory also provides a traceable data chain for each asset.
Every scan records which employee has had control of an item, as well as when and for how long. This feature provides for transparency and rapid information retrieval.
Achieve More Effective Tool Maintenance
Companies using tool inventory software with a strong alert system results in better efficiency concerning preventive maintenance.
Preventive maintenance refers to specific actions that are regularly scheduled to keep an asset or tool in good operating condition.
Local and federal governments sometimes require specific work, or preventive maintenance is a condition of maintaining a warranty.
When a business uses a tool inventory management system, its data helps quickly prove compliance with laws and labor agreements, and can also assist in insurance claims.
The best way to control assets during maintenance actions is to attach unique codes to each tool.
This records when the action took place, as well as which employees were present.
Tool inventory software will also store important information about the item, such as:
Operation manuals
Manufacturer recommendations
Schematics and diagrams
Contact information for third party contractors involved in the maintenance
In addition, some suites of tool inventory software offer automatic scheduling for preventive maintenance.
This helps workforce members and managers schedule projects around potential downtime, as well as providing an efficient means of ensuring the tool performs as well as possible throughout its life cycle.
Improve Your Operational Efficiency
When companies invest in a software solution for tool inventory, everyone involved sees benefits.
Improvements occur not only within maintenance, inventory, and information technology, but throughout the entire organization.
The act of building a tool database results in a comprehensive real-time view of what the organization owns, and where.
For businesses that have never conducted complete tool inventory or have only done so manually, this feature alone is an immense step forward in terms of efficiency and asset control.
Automatically generated data allows decision makers to understand how tools move throughout the company during peak usage, as well as which employees are using them to their best advantage.
This leads to improved operational efficiency, as well.
Scheduling is much easier and more fluid when employees and managers possess this information.
In addition, the ability to know where tools are at all times prevents unnecessary spending, since items need to be replaced less often when a tool inventory system facilitates more effective maintenance and safeguards equipment against theft.
What to Look For in Tool Inventory Software
Tool inventory software can seem overwhelming. However, when a business knows which features to focus on, the search becomes easier.
The right tool inventory software should contain the following qualities.
Easy Check-in/Check-out for Tools
Check-in and check-out is the process of tracking which employee, client, or contractor is in control of a tool or asset.
A good check-in and check-out solution will provide alerts for overdue items, give an overview of schedules, and generate a record of which items are under reservation.
When a company relies on multiple locations it is often important for multiple people of varying security levels to access information about scheduling and tool access.
Easy check-in/check-out is a major facet of this.
Streamlined check-in/check-out means that employees do not have to waste time trying to find a tool that is out of the tool crib, under maintenance, or no longer considered an asset.
Real-time location updates mean that teams in the field can verify that necessary tools are on the way, thus avoiding scheduling conflicts.
As many employers found during the COVID-19 crisis, it's vital for remote workers to have the ability to reserve or verify the availability of assets.
A check-in/check-out feature in a good software suite offers not only a built-in inventory check, but an easy way for remote or time-shifted employees to connect.
Cloud and Mobile-Based Service
A strong inventory system is cloud-based. Storing information in the cloud enables employees to access information about assets at any time and check on availability.
Everyone using a tool is able to update its status even from rather remote field locations.
Moreover, cloud services offer superior security for the information usually stored in physical records, hard drives, or thumb drives.
When information is password protected and encrypted, it is much more difficult for thieves to access sensitive client or financial information.
In addition, using cloud and mobile-based services as a part of tool inventory saves space as well as money.
When a company's physical records do not require storage, decision makers do not have to concern themselves with losing the only copy of schedules, plans, or client information.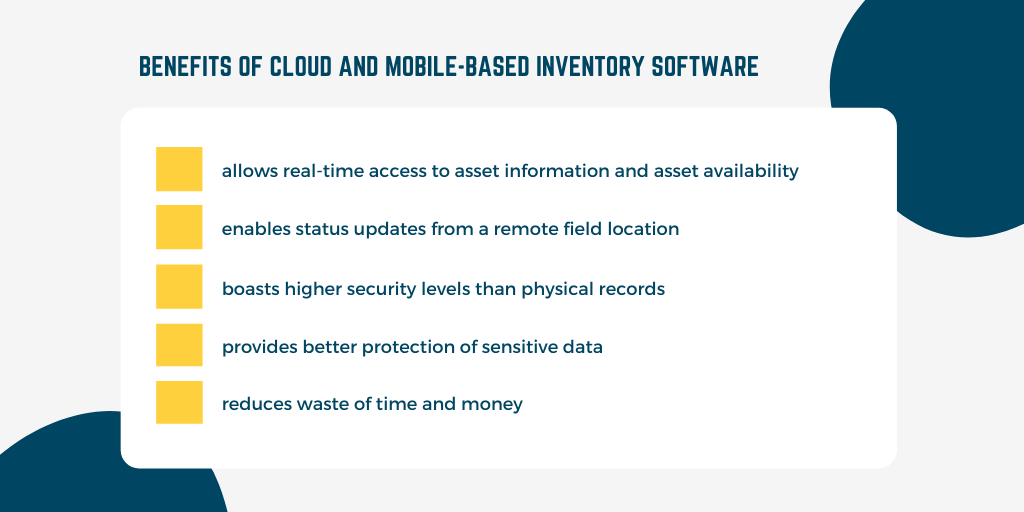 Cloud storage means that there is no need to worry about physical organization, expensive storage, or destruction due to fire or natural disaster.
Cloud and mobile-based services are also a powerful solution for smaller companies trying to wedge their way into a marketplace crowded with large international competitors.
This feature allows a company to act nimbly and with little physical office space. It means that asset management and tool tracking is possible and affordable for independent businesses.
Instant Status Updates
A cloud-based tool inventory system supports real-time updates. This means employers equip the system to update any changes in the status of a tool so that they are immediately visible to all interested parties.
Customers and third-party supporters often expect fast turnaround or replies to requests.
Therefore, instant status updates are a must for companies interested in strong customer satisfaction.
Automatic status alerts remove human error from the detailed process of scheduling.
Clients and employees in the field receive updates at a pre-determined time, as needed, or when an asset is moved.
Employee scans can also trigger automatic status alerts.
Since this feature eliminates the need to check for emails or phone calls, everyone involved in the transaction or project saves time and avoids frustration.
Stock is affected as well.
Tool crib software delivers alerts when stock thresholds are low, and in some cases even generates automatic orders.
This results in better productivity, as employees can then direct energy and time into other projects or tasks.
Off-site tool tracking is also possible, allowing personnel to follow employee transit, levels of consumables, and location of assets across worksites, even internationally.
Second-by-second status updates can contribute to better control of an asset's lifecycle.
Maintenance Monitoring
Preventive maintenance is a major aspect of taking care of tools and assets. However, emergency and as-needed maintenance are also important.
Tool inventory software helps organize all kinds of maintenance.
Software suites such as those from GoCodes can monitor the current status of the tool, compare it to its optimal status, and so on.
Maintenance monitoring through tool inventory software helps manage life cycles and preventive maintenance.
It also keeps team members informed about breakdowns and emergency maintenance, allowing them to adapt to changing plans.
Knowledge of which tools are unavailable enables project managers to provide more accurate completion projections to clients and assign the appropriate amount of employees to various tasks.
Unique Identifiers for Each Tool
It's important for tool inventory software to equip every tool with a unique identifier. Including a picture of a tool is optimal.
An even more effective way to verify each asset or tool is to provide it with an alphanumeric identifier, along with a QR code.
GoCodes' system provides the codes as well as the unique identifiers for each client, along with patented, durable tags containing the name of the company.
Unique identifiers are important for many reasons.
In the event of theft, identifiers can help law enforcement to verify ownership. They are also attractive to insurance agencies and excellent in the process of warranty claim.
Simplicity of Use
Good tool inventory systems are user-friendly for managers as well as the workforce. When choosing a system, employers should take into account the conditions their employees face.
With this in mind, a tool inventory system which offers easy scanning and automatic updating is ideal.
Since employees might need to provide information or scanning from remote or rugged field locations, simple asset tagging systems are necessary.
Dedicated tool inventory apps are optimal.
They allow employees to use familiar devices such as smartphones or tablets in order to scan.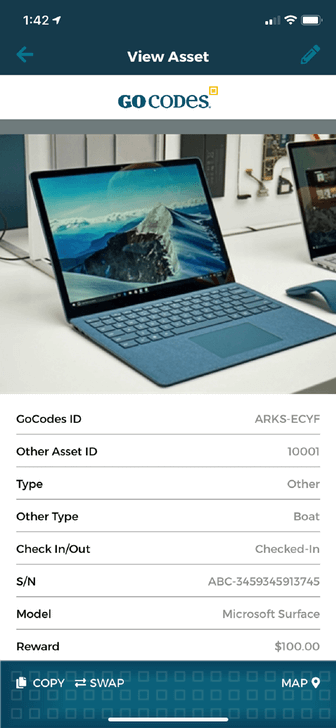 Companies can choose to provide employees with devices, or allow for them to bring their own. This flexibility provides freedom and the ability to scale as needed.
Smartphones and tablets are usually welcomed by those who are required to use the tool inventory system.
Most are already quite adept at scanning QR codes and working with tags from such activities as accessing online menus and using smart TVs.
This familiarity also means that no expensive and time-consuming training for the tool inventory system is necessary.
Conclusion
It is vital for a modern company to present a streamlined and efficient experience for clients.
Providing a reliable work environment for employees, complete with tools necessary to complete expected tasks, is part of responsible entrepreneurship.
Tool inventory software offers effective modern solutions for a variety of needs.
GoCodes Can Help
We use QR code tags with a unique visual code that you can scan with your smartphone. When scanned, GoCodes tags provide GPS information about equipment location, making tool tracking easy. Sign up for a free trial here.