Technological advancements have made GPS tracking systems for construction equipment—ranging from heavy-duty machinery to small precision tools—available to any construction business that wants to cut costs, streamline operations, and increase productivity.
However, with so many available options, it can be challenging to determine which one would be most practical and cost-effective for your construction business.
With this in mind, we have listed some of the best construction equipment GPS tracking systems along with their distinctive features and options.
GoCodes
Before we jump into the first item on our list, let's quickly cover what GPS tracking of construction equipment actually involves.
In a nutshell, GPS tracking allows you to track all your physical assets (like machinery, equipment, vehicles, tools, etc.) and to know exactly where they are in real-time.
Combined with other technologies, such as IoT, AI, sensors, predictive analytics, etc., GPS tracking provides numerous benefits for construction businesses.
These include streamlined equipment/fleet management, increased workers' accountability, loss and theft prevention, improved maintenance practices, and optimized utilization rates.
Of course, with so many different types of construction equipment that can be tracked and even more specific equipment tracking needs, the market offers a multitude of options to choose from.
Among them, GoCodes stands out for its affordability and ease of use. It can be easily scaled and customized according to your asset tracking needs.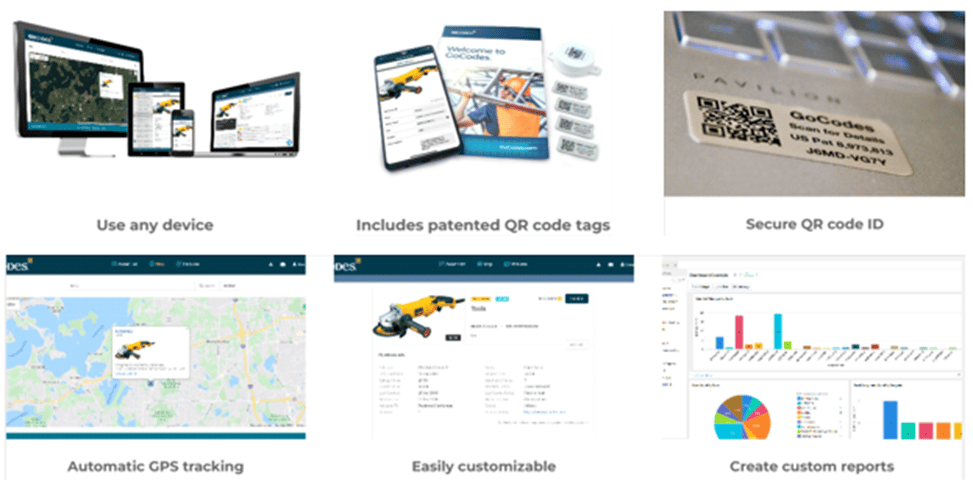 This equipment and tool tracking system harnesses the power of quick response (QR) code tags, smartphone and other scanner apps, and cloud software to track and geolocate any construction assets.
The ease of use and affordability stems from the fact that this mobile tracking app uses a smartphone's GPS tracking function to pinpoint the location of QR code-tagged equipment.
In other words, every time the QR code tag is scanned, the GPS location of the tagged equipment is automatically updated and viewable in Google Maps.
This allows you to see where equipment is located based on the last time their QR code was scanned, thus establishing a GPS-enabled asset tracking system, which GoCodes patented in 2015.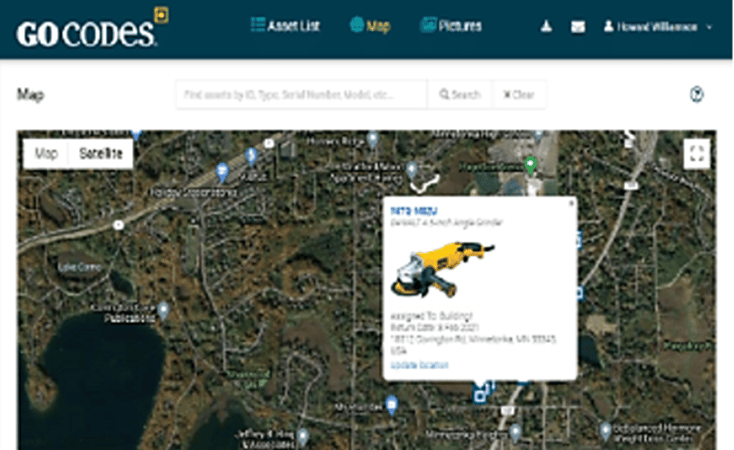 The QR code tags can be made of any material (durable, tamperproof, etc.) and need no power source, unlike other GPS trackers.
Furthermore, the GoCodes mobile app allows service technicians and other staff to access information about a piece of equipment, such as the maintenance status, last service date and usage data, by scanning the QR code with their smartphone.
This allows businesses to easily establish an equipment check-in/check-out system.
Another prominent GoCodes feature is its customizability.
Construction businesses can add their own custom fields, hide unused fields, or add drop-down menu options to data fields, depending on their needs.
Thus, if you're looking for a simple and cost-effective GPS-enabled tracking system for your equipment and tools, GoCodes should be at the top of your list.
CloudHawk
One of the advantages of CloudHawk, which focuses on GPS tracking of high-value construction vehicles and other equipment, is their compact and easy-to-hide trackers that can maintain a GPS connection even in areas where the GPS signal is weak.
CloudHawk's plug-and-play trackers can be installed within a few seconds by using powerful magnets, while their wired trackers can be hooked to a 12–24-volt power source within minutes.
Moreover, their GPS trackers are durable, waterproof, and lightweight, with no external antenna, making them easy to hide and thus preventing tampering or removal.
When the power is disconnected, a tracker's long-lasting built-in battery enables uninterrupted operation.
CloudHawk's patented GPS tracking technology ensures that you'll be able to track your construction machinery and vehicles even in areas with poor cell phone reception, thus allowing you to monitor your fleet in remote construction sites outside urban areas.
Another advantage of their trackers is that they can be connected to wireless Bluetooth sensors or wired sensors, allowing you to track more than just the equipment's location.
For instance, they give you insight into temperature, humidity, door status, and cargo volume, to name a few.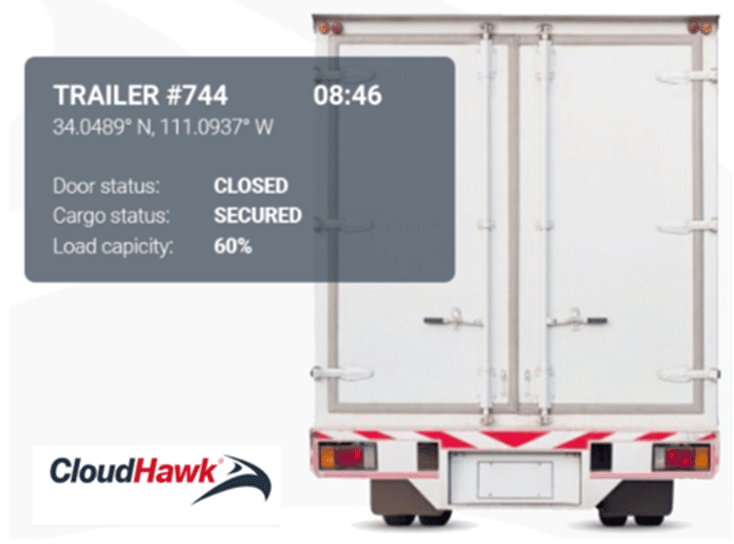 Finally, CloudHawk trackers are compatible with different cellular networks around the world, and they offer a flat-rate subscription plan for customers in the US and Canada.
To sum up, CloudHawk's small, durable, and easy-to-hide trackers and their superior GPS tracking technology will enable you to track your construction equipment regardless of its location, allowing you to monitor and optimize its utilization, reduce theft risk, and increase productivity.
TennaMINI Plug-In Tracker
Of the many asset tracking and management options Tenna offers, their TennaMINI Plug-In tracker stands out as an easy-to-install, durable, and flexible GPS tracker for heavy equipment.
For GPS equipment tracking, Tenna offers three different TennaMINI trackers—Plug-In, Battery, and Solar.
Both Battery and Solar TennaMINI trackers are intended for mid-sized equipment like trailers, pumps, and arrow boards, and they provide equipment position and GPS location reports every 23 hours.
However, the best choice for tracking powered heavy equipment like excavators, loaders, and dozers is the Plug-In version, which plugs into the ignition system and reads engine data, thus providing both precise GPS tracking and engine run-time data.

The ability to monitor engine running time enables you to improve equipment fleet operations through utilization and performance monitoring, accurate billing, and proactive maintenance.
As for monitoring, the tracker reports its GPS position every two minutes when the tracked heavy equipment is running. When the asset engine is off, it reports its location every 23 hours.
The TennaMINI Plug-In tracker has a long-life battery that recharges via the asset battery, so its operating time is indefinite.
Even when heavy equipment is stored long-term, and the tracker gets no power from the asset engine, it can send its GPS location once a day for three years (up to 1,000 pings).
Coupled with Tenna's One Platform solution, these easy-to-install, durable, and flexible trackers will provide precise GPS heavy equipment tracking and enable you to streamline equipment management operations, reduce costs, and save time.
Verizon Connect
While Verizon's GPS tracking solutions allow construction businesses to track their vehicles, heavy equipment, as well as powered and non-powered assets, their GPS gadgets stand out due to the additional features they offer, such as measuring temperature changes and vibration levels and geofencing.
First, as an all-in-one solution, Verizon's GPS trackers allow you to track where and what your construction and heavy equipment fleet is doing at all times.
In other words, you'll be able to see exactly where a specific vehicle or machine is, whether it's moving, idling, or not in use, giving you a bird's-eye view of fleet operations.
This improved oversight will ultimately lead to reduced costs, improved safety and security, and increased utilization and productivity.

In addition, their GPS trackers can be fitted with sensors for door movement, temperature changes, and excessive vibration, allowing you to track, maintain and manage your valuable equipment.
Moreover, as mentioned above, Verizon's tracking system allows you to set up a geofence, i.e., a digital perimeter around the construction site, to track jobsite visits, duration, and frequency, as well as prevent unauthorized use and theft.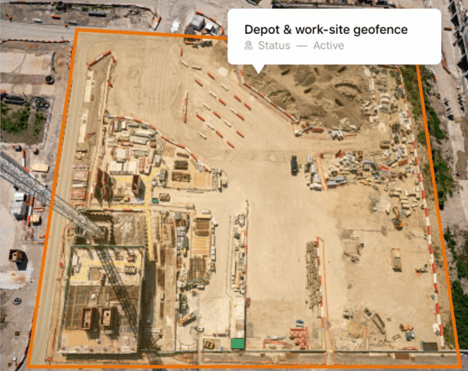 The system also sends you automated alerts when a tracked vehicle or machine enters or exits the geofenced area, thus boosting security, asset utilization, and productivity.
Considering all the above, the Verizon Connect fleet and asset tracking system, coupled with smart sensors and patented geofence technology, adds to a great GPS tracking solution for your construction and heavy equipment.
Trak-4 Tracker
Trak-4 trackers, with their long-lasting rechargeable battery and an easy-to-use mobile app, allow you to track construction equipment, vehicles and non-powered assets in a cost-effective way.
Trak-4 trackers enable you to set up your own construction equipment GPS tracking system in minutes, while providing additional advantages like WiFI geolocation in populated areas and tracking multiple units on the same map.
Trak-4 trackers are small, handy, and easy to use both indoors and outdoors.
When the tracker is set to one ping a day, its internal battery that can be recharged via cell charger or USB cable can last 12-18 months on a single charge.
Otherwise, you can choose in-motion ping rates (1-minute to 1-hour) and change the ping rate to manage battery life.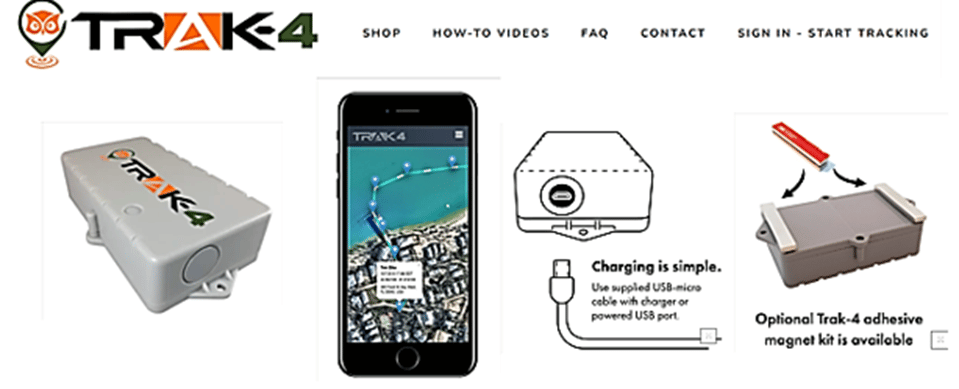 One of its other useful features is that when there is no GPS signal (in garages, buildings, etc.), it will use cell and WiFi geolocation, which are also great for tracking asset locations in populated areas.
The whole system can be set up in three easy steps after you purchase the trackers: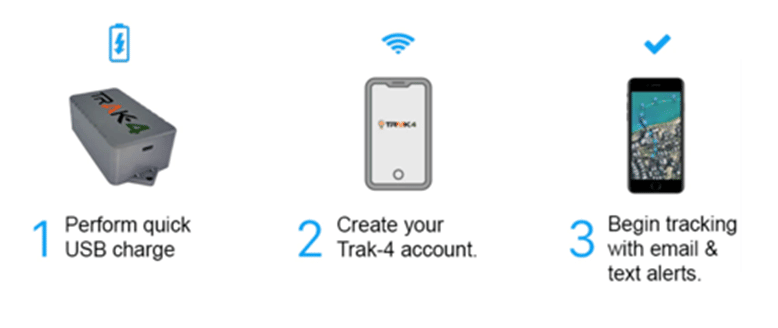 Moreover, you can track all your assets on one map and receive text or email alerts when your tracked equipment, vehicles, or assets enter or exit a selected area.
All of the above makes Trak-4 trackers a simple and hassle-free (no contract, unlimited cellular data, optimized for the US, SIM included) way to establish a great GPS tracking system with some advanced features.
Linxup
We could say that Linxup tracking solutions provide all the perks other GPS tracking systems offer rolled into one in a simple and affordable package.
Linxup GPS trackers work with any kind of construction and heavy equipment.
Their vehicle trackers give location updates every minute while the vehicle is moving and once an hour when the vehicle is off.
Similarly, equipment trackers report every 10 minutes when the equipment is in use and once a day on battery.

This GPS tracking solution works both in urban and remote areas, and Linxup trackers come with an easy-to-use dashboard and mobile apps that allow equipment tracking at any time and any place.
The Linkxup tracking system includes powerful alerts and reporting on movement, activities, geofences, and more.
Thus, it's a simple and affordable all-around solution for GPS tracking and managing heavy equipment and construction assets across multiple jobsites.
Teltonika Asset Tracker Easy
Teltonika Asset Tracker Easy (TAT100) is an advanced construction equipment monitoring solution with the Global System for Mobile communication (GSM) compatibility.
These GPS trackers are small, robust, and easy to install, as well as water- and dust-resistant.
The device uses interchangeable batteries that can be loaded quickly, so there is no waiting for the device to charge.
With one report per day, the battery can last for up to 3 years.

As it operates on a low-power Bluetooth chipset, long battery life and other characteristics, one can track non-powered assets like trailers, scissor lifts, tools, and other valuable construction equipment.
The Asset Tracker Easy tracking solution boasts many advanced features like:
Integrated accelerometer
Periodic reports and scheduler
Integration with Bluetooth sensors for temperature, humidity, light, etc.
Movement detection
Manual geofence
Overall, this GPS tracking solution consists of very compact, robust, and easy-to-install trackers with many advanced options, making it a good choice for tracking non-powered and other construction assets.
WirelessLinks
WirelessLinks GPS trackers for construction equipment and assets are the last on our list.
WirelessLinks GPS tracking devices are quick, easy to install, and easily integrated with other applications and enterprise systems.
Apart from tracking movements of non-powered assets like trailers, containers, and pallets, the WirelessLinks monitoring solution for powered construction vehicles and machinery tracks fuel use, excessive idle time, and other engine diagnostics.
These diagnostics are then turned into a comprehensive set of simple reports that allow you to analyze and improve your fleet management practices.
For example, the system enables you to prevent excessive idling of your vehicles and machinery by allowing you and the driver to receive alerts after a certain amount of idling time, thus prompting the driver to turn off the engine.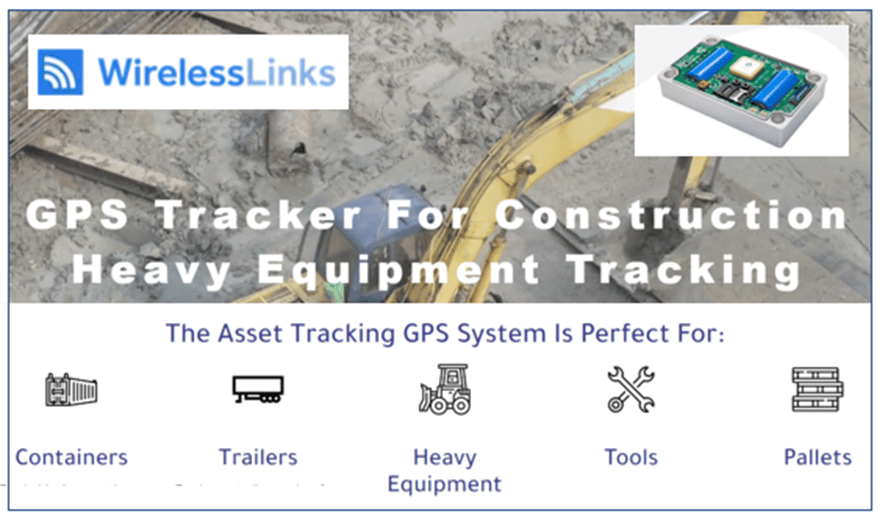 As an example of their range of tracking devices, the long-life battery-powered GPS tracker Piccolo ATX with two easily replaceable lithium batteries can last up to five years and send up to 3,000 position pings.
Combined with the power of the simple and intuitive Fleet.Net cloud platform, this GPS tracking system can ultimately allow you to reduce fuel costs, streamline fleet maintenance, enhance operator safety, and increase productivity.
Conclusion
As said in the opener, GPS tracking is a varied and quickly evolving technology that, combined with other tech solutions, already provides numerous benefits for construction businesses at increasingly affordable prices.
We hope this article will help you choose the best construction equipment GPS tracking system for your business needs.