When you start in the construction business, you have one goal in mind: profit. But there are many obstacles to success: stiff competition, labor shortages, frequent change orders, supply chain delays, etc.
If businesses don't garner enough revenue, they can't continue their operations, unable to finance necessary equipment and pay their employees.
So, consider our comprehensive list of the best ways to boost profit for your construction company to ensure you stay in business for a long time.
Set Profitability Goals
It's not enough to say: "I want my company to be more profitable." What does more profitable even mean?
Do you want to earn 2X or 10X more revenue than you currently have? Do you want to take on more projects, or fewer top-quality ones? Where do you want to take your business in five to ten years?
Having a more profitable construction business means setting realistic goals.
Then you can clearly know your long-term business plans.
You'll know the type of projects you can take, make jumps from different sectors, or even expand to new markets.
So, before you make any meaningful business decisions, think about how they align with your profitability and financial goals.
How do you do that?
Using the SMART method is all you need to create achievable goals. What this means is your goals should be specific, measurable, attainable, relevant, and timely.
Now, when you're thinking about specific profitability goals, consider these areas:
Overheads
Labor costs
Sales goals
Profit goals
Look at how much you're spending in each area, and set realistic targets to minimize your costs. Then you can analyze and revise your goals over time to see whether you were successful and practical about your profitability plans.
Don't Neglect Your Marketing
If you're used to relying on traditional marketing methods (like print ads) to promote your business, maybe it's time to level up your marketing strategy.
Simply look at these facts and statistics from Hootsuite's recent research:
Modern consumers spend around 7 hours on the Internet daily
The most common reason for using the Internet is to find information
46% of consumers use the Internet to search for products and brands
Google was the most visited website with 3.4 billion unique visits
Basically, if you don't advertise on the Internet, you're missing out on reaching your ideal customers who will benefit from using your services. Here's how to do that.
Make the most of your local SEO. Even if you have crews in several different areas, putting your company on Google Maps is how your customers will find you.
Let's face it, if they're on the lookout for the type of service you offer, most of their search engines will look like this: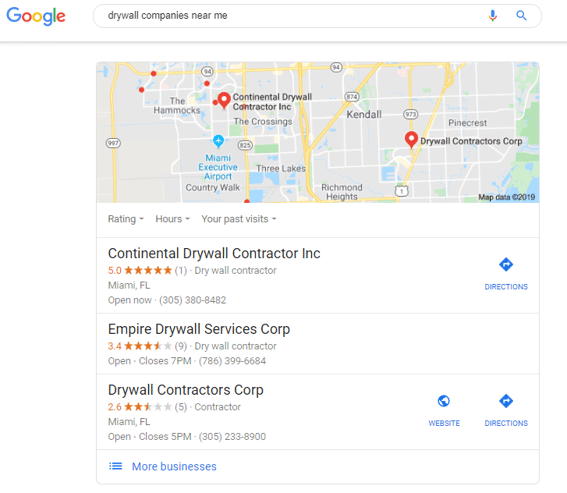 When someone searches for a local construction business, your service ad will appear on the customer's search page with direct links and a phone number. Now that your customers are aware you exist, where will they go next?
To your website, of course!
This is your all-in-one platform to showcase your business and handle customer service and sales.
Here's a great example from a construction company in Colorado Springs to demonstrate what you should aim for in creating a website.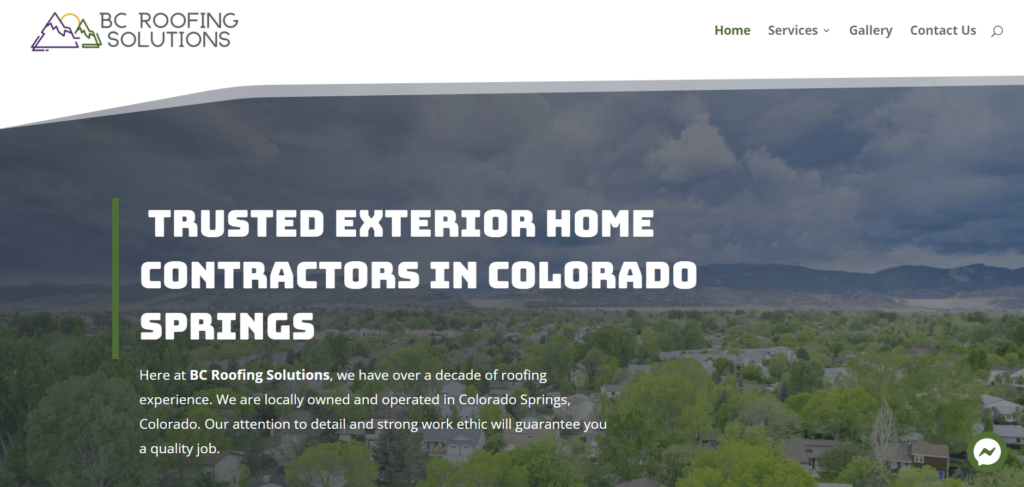 The front page is simple and minimalistic. It has all the necessary information in the upper right corner and doesn't overwhelm the first-time visitor. It features a great headline with a straightforward microcopy that explains what the company does.
Another great thing about the BC Roofing Solutions website is a chat popup that creates an opportunity to engage with visitors and turn them into potential customers.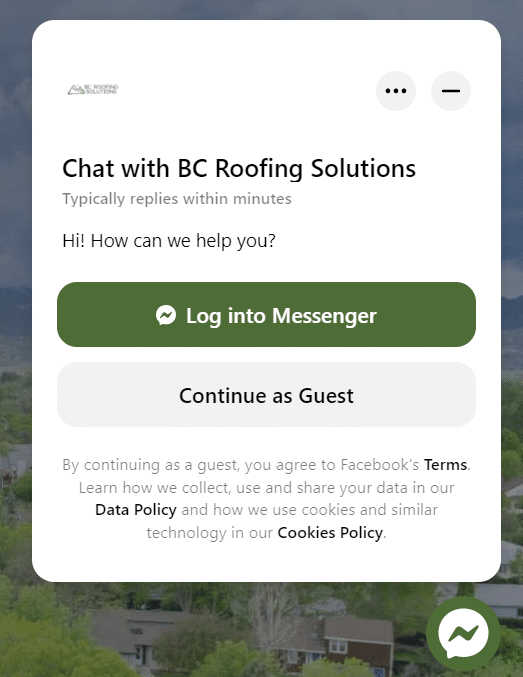 To sum up, build your marketing strategy with a solid online presence by using Google Ad Services and creating a compelling website.
Know the Benefits of Joining Associations
You're probably familiar with the African proverb: "It takes a village to raise a child." The same applies to construction companies. You can't grow a successful company without joining construction associations.
Connecting to other people in the industry has many benefits. The biggest one is that you're exposed to new business opportunities through networking and training. 
Simply by talking to other experts in the industry, you can learn about new projects, emerging markets, and industry trends that will create new opportunities for growing your revenue.
Membership in the right association will keep you up to date about the latest industry news and challenges, which can help you make better decisions regarding costs, productivity, and risks.
Here's how a major HVACR and plumbing association helped its members navigate a precarious business environment during the pandemic. 
PHCCConnect2021 was an in-person event in Kansas City with 20 educational sessions that featured specific topics their members requested. They focused on popular topics such as planning, budgets, and COVID-19 challenges.
The organization even developed a PHCC Finance Boot Camp to give their members quality resources to make better decisions and stay resilient even during uncertain times.
In the end, if you want to boost your profit sustainably, connecting with your peers through construction associations is the best way to do that.
Obtain the Necessary Licenses and Certifications
You don't put effort into obtaining the necessary licenses and certifications just to comply with state requirements. They also help you establish yourself as a reputable and competitive company.
Imagine that you're competing for a job where bids are relatively similar, and the owner has to decide which one looks the most enticing.
In most cases, decision-makers will look for additional certifications that make a candidate stand out as an expert.
In other words, getting the right licenses and certifications can help companies win more bids on a wide variety of projects. Here are six in-demand certifications to make companies stand out in today's market.
| | |
| --- | --- |
| OSHA Outreach Training Program for the Construction Industry | OSHA's program covers common job site safety and health hazards, helping workers to prevent, recognize, avoid them. The agency provides a 10-hour and a 30-hour course. |
| Certified Safety Manager (CSM) | Intended for individuals interested in a safety management role, this course will enable you to work without supervision and oversee safety programs and procedures. The National Association of Safety Professionals (NASP) offers a 40-hour course before you take a CSM exam. |
| American Concrete Institute (ACI) | ACI offers 30 certification programs for businesses that need ACI-certified workers to use concrete according to local, state, or national building codes. |
| Certified Construction Manager (CCM) | This program is offered by the Construction Management Association of America (CMAA), teaching candidates about construction project management techniques. There are several prerequisites to enter the program. |
| Green Business Certification (LEED) | Sustainable design is becoming more important for the industry, so get your green business certifications from the U.S. Green Building Council (USGBC). |
| American Institute of Constructors | This organization provides certifications for construction workers and managers. You can become an Associate Constructor (AC) and Certified Professional Constructor (CPC). |
In a saturated industry such as construction, it's essential to take any advantage that will elevate your business and make you stand out among your competitors. A great way to do that is by obtaining the necessary licenses and certifications.
Carefully Vet Projects You Bid On
What happens when you do everything in your power to get as many projects as you can, even resorting to underbidding for projects with low-profit margins?
Well, in most cases, the result is financial ruin and bankruptcy. This is what happened to Carillion, one of the largest UK government contractors, in 2018.
The company amassed a debt of $2.6 billion, thus jeopardizing many important projects in the UK and Canada, including hospitals, military housing, schools, and a high-speed rail line. Not to mention that more than 20 000 employees lost their jobs.
If you want to avoid the same fate, you have to start bidding for projects that matter. What does that mean?
First of all, calculate the ROI of every project and decide whether it's a good fit for your company. You only want to bid on projects that will be profitable for your company.
So, if you realize you don't have enough resources to handle a project's requirements, move on.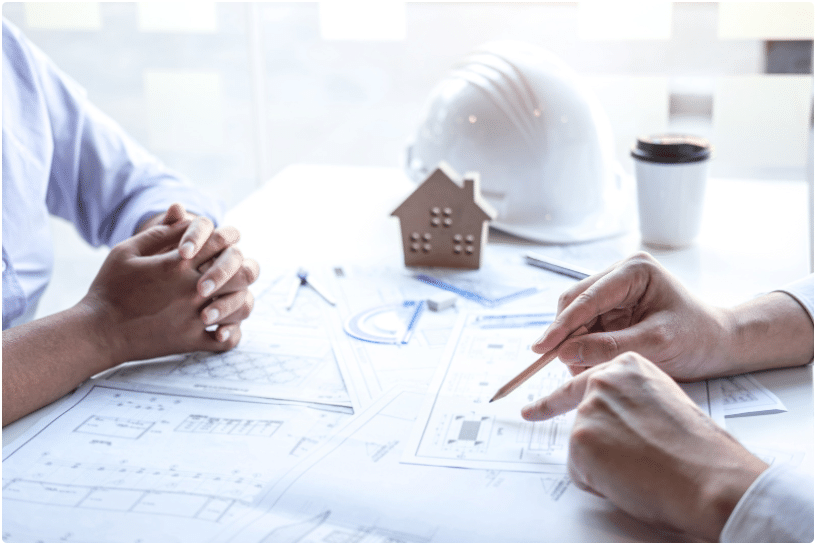 Next, focus on bidding on quality projects in your niche, ones you know you can manage.
Putting your energy and resources into projects you have experience with is a better solution than fumbling on a seemingly more profitable project that will cost you more than it's worth in the end.
Find what you're good at and do your best to conquer that market.
Here are some examples of construction niches:
Basement remodeling
Period restoration of older buildings
Landscaping
Home renovation specializing in kitchens, building additions, or house painting
Window, fireplace, drywall, or chimney installation
When you want to increase profits for your company, it's natural to want to win everything you bid on. But bidding for every project under the sun uncritically will only make you miss your profit margin goals.
So if you carefully select your projects, analyze all costs and focus on your expertise, your profit will improve quickly.
Leverage Technology
Contractors who use technology to boost their business are more profitable in the long run.
Troy Guevara, a construction technologist at Digitek Solutions LLC, says that companies that use technology in their core business operations can detect trends early and make adjustments on time.
Using technology, as Tyler Paré, senior consultant at FMI Corp. (construction-focused consulting and investment banking firm) says, provides contractors with more clarity into their key performance indicators, which ultimately leads to higher profits.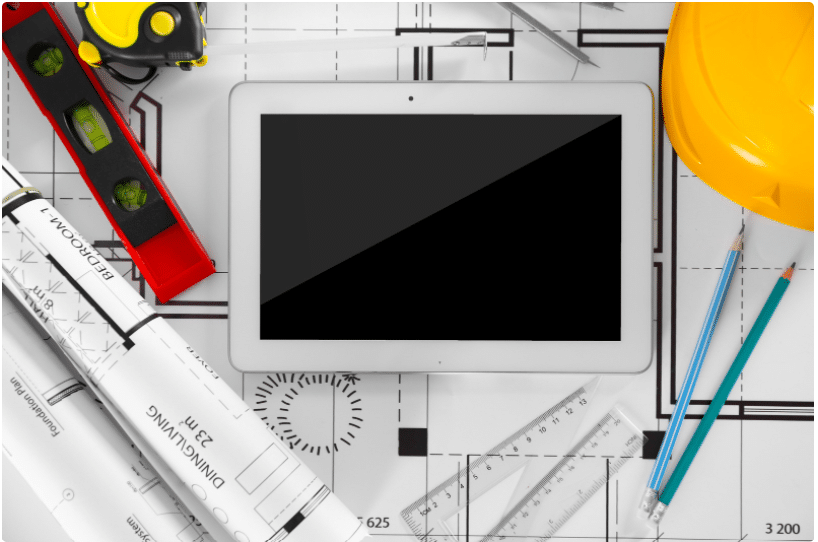 But investing in technology doesn't start and end in buying the latest heavy equipment. It also means using digital solutions to automate processes.
After all, the way you run your business behind the scenes shapes your productivity and, consequently, profitability.
Managing projects requires a lot of organization, so if you can automate at least a portion of the necessary tasks, you'll be better off in the long run. 
You will meet your deadlines faster and avoid miscommunication with key stakeholders.
Many construction companies complain about the initial costs of project management software but remember that this investment will pay for itself.
It will help you handle ongoing overhead and project costs, reports and RFIs, and store important business documents.
Furthermore, you'll have a great way to manage your labor and equipment.
Let's face it, you can't make progress on your projects with broken or malfunctioning equipment. Preventing this kind of downtime should be your key priority. 
Using solutions like GoCodes, you have complete oversight of how your equipment is used to schedule preventive maintenance.
Finally, if you want to improve your construction business operations and garner more revenue, you must adopt key construction software and technology.
Maximize Jobsite Productivity
Maximizing productivity directly correlates with boosting profit for construction companies.
Simply put, when you work more efficiently (i.e., control costs and schedule), complete projects within budget and schedule so that you can expect higher profit margins.
So what can you do to improve job site productivity?
It all boils down to one key aspect: taking care of your workers in the field. They're the ones who have to do the heavy lifting and finish essential tasks for the project.
So, your first focus should be training. From new hires to experienced workers, everyone can benefit from brushing up on their skills or learning new ones to help them do their job more efficiently and safely.
When a worker knows how to handle an excavator, they'll get the most out of the machine and increase productivity even more.
Your next step is to improve communication. Construction projects are collaborative jobs, so constant communication between the office and the field is essential to keep the project going as planned.
Then you'll be able to avoid various mishaps.
For instance, one woman hired a contractor to redo her kitchen ceiling, but the sub who was hired to redo her popcorn ceiling with a lightly textured finish also applied that texture to every wall in the kitchen.
Unfortunately, all of that work had to be sanded down and fixed, setting the entire renovation project back a couple of weeks.
Finally, don't forget about acknowledging effort! If someone is doing exceptional work on each project you take on, it makes sense to reward their output.
You can do that by giving them cash bonuses, but a simple act of recognition does the trick. 
Jim Hicks, president of Jim Hicks Home Improvement, says that structured recognition is the best way to motivate your workers. Some managers use employee of the month awards or charts to see who was commended during a specific period.
In the end, recognizing employees for their efforts goes a long way to improving employee retention.
This also means that a motivated workforce will significantly boost your company's worksite productivity and profitability.
Minimize Waste
It's common for construction job sites to create waste, especially in demolition jobs, where huge piles of brick, concrete, or metal are produced and shipped to landfills.
But what nobody considers is that construction waste will amount to 2.2 billion tons by 2025.
Apart from having a horrible impact on the environment, think about that waste from a business perspective. If you regularly dump 35% of leftover wood, brick, concrete, or tiles, that's 35% of profits directly going out of your pocket.
The good news is that some of these materials can be reused or recycled. A great example comes from Australia.
Building extra lanes for Kwinana Highway in the south of Perth was a major project, costing A$ 49 million. This project is also significant because they reused 25 000 tonnes of concrete from the demolition of Subiaco Oval football stadium in Perth.
What are some practical ways to reduce waste and increase profits? 
EPA (Environmental Protection Agency) advises that the best way to minimize construction waste is to start at the source.
While reusing and recycling are also great practices, you're actively preventing the accumulation of construction waste when you start with accurately measuring how much material you'll need for a project.
EPA's preventive solutions in minimizing waste are to preserve existing buildings, optimize the size of new builds and design new buildings so they can be adapted over time or disassembled.
But in cases where you can't do that, you should strive to buy used materials or reuse what you have like doors, excess insulation, paint, hardware, and appliances.
Implementing some of these solutions will save you from dumping your profits on the metaphorical landfill and improve your bottom line.
Conclusion
From newbies to experienced contractors, everyone wants to run a profitable business.
Increasing your profit ensures you can invest in your business through buying better equipment and hiring more skilled workers, which leads to bidding for higher-value projects.
This ultimately results in creating a sustainable and reputable company that will outperform its competitors.
While there are some factors outside of your control, such as material shortages or job site accidents, there are opportunities for profit growth if you know where to look.
Hopefully, our tips will help you in developing your own strategies to enhance profitability in your construction company.
Good luck!