Most of us are familiar with GPS (Global Positioning System) in our cars or smartphones. But this technology has a much wider use which is especially evident in the construction industry.
It is used for everything, from tracking vehicles and equipment to enhancing worker safety. GPS tech can also gather important data about site locations and heavy equipment status.
The way it works is that a GPS tracking device communicates with satellites in the Earth's orbit and transmits signals to spot locations.
The great thing about this technology is that it's highly accurate, which helps construction companies improve their operations.
Simply put, you can see where your heavy equipment is in real-time, track your employees' working hours, and speed up project delivery. At the same time, you can cut down on operating costs and increase efficiency.
Since GPS technology is so useful, in this article we're covering a range of areas where it can be used to drastically increase any construction company's productivity.
Let's start!
Arriving at the Desired Destination
Just like you'd use the navigation system to find a location in a city, construction drivers will have GPS units to guide them to the desired location.
It goes without saying that construction includes a lot of driving—from transporting materials and workers to picking up waste for delivery to a recycling center.
With this much driving, fuel costs can significantly increase if you're not taking proper measures.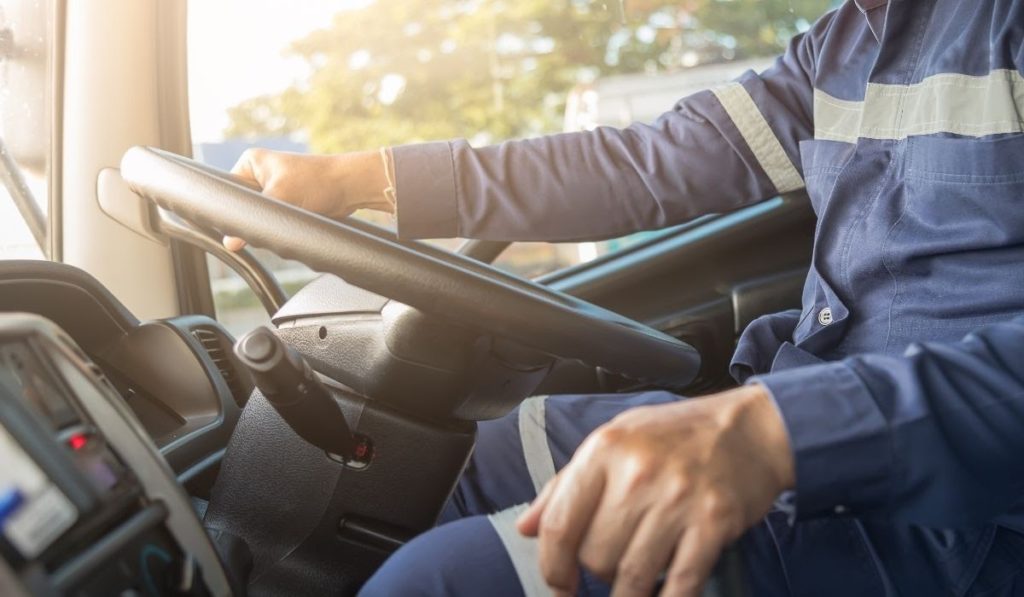 You can use GPS tracking to find shorter, more accessible routes and avoid traffic jams. That way, you can ensure faster delivery and minimize vehicle idle time. 
Data you get from GPS can also help you dispatch drivers closest to the job location and identify how much time is spent on each location.
So, if there are any delays, you will know the root causes and how your vehicles are being used.
Additionally, workers on-site can also have handheld GPS units (or use smartphones) to find their way around the construction site. So, they won't be aimlessly wandering around trying to find a storage area or heavy equipment they need to use.
In a nutshell, GPS allows your drivers to take more efficient routes, make faster deliveries while you're significantly reducing fuel and overtime costs.
Monitoring Equipment
Monitoring equipment goes beyond just saving fuel.
Let's imagine you're handling a large-scale construction project (picture Tesla's Giga factory build). Your heavy equipment can be scattered all around the construction site, miles away from the place where you need them. So what do you do?
Would you rather walk around the site, searching for that specific excavator? Or would you rather locate your equipment immediately with GPS?
Simply put, using a GPS device to locate your assets will keep you better organized, and your work can move without unnecessary delays.
You will know where your equipment is located at all times, so you'll also be able to make better decisions on where and how each piece of equipment should be used.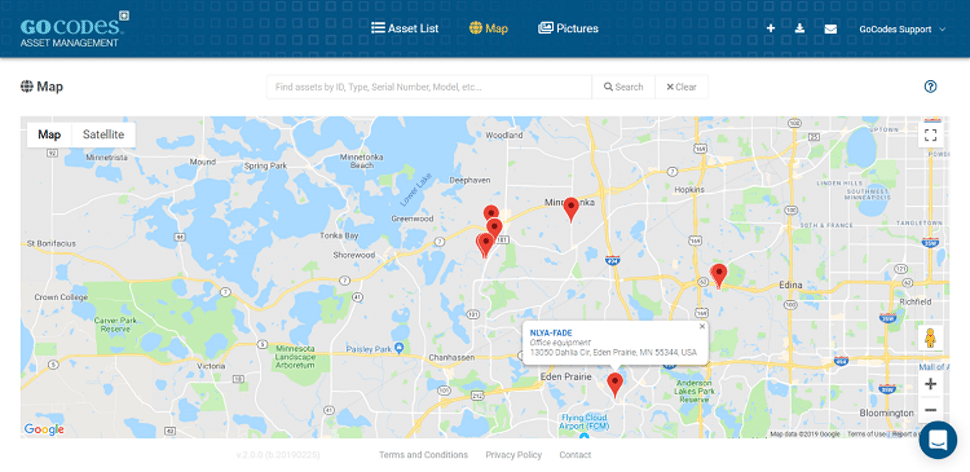 Following that, you will know when it's the right time to send your assets for routine maintenance. Various software solutions let you track equipment's operating hours or mileage. 
Say an excavator has reached the maximum number of miles before it has to be checked up, you can send it for maintenance and easily replace it with another one on the job site.
This data can help you prevent any disastrous breakdowns, and you're ensuring all your equipment is always in top-notch condition. 
In the end, keeping an eye on your equipment through a global positioning system can help you optimize your assets and prevent downtime and project delays.
Locating Stolen Assets
Even when construction companies take all the necessary precautions, valuable equipment can still get stolen.
The most popular things to steal are small tools, power tools, and heavy machinery. In some cases, the value of stolen materials and equipment reached thousands of dollars.
This is a major problem for the construction industry since it can cost millions to replace stolen goods. It gets worse because some reports show that almost 21% of construction sites were robbed every week.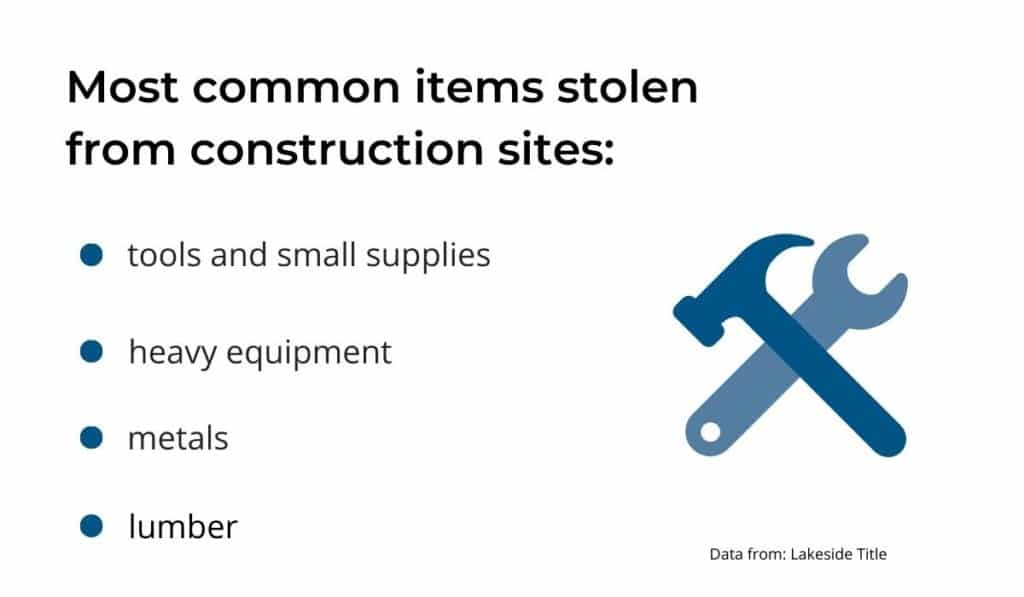 But companies don't just risk financial trouble for equipment replacement. Theft can also result in project delays, productivity loss, and increased insurance costs. 
What can you do about this?
You can't completely prevent theft, but you can take measures to retrieve your stolen items. Just like you'd locate your equipment on the construction site, you can also use GPS to track any highly valuable stolen item.
When you install GPS-enabled labels on all of your assets, the technology can send you alerts if an asset leaves a certain location. 
The coordinates will appear on your GPS device's map so you can send them to authorities in case of theft.
Besides position tracking, asset labels usually contain other information about the equipment which helps in retrieving the equipment and proving ownership.
Likewise, tracking labels used on construction equipment are rugged and durable, making them harder to remove from equipment.
Even though your equipment is constantly exposed to risk, having a GPS tracking system will help you protect your valuable assets and give you peace of mind.
Site Surveying
Any construction company that needs to start and finish projects quickly will use GPS for site surveying.
Site surveying is vital for conducting construction projects because you need to complete calculations and site preparations, such as grading, elevation, and mapping. Professionals typically use special devices and measuring tools with the help of GPS.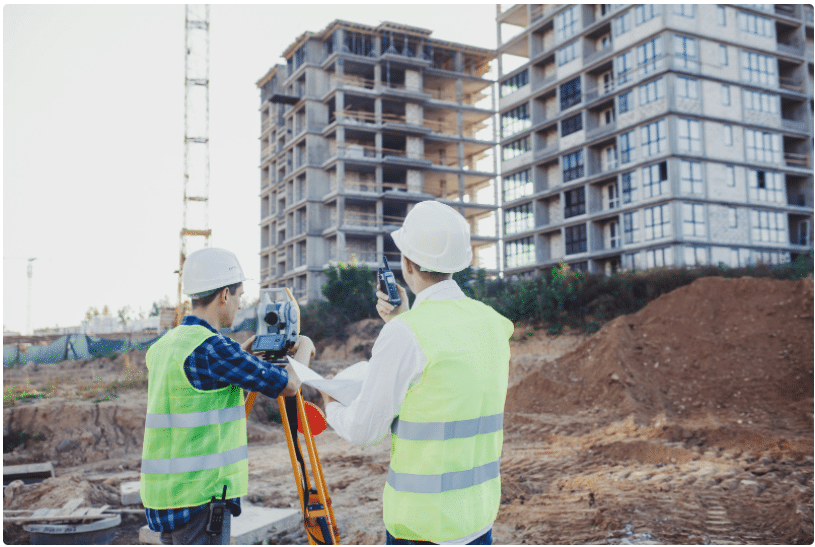 The reason why GPS is useful for this process is that it's highly accurate and fast. You can gather more information, and you only need one person for this job. For construction companies, this means saving money in consultant fees. 
Apart from accurately mapping the site, the great thing about GPS surveying is that you can use it regardless of visibility conditions.
In other words, you'll be able to get accurate data about the location you're mapping, even in the thickest fog. 
All in all, the data you get from GPS surveying can help you estimate costs and organize your resources. Using GPS for surveying has helped many construction companies maximize their profitability and complete projects faster.
Maintaining Safety
The importance of safety on construction sites can not be overstated.
Just looking at the U.S. Department of Labor's recent statistics about Occupational Injuries and Illnesses shows that almost 200 000 construction workers sustained injuries and missed 80 days from work on average.
Construction work is one of the most dangerous jobs globally, and unsafe practices make it even more dangerous.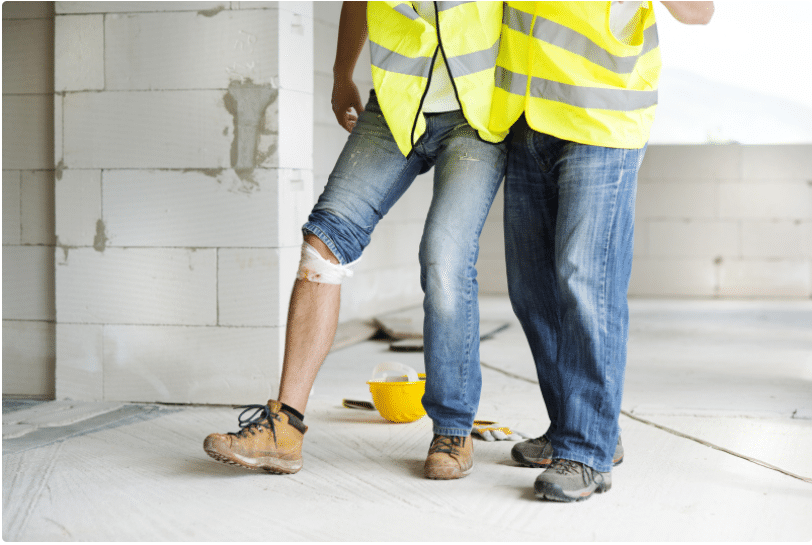 Of course, you want to trust your employees, but it's better to have preventive measures to reduce the number of accidents and injuries. 
So, to protect yourself from compensation costs, fines, and project interruption due to accidents at the construction site, you can leverage GPS data to maximize safety.
One area to look at is driving practices. Even the most careful and sensible drivers can be tempted to speed up when they're in a hurry and cause accidents.
So, vehicles and heavy machinery should be monitored with the utmost care, and GPS-enabled systems do just that.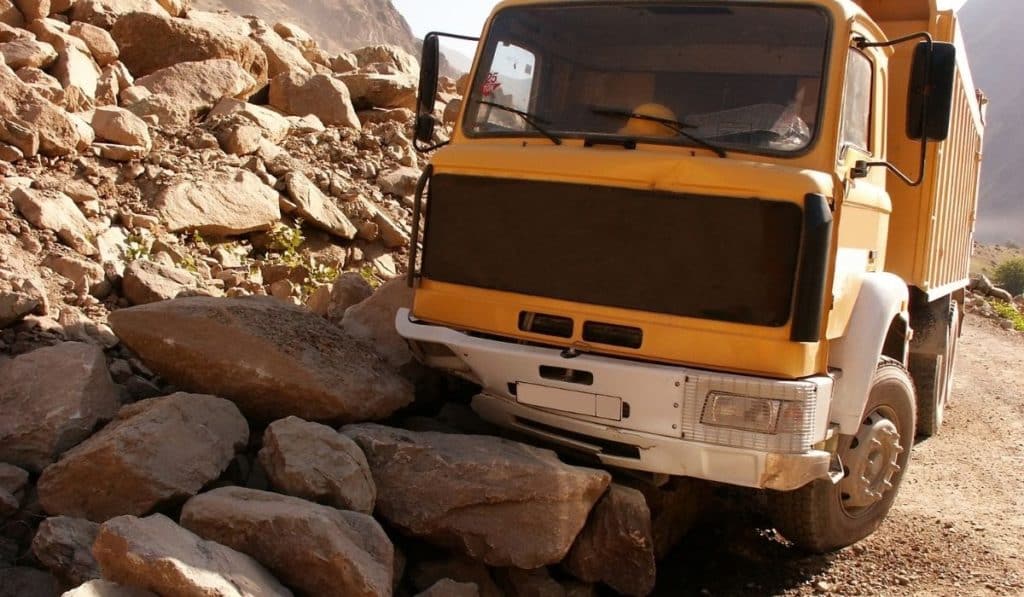 Some GPS systems can even be programmed to monitor aggressive driving behavior. For example, if drivers are hard braking or fast starting. 
These are also unsafe driving habits that can cause damage to machinery, result in more frequent maintenance, and incur unnecessary costs.
Furthermore, when workers know they are being monitored, they will be more careful with driving and operating heavy equipment. They will more likely comply with set rules and regulations, thus making your construction site a safer place to work in.
You can use equipment monitoring data for training employees on professional and safer use of the company's vehicles and machinery.
This further helps in creating a safety-conscious culture at the workplace. 
In the end, one single accident can cause serious damage to your equipment and create high costs for your company. To prevent any negative behavior, use GPS to identify unsafe operating habits.
Capturing Project Progress
In the past, GPS was only used for observing exteriors of a building and provided overhead views of job sites. Nowadays, the technology has improved for indoor monitoring as well.
This is especially useful for monitoring project progress. But how does it work?
You'll need a GPS digital camera to geotag photos and sync them with GPS information about a specific location, date, and time when the photo was taken.
Then the GPS construction software will organize the photos and the data, so you'll have an in-depth historical record of the project's progress.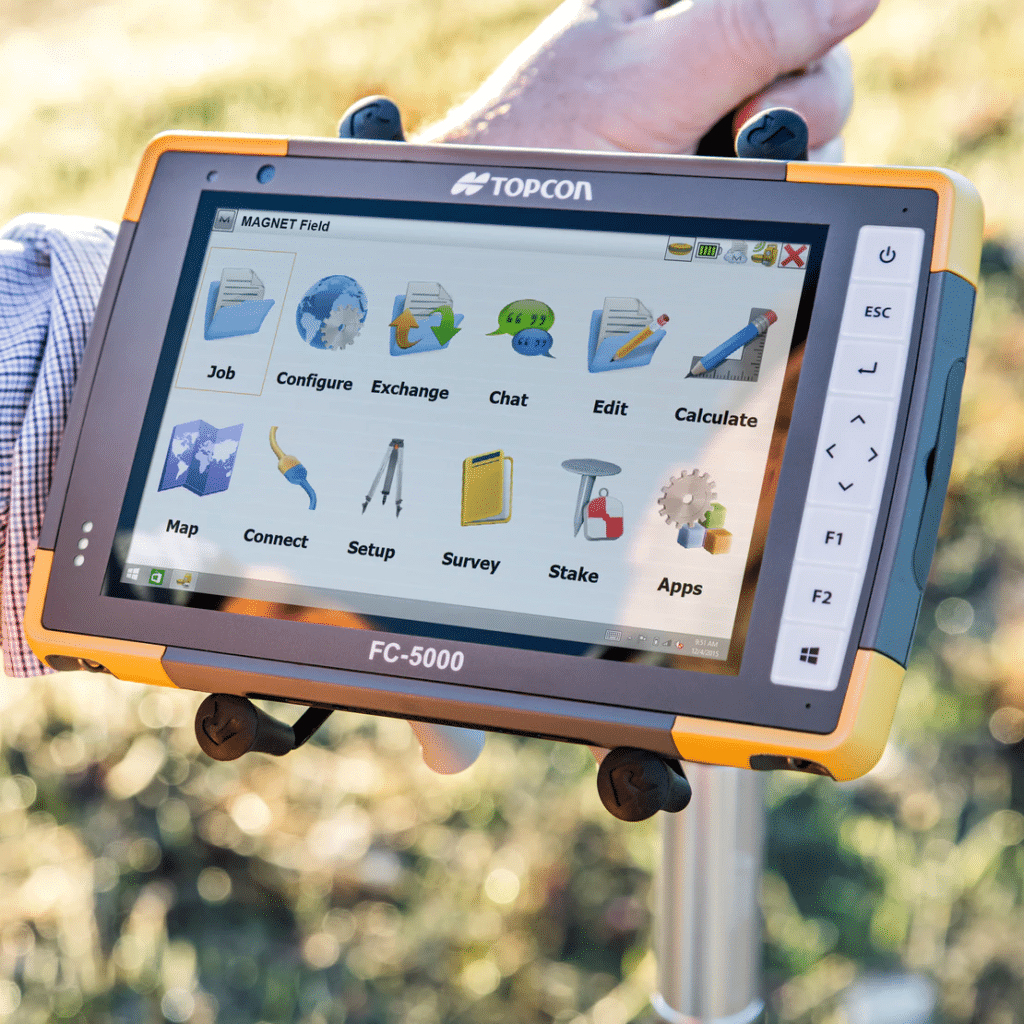 You will have a real-time view of the room layouts, which can help you make changes and plan. 
Additionally, you don't have to take measurements manually, and you'll be able to confirm your calculations from your office rather than walking to the remote job site.
But apart from seeing how your project is progressing, having recorded information can help you handle any disputes. 
Clients often want to have a complete update on how the project is going. This way you can show them real-time photos and data to answer any questions about costs, performance issues, and working hours of your team.
GPS technology can help you support your arguments and provide evidence for effective project management.
You want accurate information on how your project is progressing, so GPS is your best solution for handling important construction data.
Productivity Levels Assessment
Tracking your employees goes beyond just looking for improper driving behavior.
Are they working where they're supposed to? How many times are they going for unscheduled breaks? Are they working longer shifts than legislation allows?
You can answer all of these questions by letting your employees wear GPS-enabled devices. This technology comes in different shapes and sizes, such as: 
Smartwatches
Smart boots
Geotags in belts and safety jackets
Smart hard hat
AR safety goggles
This wearable tech equipped with GPS tracking can help you detect the employee's location but also their health and hours of service.
For example, smart hard hats can identify if a worker is fatigued so they can go on breaks.
This helps reduce microsleep, which happens when workers are tired so they might lose focus and close their eyes briefly. That way, you can prevent any accidents and collisions. 
Additionally, some legislation requires that your heavy machine operators work a certain amount of hours in a day before a prolonged break.
With GPS-enabled devices that track both location and time worked, your workers can easily clock in and out, and you can detect if they're working within the time limitations. That helps keep your site compliant with local and federal regulations.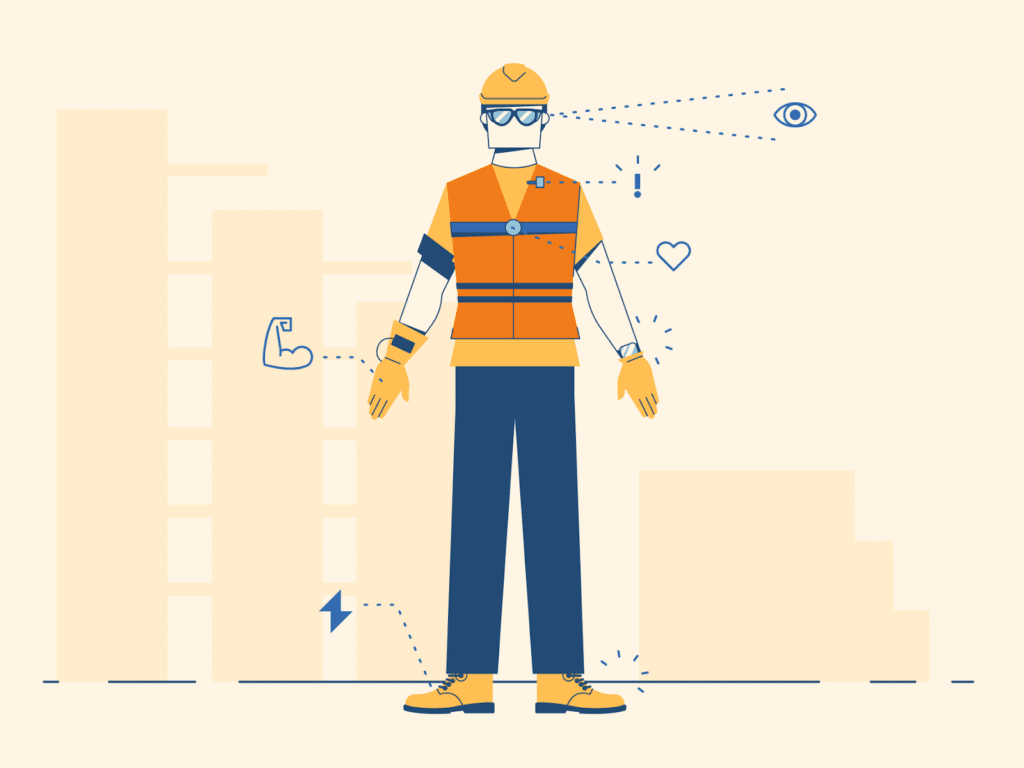 Remember that putting GPS trackers on your employees has to be done with their consent.
If employees find out you're monitoring them without their knowledge, you'll lose quality workers and possibly face lawsuits.
Reassure your workers that GPS monitoring is there for the benefit of improving both their work conditions and overall company efficiency. Also, instruct them how to deactivate their devices when they're not working, so they don't feel like you're spying on them.
Providing Alerts
Even when you put all safety precautions, sometimes the worst things can happen. Workers can still get injured or stuck in heavy machinery, so you need to have a way to find them and help them.
That's where GPS alerts and geofencing come in. Geofencing means creating an invisible boundary using GPS so you can form areas with higher risk or limit the machine use outside of those areas.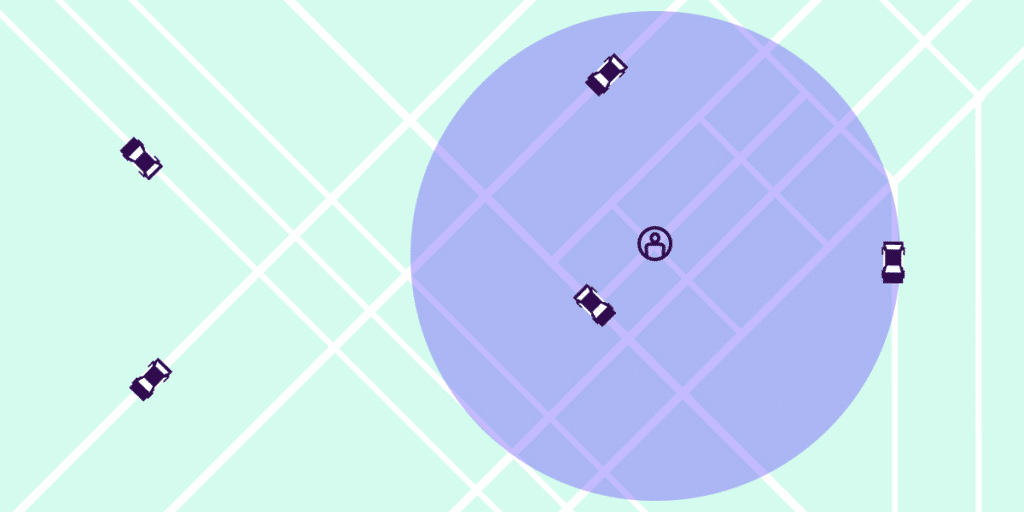 If anything happens in high alert areas, workers can press emergency buttons, and you will receive panic alerts. GPS can quickly locate the worker in need, and you can send help faster to the right location. 
Alternatively, should the vehicle exit the allowed perimeter, you can inspect the situation immediately and inform the authorities if it happens you are dealing with theft.
Improving safety for your workers should be an ongoing practice, and utilizing technology like GPS should help you mitigate most major safety problems. But when accidents do occur, you'll be reassured that help will be available on time.
Conclusion
As you can see, you can completely transform your business with GPS technology. You will gain complete visibility of your assets, construction site, and operations so you can make better business decisions.
But that's not all. There are numerous benefits for your workers as well. They will be happier working in a safer environment and keeping themselves accountable.
There will also be less idle time when they know someone is monitoring their hours of service.
All in all, not utilizing GPS technology in your construction company's operations can equal digging foundations without an excavator. In other words, you can be more efficient and maximize your profits with the right tools.