In addition to being mandatory in many areas, obtaining a contractor license might grow your business, expand your construction capabilities, and boost client confidence.
However, to gain your license most expediently, it's important to first become familiar with the way the process works in your state and determine which type of license is best for your company and client base.
Learning how to work with state regulatory boards is a major part of earning a contractor license, and formal education is often a major component as well.
In this post, we will tell you about the general procedure of getting a contractor license, and go over the details concerning the potential costs and specific expectations for various permits and authorizations.
Why Are Contractor Licenses Required?
Contractor licenses are required for a number of reasons. Some of them protect the contractor, and others protect the client.
To understand why it's sometimes best to gain a contractor license, let's look at the differences between a license, registration, and certification.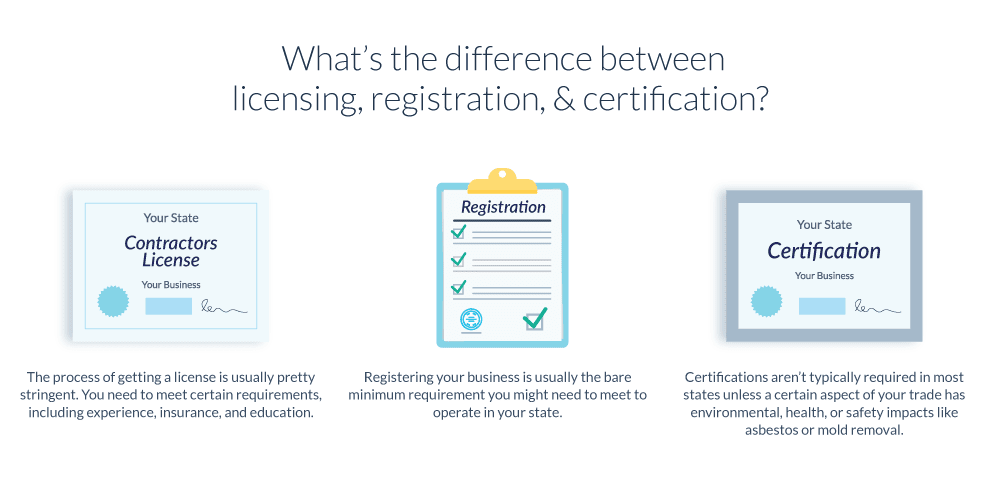 As you can see, gaining a license is usually the most complex procedure of the three.
Nearly anyone can undergo registration simply by filling out a few forms, and states typically only require certification for specific industries or trade (usually those involving health, safety, or environmentally related tasks).
In the construction industry, businesses holding a contracting license are generally regarded as safe and trustworthy, because the criteria for obtaining one are much higher than merely registering as a contractor.
Additionally, states generally approve contractors for different construction jobs rather than just one trade. The license is, therefore, more comprehensive and widely applicable than trade certifications.
Licenses act as an endorsement of the contractor's knowledge, skills, and safety awareness.
Perhaps foremost in the mind of a customer is the matter of safety. When contractors undergo the licensing process, they learn about issues such as gas safety, electrical matters, the building of weight-bearing structures, and state codes on fire regulations.
Contractors must demonstrate that they can assess and understand these issues, in addition to knowing how to provide preventive and corrective measures.
In many areas of the United States, obtaining a contracting license is often a simple matter of following the law. After all, in some states, it is illegal to work as a contractor without a license.
State governments task regulators with seeking out violators and closing their worksites or business. Consequently, some unlicensed contractors who operate under the radar, without the required licenses, must pay fines before becoming accredited themselves.
Not only does knowing that a tradesperson has a contractor license boost the client's confidence and keep a business on the right side of the law, but the contractor education process is often hugely beneficial to the licensee because of the breadth of knowledge they must acquire to get one.
In most states, besides the trade knowledge, contractor licensing exams focus also on:
state regulations
insurance rules
permitting
tax expectations
business law
ethics
hiring guidelines
fair business practices
In addition, in some states, working as a licensed contractor protects the businessperson's lien rights.
Overall, successfully passing contracting exams solidifies the state's expectations that the business owner is aware of the law and will operate ethically within it.
Who Needs to Obtain a Contractor License?
Mostly, contractors working on structural additions or in specialty areas need to be licensed, but that varies from state to state. Those who perform minor repairs such as cabinet installation and wall patching can generally take on work without a license.
Likewise, some states require a license for jobs costing over a certain amount of money; California, for example, requires one for work that will cost beyond $500.
Unusual situations also require adherence to multiple sets of rules.
For example, it's crucial for contractors who reside or operate out of one state and work in another to verify local laws before undertaking a job.
State regulatory agencies that oversee these complex operations expect construction professionals to undergo the licensing process and avoid contracting with the public until all legal requirements are in place.
For instance, the graphic below addresses contractor licensing requirements within the state of Florida.
These expectations are standard; although each state has its own set of requirements, the guidelines above provide a good idea of who requires a license and who does not.
However, while laws differ from state to state, those who take jobs such as home remodeling, pool construction, house flipping, structure demolishing, and property development should hold a contracting license.
Keep in mind that people who work on their own homes usually do not require a contracting license, although it's a good idea to become thoroughly familiar with zoning codes and local ordinances.
Which States Require Licenses?
Currently, general contractor licenses are necessary in the following states, as well as the District of Columbia:
Alabama
Alaska
Arizona
Arkansas
California
Florida
Georgia
Hawaii
Iowa
Louisiana
Maryland
Massachusetts
Michigan
Minnesota
Mississippi
Nevada
New Mexico
North Carolina
North Dakota
Oregon
South Carolina
Tennessee
Utah
Virginia
West Virginia
Wisconsin
On the other hand, the following states do not require or have a process for obtaining a general contractor license:
Pennsylvania
Massachusetts
New Jersey
Maryland
Even contractors working in these states, however, must become licensed for undertaking certain jobs at residences, and are still bound by municipal and county requirements.
Furthermore, each state asks for a certain number of hours as an apprentice, various fees, or licenses for cities or counties.
It's best to plan for the fees associated with getting a state contractor license, along with the time required to take courses, serve apprenticeships, and wait for processing.
Also, taking the time to understand reciprocity requirements can help smooth the process of taking jobs across state boundaries.
For example, California has a reciprocity agreement with Arizona, Louisiana, and Nevada, which compels contractors to take certain steps to meet the requirements of this agreement.
To prove that, they have to complete an application and submit other paperwork, as you can see in the following graphic.
Keep in mind that the licensing journey does not necessarily end with obtaining the initial certification. For example, regulations concerning state contractor licenses may update over time.
Even after researching what the rules are regarding your trade, it's essential to keep track of recent changes and requirements regarding license renewal in your area.
Types of General Contractor Licenses
Although general contractor licenses usually cover many types of jobs, some state
s require them in subcategories. Certain states give out licenses for specific categories.

Arizona, for instance, has six: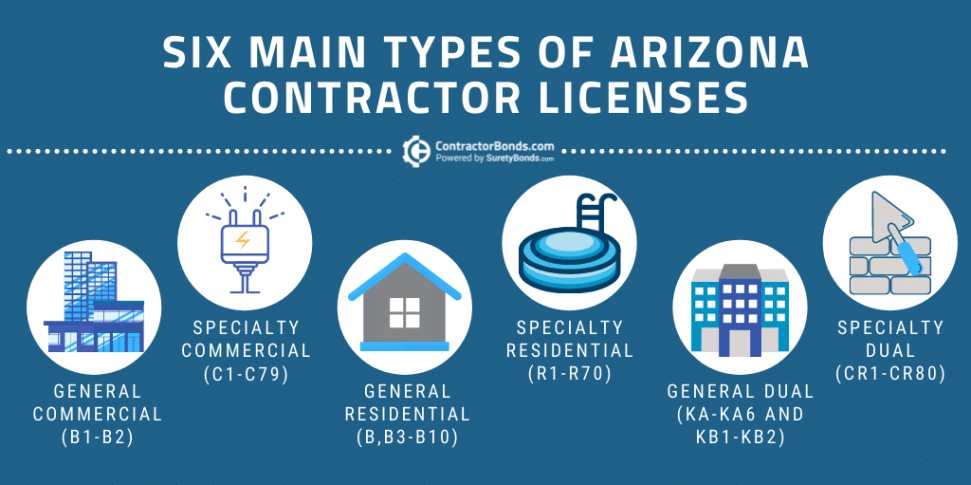 The types of contractor licenses differ according to the kind of job, the amount of money it will cost, and how long the construction professional has been in business.
Overall, the types of licenses fall into one of several categories:
| | |
| --- | --- |
| General Building Contractor | This type of license puts the "general" in general contracting. A general building contracting license usually covers complex repairs, residential work, and demolition. Business owners holding a general building license are usually permitted to subcontract. |
| General Engineering Contractor | Those who work with chemicals, utilities, sewage, and water piping may require an engineering contractor license. The location might also come into play; if a job takes place near waterways, chemical plants, schools, or other special areas, the state could call for a general engineering license. |
| Specialty Commercial | Carrying a specialty commercial license allows contractors to construct buildings intended for business use. These might include convenience stores, restaurants, or tenant spaces in malls. In many states, commercial contractor licenses are split into small commercial structures (single-use offices, gas stations, buildings under a certain cost threshold) and large commercial structures (hospitals, manufacturing spaces, parking structures. |
Also, the list of sub-specialties that may require a license is long.
For instance, professionals who undertake heating and air conditioning work, refrigeration repair, gas piping, and sign construction will all have to hold specialized contractor licenses. The same applies to those who install fire alarm systems.
How Does the Process of Getting Construction Permits Work?
To successfully complete the licensing process, you first have to determine what your state requires of contractors.
For instance, some states require a certain amount of time in the construction business, and enforce age or residency requirements.
Additionally, most states demand coursework or a test, as well as a clean criminal record, and a certain amount of liability coverage. If your company employs others, proof of workers' compensation insurance is usually needed as well.
Let's take a look at an example.
The graphic below is a guide the city of Pittsburgh provides for those in the contractor application process.
As you can see, Pittsburgh and its state, Pennsylvania, call not only for the items we've just mentioned, but also a photo ID and a tax compliance document.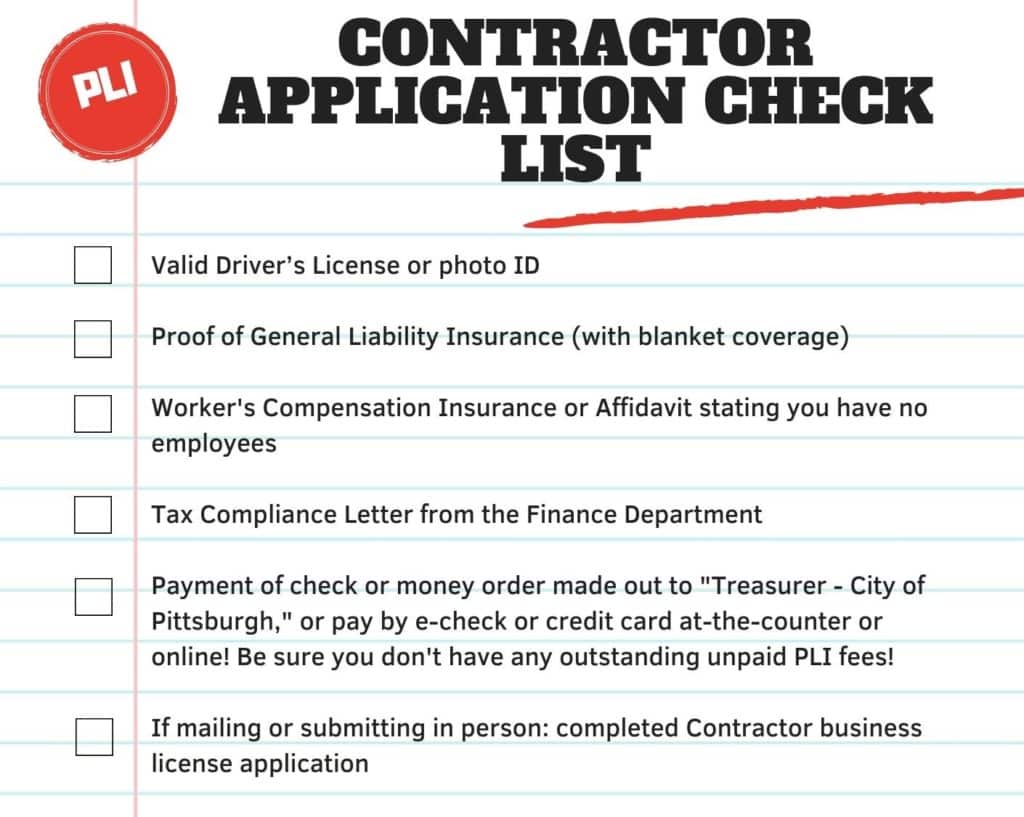 Although permitting varies by state and project, it usually contains the following steps:
Completing a certain number of years as a general contractor.
Filling out an application.
Paying a processing fee.
Generating and submitting a work site plan and blueprint for the intended structure. This step usually involves the input of an architect or engineer.
Scheduling and completing a meeting with local or state authorities for approval of the plan.
Conducting inspections once the job is underway.
Obtaining approval on the completed project.
Keep in mind that, out of all the steps listed, getting the plan approved by the relevant authorities is likely to require the most time. This is because the permitting entity might demand revisions, and procedural delays are common.
Some states temporarily invalidate a contractor's license because of questionable business practices or open grievances.
Therefore, maintaining transparency and sustaining financial competency is usually the best way to not only speed the licensing procedure along, but to keep it once your state issues it.
How Long Does It Take and How Much Does It Cost?
The completion of the contractor's license process usually takes a few months.
Once the applicant completes all paperwork and meets the necessary requirements, it will take up to a few weeks for the physical license to be issued.
Incomplete paperwork can extend the waiting period, as well as work backlogs. Additionally, some states are still pushing through Covid-related bottlenecks.
Therefore, be sure to take the hidden time involved in gaining a contractor's license into consideration.
Also, keep in mind that fees quickly accrue when becoming a licensed contractor. For example, merely completing the necessary education requirements usually involves tuition or course payments, and an exam fee might follow.
Also, states might charge for fingerprinting or background checks, and an application fee is common. Municipal and county fees or licenses often follow as well.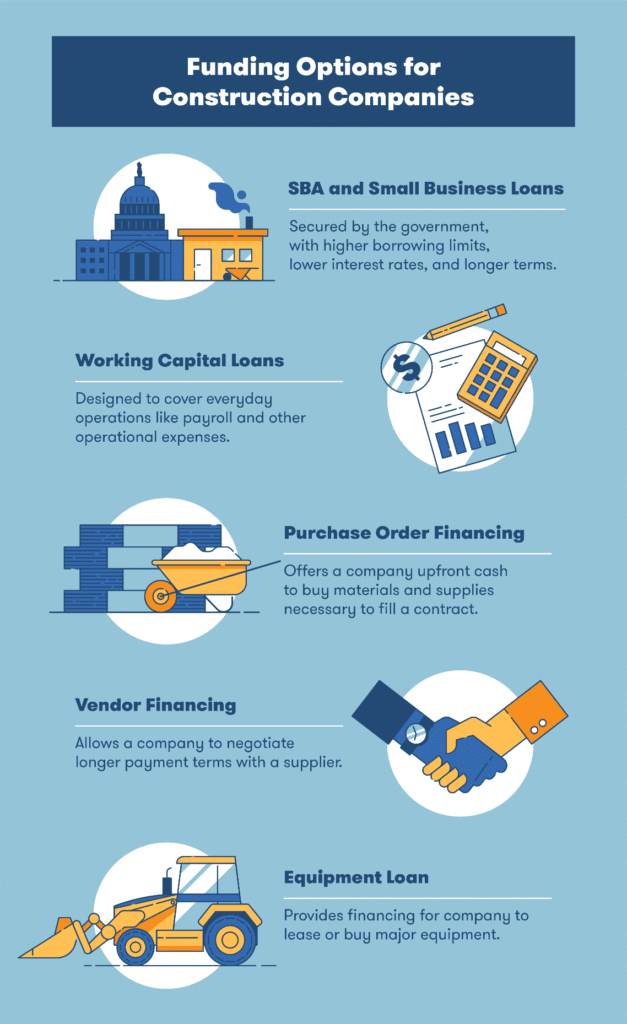 Loans and grants are options for construction license applicants to help shoulder the financial burden. These can also assist with completing insurance requirements and obtaining equipment.
Conclusion
In certain states, contractors will have to get licensed in order to operate legally. While doing so can seem daunting or cost-prohibitive, it has to be done if you want to avoid the potentially devastating effects of becoming ensnared with law enforcement.
However, getting a license has many added benefits. Completing a contractor license will help you manage a site safely, make good business decisions, and attract clients by instilling trust.
We hope this post has helped you get your bearings and encouraged you to set out to get licensed yourself.